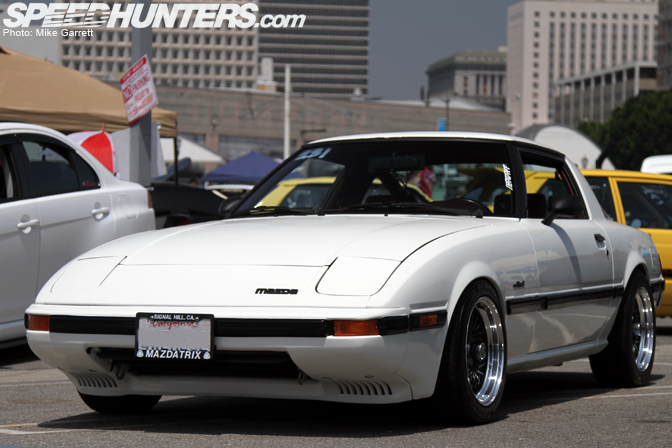 Welcome to part two of my look at this year's Nisei Showoff gathering in downtown Los Angeles. I mentioned in part one that there was a large vintage Mazda turnout at the show, and this SA22C was one the standouts of the group.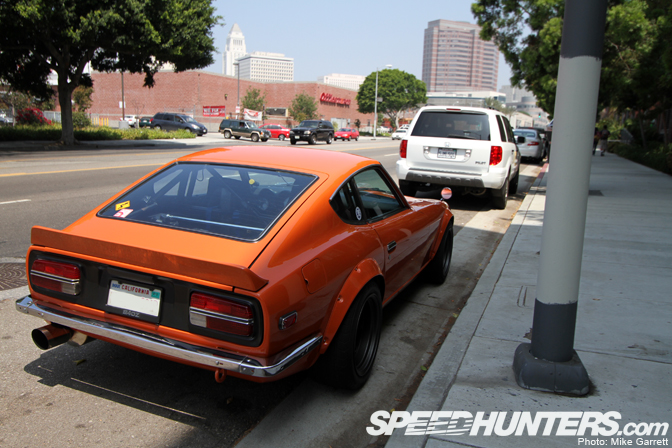 In all honesty though, the car I enjoyed most on Saturday wasn't even entered in the show. As I was walking from my car to the main\ gate, I came across this gorgeous 240Z parked along Alameda Street.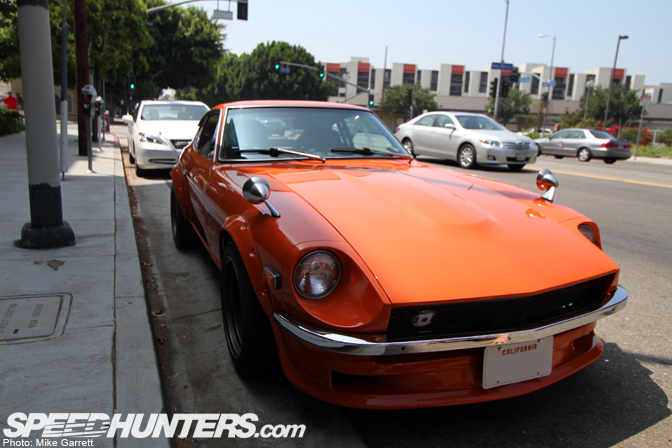 Am I biased? Perhaps. But who can deny the presence that a properly done S30 has while parked on the street? Flares and RS Watanabes will ALWAYS equal perfection.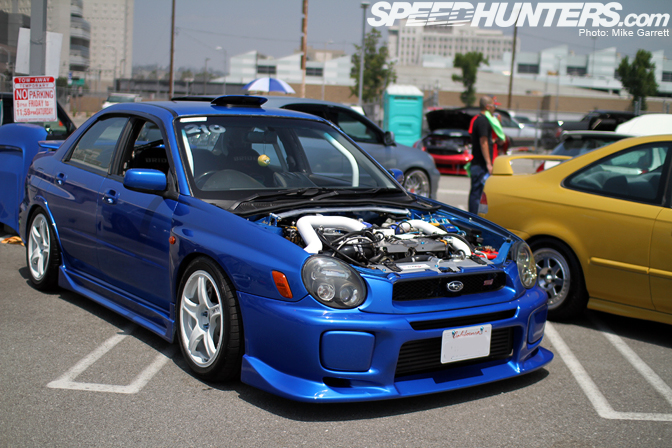 Long live the bugeye Impreza!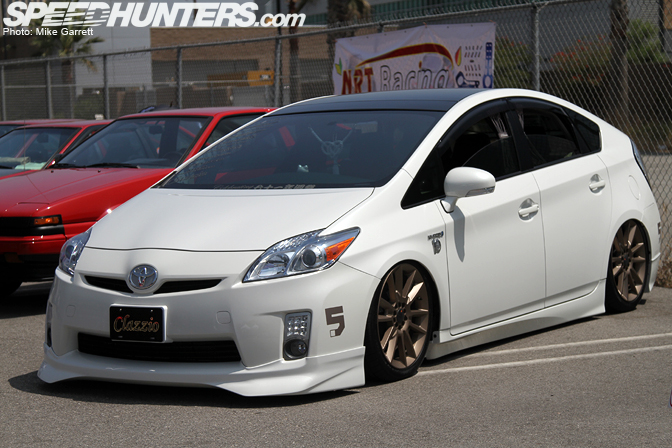 Call me strange, but I quite like the look of this laid out Prius transportation pod.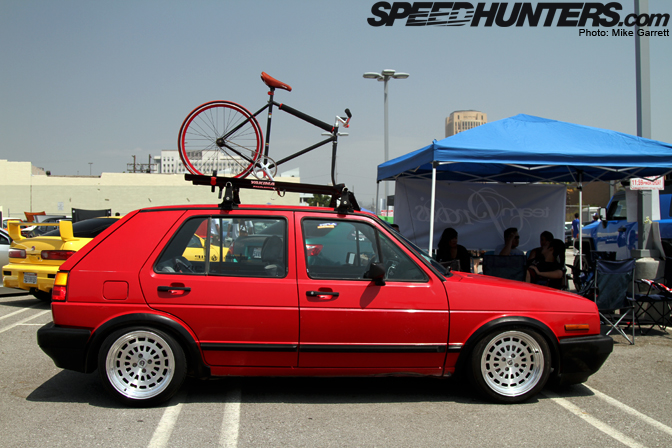 Love it or hate it, here's some more gratuitous bike rack action – this time attached to the roof of a Mk.2 Golf.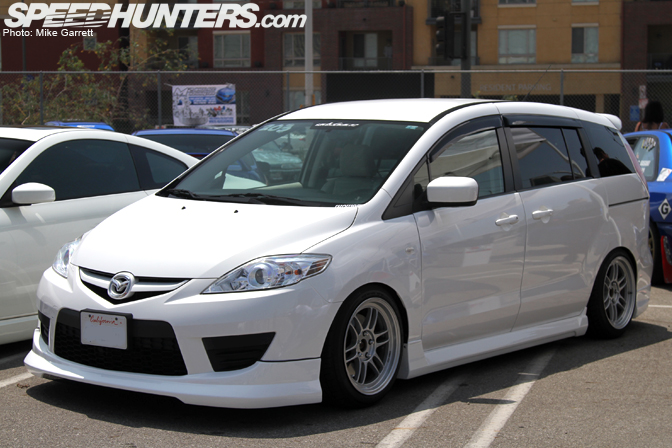 A Mazda5 mini-van dropped over a set of RPF1s. This is something you don't see all too often.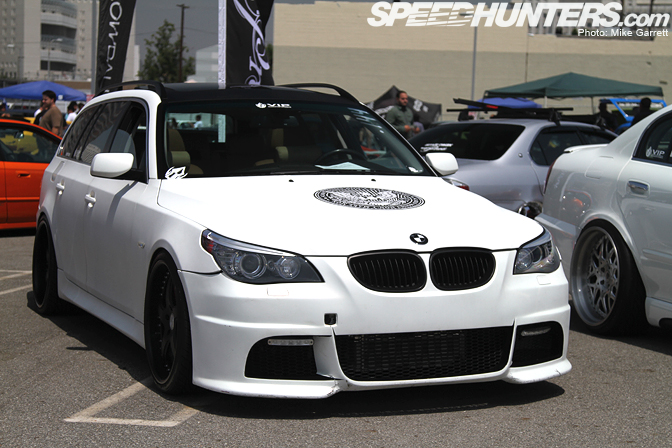 Another dose of Euro style, this time in the form of a matte white BMW 5-series wagon.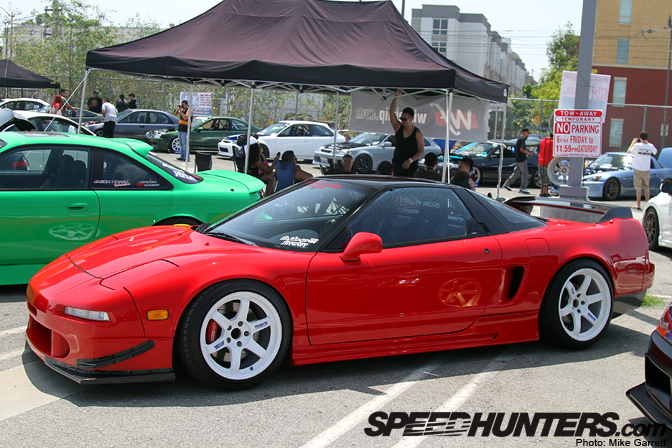 If I came away from the Nisei Showoff with one thing, it was a new love for the NSX. This one looks stunning on concave face TEs.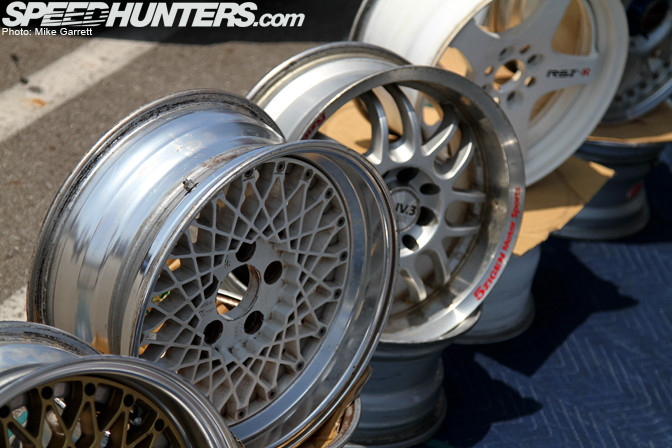 A sample of the vintage wheels brought out by the guys at Infinit.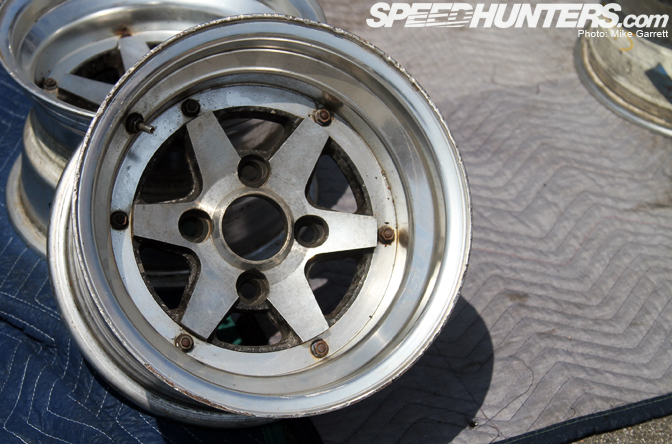 Longchamps. Had to resist damaging the bank account and picking these up as spares for my 86!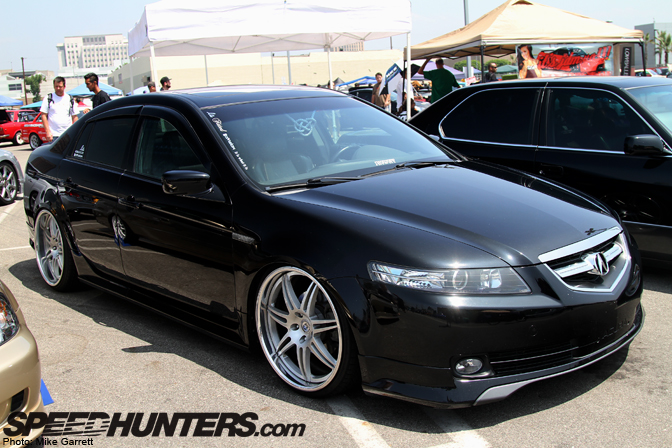 Here we have a tastefully done Acura TL that was part of the show's VIP section.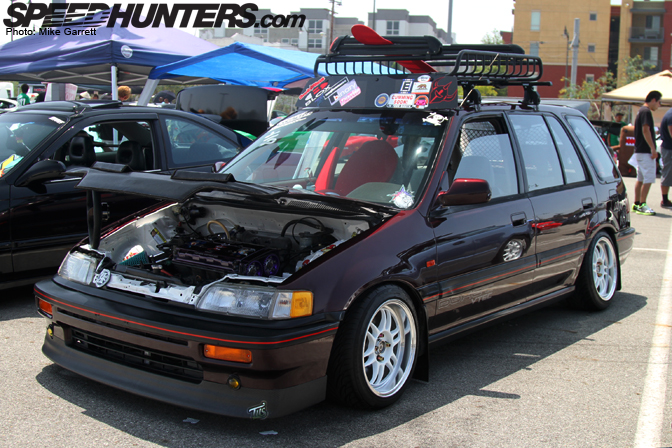 The roof rack and stickers might generate some differing opinions, but an otherwise clean Civic Shuttle.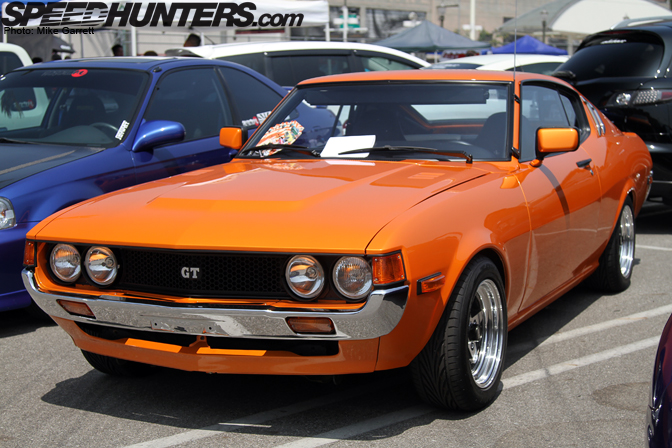 The gorgeous, Mustang-conspired lines of the Toyota Celica LB. The big USDM-mandated bumpers that originally came on the the mid 70s Celicas do NOT do this body style justice.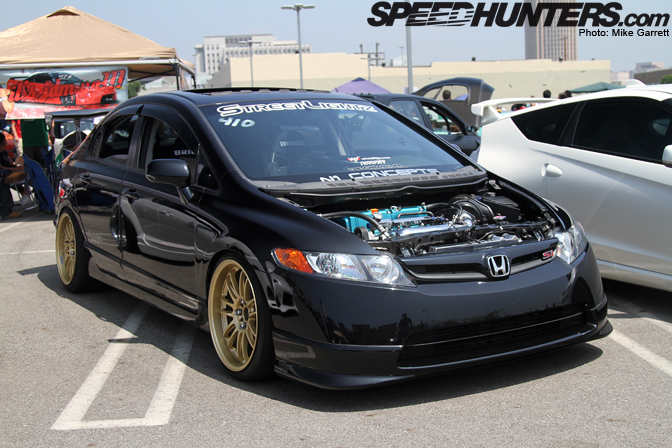 I think this Civic Si sedan proves that the even the US front end can still work when the rest of the car is done right.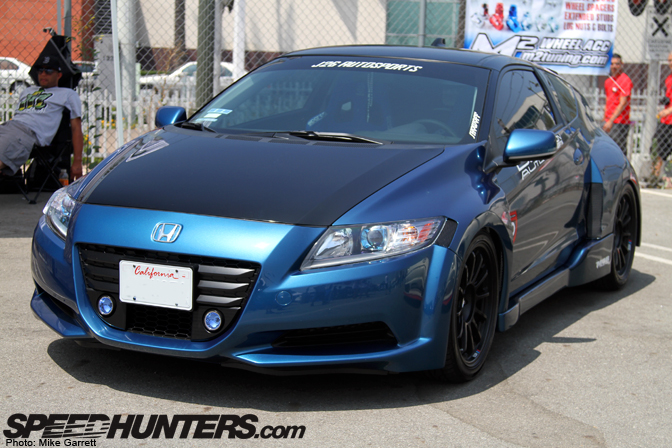 Interesting wide-body take on the Honda CR-Z. Hmmm….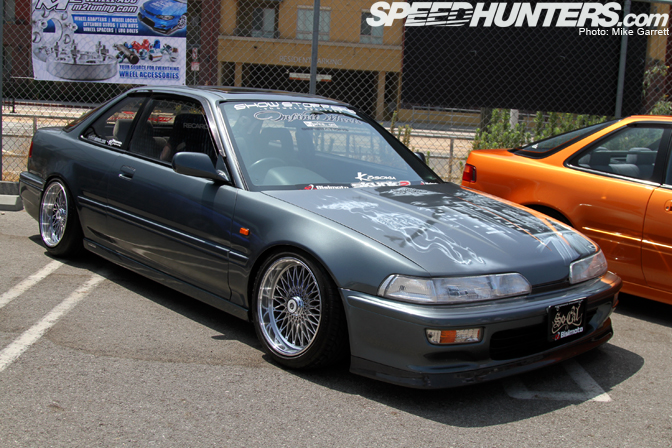 How about this very clean DA Integra with lowrider-inspired mural on the hood? This is LA.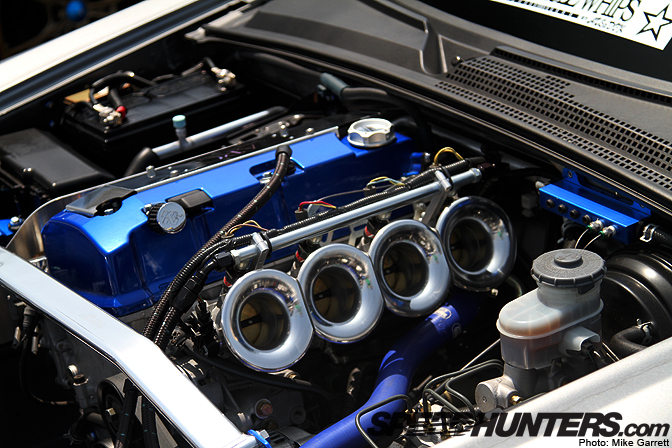 It's not just the front-drive Hondas that become canvases for engine bay artists. Here's an S2000 with many of the same touches.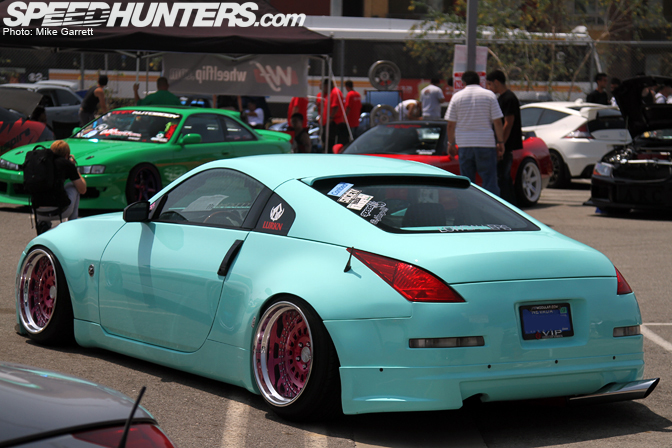 I'm gonna go out on a limb and say this might be the only mint green Nissan Z33 on the planet.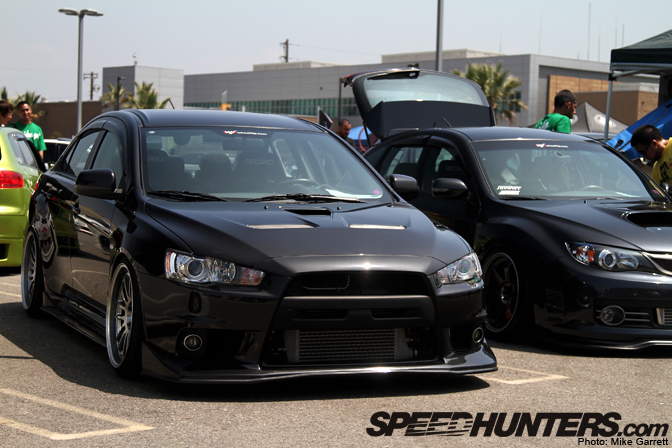 I'll wrap part two with this little scoop of Evo X perfection.
More to come from Nisei Showoff.
-Mike Garrett