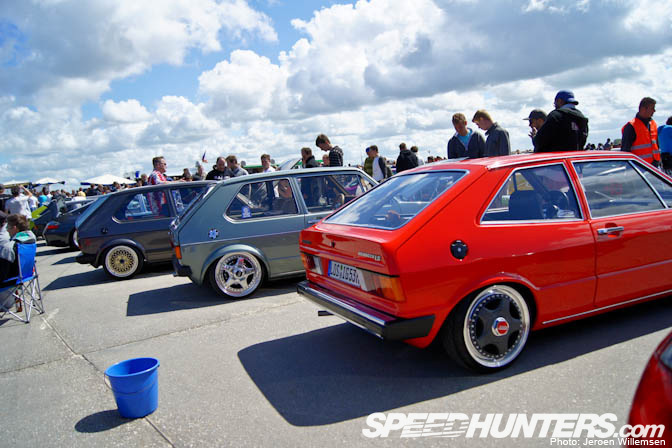 Here we go with part two of the M.I.V.W. coverage. I was surprised seeing so many older generation Sciroccos at the event. Some of them were in pristine condition like the red one at the front on a set of BBS RF wheels.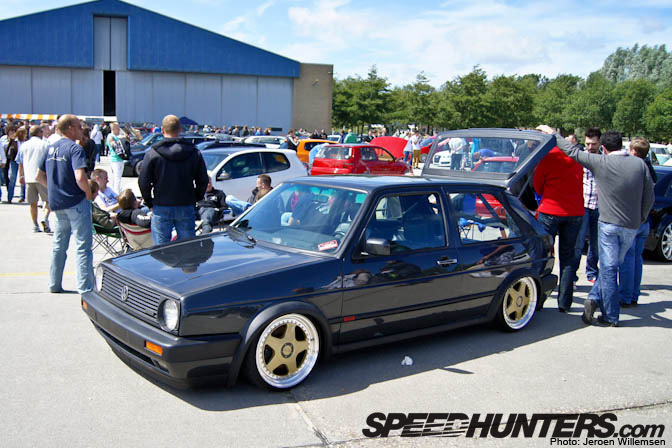 A nice Golf MKII on OZ Futuras with golden centers. The MKII is still a very popular platform especially considering that prices keep dropping but finding a good example to start with seems a bit more difficult.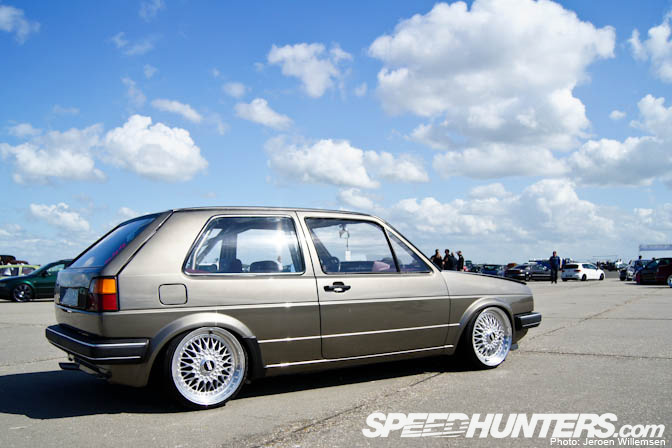 But if you have the means and aren't afraid to get dirty you can always start fresh and completely strip the car for a rebuild. A fresh new paintjob, new parts and a set of BBS wheels will surely get you some scene points.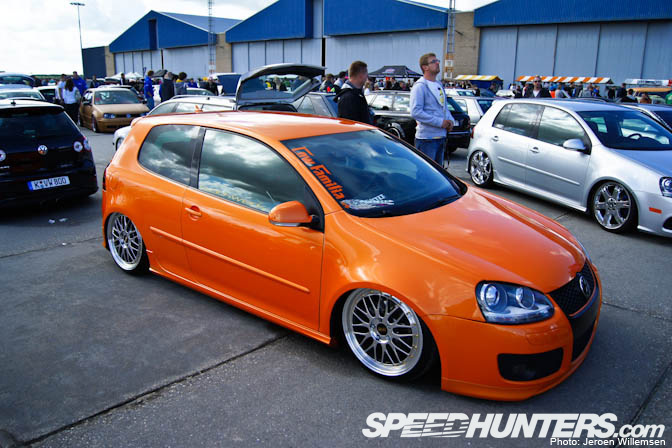 One of the members from Low Familia. The crew brought several cars with them and they all have one thing in common and that is low.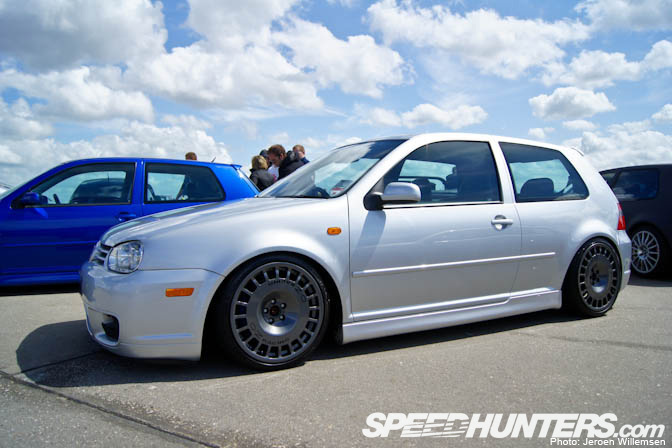 This silver MKIV R32 and the blue one in the back got my attention because of the wheels they were rolling on. Exterior wise it looks pretty stock but the OZ Racing wheels together with the drop have maximum effect.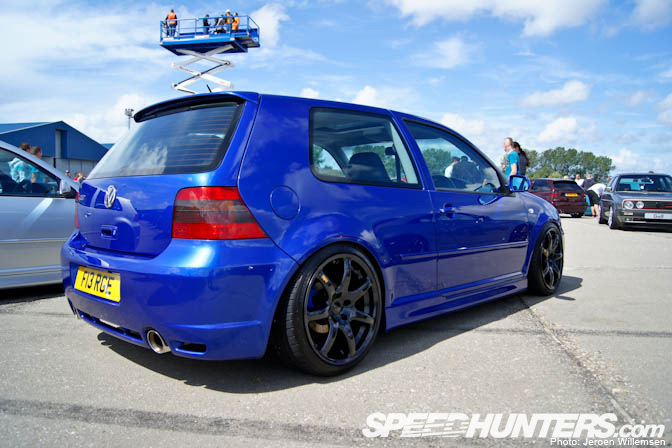 The blue R32 had a set of TVR wheels.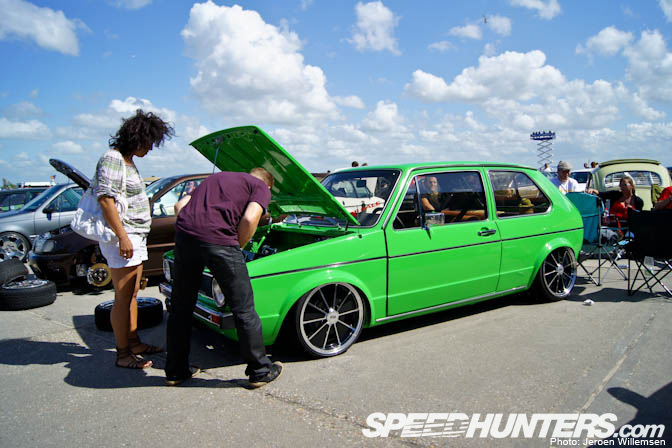 A nice MKI getting some attention. Felgenoutlet in Germany made a cool video of the car while it was at the Wörthersee Tour this year.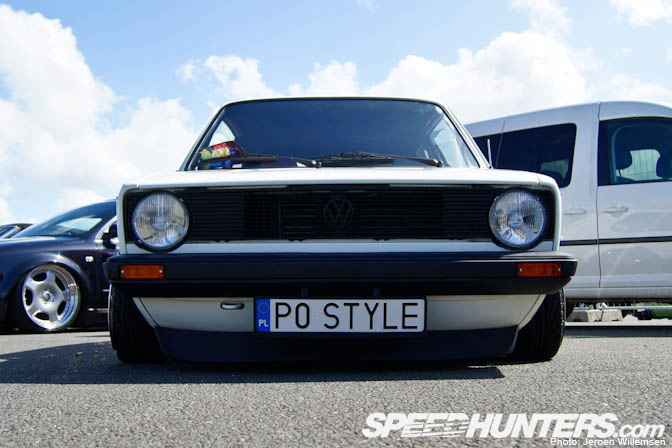 This MKI from Poland had a very aggressive stance.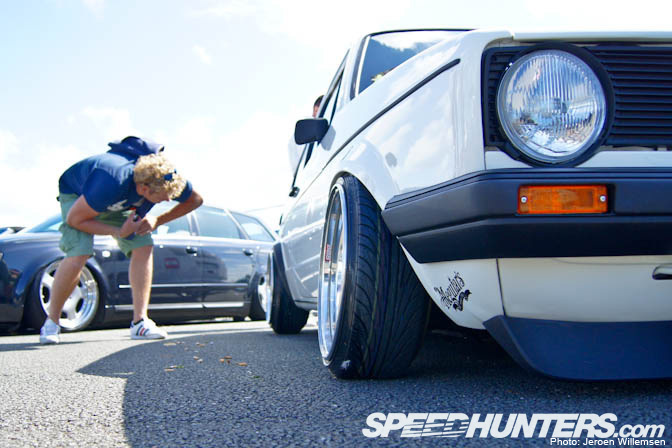 Some visitors of the older generation were scratching their heads and wondered about the tire and wheel sizes.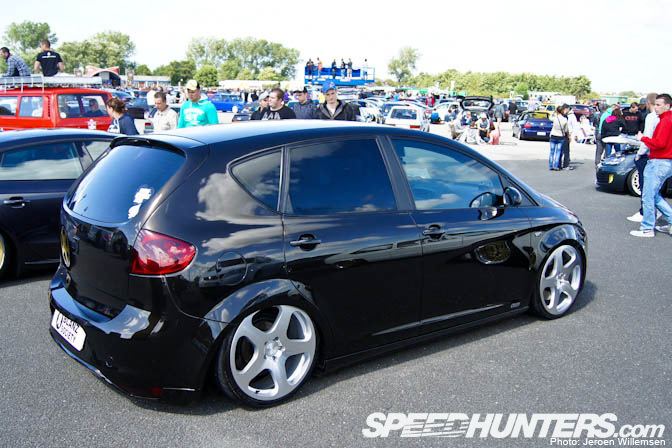 One of the few Seat's I saw. It belonged to the Blanz Society from Denmark.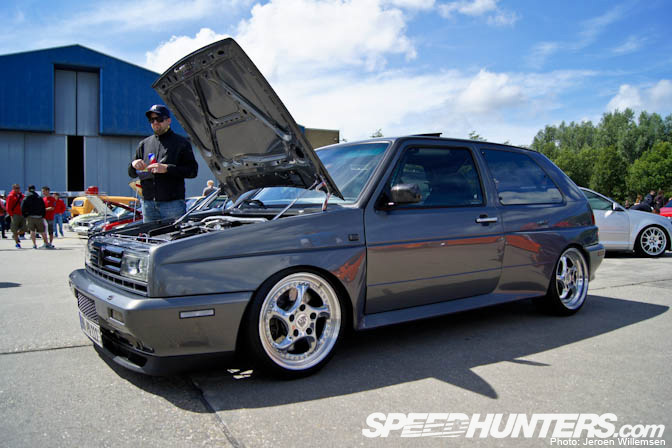 The Golf Rallye is a pretty special car because only 5000 of them were built. So I'm sure some of the purists would cringe after seeing this example. But it looked pretty awesome in my book.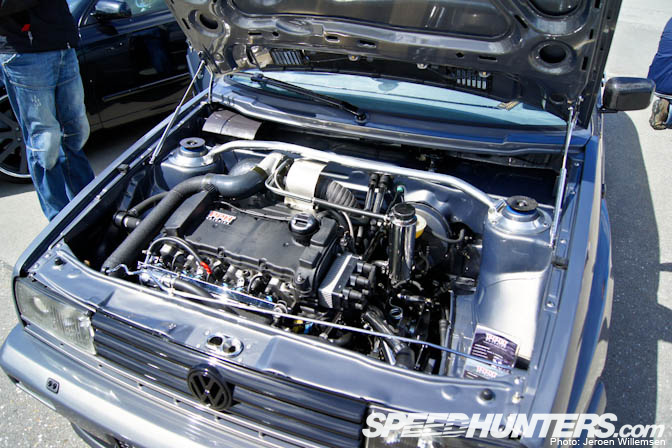 It even had this turbo'd VR6 to back up its bulky looks.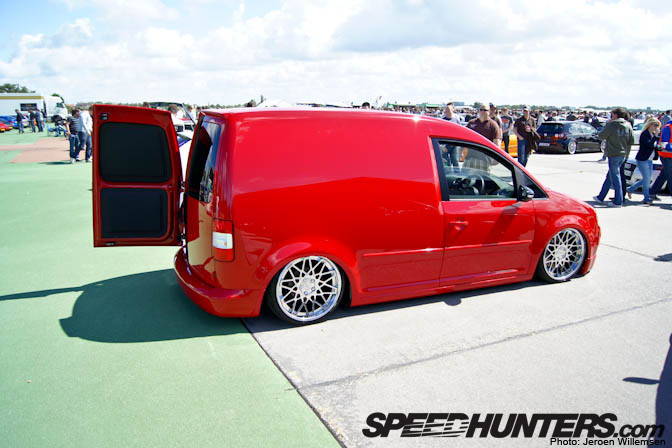 How about a Speedhunters delivery van? I wouldn't mind going to events in this cool looking van.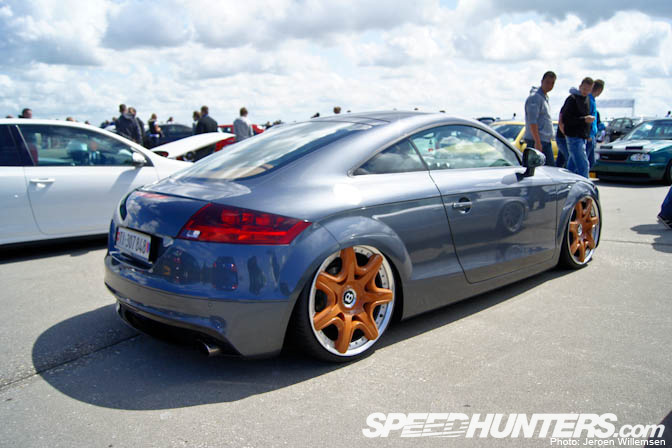 Cool color combo on this Audi TT with Bentley wheels.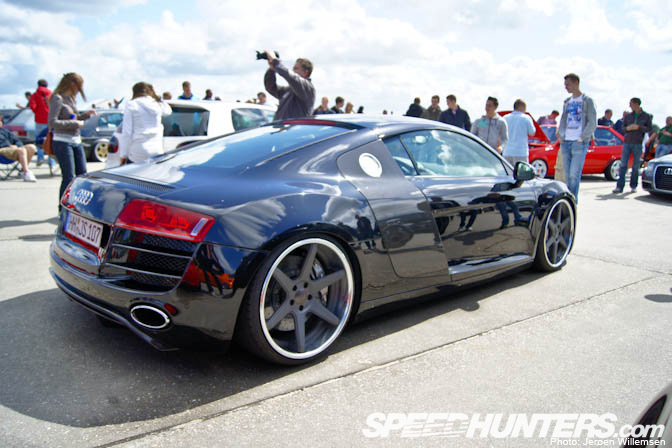 I missed this Audi R8 during the Wörthersee Tour so I was glad to see it in the flesh.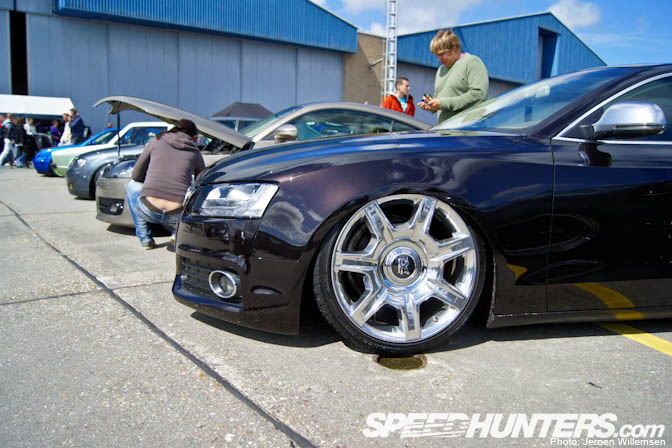 Here is a first for me, fitting Rolls Royce wheels to your Audi.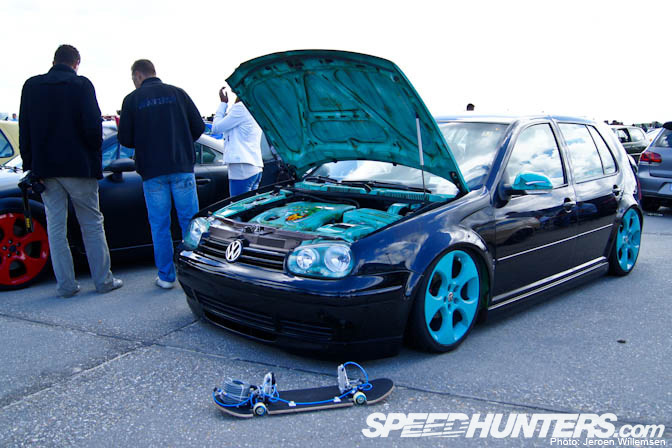 A skateboard on airbags anyone? The car in the back doesn't look bad either, it had a ratfink logo air sprayed on the engine cover.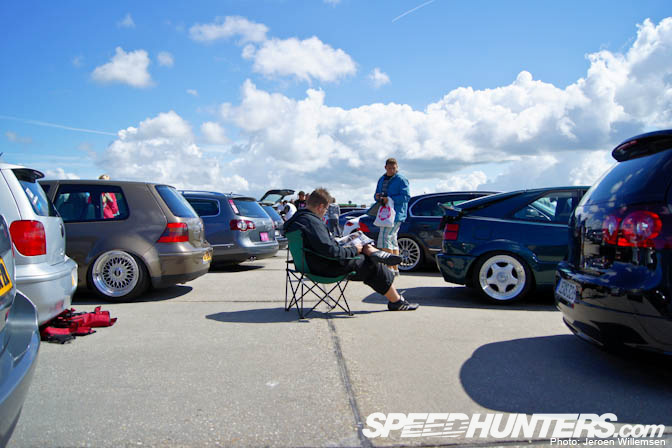 I really felt my legs after walking around all day. This gentleman had a much better approach, he just brought his chair with him and enjoyed the sun.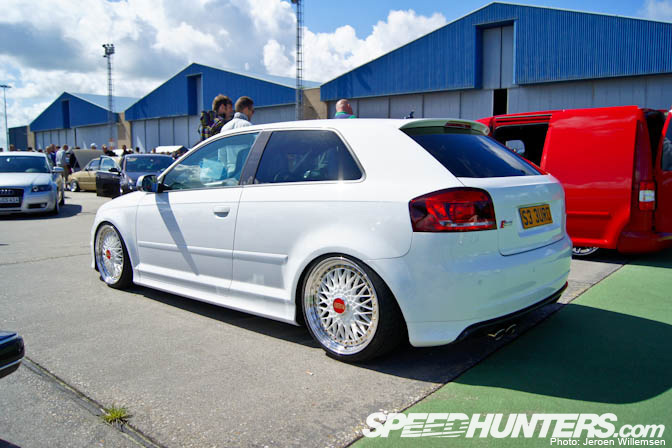 This Audi S3 looked exceptionally clean with its white BBS wheels.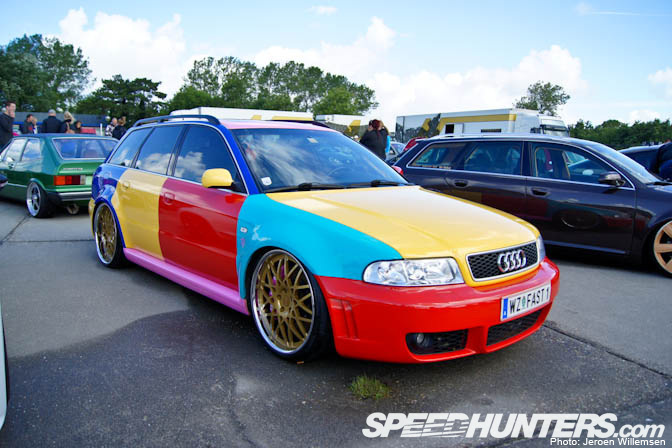 An Audi based on the harlequin Golf from 1996.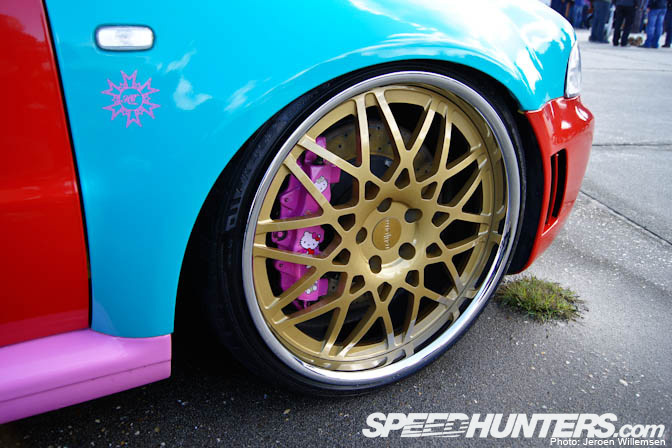 After examining the wheels I spotted something very interesting. Hello Kitty anyone?
That is it for part two !
-Jeroen Willemsen