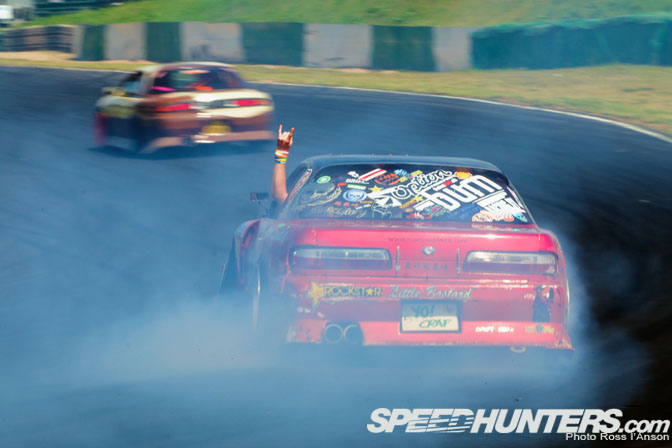 We are now mid-season in the UK Drifting calender. With the competition hotting up and stress levels rising, a mid-season break was just what the the UK drift community needed, enter Awesomefest!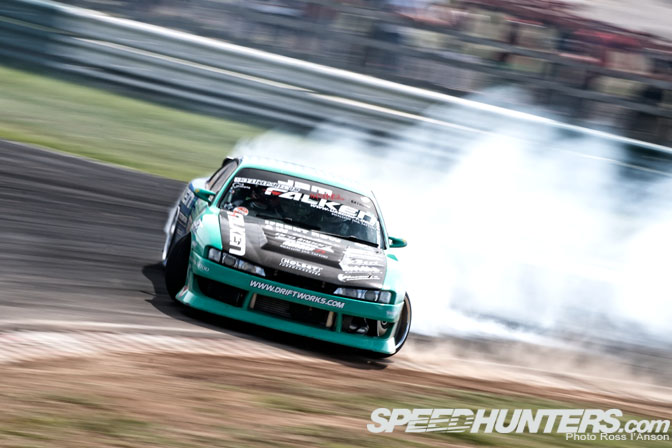 This is the first time an event of this kind has been hosted in the UK. A weekend dedicated to drifting, motocross, BMX, skate, music and errrr, beards. No competition, no egos, just get out there and enjoy what you love doing!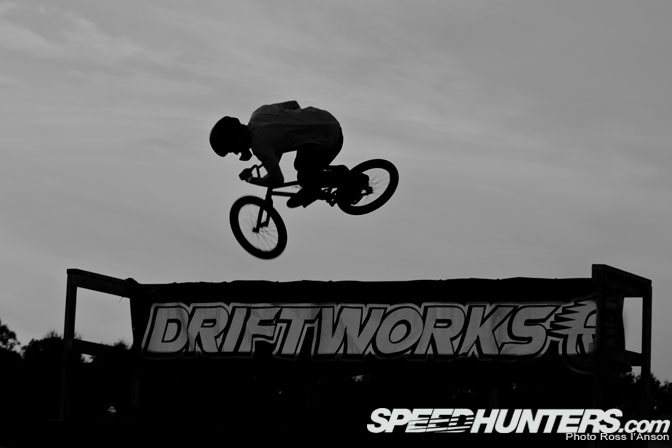 A massive ramp park had been erected in Mallory's paddock area. Open to both skate and BMX it catered for the raw beginner right upto the back-flipping pro riders, all for the price of your weekend ticket. That was the amazing thing, once you were inside all the attractions bar the track time were completely free. Never in the UK has this been done.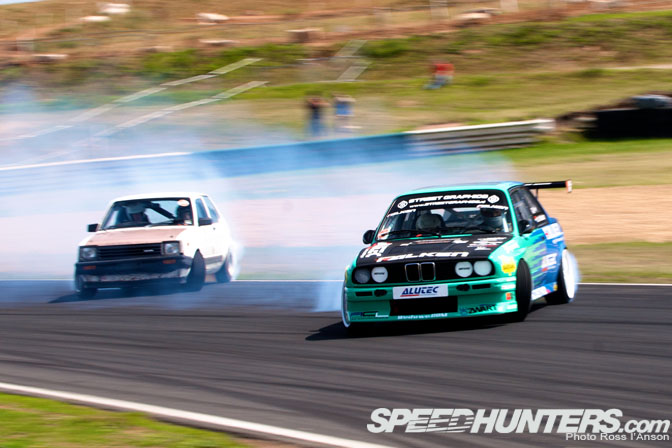 But the track was where the majority of the action was. Pro or amatuer it didn't matter, the track was open 9am to 5pm for two days so you paid your money and got out there.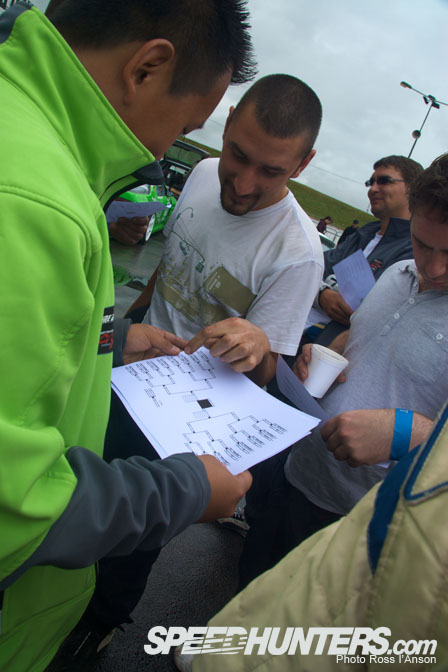 Friday night was no engine night so the Devil's Elbow section was opened up to the Huffy sliders. BDC front man Mark Buckle was first up there and took to the trikes like a duck to water. Tempted to have a go myself I swapped my camera for Mark's trike and following his "go as fast as you can then give it a big flick" advice I took to the track …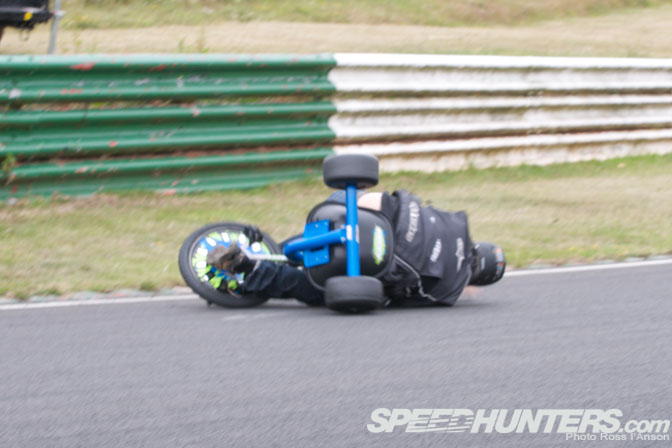 … and it didn't end well! The white mark on the track is actually the skin off my elbow. Glad to report back that the Alpinestars supplied Speedhunters photographer jacket did an amazing job of deflecting the tarmac and came away totally unscathed.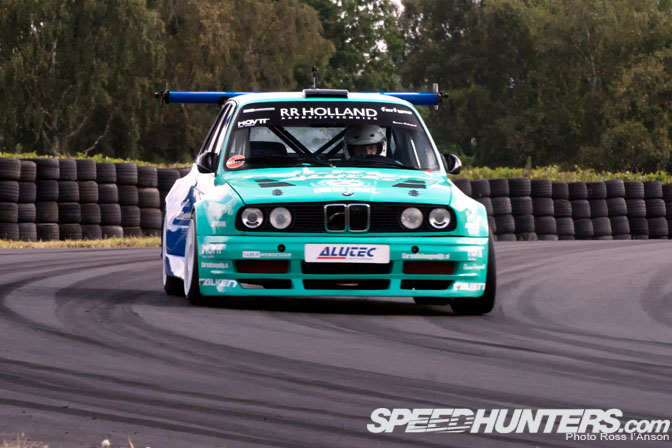 With Friday night shenanigans over the track opened at 9am on Saturday morning. First out was Remmo Niezen who proceeded to put in four full on and deeply impressive grip laps. Watching from the Devils Elbow I was a little awe-struck to see just how incredibly fast the Falken E30 actually is …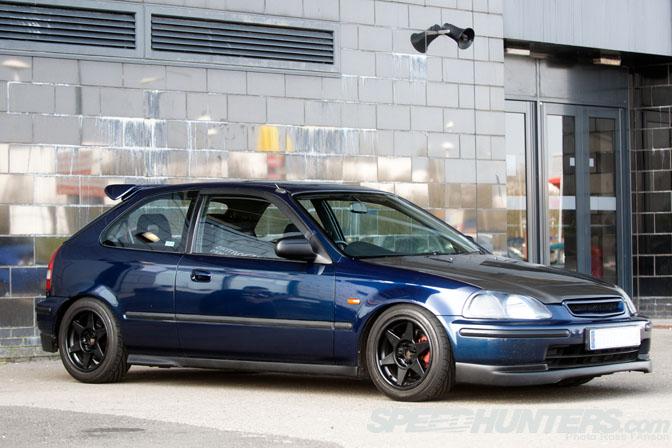 … then as if he had flicked a switch from grip to drift, went into a full-on drift lap. Amazing!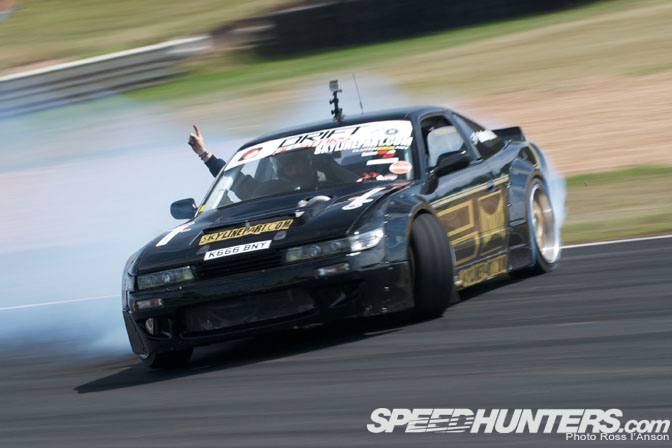 With no pressure it gave a chance for the drivers to show off a little – one hand out of the window at 100mph in Gerards to wave at Paddy and myself was pretty brave …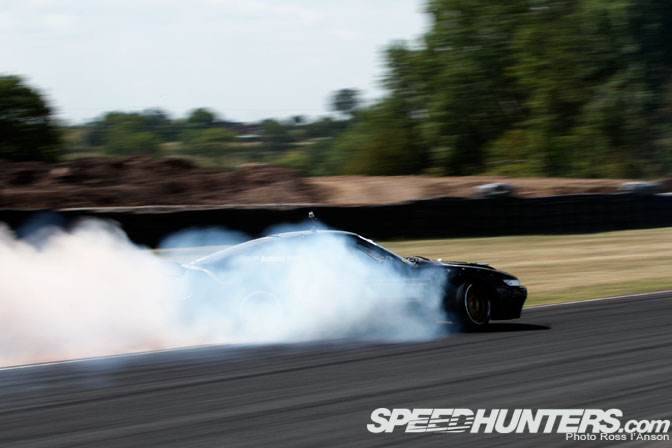 … even if it did end in a seat pinching 'two wheels on the grass' moment a split second later.
Two wheels on grass was no problem for Terry Davis and his YB powered MKII Escort. All weekend he was entering the scary fast right-hander with a flat out flick from halfway up the straight. Running a little deep on this run with both front wheels on the grass, ending just inches from the armco before getting all wheels back on the tarmac. Lift off? NEVER!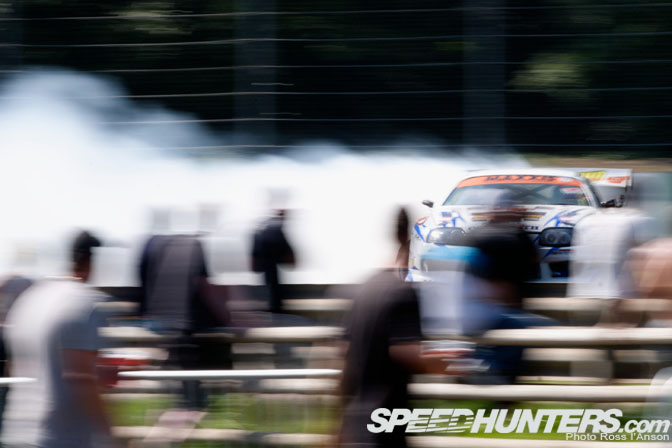 Mallory really was the perfect choice for Awesomefest. Spectators get nice and close to the action …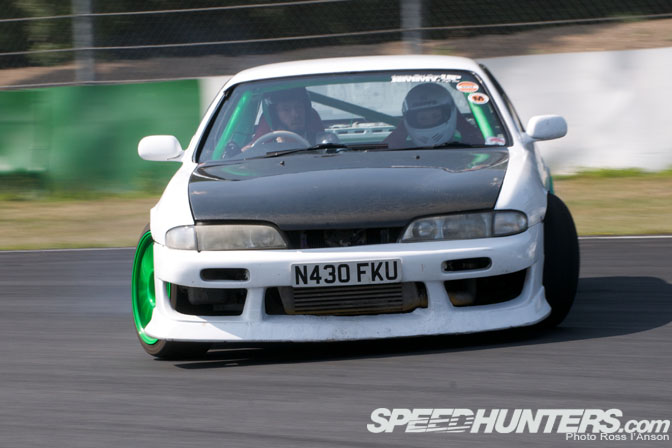 … an awesome mix of turns to suit everybody …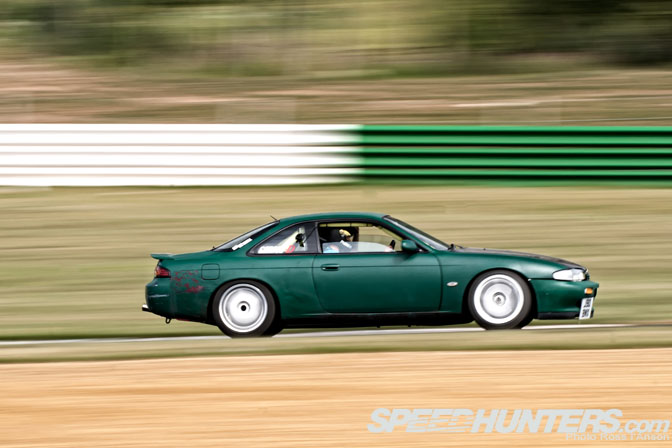 … with any kind of car.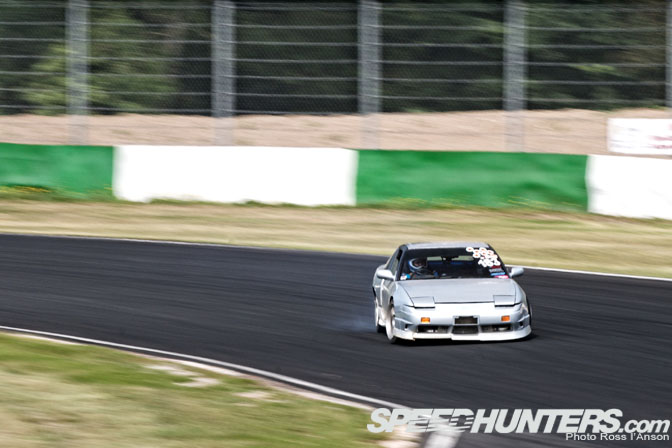 The S-bodies proved to be a particular favorite. Fast flowing 3rd gear turns then down to a big stop for the hairpin.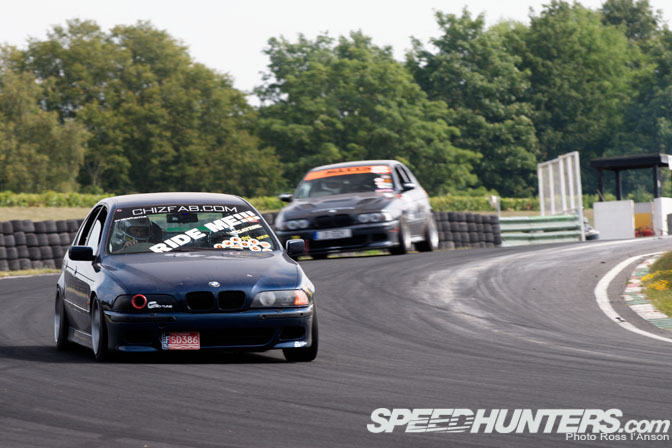 These two 540 BMWs were thundering around in pretty much every session.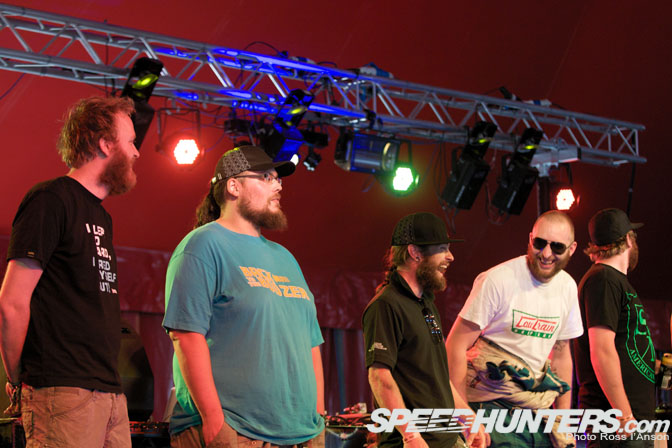 Possibly the most surreal experience of the weekend was the Awesomefest Beard-off. A few months back it was announced that there would be a best beard competition, with the prize being free beer all Saturday night.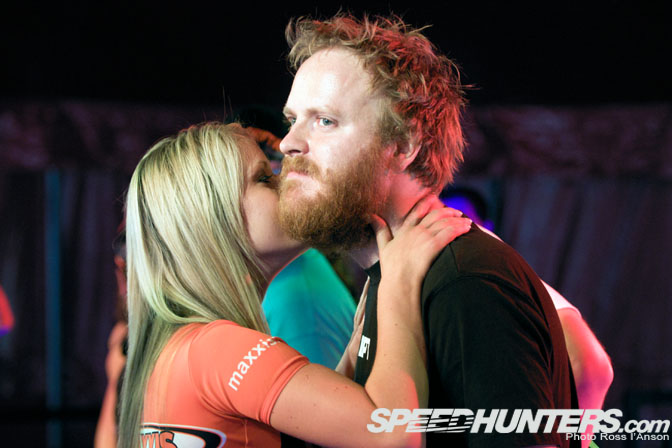 The judging criteria was, well, strange to say the least. Judged on feel, smell, rash potential and general nastiness.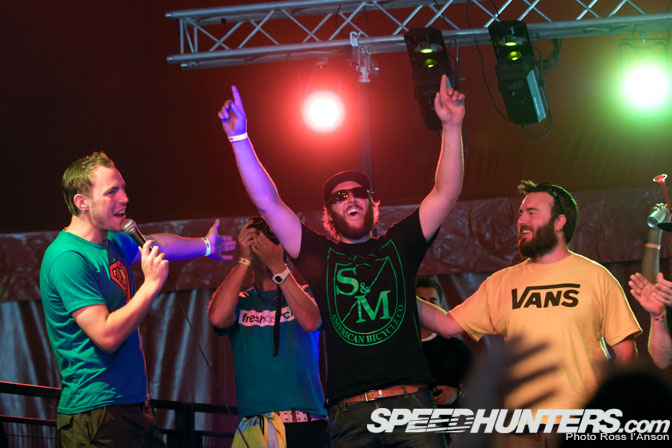 After much deliberation, poking and prodding John Beezy was judged to have cultivated the most awesome beard of the show. Well done that man.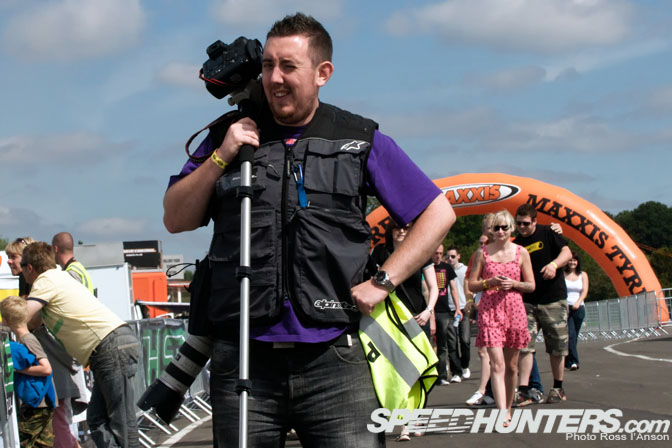 Paddy McGrath dropped in for a days shooting on his way up to Cadwell Park for Modified Live. He will be bring you a behind the scenes look at Awesomefest later in the week.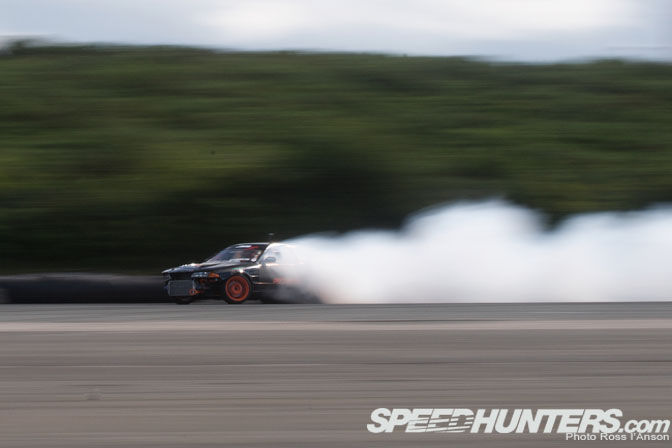 Awesomefest was of course the UK debut of the Need For Speed D-Mac '86. This was the first time I had seen the car in the flesh …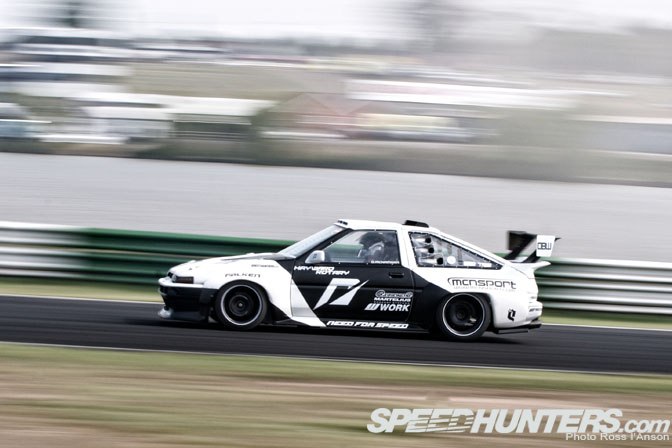 … and it didn't disappoint. A truly amazing build. Darren will be going into more detail of the weekend in his drivers blog later in the week.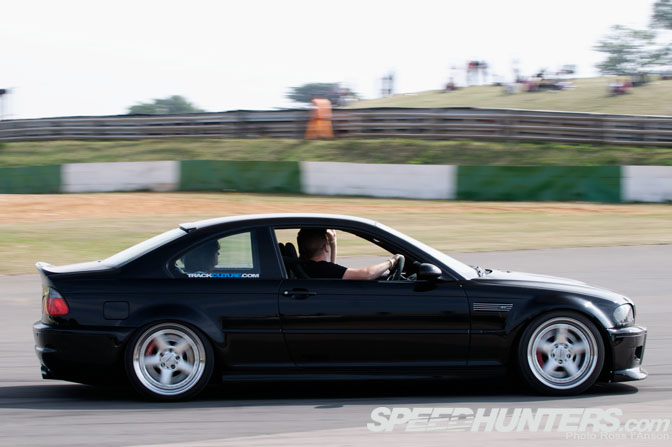 Another car I was looking forward to seeing for the first time was Phil Morrison's V10 powered M3. Recently fitted with an exhaust bypass valve, it can now go from muted V10 growl to full on 90s F1 car at the flick of a switch. I have never heard another road car even vaguely like it. Crazy stuff.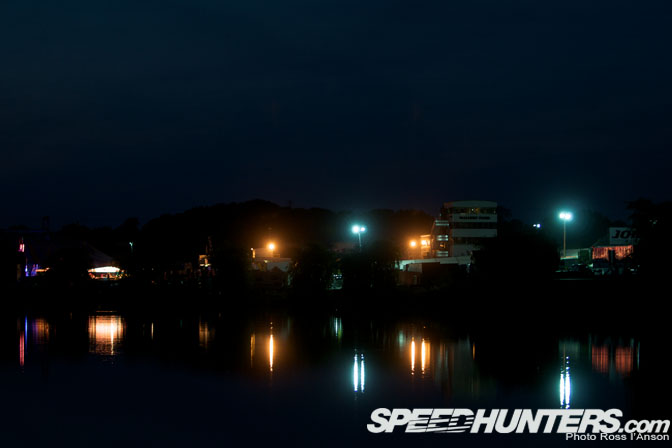 As night fell the Pro drivers assembled for a night time demo.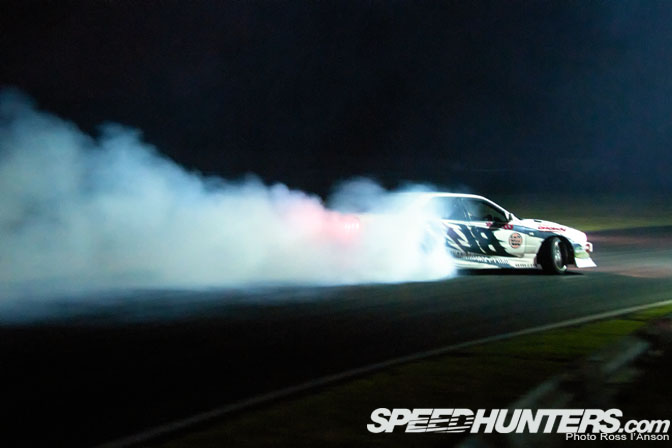 Gerrards looked quick during the day, but under the floodlights it looked impossibly fast.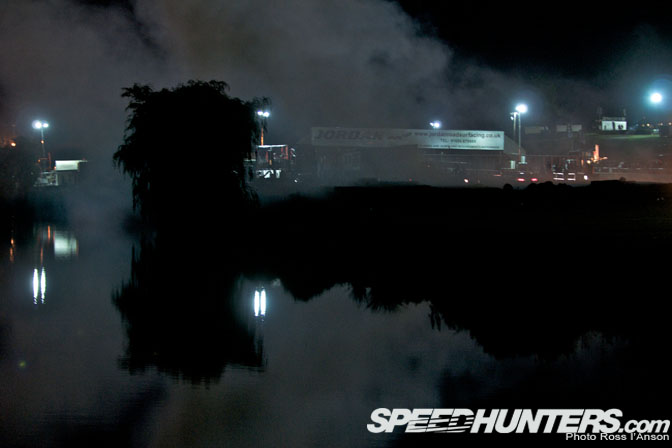 In just half an hour all that was left was smoke from a few dozen tires drifting across the lake. (insert Deep Purple pun of your choice here)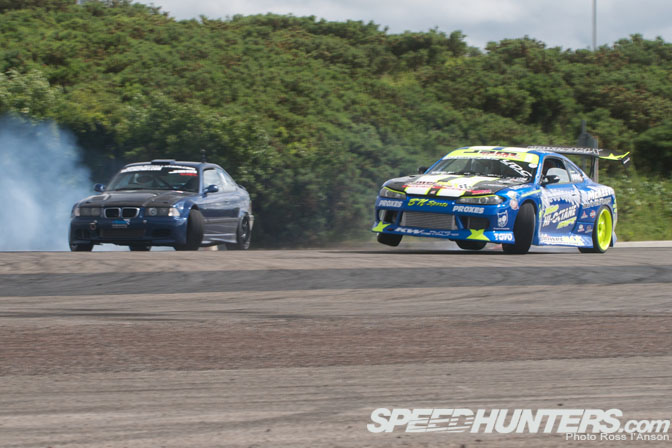 Sunday Morning and it was back to business as usual.
Dragon Performance brought along their 'rat look' FD complete with flame belching smoke stack.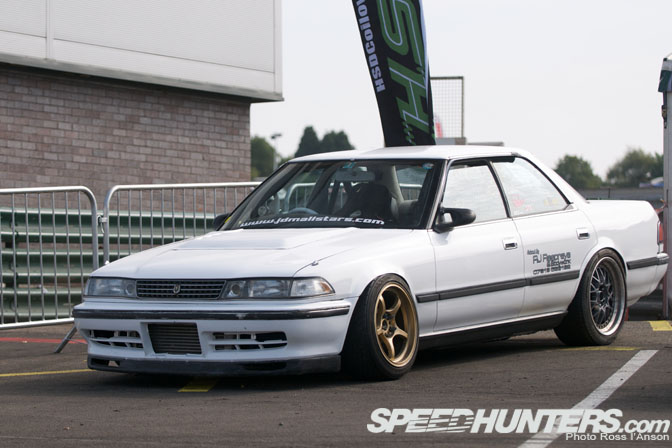 It had taken 72 sleepless hours for Ben (Bon Bon) Broke-Smith to get his Chaser rebuild and to the event. Very sleep deprived he arrived early on Sunday morning to grab a few hours sleep in the briefing room before taking to the track.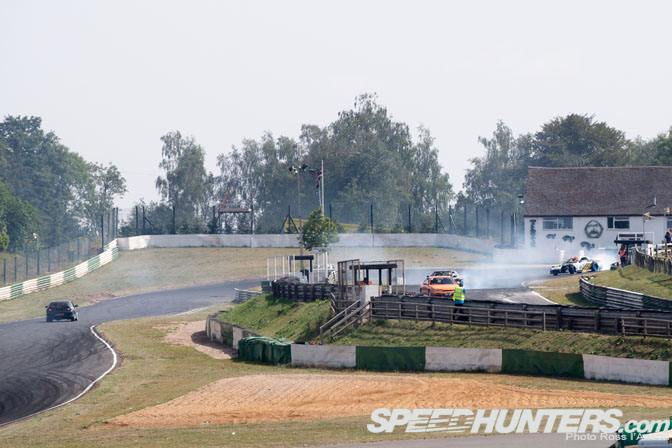 Norway has Gatebil, The UK now has Awesomefest!  I truly believe it's the breath of fresh air UK drifting needs, a weekend to get away from the stresses of competition, kick back and and get back to the very roots of drifting … Fun!  
Ross.