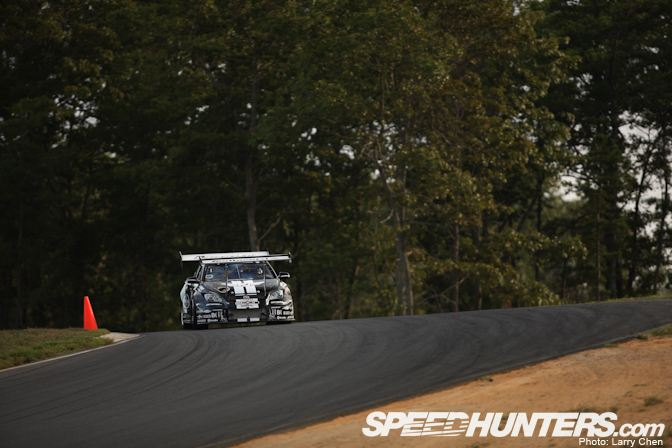 This past weekend I had a chance to follow the antics of Christian Rado as he continued his quest of setting lap records all across the United States. It amazes me everytime when I see the process the World Racing team has to go through just to produce one fast lap. It is warranted because in the sport of Time Attack, one lap is all that matters. Chris explains in detail what it takes to get that one fast lap.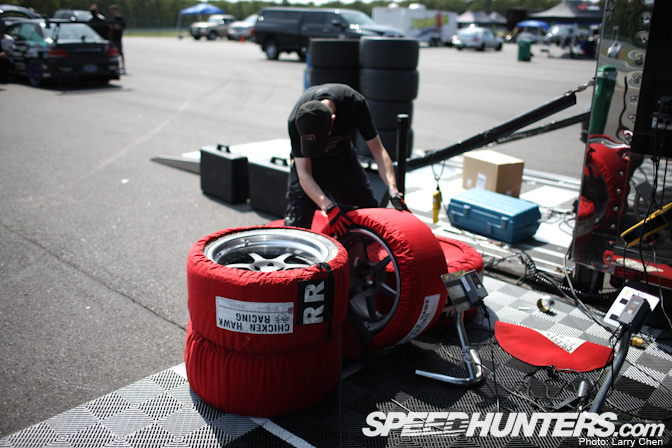 Chris Rado: For our team one of the key factors in securing a good lap is making sure that we have the ideal tire temperatures, so we use the Chicken Hawk Racing tire warmers similar to what you see used in Formula 1. Since our tC is front-wheel drive the rear tires are actual what we focus the most on. The crew wants to make sure that when I get out on track the rear tires are at temperature beforehand because with no power being put through the rear tires they never come up to temp. Actually after the warmers come off the temperatures are on a steady cool, so without the warmers we'd never get the rears up to any good operating temperature range.  As you can probably imagine, the Continental Tires up front come up to temperature real fast.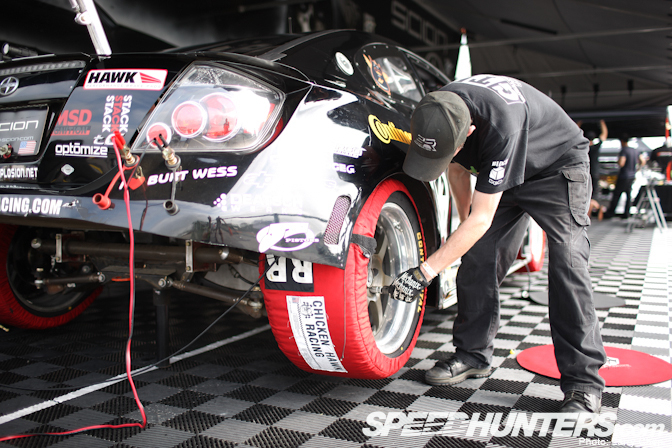 Here you see William Danzi making sure that the lug nuts are at the proper torque specs. We always like to have the same person torque the wheels when we are racing because this way we know for sure that one person is responsible and never have to guess if they wheels have been done or not. A loose wheel at speeds of 190+ mph could be devastating, and potentially deadly so this is a crucial and very important step in prepping the car for a hot lap.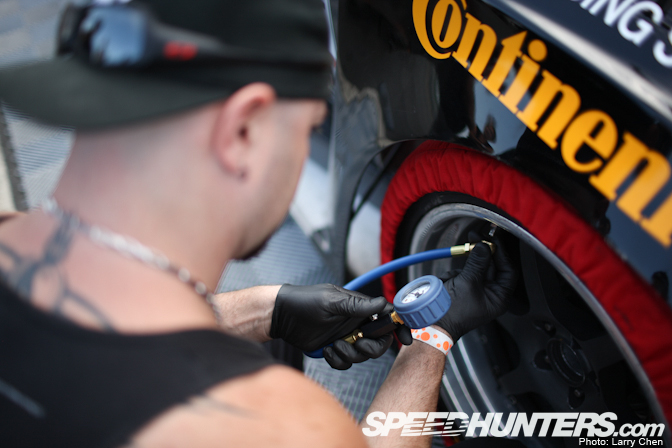 Next up is tire pressure. This is something that has to be done often because air pressures rise and fall depending on the temperature of the tire. Eric "El Cobra" Plebani is seen giving the tire pressures a final check before the first time attack session of the day. In the past, tire pressures and tire temperatures had to be taken manually after each session, but now thanks to our friends at STACK I'll have an awesome TPMS (Tire Pressure Monitoring System) on my dash that will let me know when the tires are at ideal temperature and also see any potential leaks or pressure drops. The data can be logged for my team to analyze later on. Technology is such a wonderful thing, isn't it?!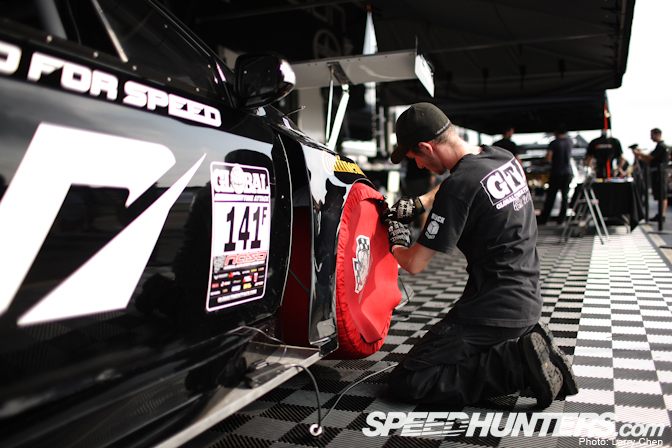 The center covers of the tire warmers help to keep the heat inside the rim/tire, but can be somewhat of a pain to align so we let the intern mess with them. Thanks William, make sure they are straight!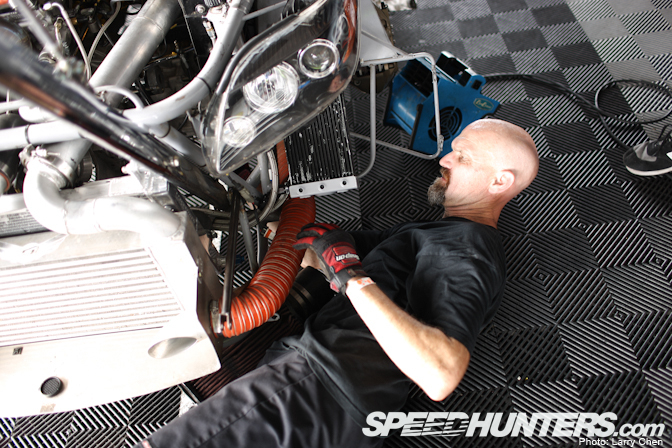 Here you see our master fabricator and chassis engineer Scott "Chip" Stanwood giving the underbody a final inspection to make sure there are no leaks or breaches in the splitter that would adversely effect the tC. Aero is so important in this sport so even the slightest amount of drag can be the difference in your lap times.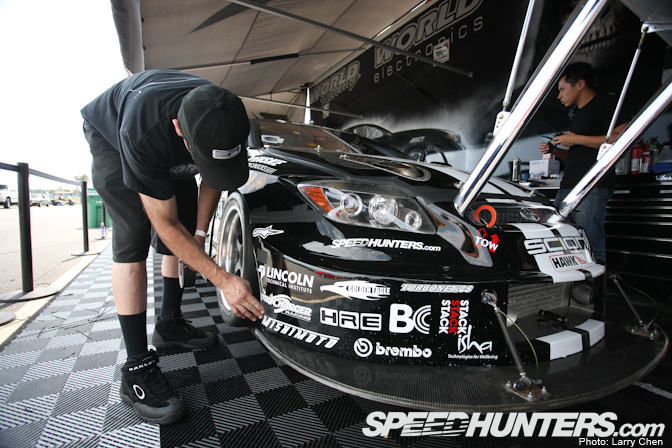 On this particular tC we didn't rivet the Zeus fasteners on the front end like we've done on the new tC. With that said, these panels have gotten rather beat up over the last three years so we always put racer's tape over them to make sure that none of the panels are able to come loose at high speed. You can never be too safe!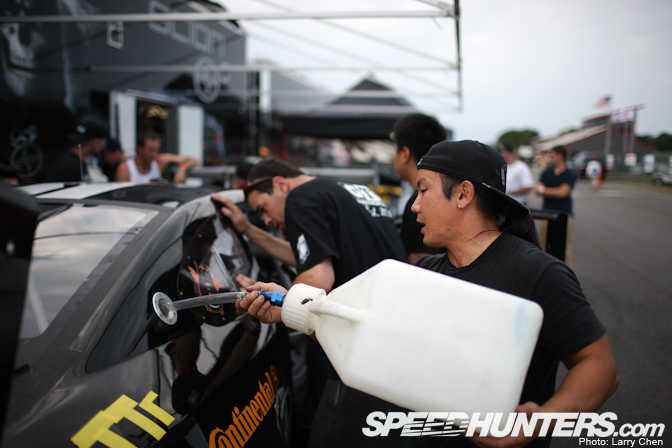 Gary "Kubinator" Kubo a.k.a Japanese Hulk Hogan is topping off the tC2 with fuel. We run M-1 Methanol in most of our engines and we run a whole lot of it. In my early session I went through 18 gallons of Methanol in just under six laps on the 1.9mi (3.1km) Lightning course here at New Jersey Motorsports Park. We run eight custom 2,500cc Deatschwerks injectors on our time attack program to deliver the fuel to the bullet.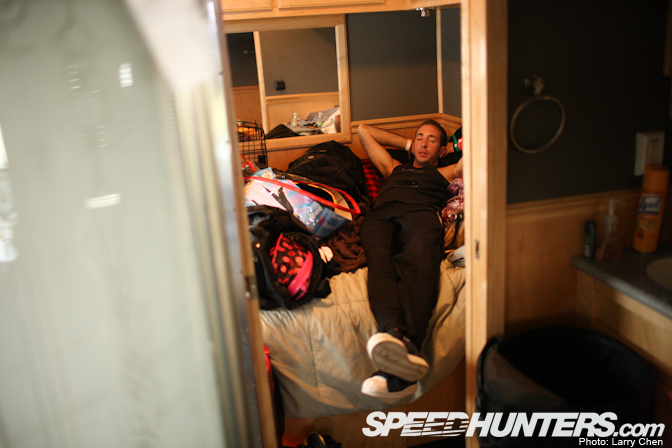 And while the team is making the last minute tweaks and preparatory steps to make sure Black Betty is ready to rock… I'm seen here taking a few minutes to relax before it's time to suit up. This weekend was very hot and humid in New Jersey and it can really take the energy out of you. Thankfully the A/C was on full blast and I was able to chill out a bit.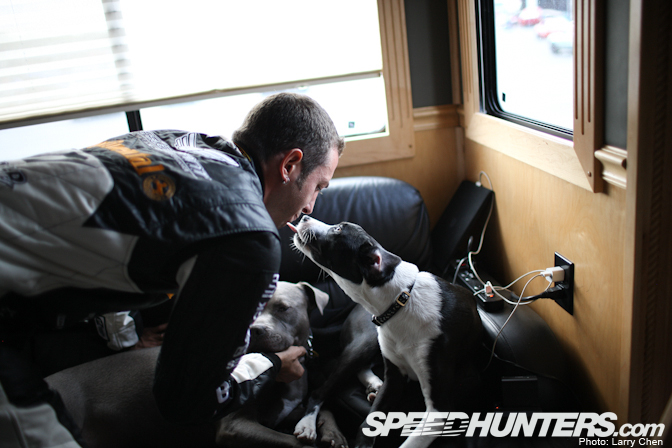 Now that I put my suit on it was time to say goodbye to the newest addition to my family. Meet Philly Rado, I rescued her about a month and a half ago from a shelter in Los Angeles. She's a pit bull/beagle mix (so they said) but we kind of think she might have some border collie in her. What do you think?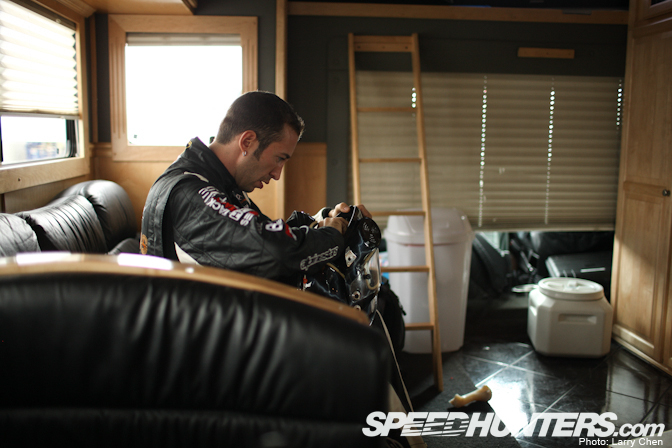 This year I am rocking an all-new helmet from Simpson. Due to rule changes I'm now required to run an air-respirator system in the car that feeds oxygen to my helmet. This helps because it is hard to breath sometimes since the Methanol exhaust is coming out of the hood of the car. Simpson was the first to market with this style of helmet; the entire front face lifts up so that I can be at ease while on grid or sitting in the pits without having to unstrap the Hans device. So cool!!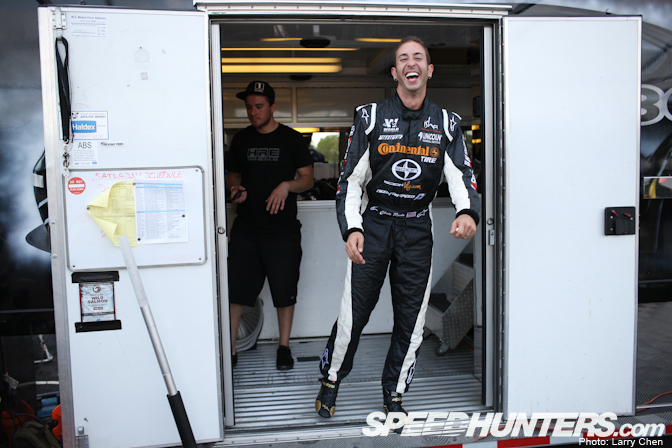 Giving the guys in the rig hell before the session. What?? A little fun and games never hurt anyone!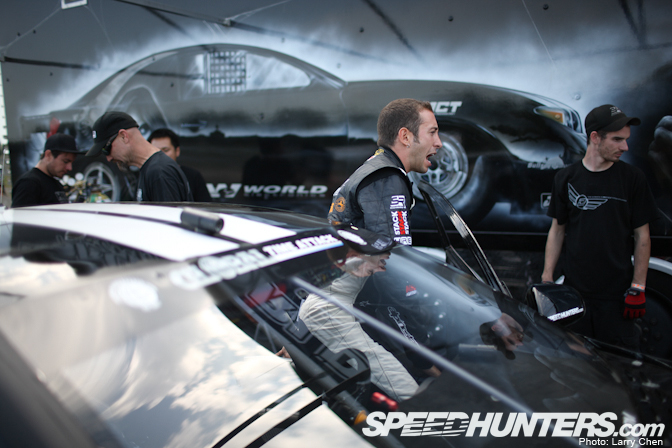 Yeaaaah! Let's do this!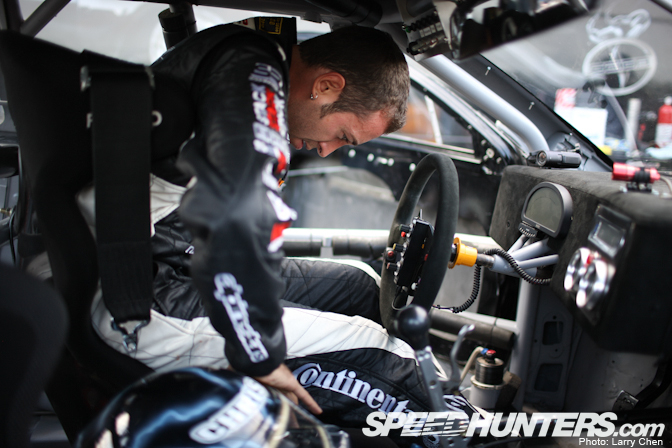 The Recaro seats fit like a glove and we've always used them in our vehicles. Here I'm seen getting in the cockpit right before the first session of the day. On the new car there is much more going on around the cockpit and dash but this suits me just fine.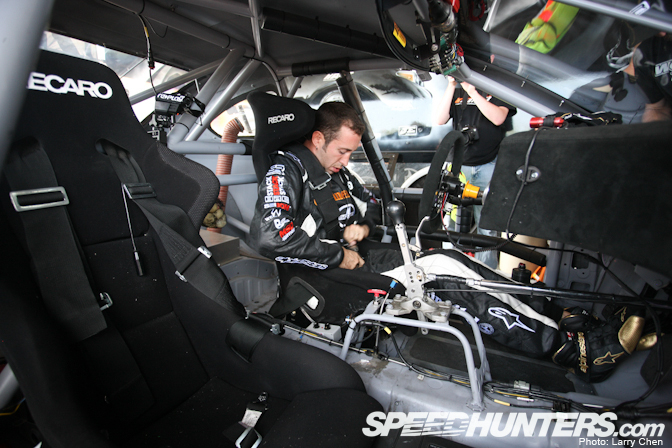 Once I am strapped in there is virtually no movement of my torso. Any sort of movement during an accident can be the difference between life and death. This is especially important because even though we are on a short 1.9 mile course, we hit 178 mph at the end of the straightaway.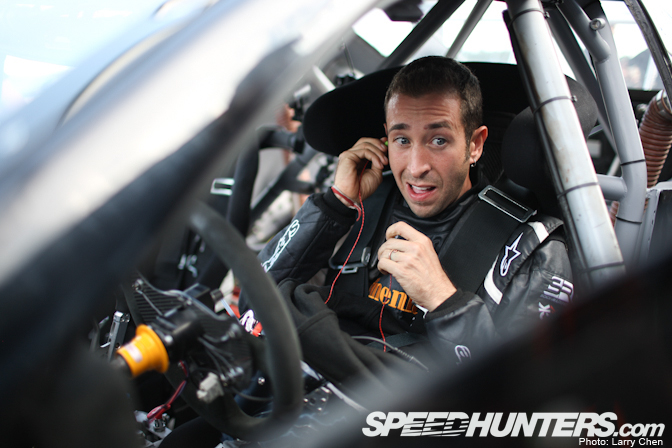 Having communication with the team is key. We rely on PCI Race Radios to make sure that all of our communication hardware is up to date and in perfect working order. I put these little earplug-looking earphones in just before the helmet goes on. If you don't hear anything on the radio then that's usually a good sign that the car is working as it should be, but if you start to hear chatter then you best be on your toes and expect a possible pit-in. Unfortunately in the actual Global Time Attack sessions if you come in to the pits during a session then your session is technically over.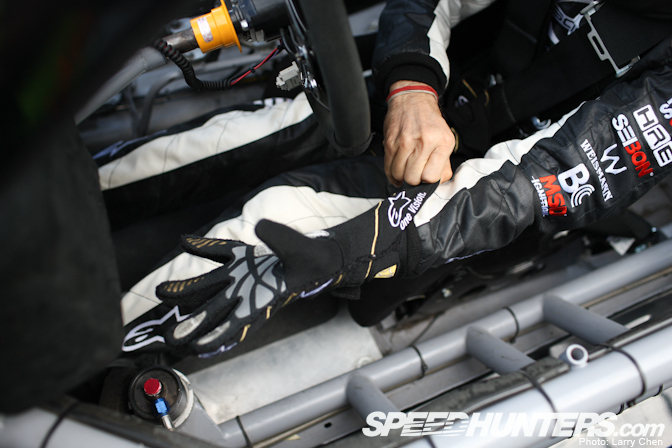 I'm really digging my new gloves the fitment is amazing. Recently Alpinestars came aboard and really helped our team with some awesome crew shirts and hats. I cannot thank Meredith and her team enough. You can see I also have an all-new Supertech suit with Tech-1Z shoes & gloves this year that have the Team Need for Speed livery incorporated!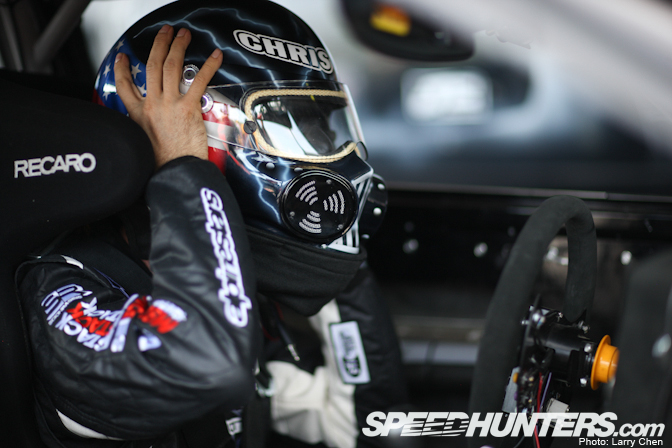 The new helmet is also a lot larger than my previous helmets and it has taken some getting used to. I don't have nearly as much room to move around as I used to so it might be time to upgrade to Recaro's larger diameter upper seat to compensate for the larger helmet.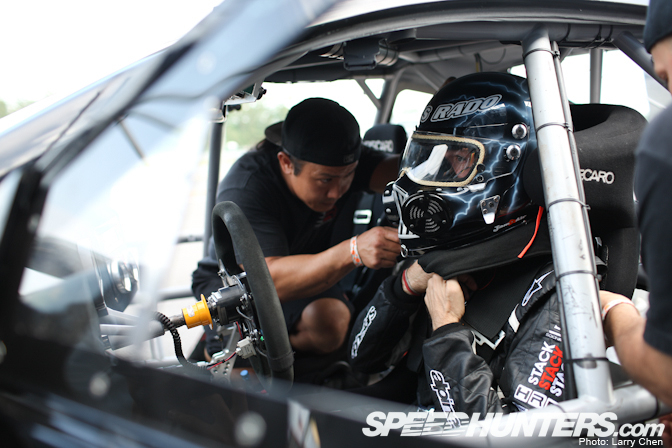 Gary is always the last person to tighten the belts and check the Hans device before the car goes to grid. Thanks for always keeping me safe and sound over the years!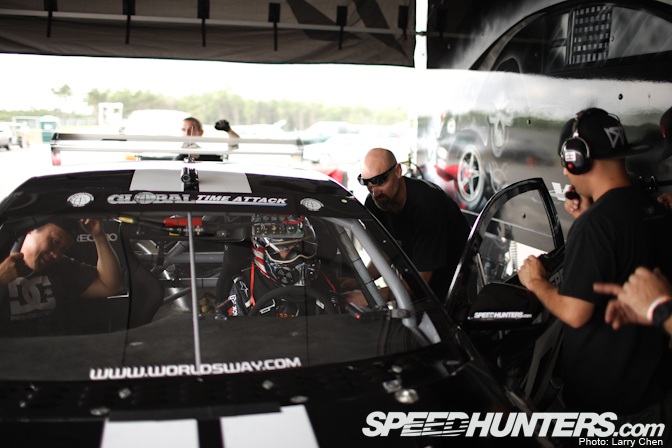 Radio Check!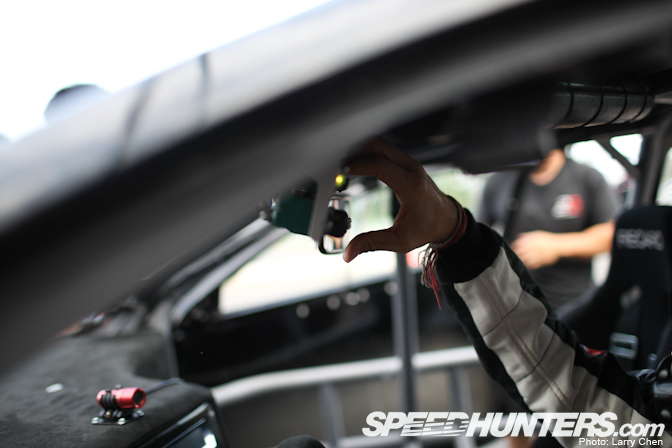 I say "Fire in the Hole" making sure everyone is clear of the exhaust prior to firing the tC up. When the engine temperature is cold the fuel isn't being burned 100% and a mist of unburned methanol tends to belch out the exhaust for the first couple of seconds after it's fired. You don't want it in your eye… trust me. [I found out the hard way - Larry]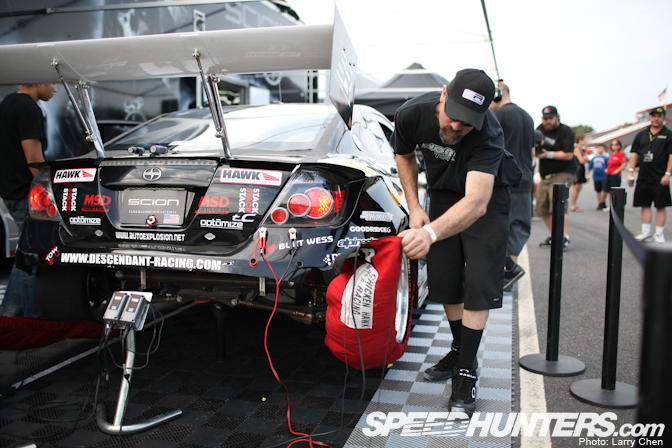 Then the crew pulls the warmers off the Continental Tires. By the time the car touches the pavement they are roughly 200 degrees. We run a Continental Tire 305/645R18 R80 Compound, which is a slick.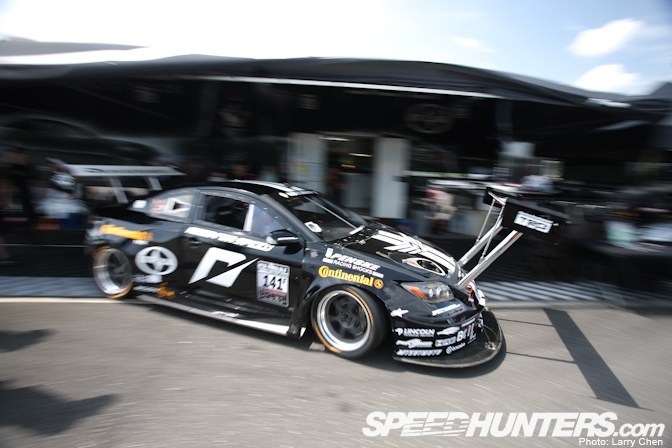 Pulling out of the pits and headed to grid for the first time attack session of the day. I'm super excited to be racing in GTA (Global Time Attack) this year. John Naderi, Jason Dienhart and their entire team did a great job pulling together this series and the live streaming they are doing at every event will allow all of you Speedhunters to see my hot laps and in-car video live from anywhere in the world! Be sure to check them out here
You can also see an archive from this event here.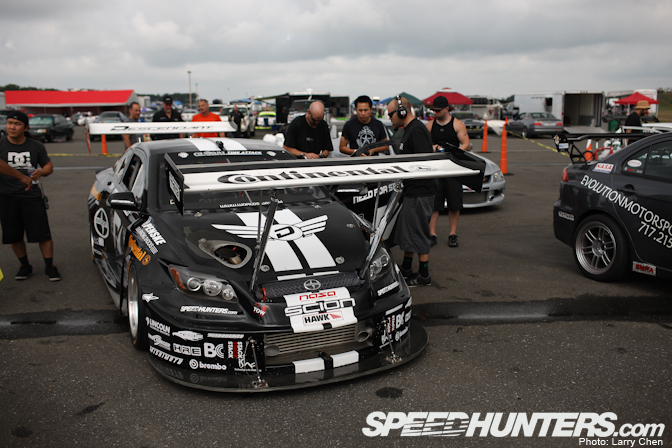 Pulled up to grid and in total focus. One warm-up lap, three hot laps, and a cool down lap is all I need. GST Motorsports driver Jeff Westphal is gridded first ahead of me in their 800+horsepower Subaru Impreza and he's been blistering fast. I'll do my best to push the car as hard as it can in order to hopefully stay competitive with their all-wheel drive beast. Mike Warfield and his crew made it out all the way from Northern California to compete.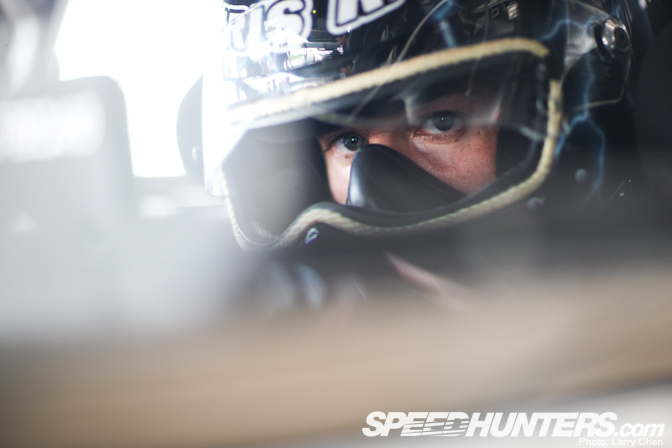 This is just minutes before I'm on track and hot. It's game time, right before the first session on Sunday. Nothing in the world exists to me at this point but the track, my machine, and how I'm gonna conquer it.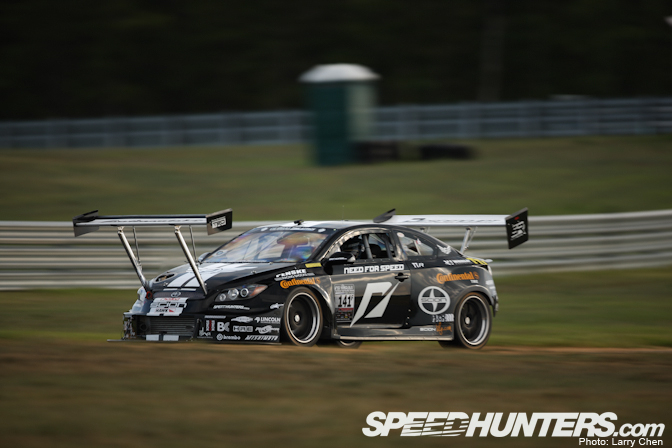 My first lap around the track I can tell the tC is making some snot as she made 49.6 lbs of boost! When she is making that much boost I know the power output is well over 1,000 ponies and I loved every minute of it. Boooyah!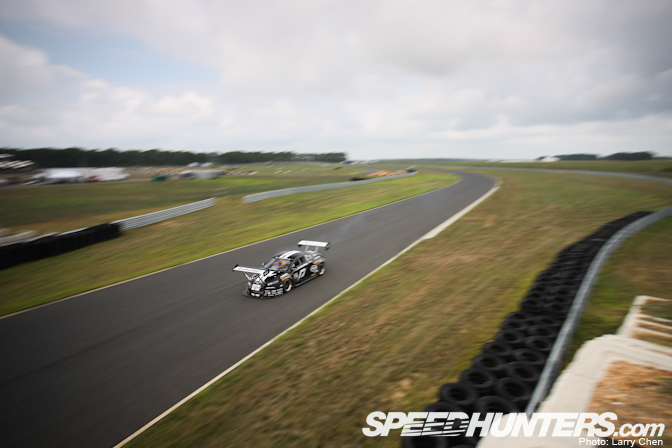 This course has a nice front straight and reminds me a lot of Willow Springs International Raceway due to its size and elevation changes. If you look closely you can see the exhaust energy coming over the roof and off of the rear wing. Larry took some amazing shots this weekend and that's not all he took… he also completely wiped out all of the frozen burgers from the rig before he left. Hungry pal?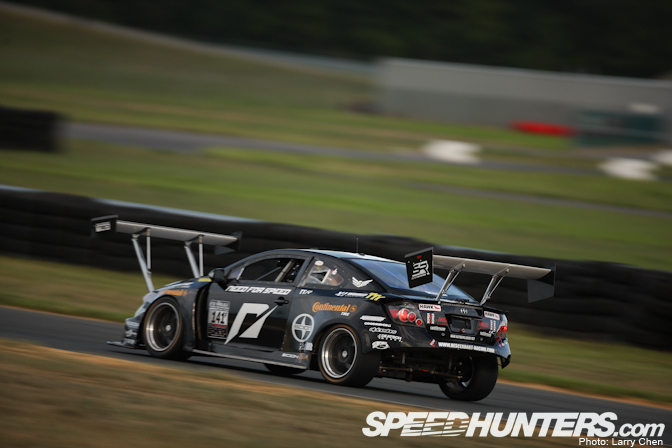 On my next hot lap around I set a new front wheel drive track record with a lap time of 1:05.481. This will be my 20th track record in North America and I hope to set 20 more.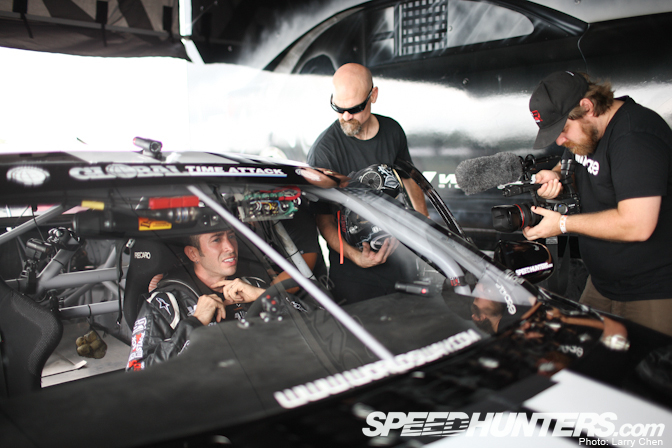 As I arrive back at the pits, team documentarian, Adam Rehmeier greats me with a camera in my face and a smile. Get me out of this hot car and into my cool rig with my pit bulls!! At this point I'm at ease, the car is in one piece and so am I.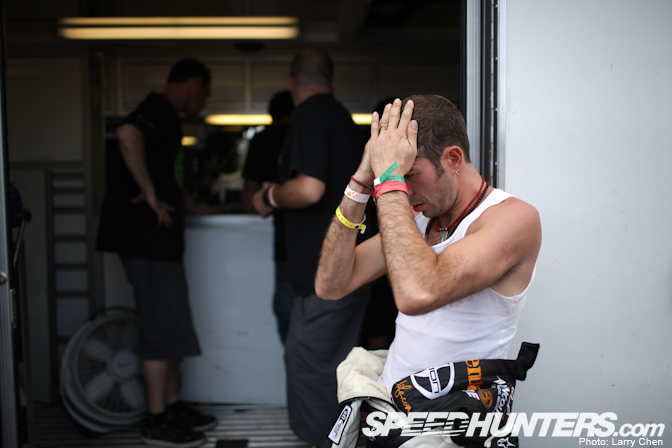 No matter how fast we go the human nature in me always wants more and more. If we set a lap record I'm not celebrating most of the time, I'm trying to figure out how we are going to get more out of the car and more importantly how to get more out of the stupid driver (me). Here I'm trying to feel if any activity is actually happening in my brain…. Then I realized I've been brain dead for years. Oh well I guess I should just go with it.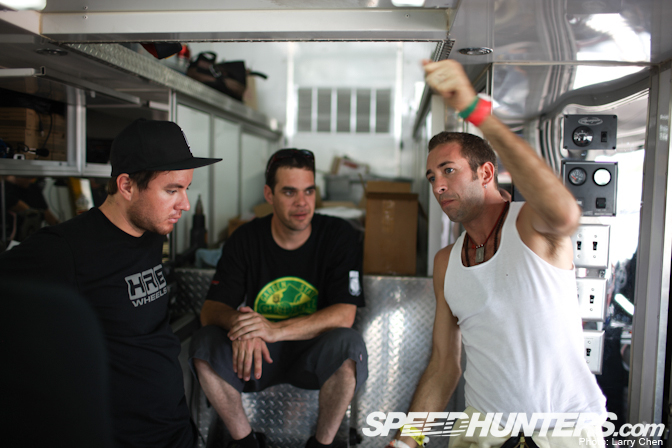 I download the session with my team so that they can make any adjustments prior to the next outing. Driver/Engineer downloads have always been important for me. Some of my best work on the track starts before a tire ever touches the pavement by analyzing data from previous runs and relative scenarios.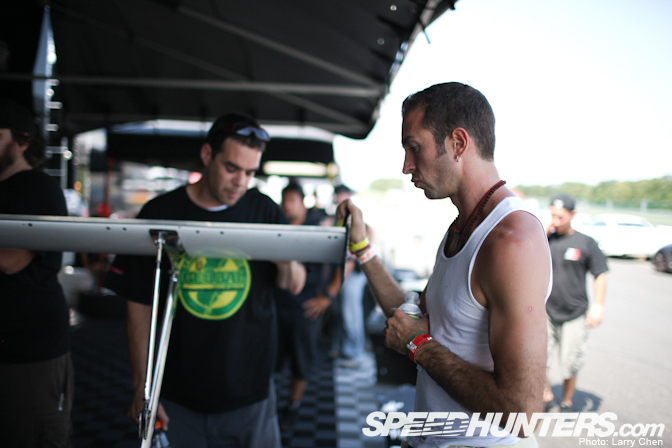 "So… You think you can get me 50 lbs. of boost?" said the driver to his engine.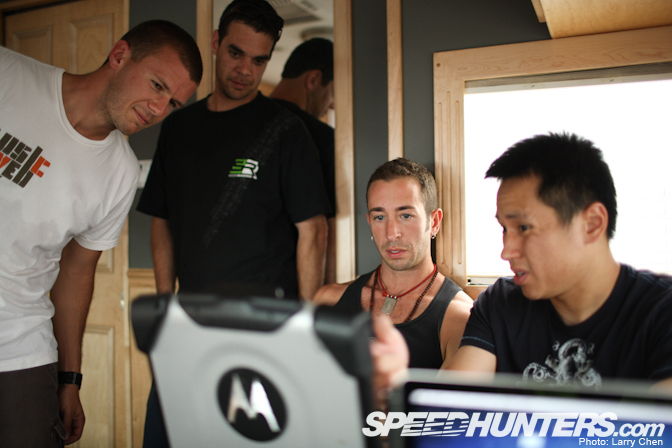 Once I was back in the rig I had a chance to go over some of the track data with GST Motorsports driver Jeff Westphal (far left), Descendant Sales Manager, Kareem "Um Num Sha Boy" El Sherif (middle) and engine tuner James "That Gangster" Lin (right). All of us have lots of track experience, but by far I am the cooler of the bunch. James has been tuning my race cars for many years and his experience in motorsports stretches far and wide. From Baja to Nascar and Karting to Dakar he is the man when it comes to MoTeC, track support and wiring harnesses. Check him out here.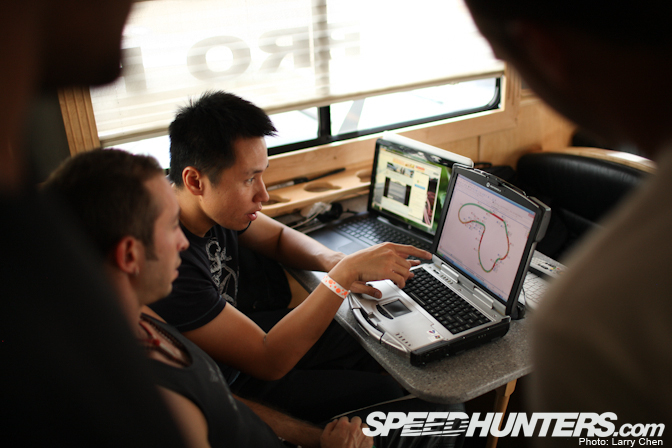 James is telling me that by putting together my best sector times and doing the math our predictive lap times show the potential to shave even another 2-3 seconds from our lap time! Talk about exciting news… In my new tC I will have predictive lap times on my STACK steering wheel display.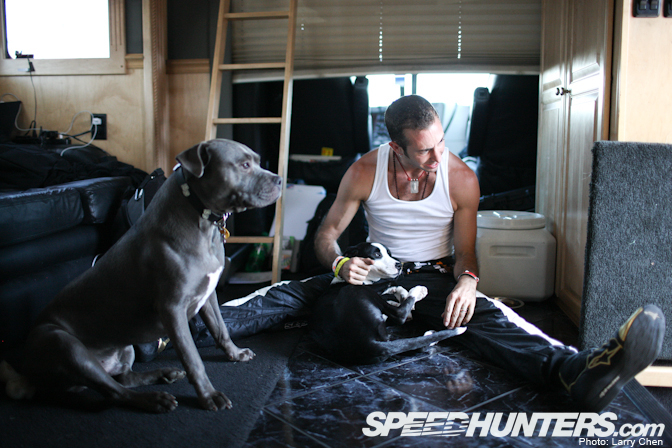 Anytime I'm preparing for an intense session where I'm really gonna have to put together a great lap to win the overall, the most important thing is to stay cool and calm. So here I am staying as cool as it gets just sitting in the truck with my kids enjoying the moment. Then I go out and try to impose my will on the car and track…
Chris Rado