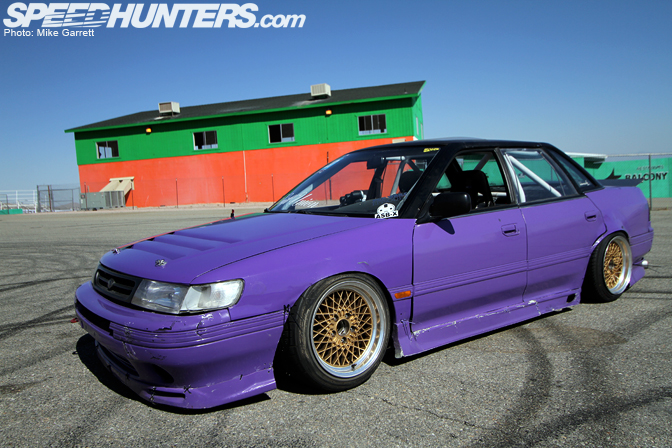 For the last of our Drift Union car features, we have the most well known car of the trio – Logan Noel's 1993 Subaru Legacy. In addition to being one the most unique grassroots drift cars in North America, Logan's Legacy also happened to be voted by you guys as the 2010 Speedhunters Street Drift Car of the Year.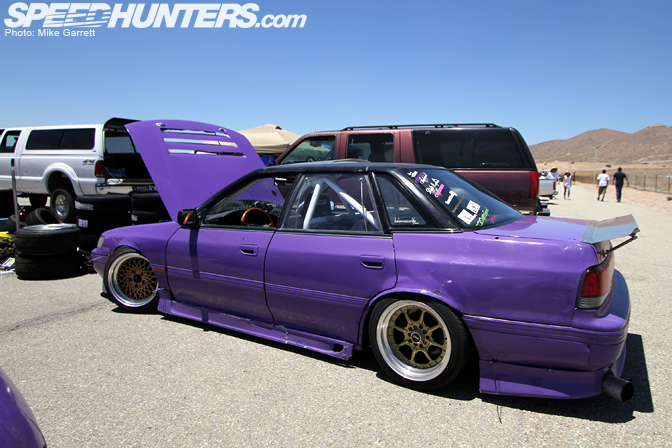 This year Logan brought his Legacy to All Star Bash for the second time, but he was met with some rather unfortunate luck when he suffered an engine blow very early in the event. Even though he had traveled all that way only to be sidelined by mechanical problems, he was still in good spirits and ready to enjoy the weekend with his Drift Union brothers. To me that says a lot.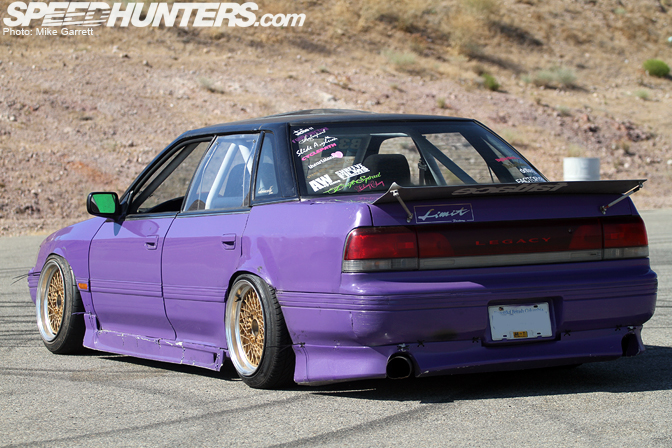 The Legacy originally started off as Logan's autocross car. He got his start drifting in an AE86 and after a short time wanted to upgrade to a car with a little more power. Instead of going out and buying a turbo S-chassis like a lot of people might have done, he decided to take the old Legacy and do a rear-drive conversion. The rest is history.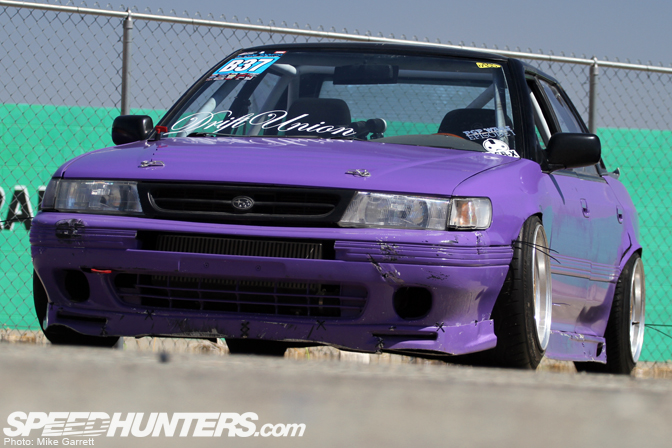 You aren't likely to find too many aftermarket body parts available for a '93 Legacy, so Logan took matters into his own hands. The front lip comes from a Bugeye Impreza for example, while the rear lip is made for a Toyota Soarer.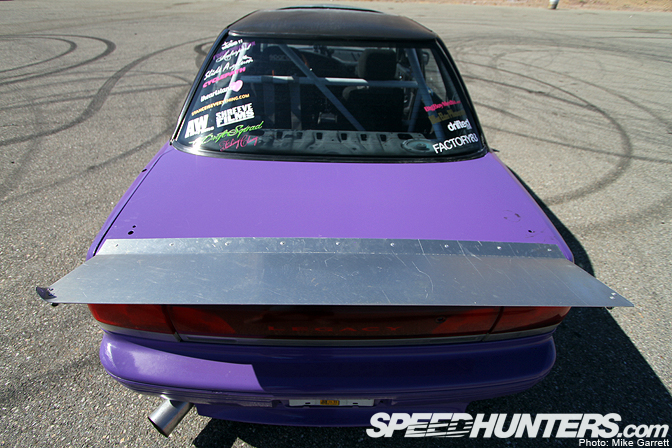 Also out back you'll find this custom wing that gives the Legacy a bit of a NASCAR vibe. Tough stuff.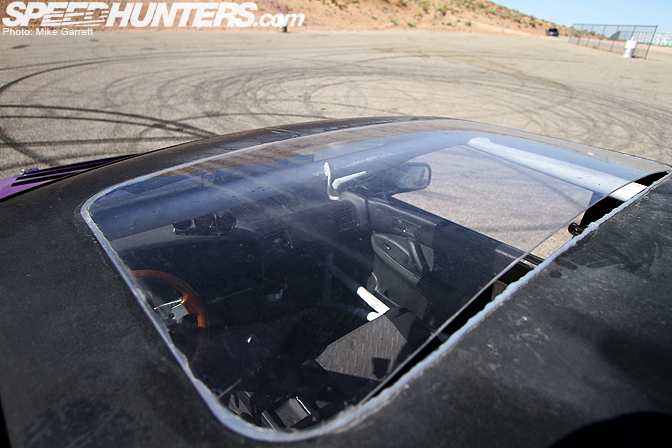 The sunroof is perfect for catching the rays at All Star Bash, or the rain back home in BC.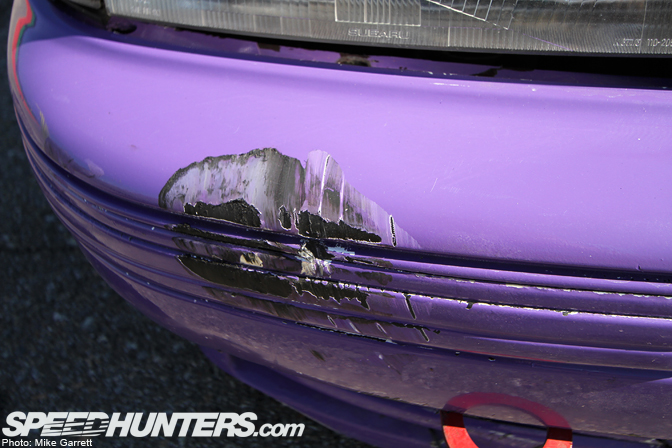 As with the other Drift Union cars, the battle scars are earned and worn proudly.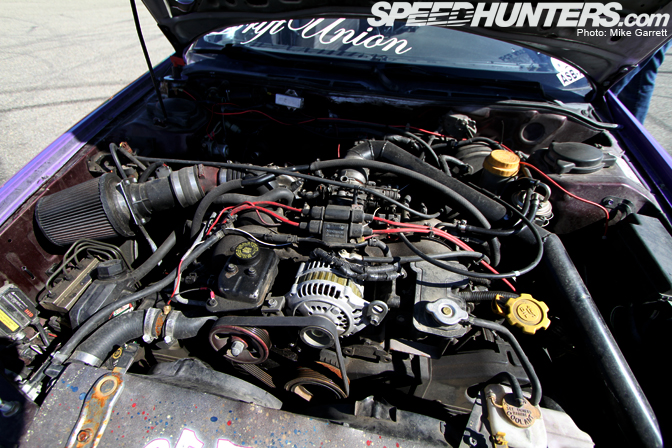 Under the hood of the Legacy you'll find the tried and true Subaru flat-four turbo. This one has upgraded his with heads and intake manifold from a twin cam EJ25, and a JDM STI td05 16g turbo. He also did a custom front-mount intercooler setup. The flat-four rumble is amplified by a full three inch straight exhaust.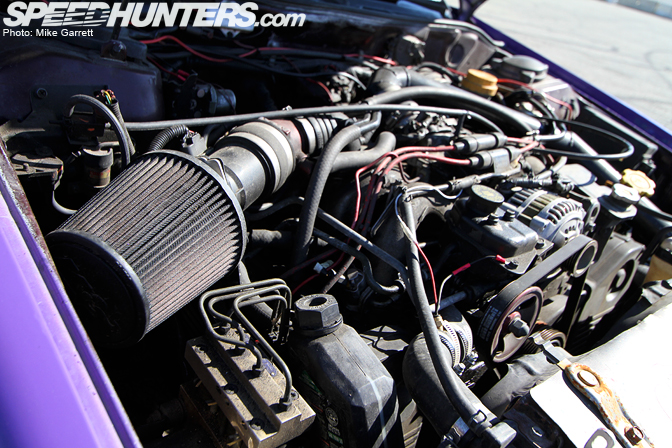 With this setup the Legacy put down 240 horsepower to the back wheels, and Logan says he's looking to up that number for next year.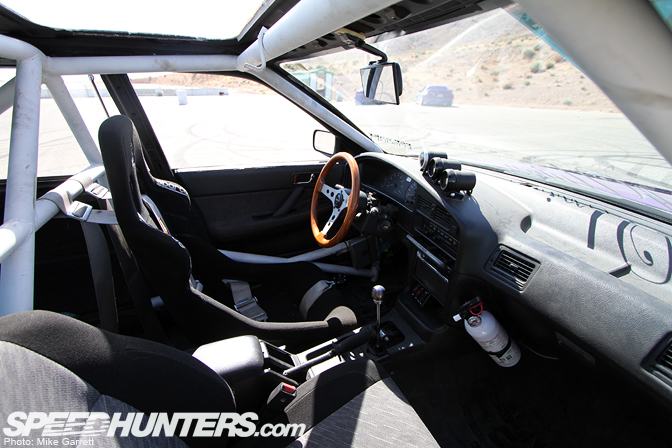 The interior is surprisingly stock, with many of the original panels and the dashboard still intact. Logan sits in a Sparco Sprint V seat while the passenger gets a factory bucket from a '98 Impreza 2.5 RS. The roll cage was done in-house at Fortress Fabrication.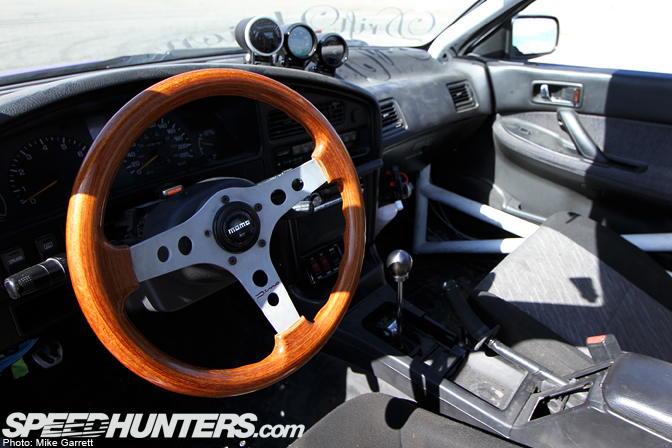 A woodgrain Dino steering wheel adds a little more character to the cockpit.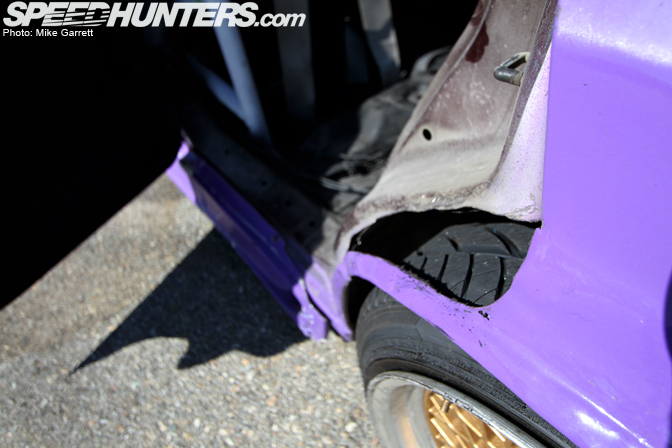 Ah yes, the things done in the name of wheel fitment.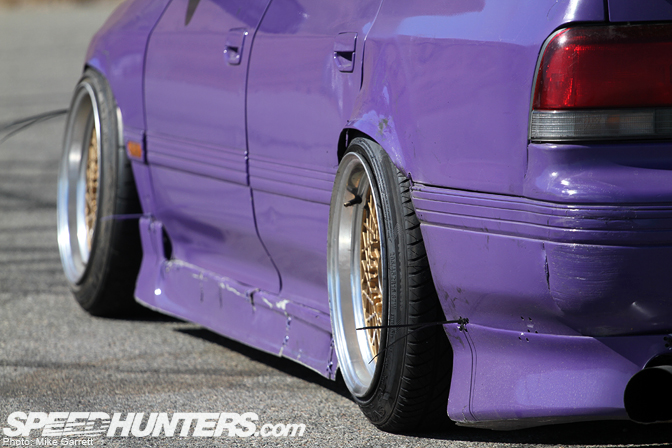 JIC coilovers up front with Nex coilovers in the rear keep the Legacy low and stiff. Other suspension and chassis work includes STI front aluminum control arms, a V7 STI rear sway bar, and adjustable trailing arms and lateral links in the rear.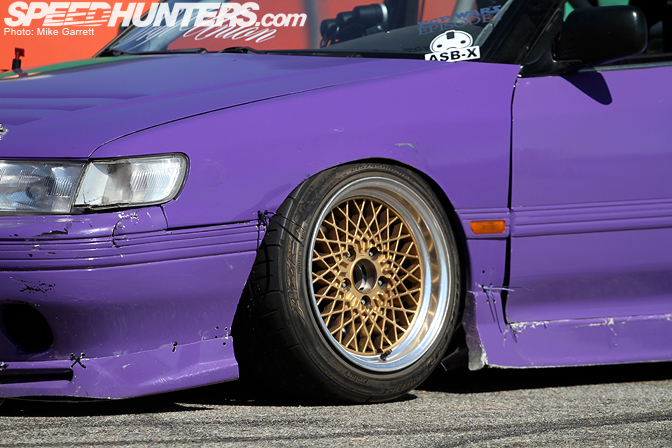 Logan has a few different types of wheels he runs on the car, but his favorite are these Riken mesh wheels, 16×9.5 +5 in the front, and 16×9.5 +13 in the rear.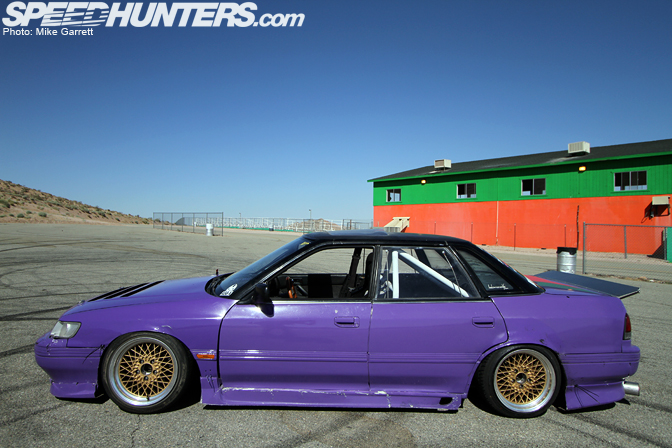 Not only is Logan's Legacy an example of a unique drift car, to me it's a car that perfectly embodies the spirit of grassroots drifting. You won't find too many store-bought parts here. Everything was done by Logan and his friends over many late nights in the garage.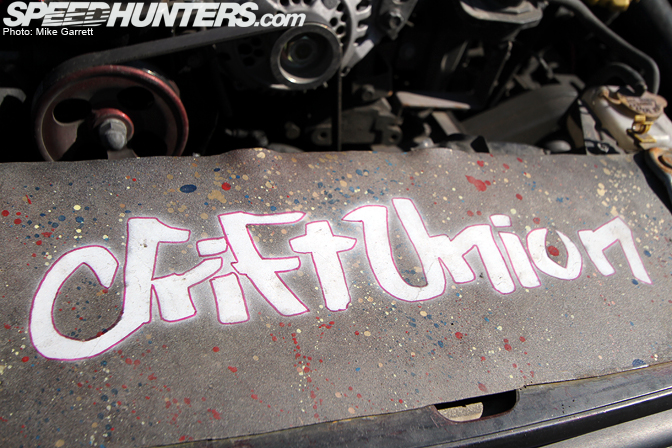 It's that late night, fun-loving spirit that so many car enthusiasts can relate to, drifters or otherwise. It's easy to see why you guys liked this car so much during the Speedhunters Awards last year.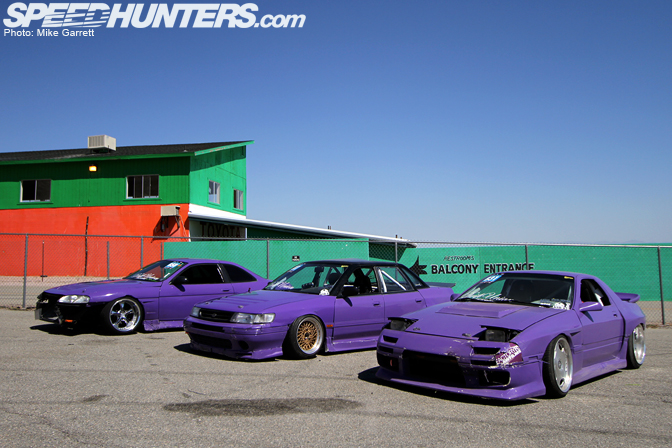 And so we salute Logan and the rest of DU crew for keeping the grassroots drift spirit alive and well in North America.
Also a personal thanks goes to these guys for standing out in the 100 degree desert heat while I shot the cars!
-Mike Garrett
Spec List
1993 Subaru Legacy Turbo
Interior:
FortressFab FD spec Roll Cage
Sparco Sprint V
RCI Platinum harness
Dino real wood Steering wheel
8" jdm bubble Shift knob
98 25rs passenger seat
Cluster colour changed to red
Gutted and painted black
Water temp, Wideband, boost mounted on dash
Exterior:
Custom Purple
Custco replica side skirts
Soarer Rear Lip
bugeye front lip
Limit factory rear wing
Custom hood Vent
Lexan rear windows
Lexan sun roof
Large flare on rear 1/4's and back doors for 0* camber
Engine:
JDM STi td05 16g turbo
Modded ej20k injectors to 510cc
Jecs plastic maf
JDM ej20g ecu chipped and "ROB" tuned
Custom 4 channel to 2 channel ignition harness
2.5 dohc heads and intake mani
STi 11m oil pump
JDM Apexi Intake
Custom same side in/out FMIC
AEM Tru-Boost gauge/controller
AEM Wideband A/F gauge
Walbro 255lph fuel pump
Custom Rad Cooling Plate
3" exhaust no muffler/resonator w/magaphone tip
Suspension & Brakes:
JIC Magic front coilovers and Nex racing rear Coilovers
STi front alu control arms
Custom modded knuckles
Whiteline Steering rack bushings
STi welded r180 diff
Modded STi rear backing plates for stock calipers
V7 STi Rear Sway Bar
Adjustable Rear Trailing arms
Adjustable Rear Lateral links

Rims & Tires:
4x 16×9.5 Riken +5 front +13 rear
4x 16×8 XXR 002 -8 front 0 rear