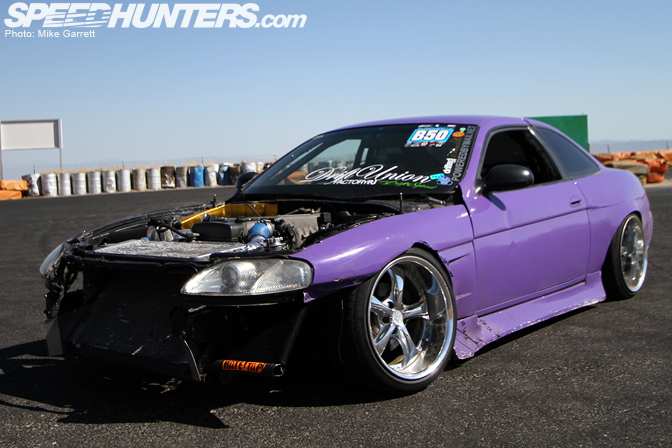 For the second of our three features on the cars of Drift Union, we have Steven Thompson's 1993 Toyota Soarer.
Being an American I first mistook Steven's car for a USDM Lexus SC300, but then I noticed the right hand drive cockpit and remembered that our friends to the North are able to bring in cool J-spec rides by the boatload…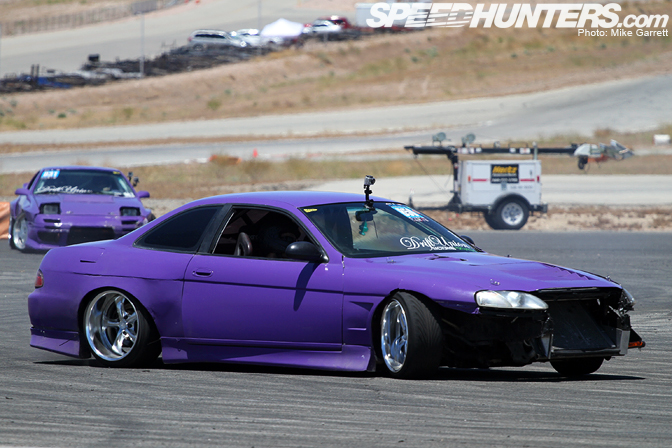 Steve actually hails from Australia and that's where he got his start in drifting. He was out of it for a bit and then started again after relocating to Canada and picking up the Soarer.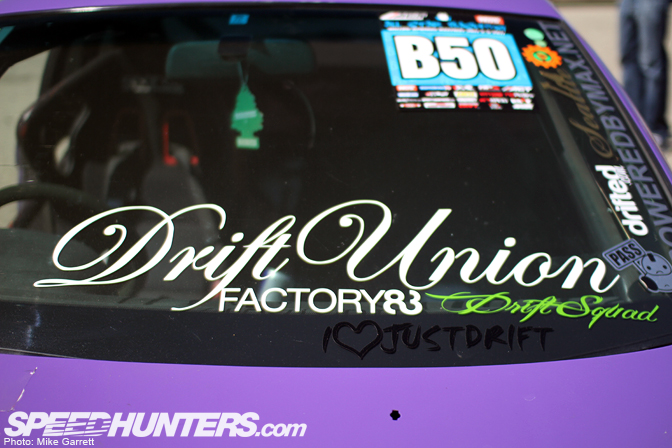 The big body Toyota was originally white in color before Steve repainted into signature Drift Union Purple, better known as "DUrple". This was made easy by the fact that Steve spends his days doing body work and fabrication at OZ Designs in Richmond, British Columbia.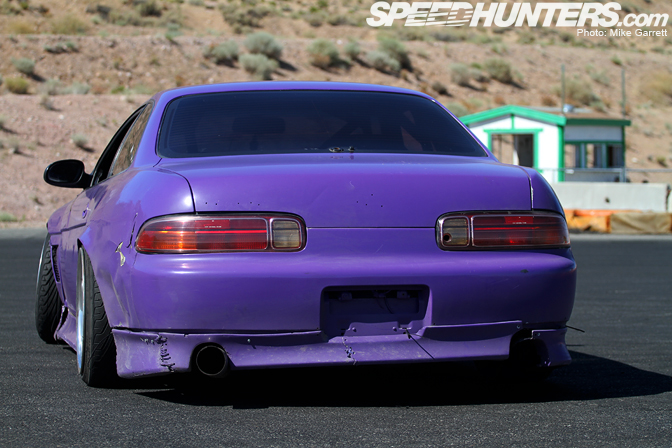 Steven's Soarer may not be show quality, but do we really care? No. This is a drift car first and foremost, and one that just happens to look awesome while doing it.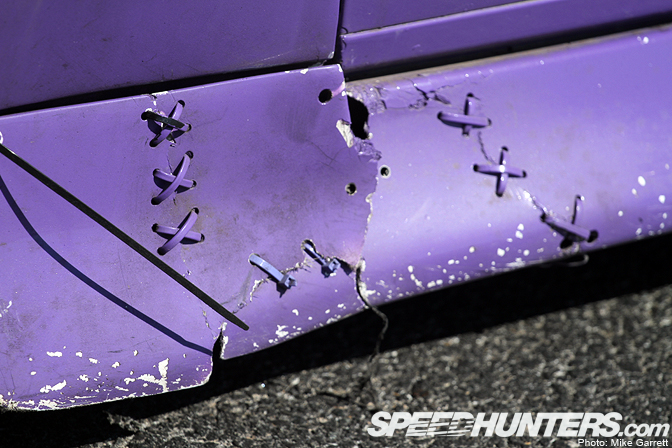 Zip ties and body damage are what give drift cars their character, and this Soarer is full of both.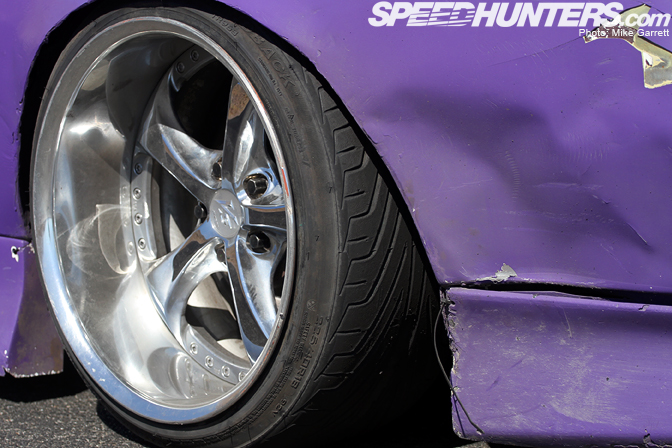 WIthout these battle scars, they would be nothing more than rolling show peices…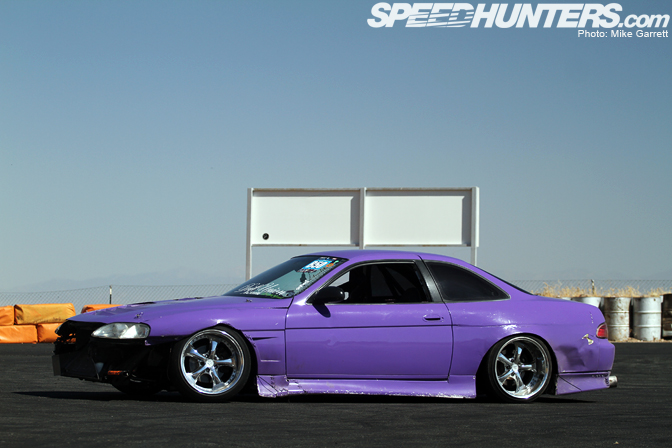 When I shot Steven's car at All Star Bash, the body work had seen its fair share of abuse, but its since been refreshed.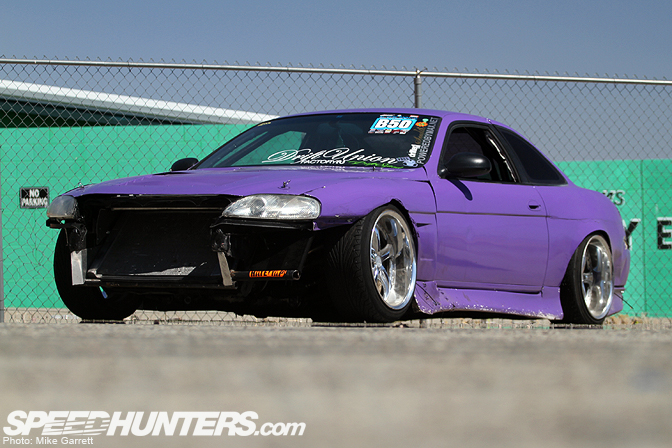 Even without a front bumper, the BN Sports Blister Kit gives the Soarer as positively wicked look.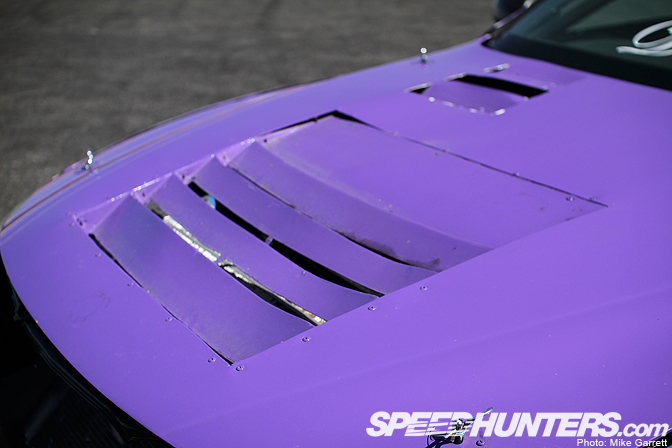 The custom drop-vent hood was done in-house at OZ Designs.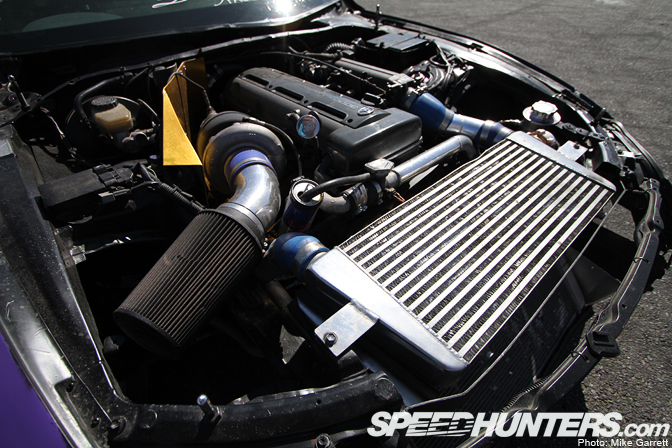 Under the hood lies a JDM 2JZGTE with a Borg Warner S300sx turbo, a twin scroll manifold, and 580cc injectors just to name a few of the engine mods. The V-mount intercooler setup was also crafted at OZ Designs.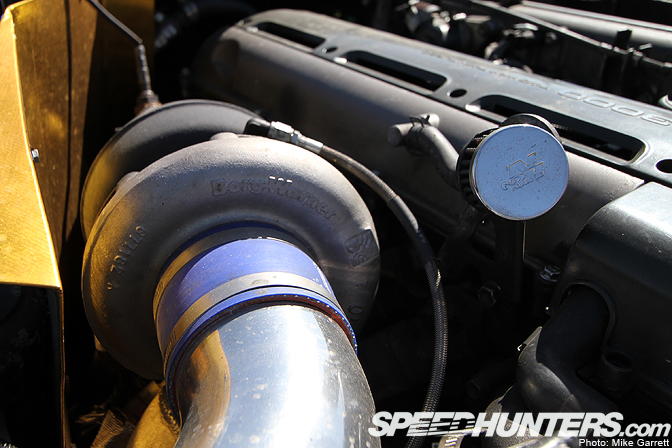 In its current form, the 2JZ lays down a respectable 330 horsepower to the wheels. More than enough for Steven to slide the long wheelbase Toyota around.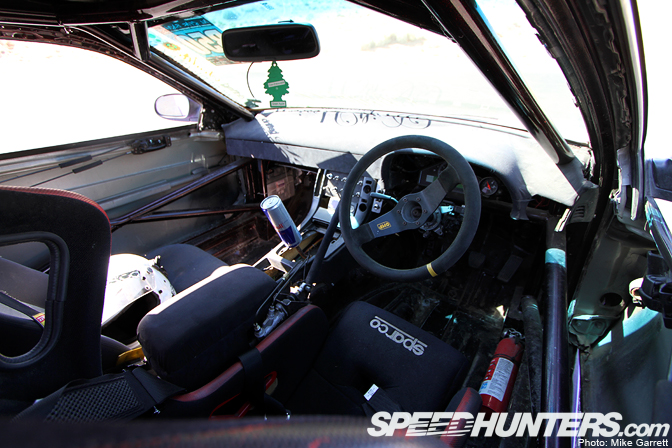 The stripped out, functional cockpit is a stark contrast to the luxurious confines of the factory Soarer interior. The roll cage is another example of the work done at OZ Designs.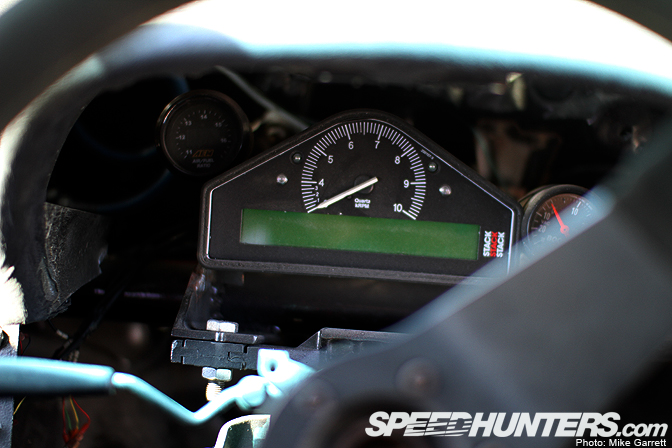 A 10,000 rpm Stack cluster can be seen behind the twin spokes of the OMP steering wheel.
Steven changes gears in the R154 transmission via this ultra custom 473ml shift knob from Red Bull…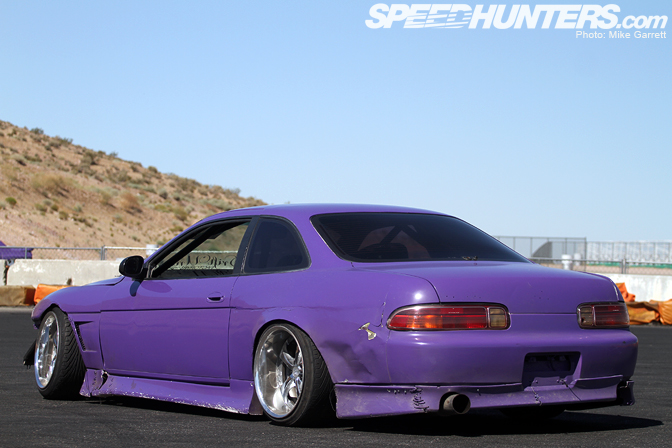 The Soarer gets its low stance from a set of D2 coilovers. OZ Designs also did the rear upper control arms and front knuckles. The front upper control arms have also been replaced with adjustable pieces. Meanwhile, the front sway bar has been modified while Steven removed the rear bar completely.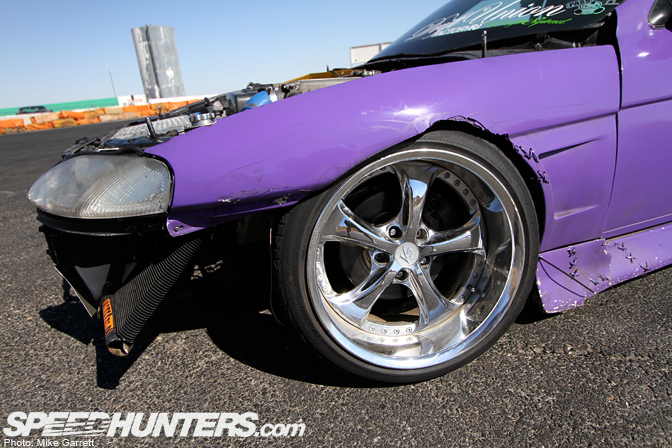 If I were to make a list of my top five favorite wheels of all time, the Work VS-KF would most certainly be included and I know I'm not alone in saying that.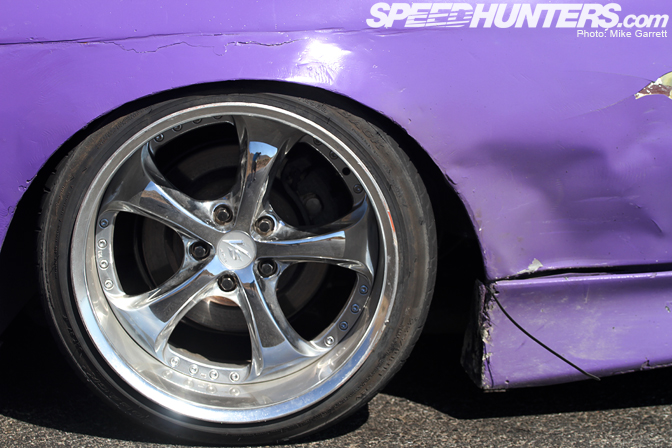 .Steven's VS-KFs are sized 18×9.5 -27 in the front and 18×10.5 -18 in the rear. He also has an extra set of Work XSA 02Cs for good measure.
When everything thing comes together, dramatic, ground scraping slides are the result. The note of the 2JZ makes things even better.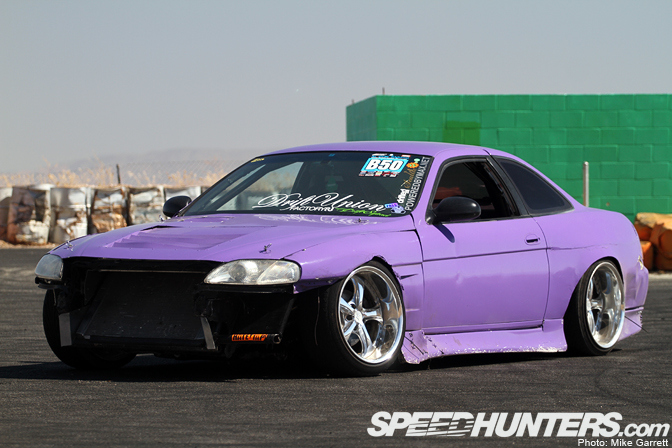 Just like Shawn's FC, Steven's Soarer is full of that "flashy and rough" style that defines the Drift Union trio.
And speaking of that trio, I'll be back soon to wrap our Drift Union features with a look at Logan's Subaru Legacy.
-Mike Garrett
Spec List
Interior:
OZ Designs Rollcage
Sparco Pista drivers seat/GTR passenger seat
Stack 10000rpm cluster
Custom hydro ebrake
OMP 2 spoke steering wheel
Full interior paint in black with red flake
OZ Designs rear firewall
Suede wrapped dash/steeringwheel/ebrake handle
Red Bull 473ml shift knob
Exterior:
Full BN Sports Blister widebody
DUrple paint
Gutted doors
Clearenced front inner fenders
OZ Designs drop-vent hood
Gangster Gold tinted windshield
Engine/driveline:
JDM 2jzgte
Borg Warner s300sx, extended tip, 1.0 a/r turbo
Twin scroll manifold, Fully divided to 50mm hks wastegate
580cc injectors
R154 transmission
HKS triple plate clutch
OZ Designs v mount intercooler/radiator
Turbosmart boost controller
AEM wideband
ATI super damper
3 inch downpipe and exhaust splitting to twin 4 inch tips
Suspension/brakes:
D2 coilovers
OZ Designs rear upper control arms
OZ Designs front knuckles
Adjustable front upper control arms
LS 400 front calipers
Powered By Max subframe bushings
Diff bushings
Modified front sway-bar
Rear sway-bar removed
Wheels:
2x Work VS-KF 18 x 9.5-27 front wheels
4x Work VS_KF 18 x 10.5-18 rear wheels
2x Work 02c 18 x 9.5 – 10 front wheels
2x Work 02c 18 x 10 – 28 rear wheels