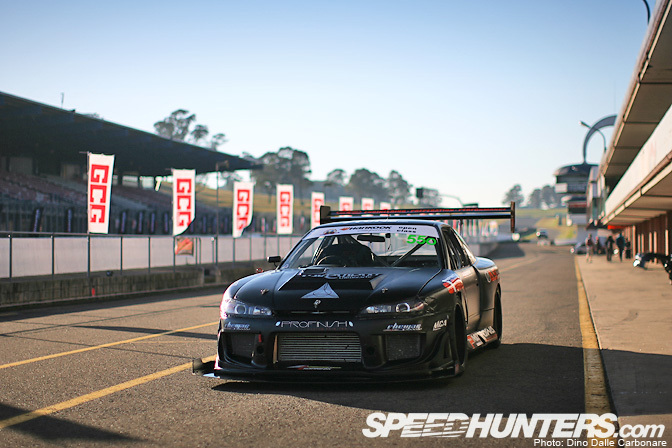 Perspective can often make even the most familiar of things look completely different. Traveling often has this effect on people; we might see similar things in other countries and in other cultures but there are always subtle differences that make them seem almost alien. Take the RPS13 you see here. It might be based on a car that I've become extremely familiar with in Japan over the past decade, having shot a variety that were built for different disciplines. But the moment I saw this example, I knew it was special. Built by Simon Podlewski at Morpowa, this is by far one of the most unique cars that we came across during our time at the World Time Attack Challenge, a car that straight out of the box – with little to no setup and testing time – managed to finish in second position in the Open Class.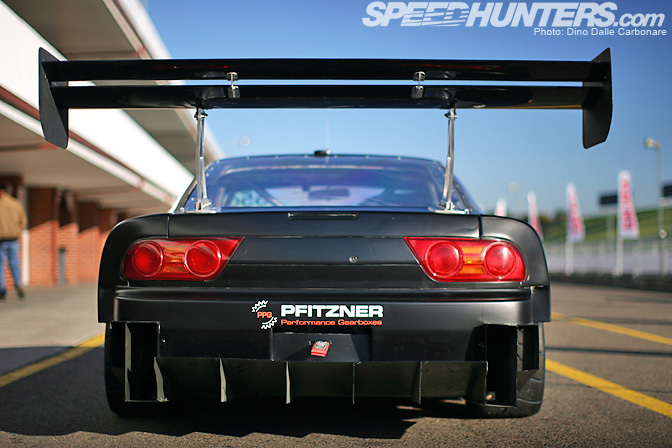 This is a 180SX like no other, and that goes beyond the obvious visual alterations that have transformed it into a dedicated time attack monster.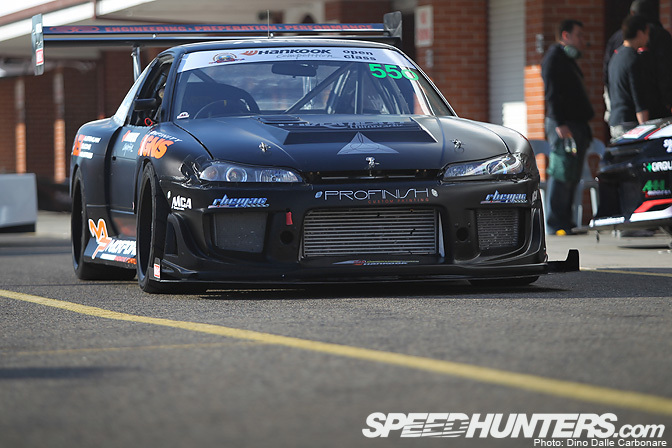 Aside from the S15 Silvia front end conversion the guys at Morpowa called in the help of Andrew Brilliant, a freelance aerodynamicist that has worked for the best in the business, assisting Indy Car, American Le Mans and Super GT teams with perfecting their aero packages. Andrew has a true passion for the Time Attack scene, having built his own car back in the day, so has began to show the whole scene just how important it is to have a car interact with its air flow efficiently. On top of the widened front S15 fenders, that needed to contain the massive 295/30R18 Hankook Ventus TD Z221, a few details were modified up front in order to manage air better for both engine cooling as well as to balance out the downforce…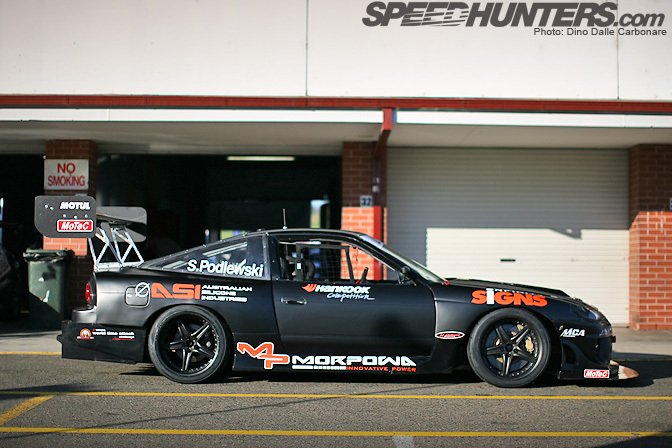 …that the massive rear spoiler develops. This was achieved through the use of the long front splitter you see above. The reason such high levels of downforce were necessary becomes obvious once you take a look under the hood.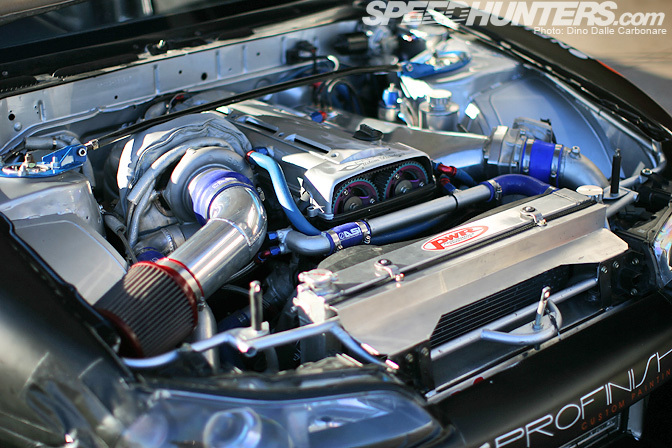 No SR20DET here; instead Simon went with a motor he knew would provide him with the bucketloads of torque a time attack car needs to have, a nice reserve of acceleration to shoot out of corners effectively. The 2JZ used in this application develops a very healthy 710 HP at the wheels, achieved thanks to Rhemac Performance who built the 6-cylinder. Capacity remains at 3-liters but the bottom end now sports some Crower conrods and CP Pistons mounted on the stock but balanced Toyota crankshaft. The polished and ported head runs 272º BC cams for both the intake and exhaust sides and was fitted with an upgraded Stainless Ferrier valve train along with titanium retainers, before being bolted down to the block with ARP head studs.  A GCG GT35/40 GTX turbo sits on top of a 6 Boost exhaust manifold along with a Tial external wastegate which is set to keep boost pinned at 27 PSI. All custom aluminum piping plumbs the whole set up together from the BMC cone filter to the PWR intercooler…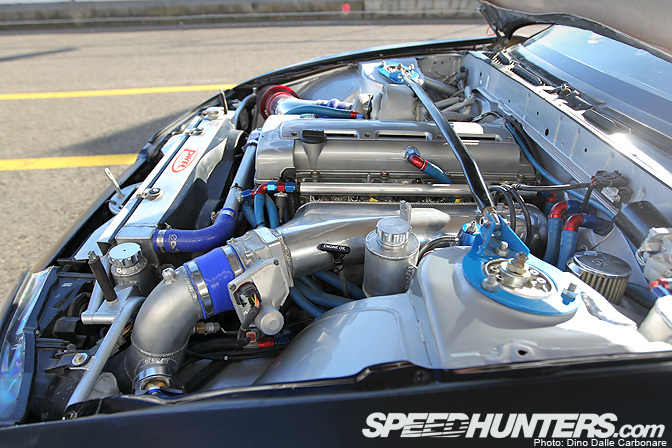 …all the way to the custom intake plenum. An LS2 electric throttle was a necessity to set up a little traction control assistance via the MoTeC M800 ECU to help Simon handle the fury of the engine's power. This beast can spin its rear semi-slick Hankooks in 4th gear at 135 mph! Six Bosch 2200cc/min injectors are required to satisfy the engine's thirst for E85 and are in turn kept topped up by a pair of Bosh 044 fuel pumps. The driveline was treated to a T56 6-speed transmission with a complete PPGearbox dog-engagement gear set along with an Xtreme twin plate clutch and Nismo 2-way LSD.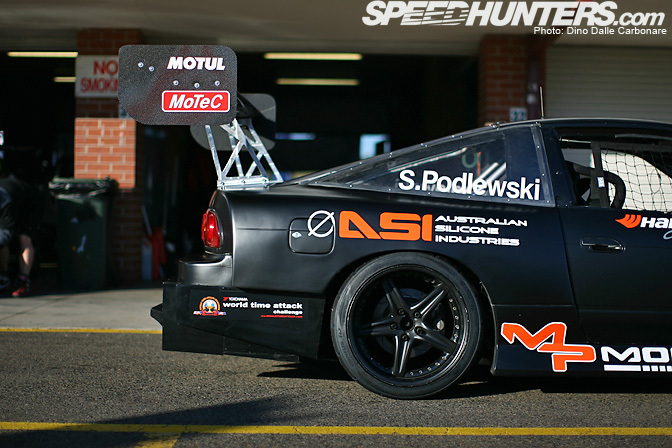 A closer look at that rear wing. Notice how high it sits so it can take full advantage…
…of the air coming over the roof of the car.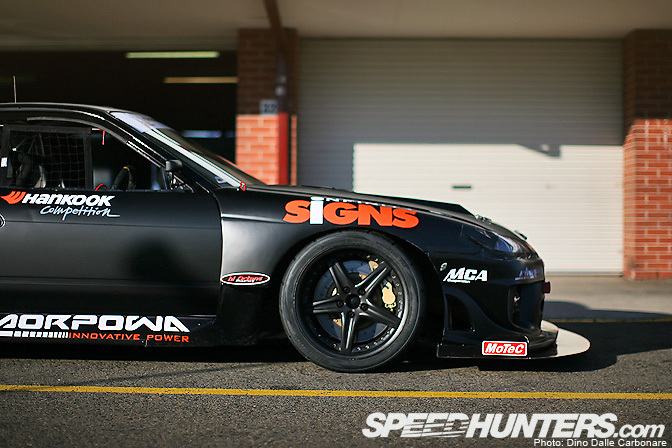 The big pumped front fenders are joined by tubbed wheel arches so the massive 295-section semis are free to move around. Suspsension is comprised of MCA dampers, Whiteline sway bars and Ikeya Formula adjustable arms, knuckles and steering spacers.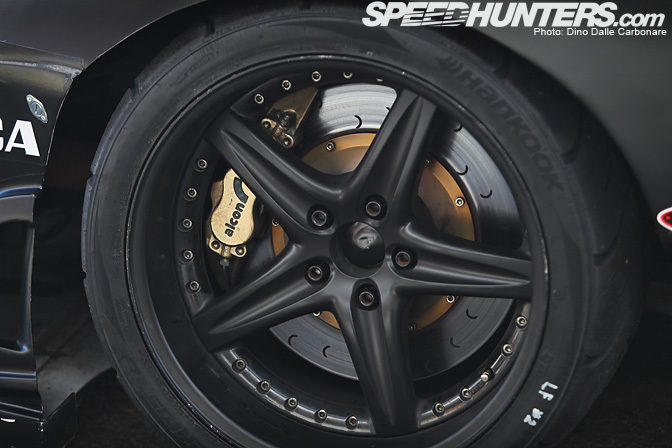 The front ROH Modena 18×10.5 rims allow just enough space to fit the Alcon 6-pot calipers! Rear brakes have been upgraded to GT-R calipers and rotors while Ferodo DS3000 pads are used all round. The Modena wheels measure a massive 12-inches across at the rear, running the same 295/30R18 that is used in the front.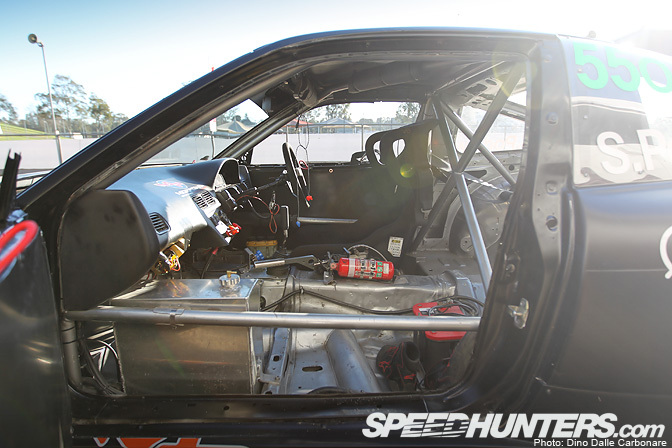 Things in the interior are focused to say the least.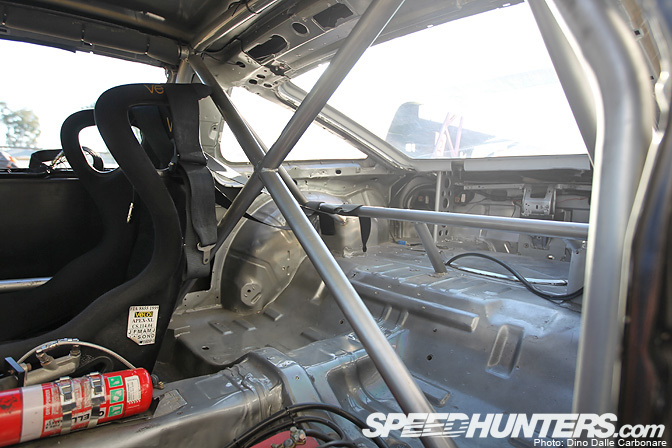 The custom multipoint roll cage was fabricated and welded up at Morpowa.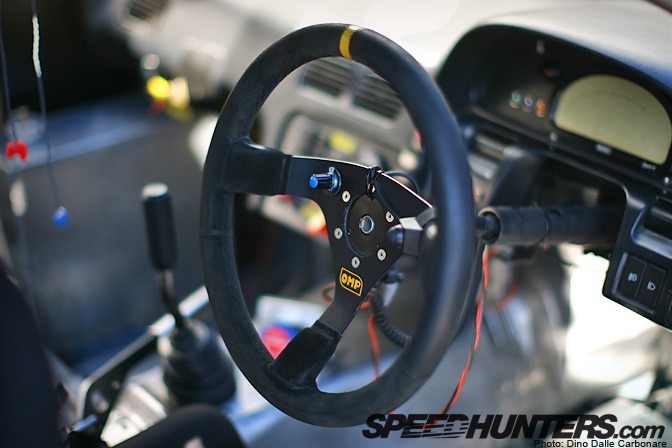 Any guesses as to what this blue knob does?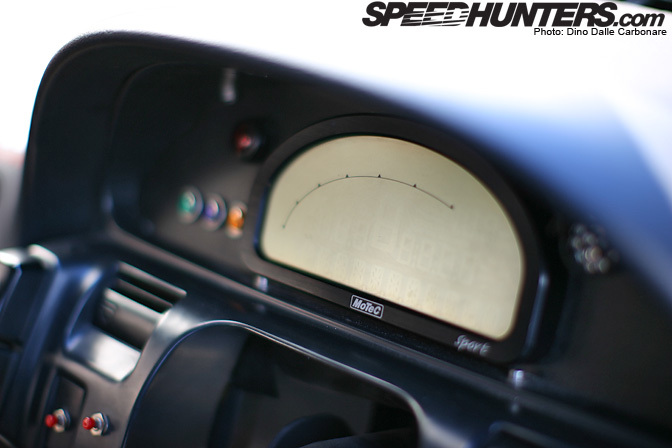 An LCD MoTeC dash unit is fitted into the custom instrument binnacle, replacing the stock Nissan cluster.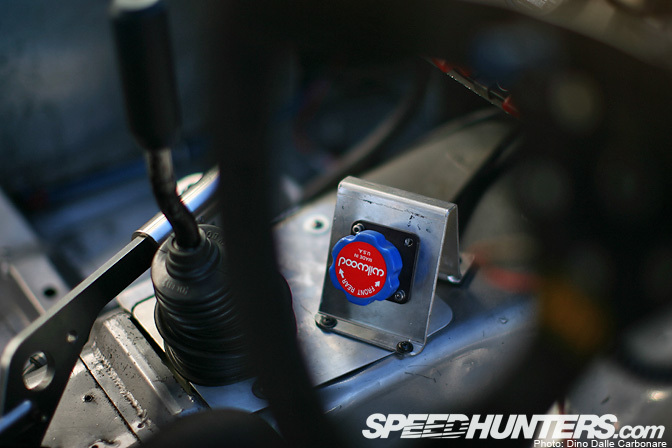 Front to rear brake balance is very important to get right so this Willwood adjuster allows Simon to fine tune it depending on which track the car is driven on as well as surface grip and condition.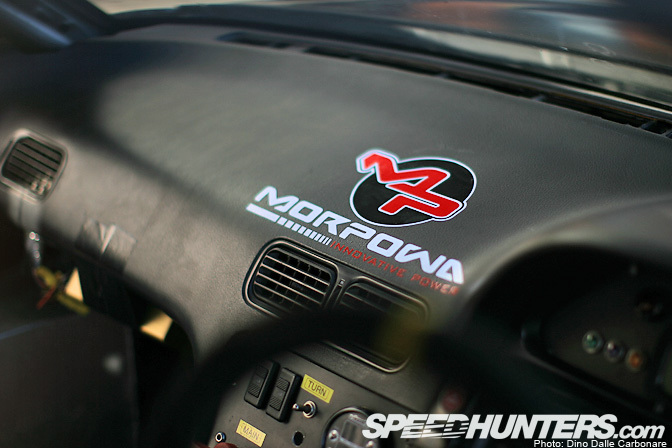 Morpowa may be Holden and Ford specialists but they obviously know a thing or two about building a competitive time attack car out of a Japanese car!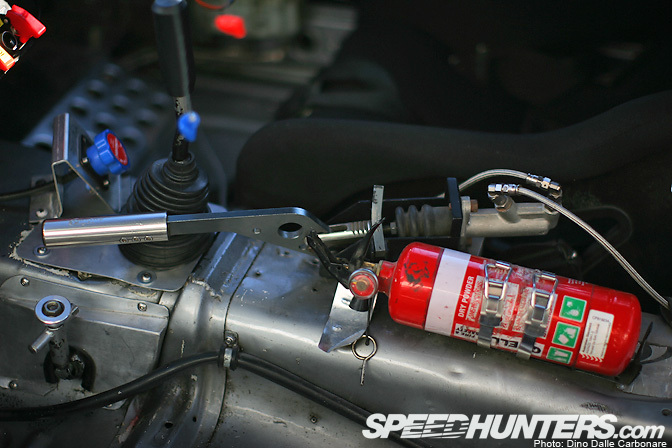 A hydraulic side brake is not something you would normally see on a time attack car. Keen trainspotters will pick that this actually the old drift car that Simon used to campaign in the Drift Australia series. It's amazing to see a drift car – that was competitive at a national level – become so quick in time attack racing.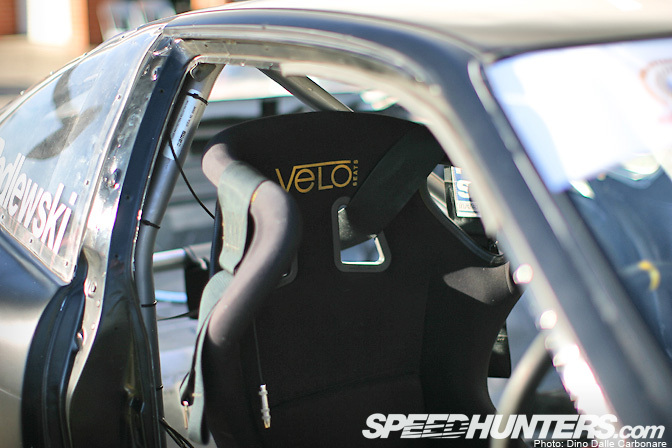 Simon's Velo Podium bucket seat, the place from where he managed to coax a 1'35"779 lap out of the 180SX.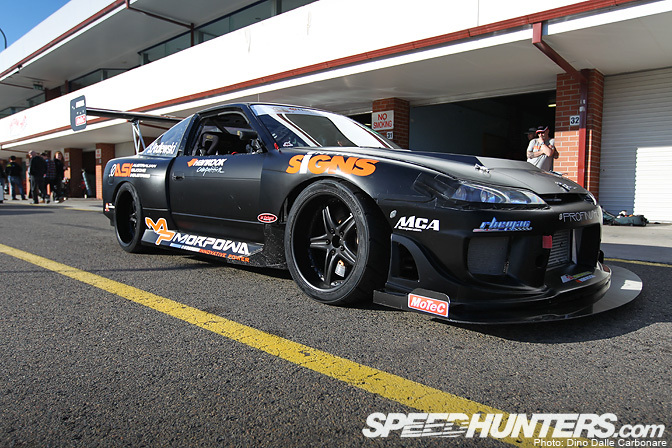 This project has come a very long way since the car was bone stock about 5 years ago.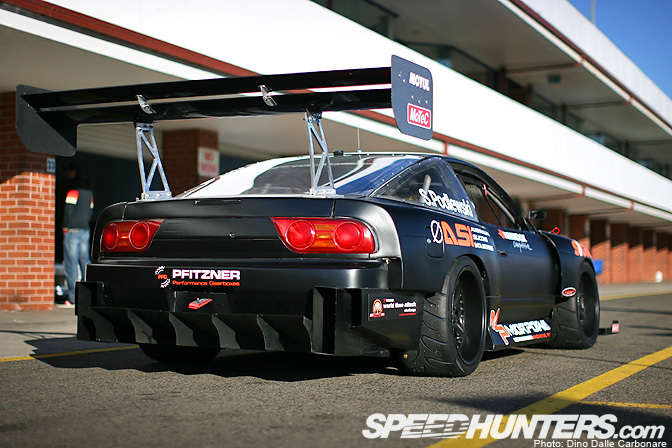 Deploying each of those 710 horses isn't easy but Andrew Brilliant's aerodynamic fine tuning has left Simon very happy which how the car behaves now. He intends to have Andrew come up with an even more focused aero package for next year, and will also be working closely with PPGearbox to develop a sequential transmission. The idea is to keep the car steel bodied and still weighing around 1300kg, but make it even faster.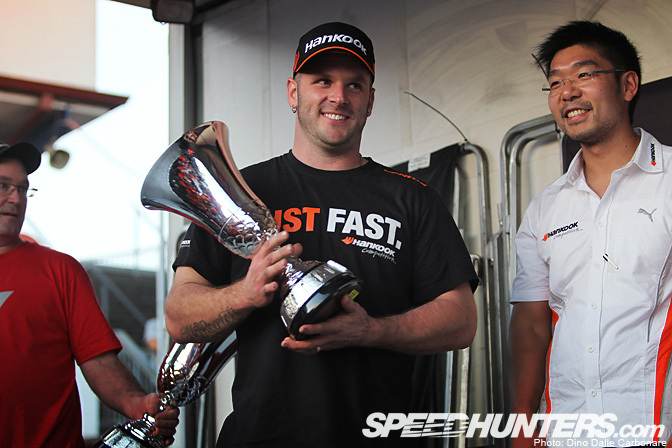 Simon took second position in the Open Class. Perhaps we'll show a feature on the Open Class winner shortly…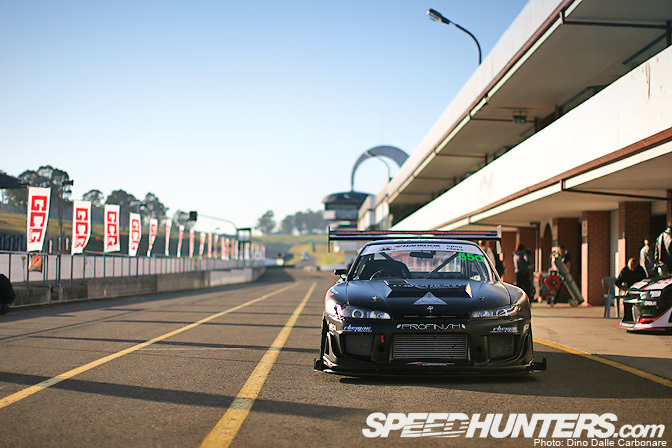 It will be great to see just how much quicker this 180SX will be once it has a more serious aero package and some fine tuning. Without doubt, an RPS13 like no other I've seen.
-Dino Dalle Carbonare