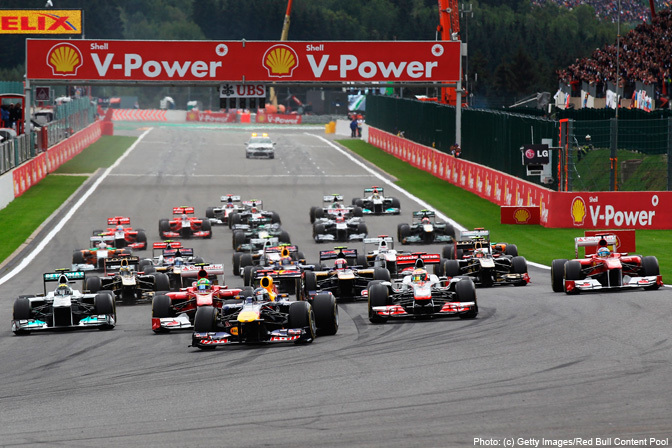 While certain events on the Formula 1 calendar, such as the Monaco Grand Prix, carry more prestige, amongst the drivers it is the Belgian Grand Prix that is often the one they want to win. With its tricky conditions and fast, flowing layout – which includes Eau Rouge and Blanchimont, two of the world's most challenging corners –  Spa-Francorchamps is regularly touted as a track that separates the men from the boys.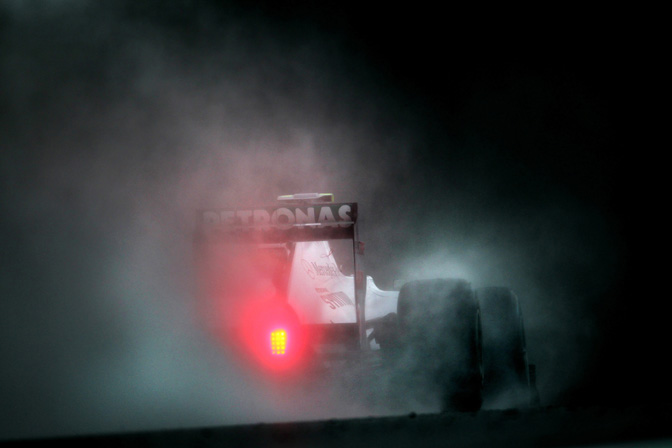 The Francorchamps area of Spa, Belgium is notorious for its changing weather, and this year's Grand Prix once again saw inclement weather.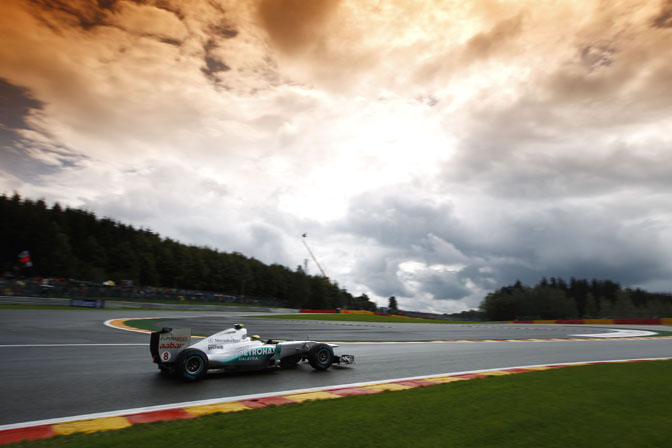 Both practices sessions were wet, as was qualifying. Bruno Senna, nephew of the late Ayrton, surprised many by qualifying his Renault in seventh spot. This was Senna's first race for Renault, having controversially replaced Nick Heidfeld.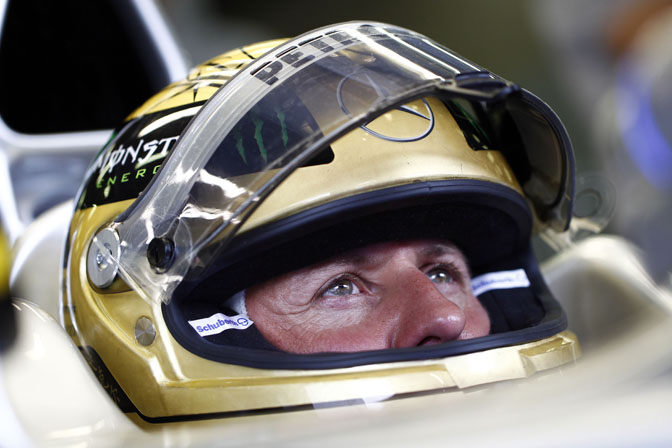 This year's Belgian GP marked Michael Schumacher's 20th anniversary in F1. Schumacher's F1 debut occured at Spa in 1991, when he shocked everyone by putting his Jordan onto sixth on the grid.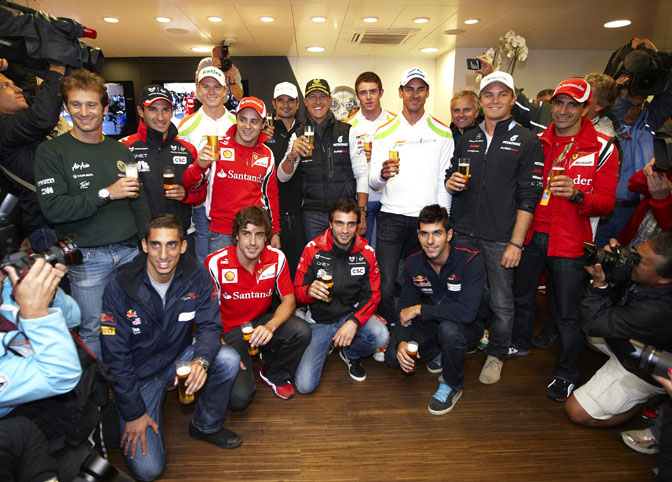 Many of the F1 drivers joined him in the Paddock for celebrations. It's worth noting that Schumacher's 20 year F1 anniversary includes the three years he spent in 'retirement'.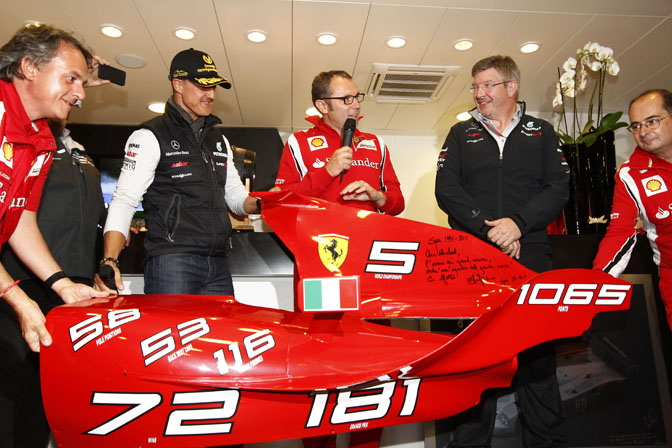 Ferrari F1 chief, Stefano Domenicali (pictured centre alongside ex-Ferrari Ross Brawn) presented Michael Scumacher with this F1 cowl, noting his achievements.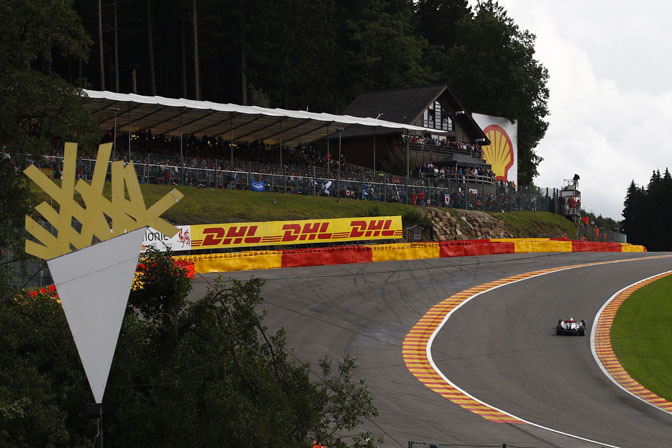 The hot topic before the race start was tyres. For the wet qualifying, the Red Bull Racing team – along with other teams – ran extreme front camber outside of Pirelli's recommendations, which led to blistering. With high-g corners such as Eau Rouge, there were concerns that these camber angles could cause catastrophic tyre failures. Under parc ferme conditions however, teams are not allowed to alter camber, so RBR and the other teams were faced with rolling the dice, or making the setup change and starting from the pit-lane. 
Initialy there were discussions to allow the teams to have more front tyres – in fact 17 were flown in overnight before the race – however this idea was abandoned as it would set an unusual precedent. F1 fans will remember the fateful 2005 race at Indianpolis, where all of the Michelin-shod teams withdrew over tyre issues, leaving just six Bridgestone runners to take to the starting grid. Thankfully that was avoided this time around!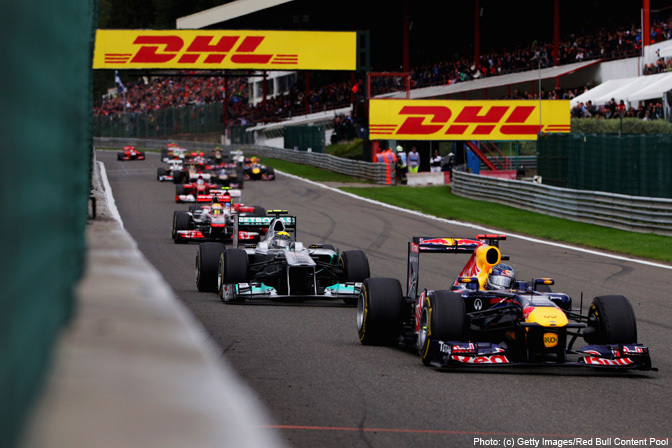 Red Bull elected to start the race as usual, instead pitting early to swap tyres. Off the line, Australian Mark Webber – who was celebrating his 35th birthday – had a disastrous start, with his RB7 switching into anti-stall mode. You'll spot the yellow nose of Webber's car way back in the field having started in third.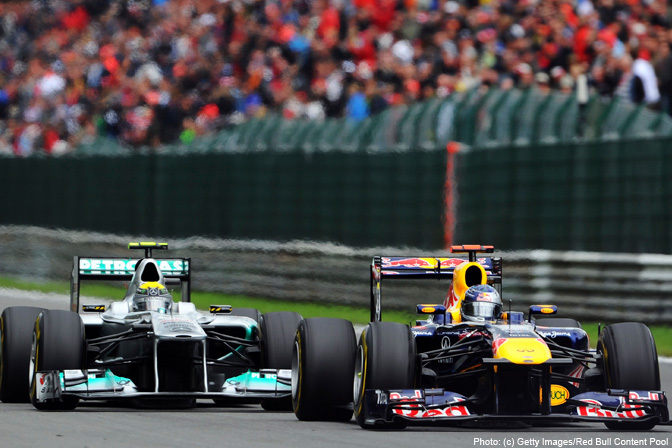 Nico Rosberg meanwhile, made an incredible getaway, leaping from fifth to second after the first turn. Along the Kemmel Straight after Eau Rouge, Rosberg leap frogged Vettel for the lead. Eventually Rosberg would finish the race in sixth.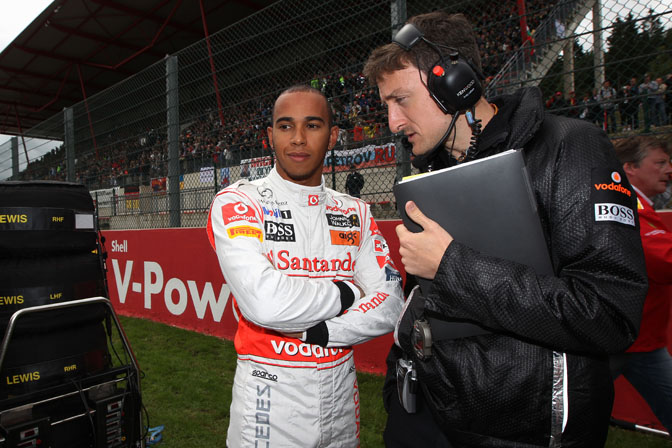 Lewis Hamilton had a weekend to forget. While trying to overtake Kamui Kobayashi going into the Les Combes chicane, Hamilton retook the racing line prematurely, sending him into the barriers.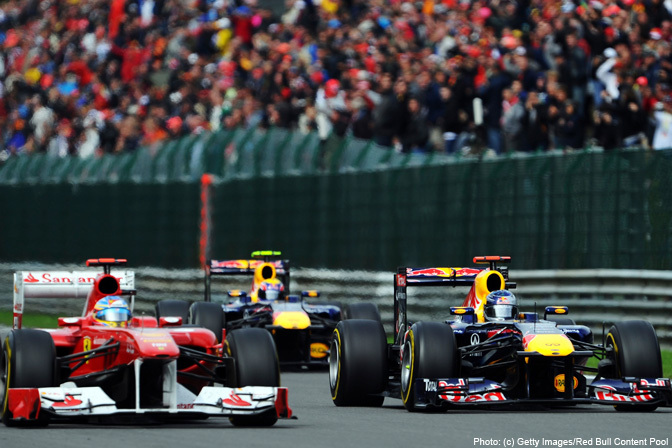 The Ferraris showed plenty of initial promise, with Alonso and Massa at the pointy end of the field. Both drivers had a fantastic scrap – although I'm sure the Ferrari pit wall would have been cringing – with Alonso leading at one point in time. The Ferraris unfortunately suffered on the harder compound tyres, with Alonso eventually finishing in fourth.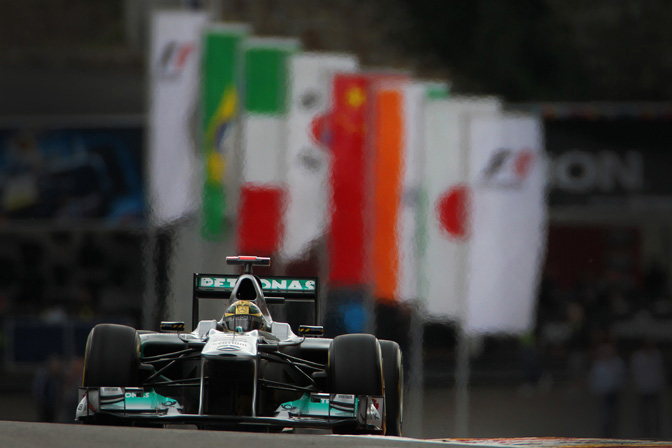 Michael Schumacher's 20th anniversary celebrations didn't look like they were going to plan. A wheel came off during qualifying, meaning the seven-time World Champion would start from last on the grid. In arguably his best race since his comeback, Schumi battled his way up the field, passing team-mate Rosberg and finishing in fifth.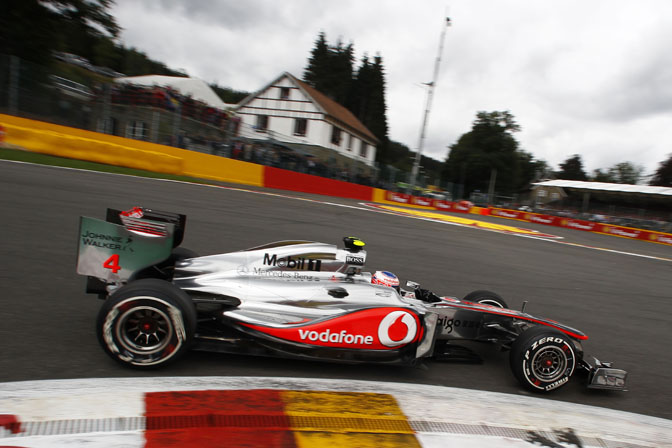 Jenson Button was another World Champion who found himself down the pecking order. A curious miscommunication with his team meant Button would start from 13th, after slowing down in qualifying because he thought there was enough time for another flying lap. On the opening lap of the race, Button then suffered a damaged front wing but held on for it to be repaired during his pit stop. In spite of the dramas, Button steered the McLaren onto the bottom step of the podium.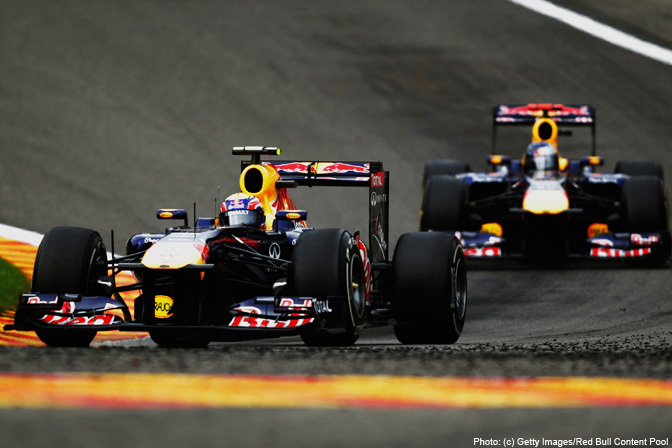 The two Red Bulls ran different strategies. Both pitted early due to blistering on their tyres, with Webber then opting to run the harder compound. After recovering from his terrible start, the Australian was in contention for the win. When the safety car was deployed for Hamilton's crash, Webber tried radioing his team to ask if he should pit, however confusion meant he stayed out on track. Webber would cross the finish line in second.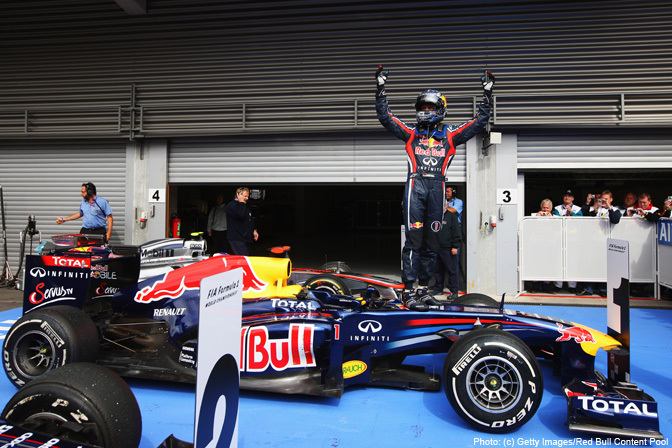 The winner, yet again this year, was Sebastian Vettel. The young German drove another flawless race.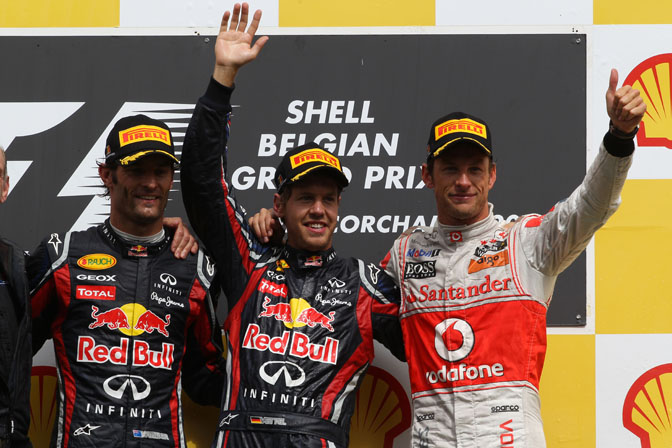 Will anyone be able to stop Red Bull Racing's dominance this year? Vettel is currently 92 points (in F1 each win earns 25 points) ahead of his team mate Webber. Mathematically, Vettel can wrap up his second World Championship by this time next month at the Singapore Grand Prix.
Following on from our recent Rules & Regulations discussion, we'd love to hear your thoughts on their role in this year's Grand Prix. There were certainly some exciting moments going into Blanchimont, but did it make passing too easy on the Kemmel straight?
- Charles Kha
Photos by Vodafone McLaren Mercedes Media Centre, Mercedes GP, Red Bull Content Pool, Getty Images