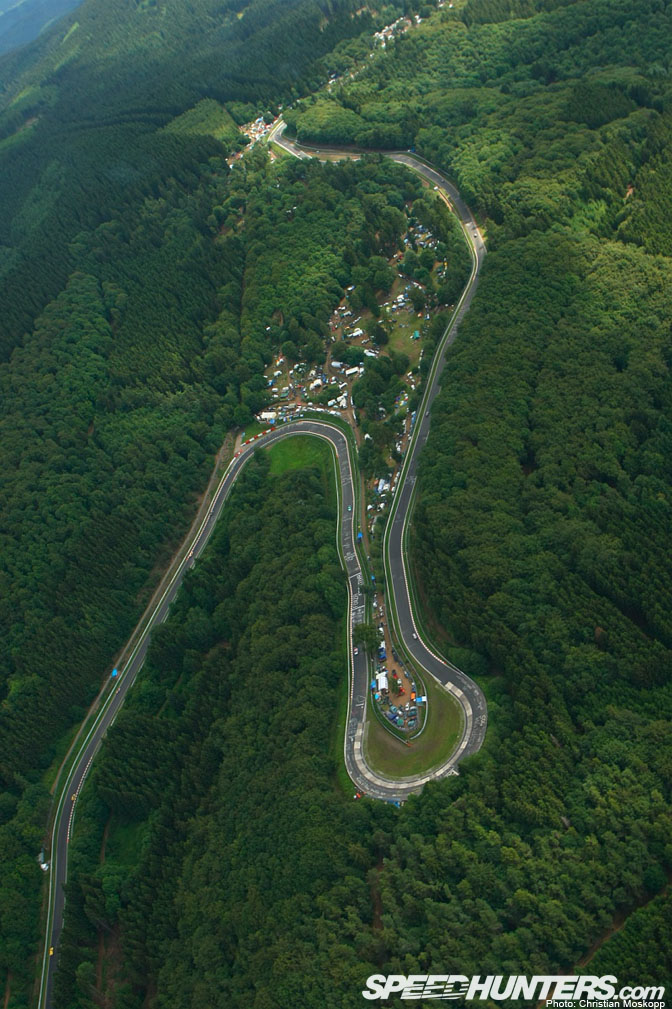 Tommy Milner: Nordschleife. There isn't another track in the world that is the training ground for just about every modern sports car today and also hosts one of the biggest endurance races in the world. The "North Loop" is one of the most demanding circuits in the world, both mentally and physically. One lap on your own is tough enough as it is; throw in 200+ others, from the most bad-ass GT machines to little Renault Clios and everything in between; and manage that for twenty four hours straight. That's the 24 Hours of the Nurburgring.
Edward Sandstrom: My first visit to the "Green Hell" was 2001 and it would take another ten years before I had a chance to race at the most fantastic track in the world. The track itself combines every possible bit of what makes a big challenge. Instead of big run off zones it's just isn't very much of that. The sweeping sections and the average speed of 175 km/h with the BMW Z4 speak for itself. You have to know what you are doing when you are out there. Here you have the speed in some special corners: Schwedenkreuz 228 km/h – Fuchsröhre 261 km/h – Modkurve 220 km/h – Tiergarten 275 km/h. Welcome to focus and adrenalin.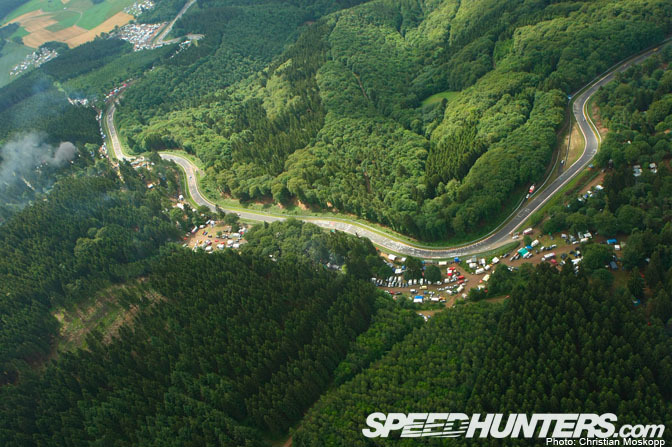 TM: On my list of races I need to do once, this was high on my list. To be able to compete here with Schubert and Team Need For Speed, especially after the success I've had this year with the win at Dubai and then coming off my win at the 24 hours at Le Mans with Corvette Racing (blog to come soon!), I had high hopes for the race.
ES: The race of the year in my eyes. Last years fantastic result was something we should try to repeat, but this time with speed and coolness combined instead of only the later. Our material was way better in terms of competitivness. The new BMW Z4 is an amazing machine especially at Nordschleife. Even then the production of the car started quite late and we had some issues that we hadn't been able to do as much testing, as we wanted. Never the less this year we had a machine to go all the way to the podium.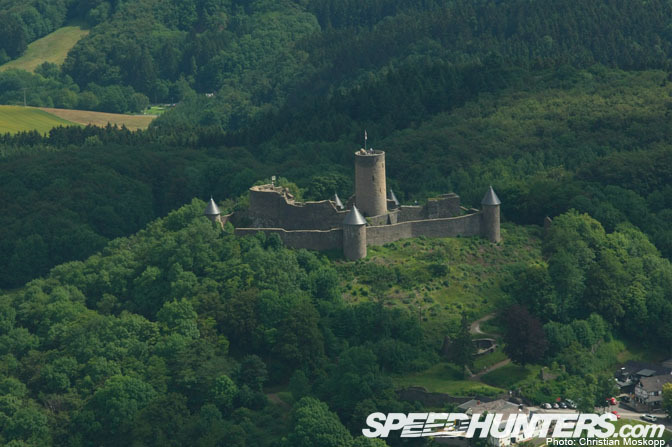 TM: The Nordschleife winds its way around the nearby Nurburg Castle which sits on the second highest mountain in the Eifel mountains. The Dottinger Hohe straightaway gives you the best view on the track of the castle. Not that we're looking there very often.
ES: I've never seen the Nurburg Castle from the cockpit, but on my way to the track I have seen the amazing building.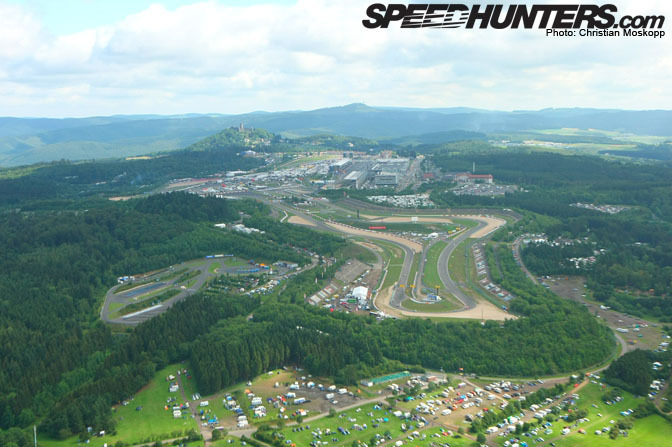 TM: The 24 Hour race also uses a portion of the Nurburgring GP track. It's an interesting comparison going from the old school, barriers-right-by-the-track and no-runoff badassness that is the old Nordscheife, to the new school, safe, GP track. Everything about driving a car on the limit instantly feels massively faster when you head out on to the old track.
ES: The race is incredibly popular – about 250,000 thousand people turn the whole area into a big party. Already when we arrive on Tuesday a lot of fans have arrived with caravans, small tents or you name it.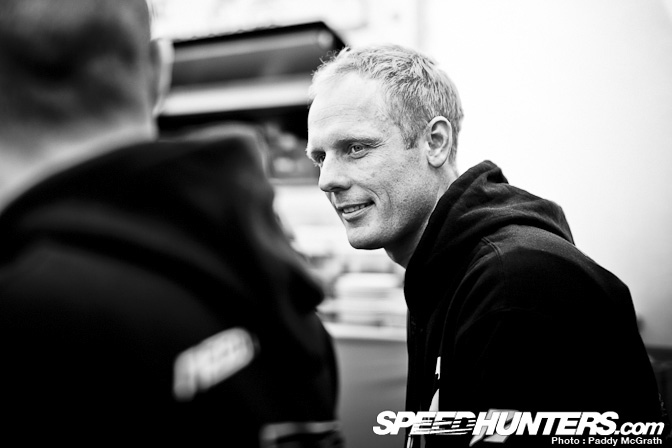 ES: Along with Fredrik Larsson, I'm one of two Swedish guys in the number 76 car. I did win the Dubai 24HR with Tommy earlier this year and asides from endurance racing I compete in the BMW Z4 GT3 in the FIA GT3 Championship with Need for Speed Team Schubert. I did my first 24HR at the Nurburgring last year and ended up 4th overall. I had a feeling it could be even better this year.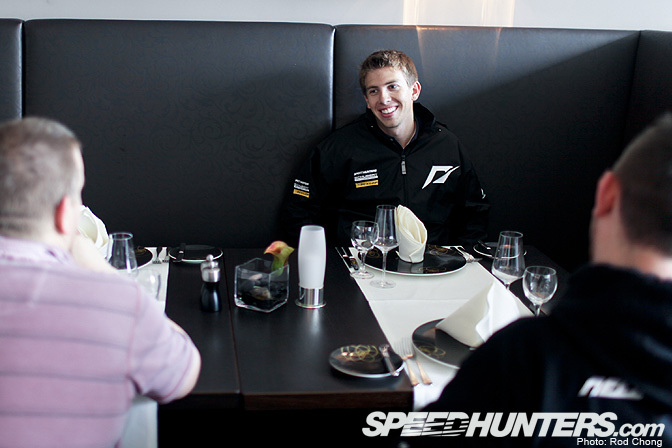 TM: Tommy here, 1/4th of the driver lineup here in the #76 Team Need for Speed Z4. I'm fresh off my win at Le Mans with Corvette Racing and a nice week long vacation but I came to the Nurburgring with a great feeling. I was fresh and really, REALLY, wanted to at least be in contention to win this one. I was ready. After two VLN races with the team, I knew the track and knew the car and felt confident we had a car we could compete with.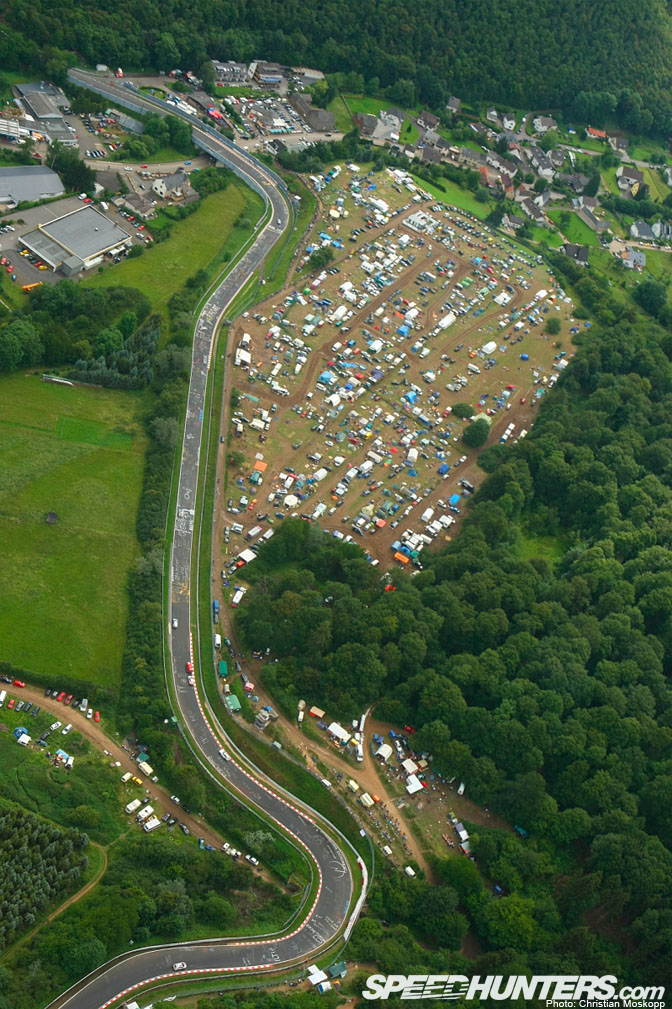 TM: Thursday. I've been at the track since Tuesday so I've exhausted all options to keep myself occupied. Finally, we'd get some seat time in the car today and get a feeling for what kind of car we have.
ES: I travelled to the Nurburgring with one of my best friends Mattias Ekström. Together we started a drinking competition where the first one who had to go to the toilet lost. It was a meant as preparation. You really need to be in a good shape before this sort of race and water balance is one of the important things. I also had a better seat then last year when I got cramp. Didn't want to have that again.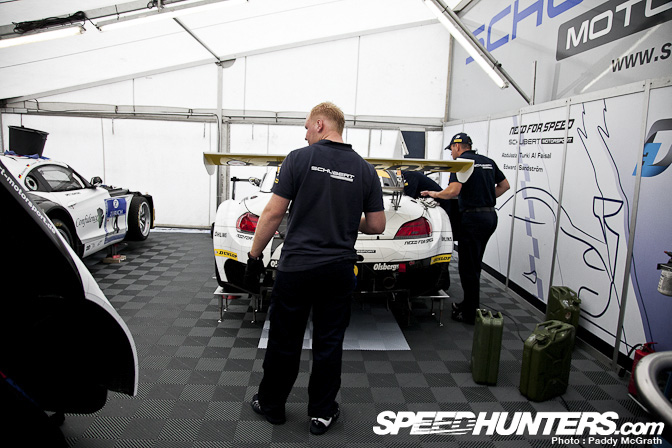 TM: Schubert Motorsport guys making last minute checks that the car is ready to go.
ES: These guys are always doing a great job. They have been working flat out since the beginning of April and will have to do that until August when we have finished the 24HR at SPA. It takes time to prepare racecars and the working hours they do are just crazy. But I must say, my MECHANICS are the BEST! Thanks guys !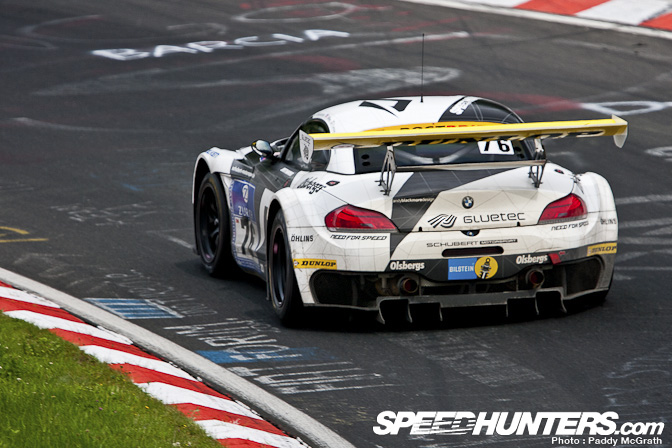 TM: I had the duties of the first laps. Fairly uneventful. The conditions were changing constantly and I went out on wets for a very wet GP track which turned into a Nordschleife which was quite dry in many places. I finished my two laps and then handed the car over to Edward.
ES: I took over from Tommy and had one lap in drying  conditions with rain tires. Spent the whole time in the top four / five, everything felt fine.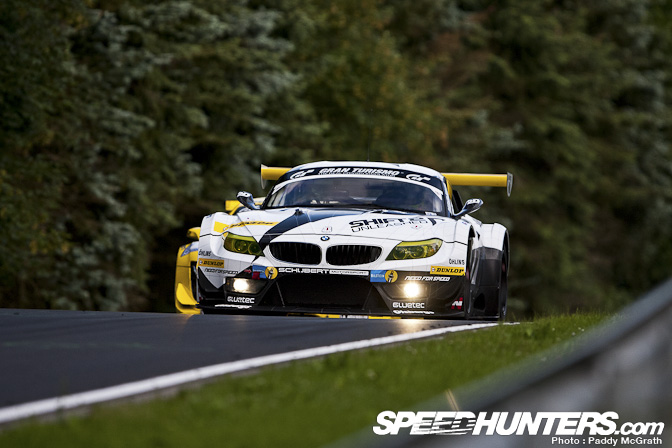 TM: The next session was a night session and also the first qualifying session. The first part of the session was in daylight and would be our first opportunity to put in a qualifying time. With the weather being a bit of a question mark over the next few days, the fact that the track was dry at the start of the session meant that now would be a prime opportunity to put in a lap.
ES: Terrible session for me. The splitter came loose and then the aerodynamics got messed up. Suddenly I could have a super load on the front which made the turn in crazy. When I pushed hard into Schwedenkreuz, the front suddenly was super dominating and I got sideways at 200+KM/H and I decided to pit. They found out and I could relax when I knew something was wrong. Anyway I felt it was to dark in the end to push for a lap time and with the car in this shape no chance.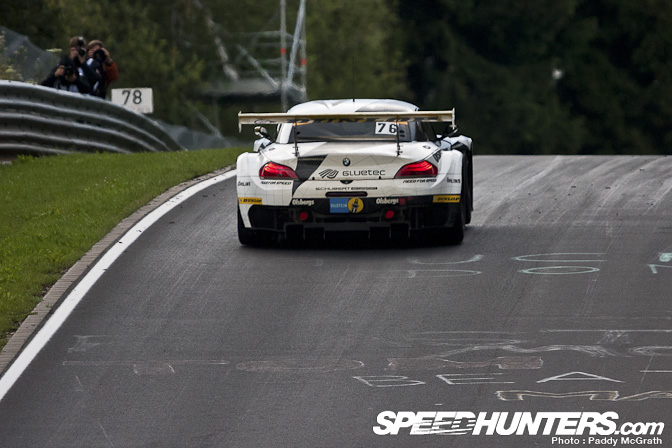 TM: Because of the traffic situation, you really only get one, maybe two laps, to get a lap in at the start before you start to run into traffic on the Nordschleife. The first opportunity to really push now though in dry conditions showed that we had a car that had quite a bit of understeer and I was unable to set a decent lap. I lost already three seconds just on the GP track to my own lap the next day on used tires. We'd have to try again tomorrow.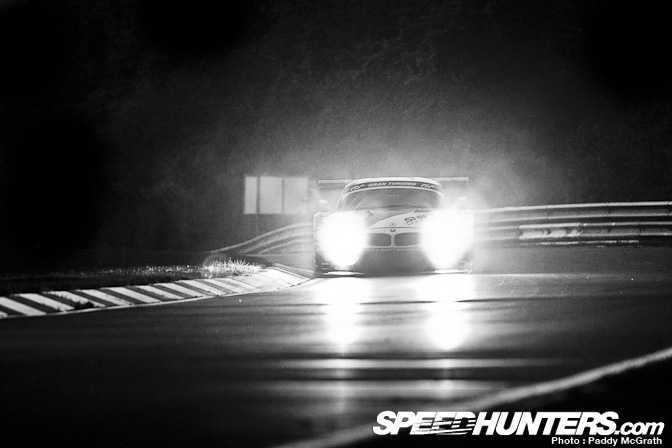 TM: This was also my first chance to drive at night on the Nordschleife. Amazingly, I didn't find it that intimidating. Maybe that just tells me I drive almost blind as it is, even in daylight!
ES: From last year I felt the traffic was easier to pass in the night when they could see your lights better.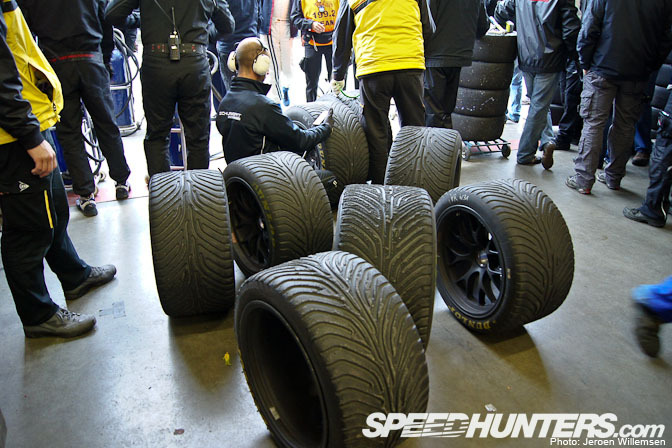 TM: Tire choice is huge here. My first laps showed me that it's not an easy call. Even if 80% of the lap is dry, 15% is damp and 5% is wet. That 5% that is wet is almost always too difficult to drive on slicks and therefore your best call is wets. The weather doesn't stay the same though from one lap to the next. So, depending on the situation, slicks might be the right call if it's drying, or not if there is a chance for more rain soon. A huge headache for sure.
ES: My rule is if it's wet (water on the track) on about 10-20% percent of the track you need rain tires.  But when it starts to dry they just goes into pieces. You can hear the rubber separating from the tire and hitting the wells. Then you start thinking how long they will keep. It's never easy to do the right choice.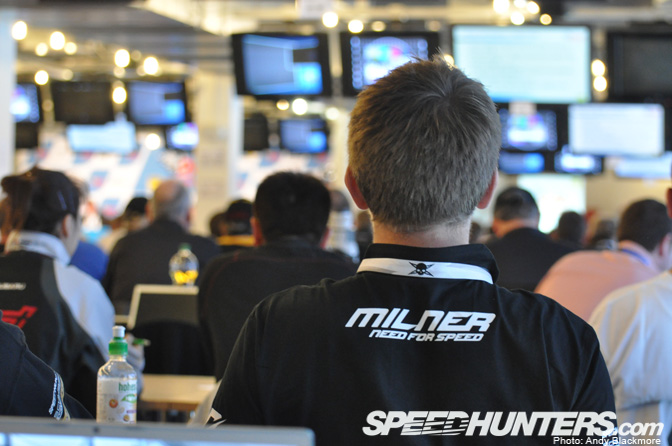 TM: Friday morning we had two drivers meetings. One for the German speaking drivers and one for everyone else, in English. Since my German vocabulary is limited to a handful of words, the English speaking one was for me. There are a couple of items with regards to yellow flags and some procedural items which were actually worth listening to. Most drivers meetings say the same thing no matter if you're in Dubai, France, or Ohio.
ES: The drivers briefing are often the same. Anyway at this race there's a huge amount of people who work hard to make it possible to race and also keep the track clean after crashes and things like that. I guess it's more demanding then a normal race. It's sometimes yellow during the race, better to know what they want us to do then.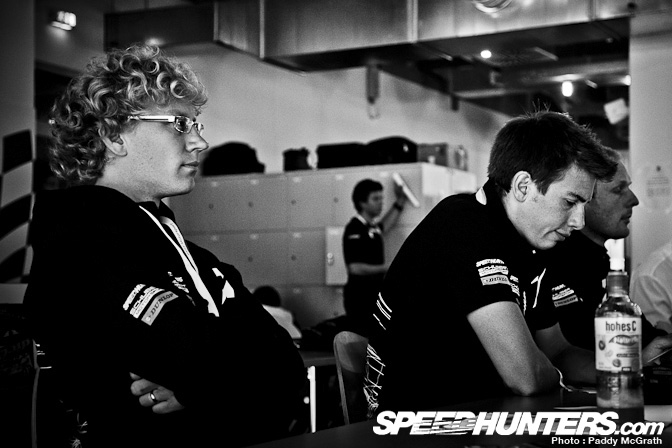 ES: I first saw Fredric at a karting track in Denmark when I was about 12 years old. He had driven through a fence and the kart wasn't looking too good. Flat out is something which tells it all about Fredrik. He was at this time one of Sweden's hottest karting drivers. I was younger and watched him with big eyes. Aftrer his karting career, he made it to the US where he won the Barber Dodge series and then was a race winner in Indy Lights. In recent years we have raced each other in the Scandinavian Carrera Cup and I must say he was the hardest man to beat!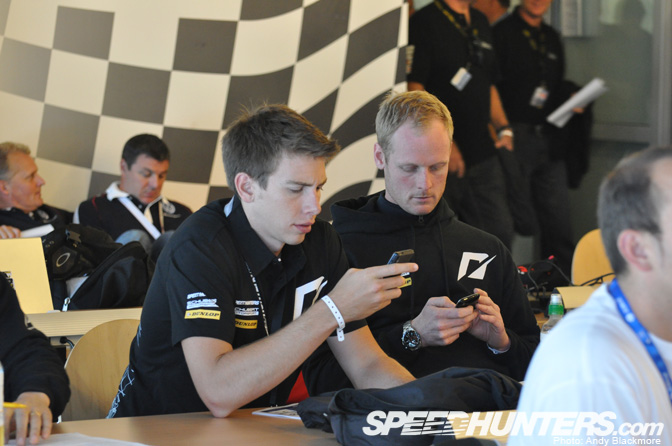 TM: The best part about this team is that the atmosphere at Schubert is fantastic. I get along with my teammates – Edward, Fredric, and Claudia very well, as well as the others in the two team cars. Edward and I have either lost interest in the drivers meeting or have found something more appealing on the phone.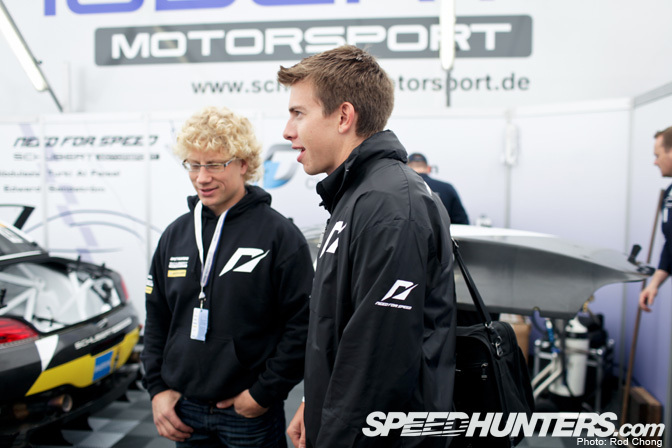 TM: Just hanging out with Fredric, talking about the weekend. Freddy is super quick and was a great addition to the team.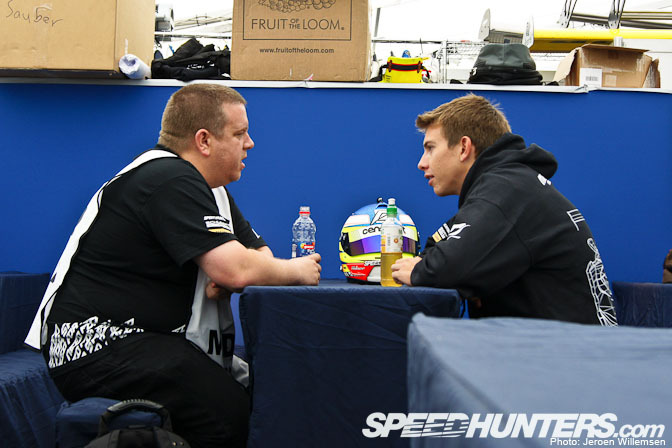 TM: The one and only, Andy Blackmore. Andy is always a great guy to talk to about anything and everything to do with racing. We're talking about some cool projects coming up and I just enjoy picking his brain about design ideas. I'm a big fan of his work.
ES: I've only recently started to get to know Andy. Talking to Andy gives you energy and know how about severything motorsport. He's also the man who designed the Team Need for Speed car design with the wire frame.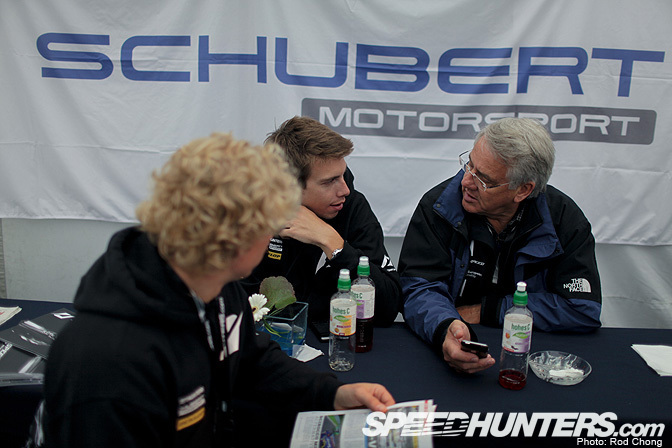 TM: Here in the tent with my Dad and Fredric. It's not often my Dad is at the track just watching. Usually he is working hard, trying to find a way to make whatever car it is that he's got in under the tent that weekend go as fast as possible. He came to Le Mans, which was great to have him there, and also great to have him at the Nurburgring. He has a lot of memories here from when he worked on some Super Vee's in the 70's when Keke Rosberg was racing.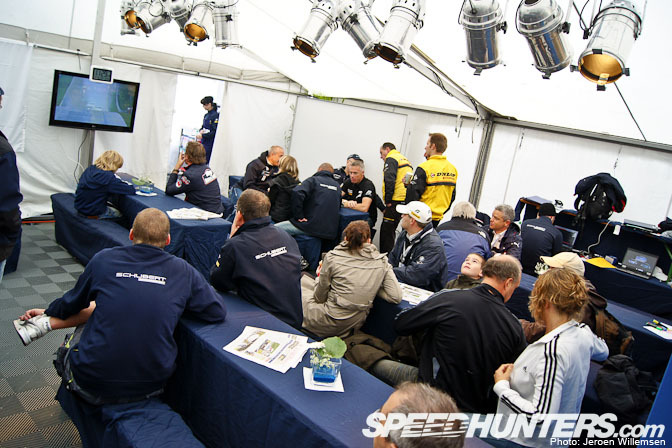 TM: The area just behind the walls you see in the tent. Not much to see other than a bunch of people mulling around, eating some of the phenomenal food, and just sitting and chatting with friends and family.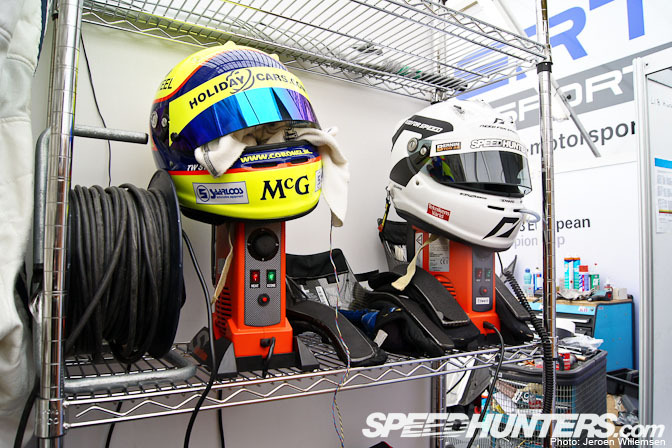 ES: The helmet drier I got from Patrick when we won our first FIA GT3 race together. Always nice to have a dry helmet, I sweat a lot when driving, so it works perfectly. Beside me is the helmet of Tom Coronel, a Dutch guy who normally drives in the WTCC for a Team Ravaglia BMW. He's a really funny guy.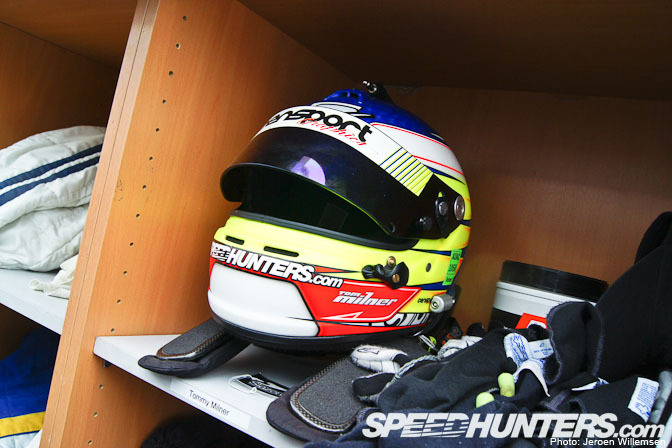 TM: Here is a small bit of my home at the track – two little cubbies to keep my helmet and gear nice and neatly folded.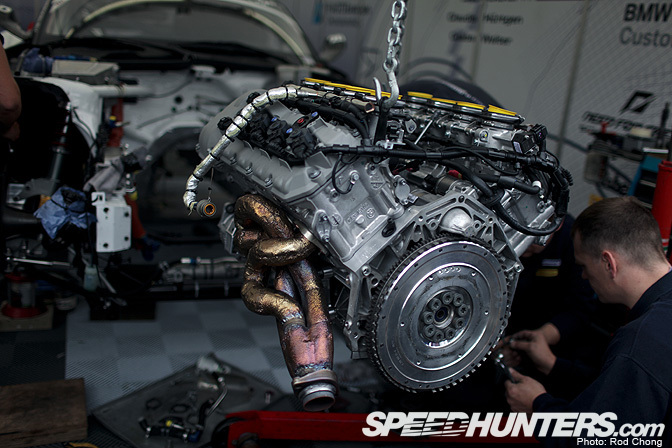 TM: It was decided that the team would change the motor in our car because we were some 6/7 KM/H slower than our team cars, consistently. The crew had started the work by the time we arrived Friday morning and would continue to work on getting it all ready to go before our only session on track on Friday.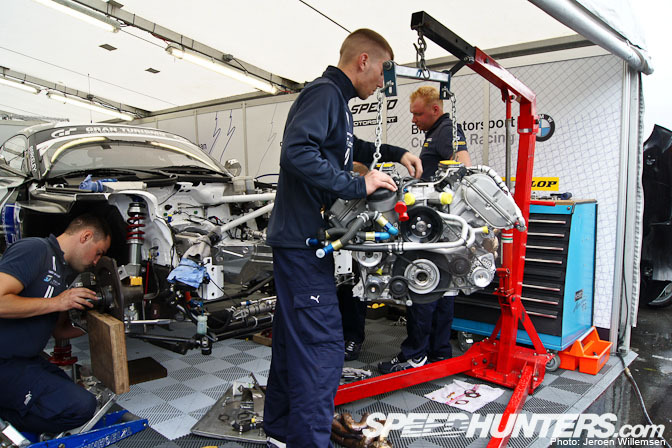 TM: Engine changes are often times not as big of a headache as it would seem. Most teams know the procedure very well. The Schubert crew had the car ready to go in plenty of time.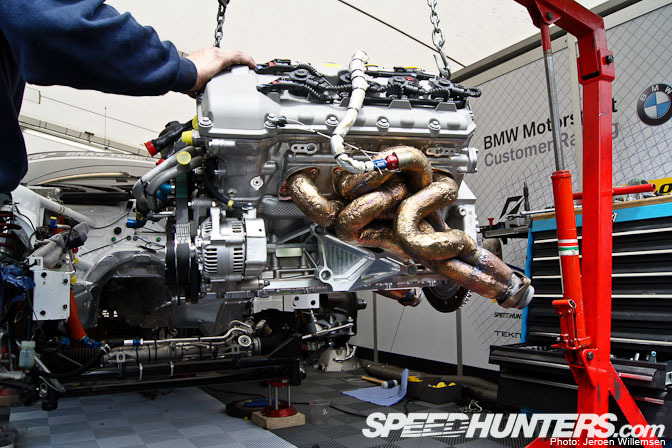 ES: The 4.4 litre V8 engine is usually very reliable. We hadn't had any issues so far. But when it's a 24HR race you don't take any risks regarding the parts. Between Thursday practice and the race the team changes all running parts.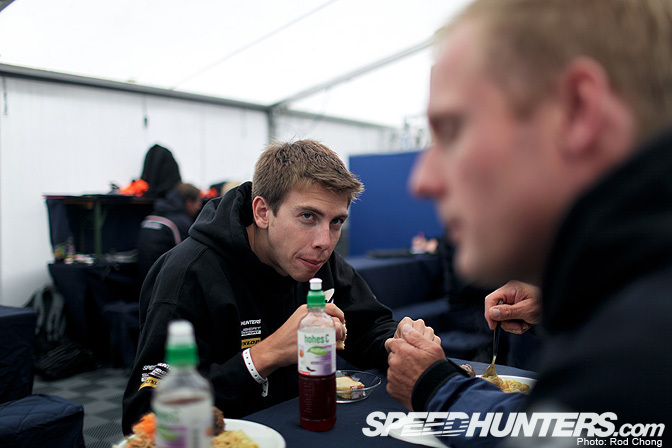 TM: Not much happening for most of the day on Friday. Grabbing some grub with Edward after the autograph session. As is often the case, lots of waiting.
ES: Eating, sleeping, asking, thinking and waiting.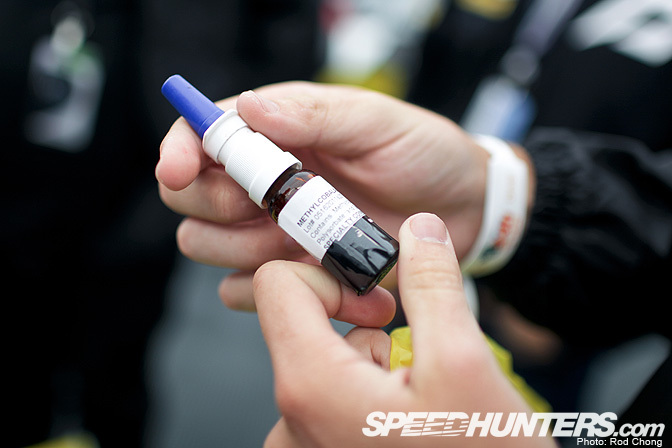 TM: At Corvette Racing, we worked with a doctor who brought some vitamins with him which made a difference in just keeping focused and maintaining our energy levels throughout the 24 Hours of Le Mans.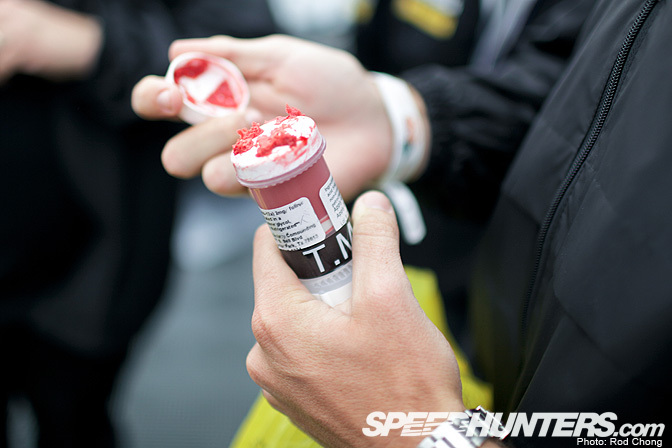 TM: I brought these with me to Nurburgring, knowing the demanding nature of the track both mentally and physically, to just maybe help a bit keep me as sharp as possible.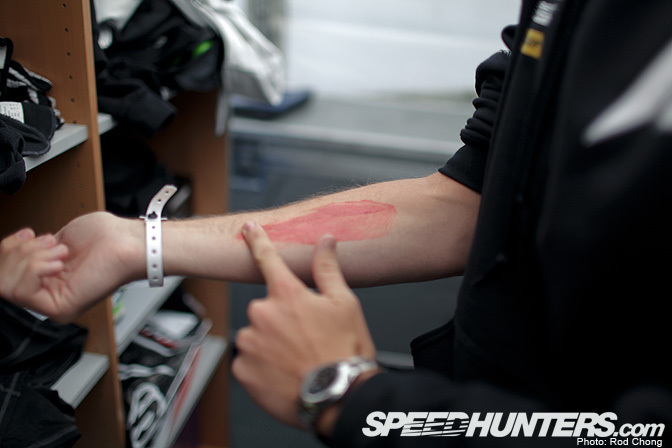 TM: The cream is a topical B Vitamin which is a faster way to administer the vitamins into the body. Also, it has to do with the amount of B vitamin. I was told that if you took that much B Vitamin in pill form that most people's stomach wouldn't like it so much.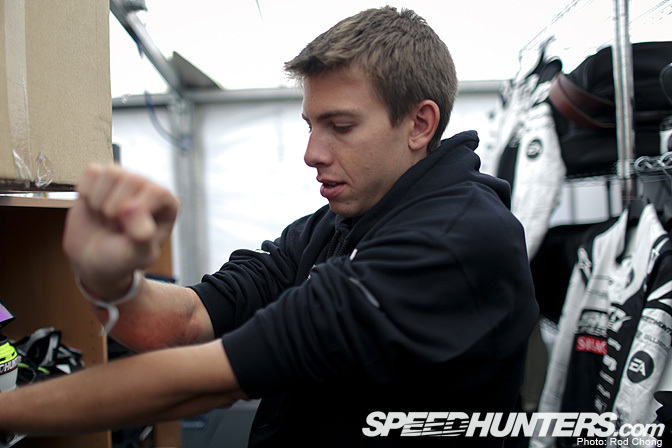 TM: A lot of people find it odd but when you look at how much technology and effort is put into making the cars go a tenth faster here or there, very little focus is put on the drivers. Corvette realizes this and they're making efforts to make sure that we as drivers are working at our optimum.
ES: Tommy was a good sales man, so I actually asked if he had some left over if I became tired. We will see if I get tired later!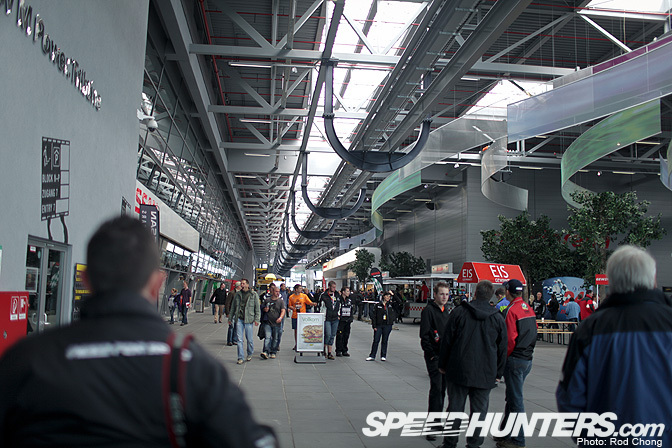 TM: To pass some of the time, my Dad and I followed Paddy and Rod over to the museum at The Ring.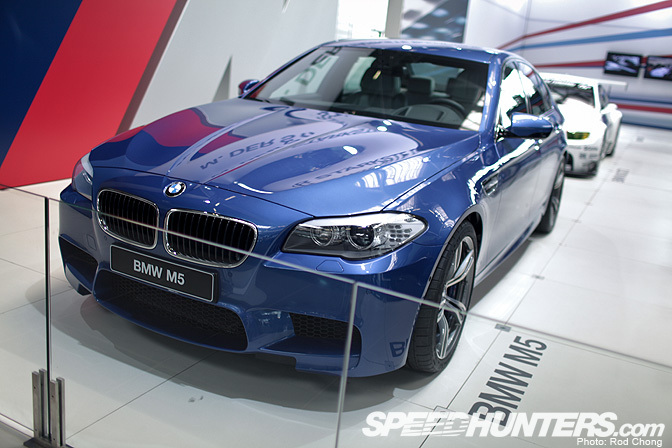 TM: This shopping mall at the track is nearly empty during the VLN races but here for the 24 Hour it is packed with all kinds of manufacturer displays.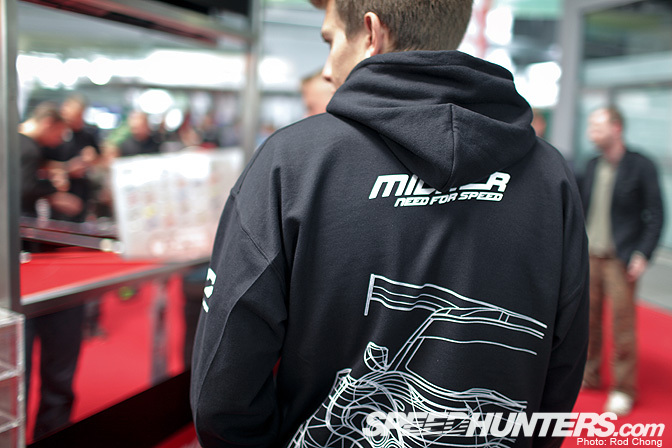 TM: There was some very cool cars actually on display. Very relevant and new concepts which, in many cases, were only just revealed to the public only weeks prior.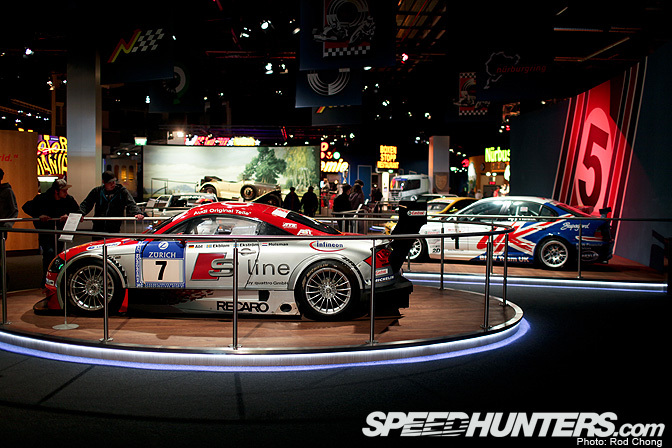 TM: Once we made our way into the museum, there were definitely some cool cars to see. Obviously, mostly cars that have some significance to the Nurburgring.
ES: Cars from the time when DTM had some more overtaking and less downforce. Hope they bring that back soon.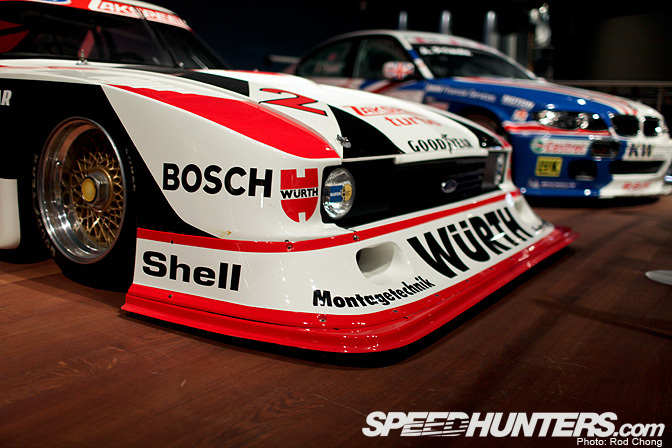 TM: The one car Rod was desperate to see, this Zakspeed Capri. My Dad had come over with some of his employees to help build the original cars and help run them at some of the first few events. It's amazing how small the car looks, sitting so low to the ground. It looked like it was half the height of the DTM and WTCC car sitting on either side.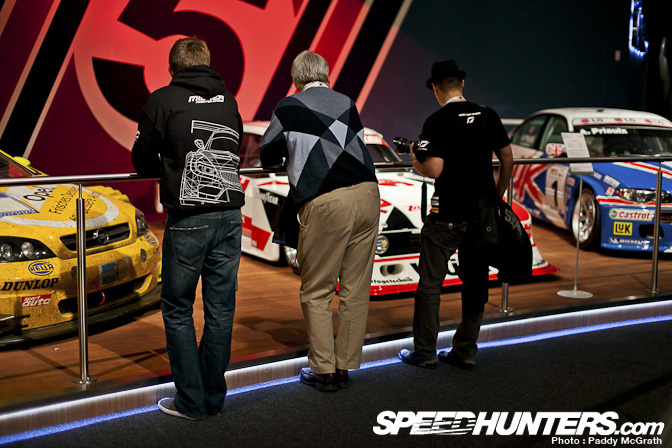 TM: Again, it's very cool to be able to share some of these experiences with my Dad who has so many stories about racing and especially to see a car he helped build and work on.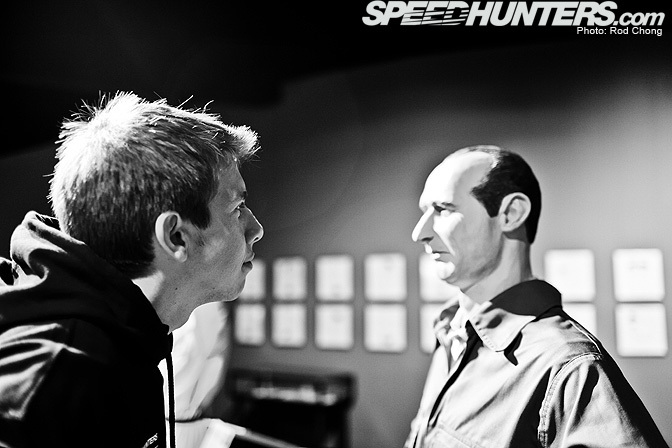 TM: There was also a pretty odd collection of wax figures. Fangio and I had a little war of words.
TM: He was speechless… (ba dum chhhhhh!)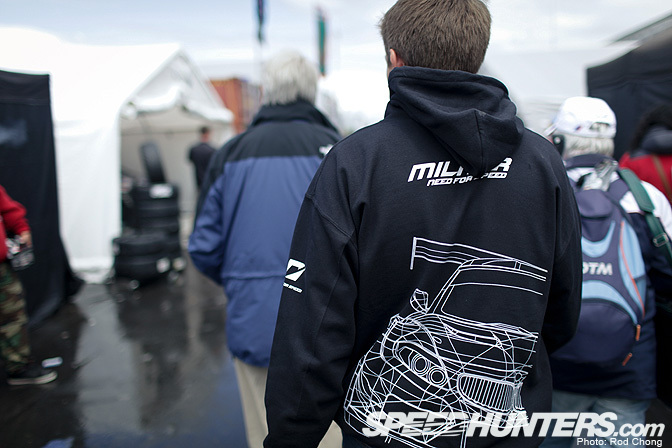 TM: And so it was time to head back to the paddock area to check on the car and start to get ready some. The plan was for me to climb in after Edward's qualifying run to feel the car out after all of the changes.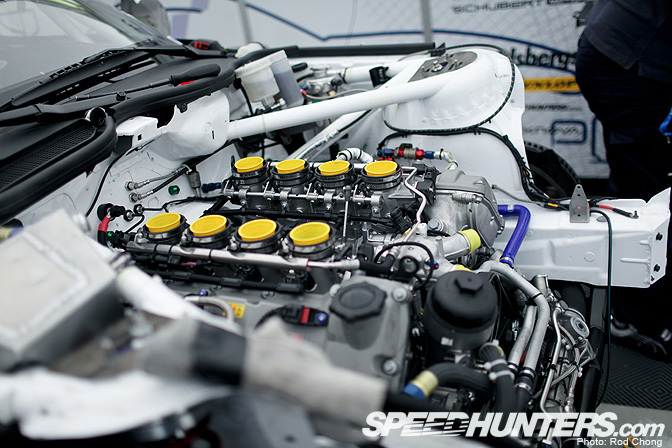 TM: The engine was in and it was looking good that we'd be ready in plenty of time. 
ES: Only tricky thing when you have less time than normal is to get a free spot to be able to line up in the front. The line up at Nurburgring 24HR is a war zone.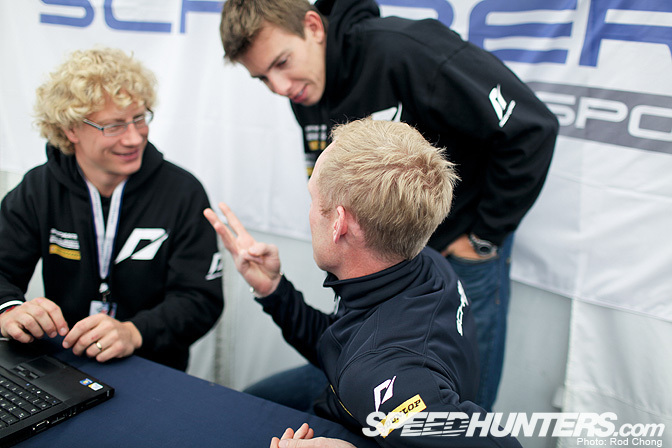 TM: Edward and Freddy were looking at some telemetry from my qualifying lap yesterday compared to some of the other laps we ran in the weekend. It's so hard to look at data here because it's really hard to know not if but where you had traffic.
ES: I just wanted to see what I could improve before qualifying. It's a long track, but fun to see all speed data. Incredibly fast in some areas. Fredric got a shock when he realized the speed in Fuchsröhre was 260 km/h …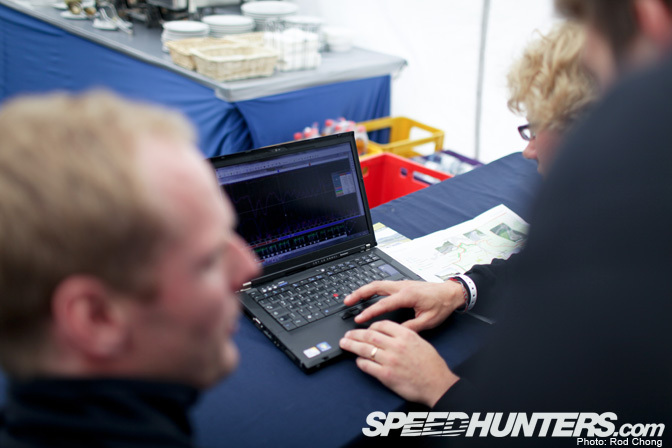 ES: We look into graphs from two or three different laps on the track. Then we compare lines, speed, braking, accelerating and try to improve from that.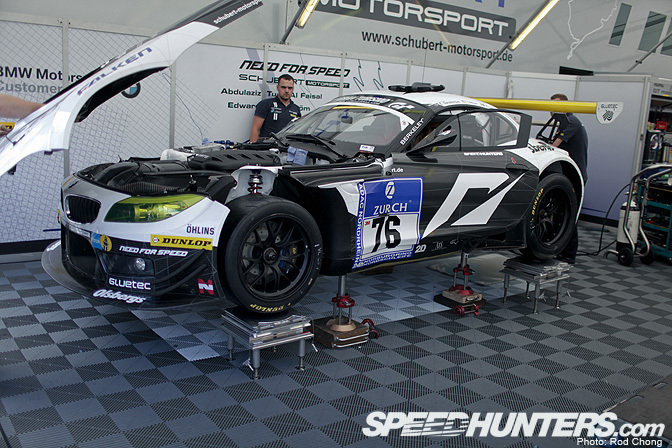 TM: The car was ready to go. The biggest problem now was the fact that the car was going to be way at the back of the garage, behind six other cars. Trying to maneuver everyone around to get out with our group was a bit of a hassle.
ES: Car ready – new engine and small adjustments on the setup had been made. I was prepared to go. It should be the first time I qualifyied at Nordschleife in prime time with less traffic.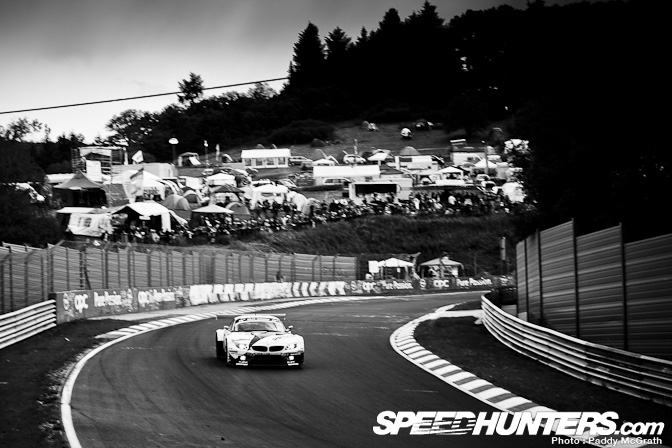 TM: Qualifying on Friday afternoon turned out to be pretty good in terms of weather conditions. There was definitely some bad weather in the area but it was looking like it would stay away.
ES: The track dried really fast during the Carrera Cup qualifying. I was impressed. It's a big difference compared to last years race which was held in May and it took ages to dry up. Look in the background they are as ready as us for a real race!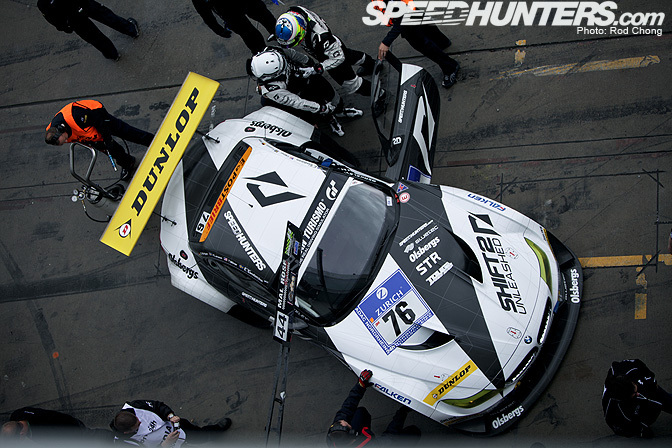 TM: The chaos at the beginning of pit lane before qualifying was entertaining alone. The organizers don't want people rolling down the pit lane. BMW Motorsport had made a deal with a team right at pit out to put their cars in their garage so they would be first out. Others started rolling down pit lane early, much to the dismay of the organizers. Some listened, others didn't, it was comical. Lots of pushing and shoving between crew guys. It was awesome.
ES: This is fighting without rules. Everyone tries to get their car to the front spot. Everybody watches each other to see what level they can use to do this. In the end it's like a war…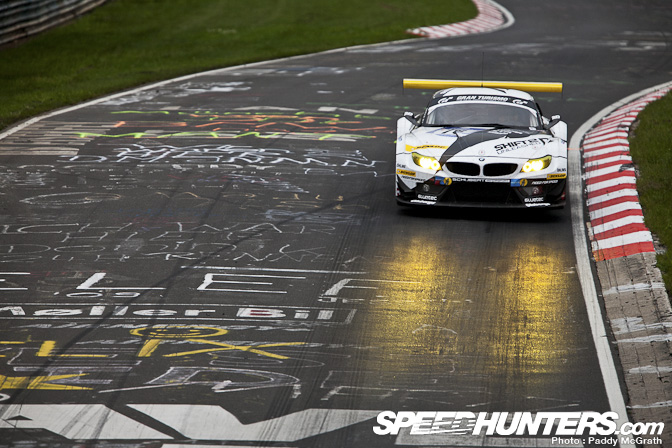 ES: Not all tracks you jump in fifth gear. It takes a bit of energy to slam around this track. After you land here it's flat out through a long section, but you know that flat out isn't easy and the brain tells you that you're crazy.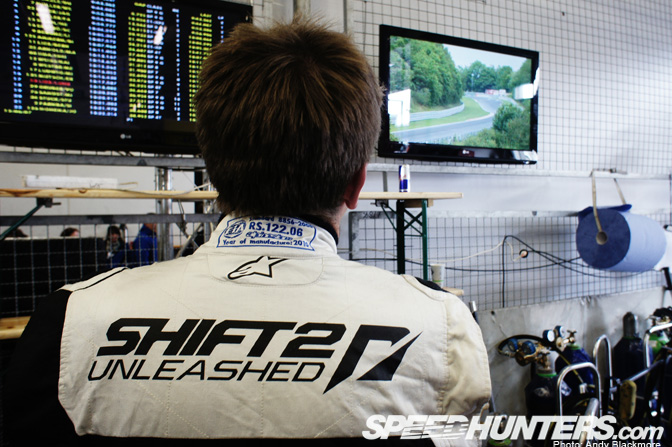 TM: Off Edward went and I returned to the garage to watch the timing screen. I knew the car was a lot better than what we had for our first qualifying session. It was all up to Edward now!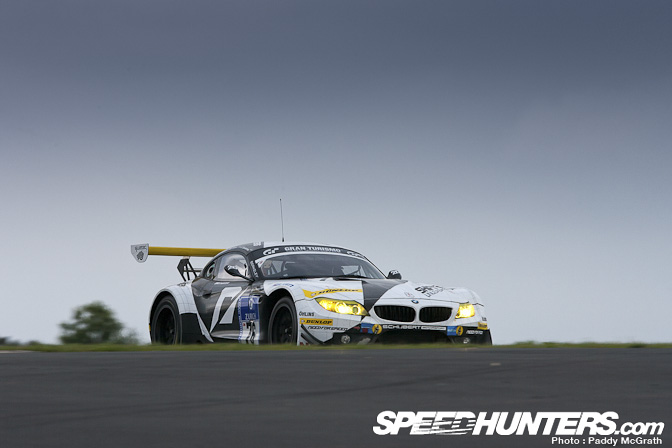 ES: You know you only have one chance. There's only one lap before the traffic starts. I really had a good place when coming out on the track where I was following the Mamerow Mercedes around on the warm up lap around the GP track. I tried to get as much heat into the tires as possible. You want them to really bite when the lap starts. When we reached the short cut chicane that makes it possible to accelerate out onto the start / finish, the Mercedes wanted to wait so I stayed behind so we should have a free run. Suddenly the Audi with Christopher Mies passed me in the middle of the chicane. ****, I had to go behind him, but I was aware he was really fast as well. I accelerated out behind him and immediately felt I could follow. Maybe not ideal but it would be better to follow a fast one then trying to disturb him and destroy my lap time at the same time.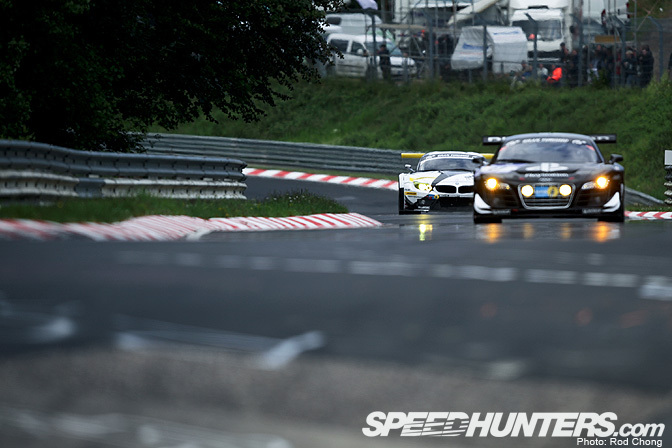 ES: He had areas where he was faster and I on others. The track was really green and the grip level quite low. He was sliding and so was I. Anyway the feeling of getting rid of the traffic and just pushing through this awesome track gives you a wonderful andrenalin rush. In all the high speed sections I felt I had the upper hand.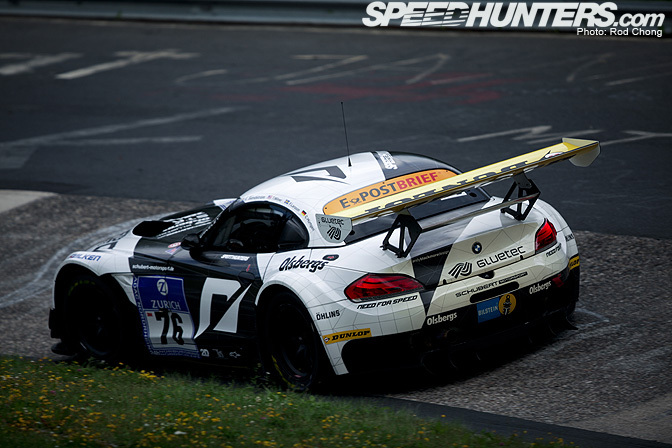 ES: The car had minor under steer, but in total Schubert Motorsport had given me a fantastic car. On Döttinger Höhe I was just behind the Audi and our laptimes where only separated by hundreds of a second. I lapped in 8 minutes, 30 seconds and 198 hundreds and it was enough for spot number 10 and row 5. I think the position was okay and gave us a good spot to start the race from.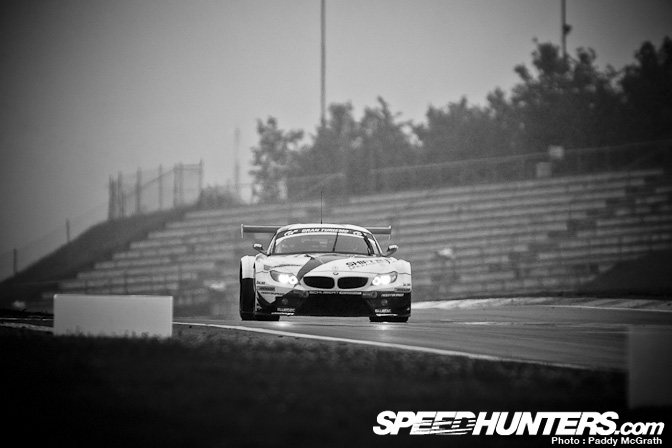 TM: After Edward had solidly put us in the race in the top ten, I was looking forward to just hopping in and getting a baseline before the race on the balance of the car we would have for the race. Unfortunately, it started to rain. It was planned that I would bed some brakes in, so as I finished that, it was way too wet for slicks anymore.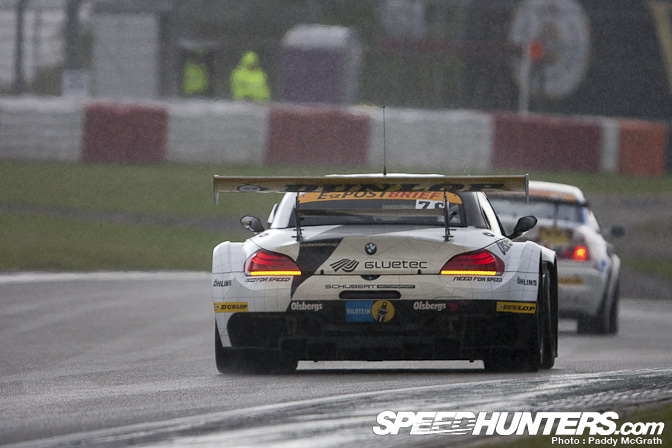 TM: Instead, we decided to just go ahead and run in a few rain tires carefully to get the mold release off the surface of the tires and have them ready to go in case we needed them for the race tomorrow.
ES: The forecast had been quite tricky all weekend. Even then it felt much safer with rain this time if you compared the feeling last year when we struggled a lot with drying conditions.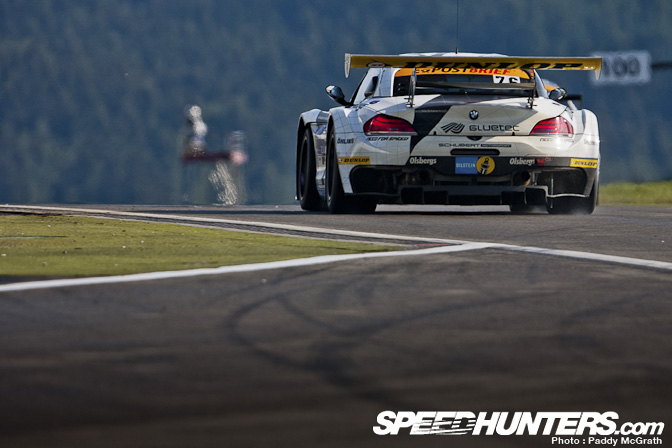 TM: That would be the end of the practice for us! We had a very quick car and now we were very much looking forward to the race the next day.
-
Tommy Milner & Edward Sandstrom