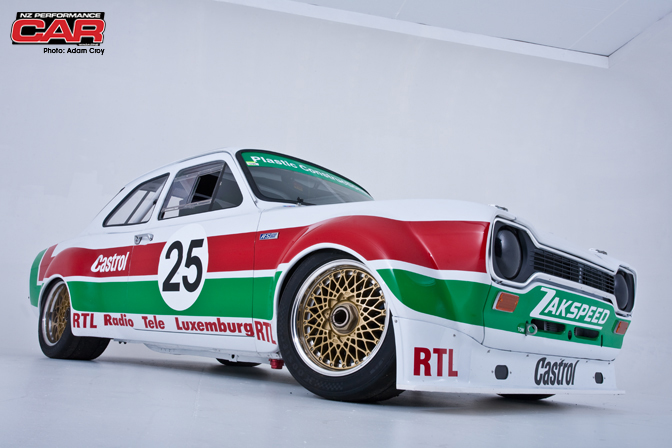 I first caught sight of Paul McCarthy's Zakspeed Escort replica a few years ago when, in as yet uncompleted form, it made an appearance at the NZCC Classic Car Weekend at the Ellerslie Intermarque Concours. Whilst on display, the car attracted a lot of attention – mainly from Escort enthusiasts who had already heard rumours of Paul's project. One of the more preposterous of those in general circulation was that the car had been constructed around a complete, carbon-fibre shell!
That was immediately scotched with a simple look into the Escort's neatly fabricated interior, where a bare steel floor was obviously evident. For sure, the car does incorporate some carbon-fibre parts, but these are restricted to add-on items – including a rather exotic steering wheel – while the Escort's body is still standard panel-steel.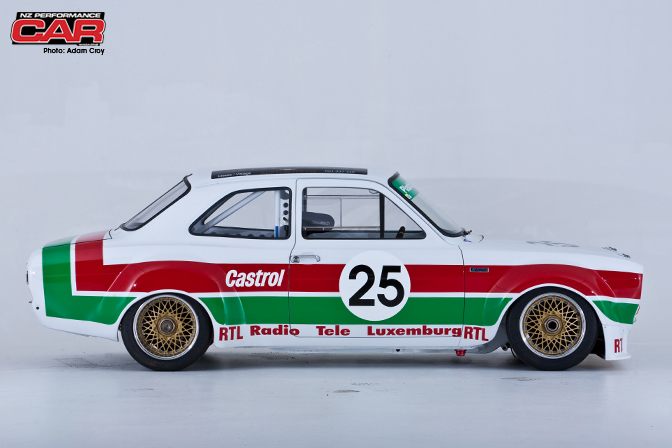 It all sounds very expensive, but the truth behind this project disproves that idea – as we discovered when we recently sat down to talk about the car with Paul at the McCarthy family-owned plastics business in Avondale, Auckland.
My first real contact with a member of the McCarthy clan came about during the summer of 1997. The occasion was the 40th anniversary of the legendary Lotus 7, and we had gathered together nine examples of the breed, ranging from a 1959 example to a 1989 Caterham HPC BDR. (The eventual story was recorded in the December 1997-February 1998 edition of the short-lived Australia/ New Zealand produced magazine, Sports & Classic Cars).
On that faraway day, I got to drive all nine of those Lotus 7s, including Richard McCarthy Snr's Steel Bros-built S4. Largely unloved by the Lotus cognoscenti, the S4 was always considered to be a lesser car than its predecessors due to its compromised space-frame chassis and beach-buggy looks. However, Richard Snr's much modified S4 proved that it was possible to turn Lotus' ugly duckling into a competitive race-car. With its twin-cam, big-valve engine – complete with Holbay head – and fully rose-jointed suspension, the S4 was by the sharpest, and quickest, of the 7s I drove on that sunny day back in 1997.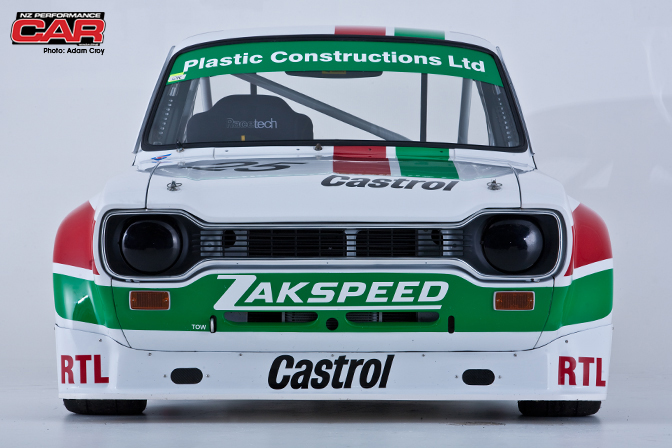 Interestingly, Richard Snr continues to race his S4 today – although following a recent racing 'off' the car was damaged and is now undergoing a thorough rebuild. With my first close encounter long gone, but not forgotten, we have to turn the clock onwards a few years when, out of the blue, Richard Snr telephoned NZ Classic Car and asked if we'd be interested in putting together a feature on his latest project, which was rapidly approaching completion. That project turned out to be a re-creation of a Europa-derived Lotus 47 sports racer, a replica the McCarthys had pieced together around a genuine Lotus Europa road car.
Subsequently, that car would appear on the cover of the April 2000 edition of NZ Classic Car and, whilst talking to the McCarthys in preparation for writing the article, I learned a lot about the individual skills Richard Snr brought to the project, including just as importantly, the vital contributions made by his two sons, Richard Jnr and Paul. At that time, both Richard Jnr and Paul were enjoying themselves on the classic racing scene – Richard Jnr in his Escort Mexico and Paul in an indecently fast Escort RS1600. However, both the McCarthy boys had buckled down and put in many hours into building their dad's Lotus 47 replica.
Indeed, Paul had gone far beyond the call of family duty, and his contributions included making moulds from which new, magnesium rear uprights could be cast for the Lotus' suspension. The wheel centres were also cast from moulds made by Paul. As well, after examining the suspension set-up on a Lotus 59 single-seater of similar vintage to the 47, Paul was able to take accurate measurements from the monoposto and then scale them up for the wider, longer wheelbase 47 replica.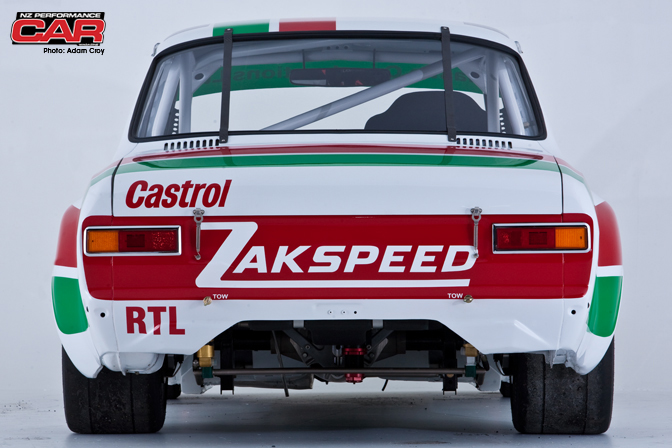 The level of detail expended into this car was extraordinary – and even extended to many hours poring through old photographs of genuine 47s in order to duplicate the original car's livery and decals. On its first public appearance and judging by its gorgeous fit and finish, many would have been fooled into thinking that the car had cost mega-bucks to complete. However, the Lotus 47 replica had been built on a very tight budget – as an example, the McCarthys sold off all the unwanted parts from the donor Europa, leaving only a $200 cost for the body/ chassis – and, of course, much of the mechanical and fabrication work had been completed in-house.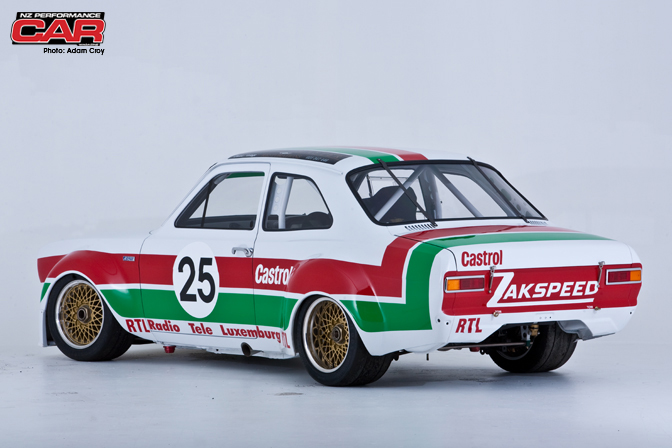 With all my past encounters with the McCarthy clan in mind, on first learning of Paul's Zakspeed Escort project I could virtually guarantee three things – one, the finished car would look superb; two, it would be quick; and three, it would've been built on a tight budget. The first of these was confirmed when I spotted the car at Ellerslie, the second was confirmed when I watched Paul rip around Hampton Downs earlier this year, while the third was confirmed when I recently met up with Paul.
The impetus for starting work on a new racing project came to Paul around three years ago. At the time, the engine in his long-serving Escort race-car was beginning to give him a few headaches. On-going engine reliability issues were beginning to take their toll on his enthusiasm for racing – probably not helped by the fact that Richard Jnr had retired his Mexico in order to settle into family life.
Paul decided he needed a break from racing, but at the same time he knew he'd need something to occupy his mind and provide some suitable therapy during his enforced retirement.
Over 15 years of racing his Escort Paul had built up quite a sizeable stock of parts, so the choice to build another Escort was obvious and, as he regards the early, Castrol-liveried Zakspeed Escorts as the ultimate MkI, he made a decision to replicate one of these cars.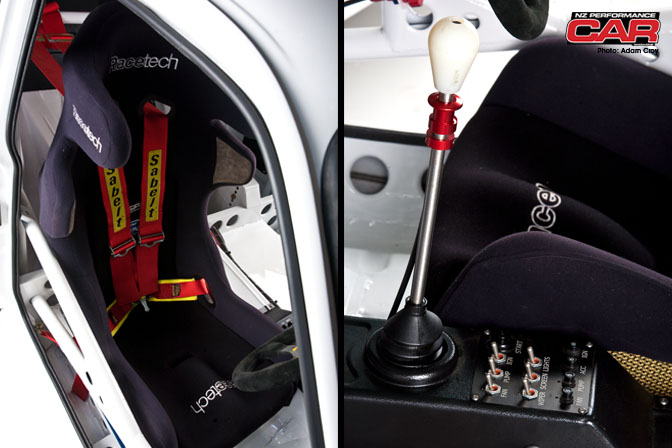 Founded in 1968 by Erich Zakowski, the German Zakspeed racing team would quickly achieve success in the DRM race series (a predecessor of the current DTM series) and in the European Touring Car Championship. Zakspeed Escorts dominated DRM from 1973-'76. Zakspeed was also instrumental in turbocharging the Cosworth BDA engine – by the late '70s, Zakspeed was extracting as much as 447kW from its own turbocharged 1.7-litre version of the BDA.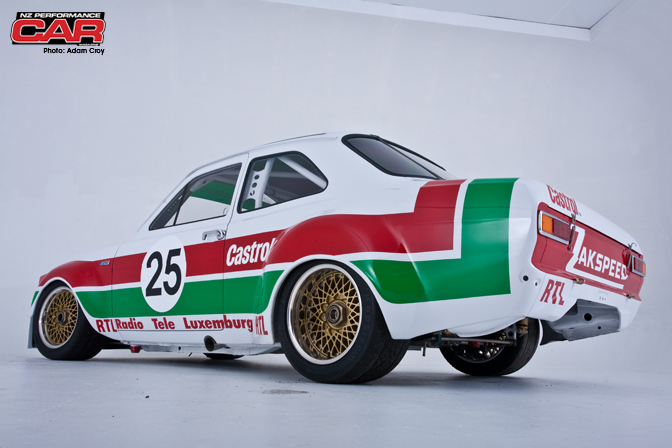 From there, it was a short step for Paul to import a bodywork that had been produced by moulds originally supplied to Zakspeed. Alas, on their arrival in New Zealand Paul was dismayed at the horrible quality of the parts. He then trial-fitted the imported parts to a previously acquired donor Escort and began the long chore of modifying the parts until he had successfully created the wide-body look of the original Zakspeed Escort.
From there, he made up his own set of moulds, using them to fabricate a set of lightweight, composite CRP/ GRP/ Kevlar panels.
The key word here is 'lightweight.' Having learned from his experiences working on his father's Lotus 47 replica and Lotus 7, Paul was determined to follow a similar route – one well trod by Lotus founder, Colin Chapman – and keep the car's weight down to an absolute minimum.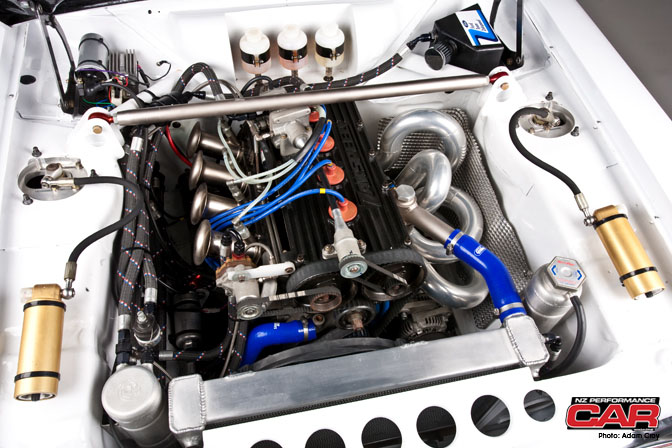 With the body squared away, Paul began to look at the car's mechanical components. One of the first things to decide upon was a suitable motor – and this appeared in the guise of a Cosworth BDG engine. Initially appearing in 1973, the BDG unit, with a capacity of 1975cc, belongs to the Cosworth BDA family of engines. In effect, the BDA shared the same head as the four-cylinder FVA and the DFV V8, but was based on the Ford Kent block. Much modified over the ensuing years, the BDG was utilised by many Formula Two cars in 1973 and subsequently powered many Ford Escort RS rally cars. Although originally an iron-block engine, later versions boasted an aluminium block.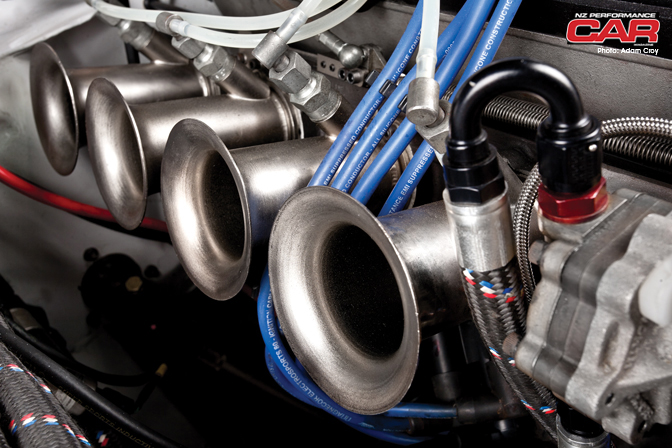 All of the engine work on the BDG was carried out by Bruce Anderson and, as with the Zakspeed cars, Paul opted to go with fuel-injection for the BDG – in his case, 8mm Lucas mechanical injection. In a typical McCarthy touch, Paul also made a mould so that a new cam-cover to the original Zakspeed specifications could be cast in magnesium.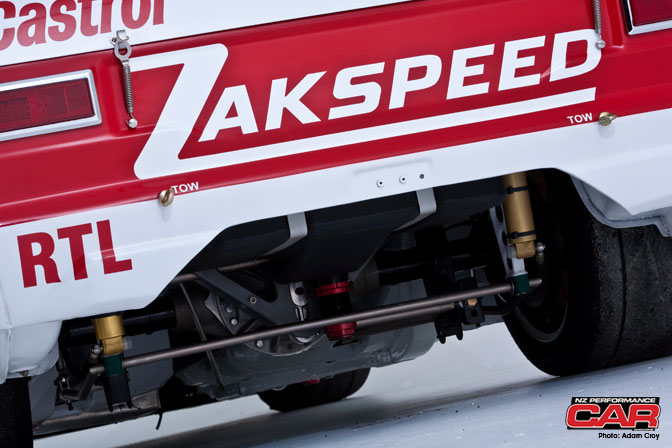 When it came time to work out the rest of the driveline Paul was faced with several tough decisions, the first of which revolved around finding a suitable differential. The Zakspeed cars had used their own alloy Atlas unit and, of course, these are now unobtainable – even if you could find one, owners just aren't prepared to sell them. Rather than research and supply something similar, Paul decided to fabricate his own version of the Atlas, with his final recast alloy casing coming in at 10kg lighter than the standard Atlas. CNC machining on the casing was handled by Jason Leifting with additional assistance on setting up the differential being provided by Glen and Adam Walmsley, the latter also assisting when Paul's BDG engine was dyno-tuned. Paul agrees that manufacturing his own Atlas was a little over-the-top, but he was well justified in doing so as he later made other examples and sold them to fellow racers.
When putting together the Escort's suspension, Paul kept it fairly conventional, with adjustable track control arms and compression struts up front, the struts being topped off with camber adjusting plates. Shock absorbers were supplied by Grenville Baker of GTB Engineering. At the rear, he added a Watts linkage with the axle supported by a four-link set-up. A set of magnesium-alloy BBS wheels finished everything off – the centre-pieces for these wheels were sent to Paul by international rally ace Stig Blomquist, who had visited Paul's workshop several times to check on the car's progress while visiting New Zealand. Paul then purchased a new set of BBS wheels from Germany – a bit of a bargain due to a good exchange rate – and they provided him with a set of actual rims.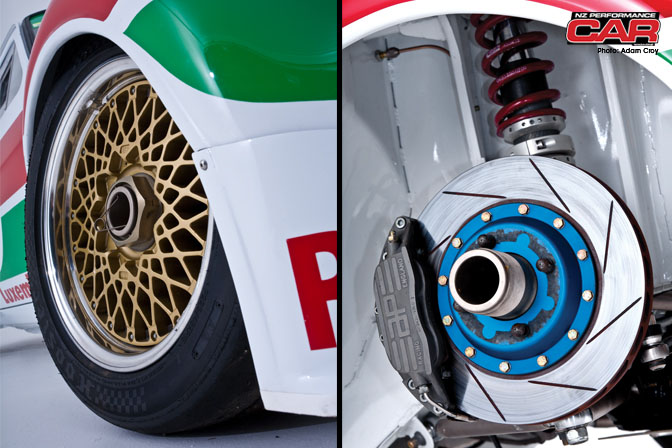 When it came to picking suitable brakes for the car, Paul received assistance from fellow Escort racer, Bill Williams, who was able to provide parts directly from his own extensive inventory of racing parts. So, the Escort received AP Racing four-pot magnesium callipers and 305mm vented AP rotors up front and AP Racing two-pot alloy callipers and 265mm vented AP rotors at the rear.
Departing from convention, Paul fitted a six-speed sequential gearbox to the car, a Quaife unit. Unlike many other Escort enthusiasts, Paul resisted the urge to utilise the ubiquitous Toyota five-speed, figuring that the Quaife 'box did, at the least, have some connections to Ford – and, of course, it's certainly not Japanese.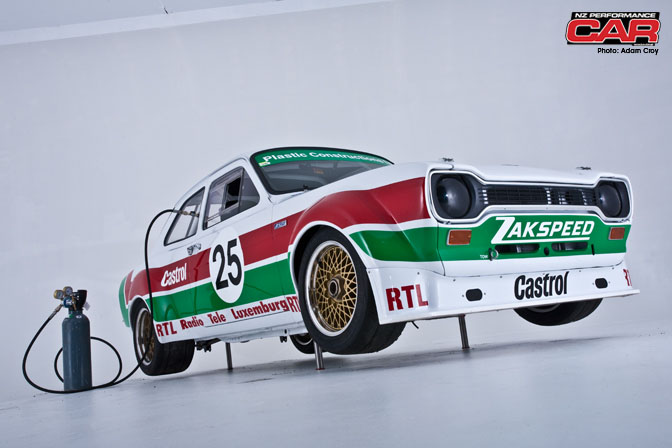 As a final touch, Paul couldn't resist including one final detail – air jacks. Very handy during pit-stops. Throughout this process, Paul kept costs down to a minimum – handling most of the fabrication and assembly work himself and, at the same time, taking time to check out as many sources as practicable in order to get a good deal on specialised parts.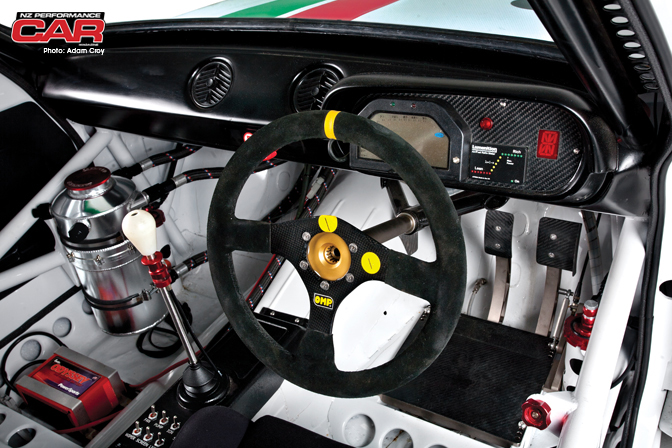 His only real indulgence would be the purchase of a carbon-fibre steering wheel – a truly lightweight part with a retail price of around $1600. However, true to form, Paul managed to talk the supplier into a deal, eventually acquiring the wheel for $600 – still expensive but Paul reckoned it was one item he just had to own.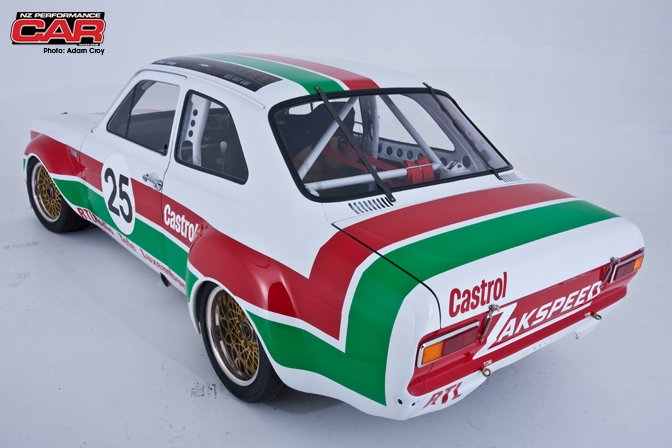 With the mechanical specifications for the Escort sorted, the car's composite body was tidied up and sprayed in white by Les Swain at Metalmaster Restorations. Les displayed a genuine passion for the car during the painting process, taking considerable time to get the paint and associated Castrol livery exactly right – run your fingers over the Escort's body and there is no discernible edge to the Castrol stripes; ample proof of a first class paint job.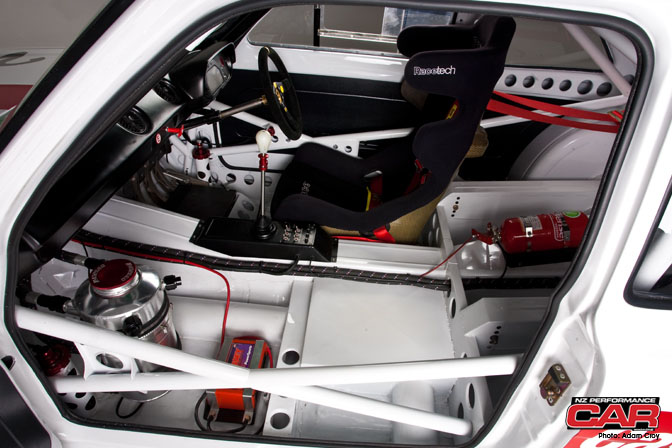 Then it was just a case of fitting out the Escort's cabin – and here, Paul kept everything fairly plain and simple, although he couldn't resist adding a carbon-fibre dash panel to surround the Magneti Marelli digital instrument pod – anyway, it matched in with the Escort's fancy carbon-fibre steering wheel and foot pedal pads. During the entire term of the project – around three and a half years – Paul received endless encouragement from fellow Escort racer, Bill Williams. Paul would also like to thank Malcom from TCC Solutions who made up the car's signwriting, and Conrad Timms of CT Motorsport who wired up the car.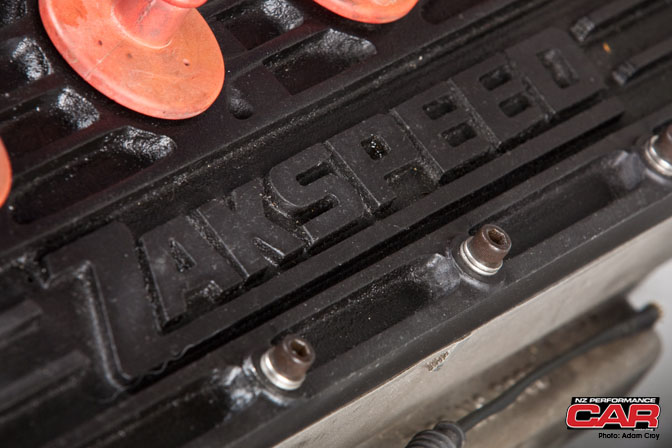 Paul remains somewhat coy about the overall power of the BDG engine in his Escort, although he did point out that it doesn't have as much as the genuine Zakspeed works Escorts had at their disposal during their racing days. And, of course, when it comes to racing cars, finding performance data (other than lap times at specific race circuits) is usually quite difficult – making it hard to validate comparisons. However, in the case of the Zakspeed Escort MkI, the situation is rather more clear-cut. In 1974, German motoring magazine, Rallye Racing, subjected a Zakspeed works cars to a complete road-test, which included fitting a fifth wheel to correctly determine the car's performance.
For the test, the Zakspeed was fitted with a fuel-injected, 1992cc aluminium block BDA engine. To give the following performance figures some perspective, the car's BDA was found to be delivering 202kW at 8500rpm, while the car weighed in at 840kg as tested. On test, the Zakspeed recorded some impressive acceleration times – 0-100kph in a mere 4.9 seconds, 0-160kph in 10.8 seconds and 0-200kph in 20.8 seconds. Rallye Racing also logged in a best maximum speed of 245kph (152mph) – not too bad for a 2.0-litre car almost 40 years ago.
While Paul is keen to point out his replica doesn't have the overall power of the Zakspeed, I suspect the performance of his car is probably not too far away, especially as he's been able to keep weight down to a minimum by taking full advantage of modern technology. Anyone who attended the Chris Amon celebrations at Hampton Downs earlier this year will be able to testify to the sheer speed of Paul's Zakspeed replica – its performance, of course, aided by Paul's undoubted skills at the wheel.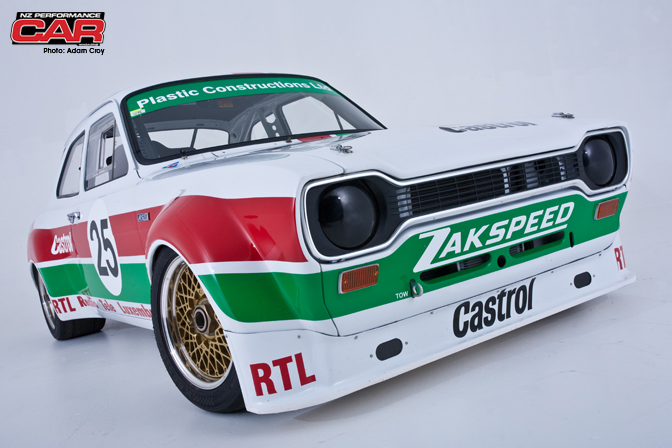 As a final note, some have raised doubts concerning the eligibility of Paul's Zakspeed replica for classic racing – especially with that sequential gearbox – but, in my own humble opinion, I think it's great to see locally-built cars like this on the race circuit. You can draw a direct line from the great Kiwi specials of the past right through to Paul's Escort. For sure, Paul's recreated Zakspeed is rather more advanced than most earlier NZ-built specials, but that's a measure of our times and the more sophisticated technology available to local builders nowadays. I'm just happy to see it roaring around a race-track.
Words: Allan Walton 
Photos: Adam Croy