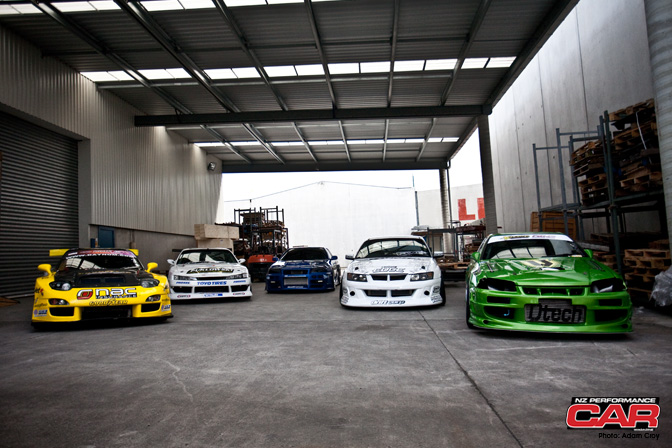 The Jenners yard in South Auckland seemed like the most unlikely place for a bunch of drifters, their cars and a Maori Warrior to be congregated, but this was Team NZ ready to load the cars into containers for the journey to Australia for the Tectaloy International Drift Challenge. With the help of MGN and Untamed motorsport we thought it best to send the boys off in true New Zealand fashion.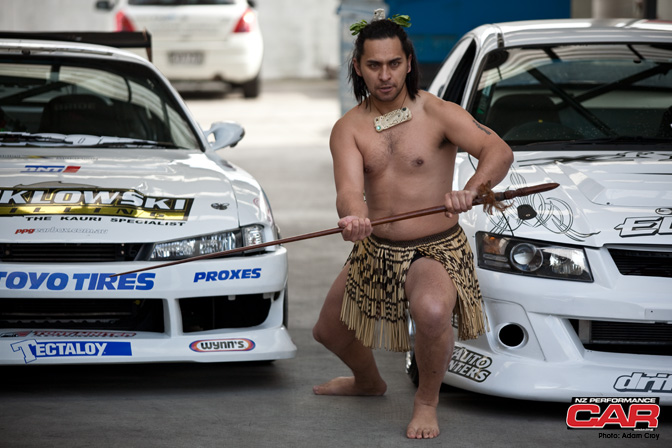 Make no mistake this team is heading to Sydney for one thing and that's war. Trans-Tasman rivalries exist in every sport with iconic battles taking place each year and now drifting has one.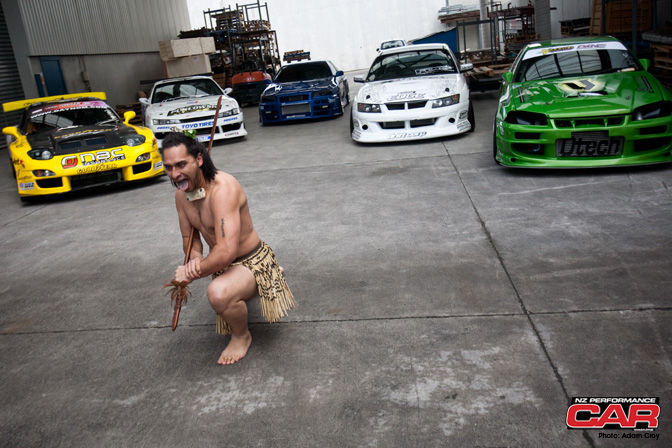 It was evident in the eyes of each driver that there had been a hard few months to get the cars ready, most undertaking near full rebuilds.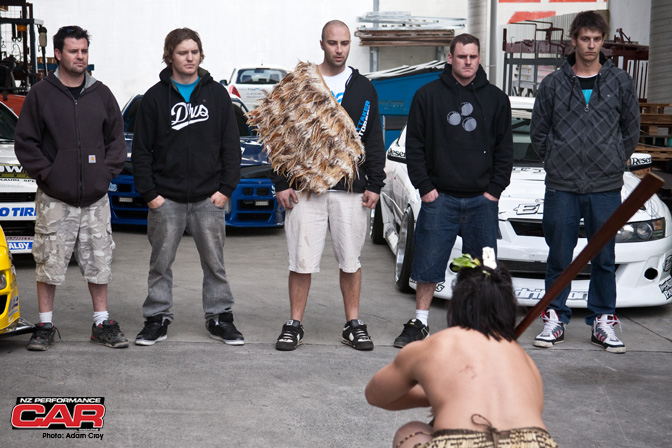 The warrior lays the challenge and offers the fern.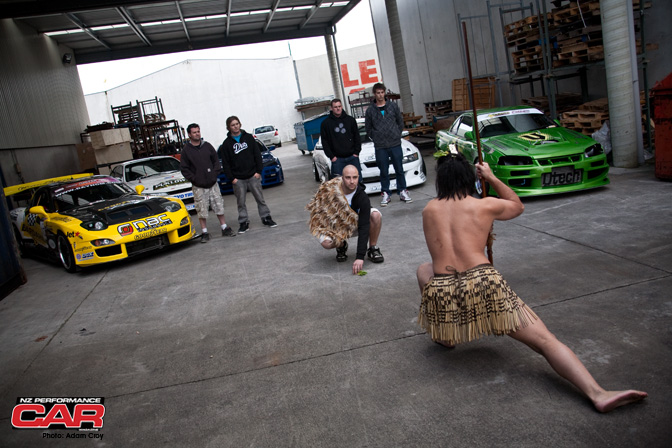 Curt Whittaker accepted the challenge on behalf of the team.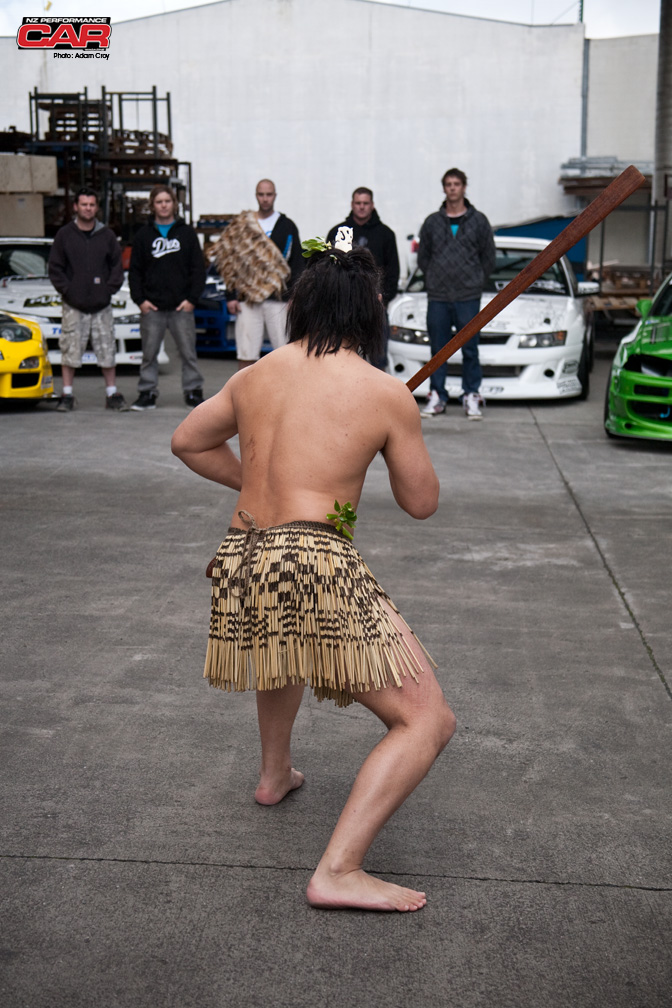 Some looked to be a little unsure as the 6 foot weapon of death was swiftly waved only inches from their faces. But it was defiantly sending a clear and decisive message to the Aussie camp.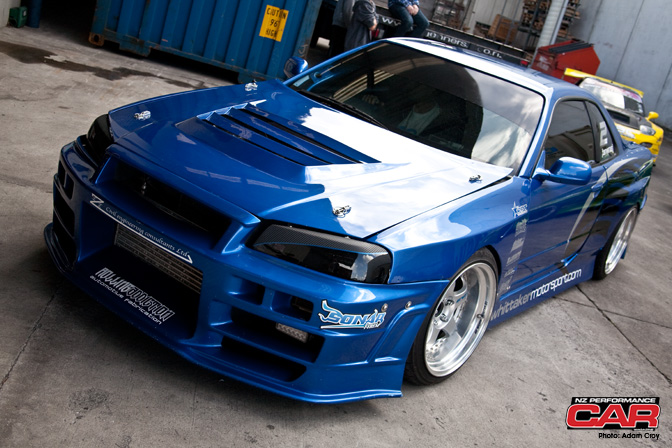 As I mentioned before all the guys have been busy rebuilding their cars. Curt reckoned two weeks out there was so much left to do he didn't think it he would make it, but with the help of his hard working crew the R34 was ready.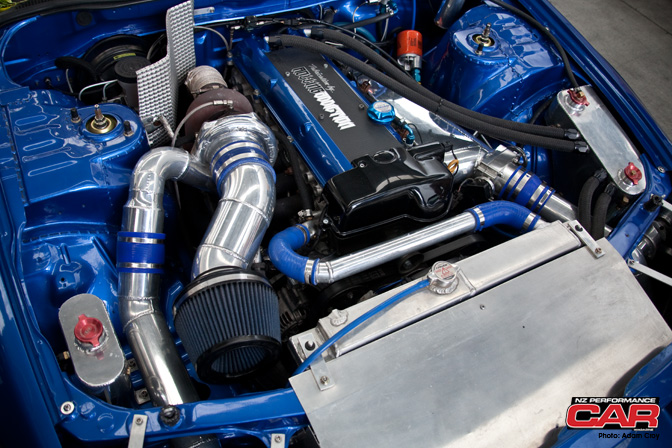 The R34 now has a Jerico 5 speed box which required the tunnel to be enlarged and the 2J received a full freshen up at Dobson Dyno Tune. The team all so fitted all new brakes, bushes and rod ends throughout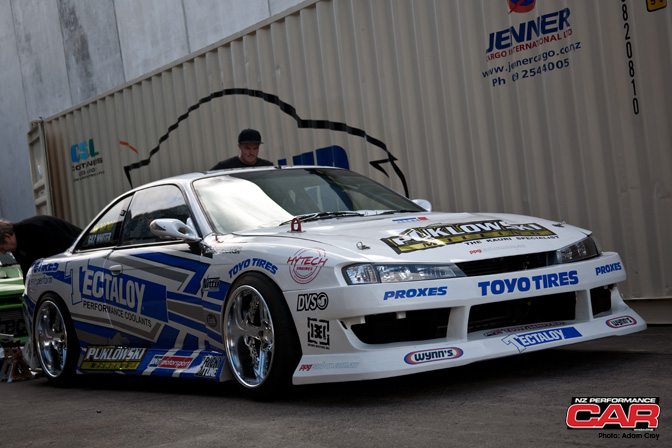 Gaz Whiter is a three time D1NZ Champion and has also fully rebuilt his super wide S14.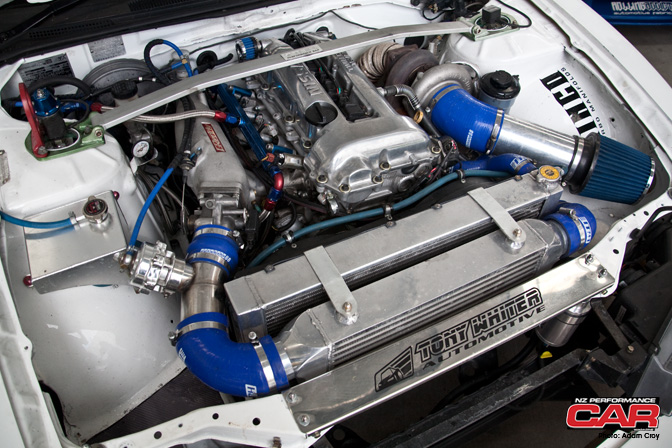 A new engine, all rear panel skins removed, full rewire, new kit and paint work. All that is left is a tune which will take place in Sydney.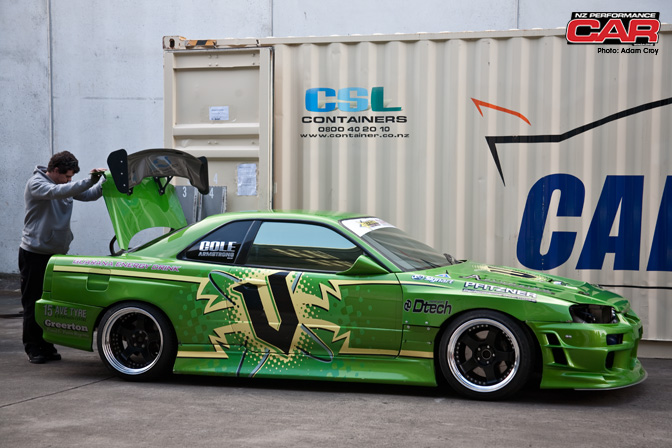 Cole Armstong probably looked the worse for wear of all the drivers, whether that was caused by his antics the night before or the build he has just carried out on the 34 is anyones guess, but I know he has been hard at work burning the midnight oil reworking the front end, installing the new dry sump setup and chasing as much lock as possible.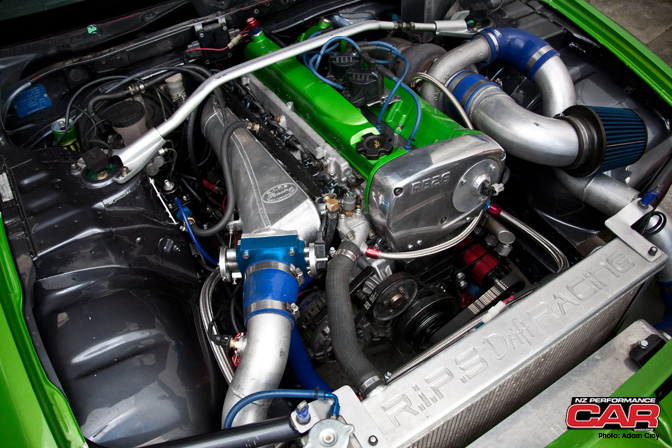 The brutal RB is now also pushing a few more HP to the rears. The engine bay was looking immaculate.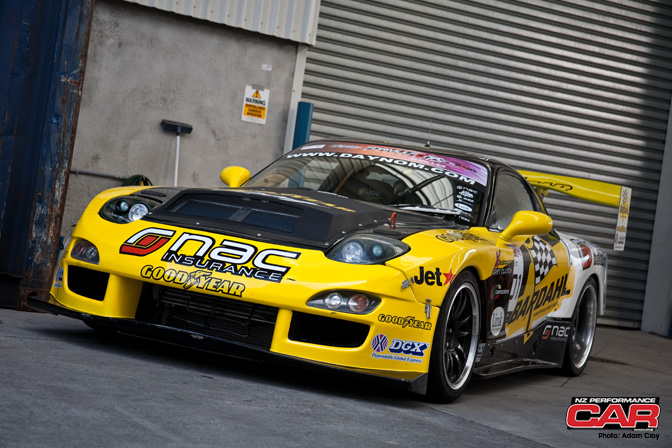 Daynom is sending his jet setting 20B bat over which is fresh from Formula D Asia. This car has also undergone a full rebuild with a new 20B that utilizes 13B housings and rotors.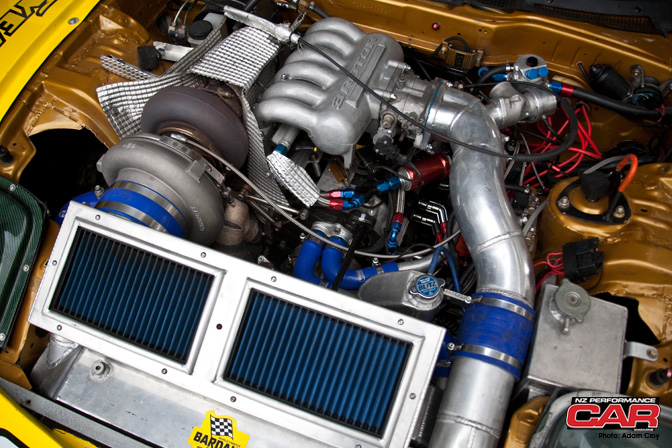 Strapped to the side is a monster GT47. The team suffered a few teething problems but are quietly confident it's all ironed out.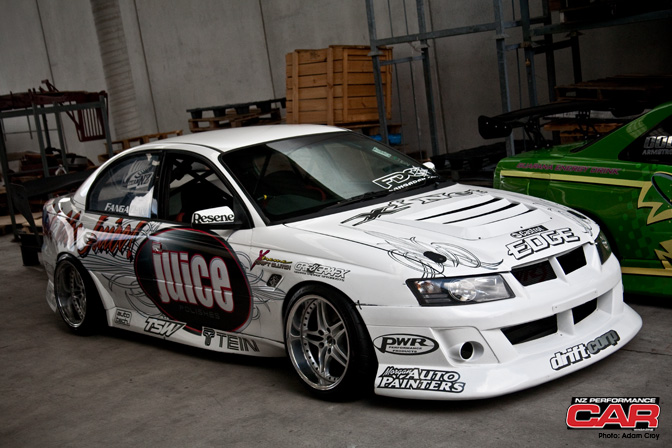 Fanga Dan has picked up a new sponsor for the event, Juice Polishes and had MadMike from CRE8GRAFX do the signwriting on the car.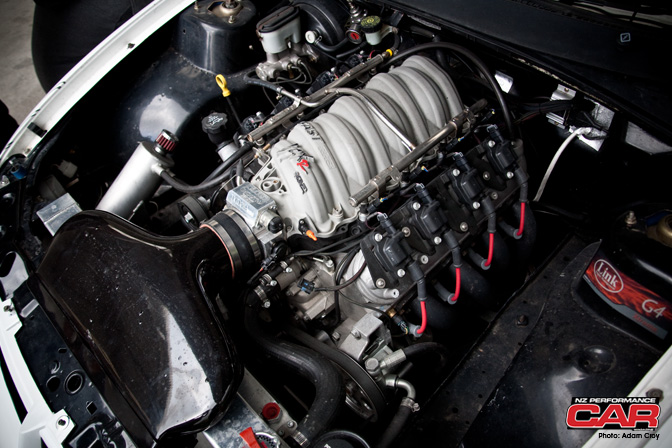 He had also had the Commodore on the dyno in search for more torque. As well as a few other small changes and tiding things up.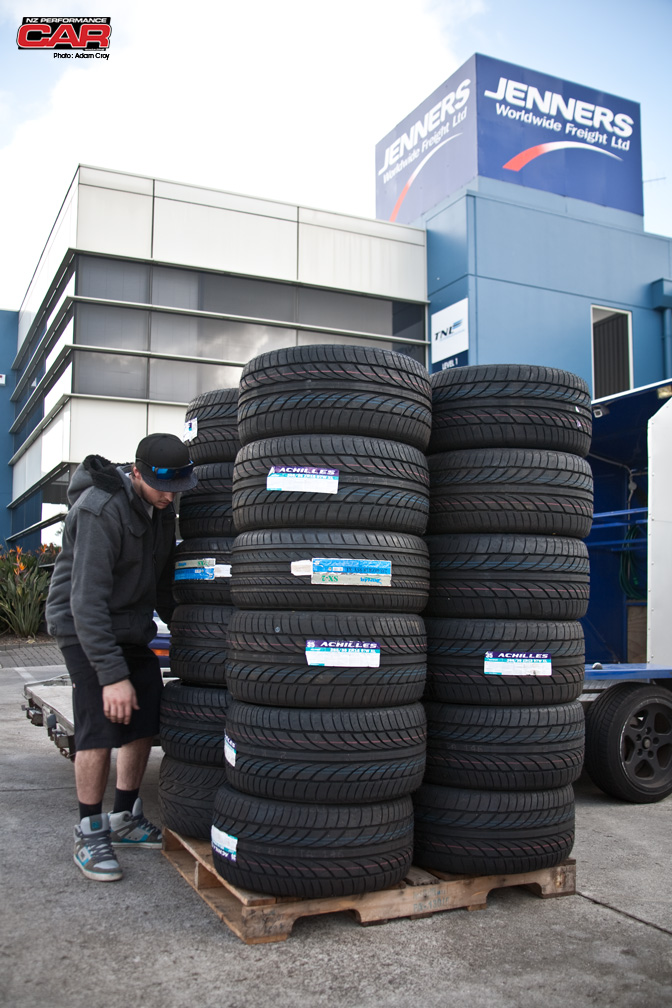 The problem with drifting overseas is the amount of spares you need to take with you. This stack of tyres is for Curt's car alone and he still doesn't think there are enough to last. Multiply this by six drivers and you get my point.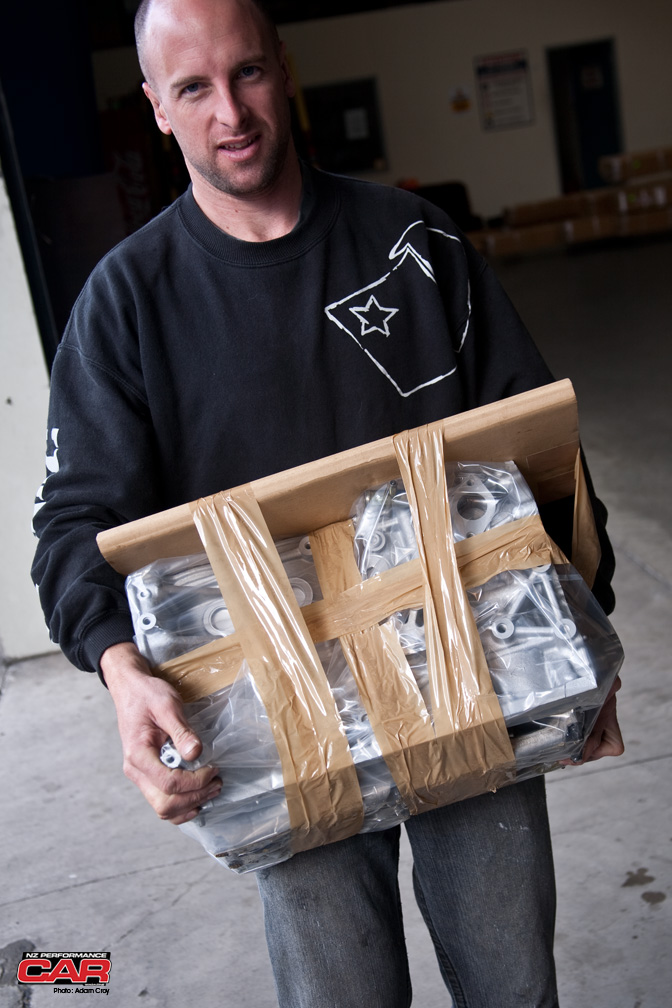 The last thing you want when heading to another country is being unable to compete because of breakages, so the teams are taking everything they can possibly fit in the two 40ft Jenners 'Cartainers' including a spare block or two.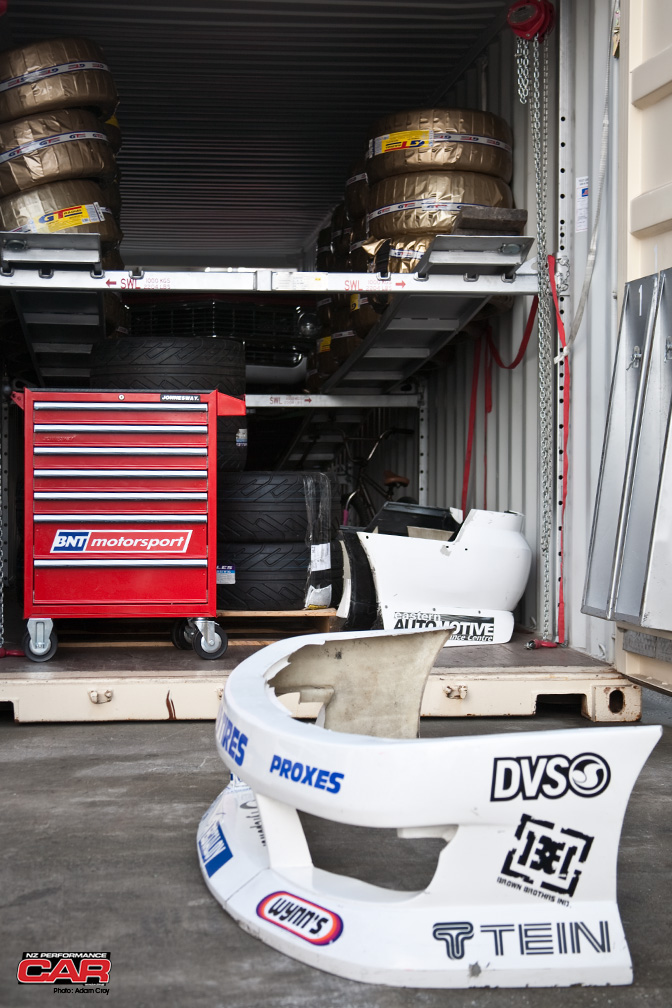 Looking at the amount of stuff the Jenners crew have to pack, it will be a busy time in their yard this week.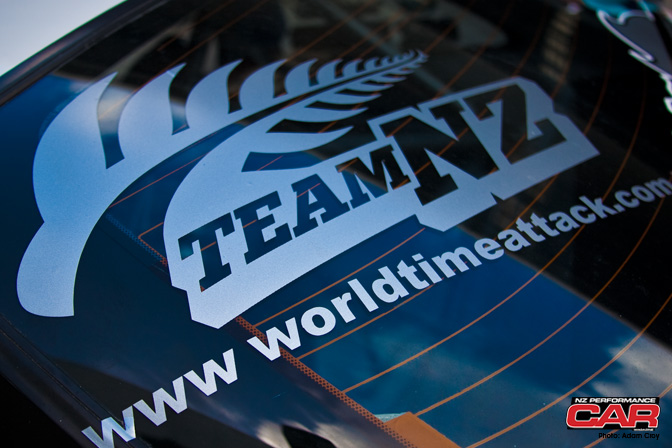 Were you wondering where Mad Mike and Team RevolutioNZ EVO are? Mike was still busy working on both cars.
The team is ready and can now relax for a few weeks. The only question left to answer, is Australia ready for us? I guess we will find out on August 5&6, see you all at Eastern Creek.
Photos: Adam Croy
Words: Marcus Gibson