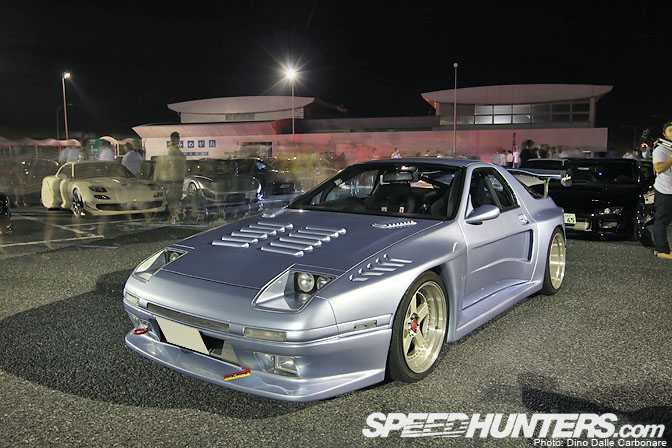 Words can't describe how epic this year's RX-7 meeting turned out to be. With participants coming from all areas of the Kanto region, not to mention the usual participation of iconic tuner cars like this Scoot FC3S, this is one gathering people won't be forgetting in a hurry. But this was a small look at the 7's Day celebrations, because rotary enthusiasts met all across the country, not to mention the various circuit events that were organized. To find out more about these local meetings head over to RE-Xtrme, where Russ has already posted some pictures of the meets that were held in Kansai and Shizuoka.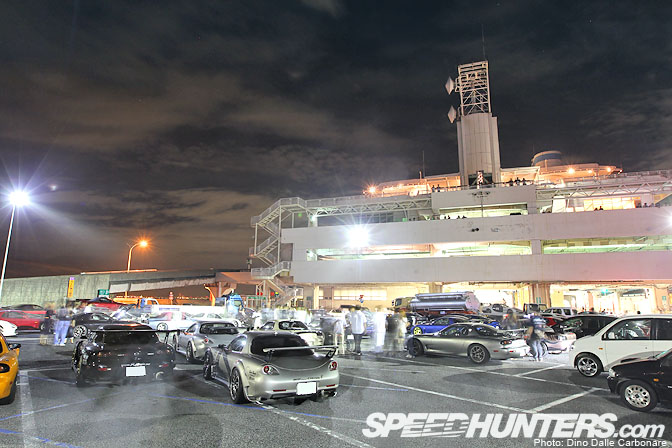 Back at a very windy Umihotaru PA this is what the ground level was looking like at around 10 pm. Some cars were beginning to take off, accelerating full throttle down the exit road, while others kept rolling in keeping a constant flow of stunningly modified machinery.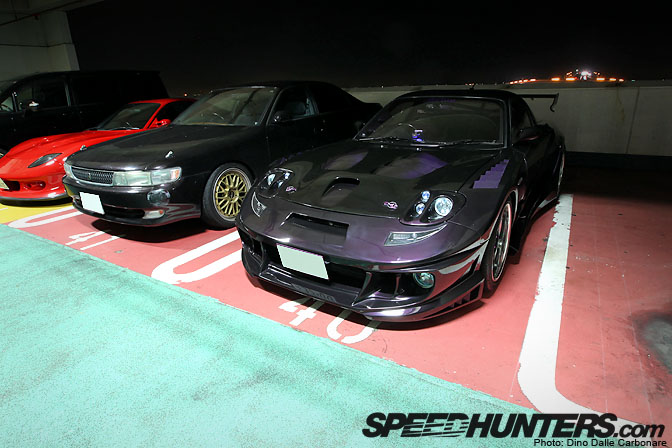 Here is a great find form the third level of the PA, a dark purple Abflug kitted widebody FD. Impossibly menacing!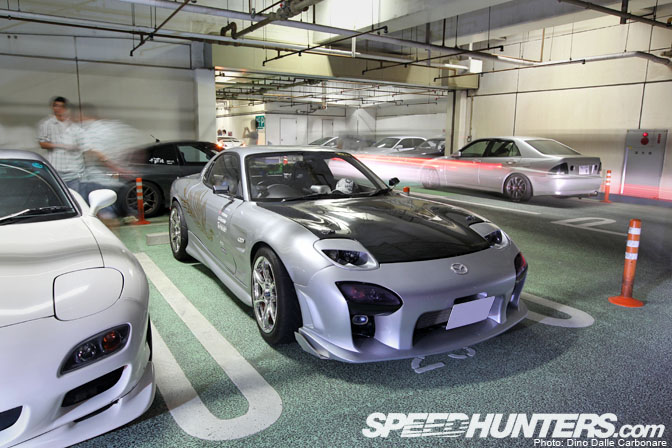 Another A-spec!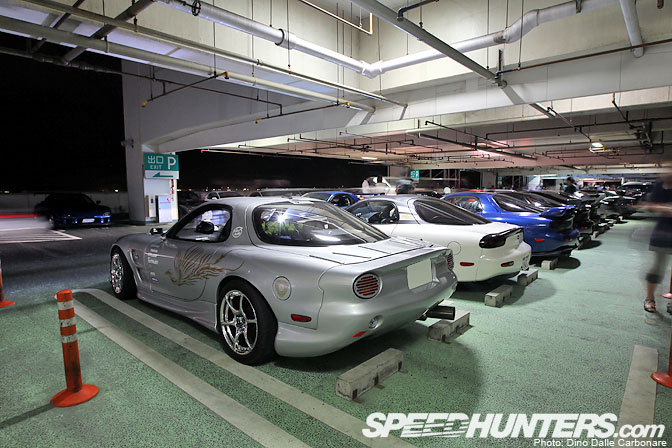 But wait, the rear end has been RE-Amemiya-ized!  An interesting combination. That's the great thing about the FD, it can be transformed in so many different ways by mix and matching aero parts.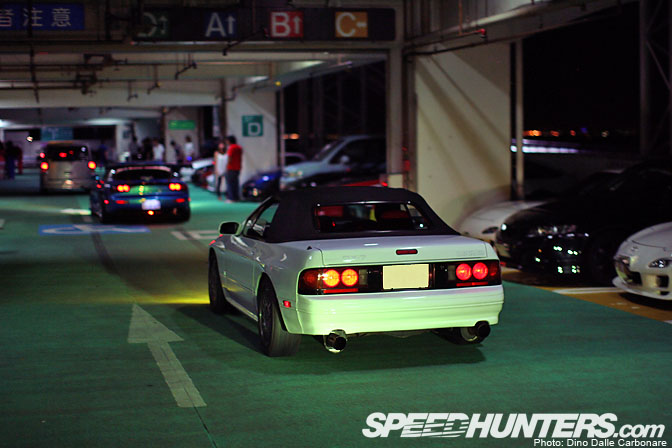 After arriving onto the covered area of the parking via the steep on-ramp, you can drive around the whole level…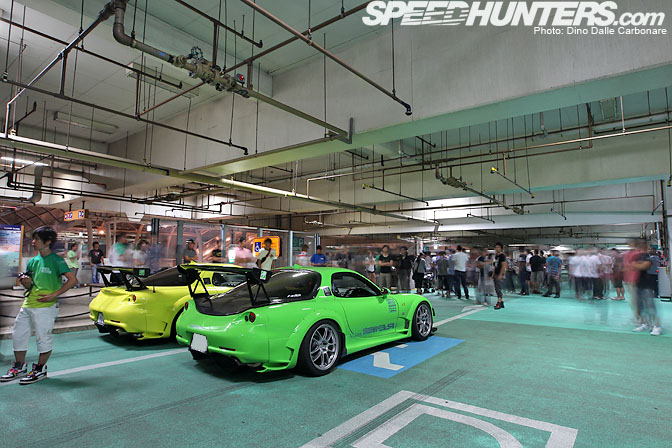 …to find a parking spot or head to where the main access to the escalators, from which you can go up one floor to the shops & restaurants or the observation deck on the roof part of the massive building. This is where the RE-Amemiya crew was parked up and where, probably because of the better lighting, the Video Option crew was doing most of their filming.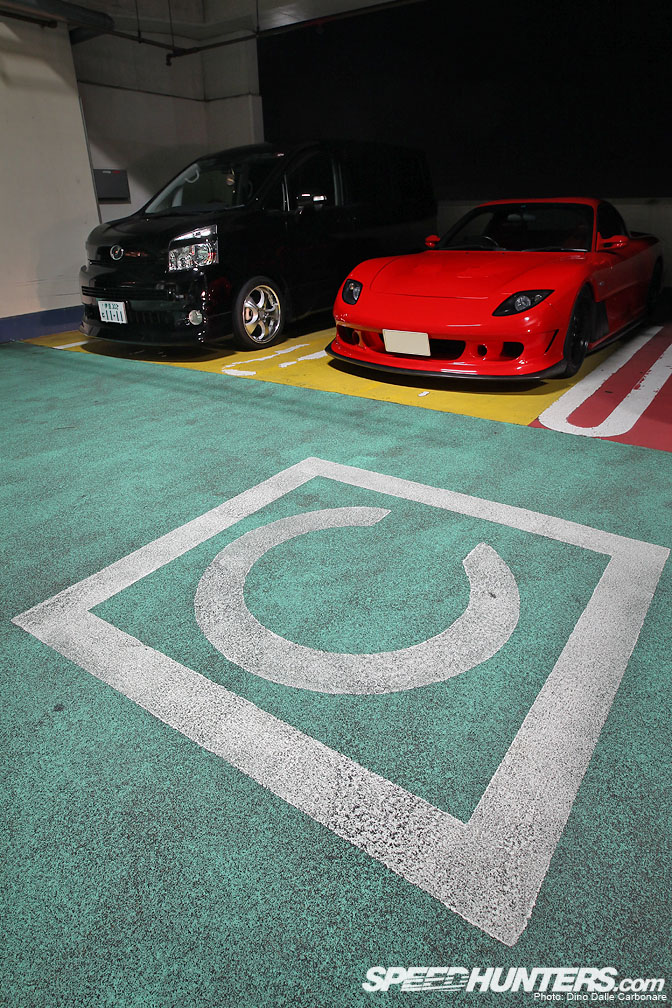 I see this Tamon Design FD every year on 7's Day but it always looks so damn fresh. One thing about Tamon Design is that their kits and conversions are always tested and fine tuned in the wind tunnel so you know you are getting something functional. Now if only they made more products for a bigger variety of cars!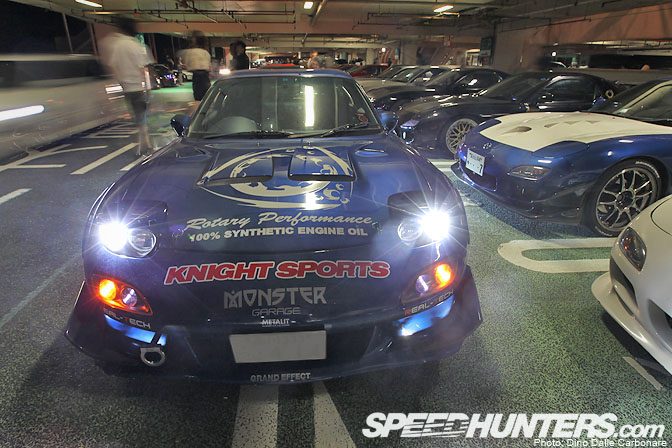 Knight Sports is located just across the Aqua Line close to Haneda Airport so it wasn't surprising to see a few cars of theirs at the meet.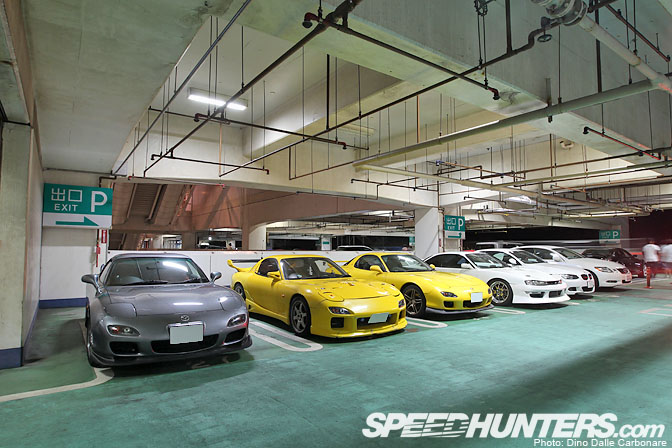 More FDs…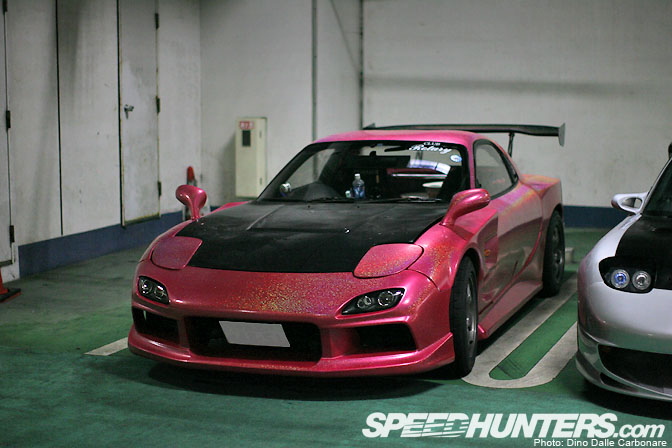 …including this very eye-catching widebody creation. Interesting positioning of the mirrors.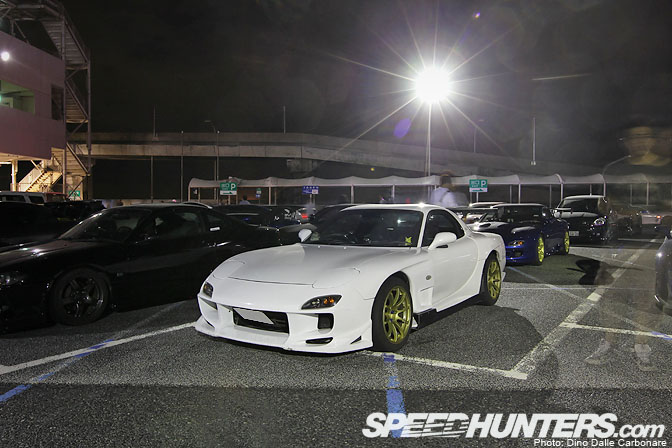 With the commotion of rotary engines piercing through the calm of the night I headed back down for a final time…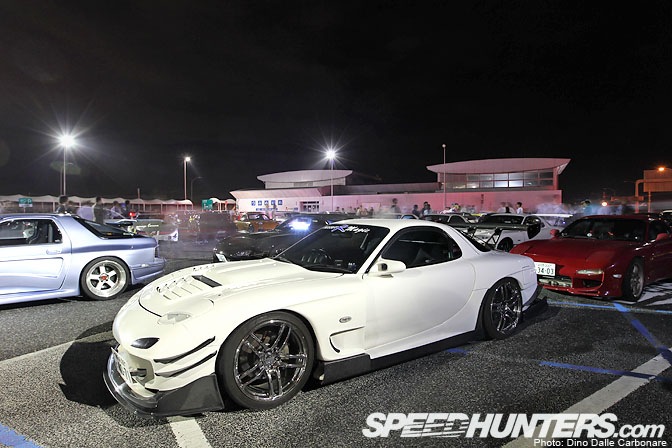 …and it seemed quite a lot more cars had arrived like this R-Magic kitted beauty.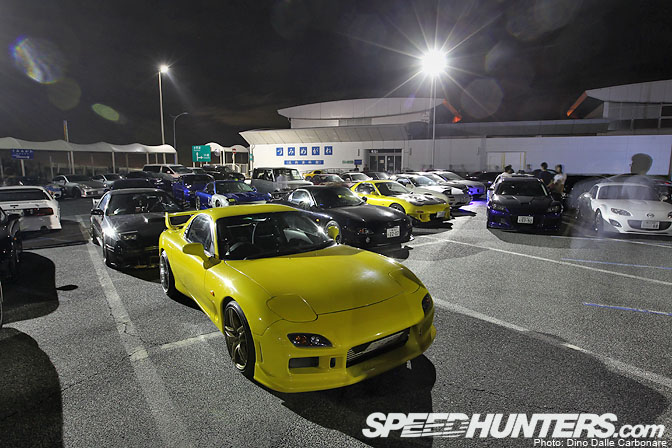 The 40+ mph winds glazed my lens with a salty deposit from the sea, which didn't really help out on those long exposures, so you will have to forgive the unusual flare on some of these images.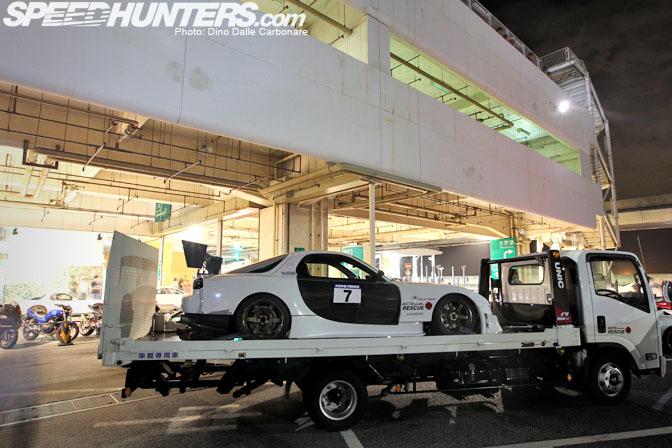 Some shops stopped by Umihotaru on their way back from the Tsukuba event that was held earlier in the day.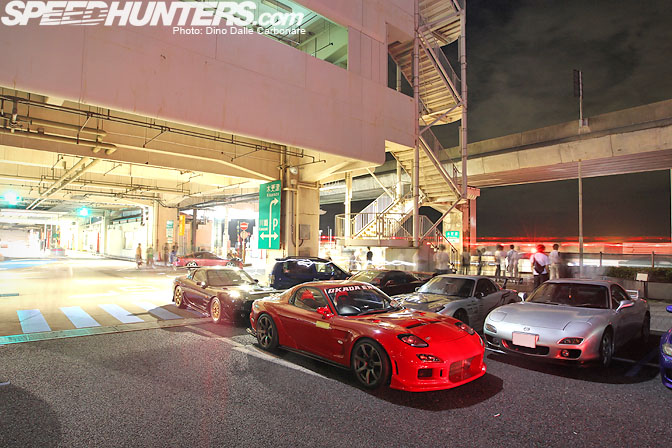 Here is a tightly packed group of FDs on one corner of the ground floor. This is where you can exit the PA through the toll booths, choosing either to head back to the massively built up Bay area of Tokyo, Kawasaki and Yokohama or head the opposite direction to the peaceful countryside of the Chiba-ken peninsula towards the cities of Sodegaura and Kisarazu. The recently opened Sodegaura circuit is about a 30 min drive from Umihotaru.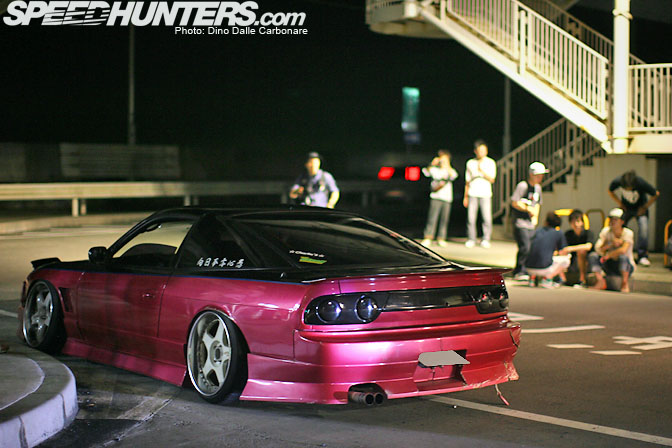 This slammed drift-spec RPS13 looked like it was just about to start drifting around…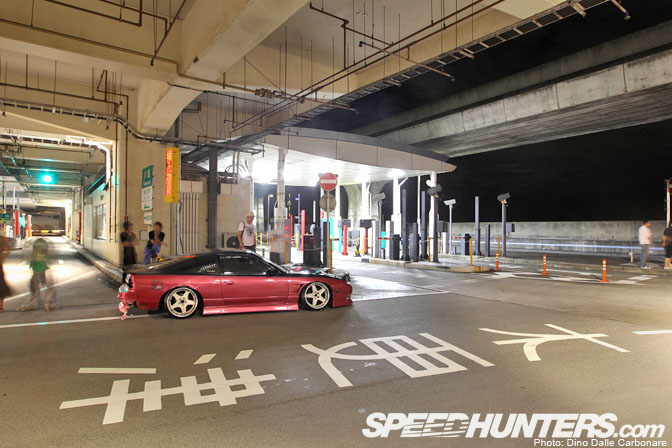 …there was certainly enough space to have a little play.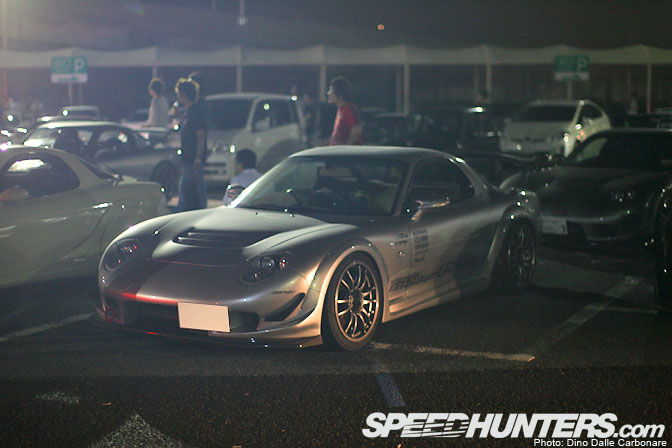 More RE-Amemiya cars! It's funny seeing all these ex-demo cars, vehicles I have all shot over the years after each Tokyo Auto Salon and that have graced the pages of quite a few publications, like this Super GReddy III which I shot back in 2008.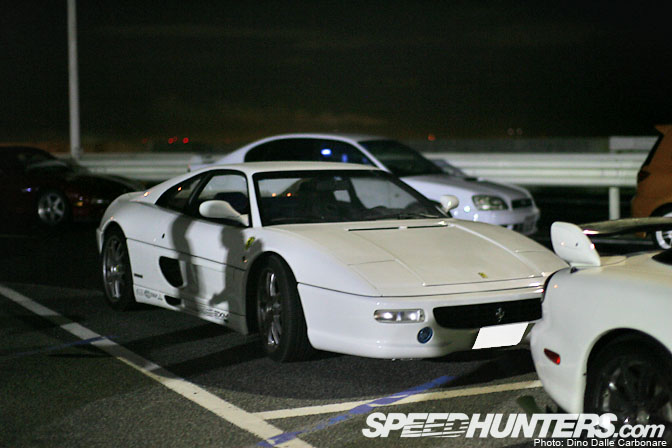 You can always expect some exotics to stop at any PA along the highway system. Before I came across this F355 a pair of Lamborghini Gallardo's drove in and almost instantly drove back out in a concerto of unsilenced V10 goodness.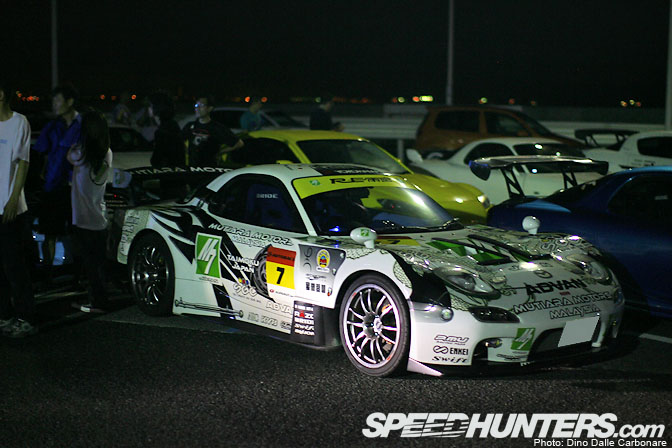 Seeing this GT300 kitted RE-Amemiya itasha reminded me that the famed Chiba-tuner should soon be hitting the track with its new Hurricane 7 that we all saw back in January at the Tokyo Auto Salon.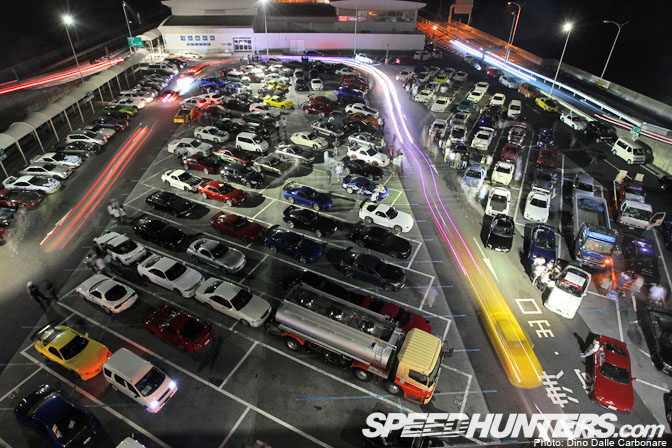 I hope you all enjoyed the coverage from this year's meet, I know I did, this was one epic car meet if I ever saw one. Roll on 2012!!
-Dino Dalle Carbonare