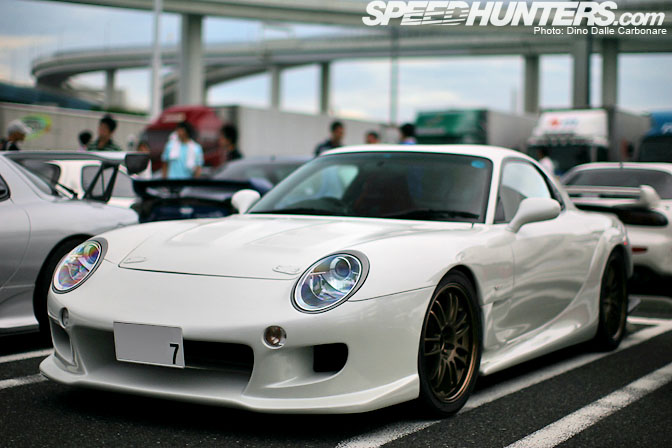 You will have to forgive me for the delay in starting up this 7's meeting coverage, but over the last few days I've been buzzing around all over the place, spending the day with Nakai-san and Toshi at Rauh Welt on Friday, blasting up and down mountain roads yesterday with a bunch of sport's car loving people and attempting to catch a little shut eye in the interim. But before I show you all some cool widebody Porsches and action from Hakone, let's head back to Daikoku PA…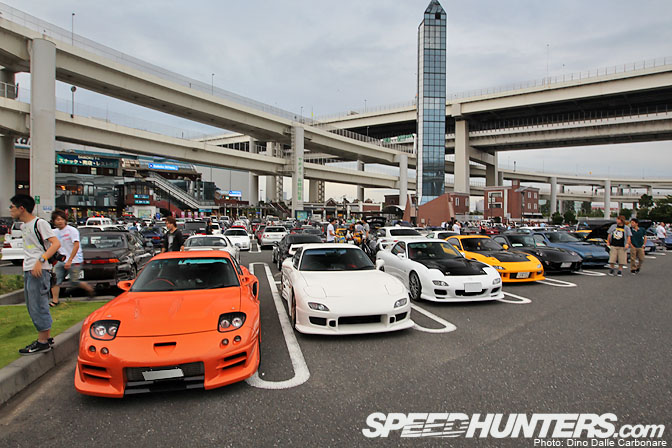 …for what has to be the biggest 7's meeting I have experienced. I probably say this every year, but for 2011 it looked like rotor-heads went full out to enjoy this special day with the largest turnout I've ever seen.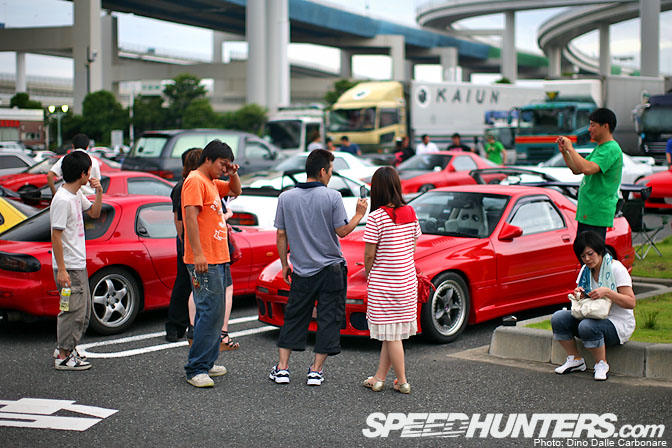 With so many cars already there upon my arrival I quickly got my camera out and got busy.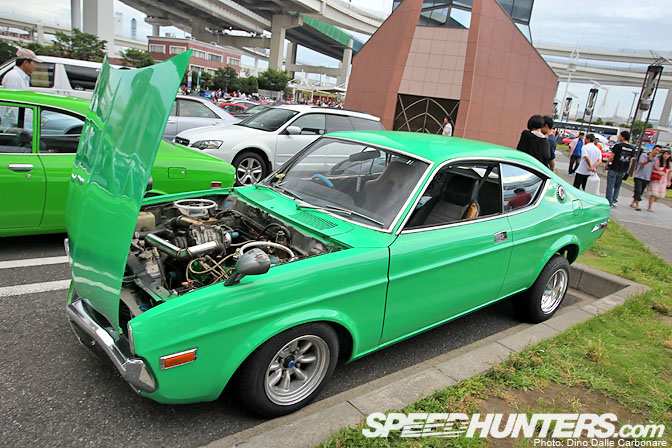 I found it quite interesting that at this year's meeting a few more vintage rotaries joined the line up, like this drag-spec RX-4 (knows as a Luce rotary in Japan).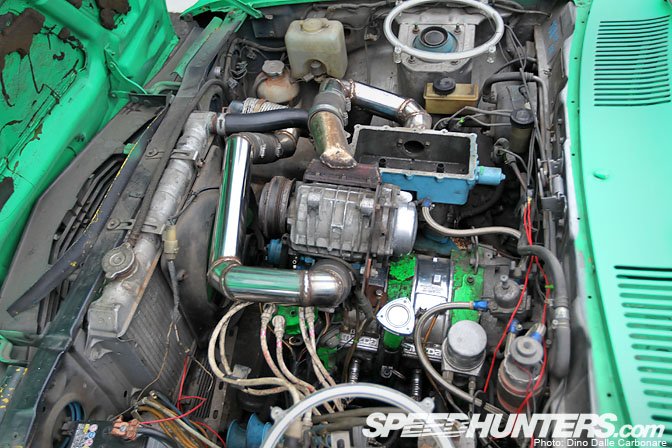 I'm really not sure what is going on with the ghetto-spec supercharger implant!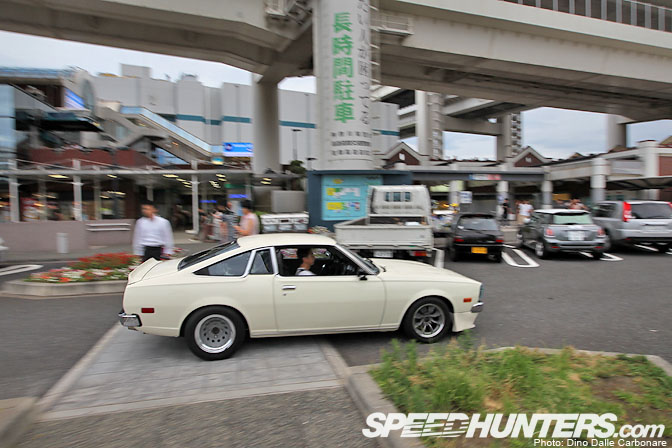 This was the first time I saw one of these second-gen Mazda Cosmo's, known as the RX-5 in other markets.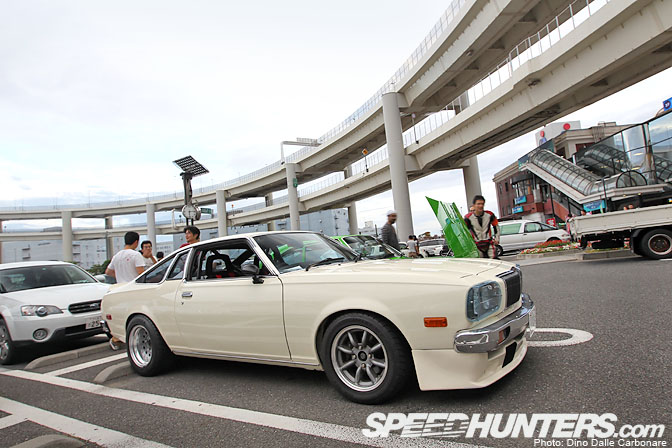 It's unique cars like these that really grab my attention, and from the sounds of it, there was some pretty heavily tuned rotary powering this thing!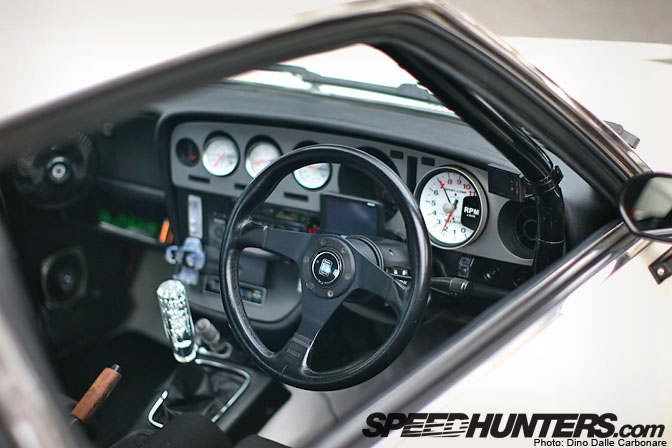 No-fuss interior was upgraded with a few modern parts including a slightly tacky, but at the same time impossibly cool JDM shifter.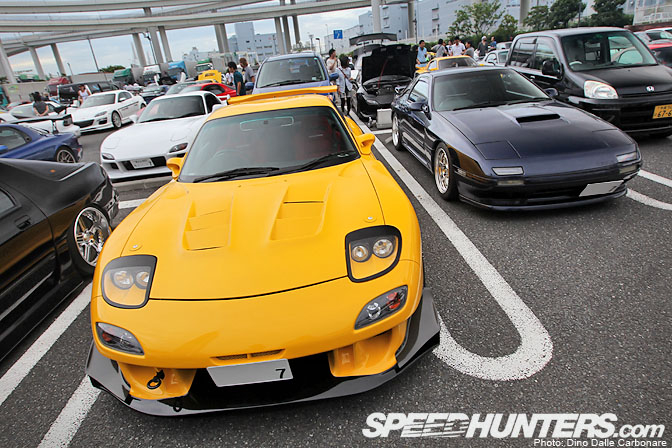 FD perfection!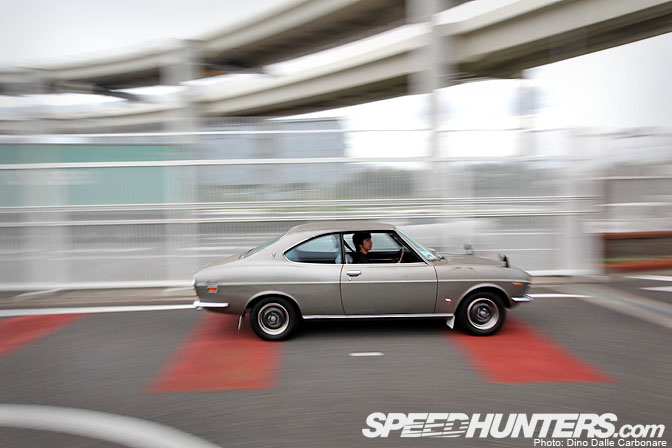 Little RX-2 coming in to join the fun.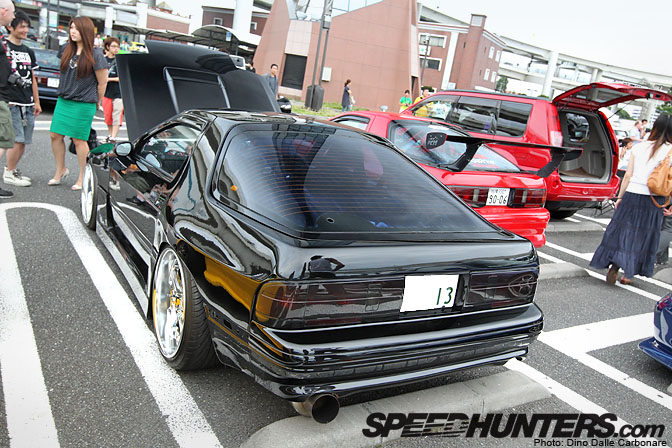 I headed over to check out this shiny FC3S with Russ from RE-Xtreme, we both got attracted by its spotless exterior. Things weren't much different under the hood!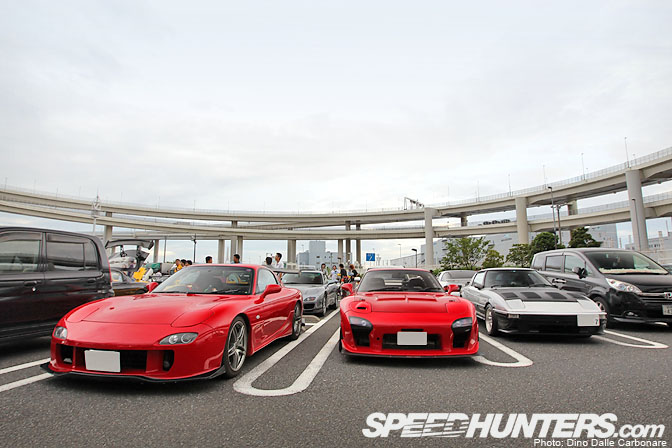 I will always love the front end of the A-spec.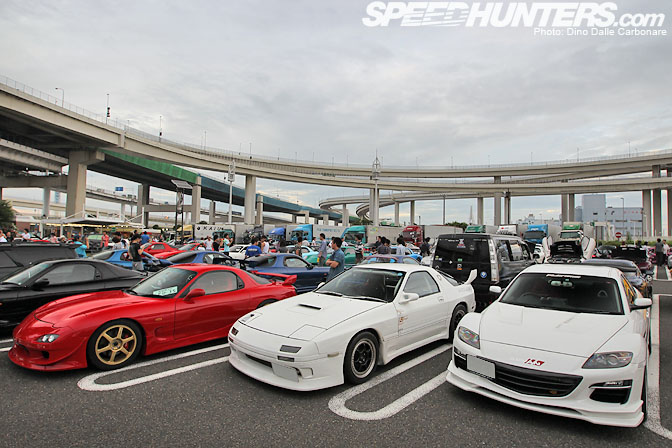 Two 7's and an 8.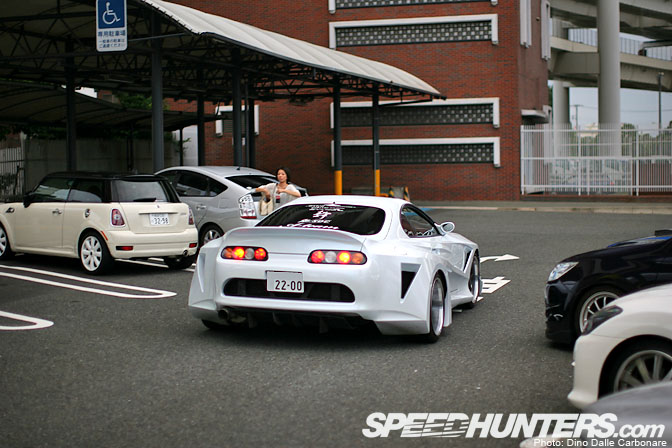 I noticed someone complaining at the blanked out license plates in the Preview post. I know it's not nice to see but we do need to respect the privacy of the owners. Sometimes however we can let the main number show, like on this Abflug kitted space ship…oh sorry, Supra. Anyone care to guess what those numbers stand for? Think metric…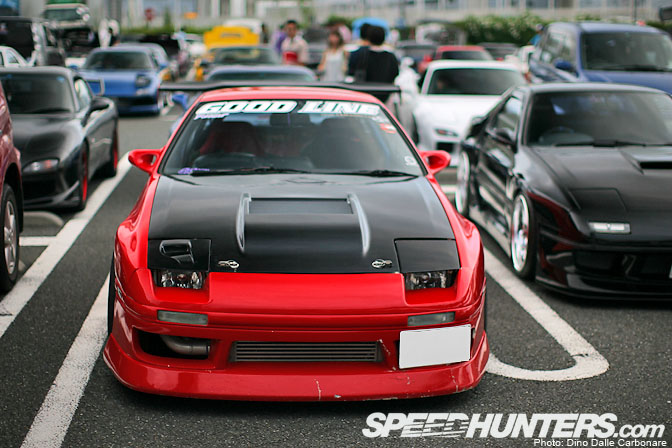 Drift spec FC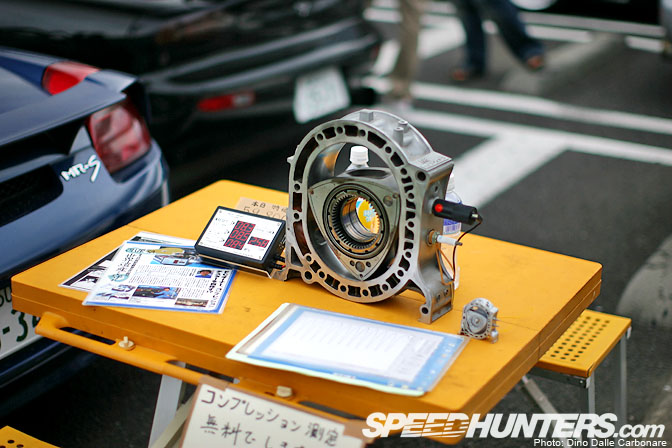 And this is what everyone was at Daikoku celebrating, the great and incredibly simple Wankel engine.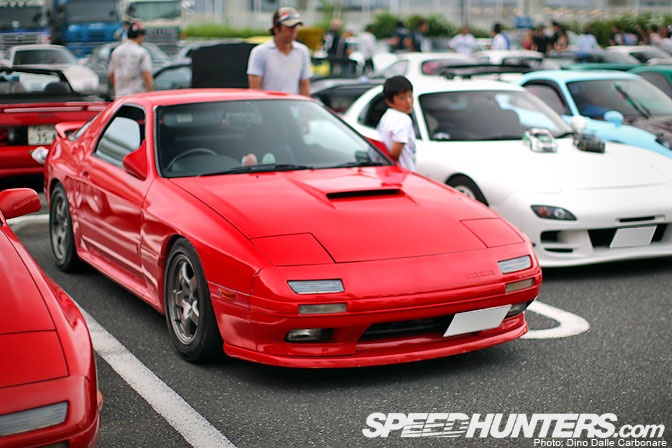 The FC is without a doubt a modern classic and as I notice every year, more and more people are dumping lots of money into their cars to make them look like they just rolled out of the factory.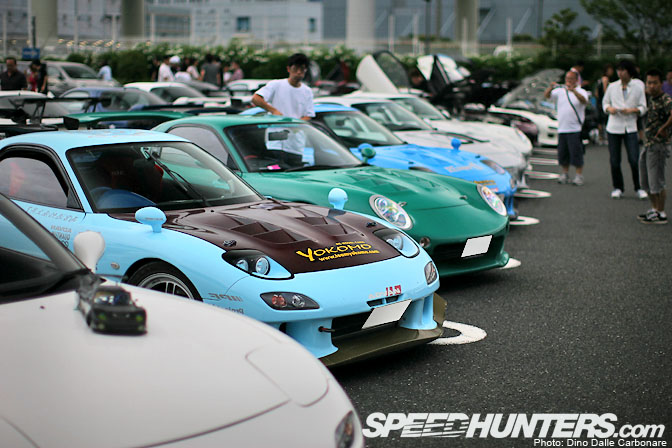 A nice line up of RE-Amemiya FDs.
It's always impressive to see just how many aesthetic alternatives RE-Amemiya has created over the years, from this track-ready version, to the more design oriented GReddy 7 in the opening picture.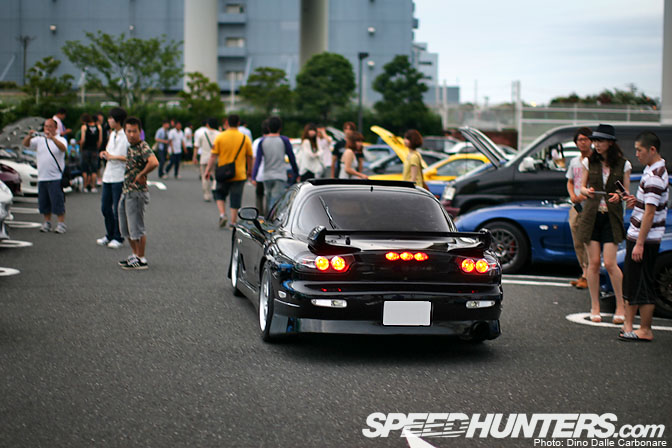 Pretty unique 3rd stop light!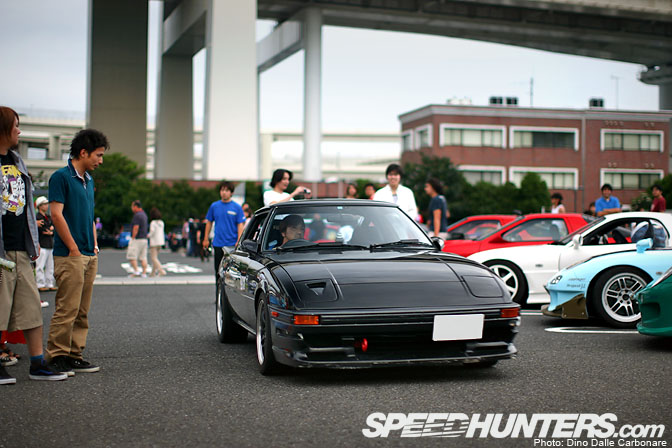 Gotta give some love to the SA22 too of course.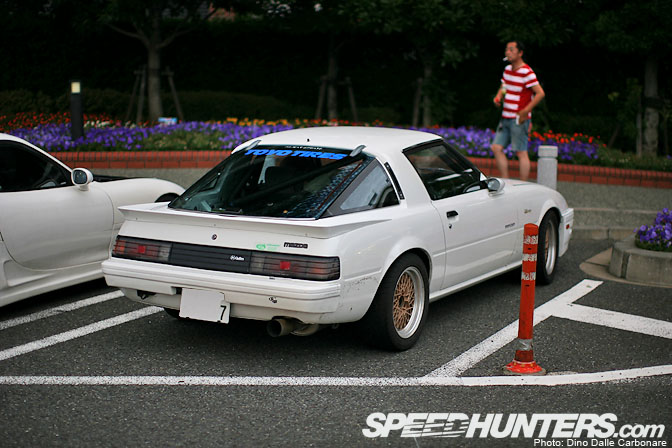 There are always a few of these present every year and make up a very important part of the RX-7's history.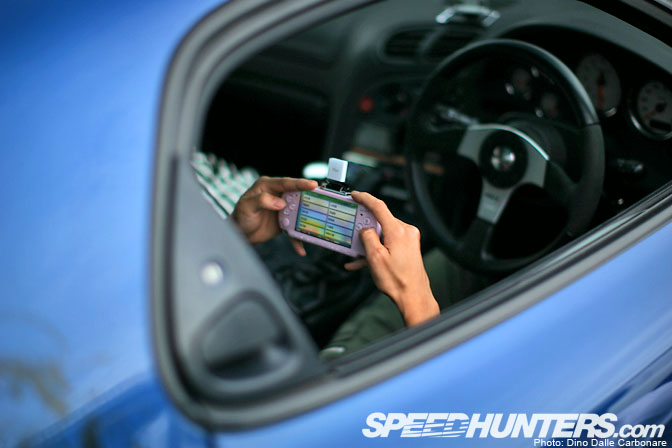 This owner was taking some down time in his car, it's tiring to stand around for hours on end.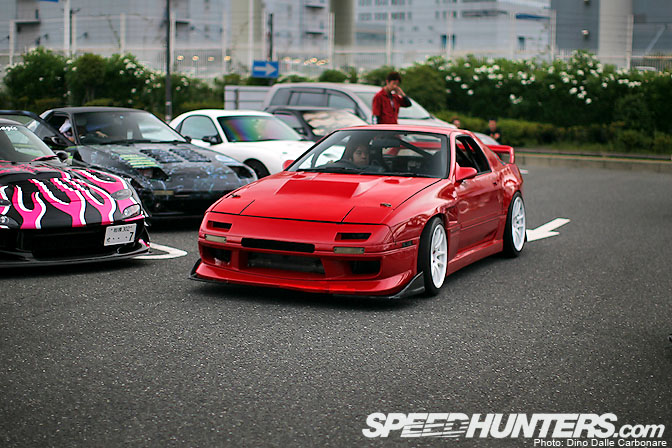 As I was shooting on the top corner of Daikoku I heard the unmistakable sound of an aggressively ported 13B, and was met with this beauty when I turned around.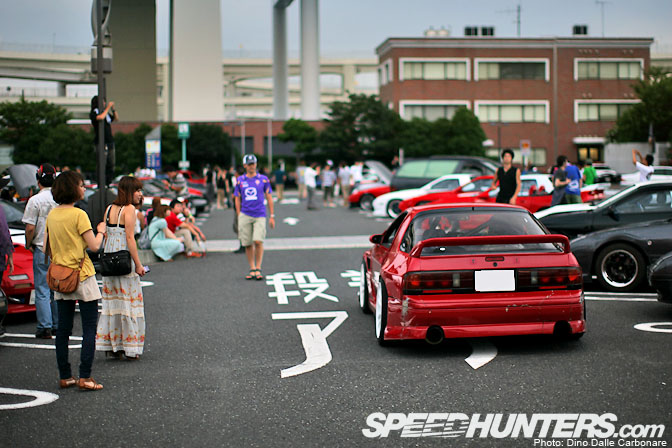 FC's have so much character, especially when they are little more than street-legal race cars!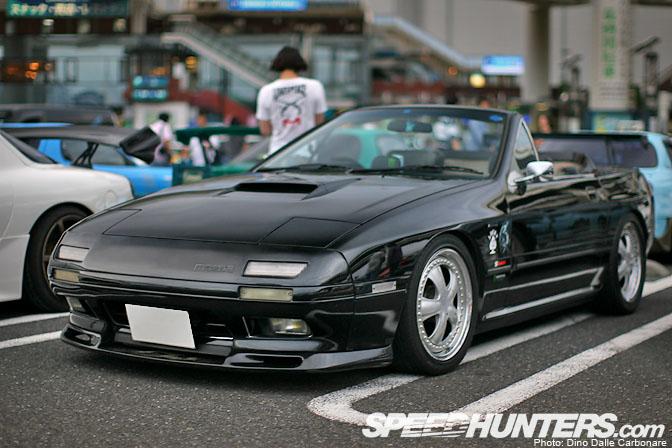 Can't forget the drop tops.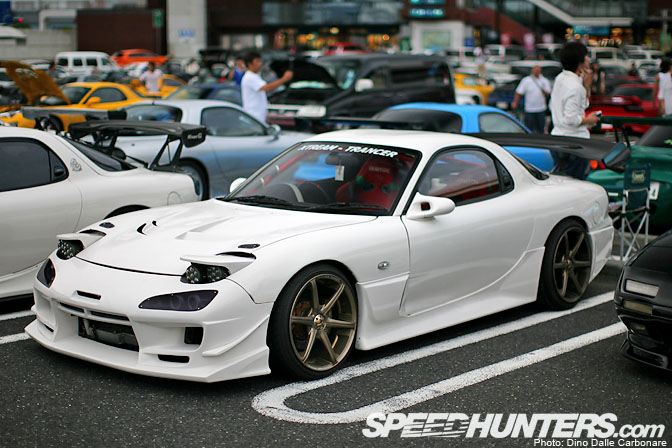 There are tuning styles for everyone in the rotary world, it's really up to the owner to create something unique.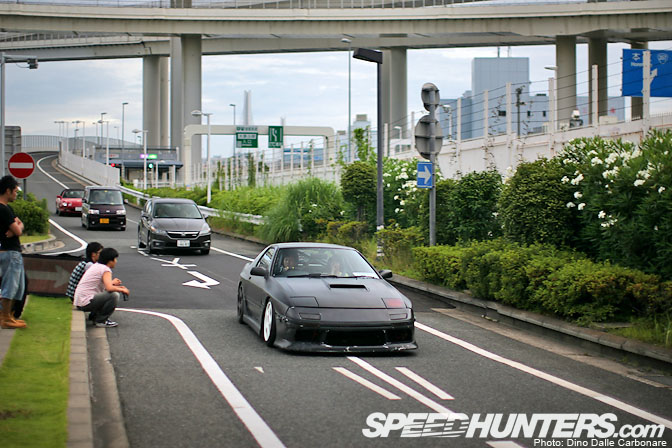 Even as the Police began to make announcements telling people to leave, cars kept on coming off the entrance ramp.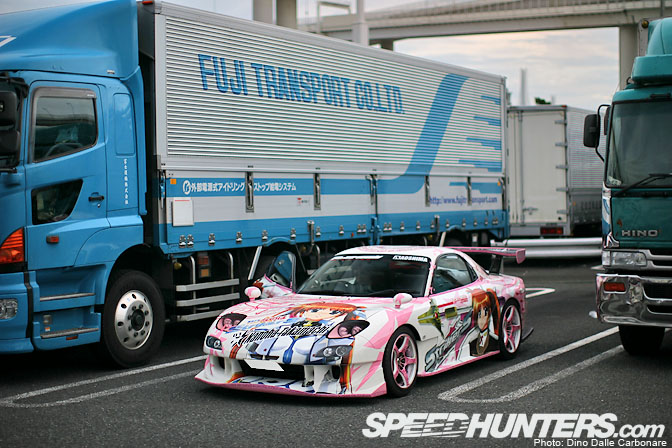 Itasha anyone?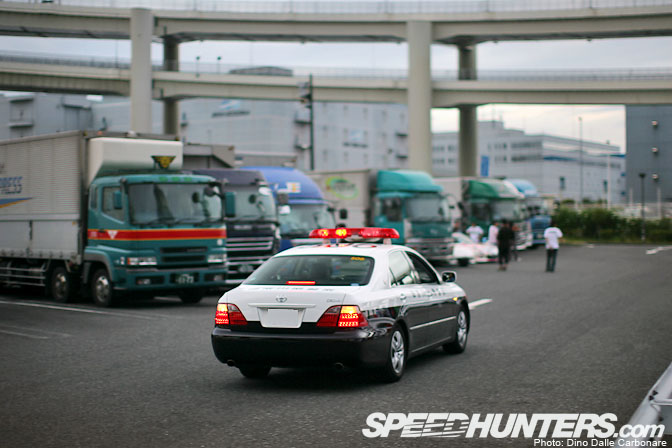 With mere announcements from the PA-system doing little to get people to leave, a couple of Police Toyota Crowns began making their way around the parking lot, kindly telling people that if they didn't pack up and get out of there, they would get into trouble. Not wanting to miss any cool cars I stepped it up a gear and continued to frantically grab as many pictures as I could…
Stay tuned for Part 2!
-Dino Dalle Carbonare