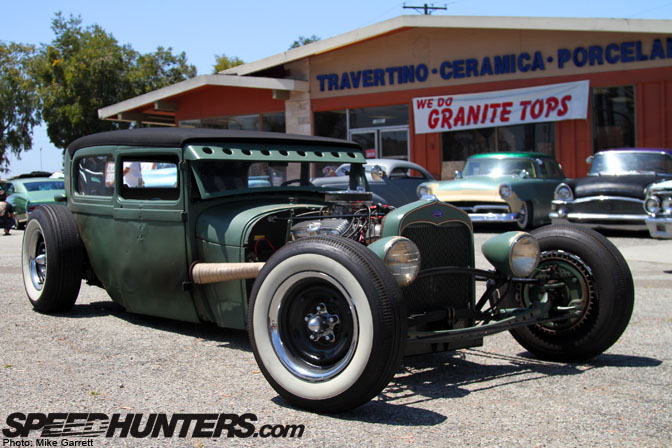 I'm not quite sure what it is about Mooneyes, but it's more than just a brand. Whether you are looking for legit Hot Rod parts, dress-up items, or just some cool accessories and apparel – the company is an icon in the automotive word. The great events they host on both sides of the Pacific are just the icing on the cake. Here's the second part of my look at this year's Mooneyes Open House in Santa Fe Springs.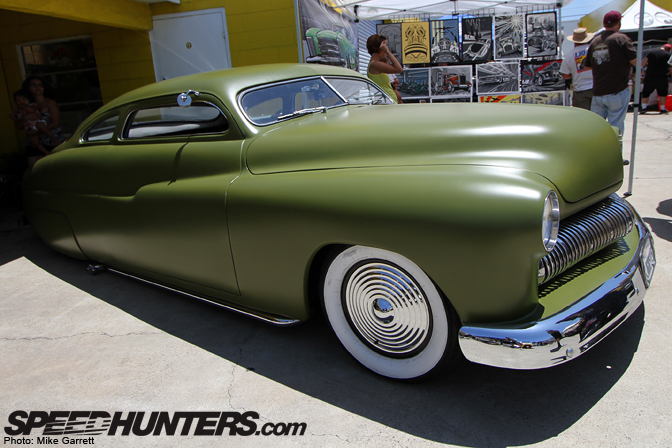 An event like this would in no way be complete without a chopped and lowered Merc. This car actually belongs to artist Max Grundy, whose work can be seen in the background.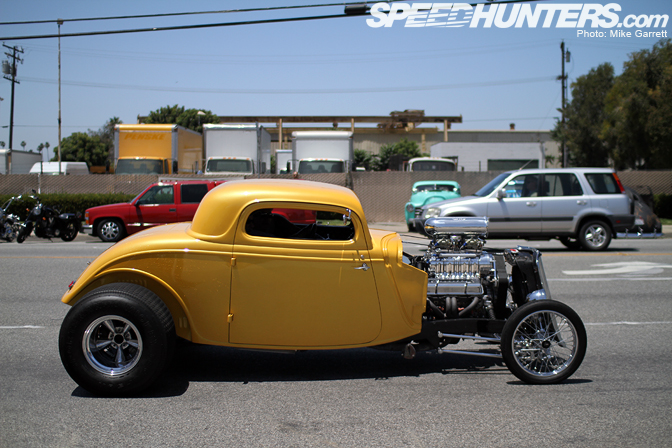 If this wicked yellow Coupe didn't have enough road presence already, the whine of the blower sets it over the top.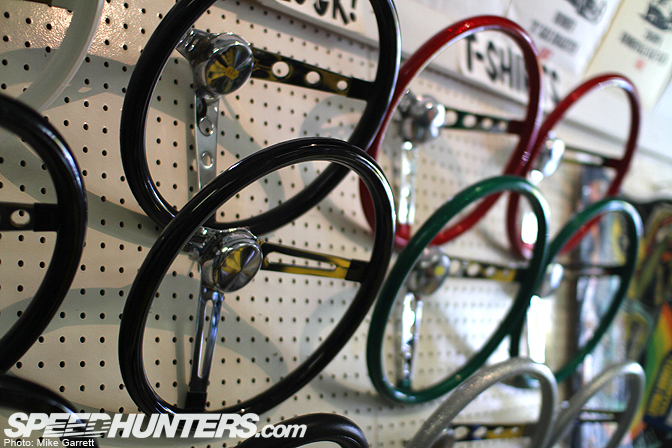 Of course I couldn't resist a browse through the Mooneyes retail store.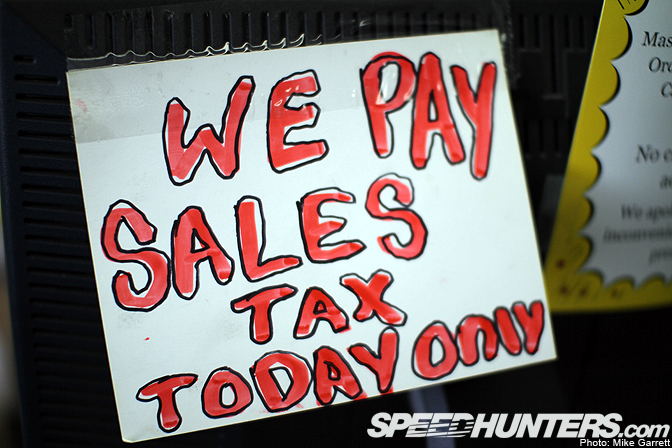 With no sales tax during the event, I ended up picking a couple things to decorate my new house.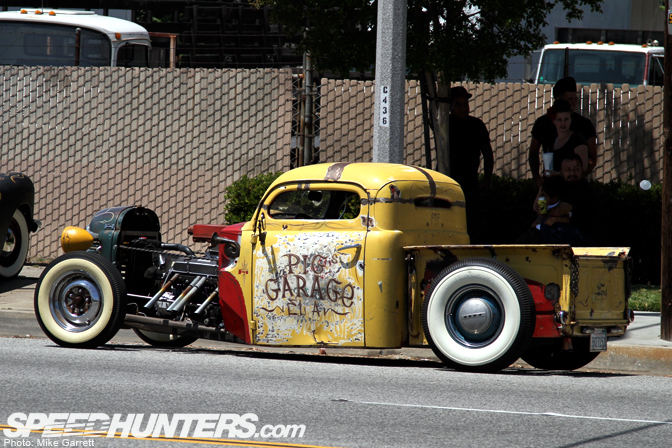 This wild looking pickup was another one of the Rods that lined Norwalk Boulevard. Wow.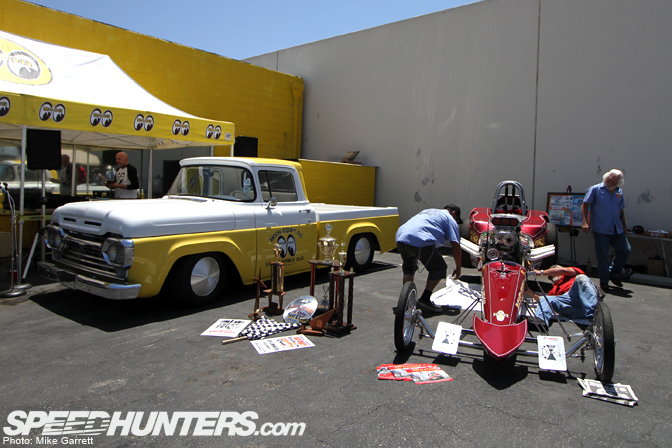 Some last minute preparations before another cackle session. The confined space of the Mooneyes parking lot only made the engines sound more gnarly.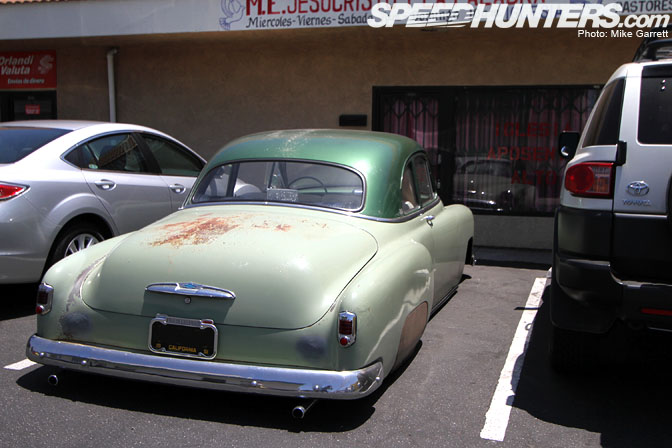 Lowdown Chevy. Spotted this one in the parking lot next door.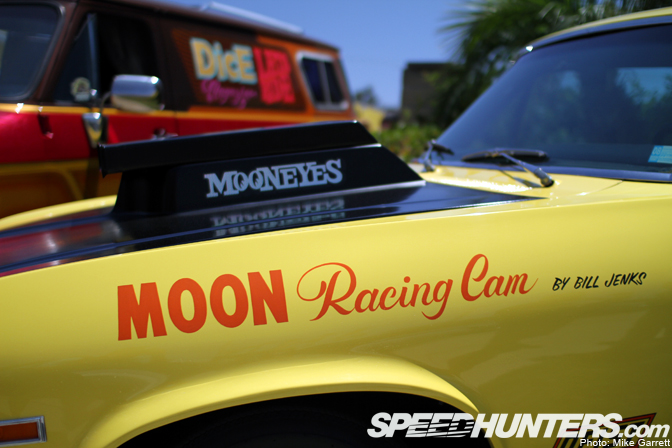 It's not about just Hot Rods and customs. The Mooneyes Nova oozes '70s street machine style.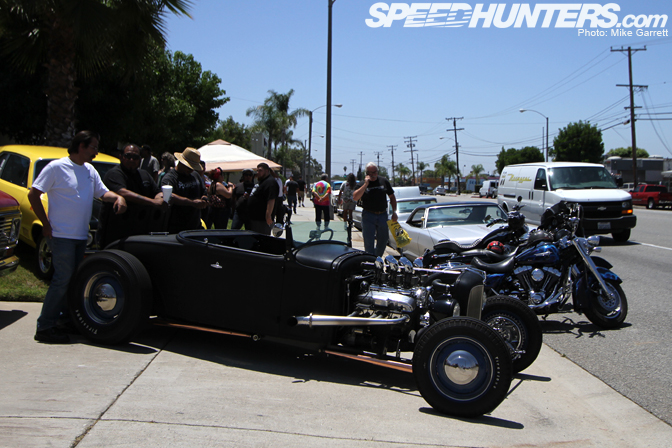 Hot Rods, bikes, and perfect weather. Just a typical scene from Southern California.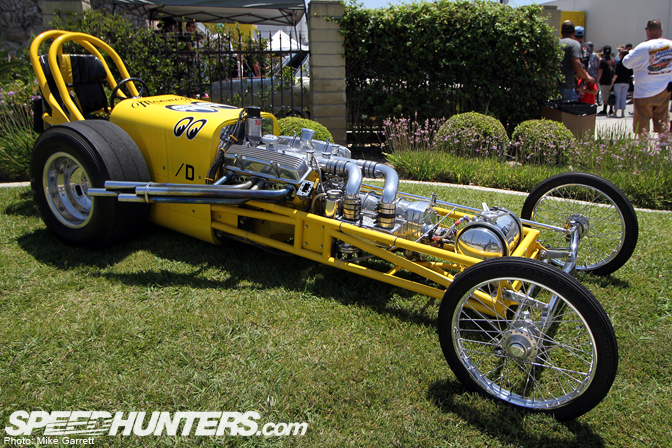 The Mooneyes dragster was shined up and displayed on the grass in front of the shop. History!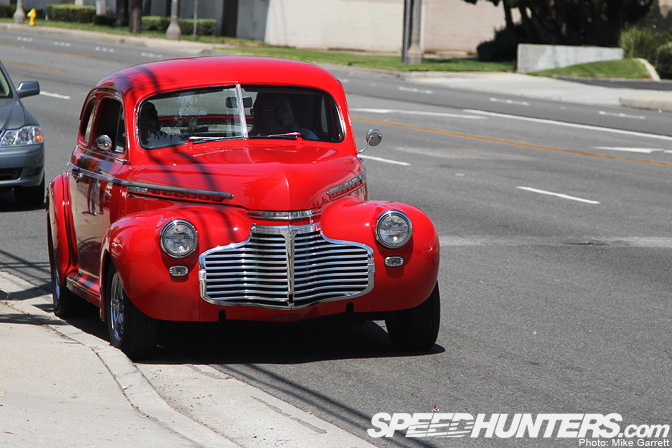 As I mentioned before, there wasn't a whole lot of room for car displays, so the cars were spread along the street and neighboring parking lots. Made for a cool vibe.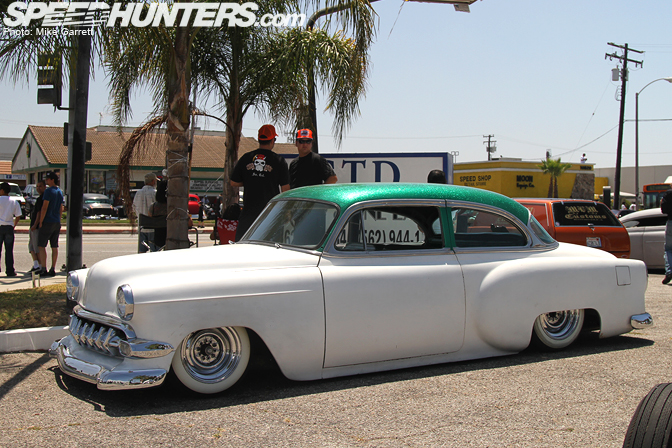 A little primer, a little flake, and lots of low. Such is the recipe for this Chevy.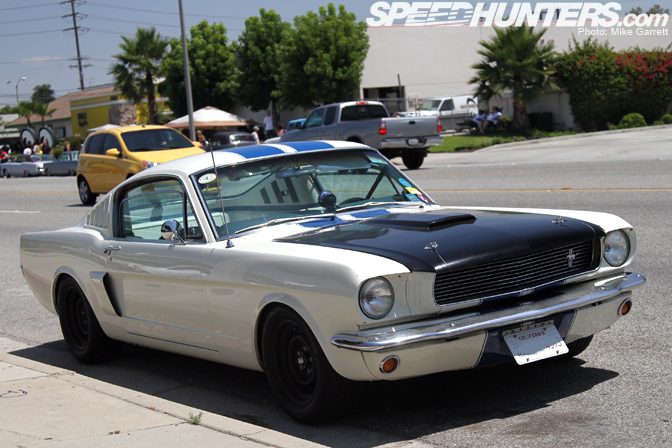 This Mustang Fastback on wide steelies was another street sighting.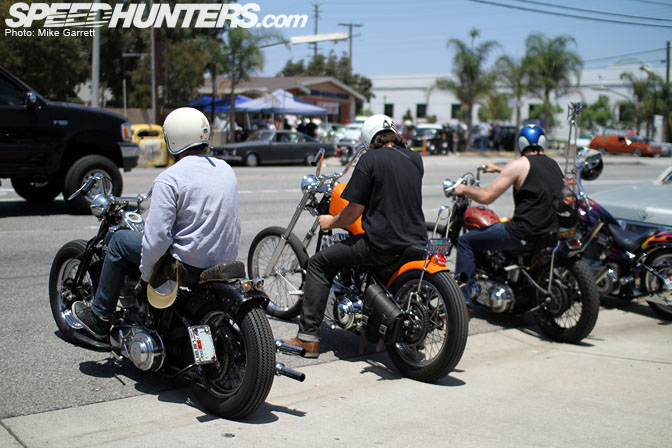 A trio of vintage bikes fired up and ready to head out.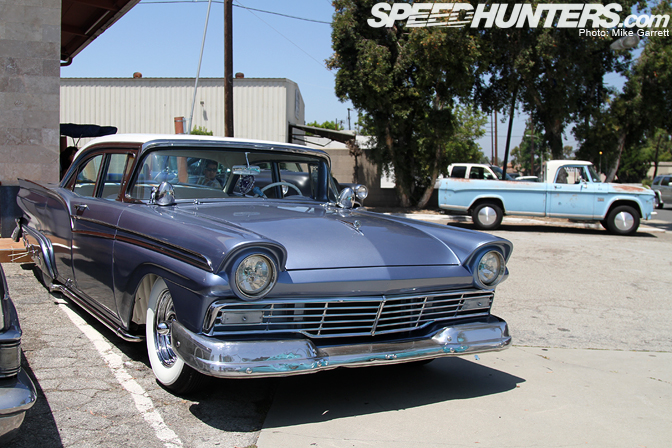 Lake pipes, curb feelers, and spotlights give this '57 Ford a very period look. Is that an upholstered fender well I see?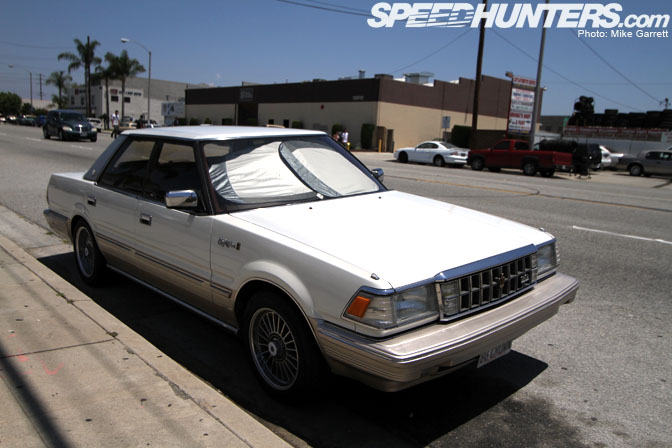 As I made my way back towards my car after the event, I spotted the boxy shape of this sedan parked on the street. Was that a Cressida or an old Nissan Maxima?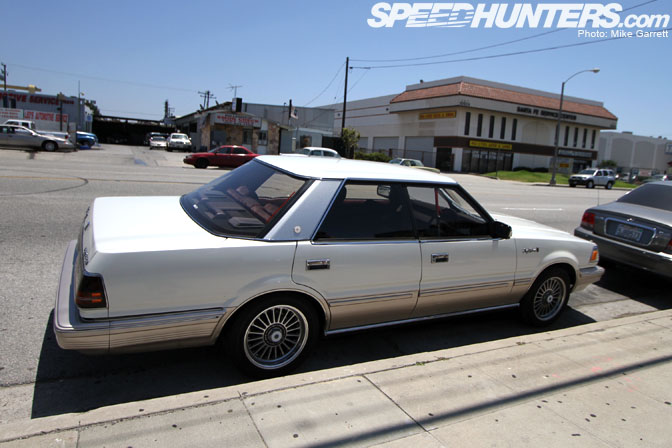 Nope, it was an S120 Toyota Crown that found its way over from Japan. How cool.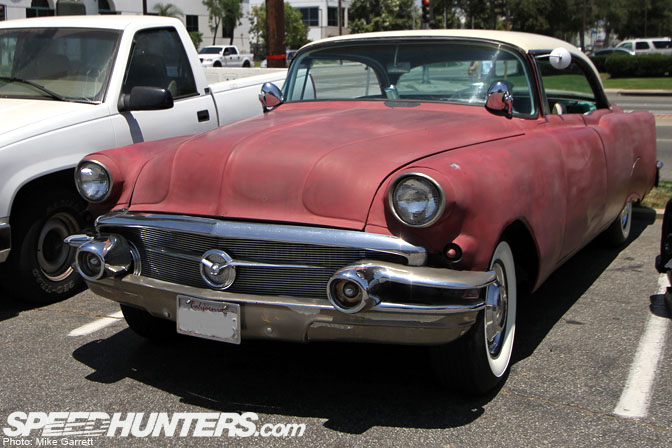 Whether its a 1980s Japanese luxury sedan or this red primer '56 Buick hard top – it's all good to me.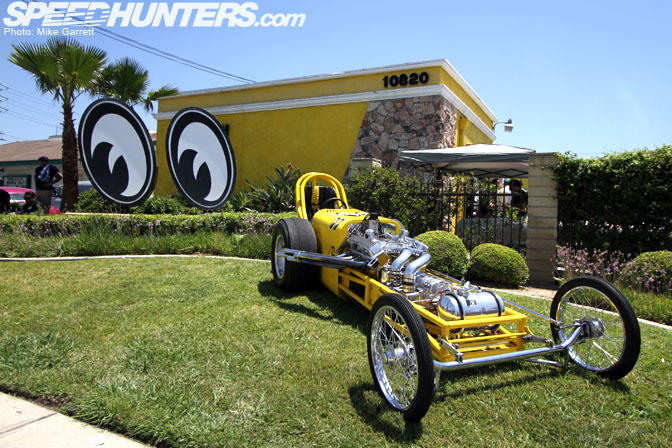 Thanks again to Mooneyes for throwing a fun, relaxed event like this.
I'm already counting down the days until the next Mooneyes USA event, the Irwindale XMas party in December.
-Mike Garrett