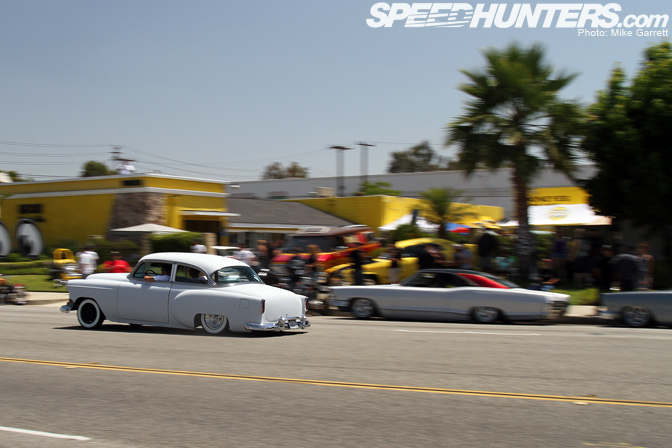 The fourth and final stop of my recent Speedhunting trip to SoCal was the Mooneyes USA shop in Santa Fe Springs. The crew at Mooneyes was hosting their annual summer open house, and I knew this wouldn't be one to miss.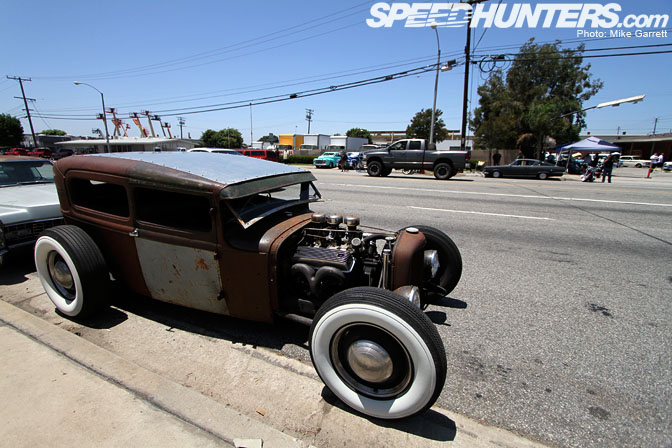 For a few blocks around the distinct yellow building on Norwalk Boulevard, the streets were lined with all sorts of Hot Rods and Customs.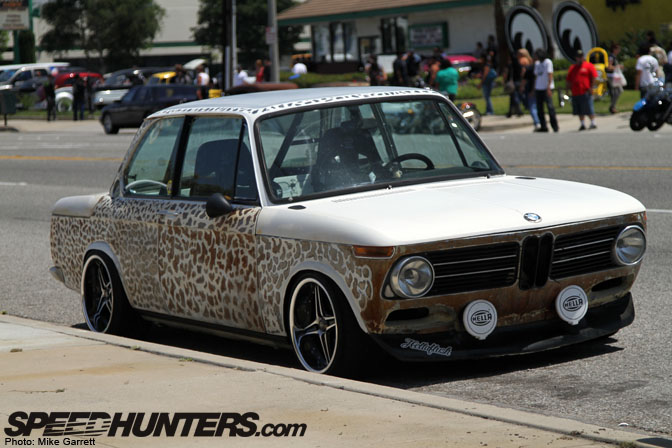 And they weren't all of the American variety either. Check out this hot little BMW 2002 I spotted.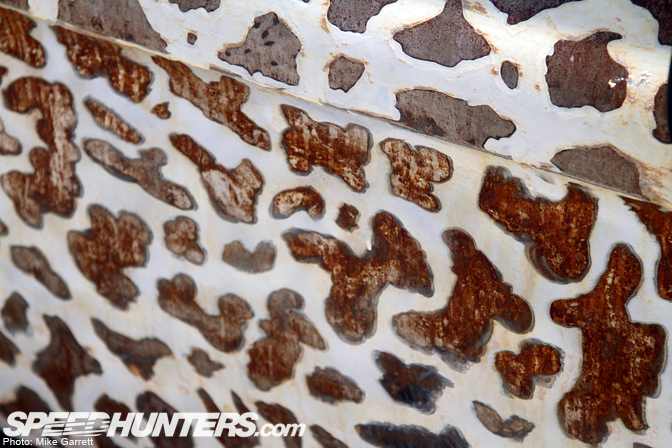 This has is surely one of the coolest patina patterns ever.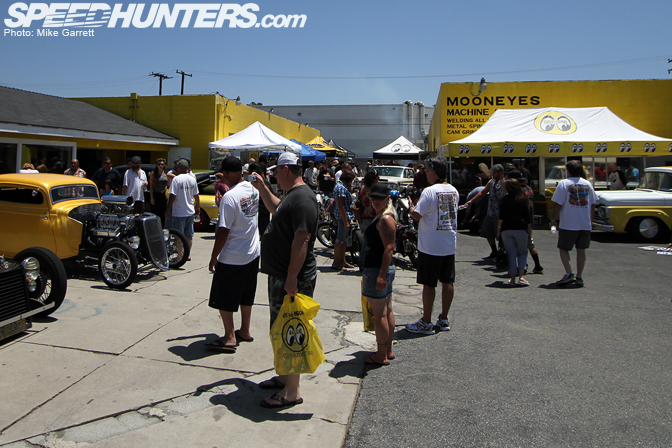 After finding a parking spot and making my way over to the shop, I found the place packed with gearheads and supporters of the Mooneyes brand.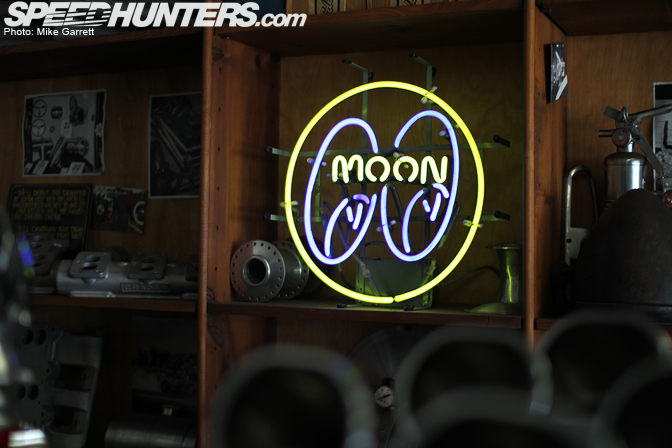 And how could you not want to support these people? Mooneyes pulled out all the stops for this event.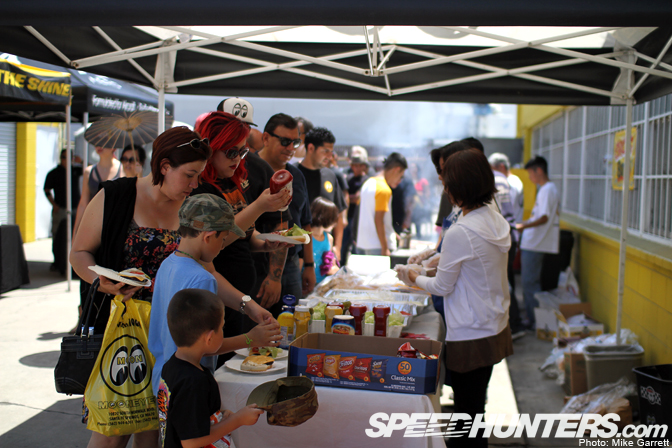 Free lunch? Check.
Music? Check. The swingin' sounds were provided by the Hot Rod Trio.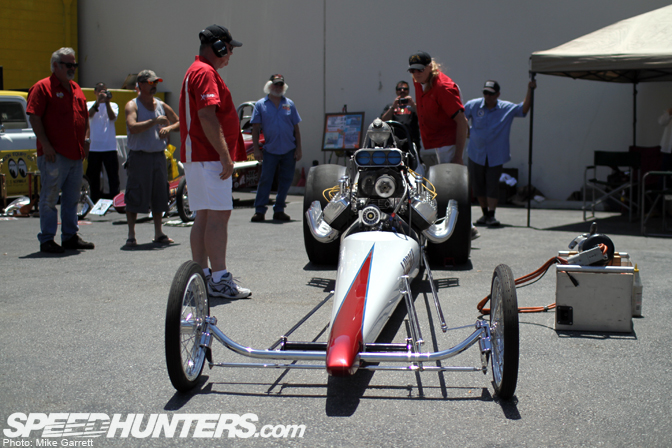 Once the band had wrapped up, acoustic-duties were taken over by a pair of front-engine dragsters that came out for some cackle action.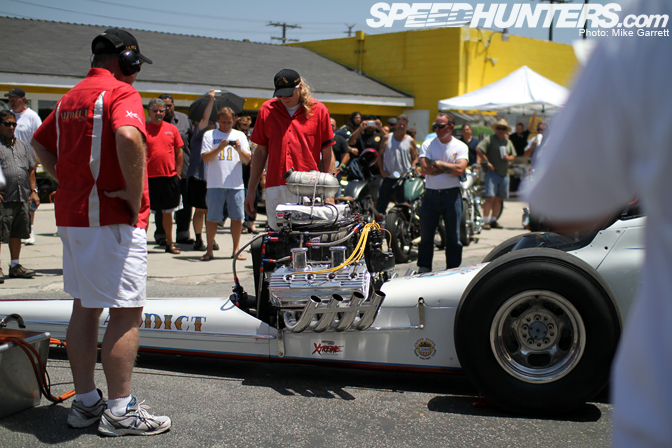 The crowd seemed to enjoy the sounds quite a bit. Who wouldn't want to be shaken and stirred by the sounds of a thumping Hemi?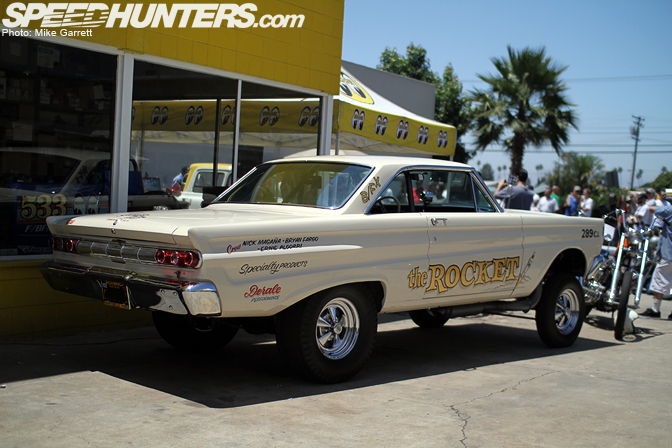 "The Rocket" – a Mercury Comet gasser was also there to lend some of its race car cred to the festivities.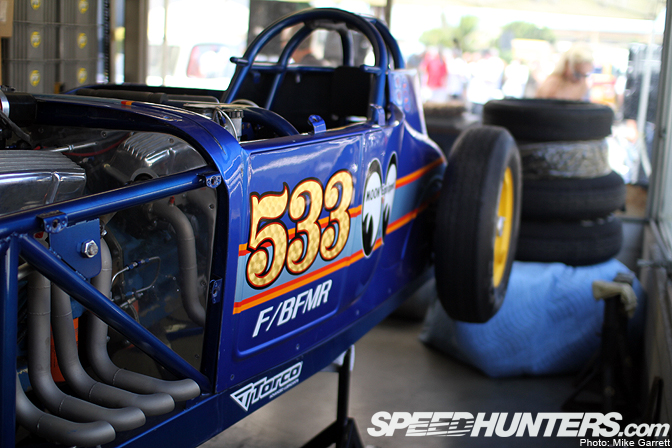 Speaking of race cars, I peeked in the shop area to find the Mooneyes Bonneville car. Not too long until the salt flats pilgrimage.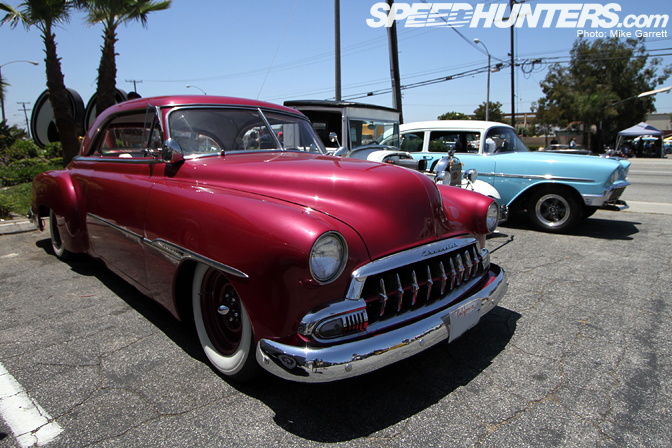 A couple of Chevys sandwiching a Ford in the parking lot next door. Since there isn't a whole lot of parking at Mooneyes itself, the Rods and Customs took over the neighboring lots.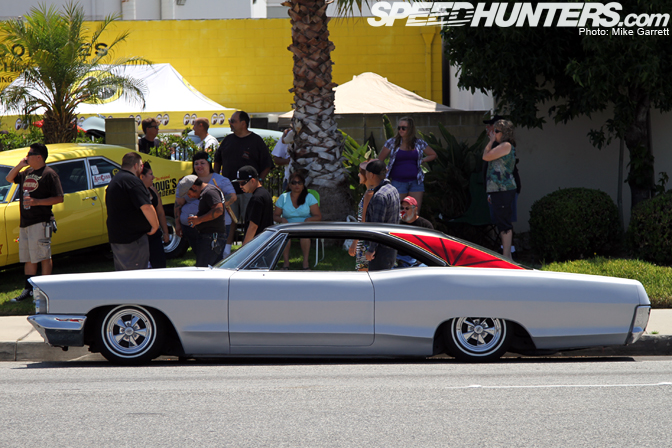 Dig the low slung looks of this Pontiac. Lowrider or custom? You decide.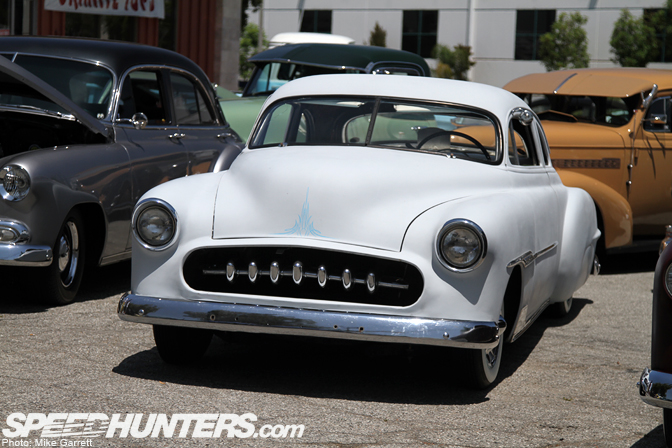 A raw looking Chevy coupe. If the pinstripes are on the primer, don't expect to see a glossy paintjob anytime soon.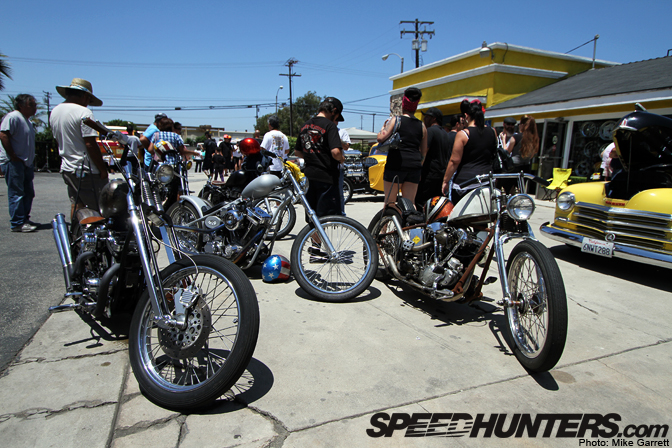 There were lots of traditional style custom bikes that came out too.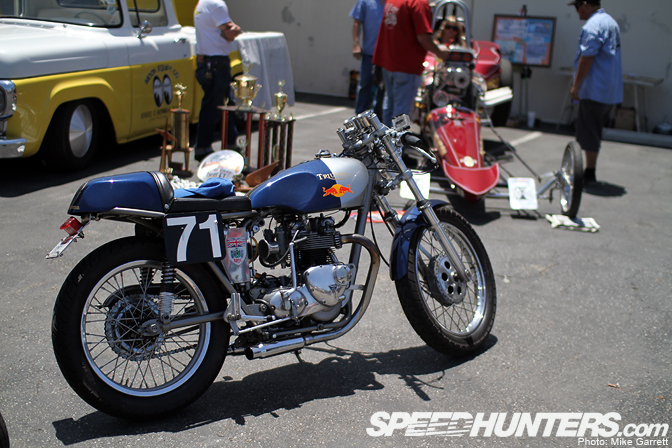 What do you think of modern Red Bull colors of a classic Triumph? Interesting combo.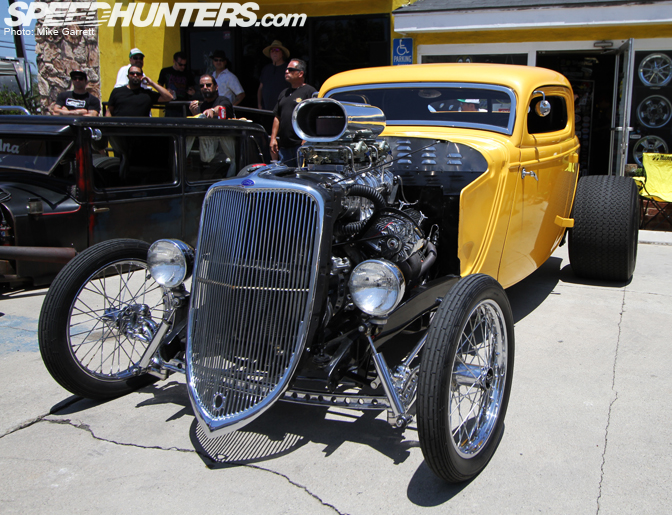 Bright, loud, and in your face. Just as a Hot Rod should be.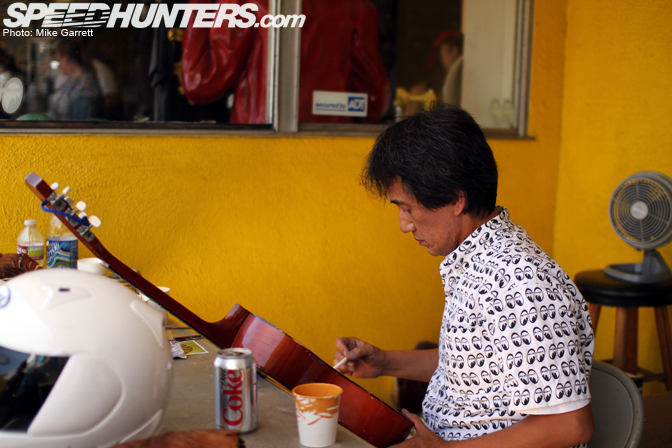 As with most Mooneyes events, Wildman Ishii came from Japan to work his magic with the paintbrush.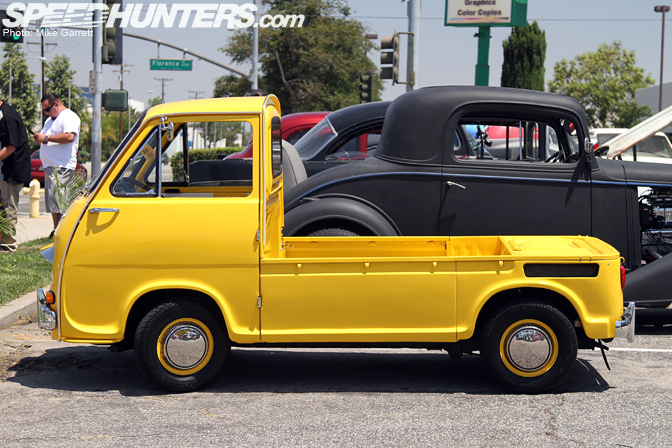 Here's something a little different – a Subaru micro truck.
There ain't no party like a Mooneyes party. More to come in part two!
-Mike Garrett