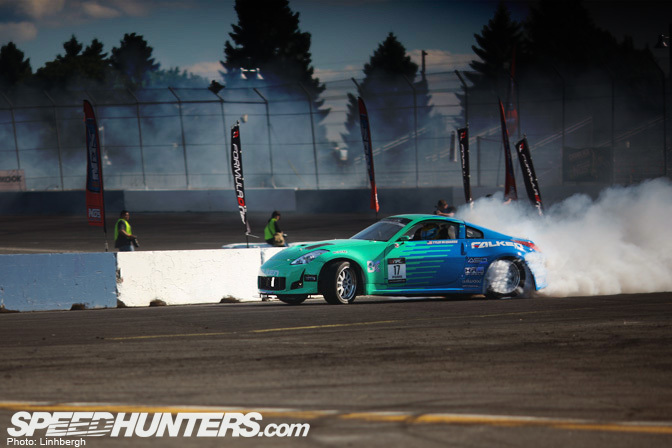 After Thursday's rain showers, cancelled practice session and then the uncancelled practice session, the party cloudy blue skies and sunshine was a much welcomed change while arriving into Evergreen Speedway for Friday's qualifying day.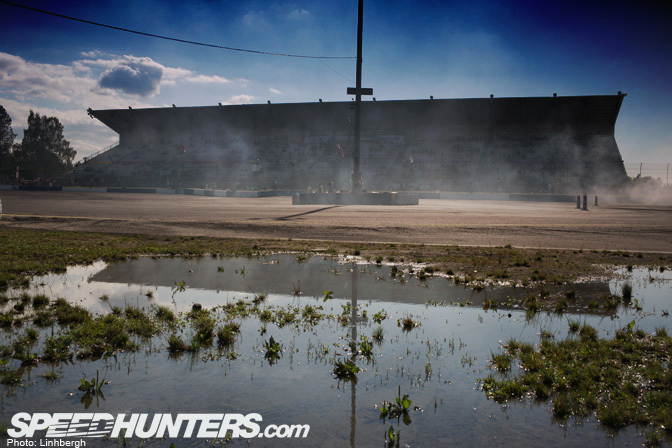 There may have been patches around the track which served as a reminder to the previous day's rain, but the track itself was as dry as it gets. A dry track results in some very happy Formula D teams and drivers.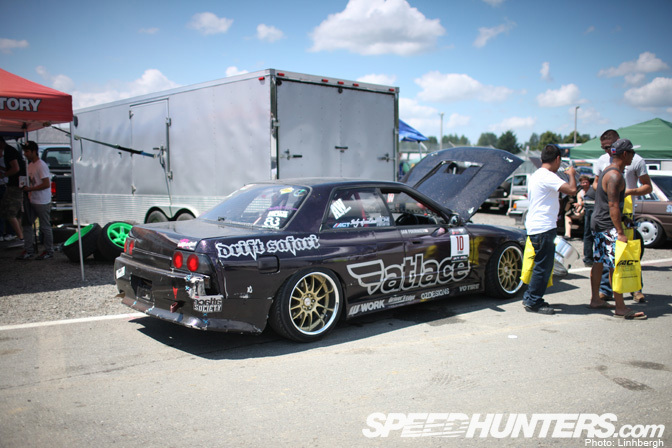 It was a bit sad to see Ian practicing with the Pro Am guys rather than with FD, but it was nice to see him out doing his thing none-the-less.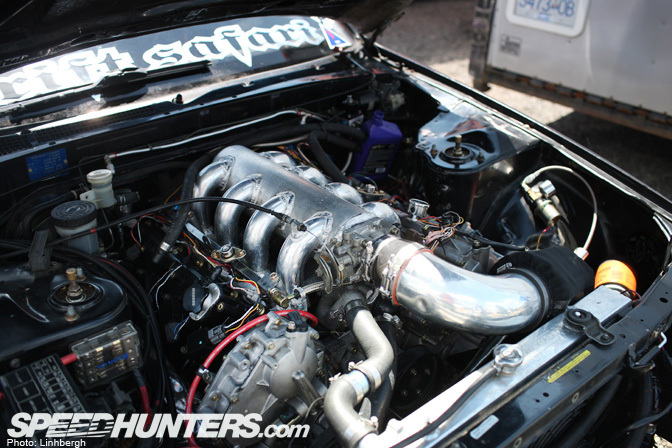 His new Titan V8 is something to behold. It sounds great as well.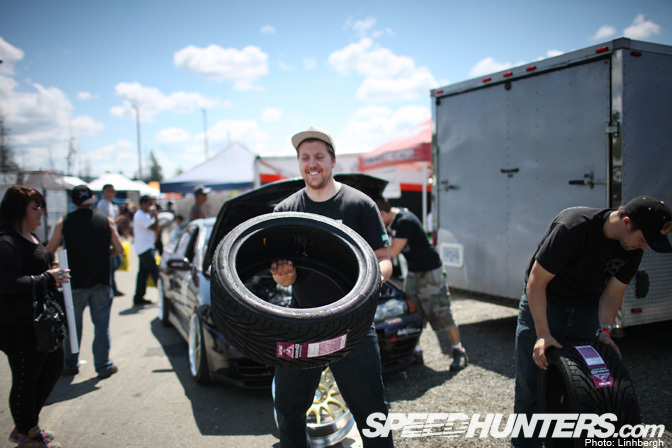 Apparently, Ian likes juggling tires before he heads out to do some drifting.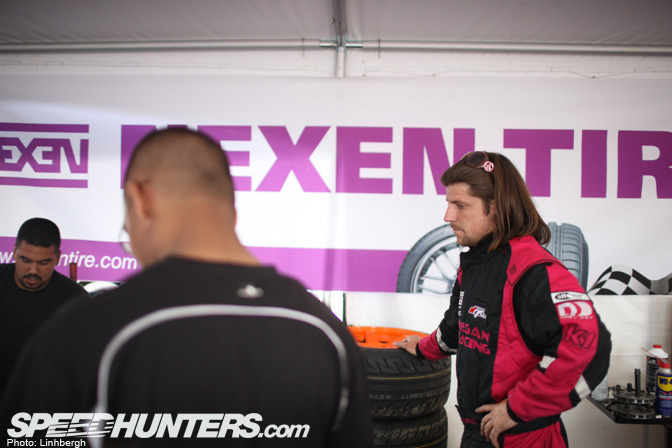 After his crash in New Jersey, many thought John Russakoff would be taking the rest of the season off, but lo and behold…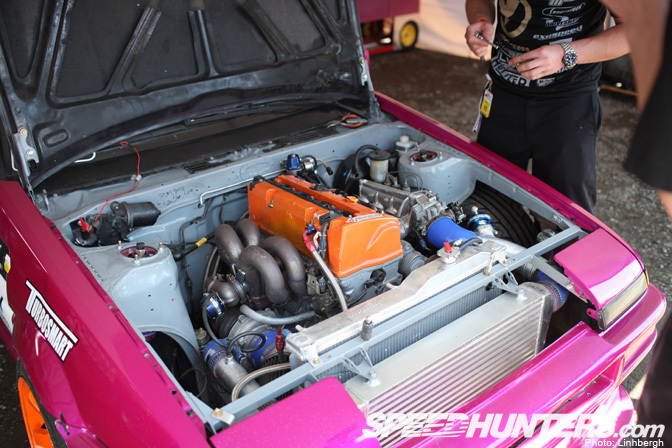 …he found a new Corolla chassis to drop his existing K24 as well as everything else…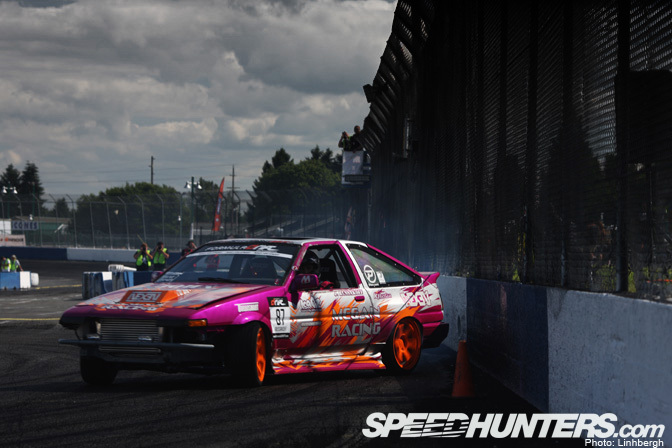 …and was able to make it out to Seattle in those few short weeks. Now, that's dedication we must give respect to.
Unfortunately, he ran into some problems and was unable to qualify.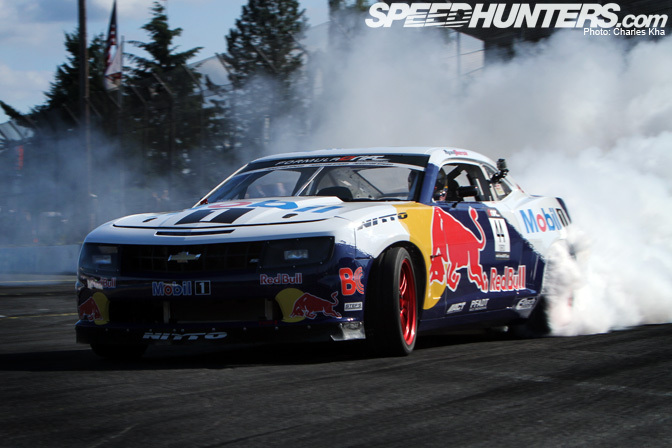 And with that, let's take a look at the top ten qualifiers.
Sitting pretty in 10th is Ryan Tuerck.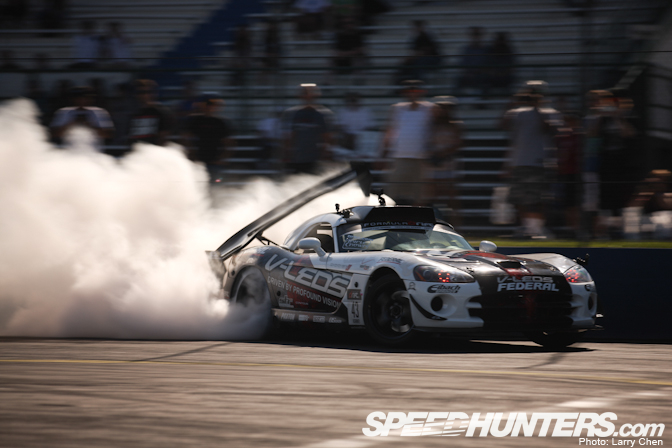 Dean Kearney put on his best performance (wing removal and all…) of the season and qualified in 9th.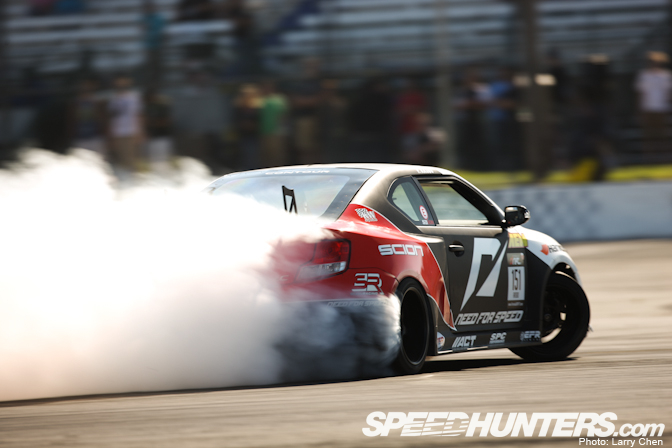 After having a bit of a slump for a few rounds, Fredric Aasbo was back on top of his game with an 8th place finish.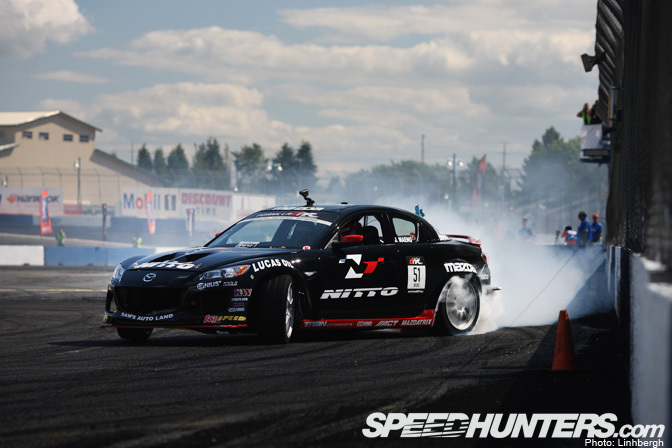 Joon Maeng sits in 7th…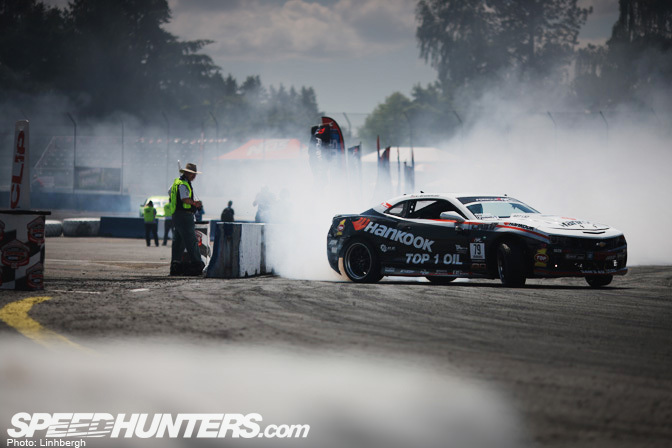 …and the New Jersey event winner, Conrad Grunewald, qualified 6th.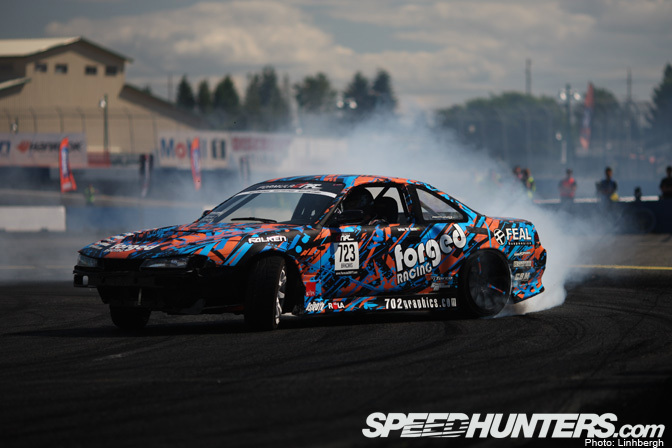 Odi Bakchis also had his best performance of the season and qualified 5th.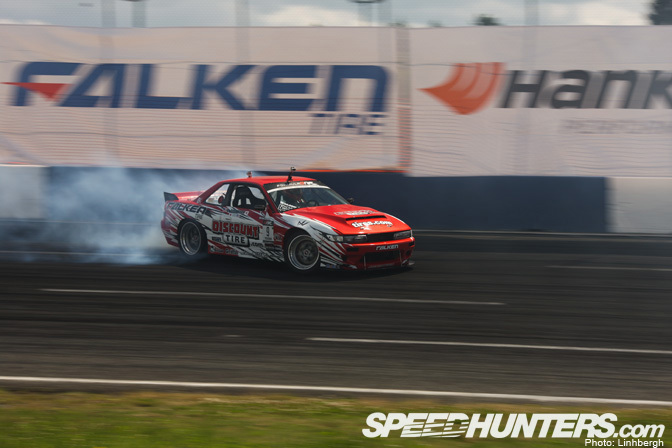 Daijiro Yoshihara, who is currently sitting 2nd in the driver championship, put down some 
phenomenal runs and is sitting in 4th.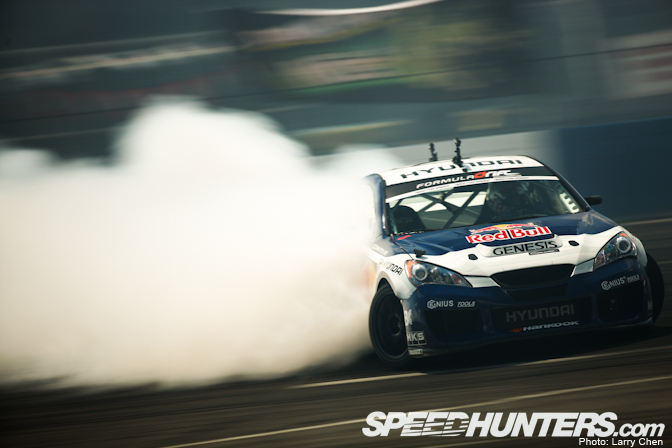 Rhys Millen poured out the smoke in the Hyundai Genesis and qualified 3rd.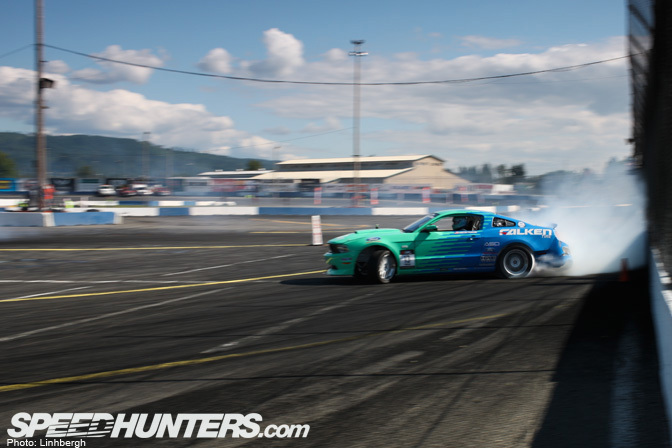 The man who is currently sitting 1st in the driver's championship, Justin Pawlak, rocked down some amazing runs and qualified 2nd.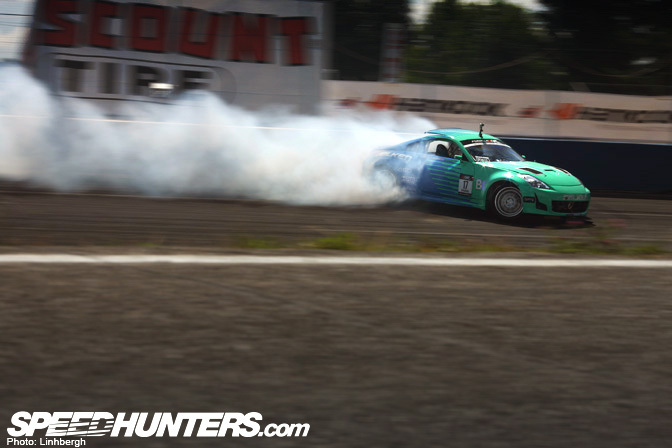 The number 1 qualifier for the 5th round of the 2011 Formula D season was none other than Tyler McQuarrie. He will be going up against the 32nd qualifier, Luke Lonberger, during tomorrow's top 32 battle.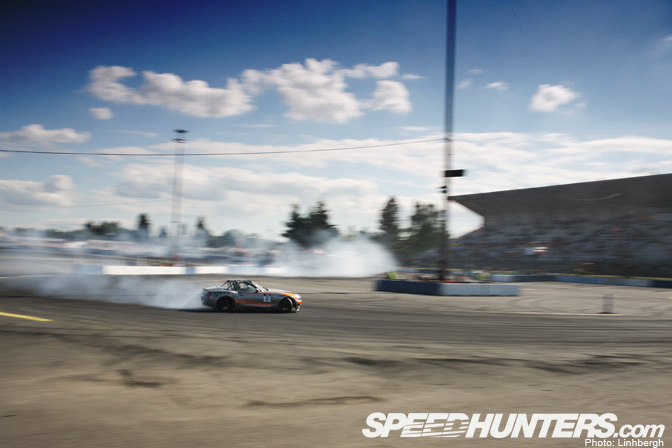 Michael Essa sits in 11th.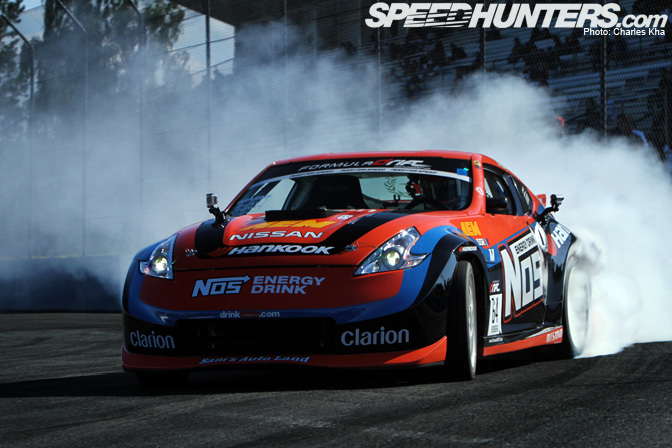 The FD robot, Chris Forsberg, must've somehow shorted a few circuits as he was not up to his usual thundering self. He qualified 15th.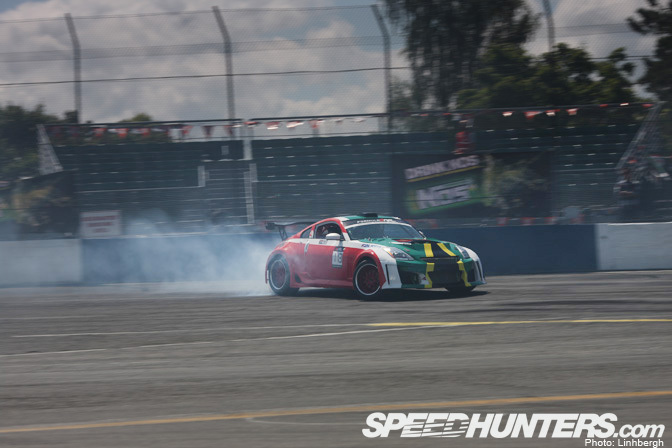 Otto Graven's 350z was given a South African flag livery coming into the 5th round at Seattle. Though he may not have the most amazing looking car on the grid, he sure can drive the pants off of it. He qualified 18th.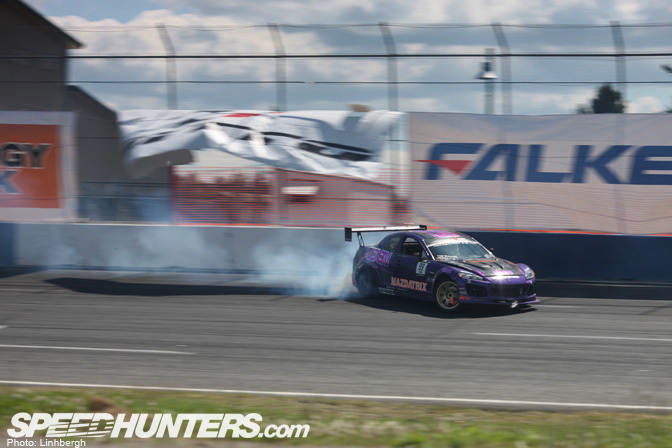 The qualifying king, Kyle Mohan, seemed to have an off day and qualified 22nd.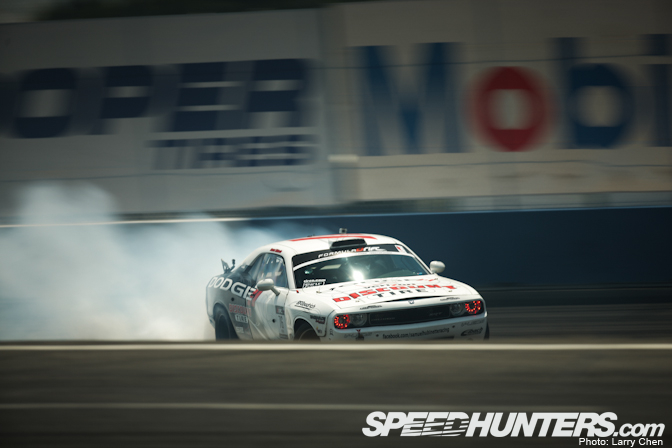 Samuel Hubinette is looking to sit out the rest of the season (with the exception of maybe Irwindale…) and in his stead is the other Norwegian driver, Kenneth Moen.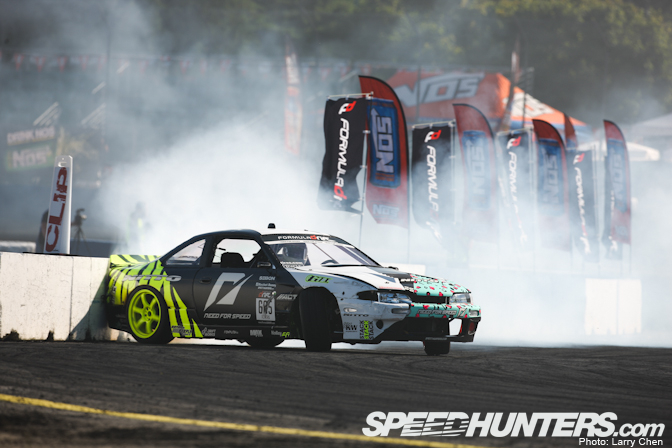 Matt Powers qualified 13th and will be going up against…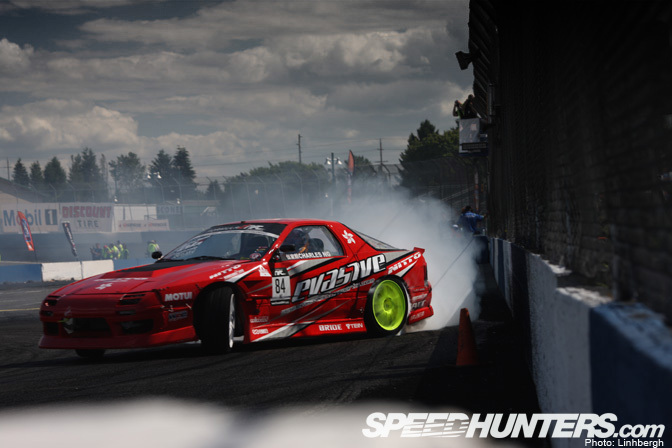 …the #20 qualifier, Charles Ng in the top 32.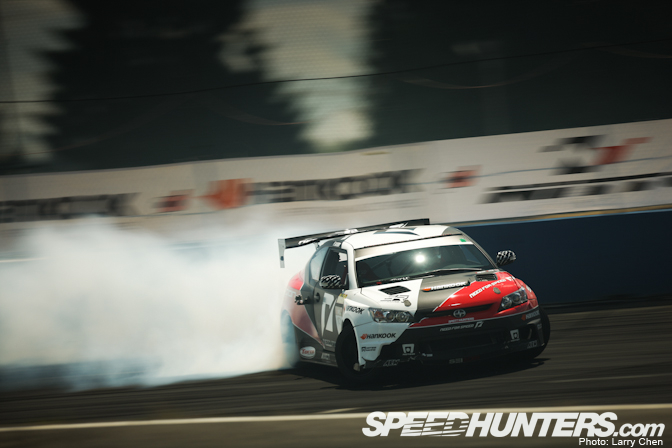 Matt's Teammate, Fredric Aasbo will be battling…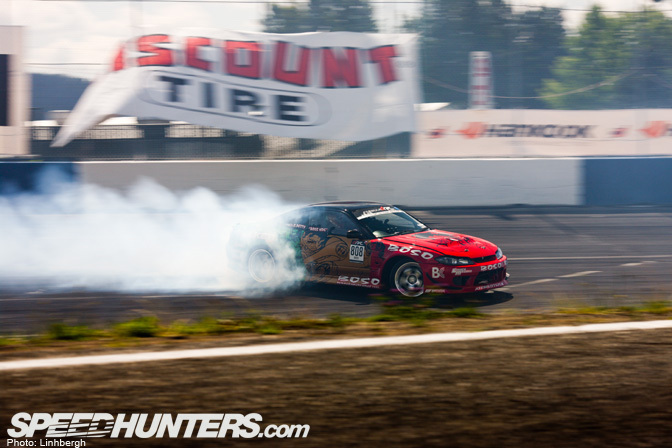 …the #25 qualifier, Ross Petty in the battle of 32.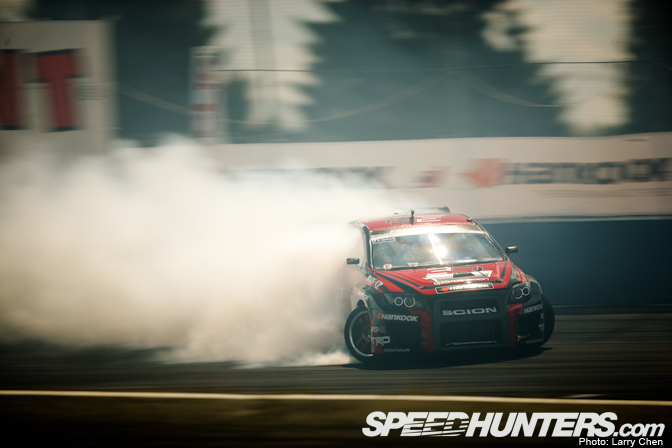 Ken Gushi was looking very solid with tons of smoke billowing out from his Scion during practice, but he lost that consistency during qualifying when it really mattered. He qualified 25th.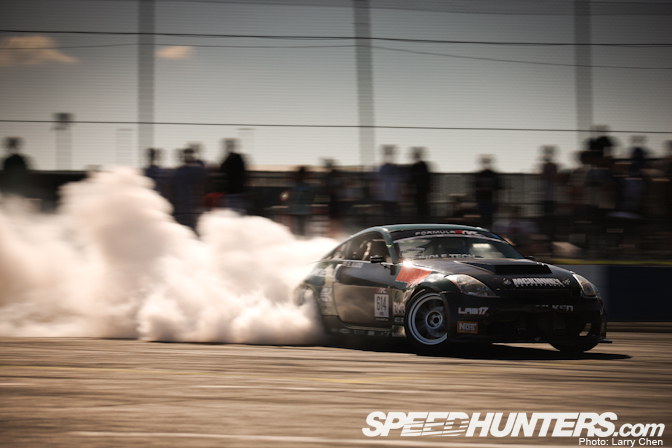 The Northern California native, Ryan Kado, was also looking to qualify well during his practice runs but was only able to qualify 30th.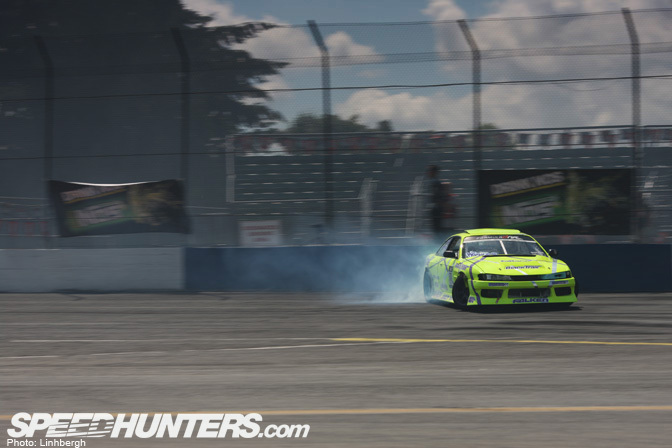 The other Northern Californian native, Matt Field, qualified just a bit higher than Ryan Kado. He sits in 21st. He has a tough battle tomorrow as he will be going up against Vaughn Gittin Jr.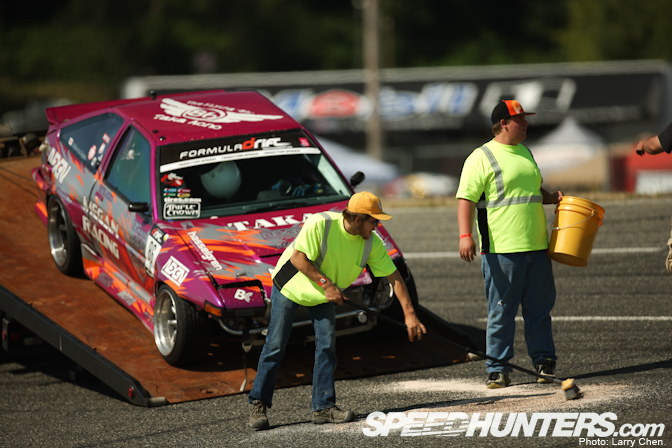 Then there was Taka Aono. He kissed the wall of the bank a bit too hard and was unable to repair his car in time for his second qualifying run.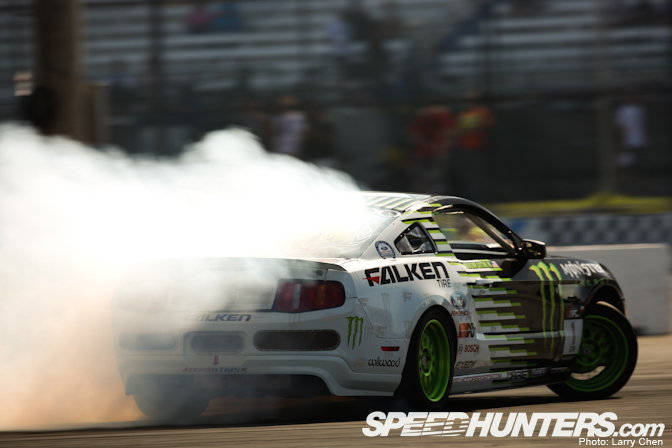 Vaughn Gittin Jr.'s first run was botched as he had ran into transmission issues. But things were buttoned up just in time for his second run. He qualified 12th.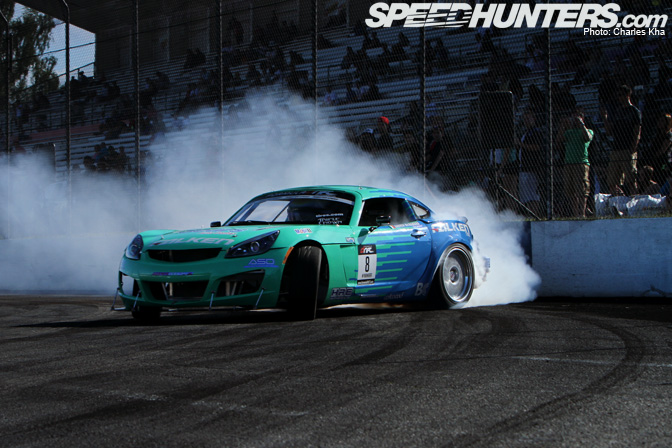 His fellow teammate, Darren McNamara, qualified 19th.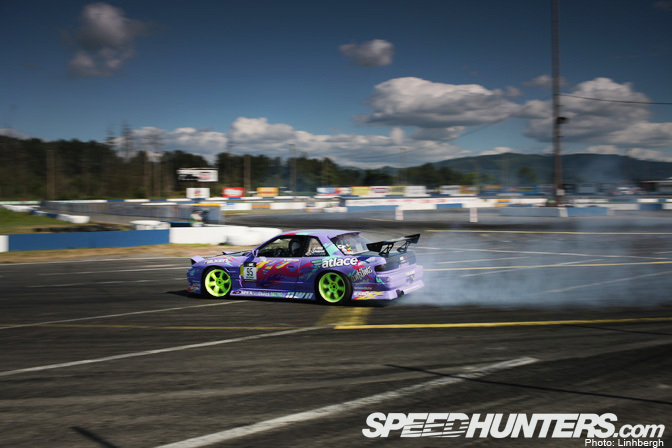 Hometown hero, Walker Wilkerson put in some solid runs but was only able to qualify in 14 place…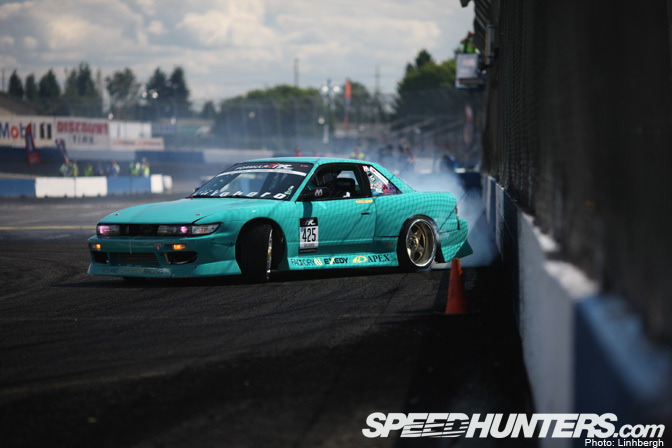 …and the other hometown hero, Rolland Gallagher, qualified 24th.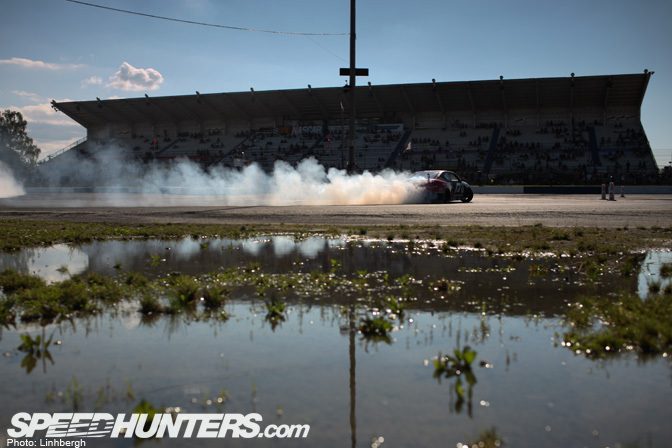 With clear blue skies, a few patches of clouds, some balmy temperatures and some rather exciting Top 32 battles, the 5th round of Formula D at Evergreen Speedway in Monroe, Washington is looking to be quite the show.
Take a look at the complete qualifying list below, and after doing so, what are your predictions for tomorrow?
-Linhbergh
Speedhunters 2011 FD Seattle Coverage
Top 32 qualifiers:
1. T. McQuarrie
2. J. Pawlak
3. R. Millen
4. D. Yoshihara
5. O. Bakchis
6. C. Grunewald
7. J. Maeng
8. F. Aasbo
9. D. Kearney
10. R. Tuerck
11. M. Essa
12. V. Gittin
13. M. Powers
14. W. Wilkerson
15. C. Forsberg
16. A. Lee
17. A. Pfeiffer
18. O. Graven
19. D. McNamara
20. C. Ng
21. M. Field
22. K. Mohan
23. T. Yohioka
24. R. Gallagher
25. R. Petty
26. K. Gushi
27. C. Martinez
28. R. Nishida
29. J. Jones
30. R. Kado
31. D. Mertzanis
32. L. Longberger