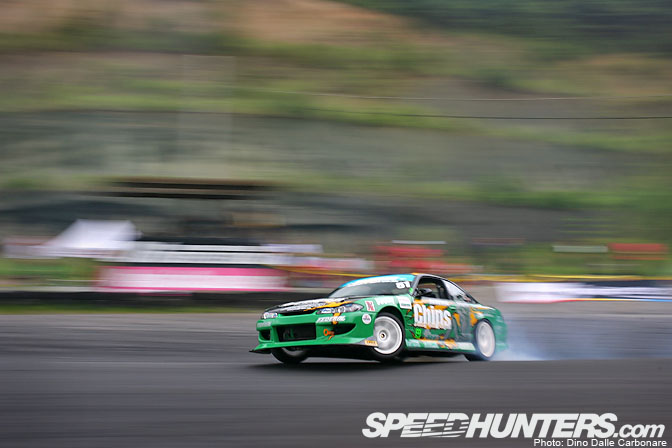 It's been quite a while since I've headed out to cover a D1 Street Legal event, two years to be exact and I really have to kick my self for this, as it's one series that really deserves more exposure. Away from the big budgets of the D1 Grand Prix this is where good drivers can really shine, where talent counts and where competition gets very fierce.  So it was up at the crack of dawn, well not really as in summer the sun rises up before 4 am in Japan, but I was out of the door before 6 am, which gave me access to empty highways in order to get up to Utsunomiya city in under two hours. I arrived just as the first practice session of the day was about to start…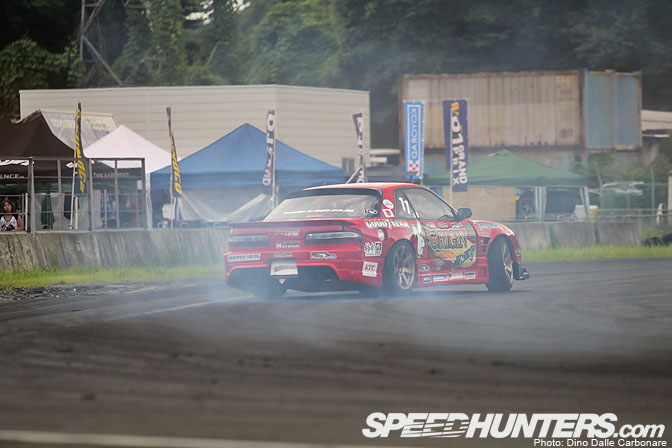 …and with no time to waste it was onto the track for a few lung-full's of tire smoke, just what you need to properly wake up on a hot and humid summer's day!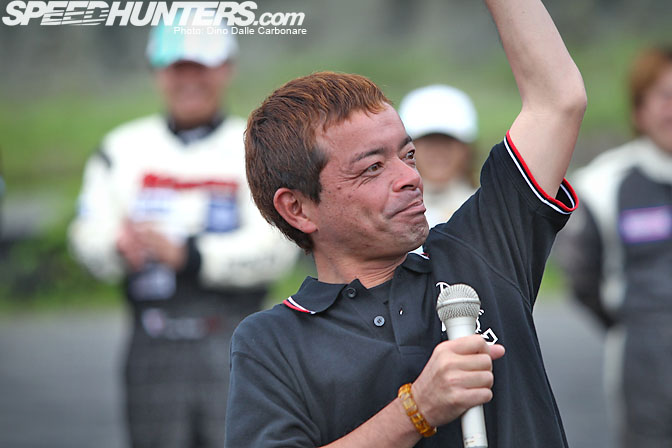 Joining Manabu Suzuki and Hisashi Kamimoto on the judge's booth was Nomuken, who had also been called in to add his own brand of uniquely colorful comedy to the proceedings. He's quite the character and was on hand as the main presenter for the Option Video crew who were out filming the event and interviewing the teams in the paddock.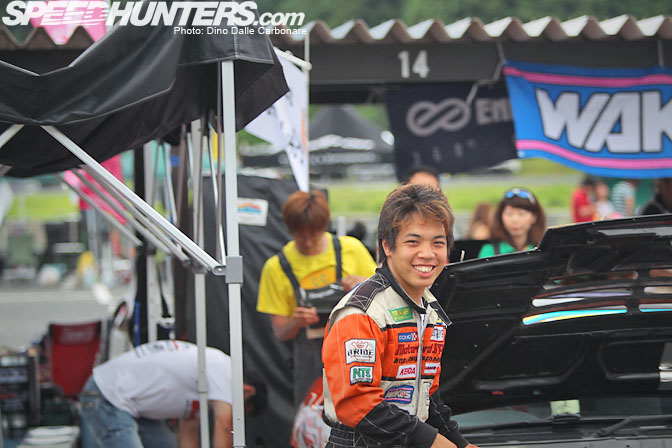 18 year old Team Orange member Masanori Kohashi is one driver we should begin to take notice of as he's a very talented kid who, after having been taken under the wing of Kumakubo and the other members of Team Orange, already has years of experience at the wheel of a drift car.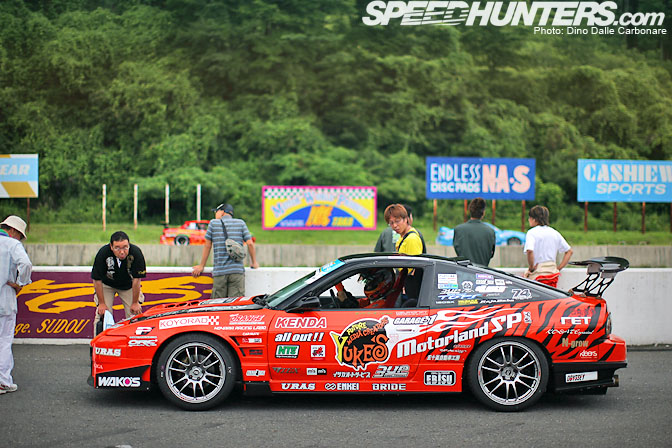 He was the youngest driver to ever get a D1 license and if that wasn't enough his father is the owner of Motorland SP circuit up in Aomori-ken, so you can imagine just how early his jump into competitive driving came. His URAS-kitted RPS13 was looking great with the unmistakable Team Orange livery…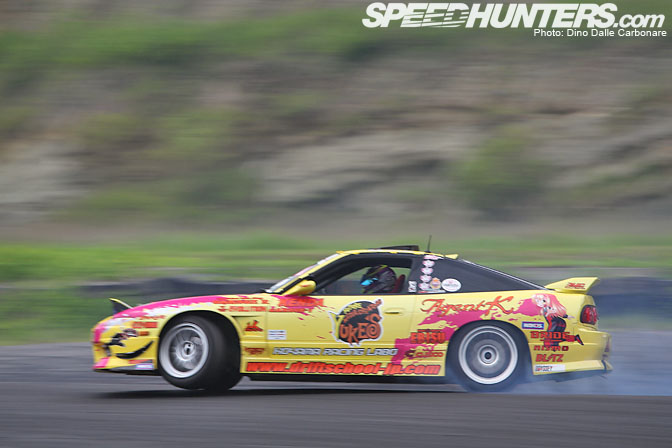 …while everyone's favorite lady drifter, Sumika Kubokawa who Luke Huxham from Drift Colors recently interviewed, was also present at the event with her driftschool-jp.com 180SX, competing in the both the regular Street Legal competition as well as the D1 Venus ladies series.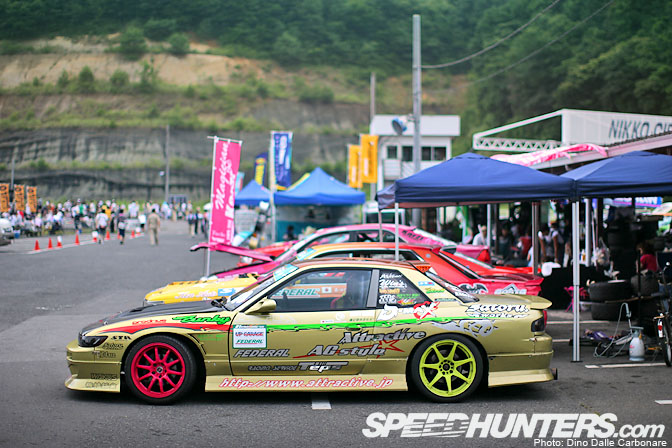 It felt great being back in Nikko after such a long time, it is after all one of the best drift circuits in Japan, very tight and technical and a great venue to spectate at as you can see pretty much the whole track if you position yourself in the right spot.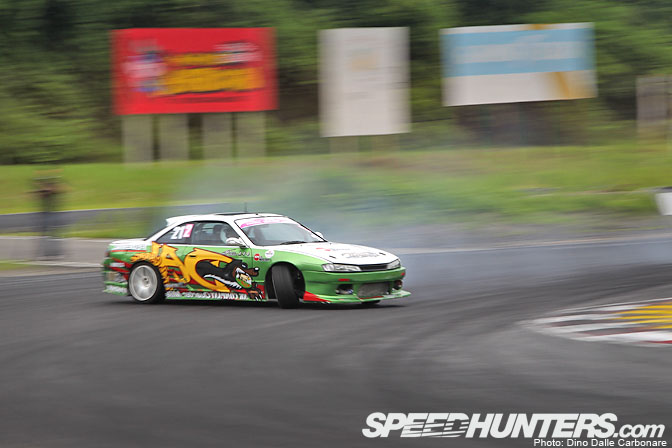 In competition it's always turn one that is used to judge drivers, a squared off hairpin that requires drivers to plough in deep into it as fast as they dare, so that they can line up with the next apex, get back on the power hard and tackle the following tight chicane. Here is lady drifter Mimoto Michie showing how a proper entry is executed.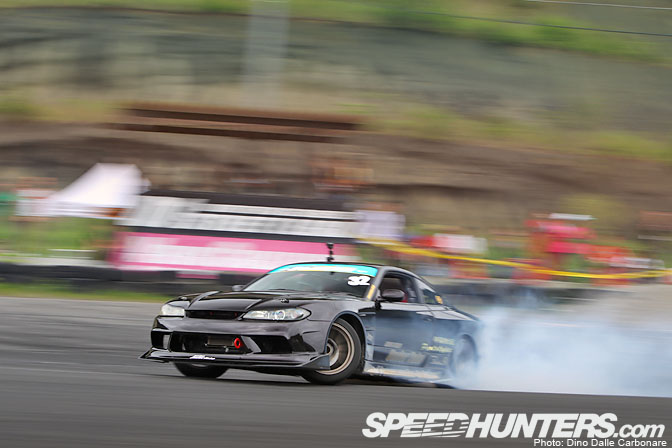 Since my last time at Nikko, the run off behind the big dip on the first corner has been eliminated and covered up with asphalt. This marks the end of the usual dramatic bumper-destroying crashes everyone was used to seeing, but thankfully the dip is still there so those daring enough to use that part of the track will inevitably put a front wheel in the air.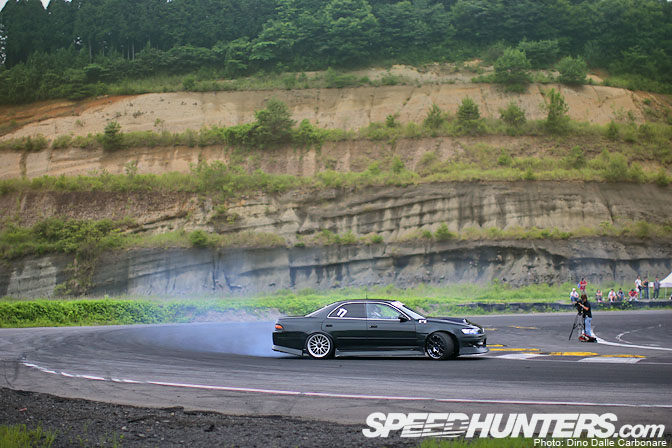 A lot of the grass on the inside of the corner has also given way to asphalt, there to allow those that spin or mess up their entries to get out of the way quickly and safely. You can see this above where the Video Option cameraman is positioned.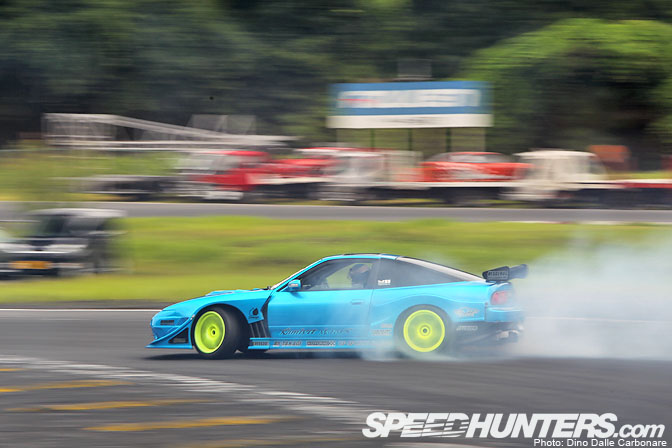 A familiar GP Sports kitted 180SX in action.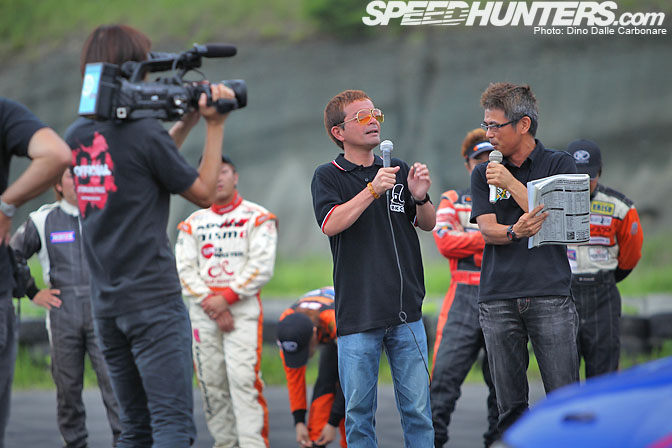 In typical D1 fashion the event officially opened up after the practice session where each driver was presented.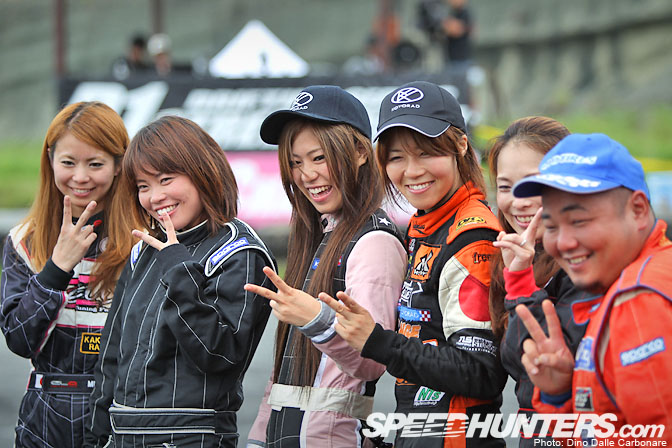 Spot the odd one out!! That's Jikuya Kiyofumi muscling in on what was supposed to be a lady-drifter-only shot.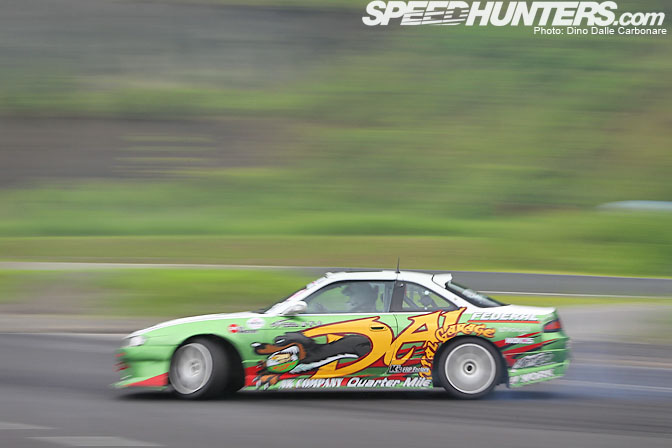 It was then on to the qualifying session where drivers had to impress with their performance, all the way from the aggressive corner entry where cars are flicked sideways at speed…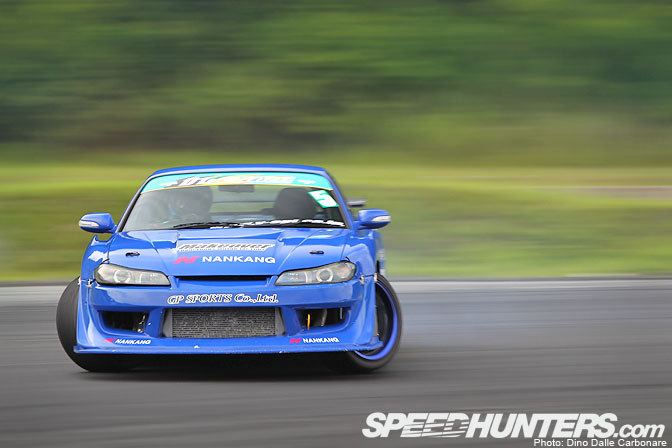 …held at an aggressive angle through the whole section…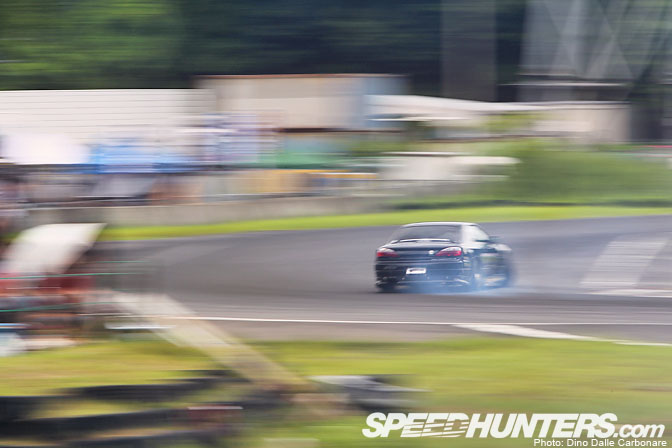 …and ending all the way till the exit of the chicane.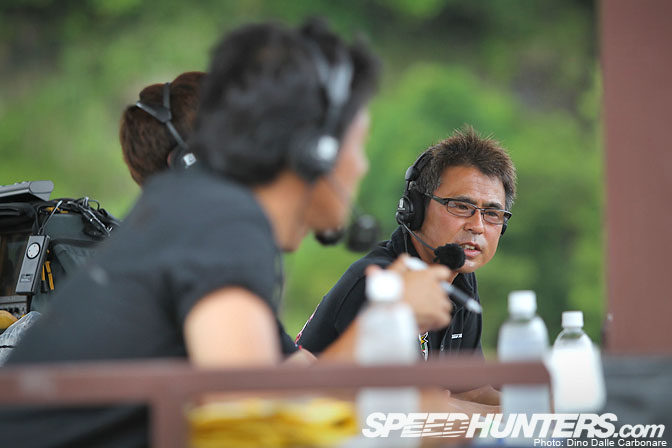 D1 driver Koguchi of Koguchi Power was also called in to help join Mana-P in the judging…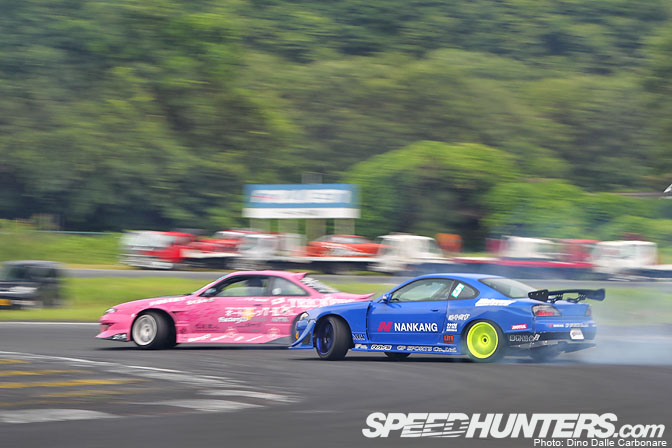 …and they sure had a hard job, as the tsuiso battles that followed in the afternoon were as close as I've ever seen. I've got a great selection of pictures to share with you guys so get ready for the coverage I have coming up!
-Dino Dalle Carbonare