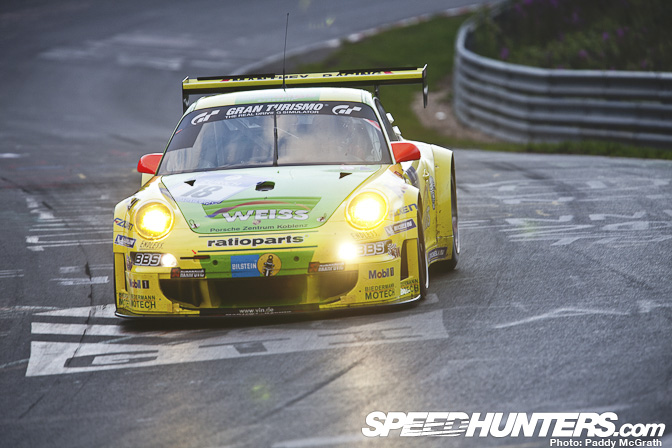 While the ADAC 2011 Nürburgring 24 Hours may not have brought Team Need for Speed the results it desired, it was still a classic race which highlighted why this event is so special and unique. Over 200 cars took to the track at 4pm on Saturday June 25th, from full GT2 cars to near showroom spec road legal racers on road tyres. 24 Hours later and Manthey Racing took the flag with their Porsche 911 GT3 RSR, five wins out of six.
Manthey took the unusual step of fielding two cars for its drivers Timo Bernhard, Romain Dumas, Marc Lieb  and Lucas Luhr. One, the race winning GT2 RSR and another a 911 GT3-R.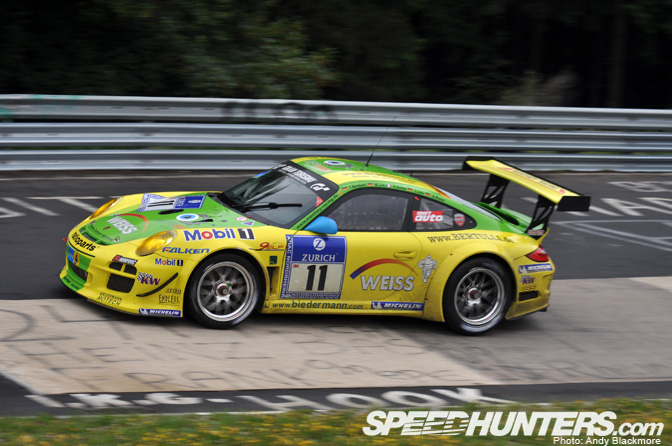 The team wasn't sure which chassis would be strongest, so they ran two before pulling the GT3-R early in the race. You have to be very confident in your actions to pull a top car from the race, particularly when all the Manthey entries suffered reliability issues early on. The Porsche 911 GT3 Hybrid for example had a number of issues during the race and spent several hours in the pits.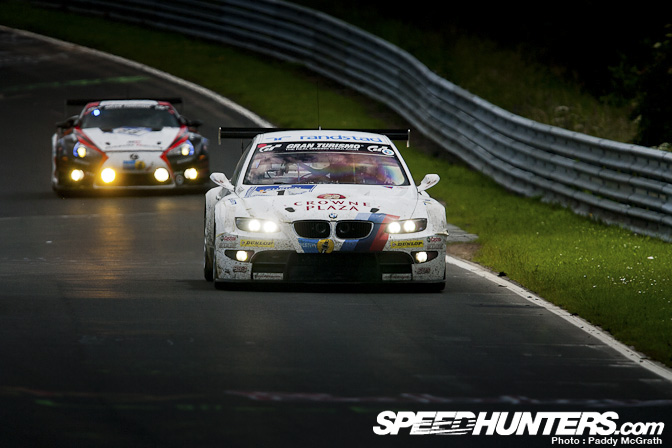 BMW Motorsport finished second, having also suffered from reliability issues and driver errors. A three minute Stop and Go penalty for driving the wrong way around the Karrusell (!) after Pedro Lamy overshot would prove costly in the end.
Keeping with the GT2 machinery, the Hankook sponsored Farnbacher Ferrari 458 proved very strong early on, having started from Pole, but a lengthy visit to the pit garage for suspension repairs moved the Italian racer out of contention. Once repaired the car was strong and finished 8th, winning its class, a controversial decision given its GT2 heritage. The BMW was in an 'Experimental' class.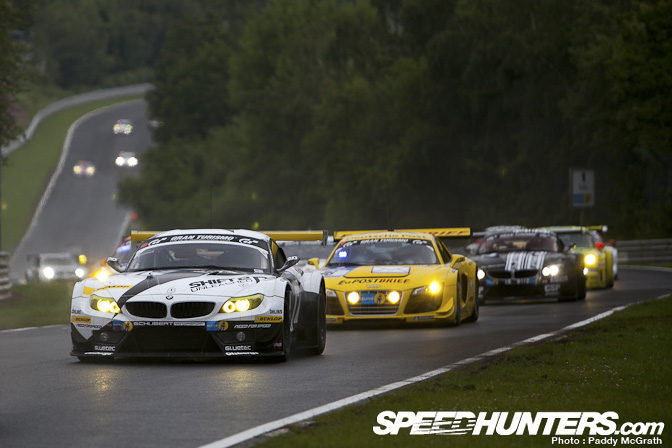 Mercedes, Audi and BMW GT3 spec racers put up a good challenge to these top cars during the race.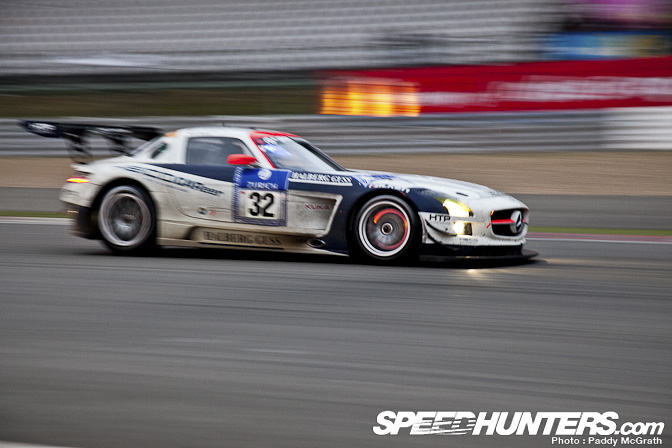 Heart break for H&R Spezialfedern with their #32 Mercedes SLS suffering a driveshaft failure in the final hour…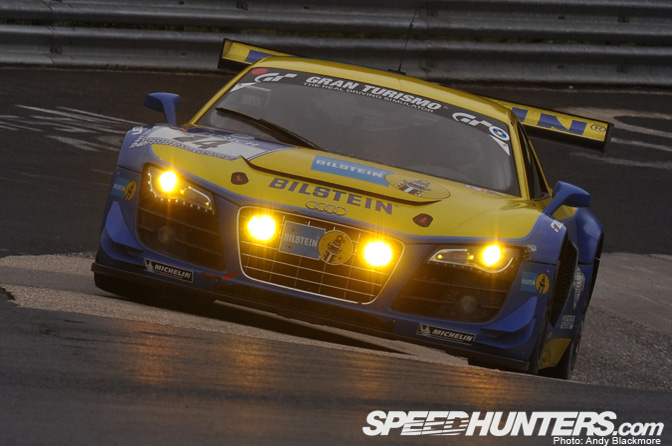 …Which gave Audi a 1-2-3 in the SP9 GT3 class. Mercedes would have to be content with 6th from one of the Black Falcon machines.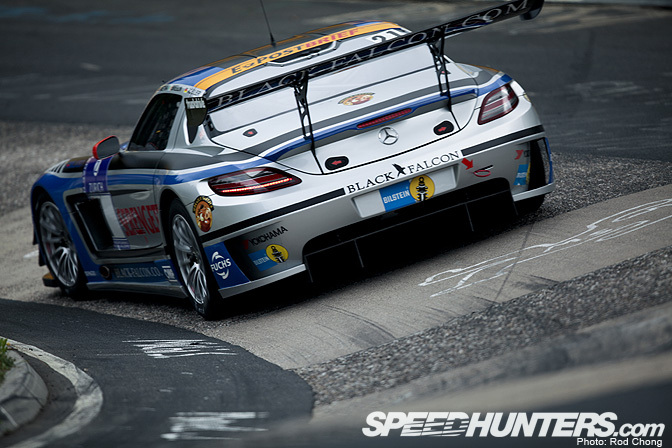 Most were surprised with the pace of the SLS and its engine note is just fantastic! In the end the flock of SLS suffered from reliability issues.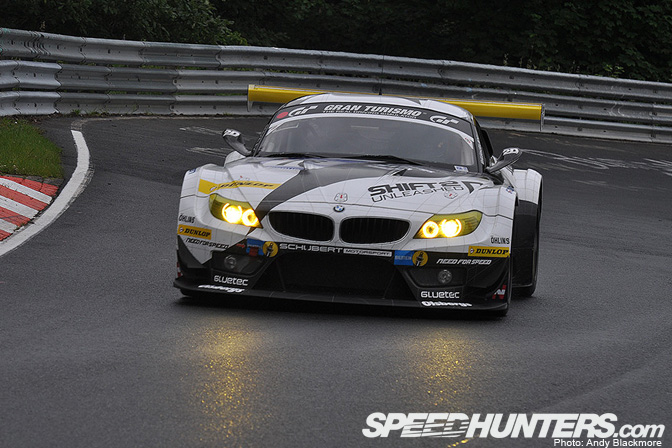 Our Team Need for Speed BMWs performed extremely well with the #76 car of Tommy Milner, Edward Sandström, Claudia Hürtgen and Fredric Larsson holding 2nd position. Sadly it collided with a back marker Mercedes SLS who squeezed it onto the kerbs just after 1am.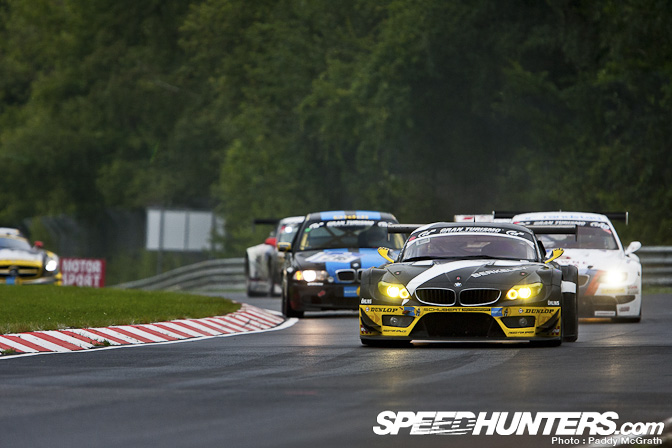 The other Team Need for Speed entry, which runs Dunlop branding, was working itself into the Top 10 in the second half of the race when a driveshaft cried enough.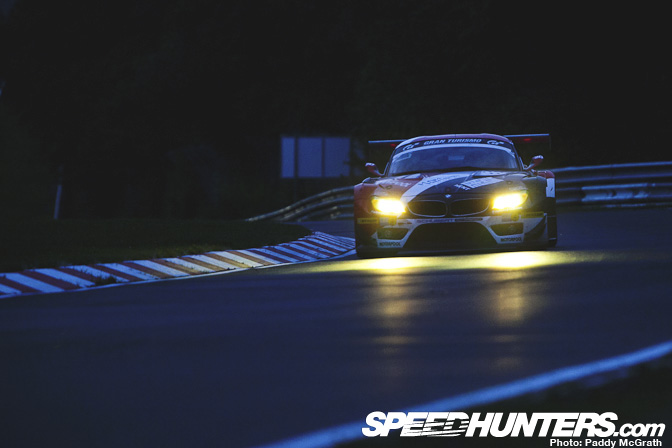 The third Schubert entry, as you may have seen had a horrifying accident just after dawn broke. The car was spun around by a slow SEAT Leon, who had tapped the back end of the Z4. The Z4 launched into the air and Anders Buchardt became a passenger as the car hit the Armco barrier and flew into the catch fencing. A very nasty crash, but thankfully Anders was OK.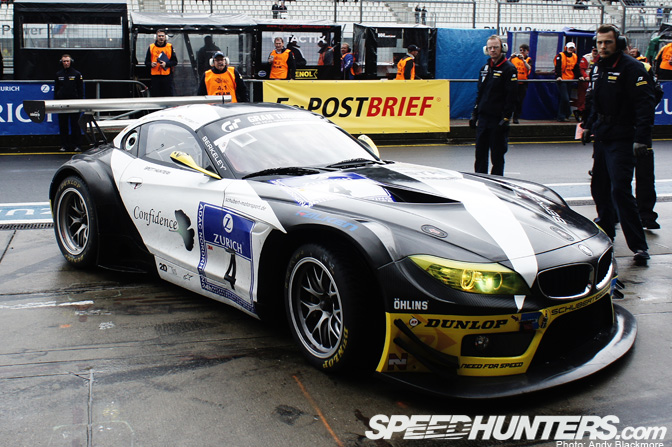 With the next round of the FIA GT3 championship this weekend, the incidents left Stefan Wendl, Torsten Schubert and their crew with a huge task to build a new car and repair a second one, ready for the race transporters departing Tuesday morning for Spain. You had to feel for those guys.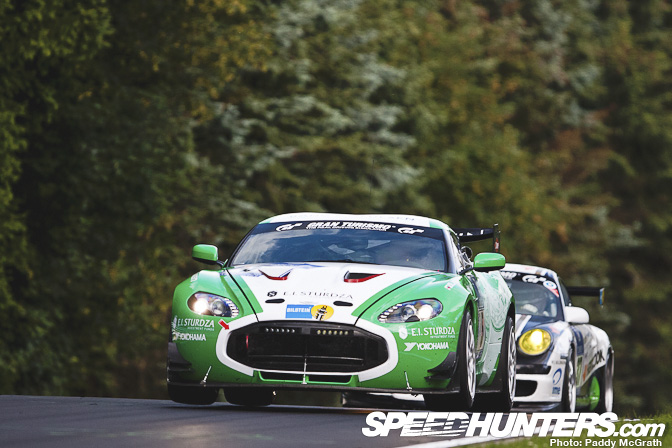 The other team we were following were Aston Martin Motorsport with their two new Zagato race cars.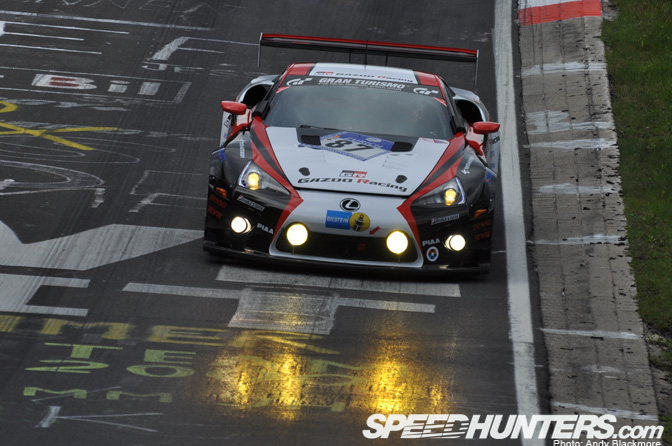 These road-legal race cars performed exceptionally well early on, leading their class as the Farnbacher Ferrari faltered and the Lexus LF-A ran into troubles.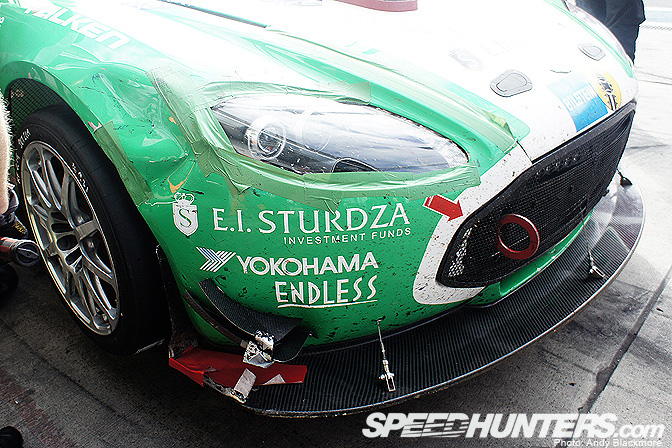 However in the middle of the night a back-marker caused a collision with the then class leading 'Zig', the green Zagato. The slower car had exited the pits and missed his breaking point into turn one, T-boning the green Zagato.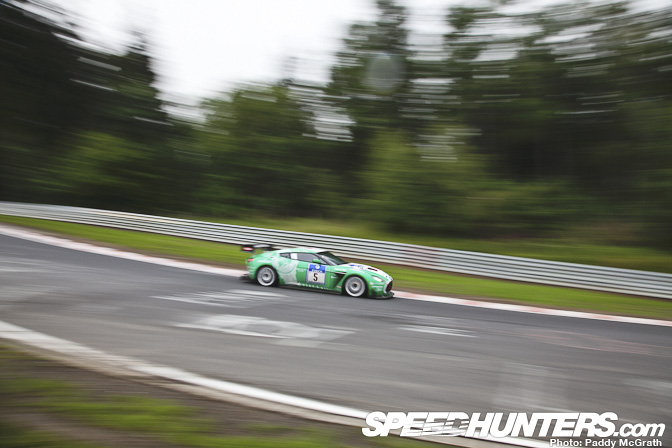 The green Aston Martin would eventually spend three hours in the pits as bodywork, power steering and later, engine mount and gearbox problems were rectified, all due to the accident.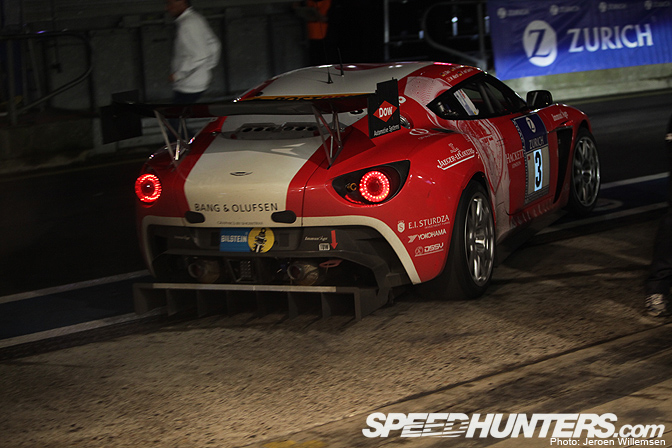 The second Zagato, 'Zag', which was being driven on a more conservative strategy ended up ahead of its sister car, despite having a new gearbox fitted during the night.
Aston kept their amazing record of finishes at the Nürburgring. Impressive for a team who run road based cars so development can transfer back to the production line as quick as possible. Stay tuned for a Car Feature on the Zagato next week.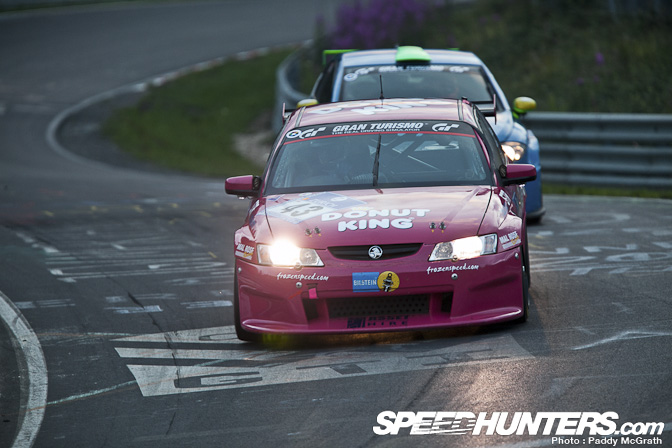 Other entries in the SP8 class included this Holden Commodore which wasn't classified…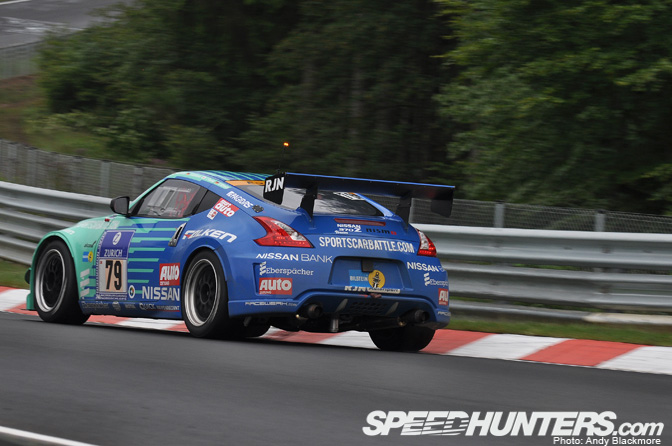 …And the impressive Falken NIssan 370Z of RJN Motorsport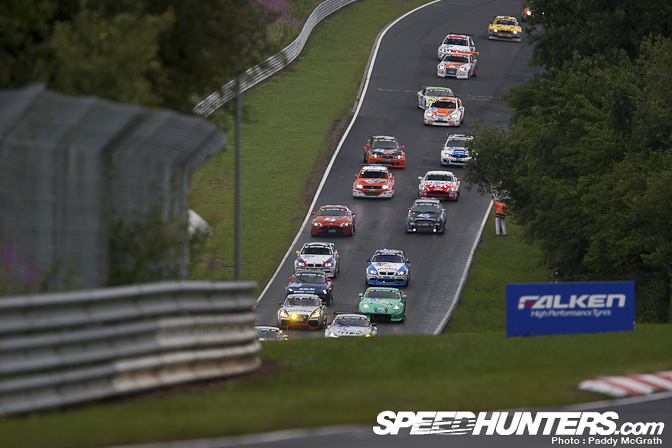 The top cars are well documented, so I thought I would showcase some of the 24 class winners, who rarely get much coverage. There are a confusing number of classes in the 24h, more classes than some series have entries…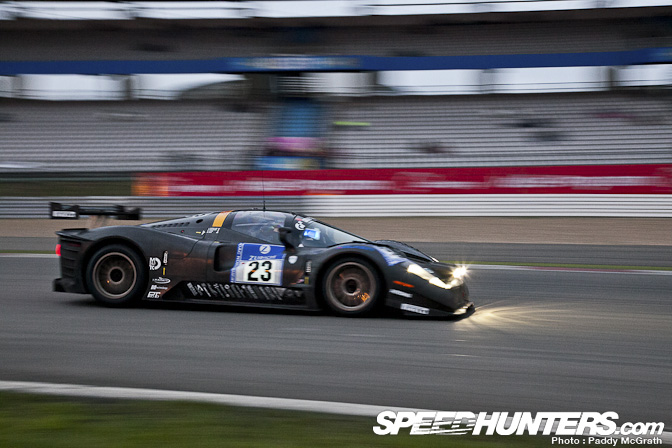 E1-XP was won by the 2nd placed BMW, but more impressive was the 2nd in class, the P4/5 Competizione run by N.Technology, driven by Mika Salo, Luca Cappellari, Nicola Larini and Fabrizio Giovanardi.
This was a very popular car and looked awesome in raw carbon fibre. More on this car soon!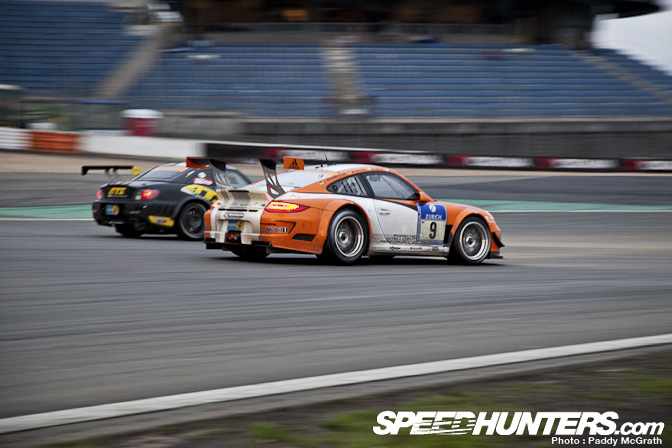 Although the E1-XP Porsche 911 GT3 Hybrid finished, it was beset with problems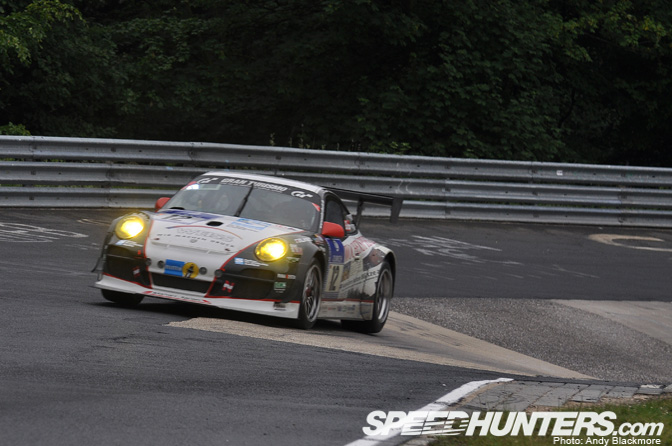 SP7 is for lower spec GT3 spec cars. Manthey were also victorious, as they supported the Wochenspiegel Porsche 911 GT3 'MR' entry.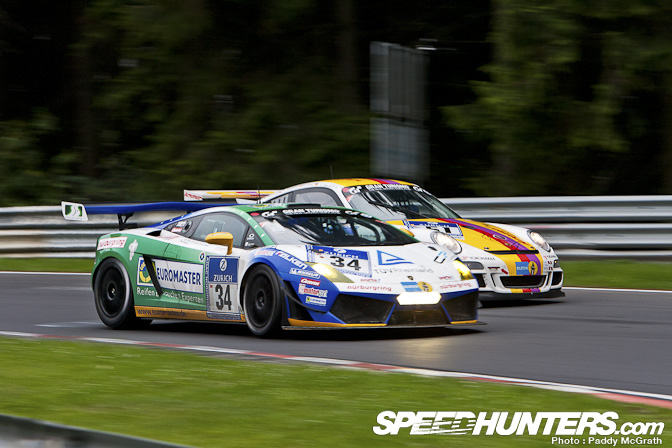 The legend that is Hans-Joachim Stuck took a surprise class win in the Lamborghini Gallardo, shared with sons Ferdinand and Johannes. Dennis Rostek was an adopted 'Stuck' for the weekend.
Hans announced on RadioLeMans.com that this would be his last big race. I'm lucky to have witnessed Hans final race.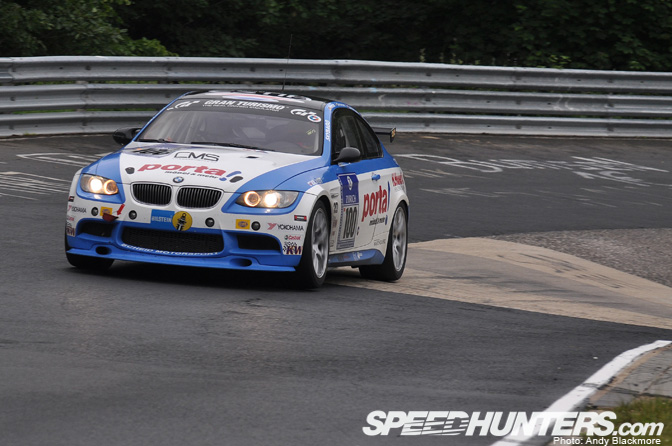 SP10, otherwise known as the GT4 class, was won by this BMW M3 GT4, three laps ahead of a Ginetta G50.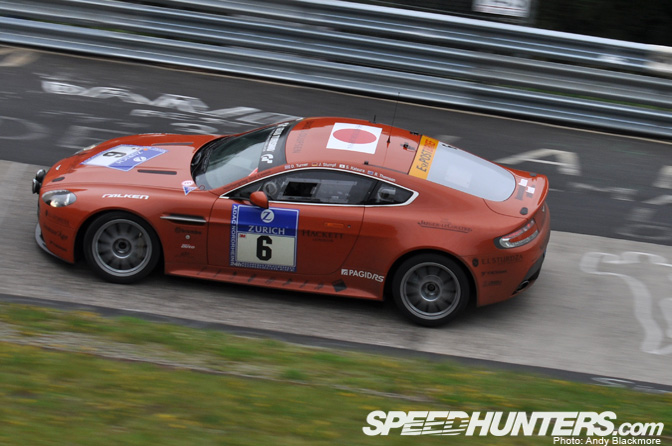 The road legal Aston Martin Vantage N24 driven by works driver Darren Turner, was 5th in class after leading much of the race.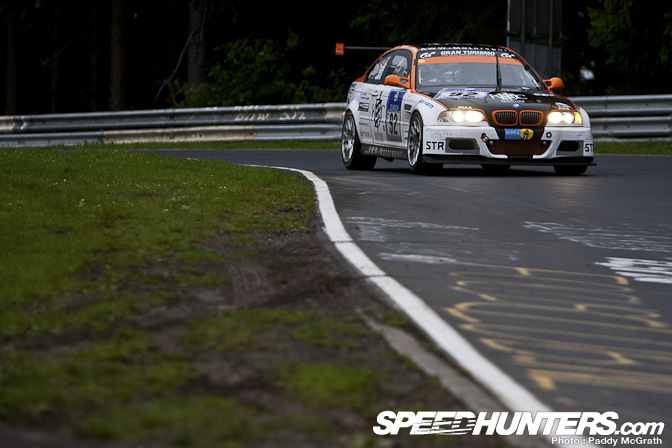 Next SP class down, SP6 was won by this BMW M3 E46. This car was being pushed hard, on the edge!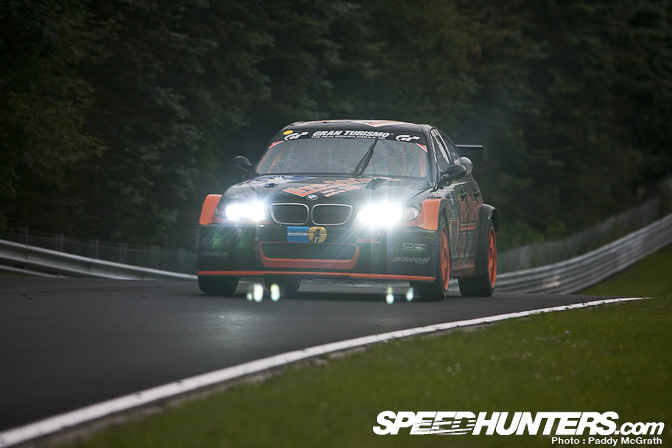 Another BMW E46, this time a 330i MSport won the SP5 class. I suspect it doesn't share much with my own daily driver!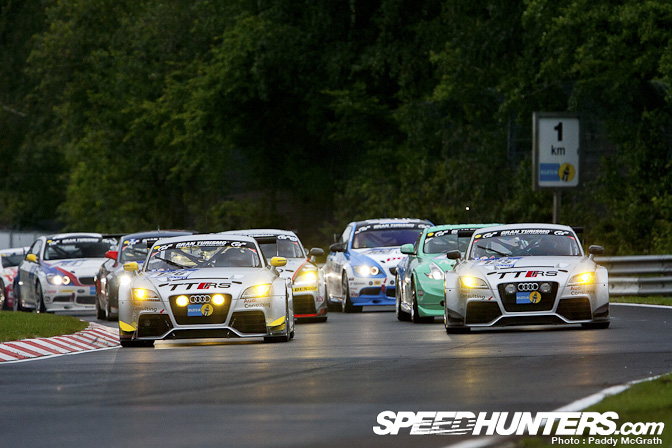 SP4T was a hottly contested class, with a number of these stunning Audi TT-RSs.
Bodykitted like the old DTM racecars, but with a 2nd generation body, these appeared bulletproof and were seriously quick for their class.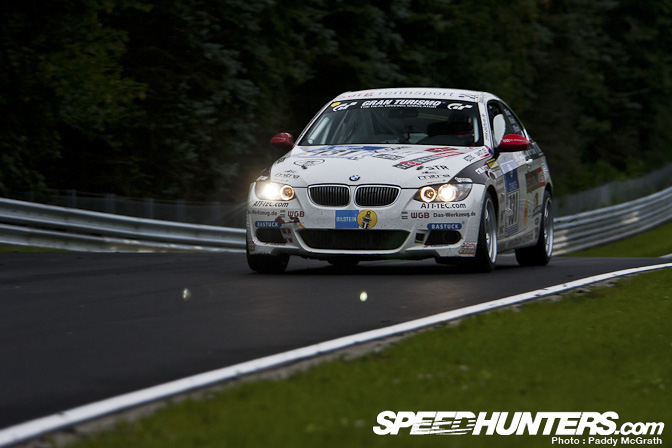 The sole runner in the SP4 class was this BMW E92. It might look quite stock, but it finished and took a class win by default!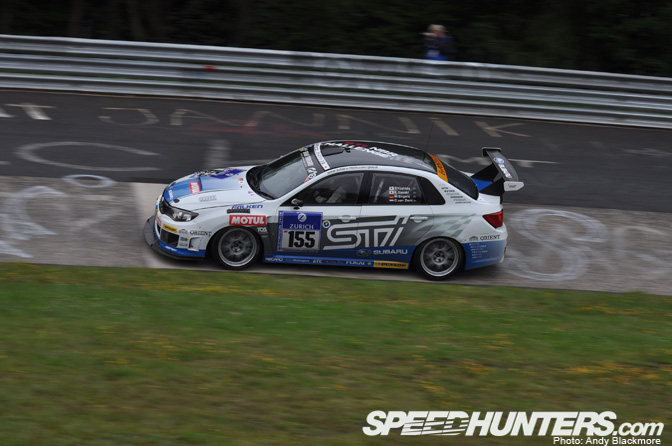 The works Subaru Impreza won in SP3T by 2 laps, which was full of proven (often one-make) race cars such as the SEAT Leon Supercopa, BMW Mini and Opel Astra GTC.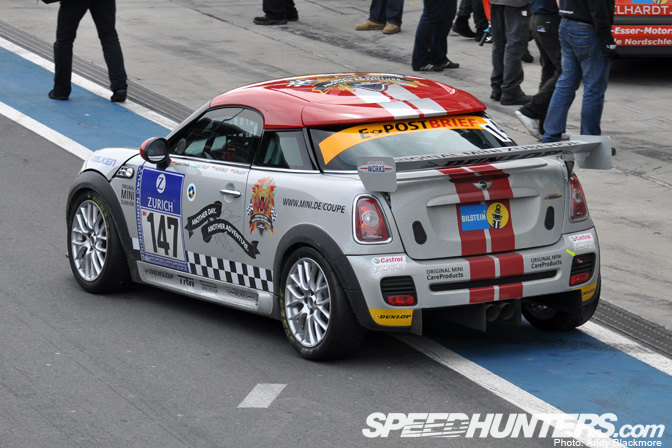 Mini marked the launch of their new Coupe by entering these JCW Endurances. Both cars finished as well. You can view a video review of their exploits here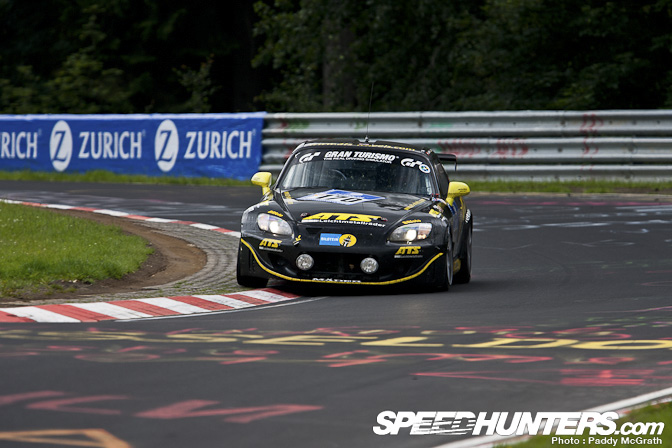 Team ATS' Honda S2000 won the next class, SP3, beating a number of Renault Clios…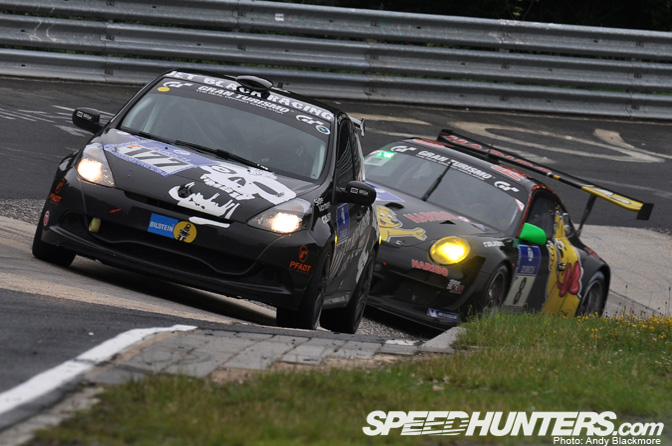 …Including this one driven by GM works driver Johnny O'Connell. He was driving for a friend and stated on RadioLeMans he would be asking GM to field a Corvette or a CTS-V next year.
With all the SP classes out of the way, it's time to look at some of the others.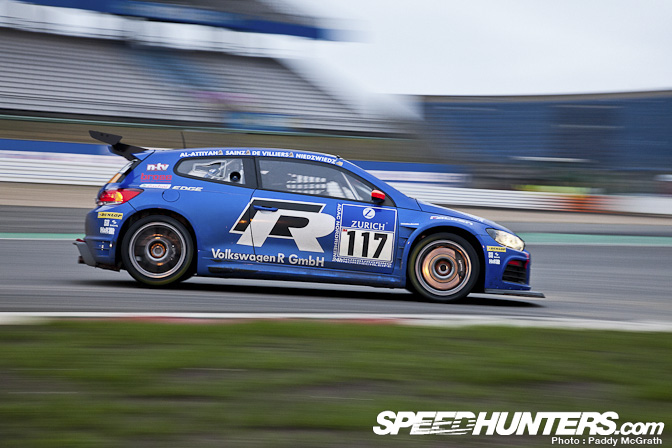 Volkswagen Motorsport had mixed success. In the 'AT' class the gas Scirocco scored a 1-2, 22 laps ahead of third place. This was Carlos Sainz first class win.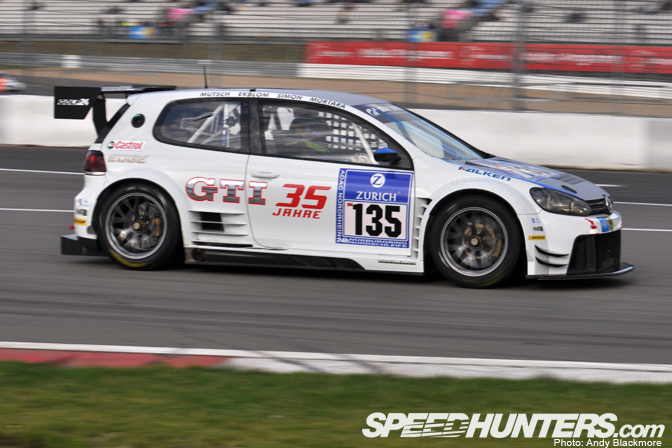 There were long faces in the Golf GT24 Pit garage. Two of the three cars retired within 15 minutes of each other, having held a class 1-2-3 earlier in the race.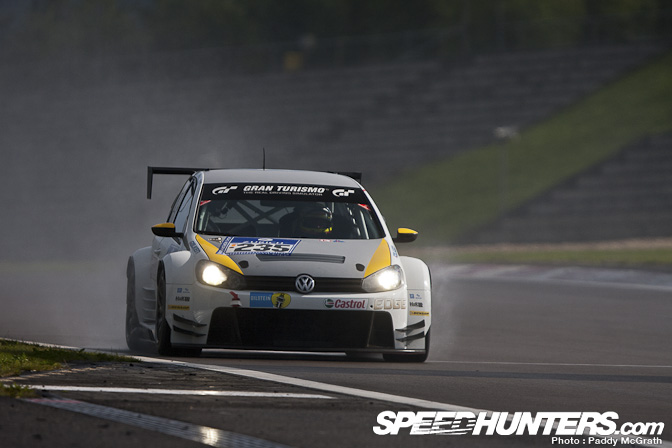 The Johnny Herbert, Mark Blundell, Patrick Bernhadt, Rene Rast machine looked set for a finish, only to retire near the end of the race.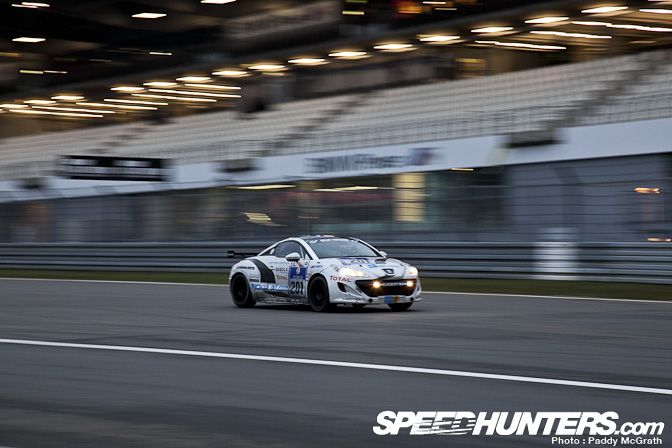 There are a number of classes for Diesel engined cars, Diesel being much more popular and refined than in North America. Team Peugeot RCZ Nokia, complete with Alex Premat won the 'D1T' class. A well deserved win given it was competing with BMW 330ds, SEAT Leons and other VAG group Diesels.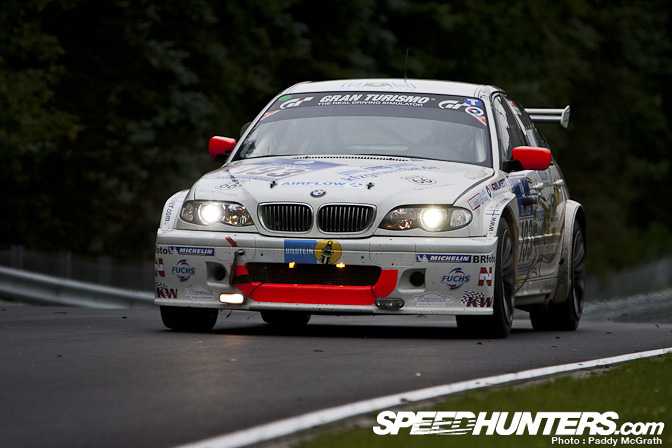 Next up, the D3T class, won by BMW 330d. To give you some perspective, this car completed 26 laps less than the leaders. And a lap is 15 miles long!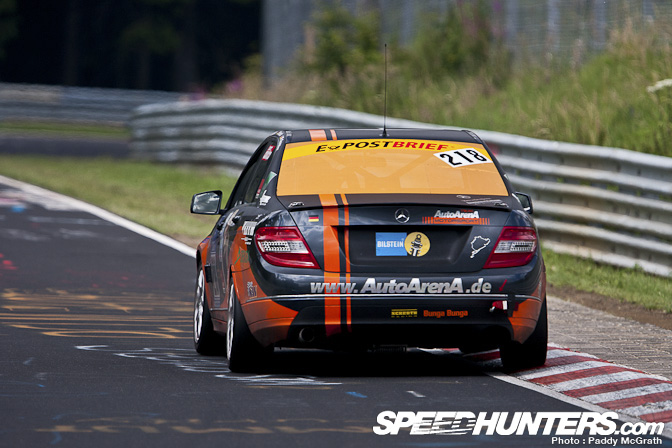 One of the most unusual cars at the ring was this Mercedes C-Class, entered by Team AutoArena. It beat all the BMWs in its class to take the 'V4′ Class win.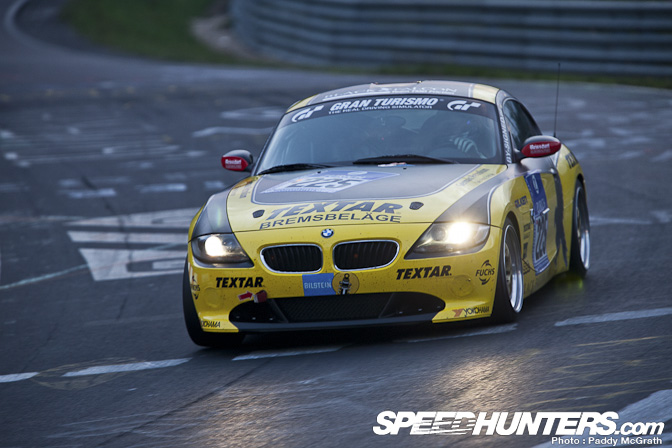 However, BMW took another class win in the V5 class with the 1st Generation Black Falcon BMW Z4. Black Falcon had a number of entries from the SLS all the way down to this Z4 and an E92.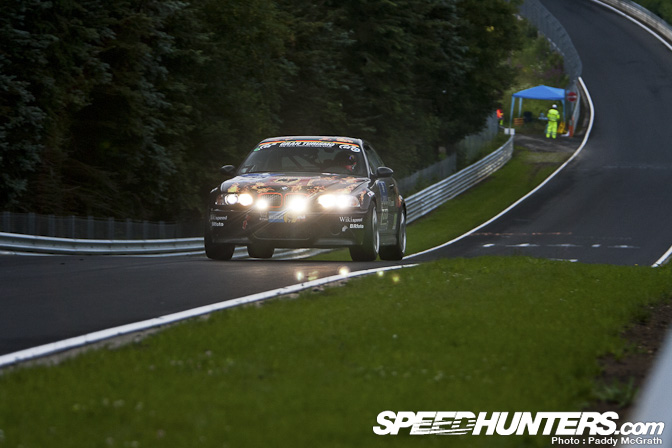 Another class, another BMW, this one a very nice M3 CSL. It took top honours in the V6 class.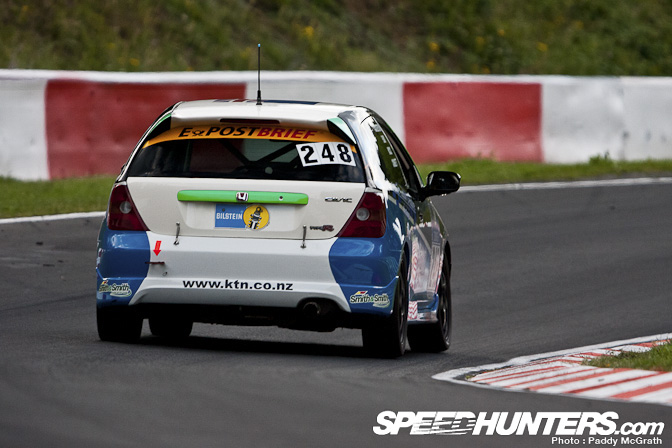 Now we are getting down to almost showroom spec cars. A popular win in the 'N2′ class was this EP3 Honda Civic Type R with an all Kiwi driving team. All three Type Rs finis.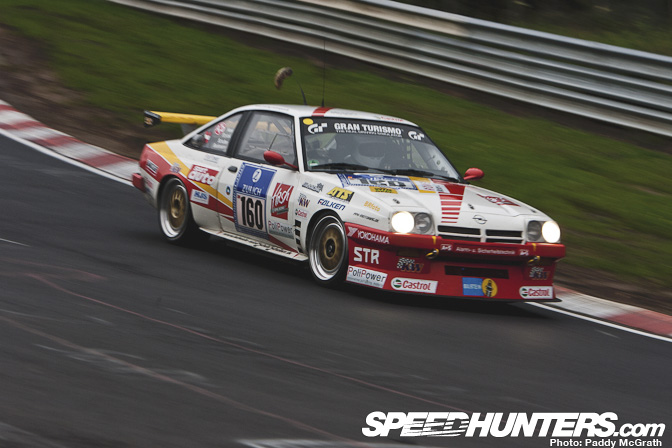 I will round off with this cool Opel Manta, which was one of my favourites.
It was a truly amazing experience at the Nürburgring Nordschleife. It is hard to express how big an impression the 15 mile track has on you.  Never have I seen so many cars, so many people in the pit lane or paddock, so many cars in a pit bay. On foot, it was one of the hardest races to follow and cover, with a hike of an hour just to get to the Karrussell. But boy, was it worth it.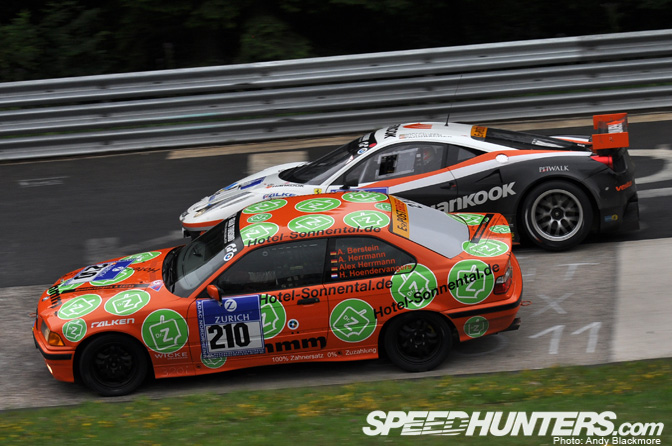 I will not forget this experience in a hurry. Sorry, but in my opinion Le Mans paled into insignificance compared to this.
In May we started a series called Things to Do Before You Die. And this, most certainly is one race that needs to be added to that list. If you're in Europe in June next year, be sure to add this to your agenda.
-Andy Blackmore
Speedhunters 2011 Nürburgring coverage