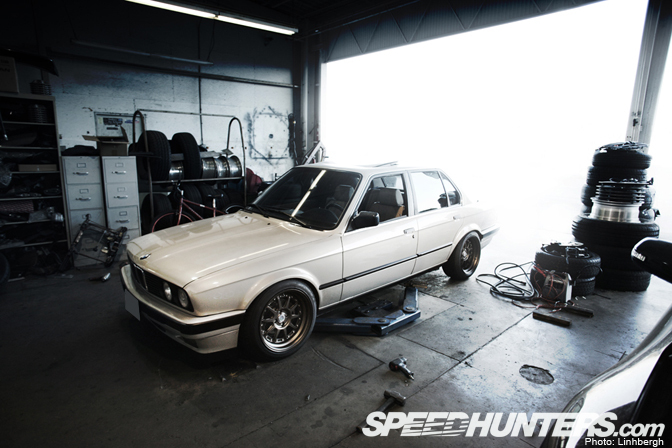 Almost nine months ago, I purchased a 1989 BMW 325i. And for the past few months, I've been tootling around Southern California with the car completely stock. Since my Miata, I've had the inkling to drive a fixed up car for a long, long time.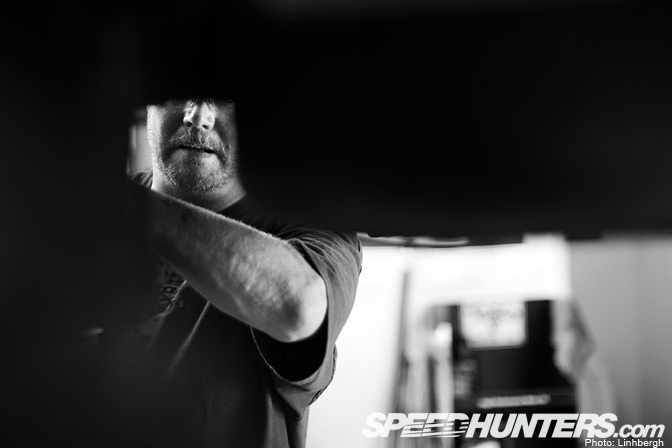 But before I was going to throw on a bunch of aftermarket parts on the car…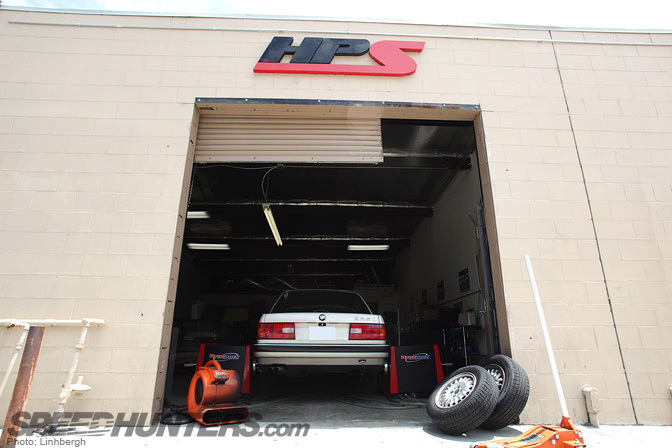 …I wanted to see what I had to work with. I made a trip over to HPS Silicon Hoses, in the City of Industry, for a baseline run.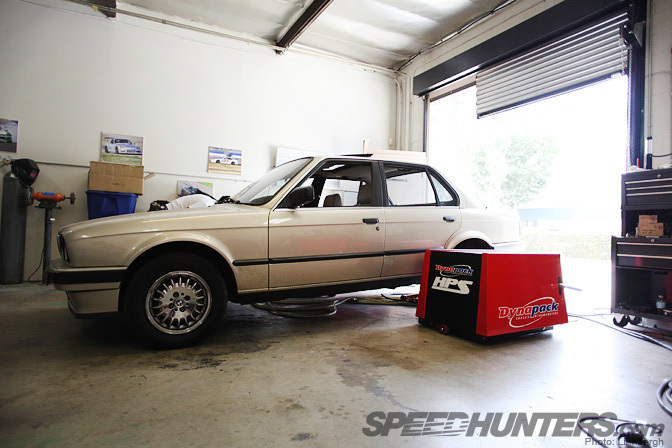 The E30 was bolted to HPS' DynaPack and was ready to go.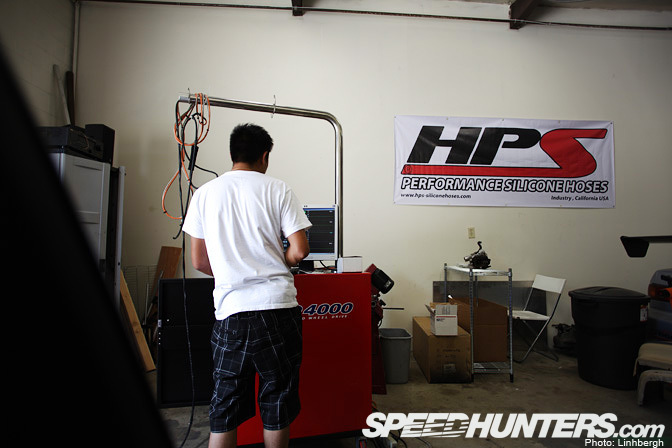 I hopped in and, while HPS' own, Hung Huynh, worked the computer.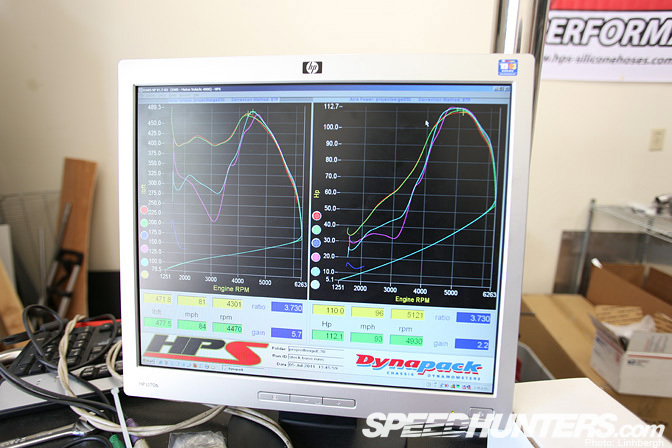 The result? 110 horsepower and 130 torque! Watch out guys, it's a true speed demon.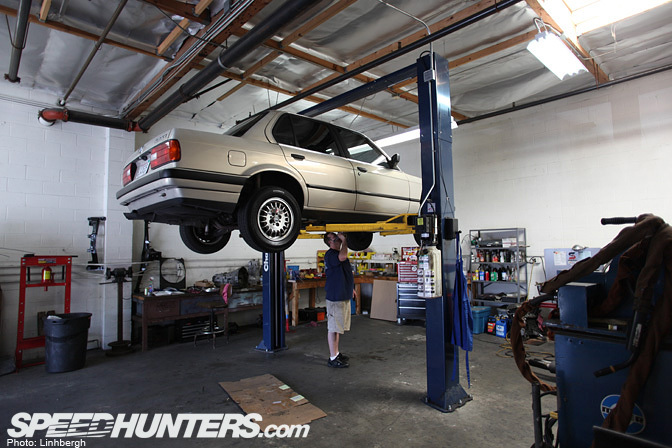 Since owning the car almost 9 months ago, I've been slowly collecting various parts to put on the car.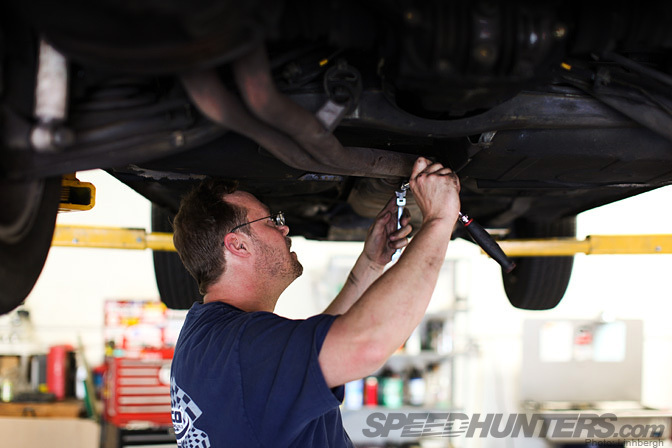 One of the first things to go out was the exhaust.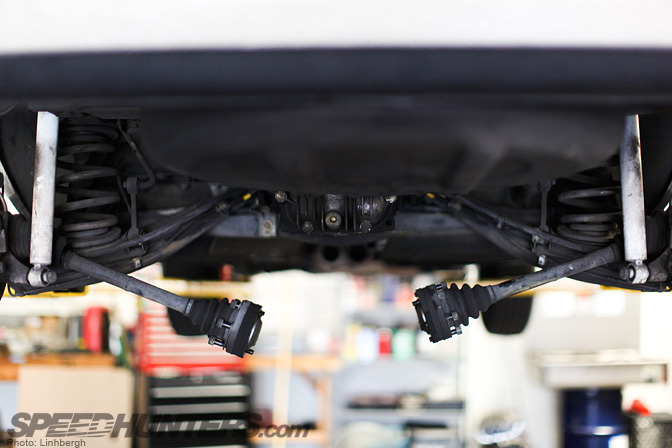 I took the car to E30 Motorwerks, in Huntington Beach, to get a differential swap. Since the owner and operator, Robert Calhoun, was under the car working on that, I figured he can replace the exhaust as well.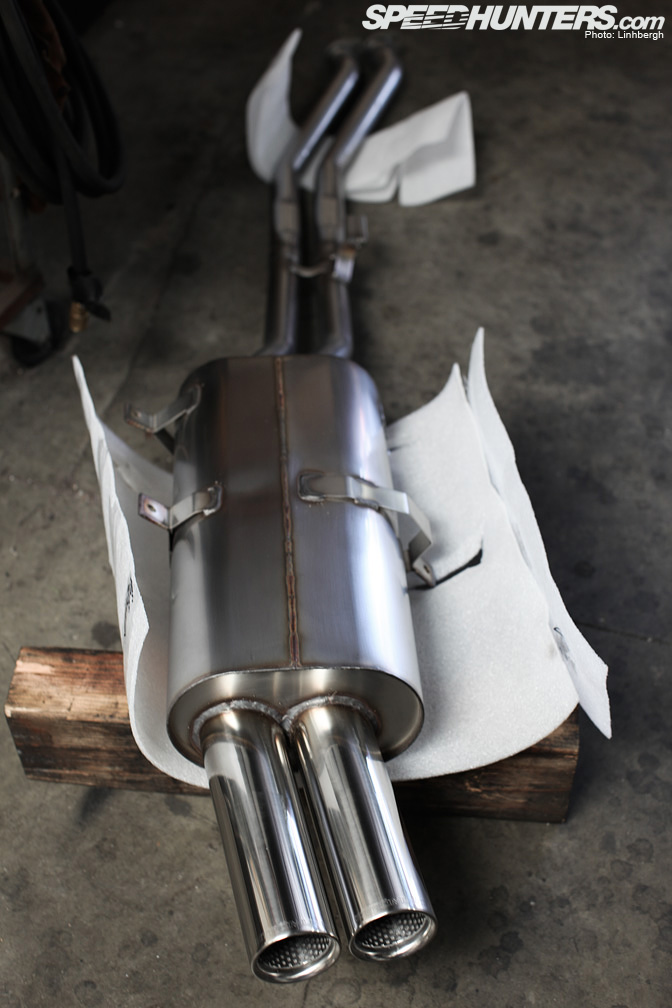 After a fair bit of internet hunting and forum searching, I decided to go for E30 offering from Stromung (which is, quite literally, the next door neighbor to E30 Motorwerks). It's nice to know that all Stromung exhausts are hand built as the build and craftsmenship of these exhausts are something to marvel.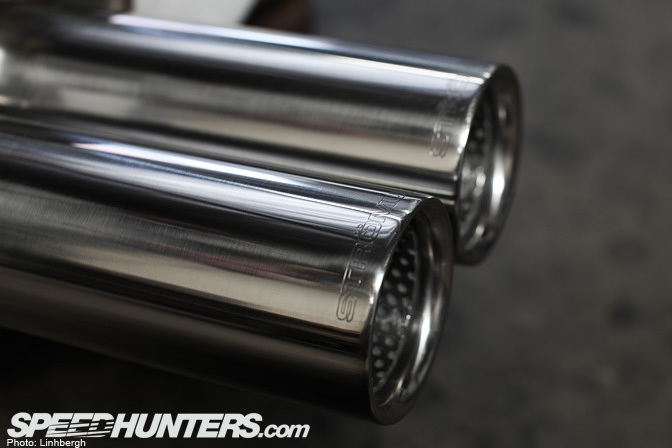 The polished exhaust tips with the Stromung engraving is beautiful.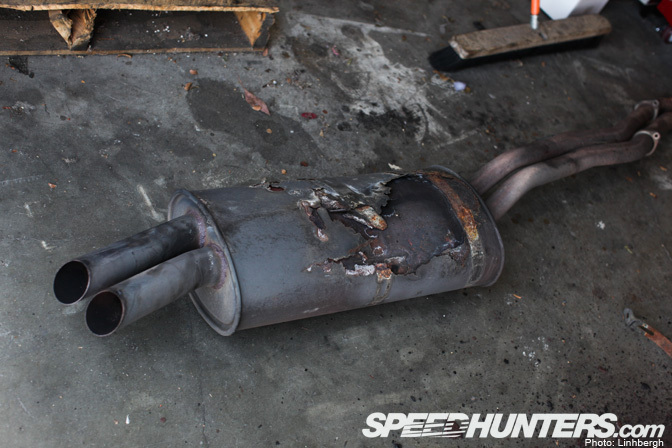 Here's the original 22 year old exhaust which has seen much better days…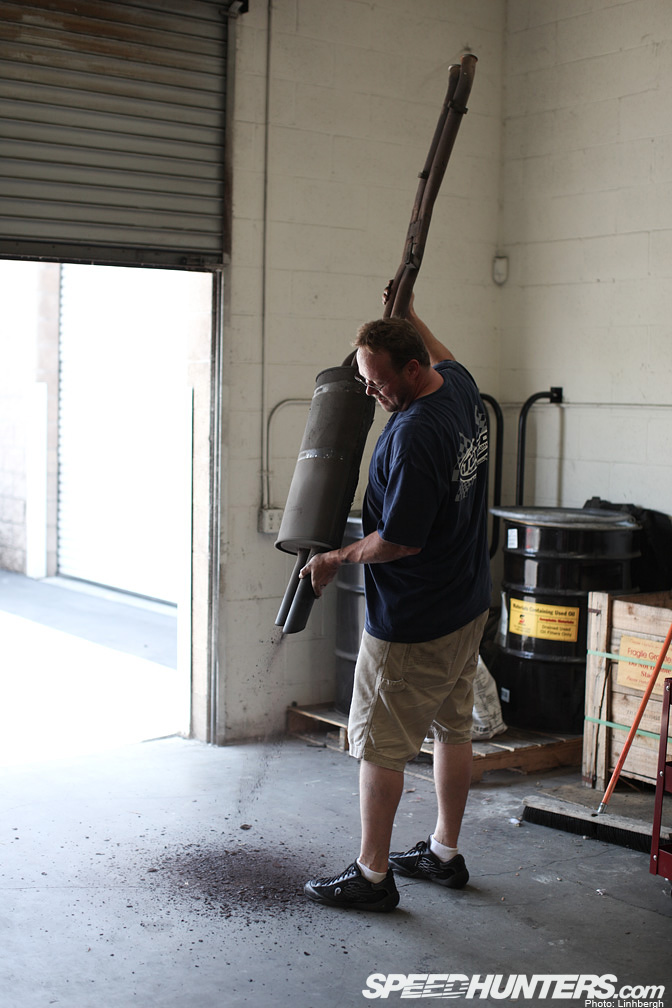 …as a whole lot of old exhaust bits were emptied out of the muffler.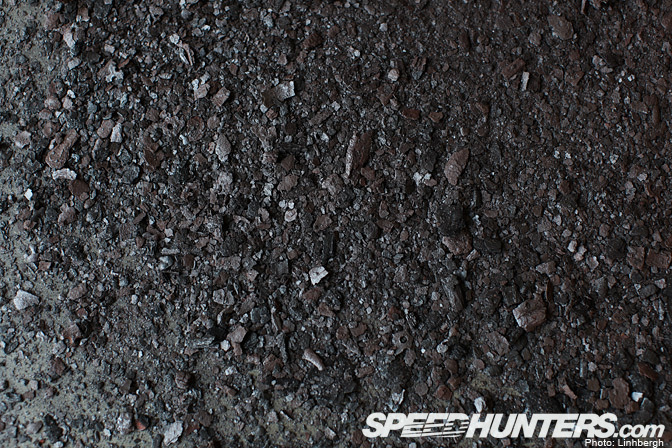 Could this have been the reason for the dramatic loss in horsepower? I'll soon find out as I plan to make a trip back to HPS for a second run in a week or two.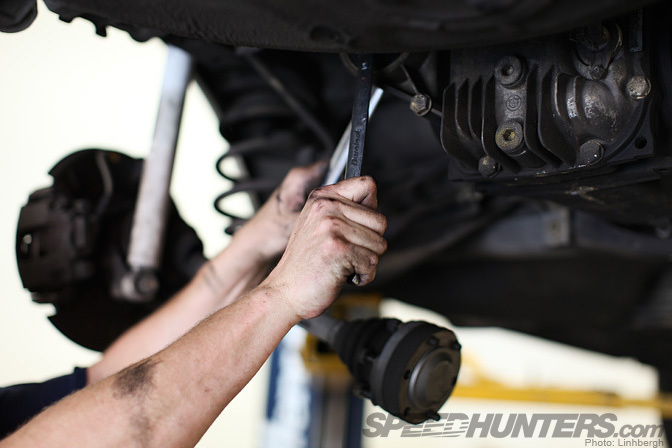 My 325i came with an open differential. Seeing how I plan to actually do things with the car, it had to be swapped out for something much more performance oriented.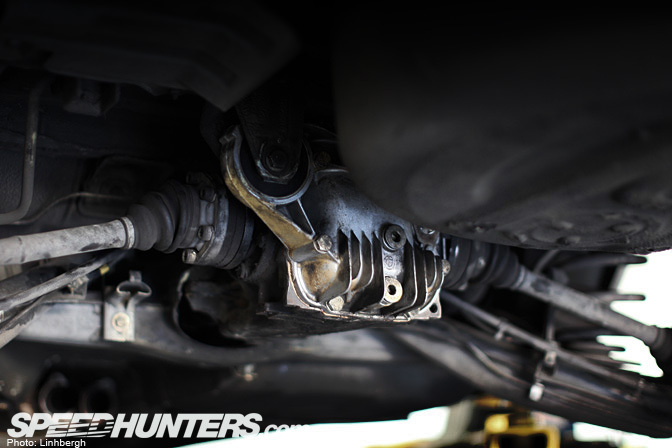 I found a used BMW clutch-type 3.73 LSD locally for a good price. Robert checked the internals to see if they're okay, cleaned up the pumpkin and resealed it.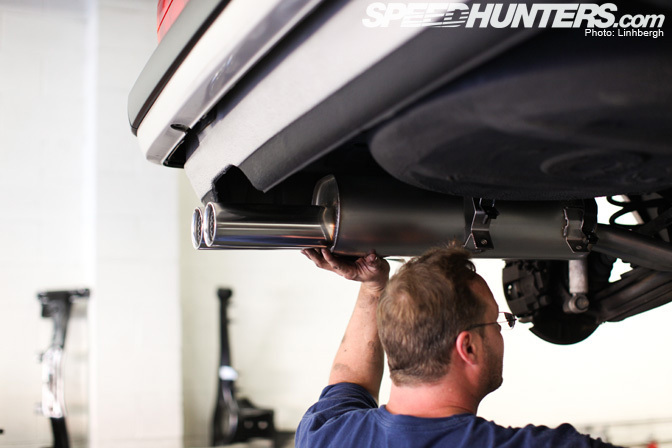 After the LSD swap, Robert finished up the exhaust install.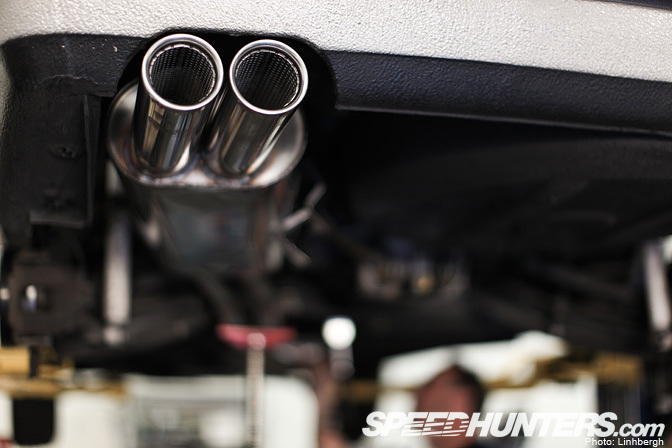 The Stromung rather pretty, no? It also sounds good. It's not too loud and not to quiet as well –just a clean and sporty tone.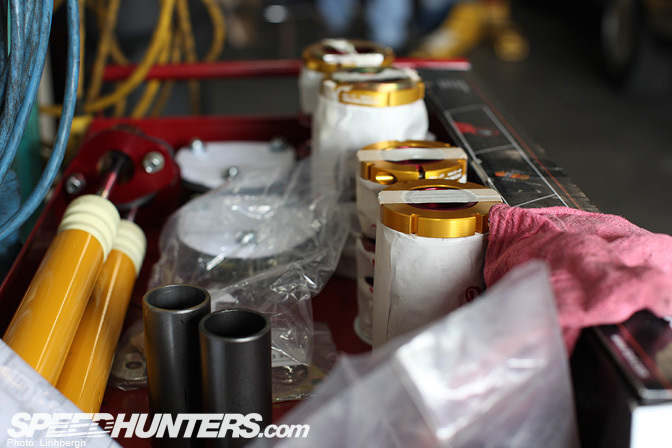 A week later, I made a second trip to E30 Motorwerks as my coil overs came in. Suspension wasn't something I wanted to completely cheap out on. And knowing just how bad some coil overs can get, I went for a set of Ground Control coil overs paired with Koni shocks.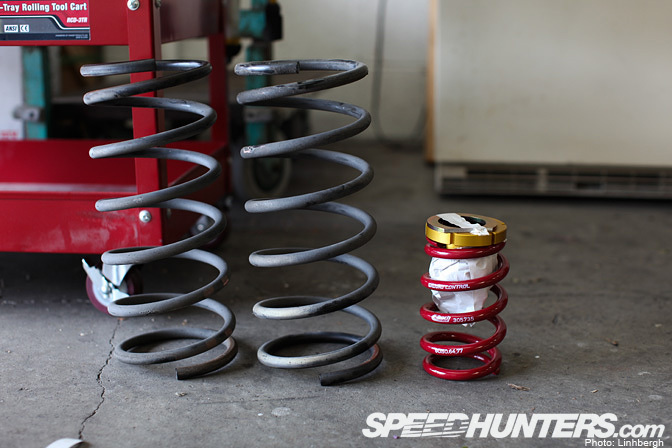 Stock vs. Ground Control.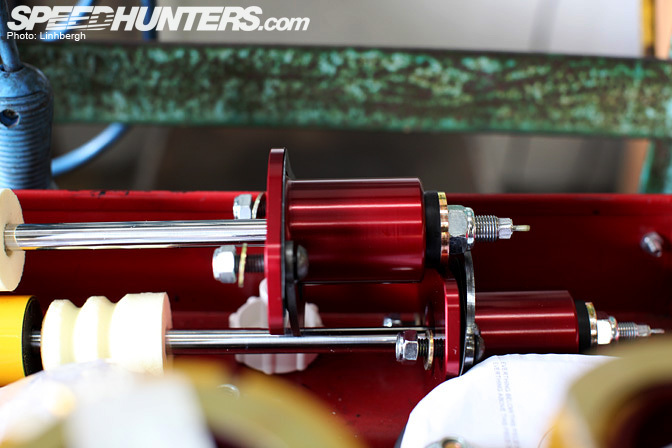 The rear top hats are a very quality piece.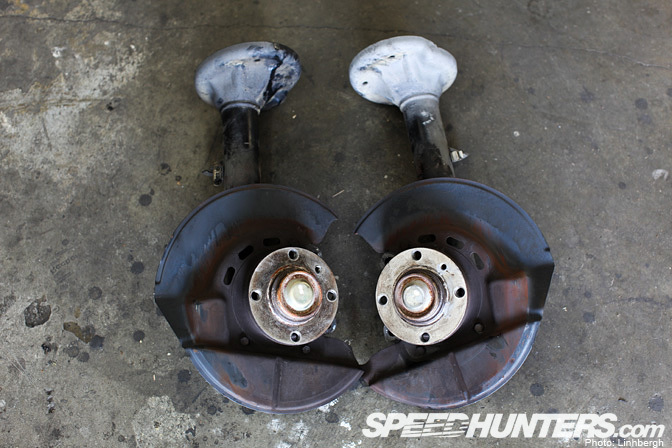 Those of you that are familiar with AE86 Corolla coil over installs would be very familiar with how the E30 work. The front strut housings had to be taken out to be cut, shortened, and welded back together.
Clearly, it was a job this measely photographer couldn't tackle on his own.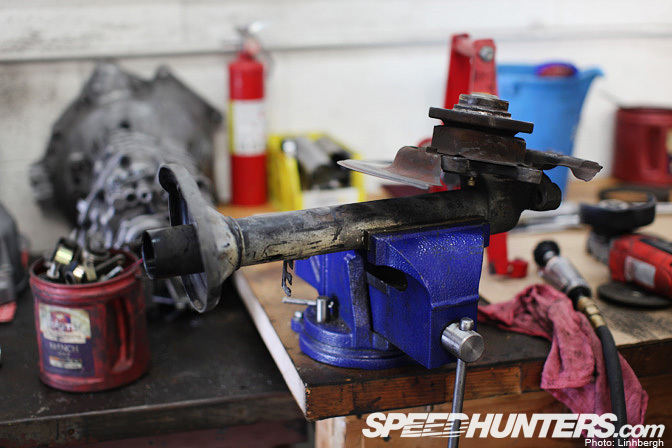 So to the work bench the front strut housings went.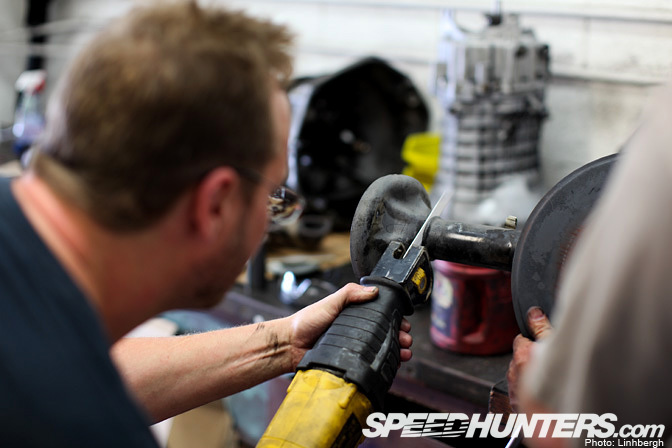 Surgery was performed…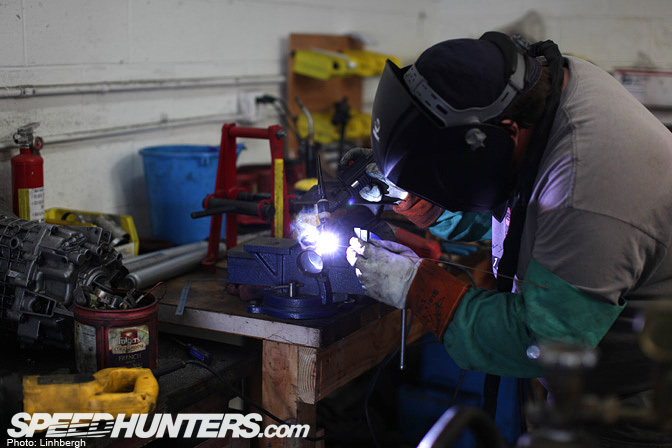 …and was quickly patched up like new…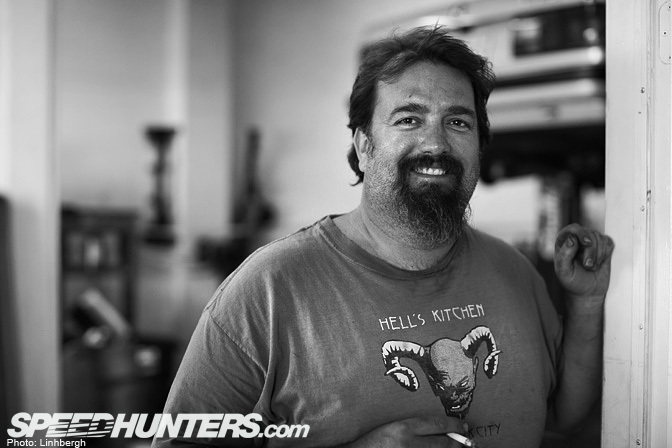 …by Robert's wielder, John Hickerson.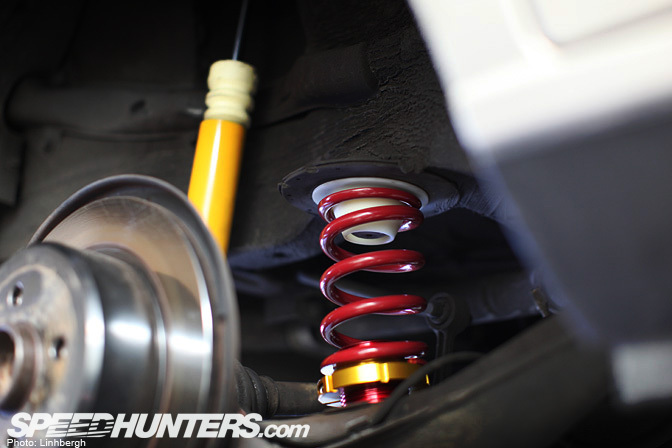 The rears were an easy install. These went in way before the fronts were in.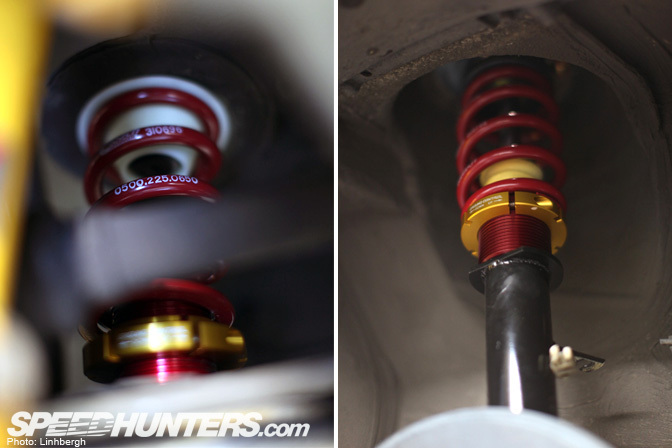 But eventually, the fronts made it into the car.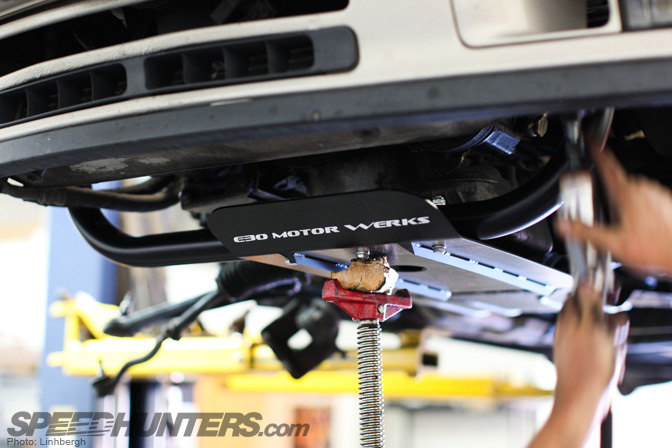 Knowing roughly how low I wanted to run and knowing how dangerously low E30 oil pans hang down, I knew I needed a skit plate. I got the E30 Motorwerks extra-beefy skid plate installed, which John Hickerson also fabs up for Robert.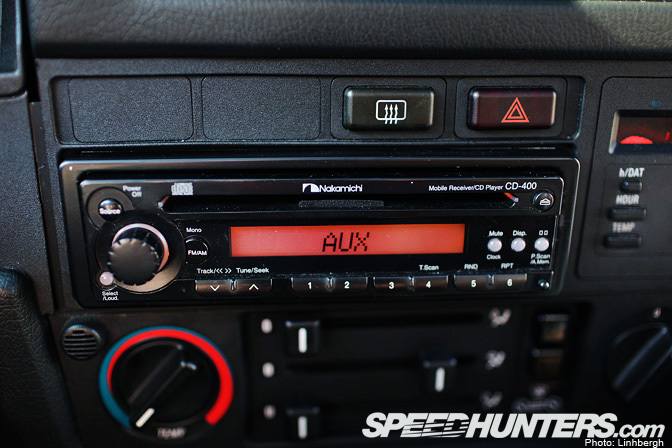 Interior wise, not much has changed. But since my stock radio and speakers were previously blown from Will Roegge's Dubstep mix, replacements were more than needed. I researched around for weeks on different head units and I became disgruntled as I found all brand new head units look as though they belong in a car that is from the year 2152 rather than this beige 1989 sedan.
After more research into period correct head units, I decided on this Nakamichi CD400. The color preset of orange was one of the main selling points as the rest of the interior lights are orange. Also, the allure of a bit of JDM inside of a German car was more than tempting.
On the speaker front, I settled for a set of Infinity References in the stock size of 5.25″ all around. I didn't want to cut or modify any existing interior of the car is really just too clean to touch in that way. Because of my stubbornness in speaker size upgrading, the new speakers aren't too much of an improvement over the stock speakers.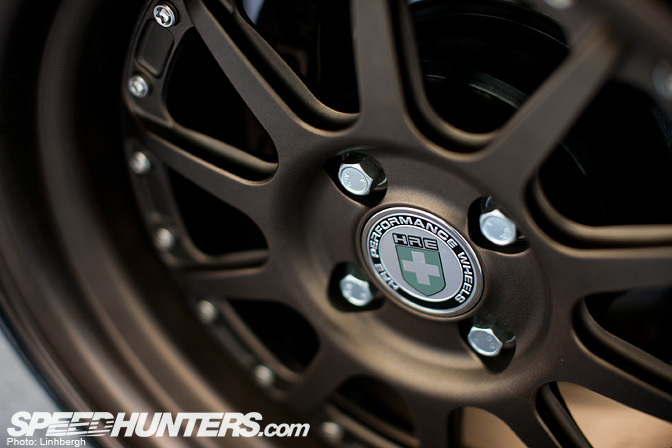 Thanks to the guys from HRE Wheels, I was able to get my hands on a one-off set of 16″ wheels. HRE currently does not make a 16″ wheel so being one of the two people to have them is something else! The wheels are 16×8.5 +6 all around. They're forged three-piece wheels which have been powder coated bronze (which HRE does in-house) and weigh in at an amazing 14.9 pounds a corner!
A German made car with a Japanese made stereo head unit and American made wheels. Quite the melting pot, no?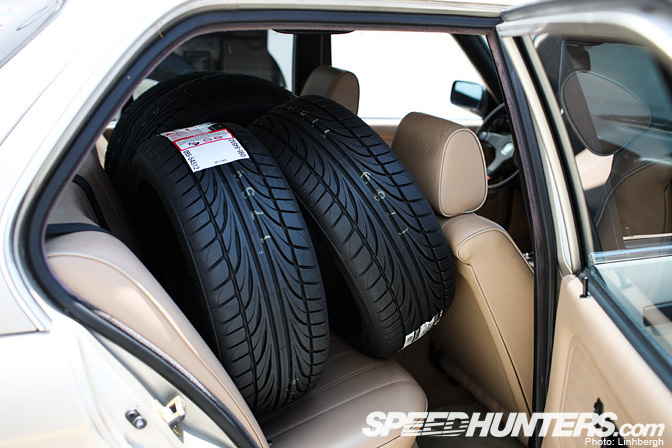 When it came to the decision on tire choice, I shopped around quite a bit. Sticky street tires like Falken Azenis, Nitto NT01s or Hankook RS3s were my top picks, but I after a bit of deliberation, I decided to go for tires that weren't super grippy and would allow me to slide around a bit. I looked at the Toyo T1Rs, Yokohama S-Drives and Falken FK452s. I chose the Falkens. And thanks to the guys from Falken, I was able to get my hands on a set of FK452s in 205/50/16. I decided on the 50 series tires as I wanted a bit more of a meaty look on the car.
I had the tires mounted on the wheels thanks to the kind folks at Bavarian Exclusive.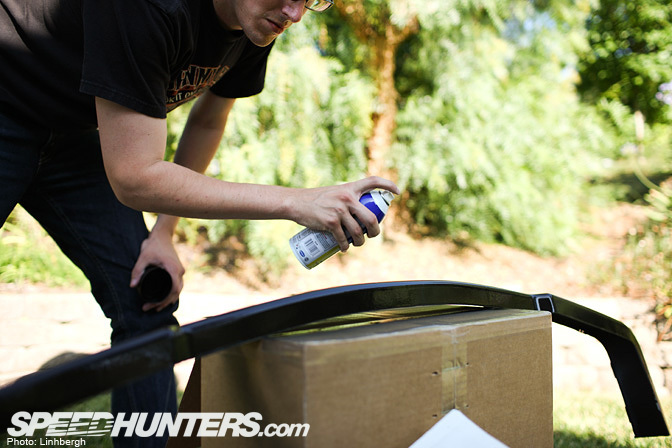 I ordered a factory BMW IS lip to replace the dinky little lip that came with the car when I bought it. My friend Derek Dicker (whom I bought the car from) and I spent an afternoon painting the lip not with spray paint, but Plasti-Dip. It's basically rubber in a spray can. The result is a smooth and rubbery finish.
Hopefully, it'll last longer and not chip like spray paint usually does….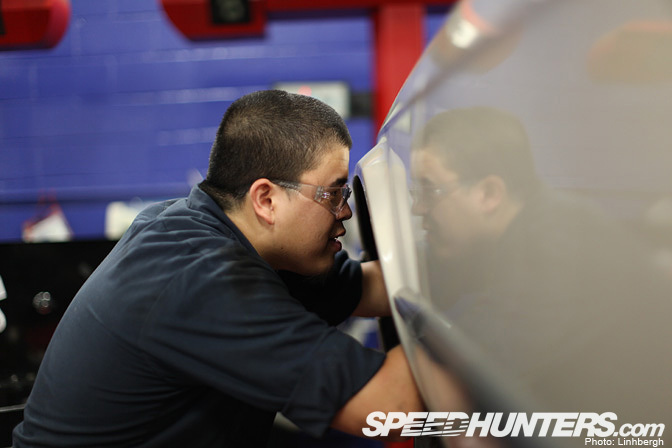 I took the car into a shop which a long-time Miata buddy, Emerson Hemedes, works at to finalize the ride height and also to get the suspension aligned.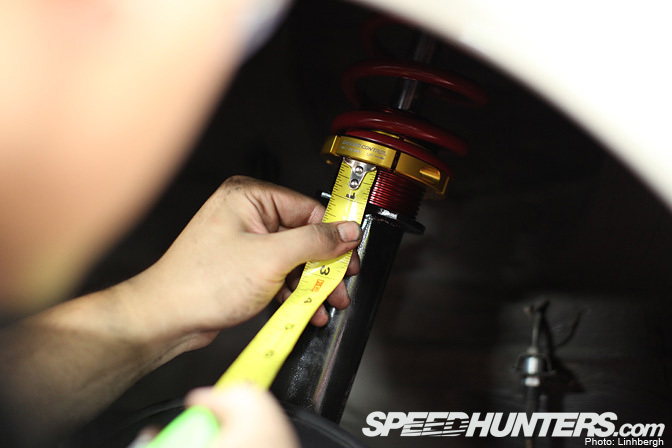 The Ground Control coil overs, with the shortened strut housings, put the car on a pretty low ride height at the highest setting but had so much more drop to give. I decided for a good balance of aggressive low and also kept as much drivability as possible. 11.5″ fender to hub all around was what Emerson and I decided on.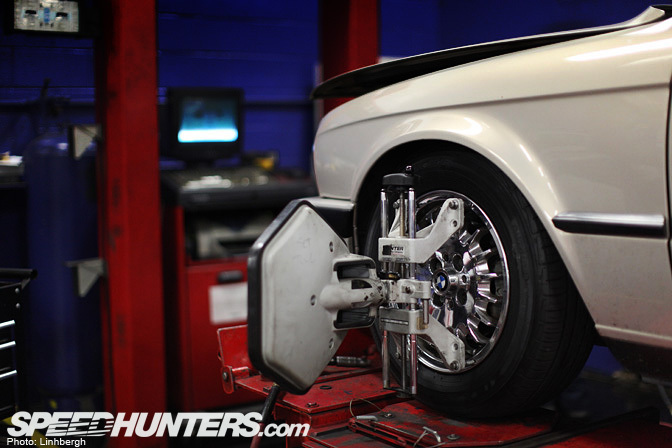 For the alignment, I settled for a 3 degrees of front camber and 2.5 degrees of rear camber with as little toe as possible.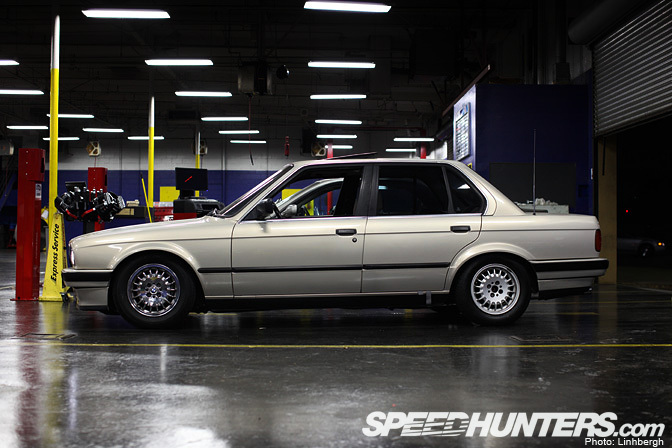 Here's the car after finalizing the ride height and alignment. This is how E30s should've left the factory floor!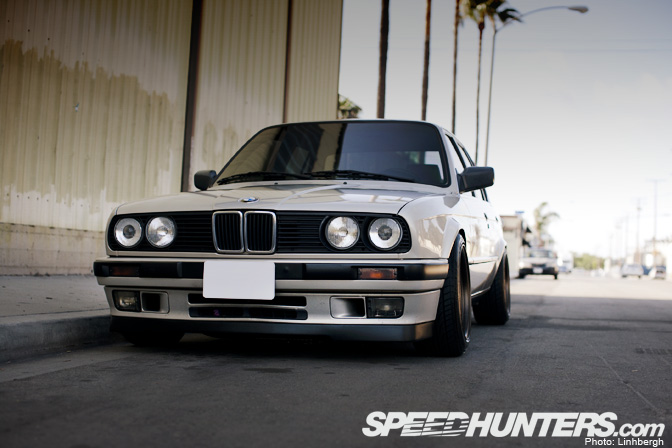 The next day, the wheels and tires went on. Here's obligatory wheel fitment shot.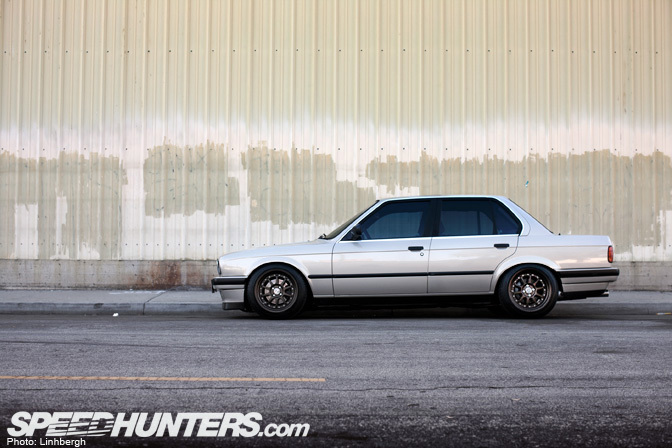 And here's how the car sits as of today. I find the ride height to be a rather good (not perfect) balance of looks and drivability.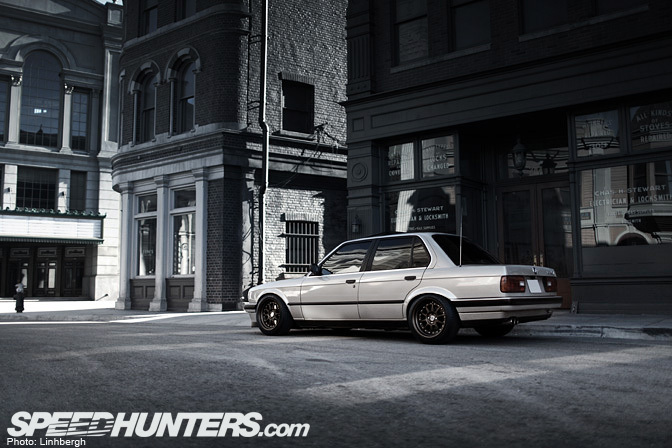 What's a photographer to do after he finished up his car? Take it out for a photo shoot of course!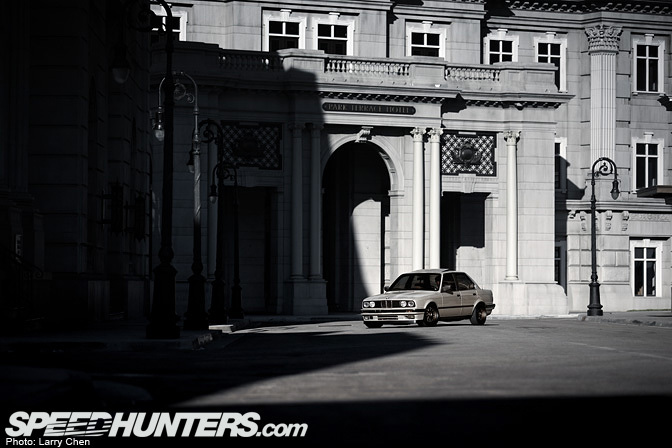 Larry Chen and I stumbled upon a great location.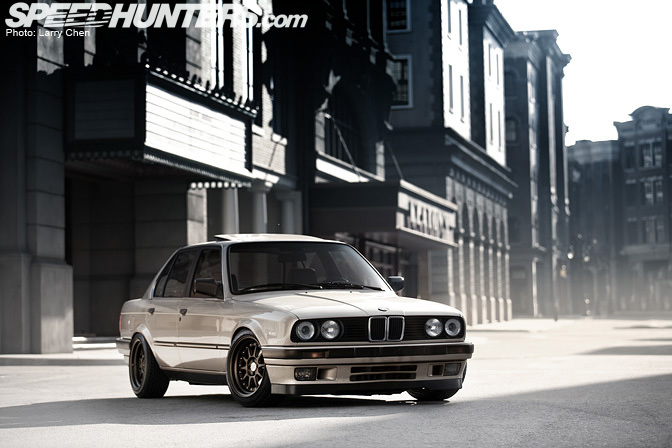 At the location, our photographer dreams were realized.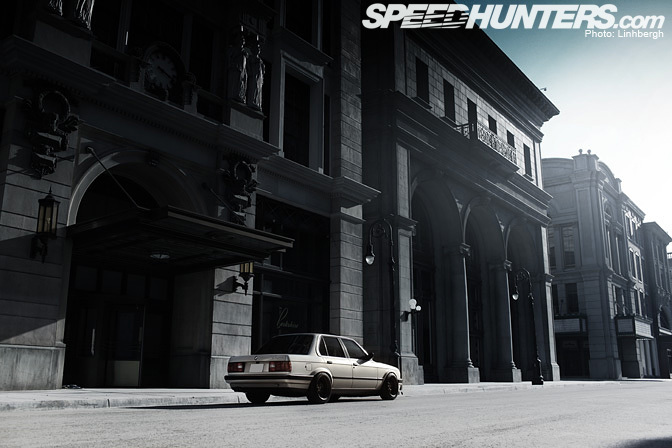 What's next up for the car? A road trip to Formula D Seattle this weekend and I'm hitting the road early tomorrow morning. Southern California to Seattle, Washington: 1,159 miles. The part two will be highlighting the more than two-thousand miles to Seattle and back.
M20 don't fail me now.
-Linhbergh
Special thanks to all those who have helped with the car in one way or another: Robert Calhoun from E30 Motorwerks, John Hickerson, Mickey Andrade, Derek Dicker, Jesse Lee, Emerson Hemedes, and Kyle Ranauro.