Living in Tokyo can take a toll on anyone; one of the most tightly packed urban areas of the world, Japan's capital can be very unfriendly to car guys. Police and those sneaky parking attendants are everywhere, hiding, ready to catch unsuspecting motorists at the first smallest mistake they make. The roads are constantly congested and even if they get moving you'll be lucky to crack 30 mph for more than ten or twenty seconds. This might sound like a living hell, but the truth is we don't really have it that bad out here, not when in less than an hour drive outside Tokyo you can find yourself in tranquil surroundings, confronted with views like this.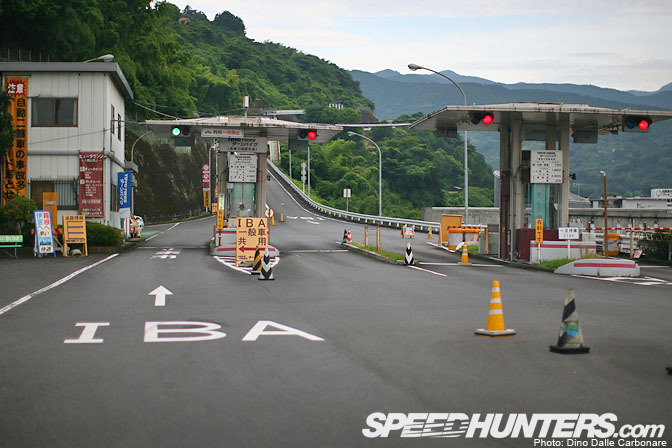 But for how sublime the panoramas around Hakone and Izu may be, this isn't a look at the hiking trails and beautiful mountain lakes, this is yet another glimpse at how those with a passion for cars enjoy themselves in Japan. I say another because if you recall, around the same time last year I headed out to the Izu peninsula and onto the Izu Skyline toll road for a bit of driving fun with a bunch of car friends. Well it's that time of the year again and this time I got called out for a play by Justin of Caterham Cars Japan. I got an SMS message on my phone a few days prior asking me if I would like to join a little supercar meet that was going on at 6 am on Saturday morning. I politely declined, what with a party the night before and a severe case of sleep depravation to tend to.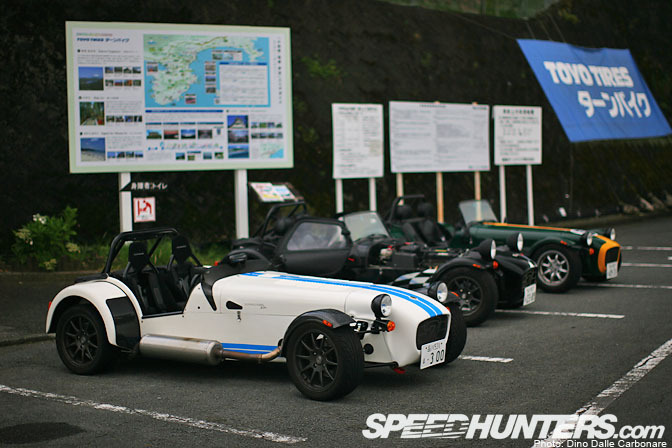 But then Justin offered to lend me a Caterham for the day, to which I promptly replied to, "Ehm OK, what time should I be there!" So that's how I found myself at 5 am, blasting down the Tomei Expressway, with the wind trying to rip off my helmet as I headed down to the famous Toyo Tyres Turnpike, driving heaven for anyone that lives in Tokyo. Upon my arrival Justin was already there with another friend driving the stripped out R300 version of the car, packing the same engine as the green and yellow car I was in, but boasting substantial weight decrease and retuned suspension for better handling.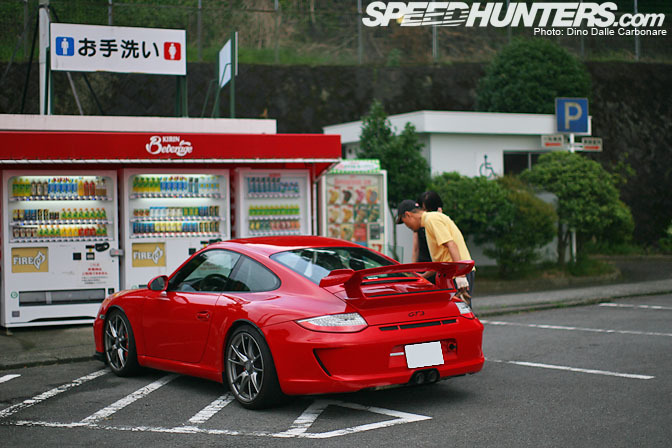 This brand new 997 GT3 was also joining in the fun on the day, and as the owner explained had just come back from the dealer after having its center wheel nuts replaced, a known problem that Porsche had to take care of by issuing a world wide recall.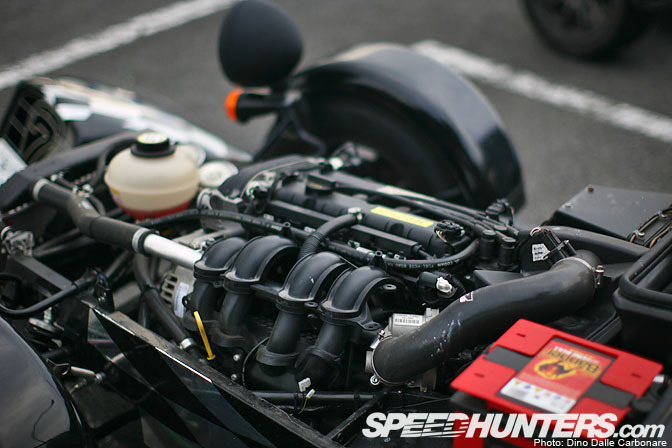 Justin noticed that his black Caterham was running a little low on radiator fluid so took the hood off and got busy topping up the reservoir tank before we headed up the mountain pass.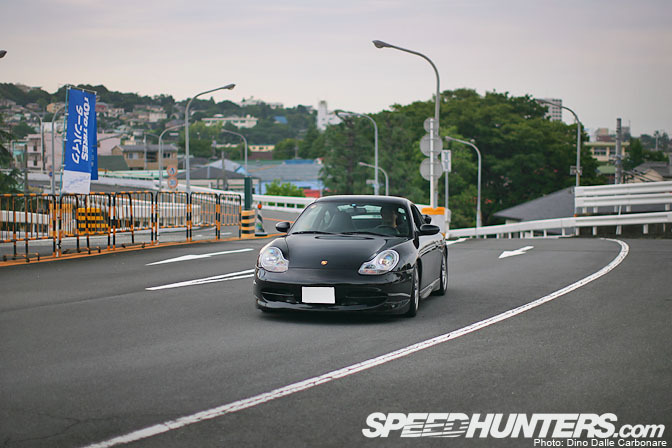 People began arriving soon after that…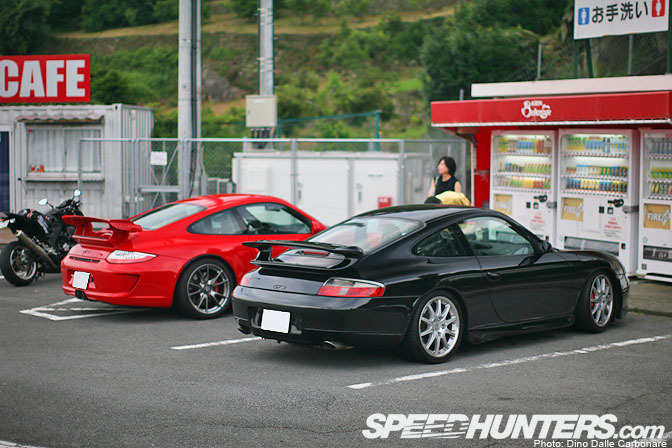 …yet another GT3, this time a 996 adding to our little group.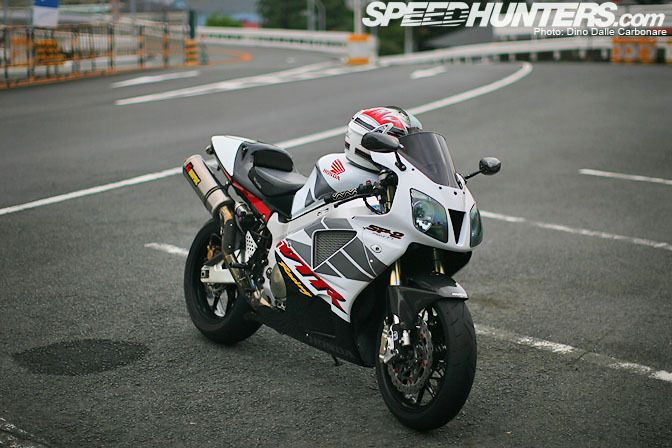 Miguel from Newera Imports decided to choose two wheels instead of four for this particular drive and showed up in full leathers riding his Honda VTR SP-2.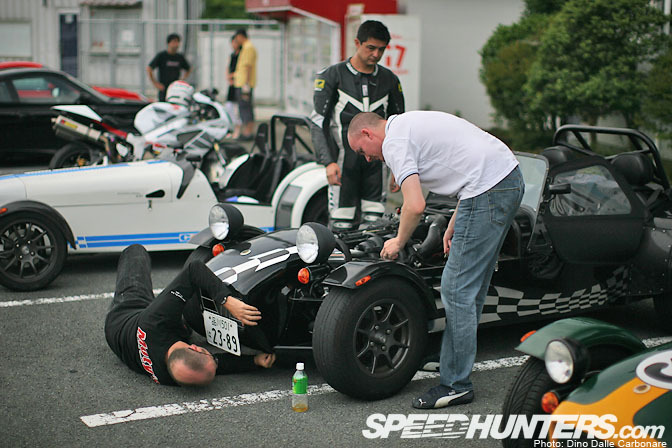 As we waited for Justin to attach the nose and then the hood back on his car…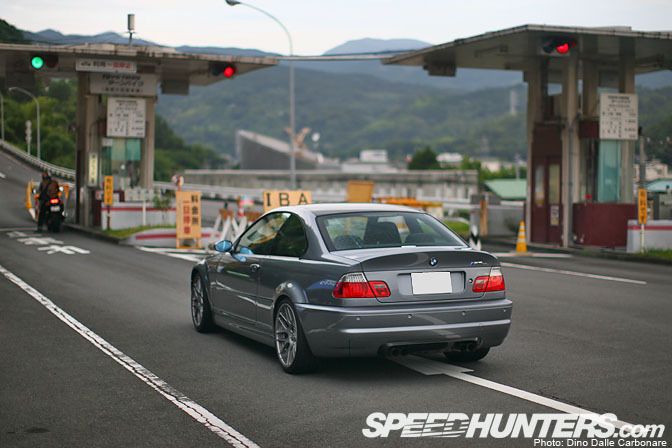 …a nice stream of cars passed by ready to enjoy the drive up to the top, like this E46 M3 CSL. It was our turn right after this and everyone blasted off. Depending on how fast you dare drive it takes less than ten minutes to get to the very peak, from where you can enjoy breathtaking views of Mt. Fuji.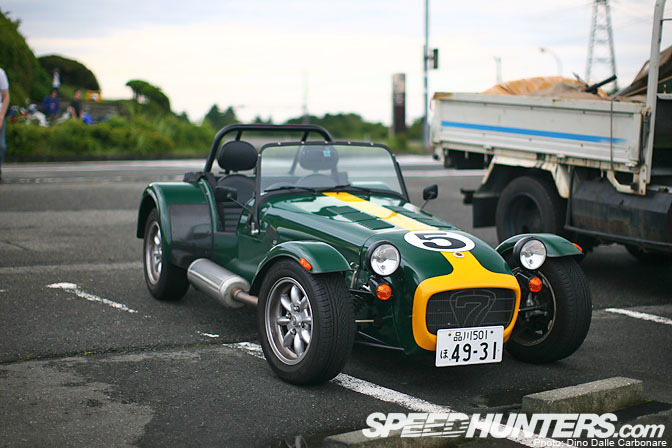 Here is my little ride cooling off after the first stint of the day. Although I can hardly fit in this thing, my legs too long to actually clear the bottom of the steering wheel, I did my best to push it to safe enough limits through the fast third and fourth gear corners of the Toyo Tires Turnpike. I really urge anyone out there to drive one of these cars at least once in your lives, it will be one of the rawest, most eye-opening driving experiences you will have and will make you look at supercars and exotics in a whole other light.  What they lack in comfort, refinement and practicality they make up with character and character in a car, on these sorts of roads, counts for a hell of a lot.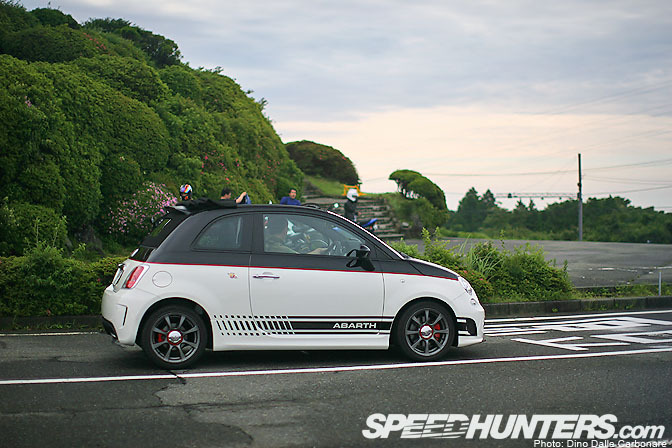 One little addition to our pack was this Fiat 500 Abarth, and if you look closely enough you will notice it's the cabriolet version with the sardine-can-like canvas roof.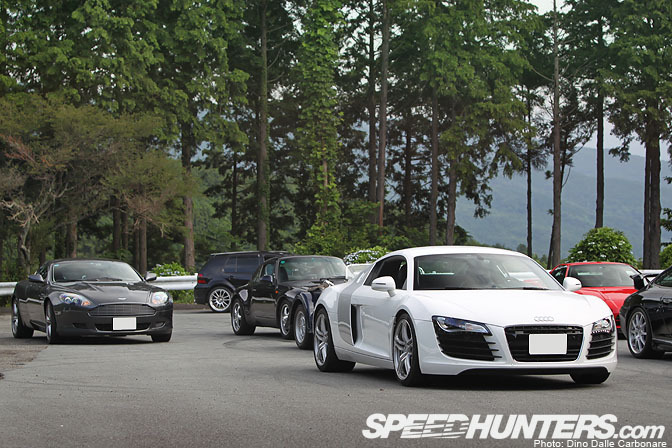 After enjoying the views at the top of the Turnpike, not to mention breathing in a few lungfuls of fresh mountain air, we headed back down to the biggest parking spot a few minutes drive up from the main tollgate. There we met up with the rest of the group, and some mouthwatering additions.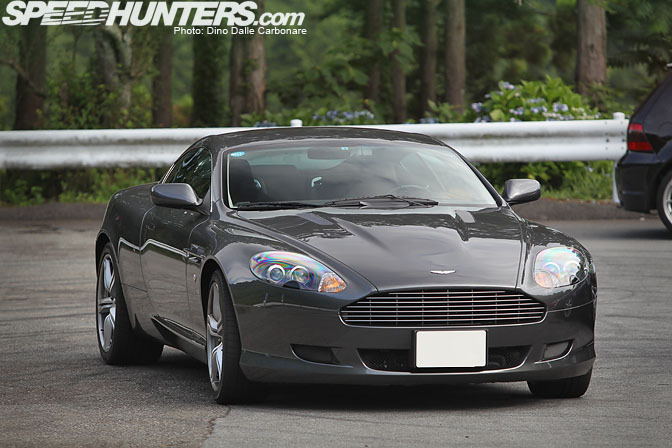 It's not often you see Aston Martins up on these roads. These beautifully styled luxurious GTs are usually found cruising around the high-end shopping areas of Tokyo, places like Azabu, Roppongi and Ginza.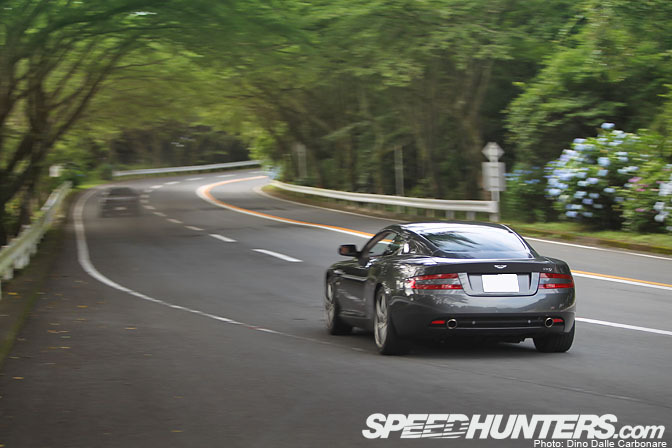 But the owner of this car was making that glorious V12 sing at full revs, giving the DB9 a well deserved thrashing.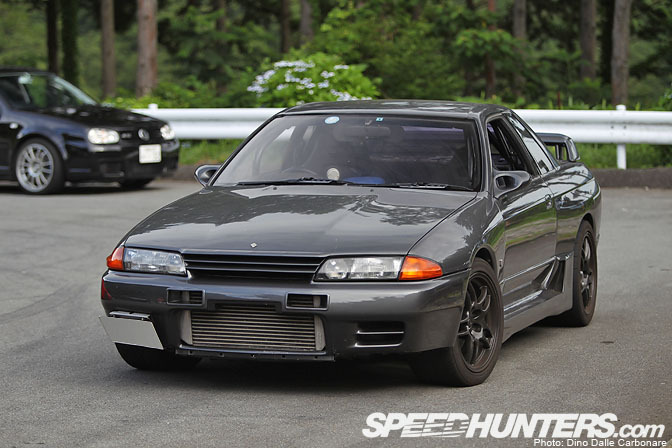 Alex, a regular at the GT-R meetings in Daikoku, dropped by with his mean looking BNR32, a car that since purchasing it he has slowly fine tuned into the beast it is today. HKS GT2530 turbos keep the RB26 revving through the gears and it was very hard to keep up with him on the faster sections of the mountain roads we were on. Alex is waiting for a new lip spoiler to arrive, which is why the front end seems to sit higher than usual.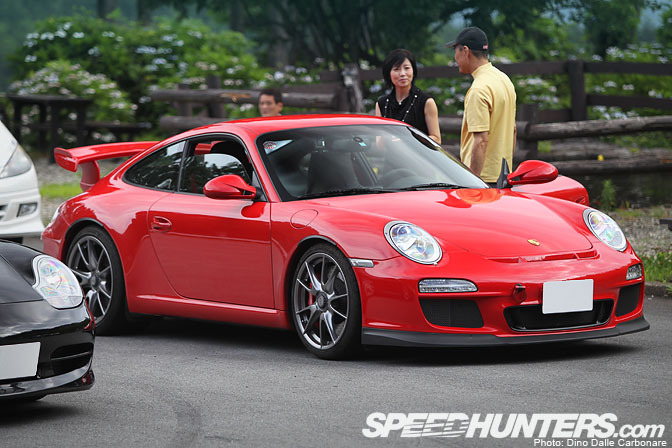 This is one car that really does it for me. There are very few modern cars that cater to the needs of someone looking for a simple and raw driving experience. The GT3 is one. This thing sounded sublime out in action…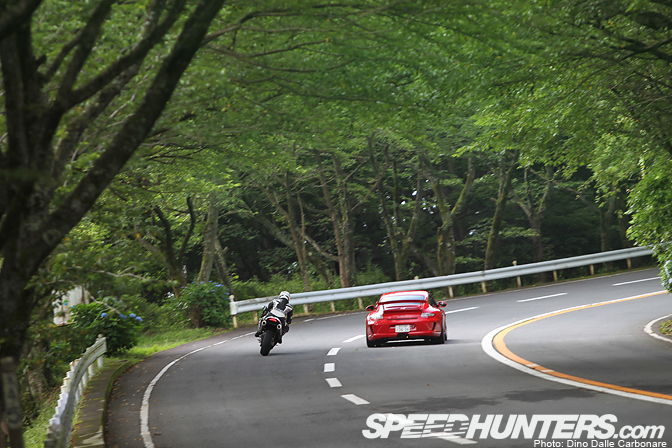 …although during this particular outing Miguel's barely silenced Honda VTR kind of hid the flat-6's roar.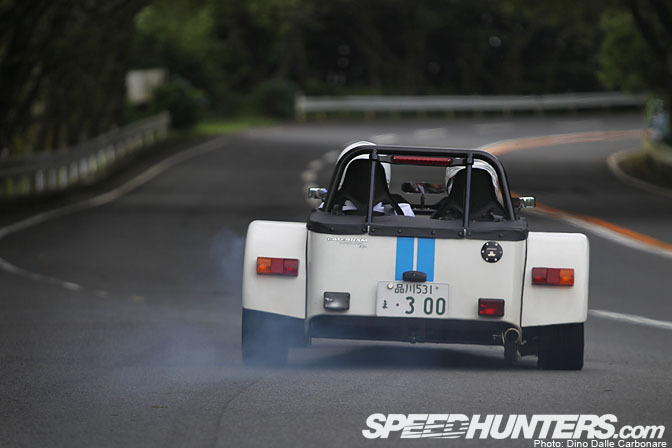 Tired of sweating in his full leathers Miguel took the R300 out for a quick test drive, and after a spirited drive, which included an open-diff, one-wheel burnout as he set off, came back pleasantly impressed at the lack of understeer and impressive grip.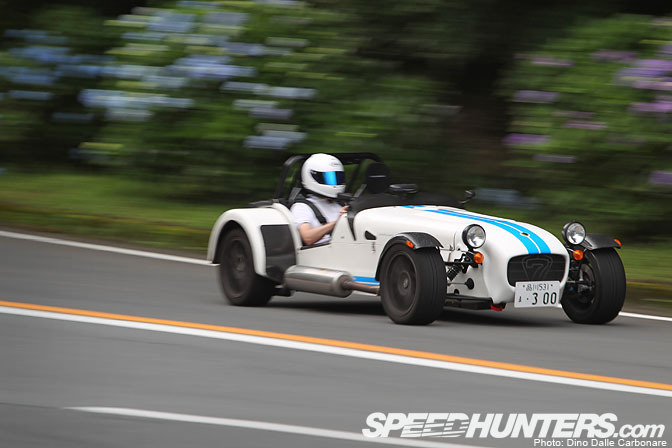 Look it's the Stig!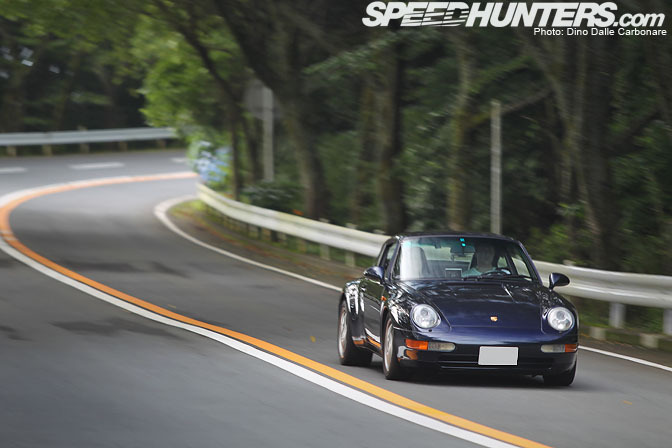 A third Porsche joined the group, this stock looking 993 Carrera 2, seen here as it came back down from the top of the pass back to our "base" at the parking spot.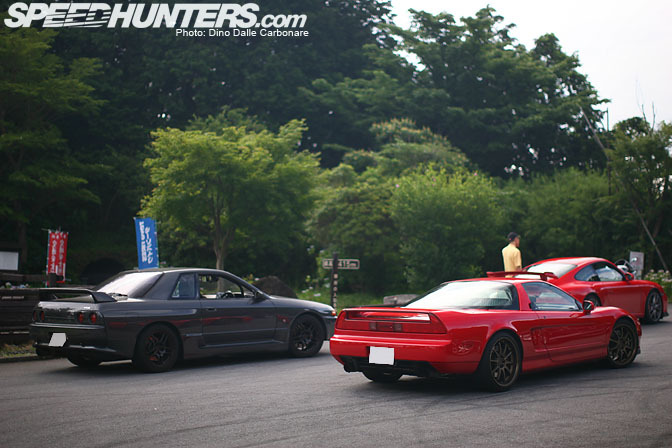 There was a definite lack of JDM presence so I was glad when I saw this extremely clean Acura NSX drop in on us. Aside from the wheel choice, which is absolutely perfect (of course I'm in no way biased here LOL), this Honda was churning out considerably more horsepower than stock thanks to the addition of a supercharger.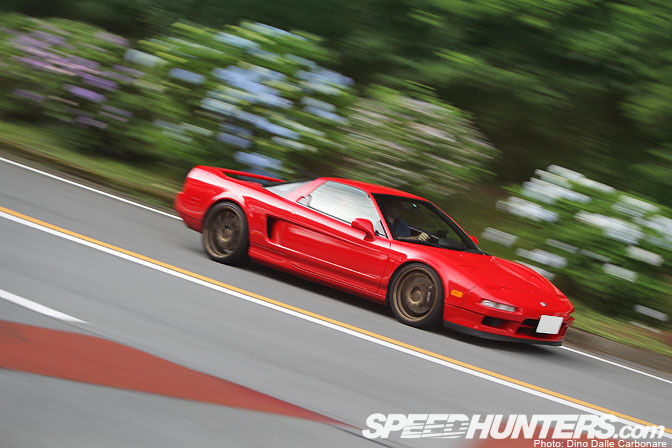 The sound this thing made as it took off was unlike anything I've ever heard coming from a Honda V6! Nothing like a bit of boost to add a hint of aggression to an exhaust note!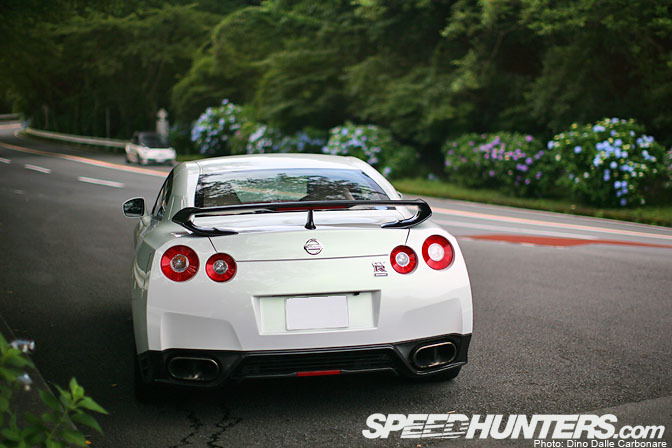 The rather imposing group of supercars that had accumulated by now grabbed the attention of a few motorists that drove by, one of which was behind the wheel of this very rare 2011 Nissan GT-R Egoist.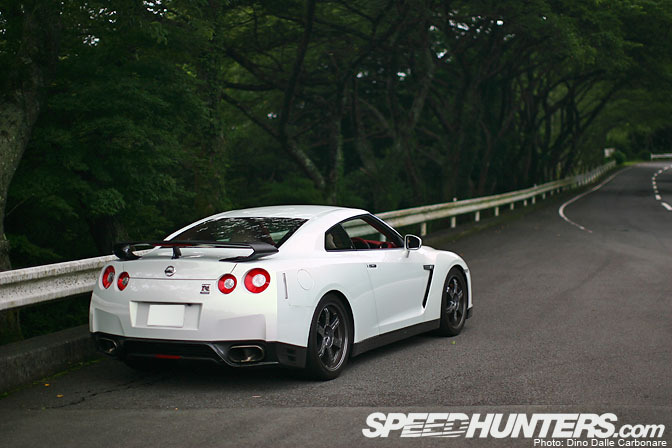 This is the most expensive R35 currently on sale and on top of the SpecV's rear carbon spoiler, lightweight Nismo wheels and titanium exhaust comes with a higher spec customizable interior. There was a lot of pink and red leather in there, a very interesting combination to say the least.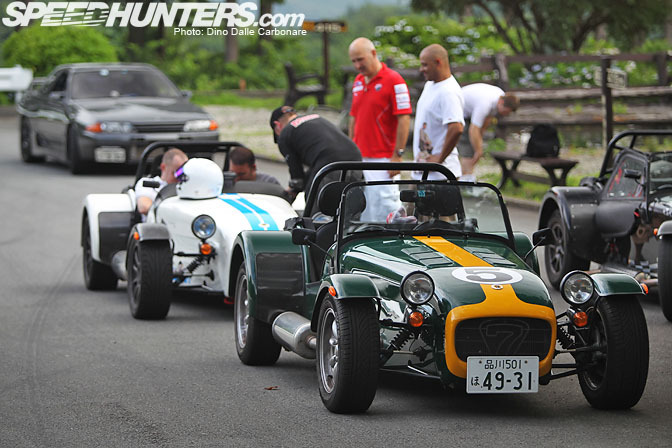 Everyone wanted to get a ride in the little Caterhams! Helmets are an almost obvious necessary requirement, especially in the windscreen-less R300.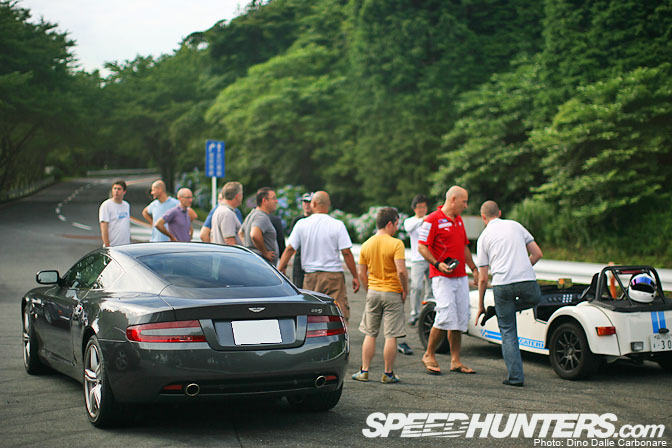 A great turnout to say the least.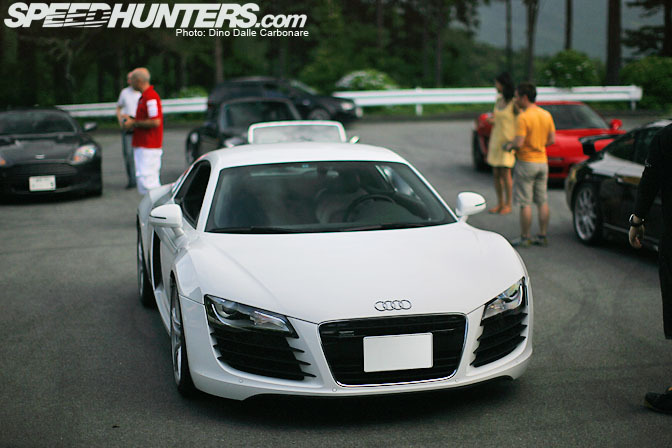 Seeing this Audi R8 there reminded me of the time I borrowed one from Audi for a week or so…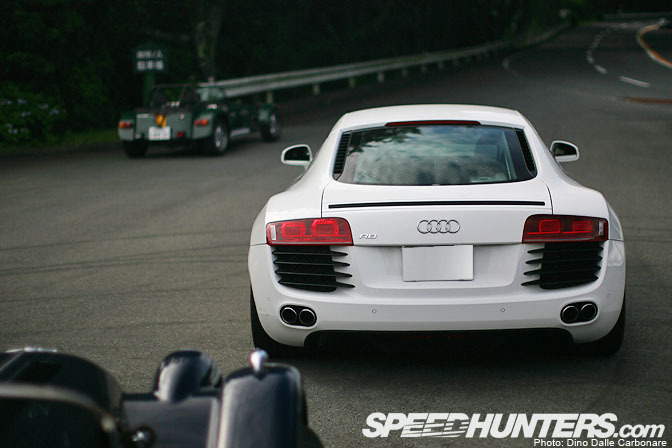 …I will never forget that refined, yet completely outrageous V8 powering this beast. A true supercar!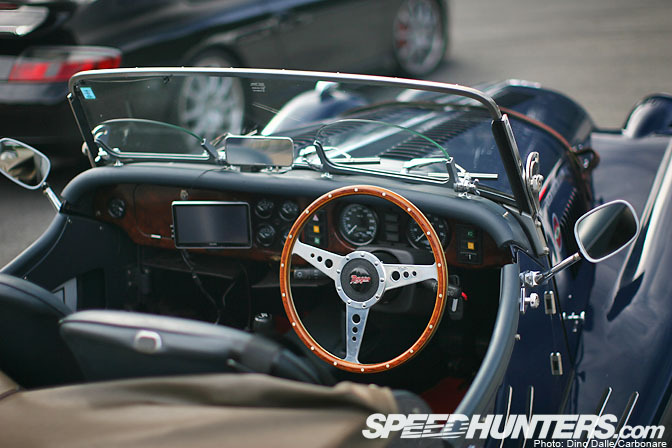 Can you make out what car this interior belongs to?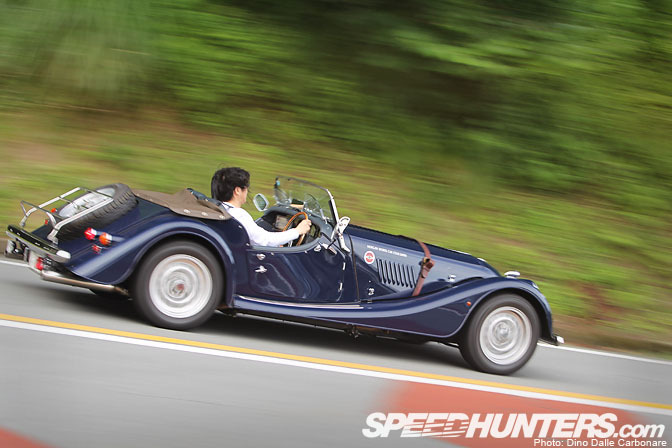 It can only be a Morgan! Again, like the Aston, it is not a car you often see on these roads but looked great out in action with the Rover V8 under the hood providing the unique soundtrack. Didn't seem to handle too badly either, especially for a car that rides on a chassis made out of ash wood!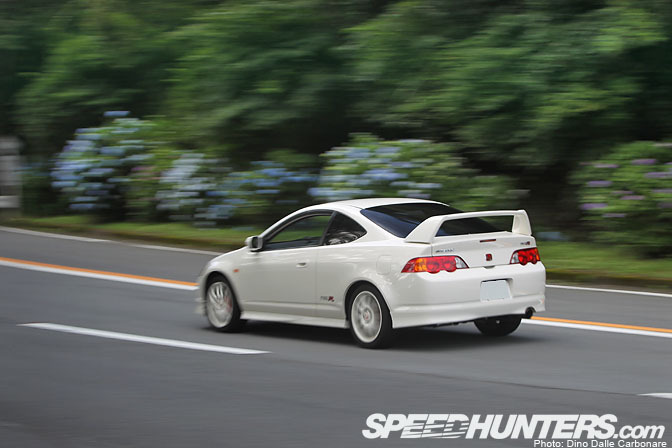 This DC5 Integra Type-R was a random sighting, blasting up the road as I was awaiting…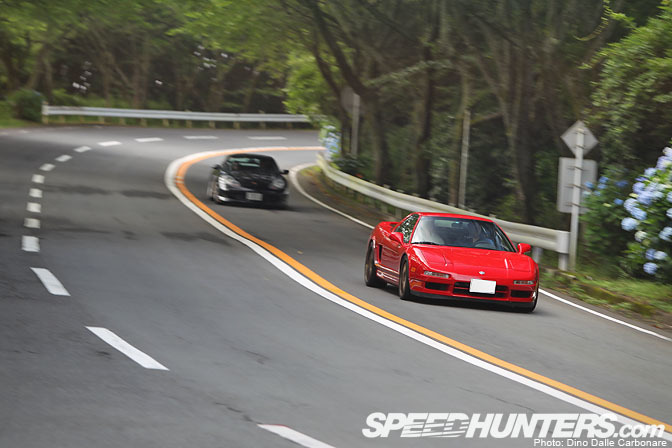 …for these two guys to shot past me.
Eventually we all moved on to other parts of the surrounding mountains and after shooting for far too long it was time for the camera to be securely deposited back into the camera bag, and for me to strap myself tightly down to the Caterham's driver's seat, helmet in place and right pedal flat to the floor. Needless to say I can't wait for the next escape from Tokyo!
-Dino Dalle Carbonare