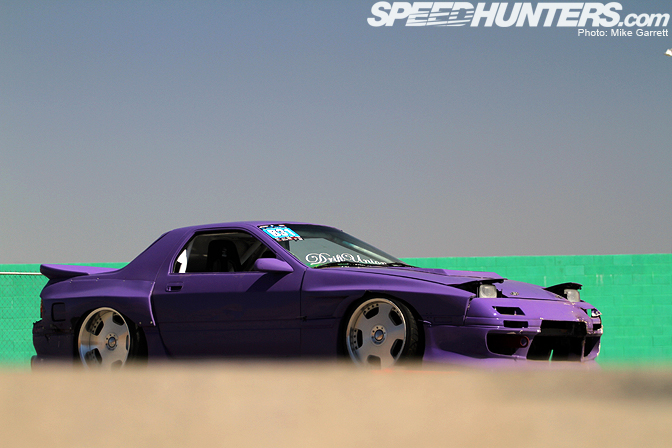 Earlier this month when I headed to Willow Springs for All Star Bash, I went to not only to check out one the best grassroots drift events in the world, but to meet up with the guys from Drift Union, who had loaded up their matching purple drift sleds and towed them from their home base British Columbia down to Southern California.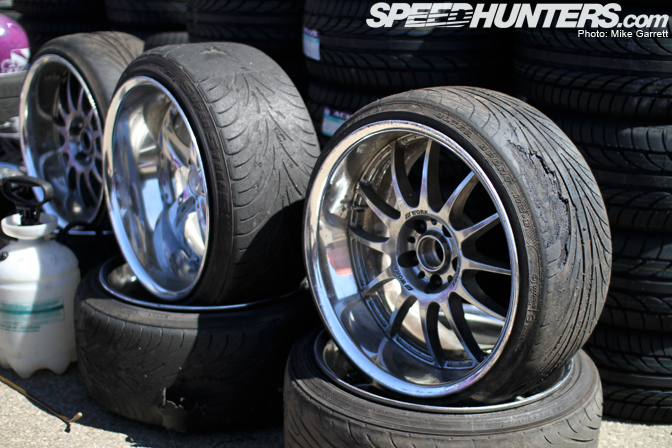 If you know All Star Bash then you know it's not about prize money or competition – it's about having fun. Logan, Shawn, and Steve made the 4,000 kilometer round trip for no reason other than to have fun sliding their cars around in the scorching desert heat. Dedication? These fellows have plenty of it.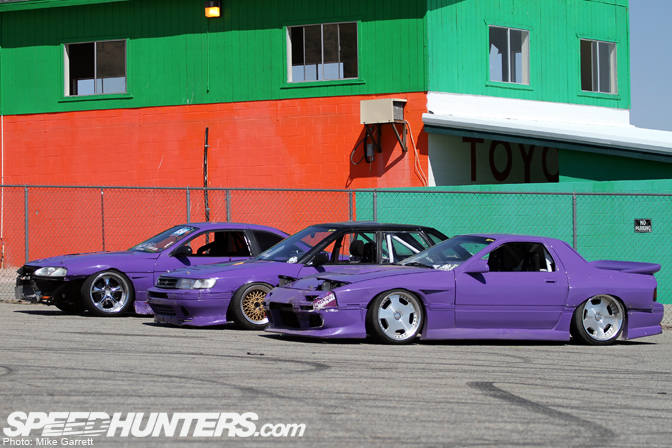 I shot features on all three of the Drift Union cars while at All Star Bash, and the first one we'll look at will be Shawn Browne's 1986 FC3S RX-7.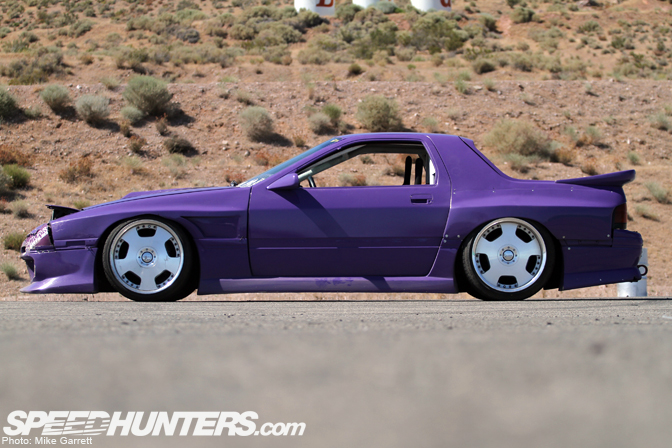 This is just one of many FCs that Shawn has owned. He originally grew up building Hot Rods and Stock Cars with his father, so moving to rotary engines was a challenge to say the least.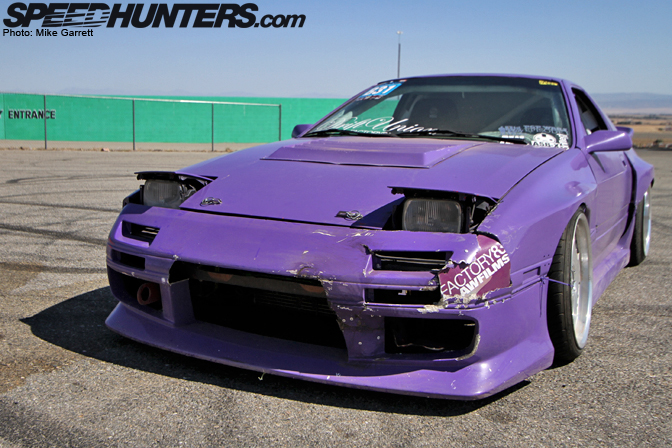 Shawn's FC oozes personality. It's flashy and rough at the same time – just as a proper grassroots drift car should be. The body is the first thing that grabs you, coated in signature Drift Union purple. When it comes to FC aero parts, you can do no better than Foresight – and this car puts the kit to great use.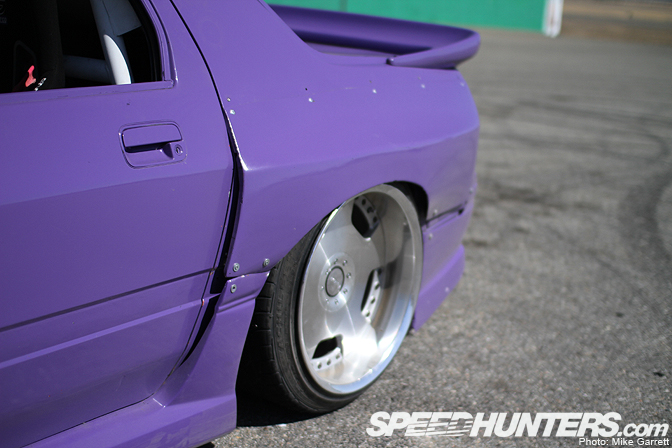 Up front you'll find a set of 30mm wide fenders, while in the rear 50mm overfenders have been widened to 90mm.
Out back, Shawn has removed the factory FC3S hatch for a windowless Limit Factory version. A Wangan style wing has also been thrown in the mix.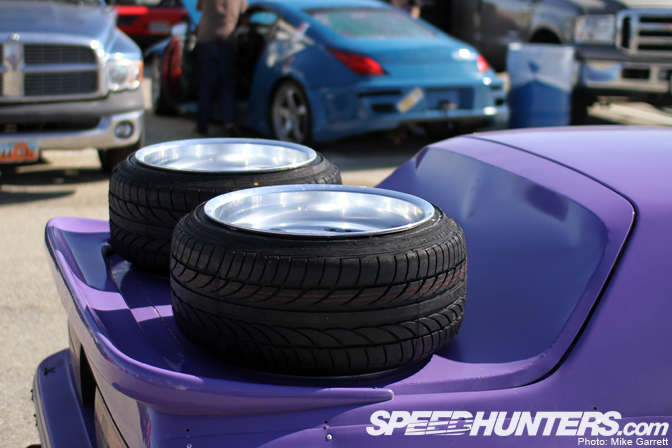 The Limit Factory hatch also makes a good place to haul wheels around the paddock…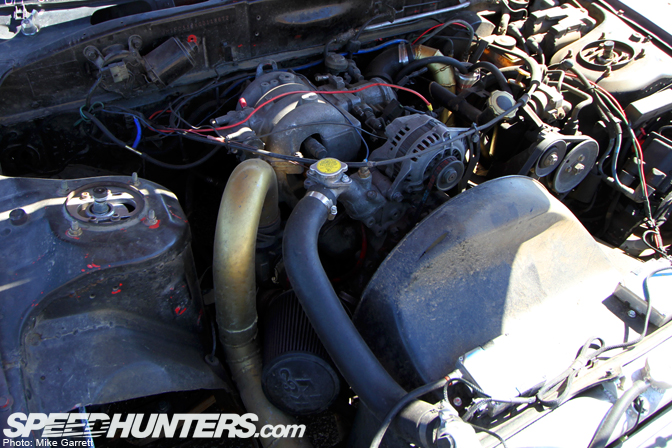 Under the hood, Shawn did away with the factory NA rotary for a streetported turboocharged 13B. It's all pretty basic here. There's a ported wastegate, and an S5 turbocharger and manifold. Boost is set to a modest 10psi through an AEM Tru Boost unit. Classic turbo rotary sounds are piped out through a three-inch exhaust.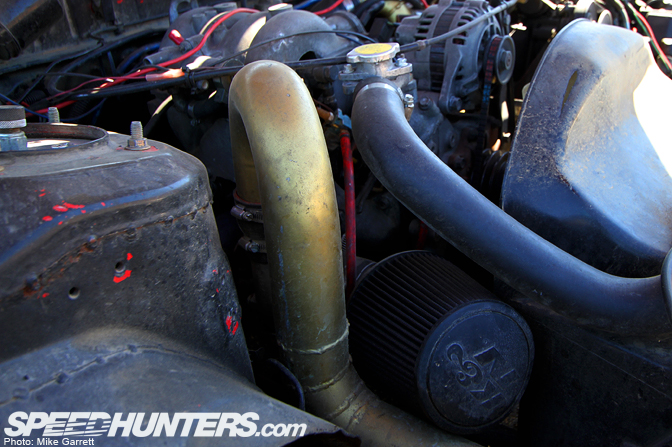 As it sits, the car puts down 210 horsepower to the wheels. It's more than enough to have fun, but more power is in the plans for next year.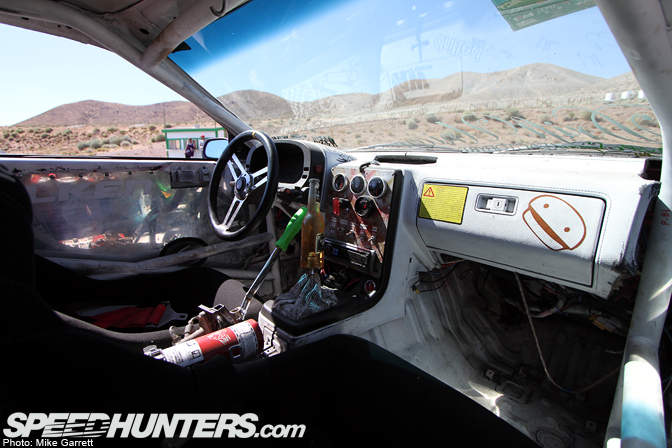 Things get even more fun in the cockpit. It's been fully gutted and a cage from Fortress Fab keeps Shawn safe while doing tandem with his Drift Union bros.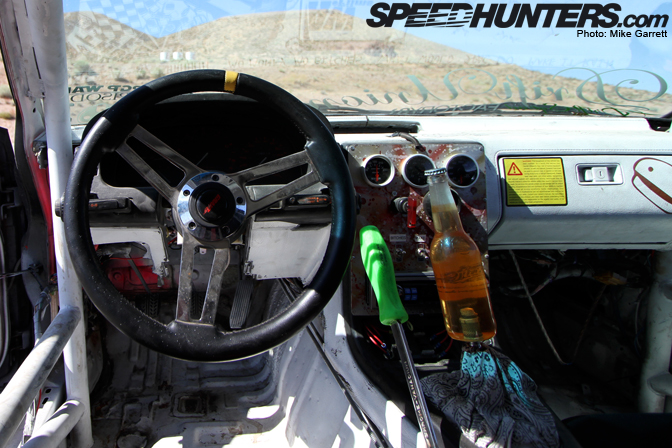 The view from Shawn's Sparco Sprint driver seat. That screwdriver handle is mounted to a hydraulic E-brake setup, and don't forget the head unit, which is hooked to a 10 inch subwoofer. Gotta have beat you know.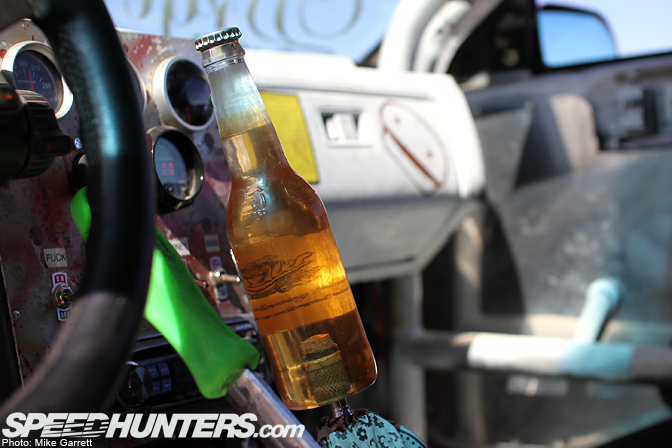 And then there's the gear shift. I've seen some pretty creative shift knobs in my day, but this one might just take the cake.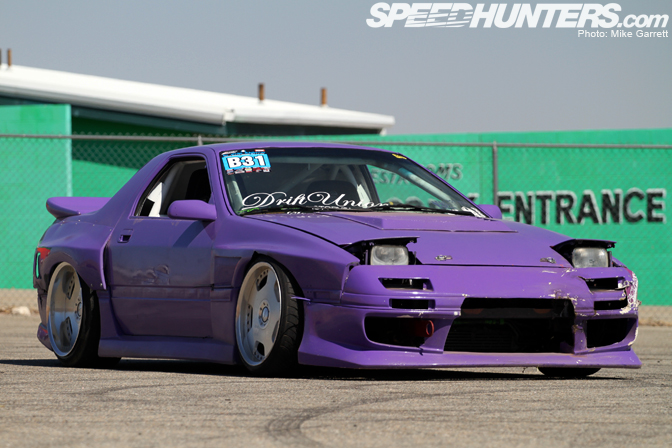 Suspension-wise, Shawn's equipped a set of Megan track coilovers, You'll also find Limit Factory anti-camber links, knuckles, and extended ball joints. The rear differential has been welded for max lockage. During the process of the build, he also stitch welded the whole chassis.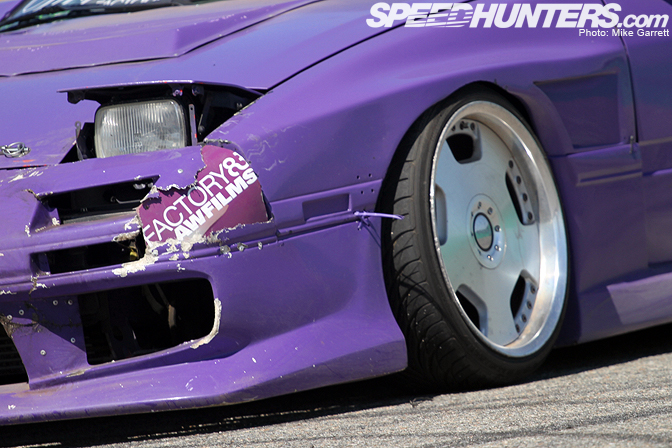 Work Eurolines are Shawn's wheel of choice. He has several of them, but typically runs 18x9J in the front and 18x10J or 11J in the rear.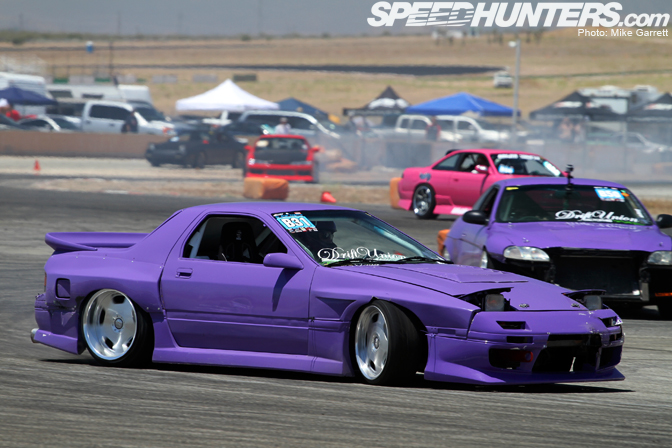 Out on the track, the FC3S looks and sounds awesome. It's low slung, wide, and loud.
It also helps that Shawn is quite adept at throwing the FC around, especially while in "unison" with his purple teammates.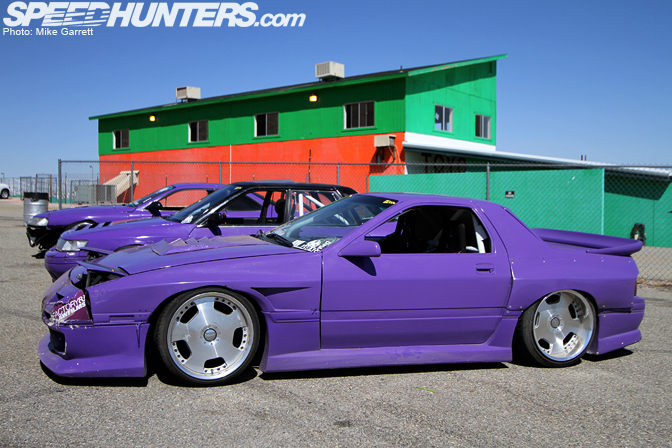 To me Shawn's FC embodies everything that's great about grassroots drift cars. It's fun, it's cool, and it works great its intended purpose.
If you dig this style, then you'll certainly want to stick around for our other Drift Union car features, which are coming in the very near future.
-Mike Garrett
Spec List
Car: 1986 Mazda RX-7
Interior:
RCI 5-point harness
Fully Gutted
Sparco Sprint 5 Seat
Grant 3 spoke top marker wheel
Hydraulic E-Brake
Fortress Fab Roll Cage
10" sub

Exterior:
30mm front fenders
50mm rear overs made to 90mm
Limit Factory hatch
Foresight Kit
Wangan wing
Engine/Drivetrain:
Turbo Motor/Trans swap
Street Ported Rotary
Ported Wastgate
S5 Turbo/Manifold
AEM Tru Boost (10 psi on boost B)
3" exhaust
Inovate LC-1
FCD
3" intake / with 3" ricer cone
All emissions removed
Center Force Clutch
walbro 255
Koyo Racing rad
Battery Kill Switch
Battery Relocated to back
JD catch can
Suspension & Chassis:
Full car stitch welded
Welded diff
Megan Track coilovers
Beefed up fiff mount
5 Lug/4 piston front brake swap
Limit Factory anti-camber links
Limit Factory knuckles
Limit Factory extended ball joints
Wheels:
Work Eurolines
F: 18×9 19 offset
R: 18×11 11 offset
R: 18×11 17 offset
R: 18×10 25 offset
Owner notes:
It's dope and awesome at the same time.