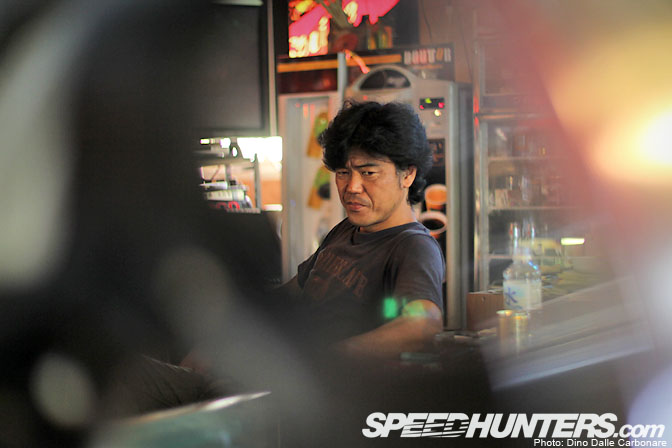 It's back at Rauh Welt now to continue the behind the scenes look at a workshop that has as much character as the cars that roll out of it. It seems style is something Nakai-san knows a thing or two about, he understands what tickles the senses, what creates an emotional response in people, even from those that aren't even necessarily car enthusiasts. This is obvious when you see the responses his cars get, just driving around in one of his Porsches and seeing how pedestrians, school kids, old ladies stop in their way to give a second look at that strange machine that has just rolled by. That is precisely what a work of art sets out to do, stir up emotions, make people reflect and make them think outside the box.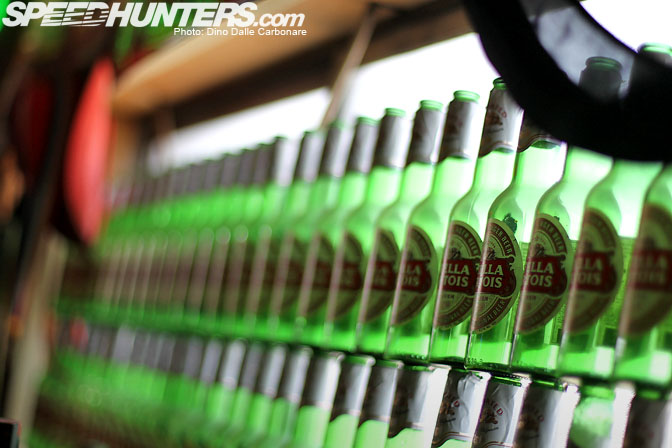 It's why over the years RWB cars have exploded in popularity, people always waiting to see what Nakai will come up with next, will he be able to go one up on his last masterpiece. As he always tells me, "ideas are always swirling around in my head," he lets them mature and evolve, fueled by his many influences…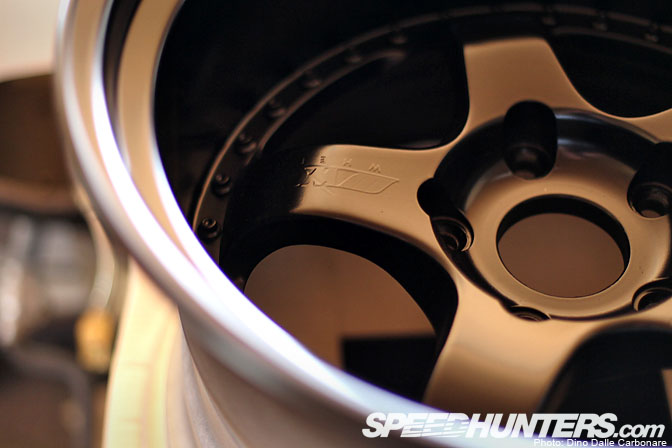 …be it music, or an old picture of a race car or something he has seen and experienced out in the world. There is no questioning the fact that he's an artist, an innovator, a trendsetter, a person that lives and breathes what he creates and seeing where he works, where his ideas materialize is always a pleasure.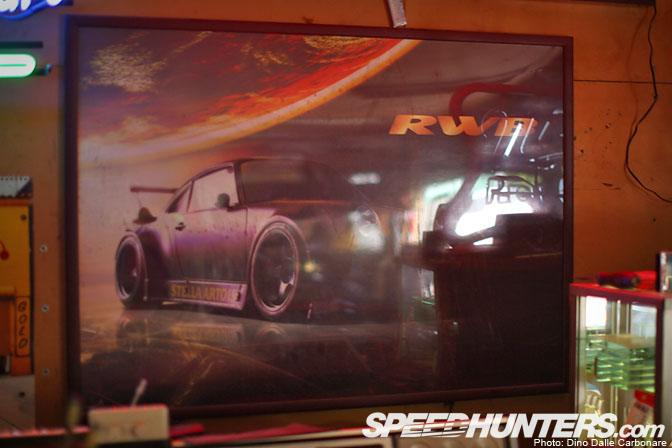 I've been to his shop quite a few times now, either to shoot or to have a chat with him when I'm in the vicinity and have spare time to drop by. I could spend hours in there just looking around and soaking in the atmosphere, you can somehow feel great things are born here. I love how everything looks cluttered at first, but as you take your time to look around it all makes sense, from the way the decor is laid out…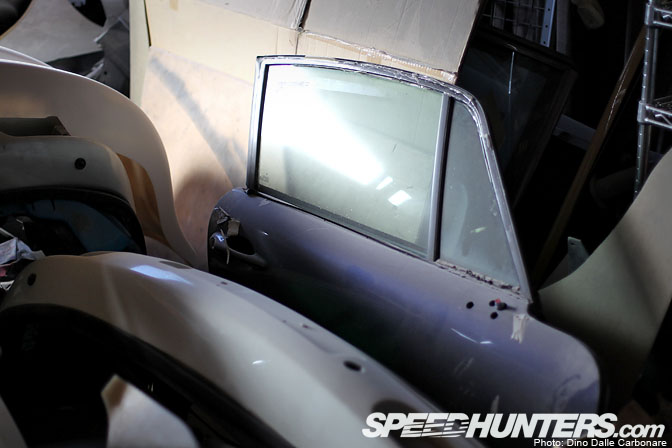 …to how the parts are stacked and stored. Everyone has their process and this is Nakai's way of doing things. There are an enormous number of spare parts sitting in the storage area next to the paint booth, from spare doors…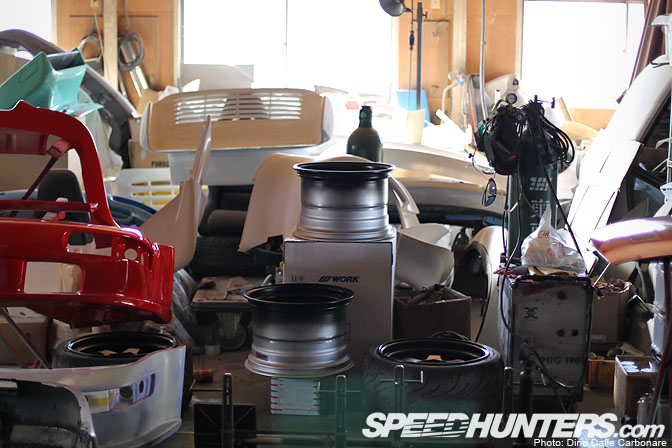 …to freshly painted wheels and body parts, soaking in the light that barely makes it through the few windows on the side of the building.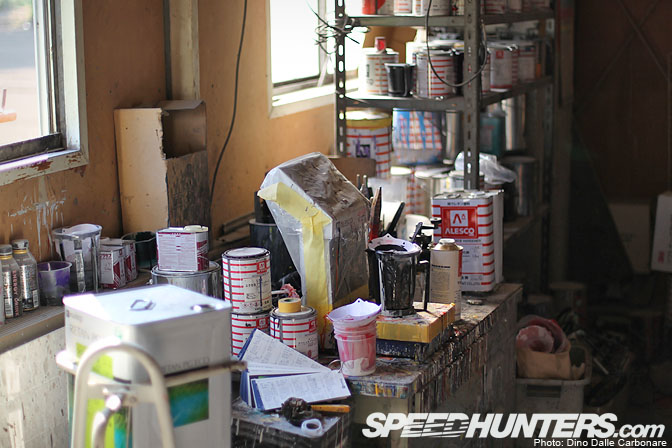 This is where Nojima comes up with those cool colors…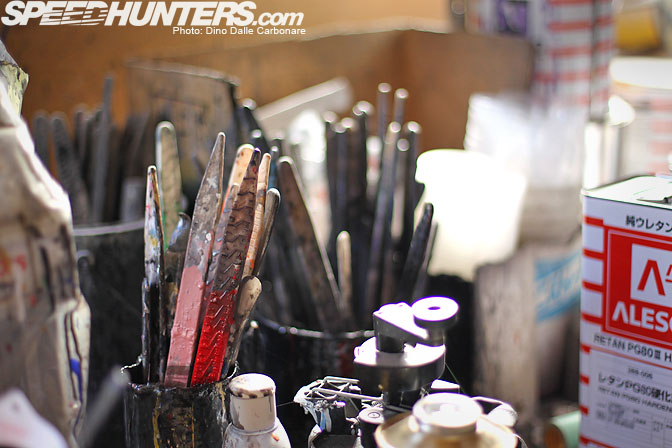 …where unique matte hues are mixed up and experimented with.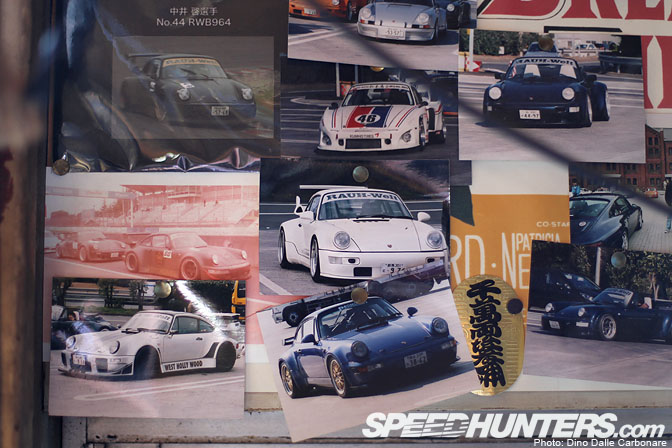 The walls are lined with pictures of customer cars, cars that have rolled out of the RWB shop and are now being enjoyed by those that like to be a little different from the norm.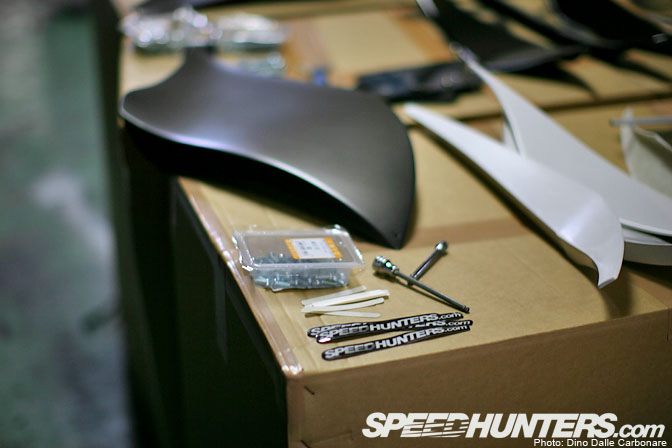 I gave all my last Speedhunters stickers to Nakai, I'm sure he will put them to good use on some of his upcoming cars.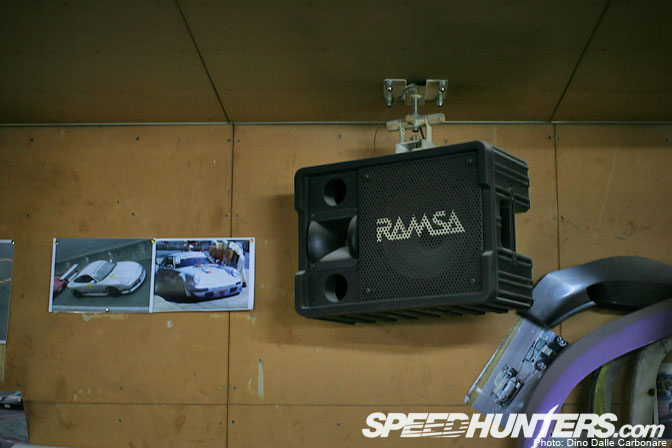 Here is one of the big Ramsa speakers that Nakai keeps well exercised on a daily basis.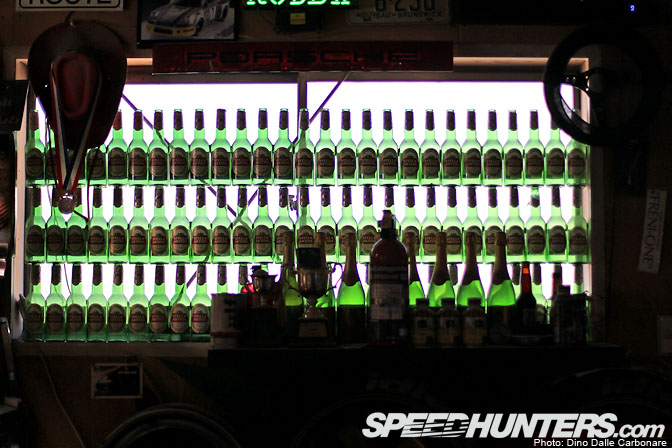 Ever wondered why his 930 is named Stella Artois? Simple, it's his favorite brand of beer!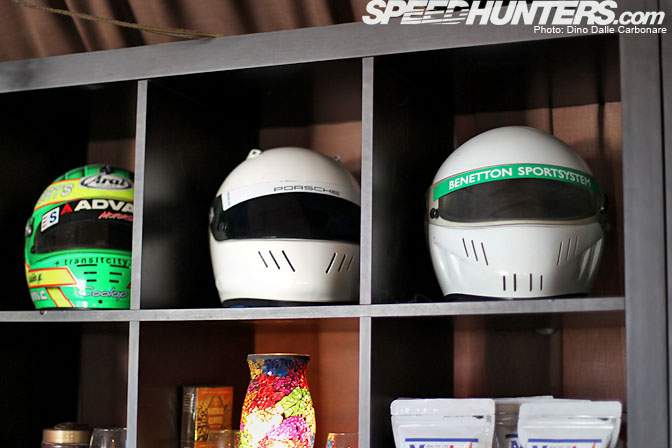 His helmet collection is pretty cool.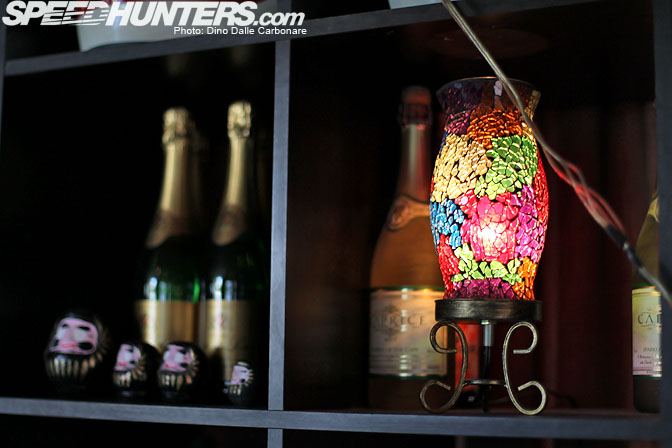 You won't find bright office lights at RWB, everything needs to blend in with the warm array of illumination that emanates from the various neon signs.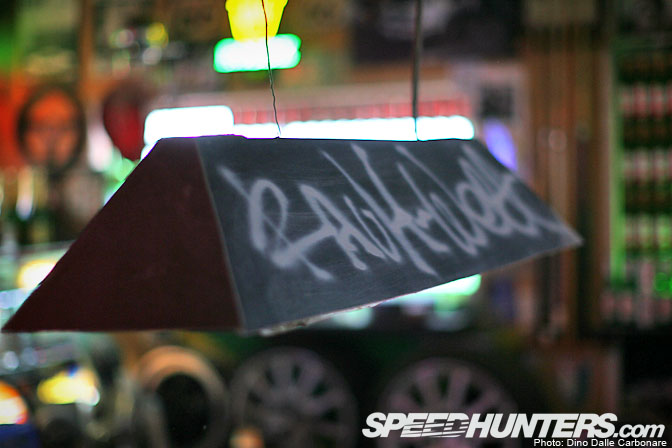 This used to illuminate the pool table before it evolved into a sort of office desk. Gotta love the Rauh Welt graffiti.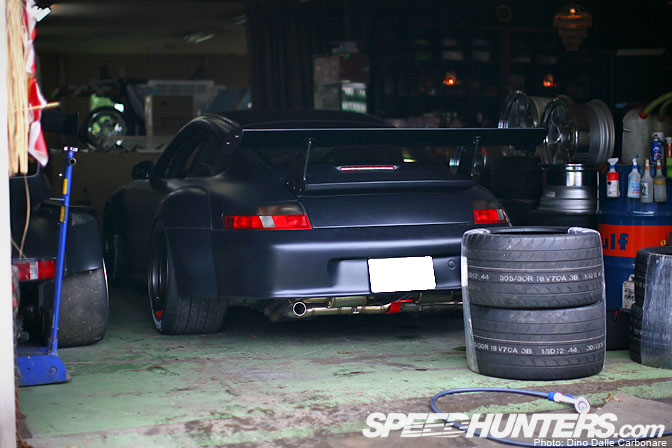 I noticed some of you spotted this 996 sitting in the garage in Part 1, but as Toshi pointed out this isn't actually one of Nakai's kits. If you look at the shape of the rear overfenders they are actually far too round and bulbous, not giving the right sort of flow to the car. But that is what the customer wanted I guess.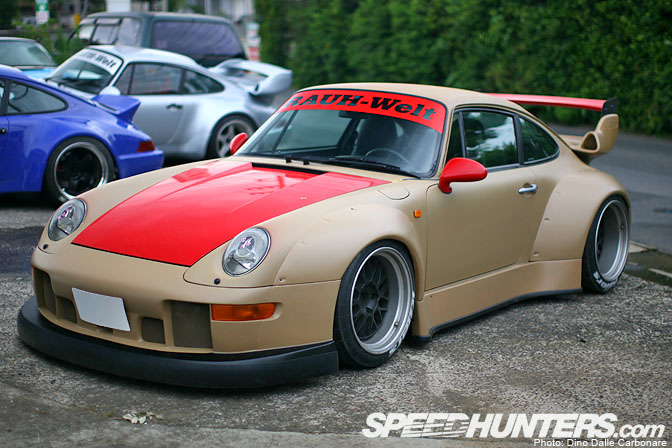 As I was grabbing this picture Nakai told be that by the time I post it this 993 is going to look different. I asked, "different in what way?" to which he replied "better!" Can't argue with that!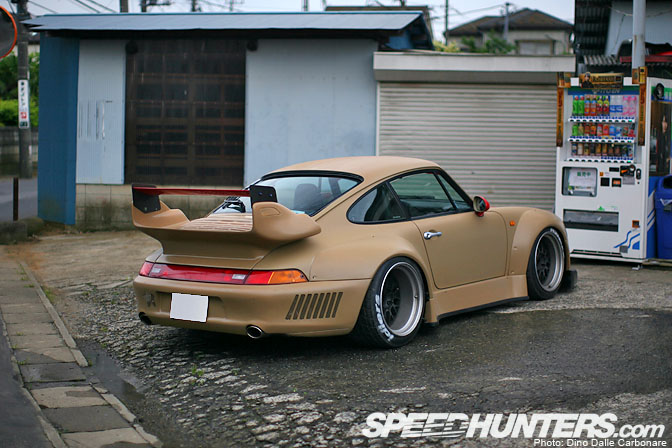 This is one of the many cars that will be participating in the idlers endurance race this weekend at Motegi.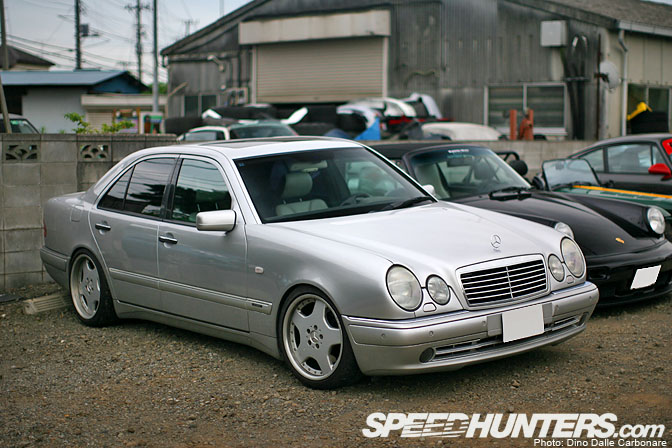 Nakai has recently replaced his old matte black Mercedes Benz SL for something a little more inconspicuous, this W210 E60 AMG. I somehow think it wont stay silver for long…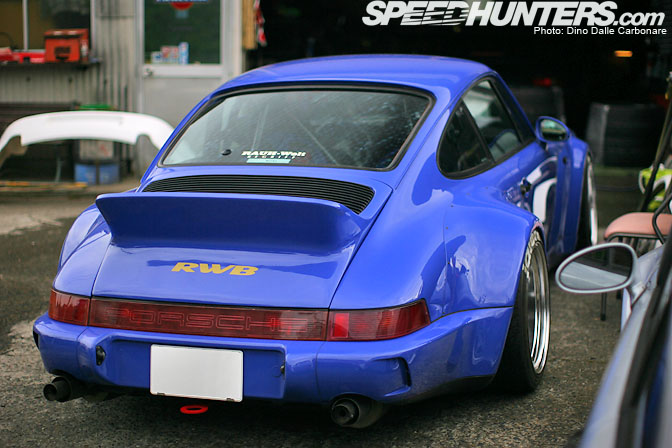 As cool as this blue 964 with RS-type ducktail spoiler was…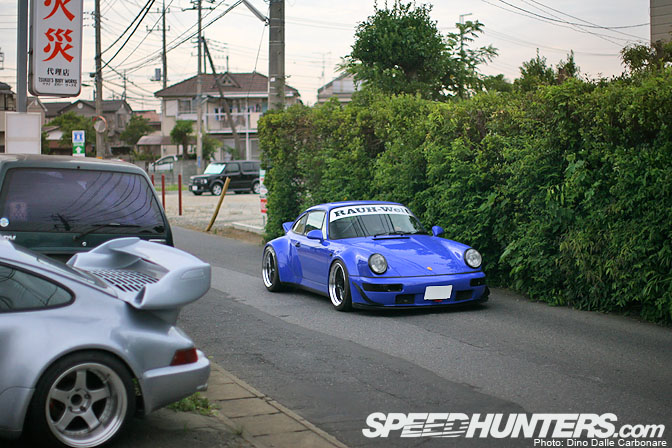 …I asked Nakai if he could move it out of the way to clear the front of the shop, so he reversed it down the road and parked it behind…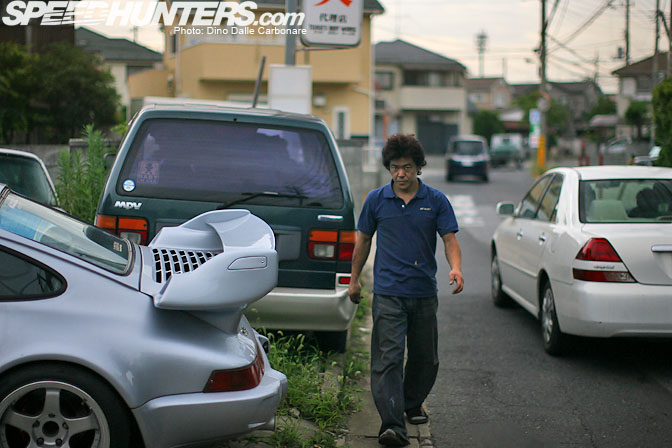 …so I could grab a few shots of the car I chose for my spotlight. More on this soon.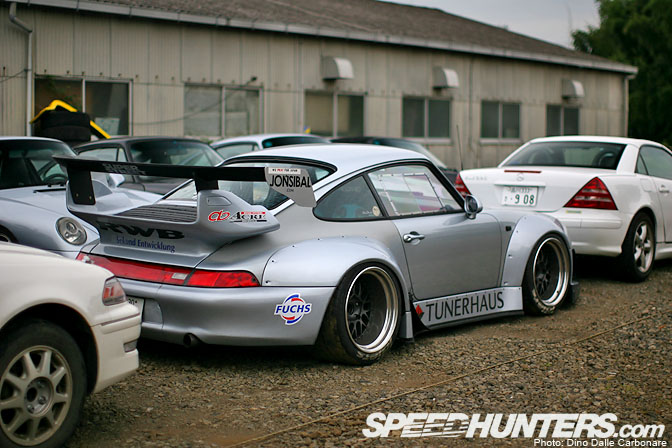 Round the back was the famous Tunerhaus…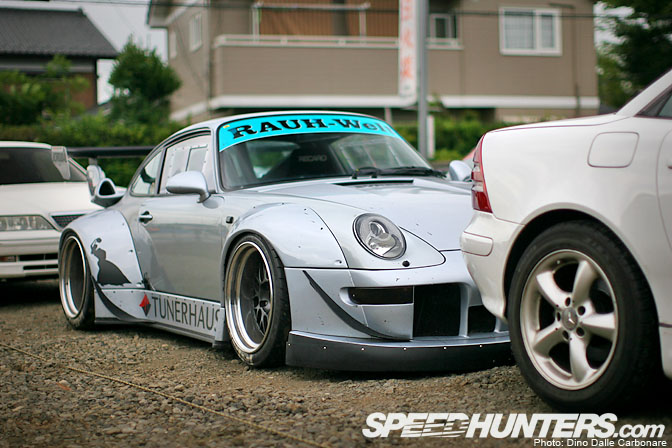 …sitting low on the gravel parking lot in all its wideass glory!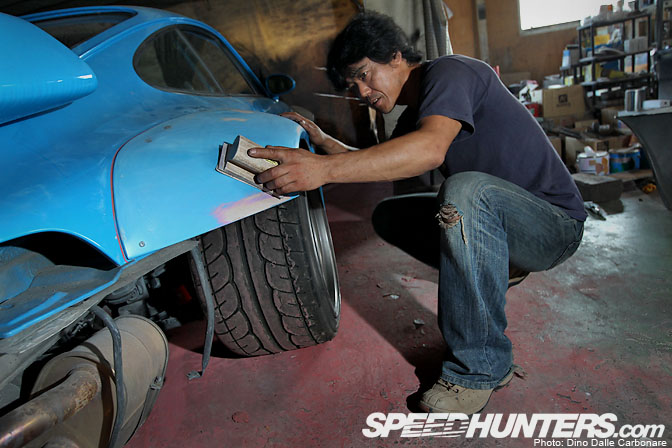 That's it from RWB, for now at least. I somehow think I won't be able to keep away for very long. So until next time, I hope you've enjoyed this glimpse into a very special workshop.
- Dino Dalle Carbonare