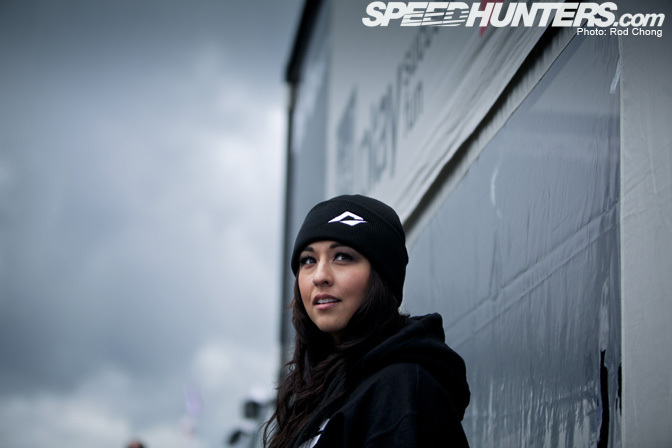 Guten tag!
At the end of last month, I experienced the race event of a lifetime.  I'll do my best not to bore you with details and sentimental meaning… but naturally, there will be some dorkiness (disclaimer). As I sort through photos and footage, I'm reminded of just how lucky I am.  To have had the chance to go overseas and record this experience (with the coolest crew ever) was a blessing.  I'm incredibly thankful. There are some memories that are simply not meant to be kept to oneself.
So, with that said, come with me as I take you through my journey with Speedhunters and Team Need for Speed at the 24H of Nürburgring in Germany.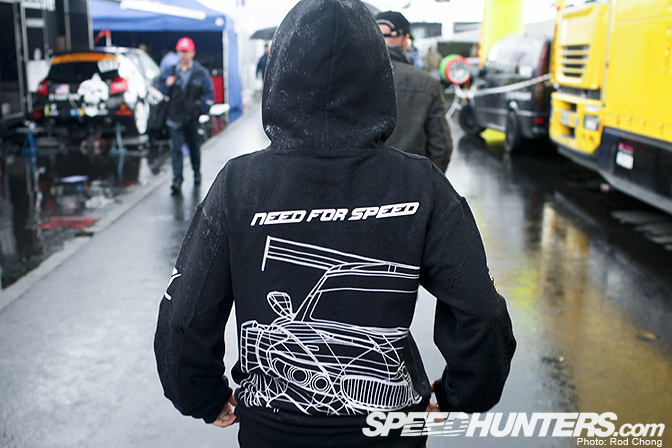 From the hotel to track, paddock to pits, stands and beyond…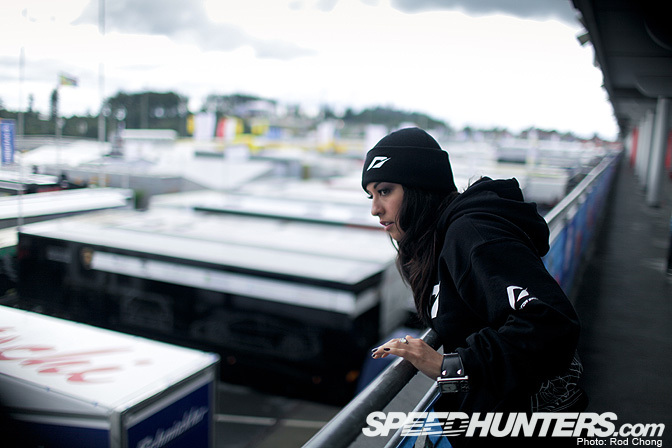 …I'll share everything I can remember.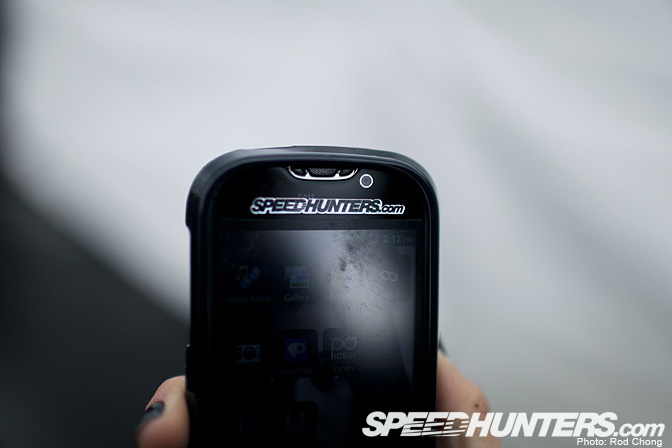 In the weeks and days prior to the race, I did my best to soak up as much info as I could about the track, the event and the country.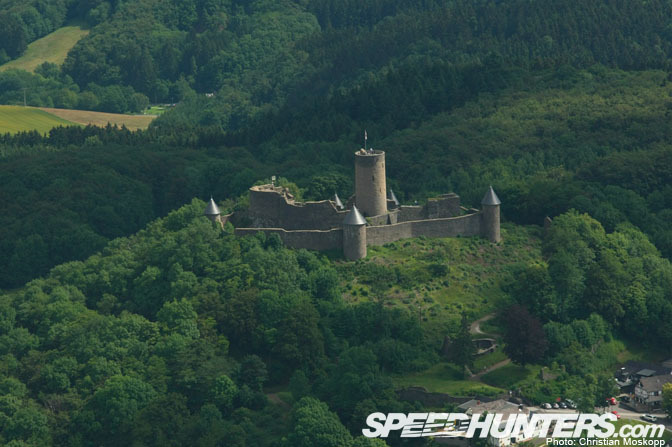 Yet, (as is most often the case) no amount of reading could fully prepare me for the senses overload that I'd experience during those four short (yet, long) days on my first European adventure… into the Eifel mountains and around the historic track of Nürburgring Nordschleife.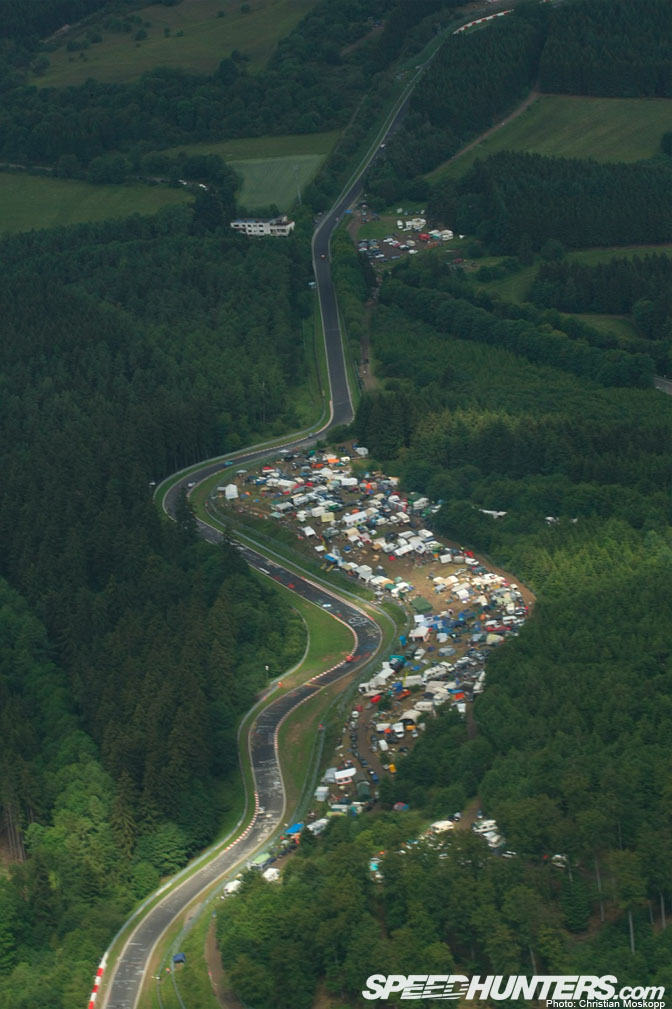 I can see why this track is lovingly nicknamed The Green Hell.  It goes on for miles and miles on end.
Paddy had traveled much of it the day before (total trooper) and found the coolest spots.  Over breakfast, he told me about the all the fun stuff that goes on at Nürburgring!  He, Rod and I headed out to the track bright and early Friday morning.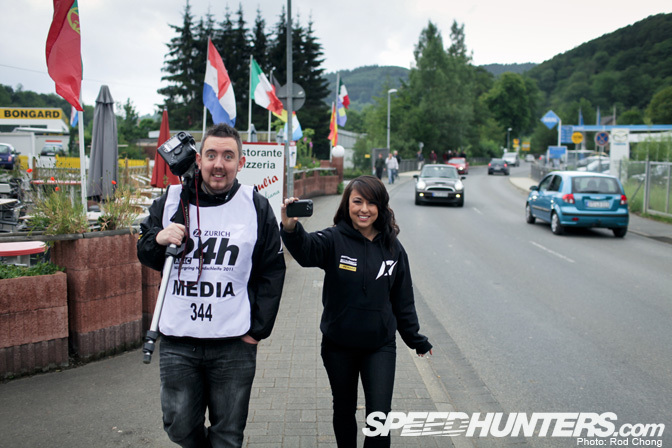 I was excited for for the kind fun stuff I'd see.  Reading about Nürburgring was one thing but being there, was just……. WOW.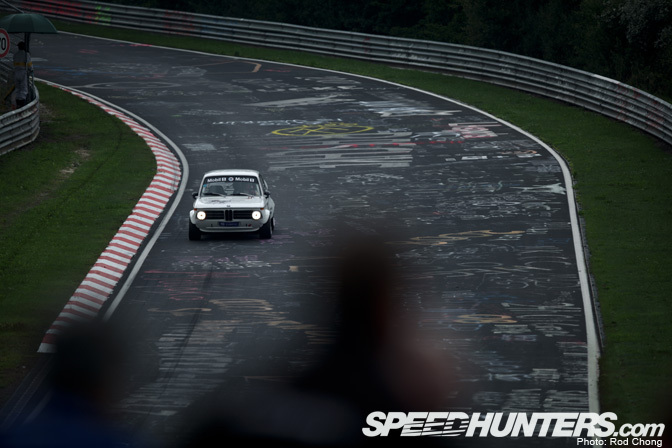 I learned about the tradition for people to swarm the track after qualifying, equipped with paint and the necessary items to leave graffiti art and random tags.  Not only is Nürburgring used as a test track and location for world famous race events… it is also a 14 mile canvas.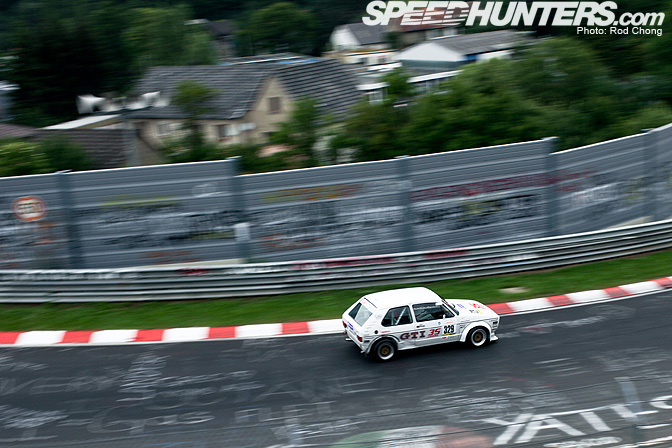 But it was the cars that caught my eye.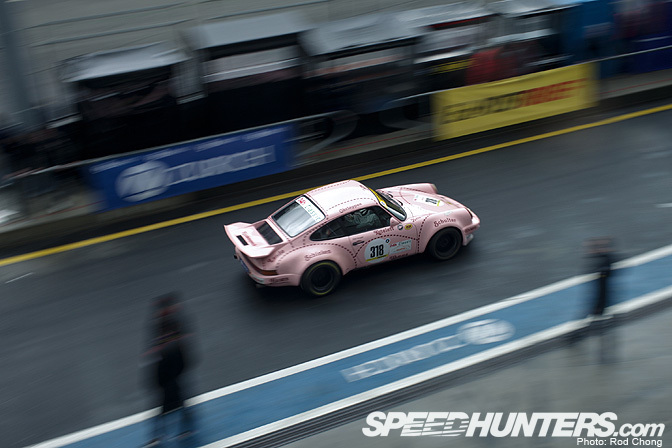 My dad would have loved to be here.  Growing up, I remembered him and I making model cars.  Porsche was always his favorite and later became mine.  I was elated to see all of the different cars racing.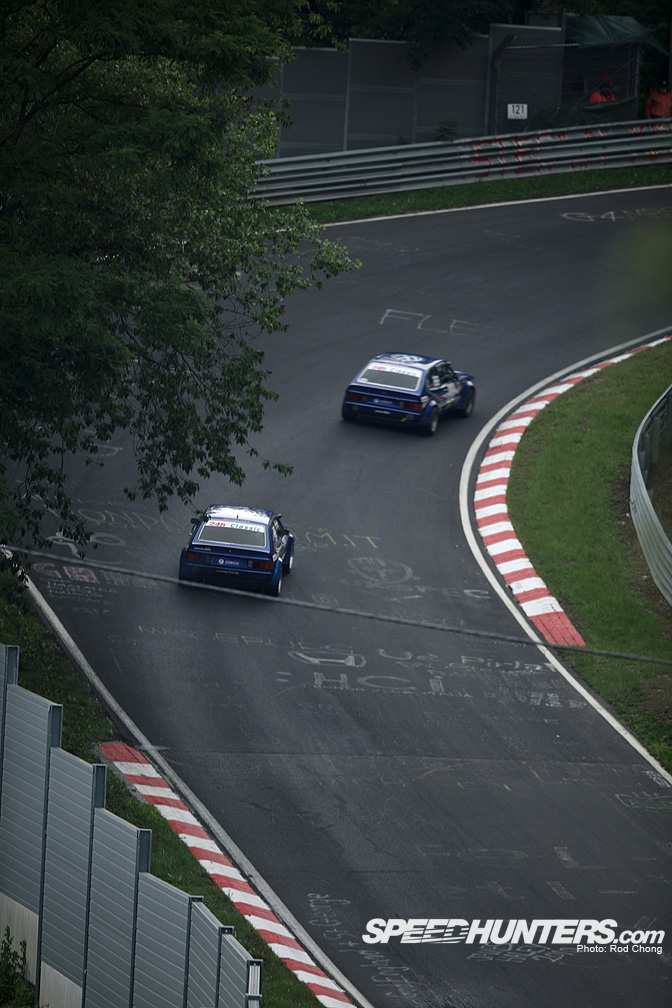 This made for a great location for shots of the cars as they passed by this portion of the track. Check out the two Mk1 Sciroccos!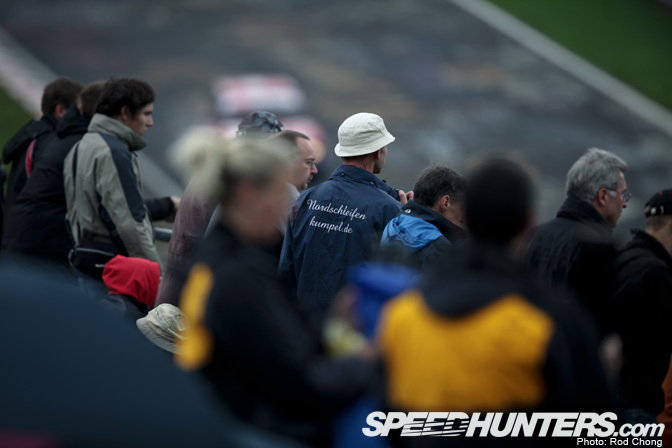 Qualifying for the 24H Classic had already begun andd people lined up along the fence for a good view.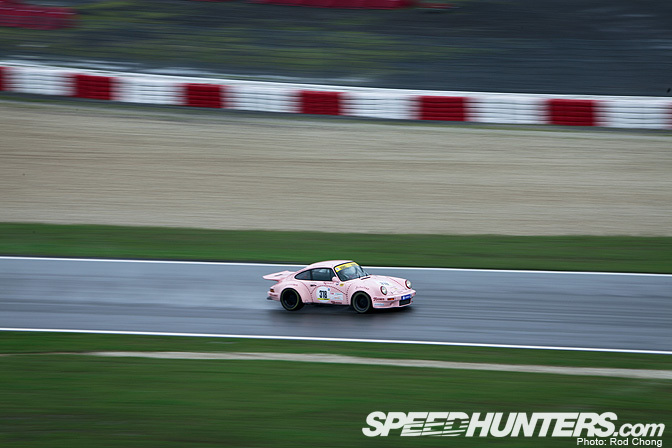 I followed suit and jumped in to catch some videos on my handy dandy camera phone.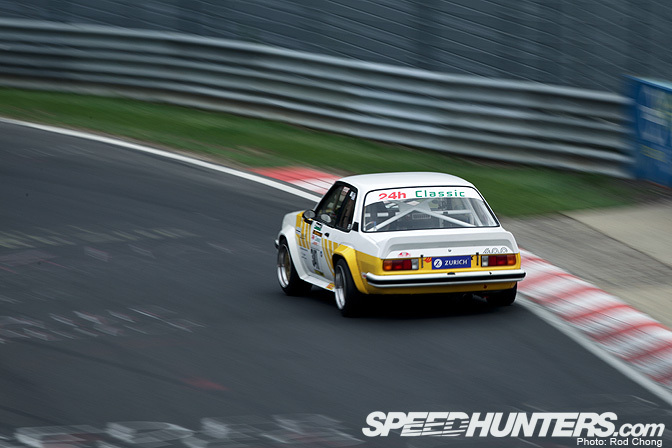 Many were basically glorified classic street cars but impressive, nonetheless.  People put a lot of time and energy into these cars and some were downright drool-worthy.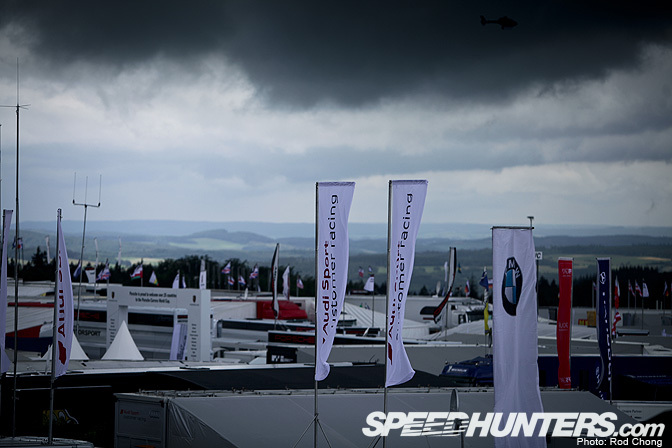 I think Mother Nature was feeling a bit bi-polar this particular weekend.  The rain seemed to come and go, in downpours, and started to come down like a monsoon just as we left and headed to the NFS VIP lounge.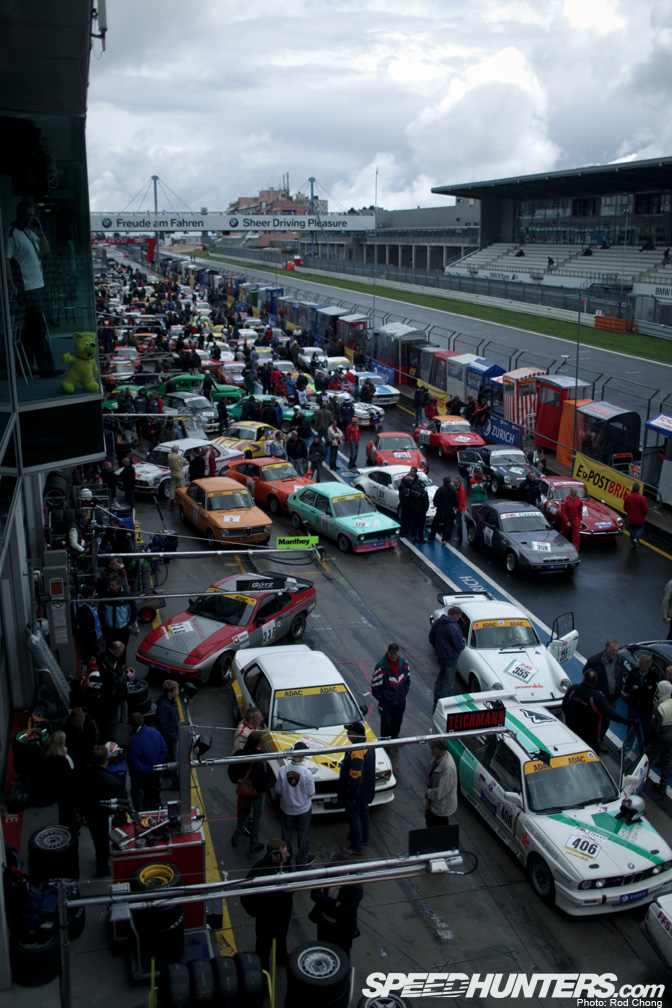 Qualifying paused for a bit due to excessive rain, but soon the session resumed and I was ready to check out more Nürburgring action!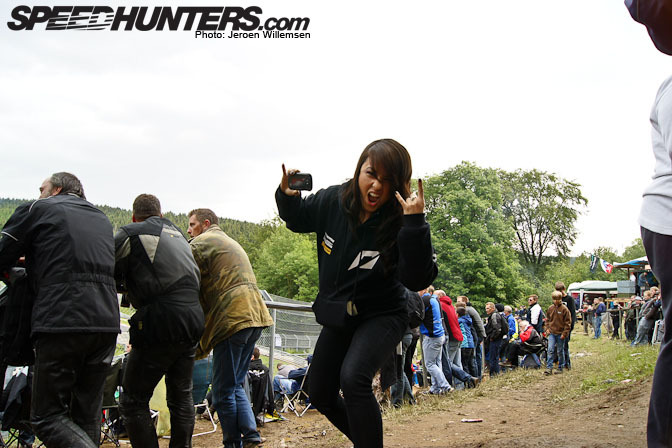 I was already hyped up by everthing I had heard.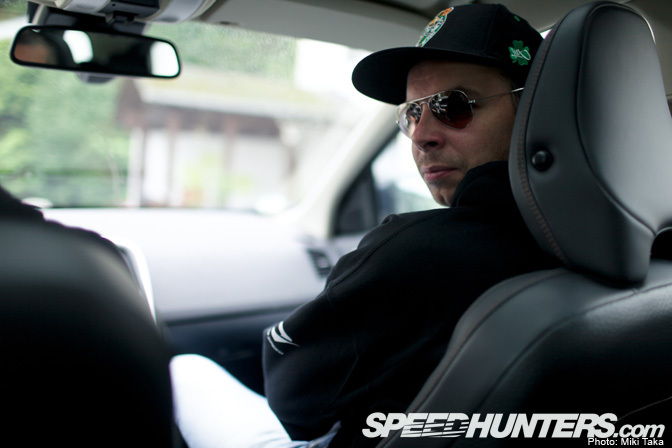 So, later in the day, I set foot with Jeroen for a grand tour of the track and a few different campsites in the surrounding areas.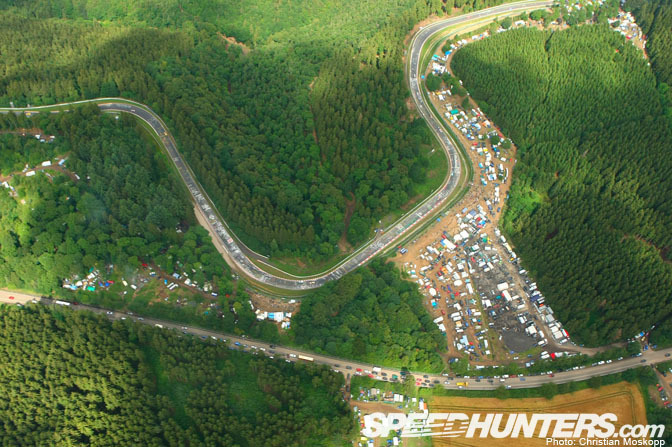 Here is an aerial view of the section of the track where we went.  First we hit up the camping area on the left in the woods and then the parking lot on the right.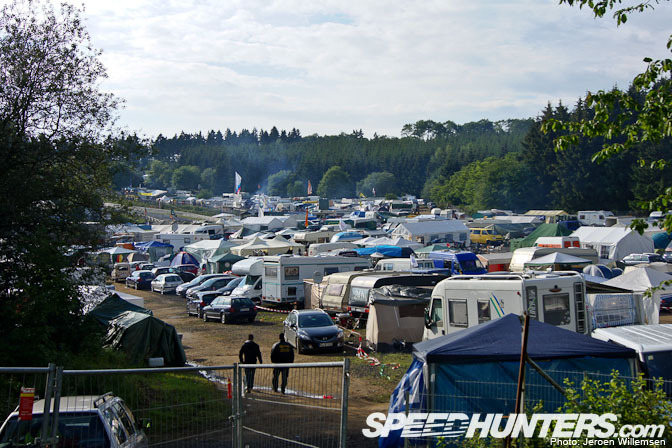 Entering the camp-site, I immediately knew that the people here like to party.  (Keep in mind this is just from Friday.  It was PACKED and the official 24H race wouldn't even start until Saturday.)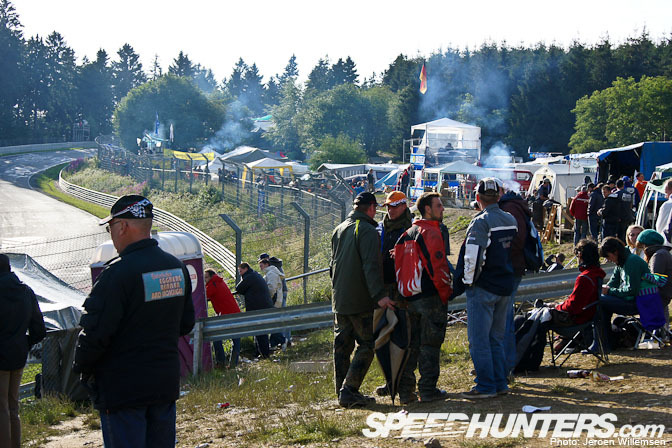 Generators were hooked up to sound systems that blasted music for everyone.  People had full blown camp set-up's, including bars and DJ booths.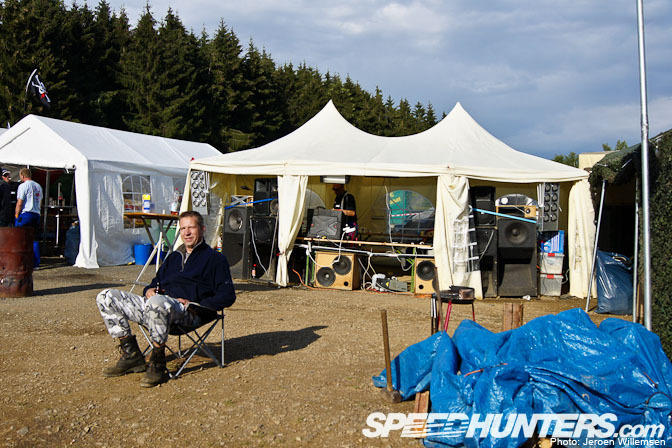 I made my way over to any DJ for a high-five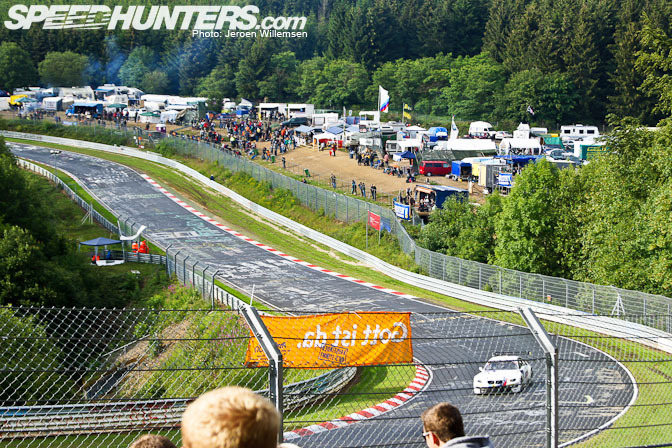 The view from this area was actually pretty good, too!  Here is a shot of the corner where (on a regular day) you might catch Sabine Schmitz (A.K.A. Queen of the Nürburgring) drifting the "ring taxi" factory BMW M5. 
There were lots of random, festive cars.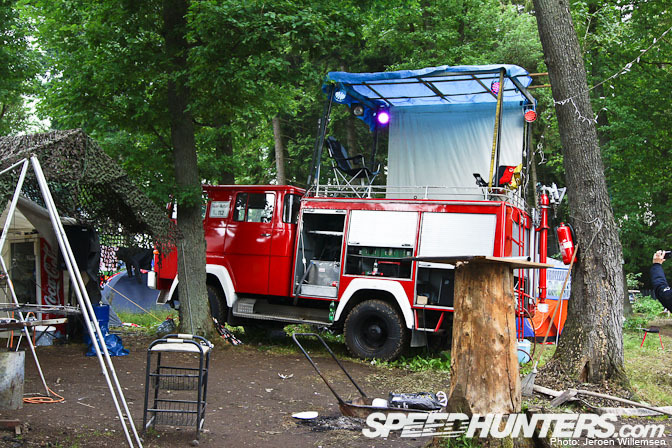 Like, this fire truck.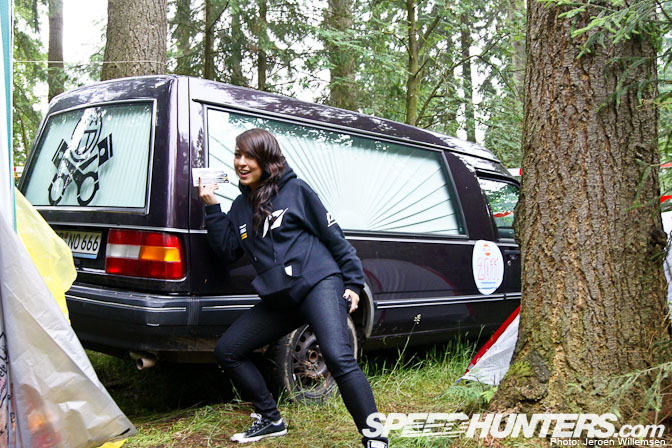 …and this hearse.  (Check out the license plate.)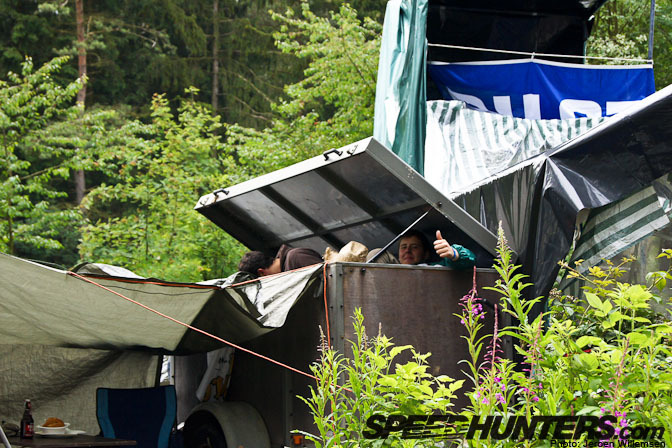 There were (trashy) bunkers…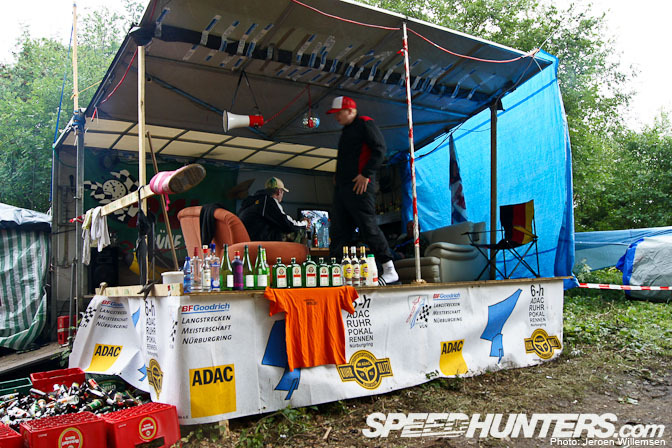 …and outdoor living rooms.  These guys went so far as to set up a satellite dish so they could watch the race on TV, from the comfort their home.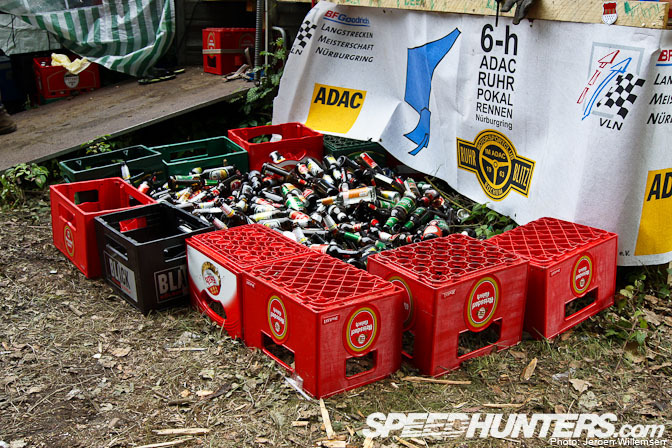 They also had an impressive collection of empty beer bottles, which were disposed of neatly.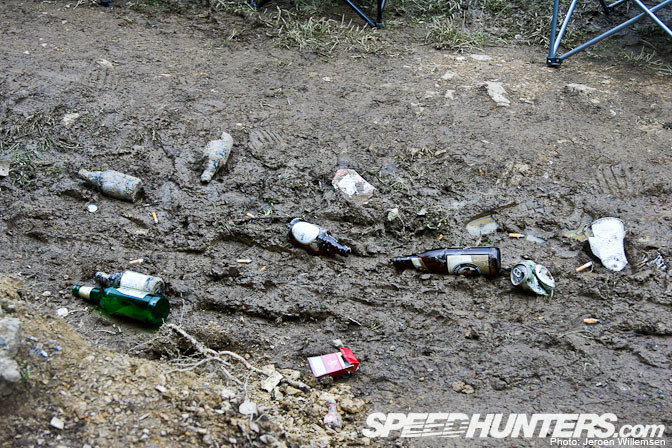 Some others weren't as considerate.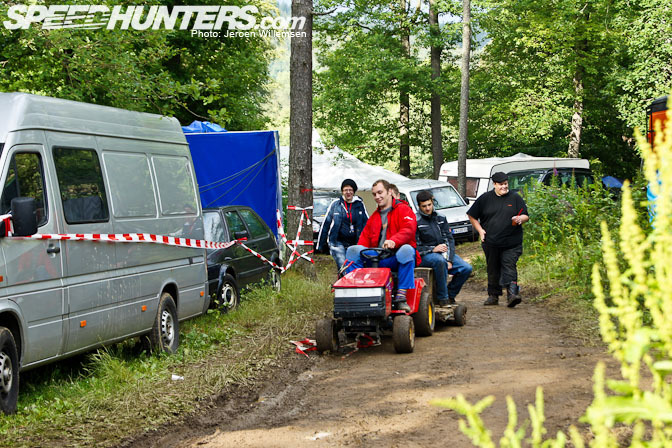 (Drunk) driving a lawnmower through the muddy trails was a clever idea.  It was hilarious to watch these guys go 1mph, swaying from side-to-side.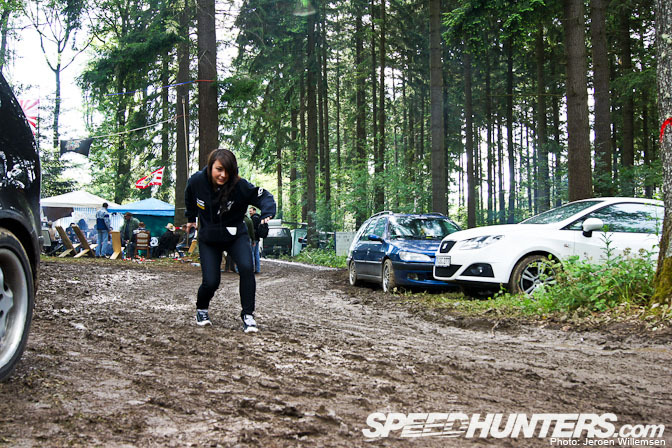 I tip-toed carefully through the muddy paths in an effort to keep my shoes clean.  It was a futile attempt, however, as I was generally unsuccessful.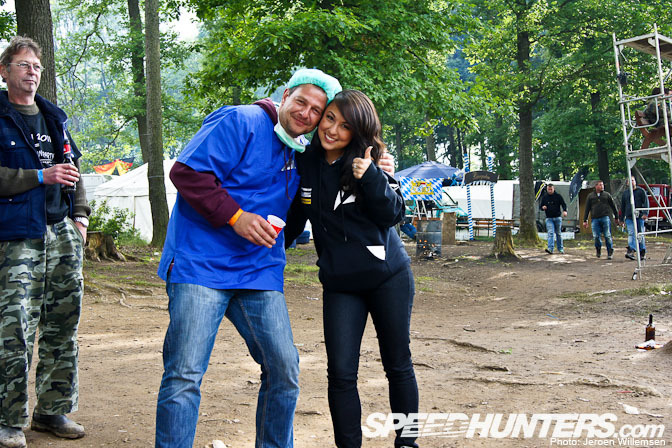 I wore my dirty chucks proudly and continued to wander around to make friends with just about everyone…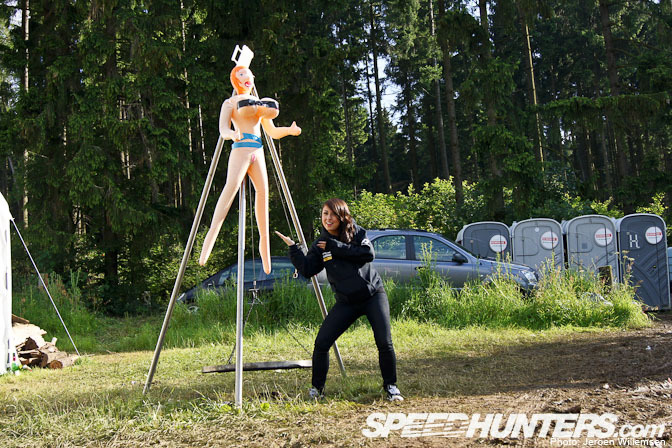 …and everything.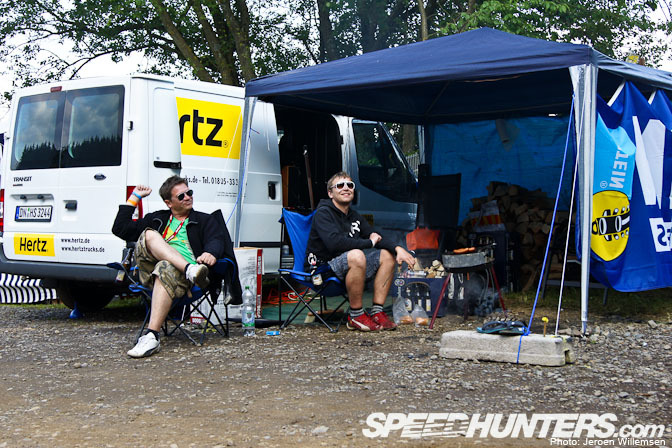 I jammed along to the familiar sounds of Bob Marley.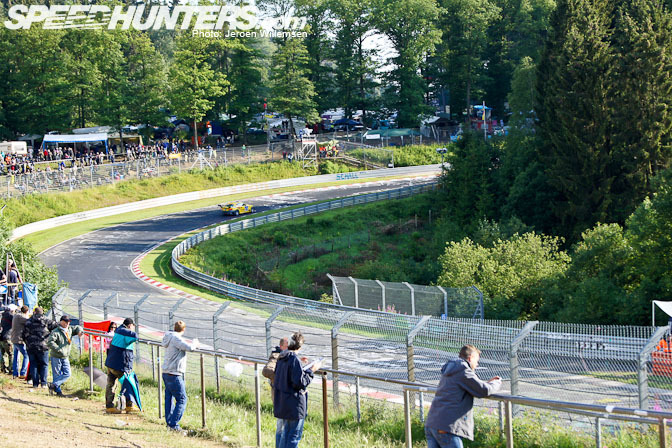 …while watching the track action.
On the way out, I met with these enthusiastic race fans, who invited me into their tent to hang out.  They had been camped out at the track for 3 days, already.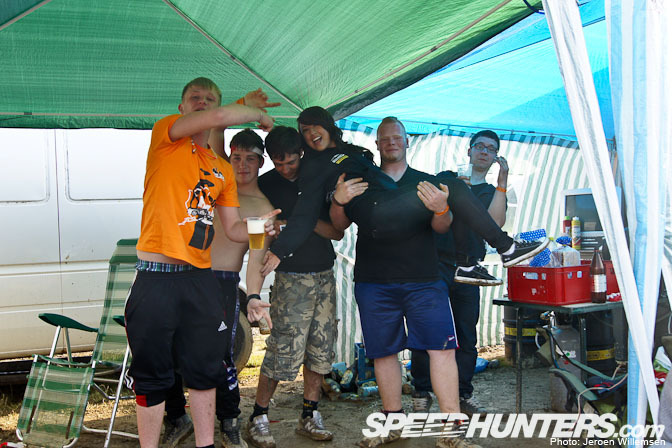 The night had yet to start but they were having so much fun, I couldn't help but to join in on the action.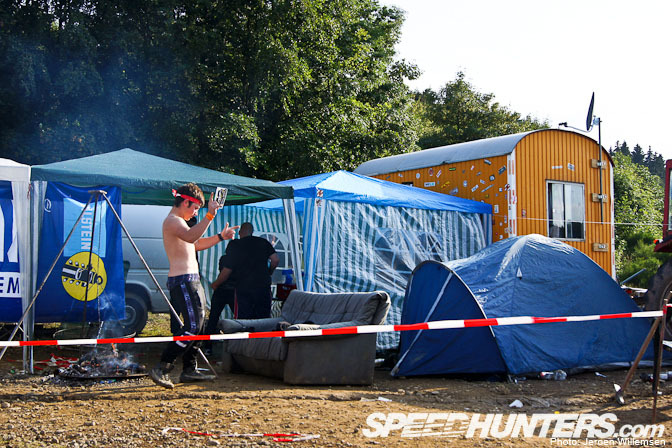 Before parting, I left them with some limited edition NFS and Speedhunters stickers which went up right away.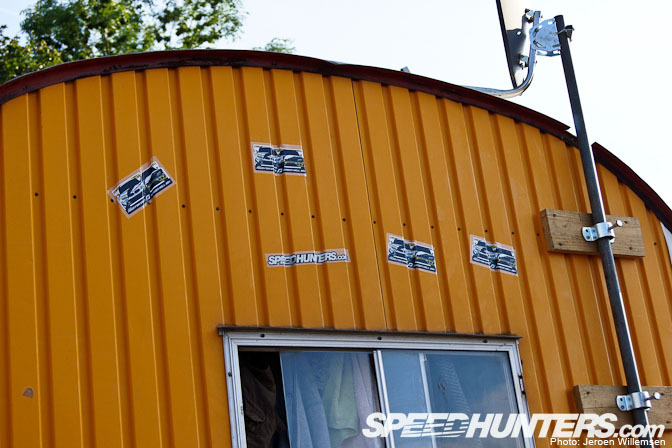 …I left my mark.
TO BE CONTINUED…
-MIki Taka.