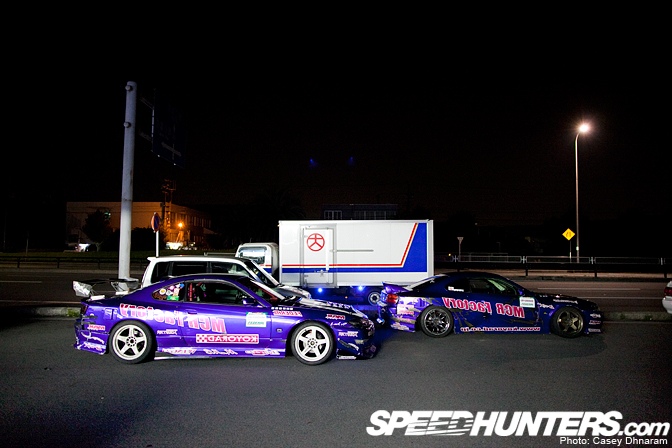 During my recent Japan trip with K-Tours I headed up to Nagoya from Suzuka to check out some of the meets that generally take place on Friday and Saturday nights. The majority of my group were completely ruined from a full day of drifting and spectating in the sun so there was only a small group of us who decided to check it out.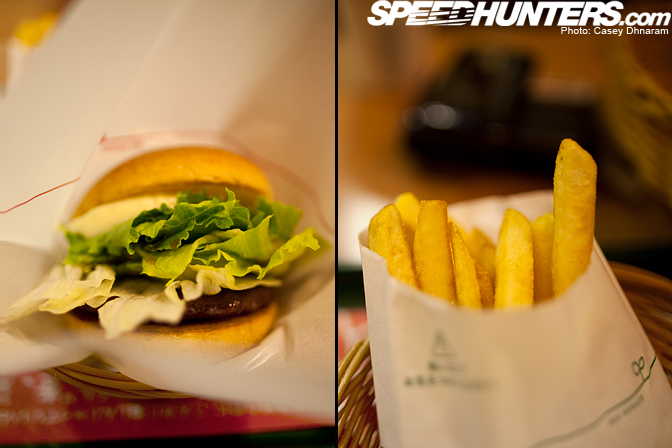 We arrived back at the hotel in Suzuka and after a quick shower we headed up the road to the local MOS Burger for some long awaited dinner. If you guys haven't had this, I suggest you do, it's one of the best, greasiest take-outs I've had.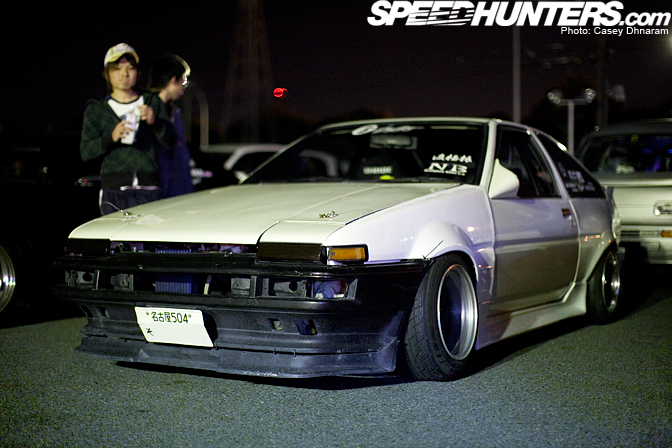 After 2.5 hours on the road listening to ACDC and other rock music to keep us awake we arrived at the local Lawson convenience store located on the outskirts of Nagoya, just off the main highway. This particular fellow is a good friend of Shane Bingham and is a huge Speedhunters fan.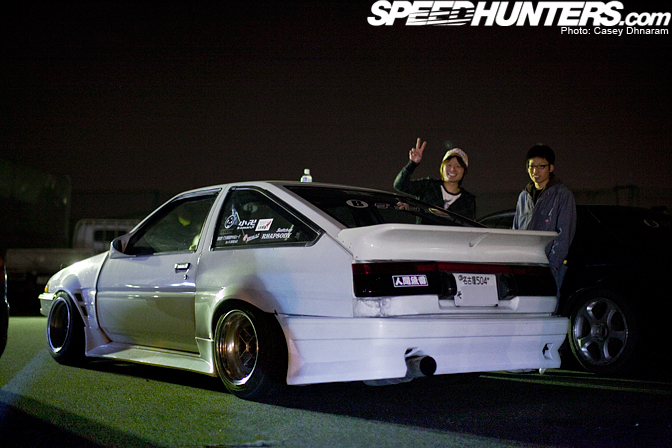 He drives this AE86 with 14-inch Watanabes up front if I remember correctly and a deep pair of SSR Mark IIs on the rear.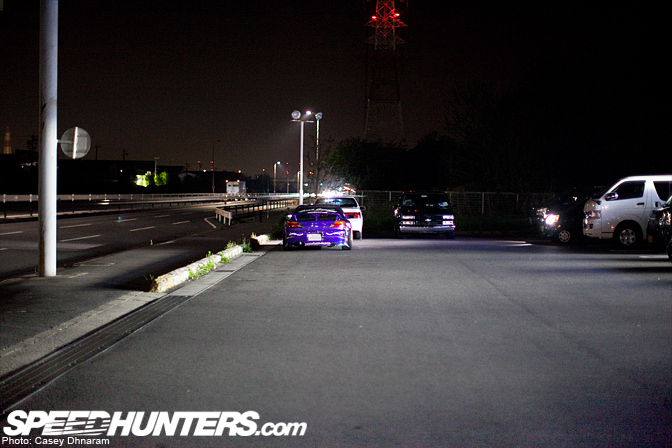 Just as the hunger monsters started to kick in my stomach again I decided to go for a little walk around the corner to get some food from the Lawson, little did I know the D1 Mind Control S15 was sitting over there.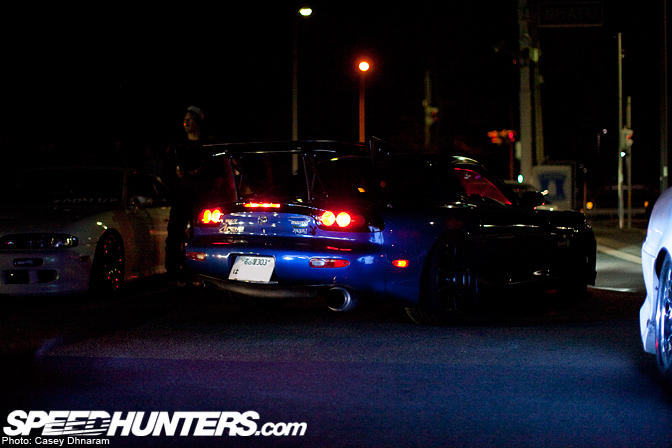 From then on the surprises kept coming; this midnight blue Mazda FD3S RX-7 had a very aggressive appeal to it with its oversized spoiler.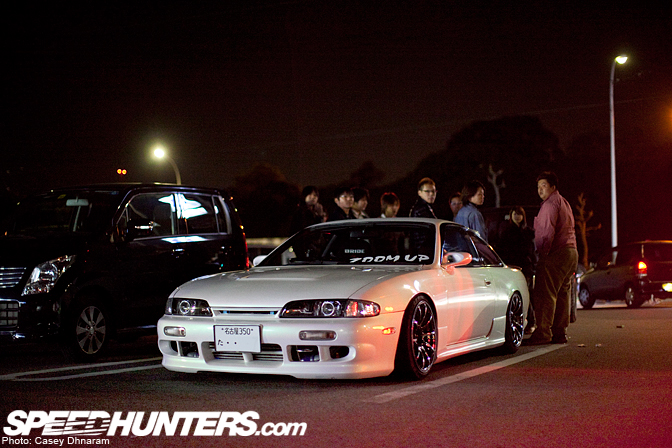 Besides the D1 car, this Zenki S14 was my favourite in the parking lot, it actually reminded me of a 326 Power car.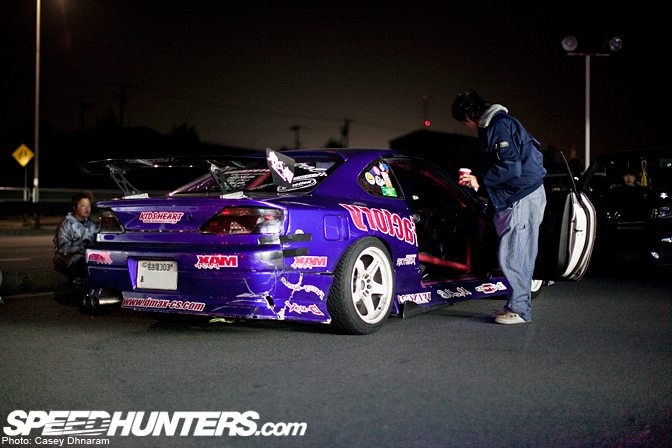 Not long after spotting one of the Mind Control S15s, the other team member rolled in to grab a coffee.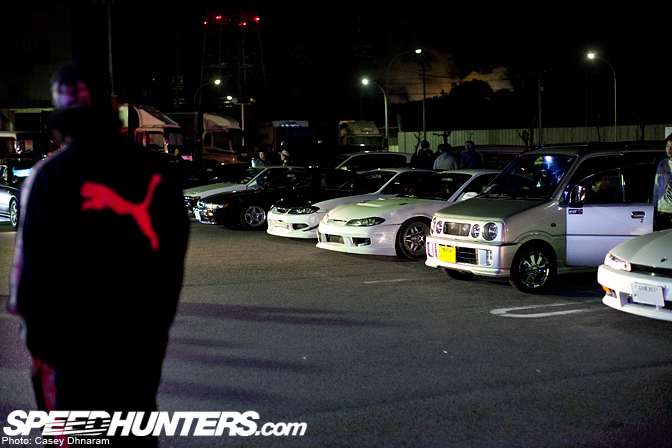 The parking spaces quickly filled up in no time. The variety of cars on display made for a very interesting evening.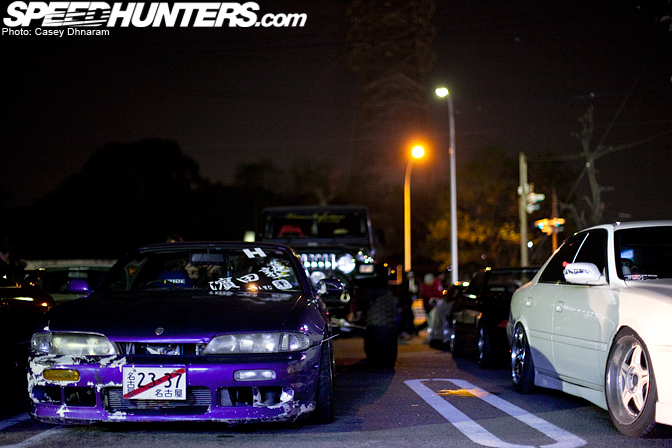 Ranging from missile S-chassis such as this S14…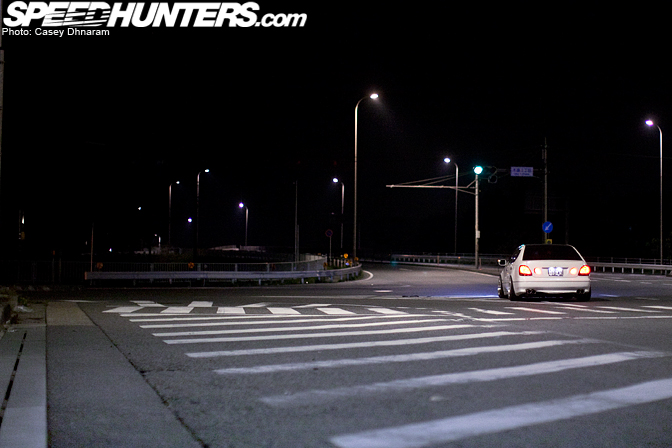 …to this VIP styled Aristo.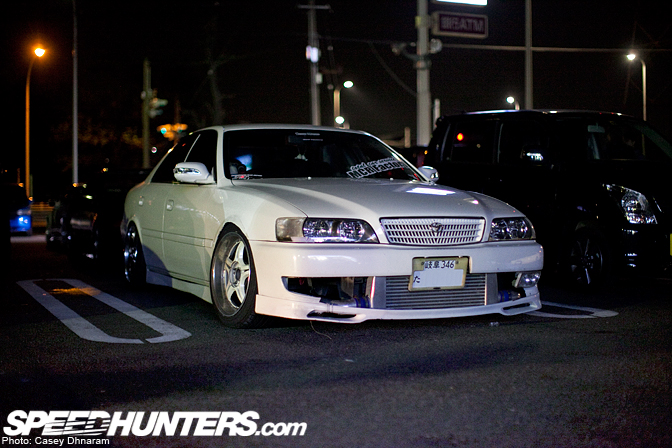 There were quite a few 4 door Toyotas that rolled in eventually, including this JZX100…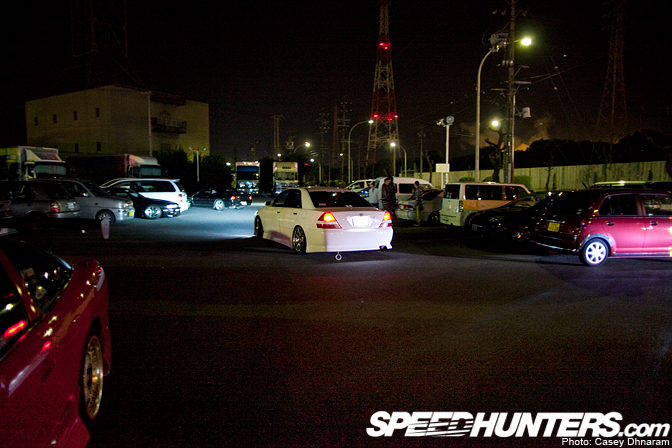 …and this 110.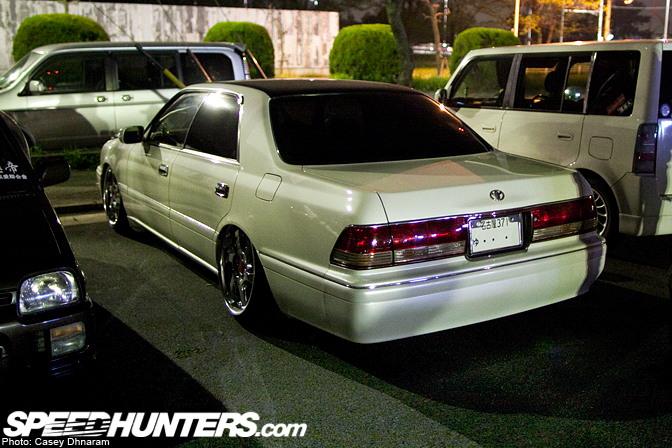 This old 4 door Toyota was sitting at a nice height even tucking its rear wheels under the guards.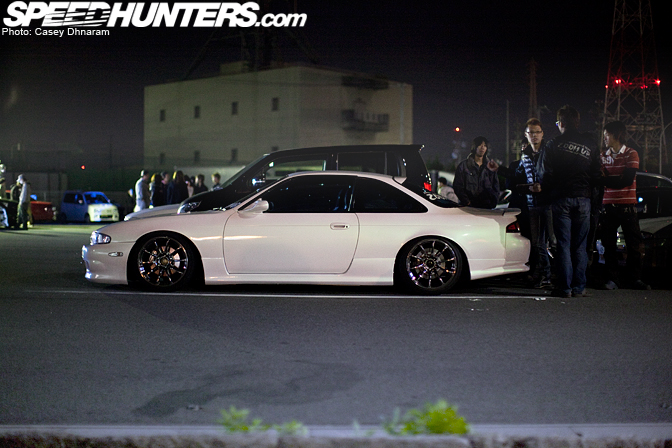 I couldn't help but shoot some more photos of this S14, to me this is spot on.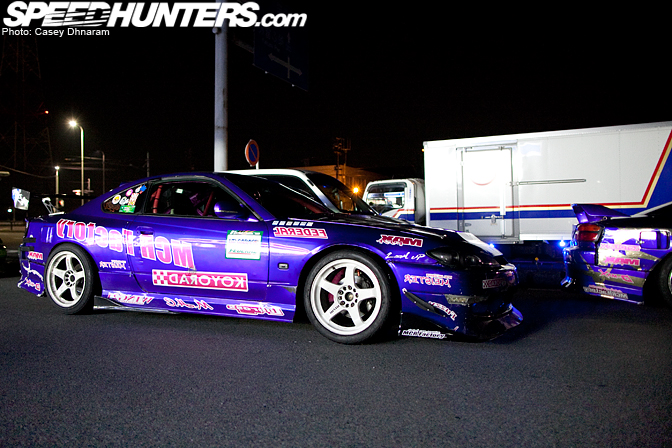 I headed back around the other side of the Lawson to get some closer photos with the two D1 cars. It's not a sight you get to see everyday – a pair of D1 cars with registration parked up at a local convenience store.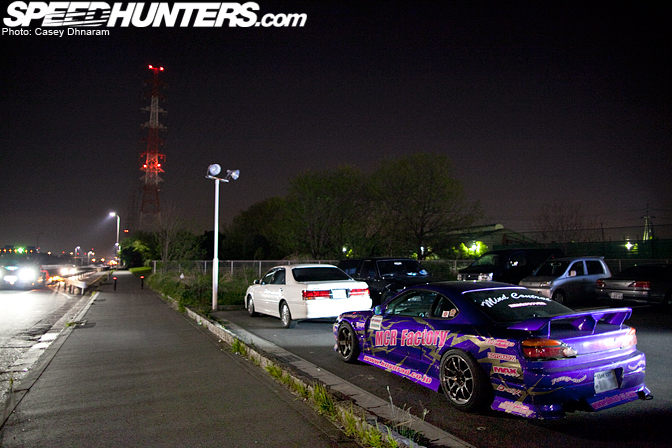 Here it is just parked casually behind a standard car. Quite a contrast no?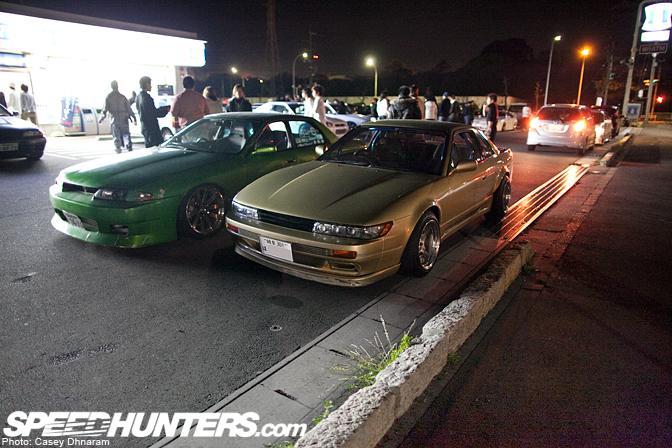 Just behind the MCR cars I found these two cars, a gold S13 sitting on Works…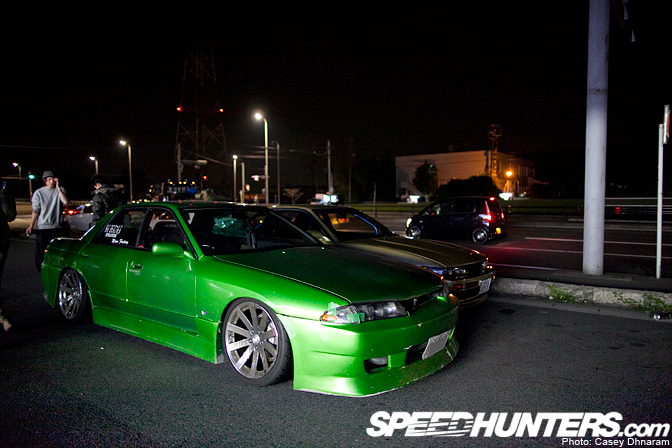 …and this vibrant green R32. You may remember this car from Part 2 of the Meister coverage.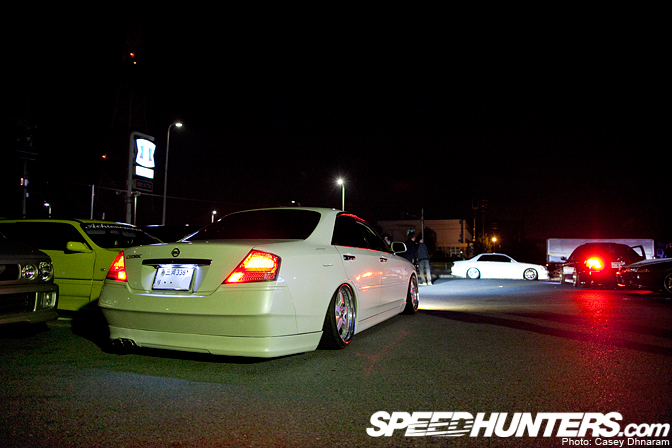 A Nissan Gloria also cruised in…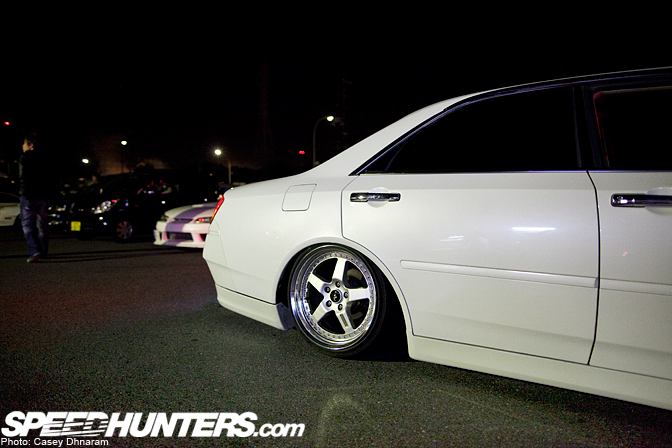 …The car had wheels that filled the guards nicely. Very low and very clean.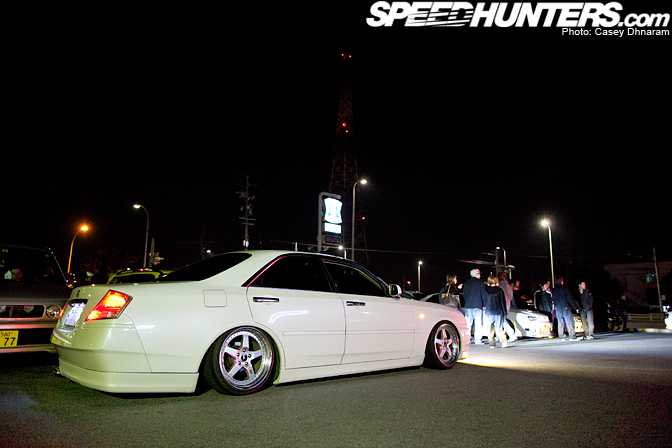 I'd absolutely love one of these cars one day.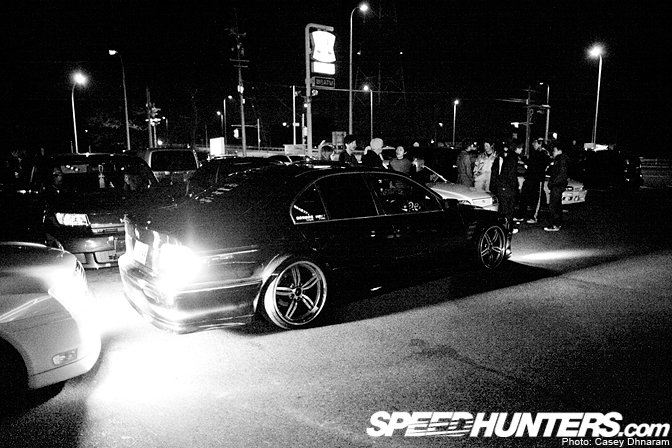 Just as we were about to leave this this 5 series BMW parked up, so I reeled off a couple of photos before heading off.
Personally, I'd like to thank on behalf of myself and the other Australian boys the two Mind Control drivers for bringing their cars out especially for us, it meant a lot and we hope to see you sometime very soon.
-Casey Dhnaram