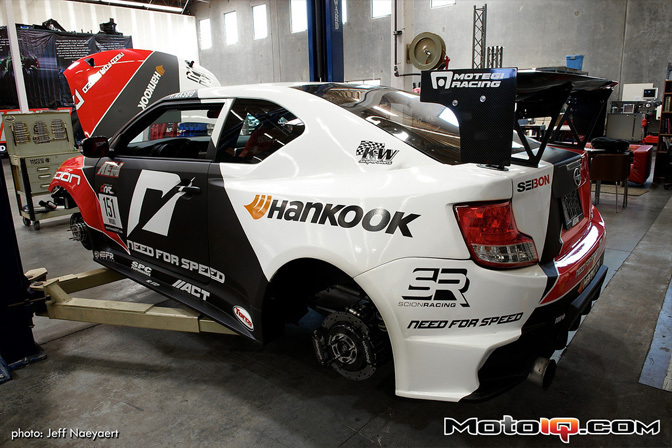 Our friends over at MotoIQ recently took a close look at the Team Need for Speed Scion tC. Built by Papadakis Racing, the RWD-converted Scion packs a host of innovative modifications, and with Fredric Aasbo behind the wheel, it will hopefully prove a winning formula. In the past three rounds we've seen glimpses of its potential with Aasbo doing some physics-defying entries, so here's a closer look at what's underneath its skirt. This is just an excerpt of Mike Kojima's investigation, so be sure to head over to MotoIQ for the full story.
For the 2011 Formula D season Fredric got the big break he deserved. Scion, Hankook tires and Need for Speed had taken notice and Fredric suddenly found himself a works driver filling the space on Papadakis Racing's roster vacated by the legendary Tanner Foust. Tanner had left drifting to pursue a full time Global Rallycross ride as well as a growing role in the Top Gear USA TV show.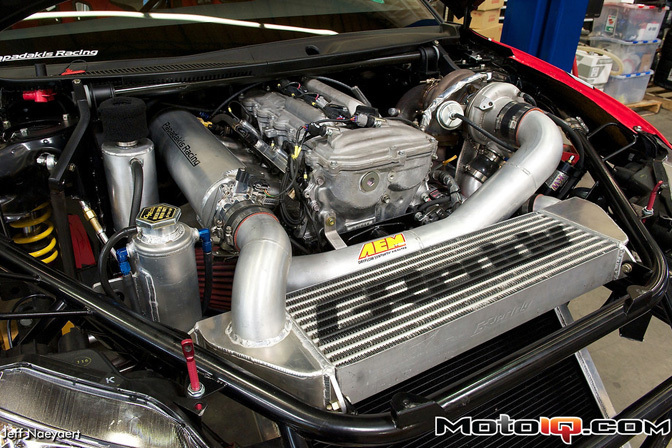 The 2011 season was going to be challenging as Papadakis racing was going to build a new car based on the just released second generation Scion tC.  The challenge came in two parts, the tC is a FWD platform and it is powered by a 4 cylinder engine.  In today's world of big power NA V8 engined drift cars, could a 4 cylinder be made a winner?
Papadakis Racing's previous tC was converted to RWD and powered by a Toyota NASCAR V8 engine.  That car had as many haters as fans because the build was very controversial due to an altered firewall and a large amount of engine setback.  This was actually the only way to fit the engine in the older chassis and was really not any further back than say a Mustang but the limit of the rules was pushed and questions of the car's legality haunted it.
With FD tightening the firewall rules to prevent cars like this from being built, Papadakis Racing decided to use a 4 cylinder engine and turbocharge it for packaging reasons.  We feel that deep down inside Steph Padadakis wanted to show the drift world that his team could mix it up at the top with a 4 cylinder for the intellectual challenge and to avoid anti V8 backlash.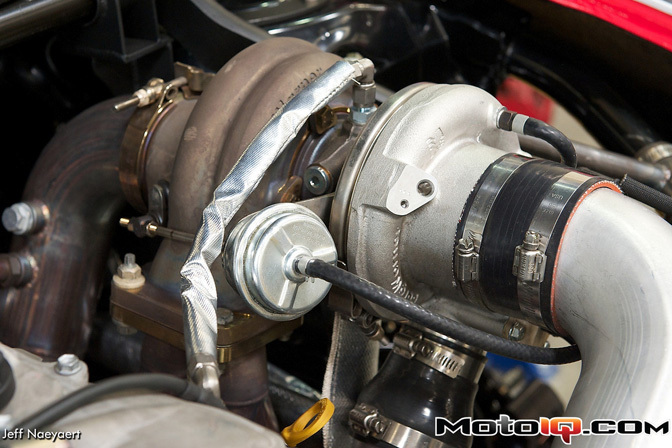 The Scion's engine is actually pretty simple; it is a 2.7 liter 1AR-FE from a late model Toyota Sienna van.  It is a huge 4 cylinder with a 90mm bore and a 105mm stroke.  It has an all alloy open deck block and a fully counterweighted stout forged steel crank.  The DOHC cylinder head has variable cam timing on both the intake and exhaust sides.  If there was to be a 4 cylinder that could bring the fight to the V8 revolution this engine would be it.  The 1AR-FE is a torque monster capable of spooling a turbo quickly for fast response and tons of low end torque.
Papadakis racing set about turbocharging the engine, fortifying the innards with forged JE pistons and some secret spec connecting rods.  Since the cylinder heads are an open chamber design the pistons have detonation fighting quench machined right into the dome of the piston.  The pistons are forged from high strength 2618 low silicon alloy and feature thin low tension piston rings which are critical due to the high piston speeds that the long 105mm stroke creates.  Light, low tension rings resist seal killing flutter at high piston speeds. 2618 alloy tends to be noisy and rattley due to its high expansion ratio which requires a greater piston to wall clearance. Even with this characteristic, 2618 is much more ductile and resistant to detonation than the high silicon alloys that are more suitable for street cars.
Brian Kono of Afterhours Automotive designed and built the large plenum intake manifold and the tubular stainless turbo exhaust manifold that is designed for a twin scroll turbo.  The turbo is one of Borg Warner's revolutionary EFR turbos. The turbo is an EFR 7670 with a 76mm compressor wheel and a 70mm turbine wheel.  The turbine is revolutionary, made out of a titanium aluminide alloy that is 50% lighter than a typical Inconel turbine wheel.  This super lightweight wheel greatly speeds spool.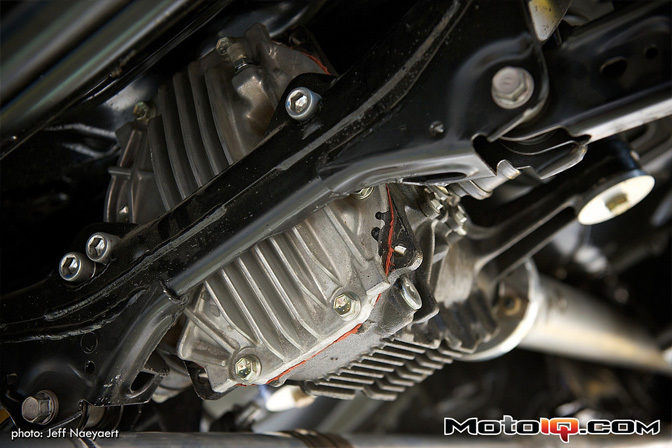 The rear differential is from a Supra and is solid mounted to the subframe which is modified in accordance with Formula D rules.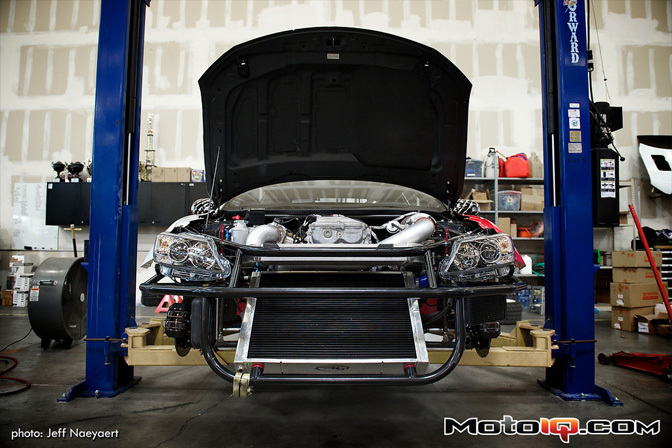 The front of the car has been replaced with this tubular structure.  Most drift cars have a front structure like this which protects the front end and makes crash damage easier to repair.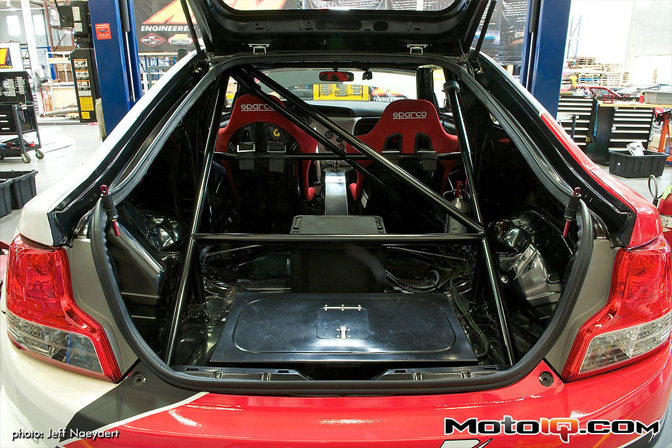 You can see the rear parts of the cage here.  The fuel cell is under the aluminum floor plate.  The battery is forward of that in the black box.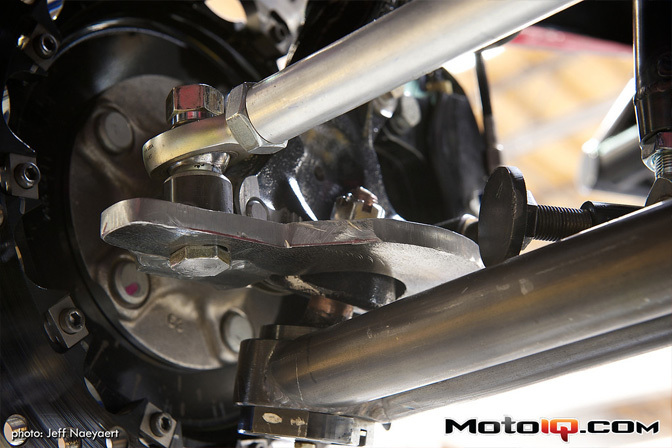 The front knuckle uses this removable piece to make the Ackerman, steering angle and bump steer adjustable.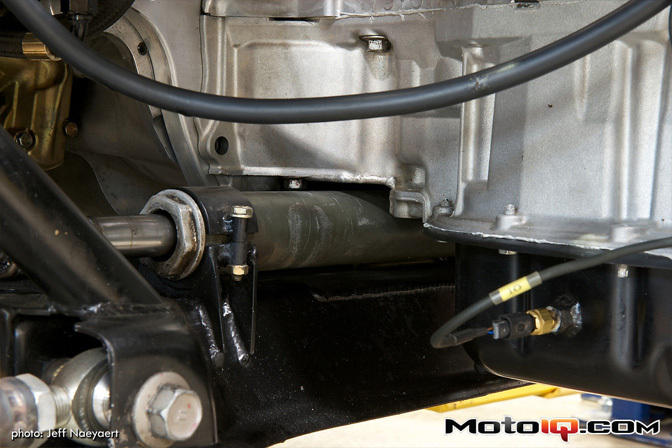 The car uses a steering rack borrowed from a Nissan S chassis.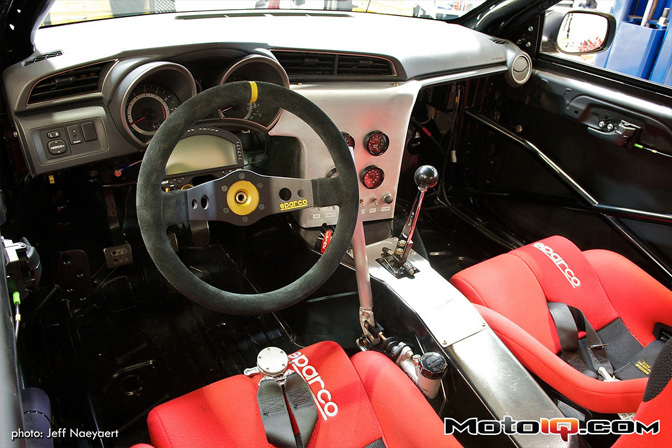 The Sparco steering wheel is attached to a racing steering column.  You can see the AIM MXL dash and the Tilton pedal box.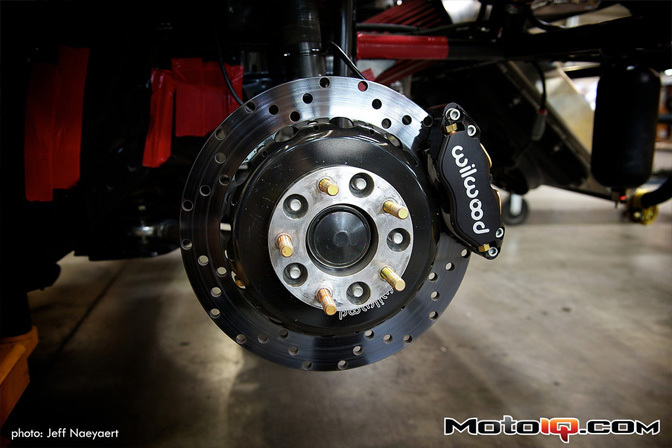 The Willwood front brake is a non vented design and thin for light weight.  Drift cars don't need a lot of brake heat dispersing capacity due to the short nature of a drift battle.
Read the full article on MotoIQ
- Mike Kojima
Photos by Jeff Naeyaert