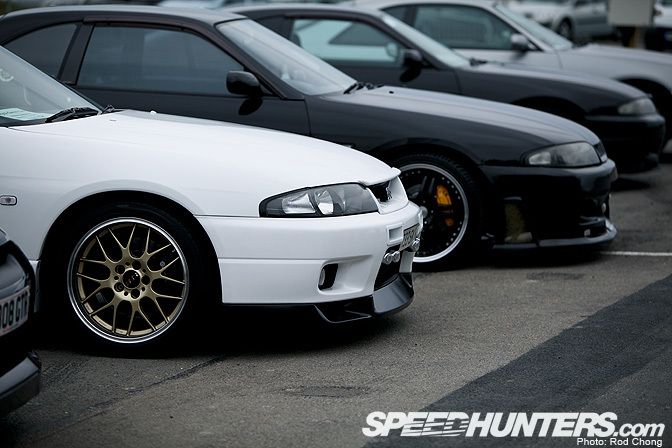 I've heard a statistic which states that a third of all car accidents happen within a mile of people's homes.This makes sense to me – as we become accustomed to the supposed mundanity of our day to day lives, we simply stop paying attention and revert to auto pilot.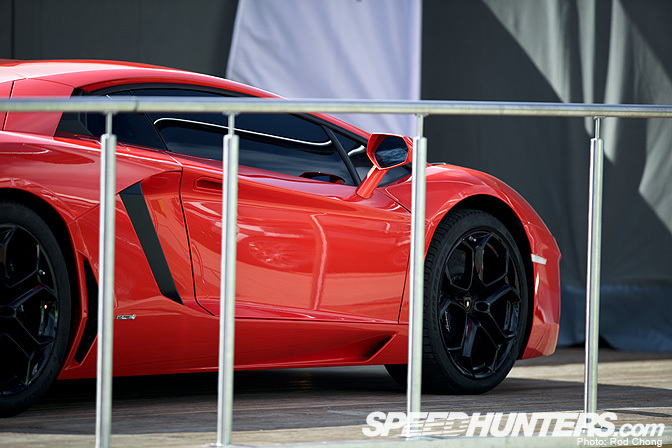 What was once exciting and fresh, becomes seemlingly stale and uninteresting and we vacate the premises.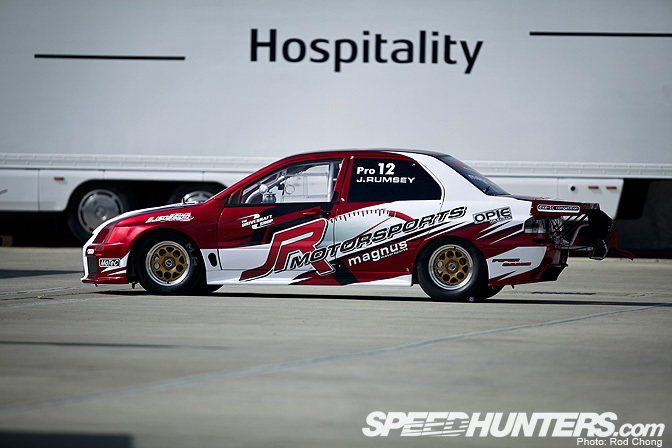 I've seen the same attitude with some members of the automotive media who've been in the industry for a long time.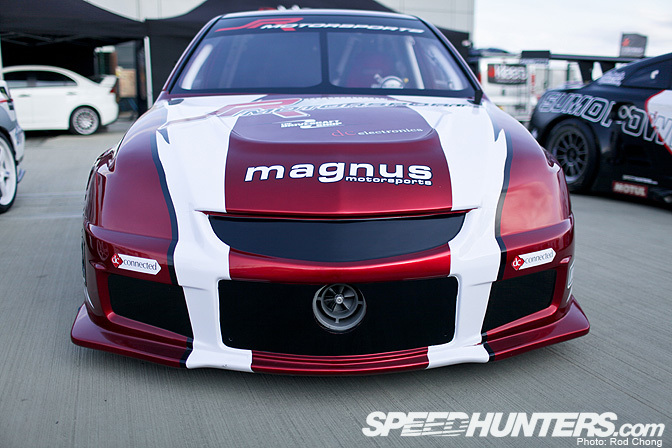 They may be surrounded by the most exciting cars on the planet, but someone have lost a sense of excitement and inspiration.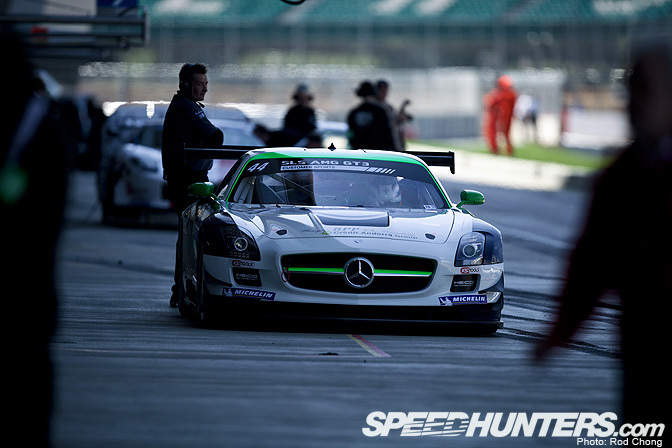 Shooting cars has become, just a day at the office. No different than sitting at a desk all day long.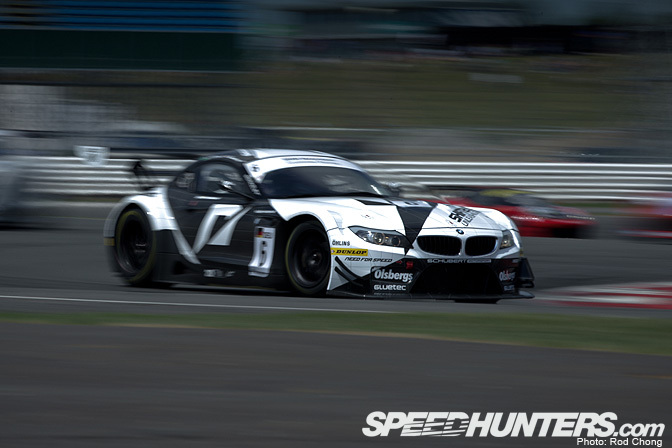 I was thinking about this as I went to Silverstone and made a vow to myself that I would absolutely not fall into this trap.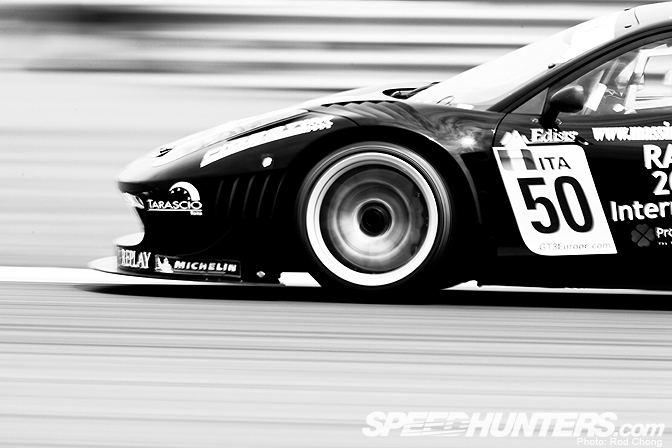 I would fully appreciate every breathing second I got to point my cameras at some of the most beautiful cars on the planet.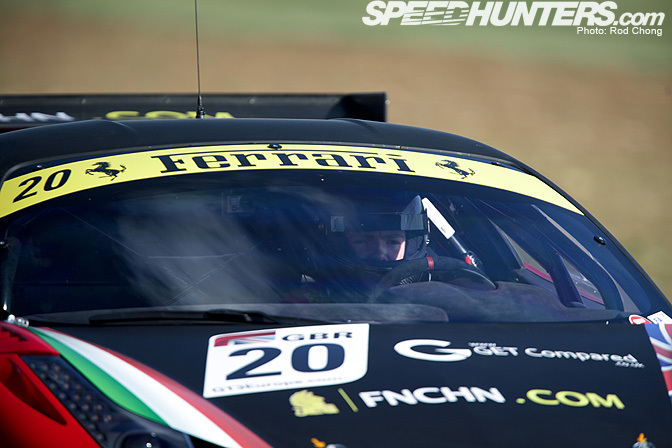 I wanted to bring myself back to a place of "beginner mind", as if I had never seen any of these cars before…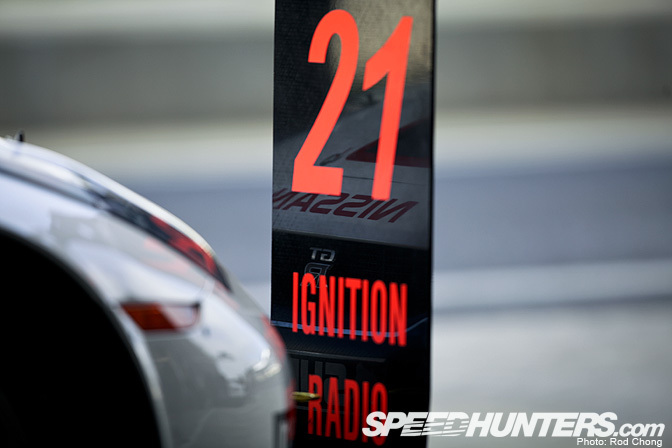 And shoot the event with fresh eyes and a new perspecive.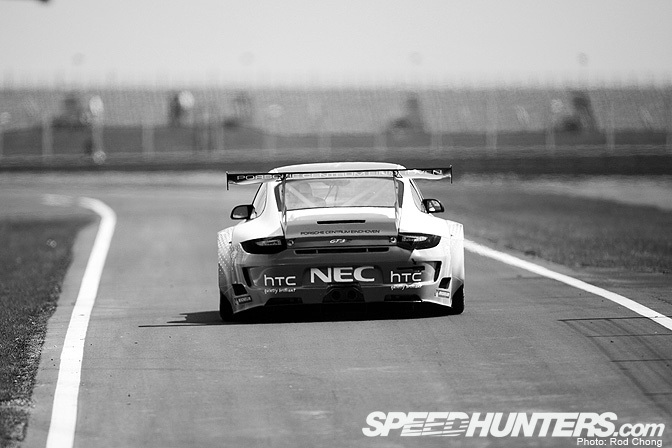 So to tell this story from Silverstone 2011, let's start at the beginning…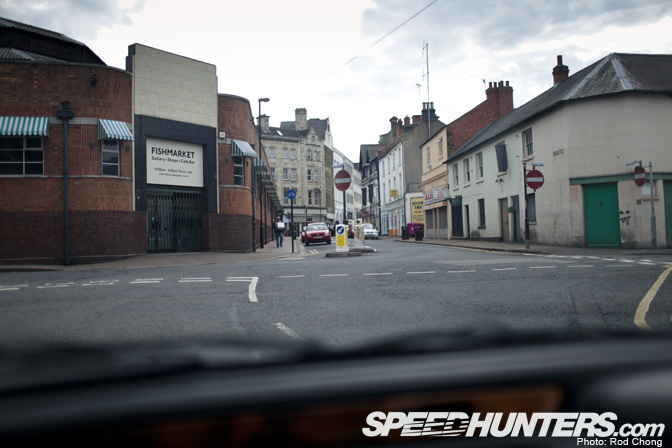 … and bring you with us as we travelled to the circuit from our hotel in Northampton, around 20 miles from the circuit.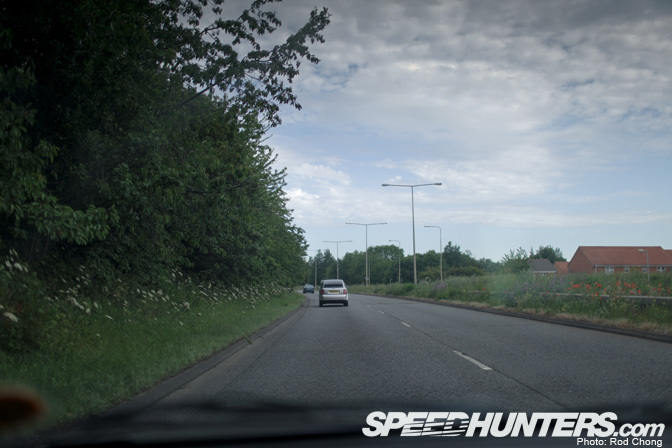 Our morning drives would start out on these local roads which gradually turned into larger dual carriageways as we neared Silverstone.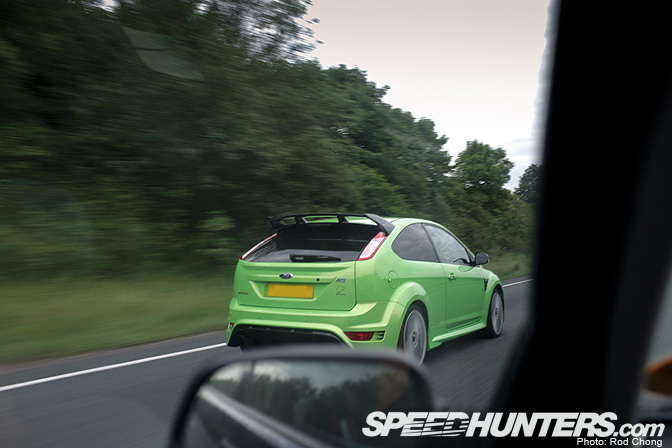 Along the way there was always at least one interesting car to check out…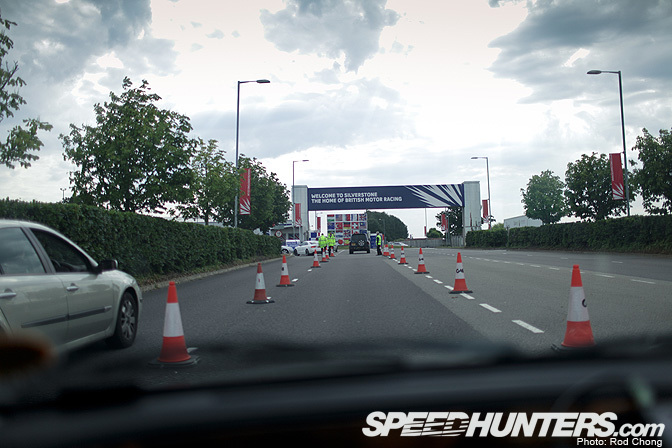 One certainly gets the sense you are entering the home of the British Grand Prix as you drive into Silverstone.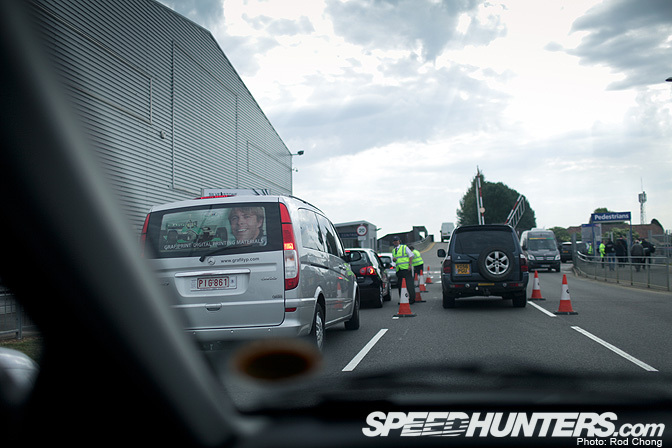 There were many security checks on the way in too… I can only imagine what this place is like come a Formula One weekend!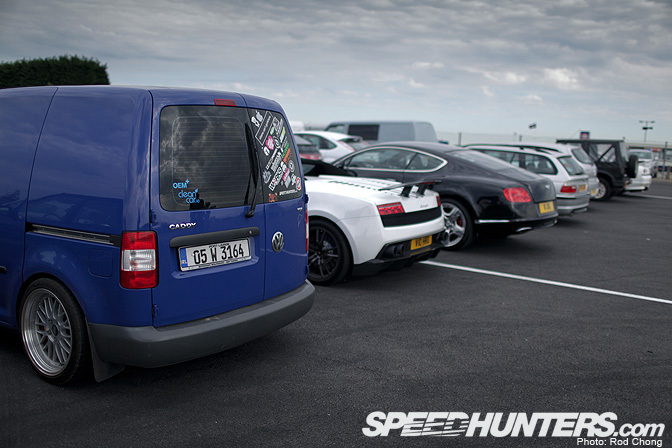 Eventually we ended up being directed into the media car park…. rather inconveniently located next to the old pits, on the other side of the circuit from the new F1 pits.
You will notice that Paddy has already arrived on location in this shot and is hanging out with some illustrious company!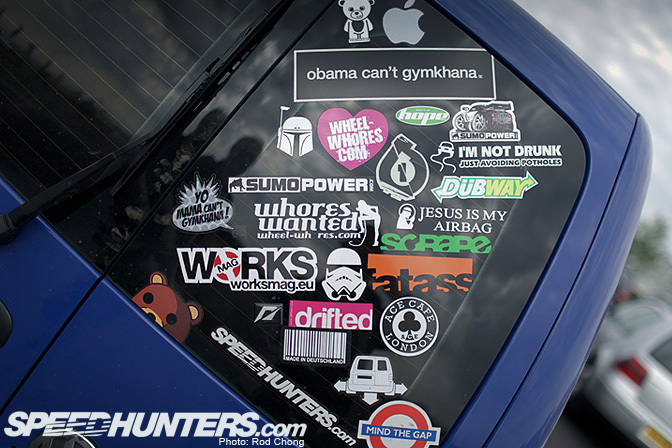 I love the stickers on his back window! I wonder if any other media folks took notice.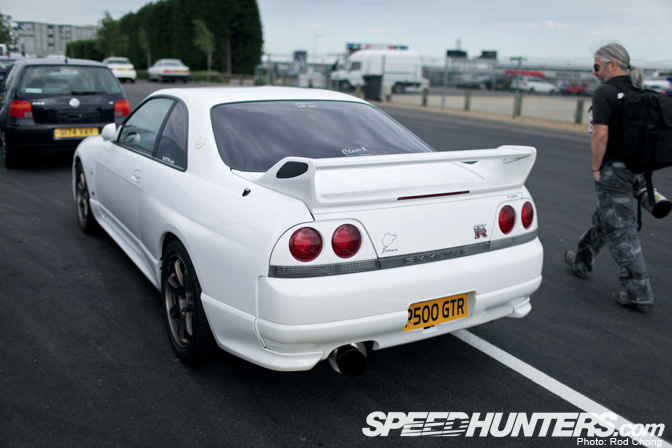 Also parked up in the media parking lot was this V Spec R33, proudly wearing a GTROC sticker on its back window.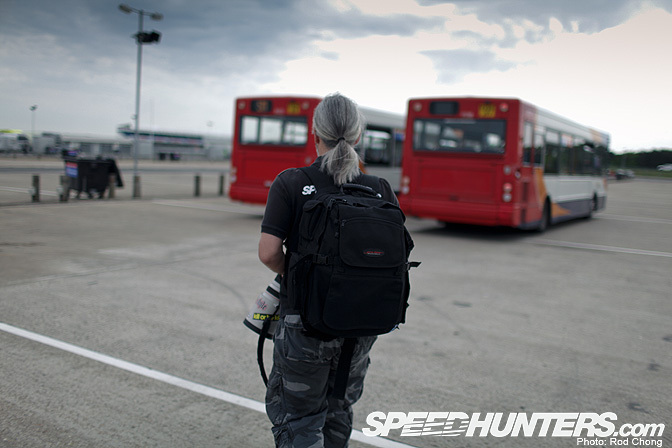 Getting back and forth to the media car park, required the use of shuttle buses. It was a little annoying as we constantly needed our cars to shoot track side, but the system was well organized and ran like clockwork.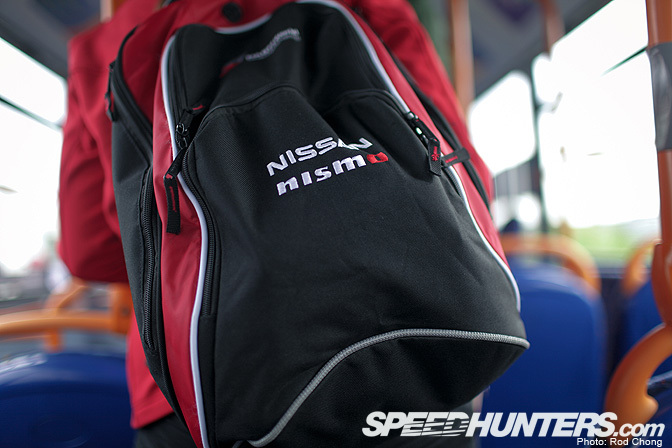 On this occasion, we ended up sharing the shuttle with a girl from the Nissan Marketing team. How many of you would kill for this backpack?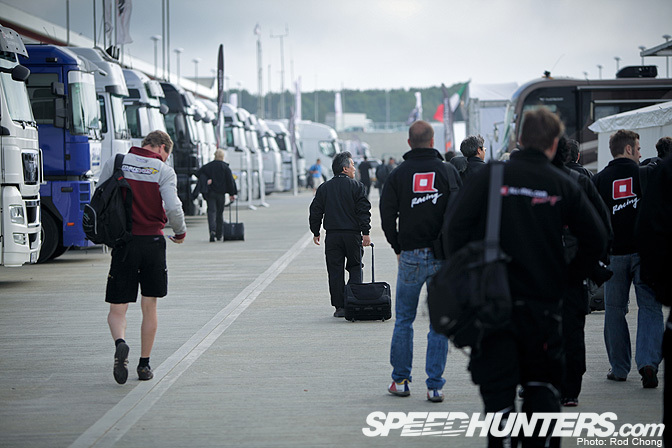 Leaving the bus, the various team members strolled into the paddock, heading off to their respective set ups. In the center of the shot is Ebisawa-san. He's overseeing the Nissan program from within Nismo – a very important man in the GT1 paddock!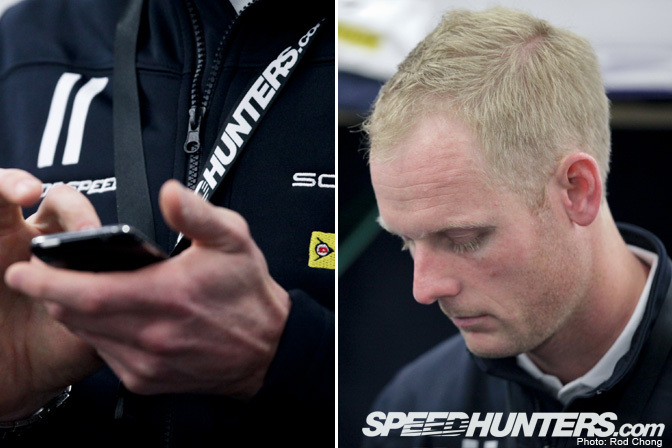 Normally, the first thing I do after arriving on site is to check in at the Schubert Motorsport garage. I found Edward there, busy texting away on his iPhone.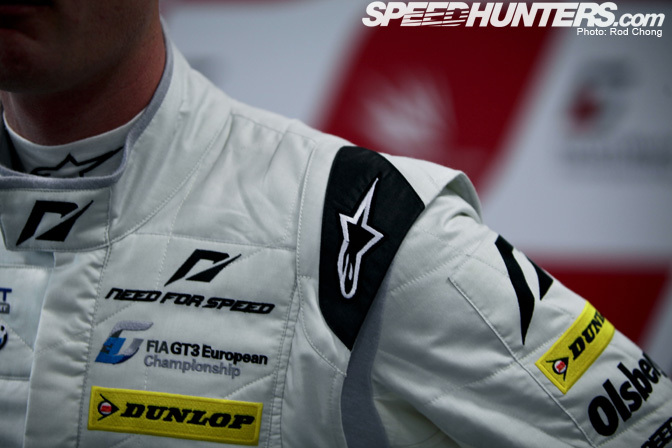 I was curious to see the new Alpinestars driver suits we've arranged for the team… I've been working closely with Andy Blackmore and the good folks at Alpinestars to get these items sorted.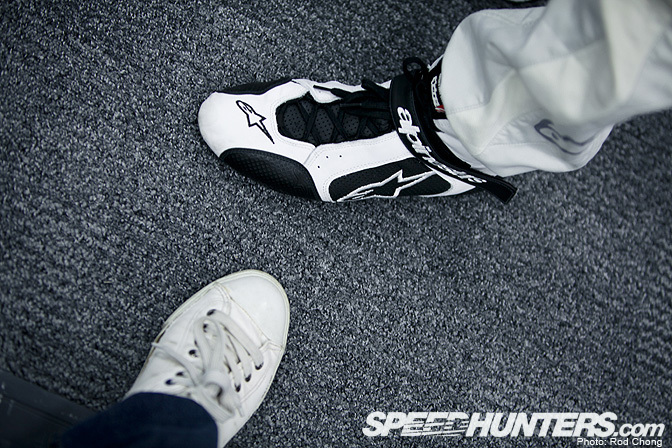 This included a fresh supply of driving shoes and gloves… The bottom trainer is my own… Perhaps not as glamorous haha.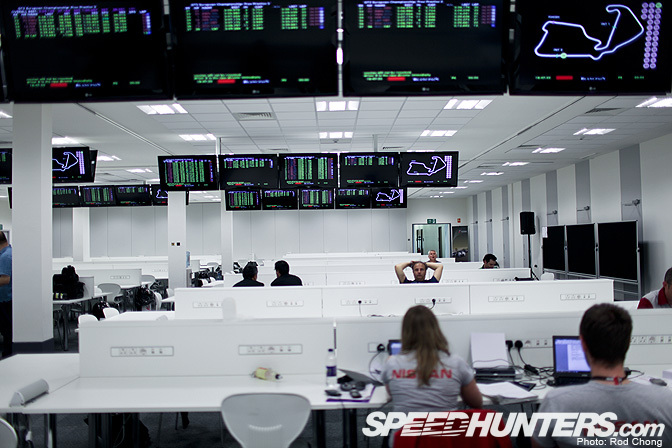 This was the maiden race weekend for the new press center. Apparently it was still a construction site a few days before we showed up!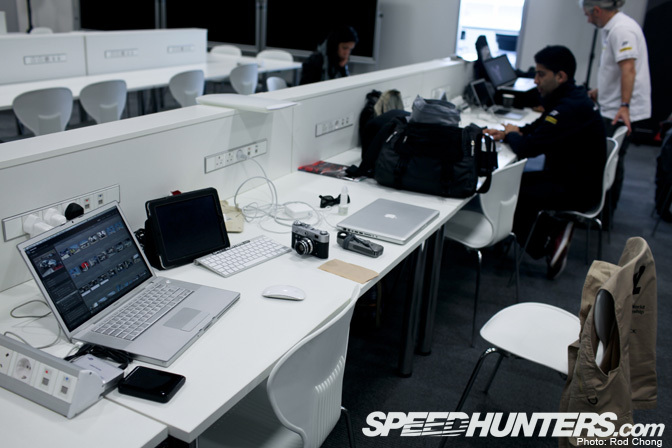 Macs, Macs and more Macs! Notice Paddy's film camera.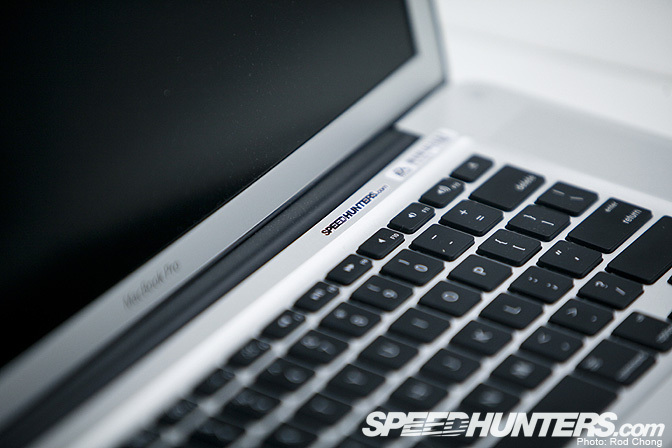 You like the mini-Speedhunters sticker? It's actually made for RC Cars by Touge Automotive but looks good on Macs too!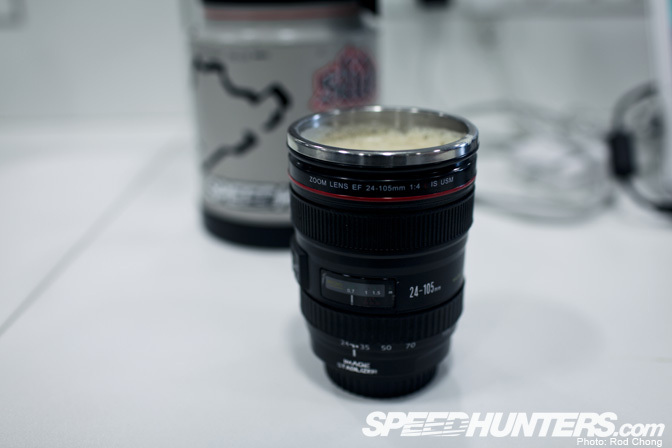 Jonathan has the rest of us Speedhunters drooling with his special lens-cup… It's perfect for a morning cappuccino to get the photographic juices flowing.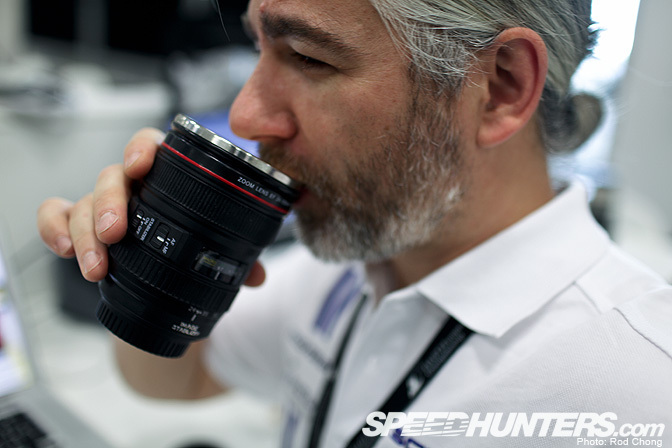 Amazing!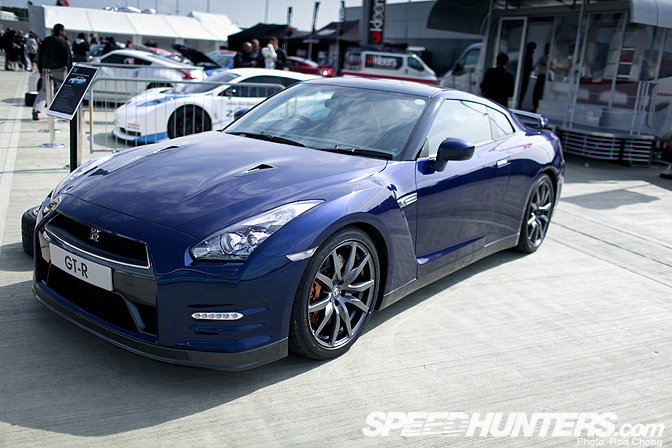 It really seems to me that Nissan are providing a lot of drive for the GT1 World Championship right now. I don't think I've ever seen so many GT-Rs in one spot! Here's a 2011 display model.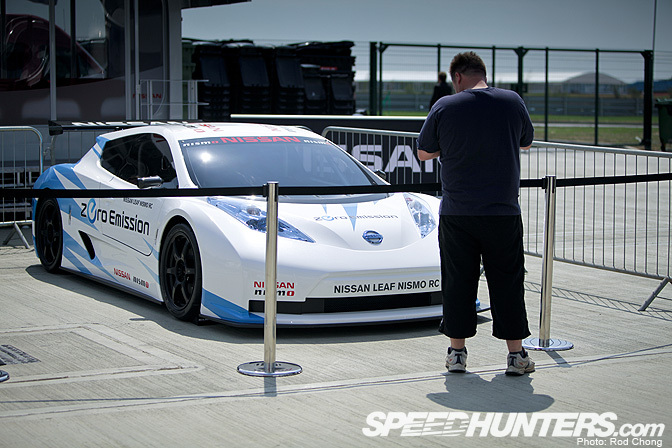 Next over, Nissan had the Leaf Nismo RC electricrace car on display.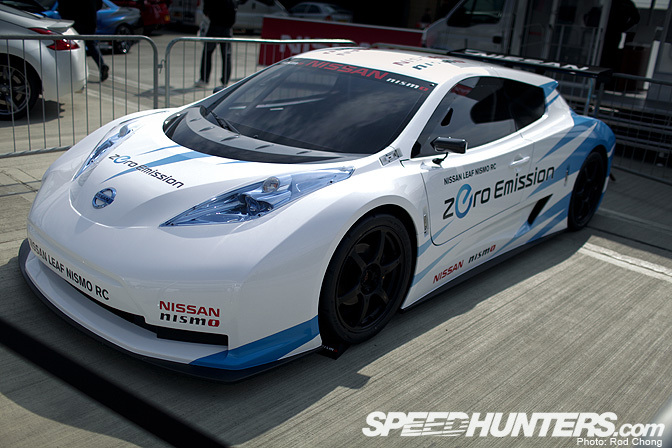 Is this the future of racing? Silent whirring machines?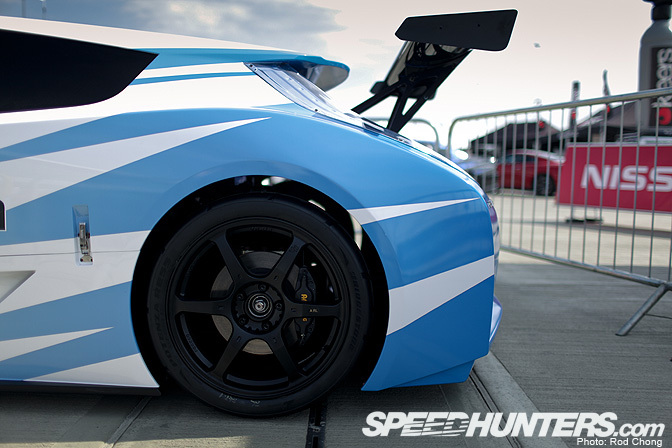 Whatever the case, the Leaf is an interesting design exercise. Let's take a moment to observe the lines of the car together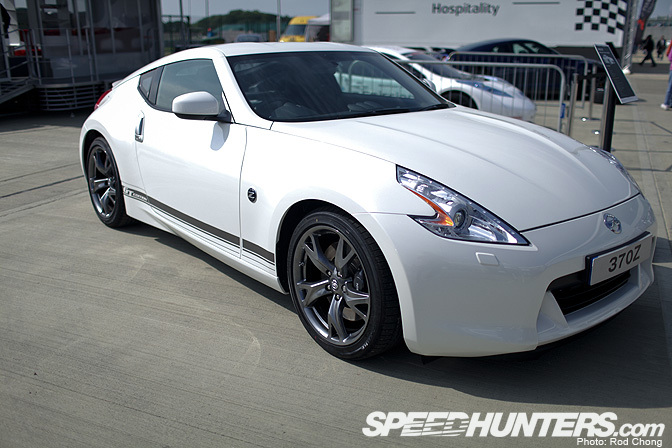 Beside it, was a GT Edition 370Z. Notice the bespoke Rays rims.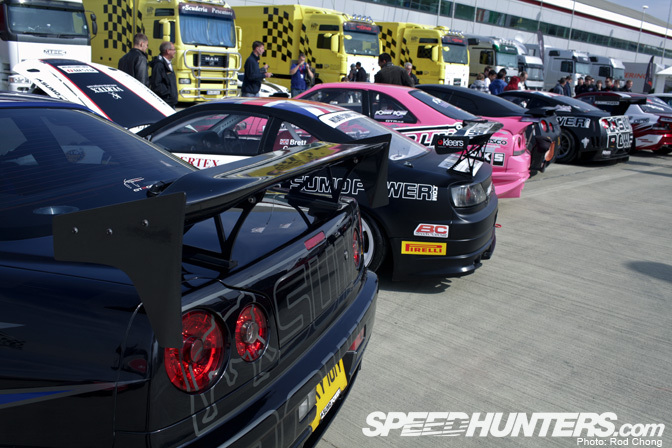 Next to Nissan, Sumo Power had a sizeable display of cars showcasing all sides of our scene. Street, Drift, Drag, Race and Rally – I liked how they were making a show of modified and Japanese cars for the traditional motorsports crowd. These are two worlds that Speedhunters aims to bridge, so it was cool to see another group sharing the same vision.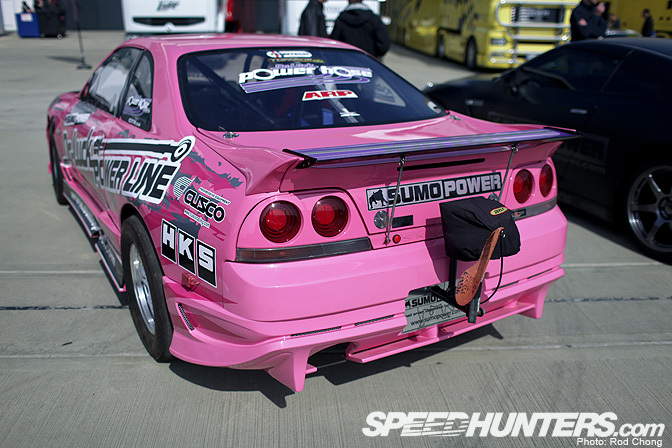 Some of you will recognized Sumo Power team principle Andy Barnes' Fujjin R33 drag car, currently sans an engine. Development of the car is still ongoing BTW.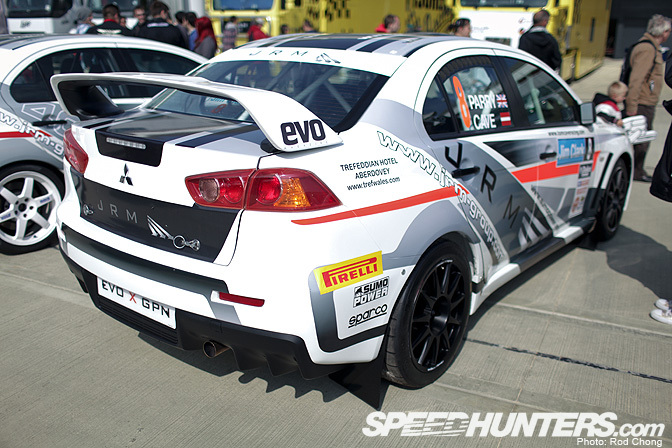 Here's one of JRM's Group N Evo X rally cars.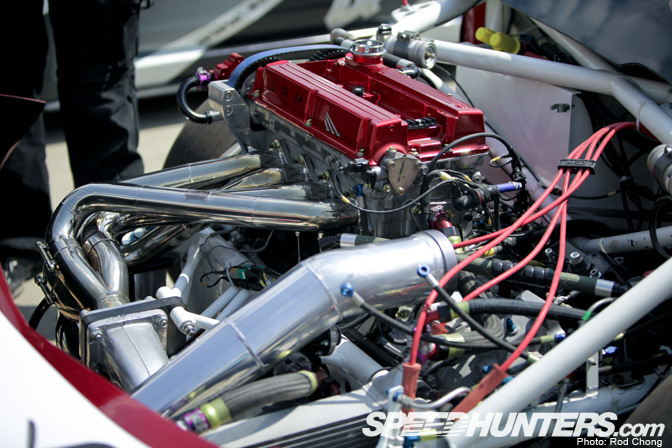 The engine on James Rumsey's JRM tube chassis drag Evo was causing a bit of a stir. It's a bit of a work of art!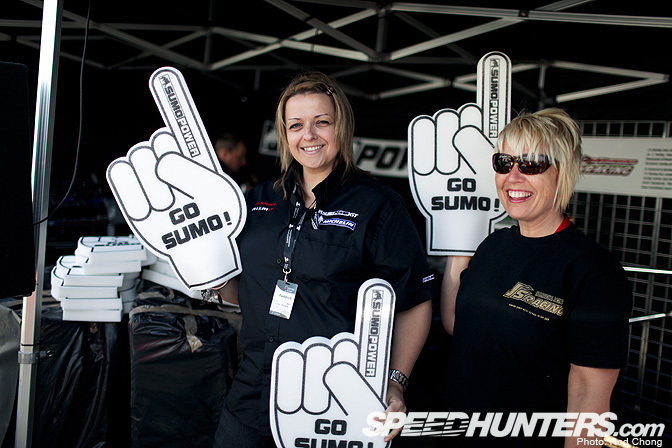 Go Sumo!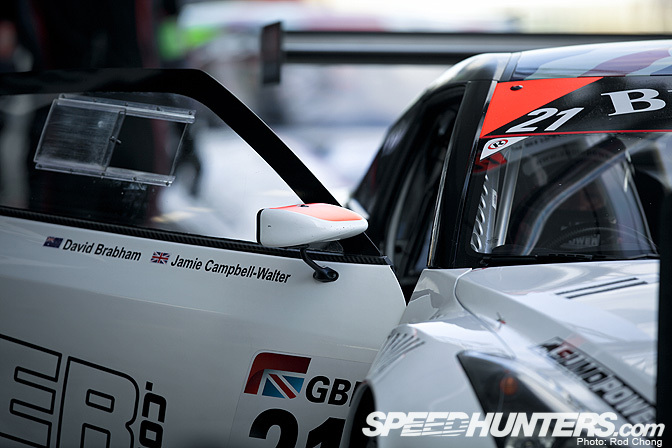 Of course I had to spend a bit of time hanging out with the Sumo Power GT-Rs. These cars never get old for me!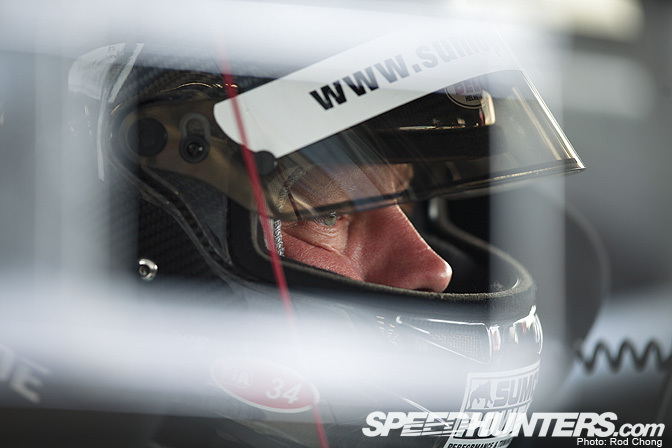 Here Jamie Campbell-Walter gets ready for the first practice session of the weekend.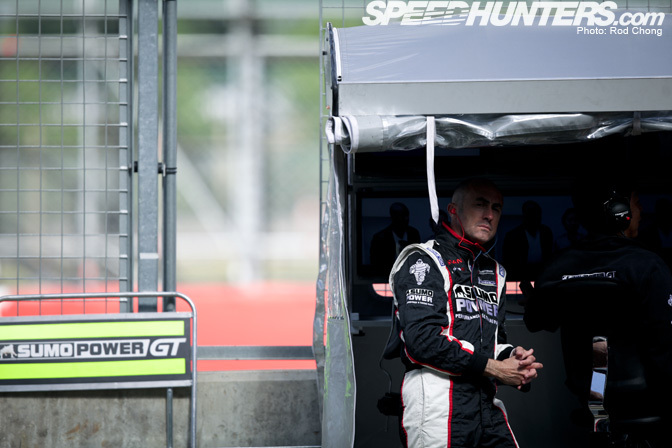 Paddy McGrath spent the event stalking David Brabham with his camera.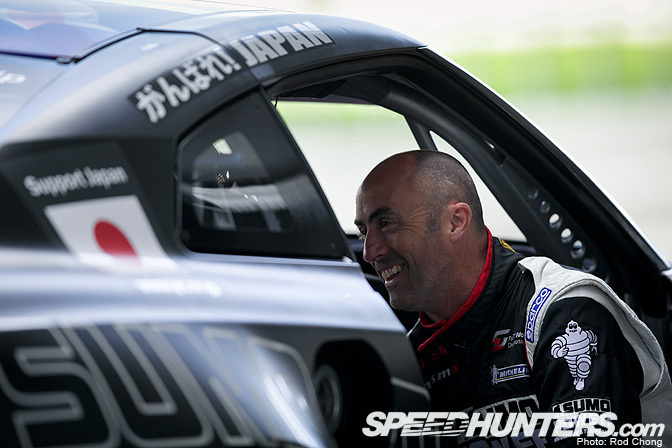 This guy is a bit of a legend in my eyes, so I'm excited he's going to be writing a blog for us.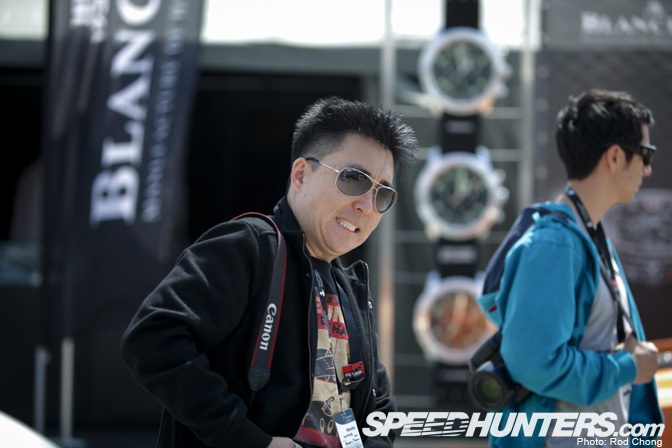 I was pleasantly to bump into my pal Carter Jung from Road & Track at Silverstone. Some of you may know him as the former editor of Import Tuner magazine. Good to see you m8!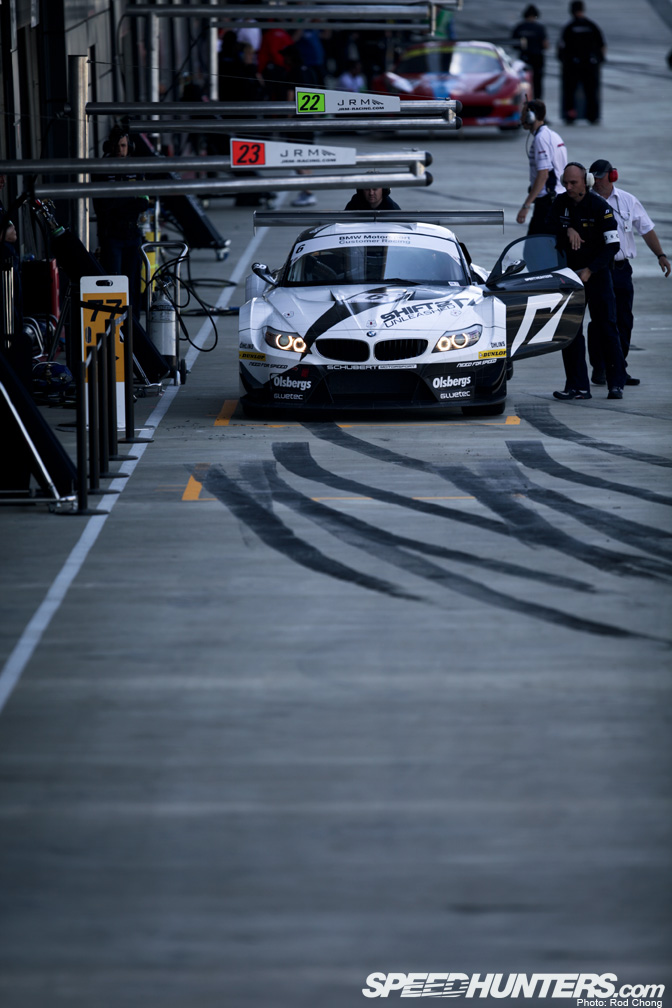 Sometimes you can't help but turn the camera 90 degrees.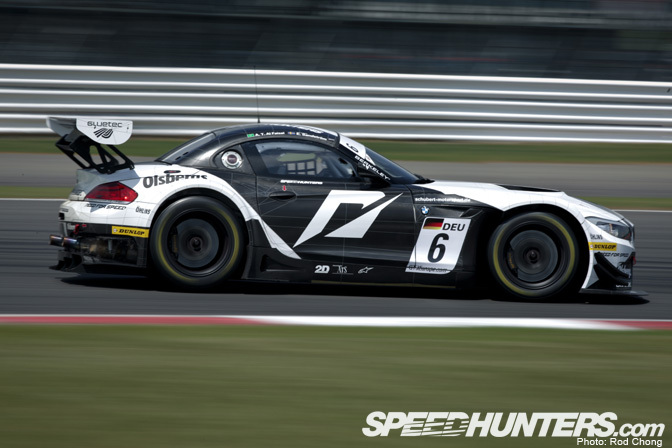 It was a so-so weekend for the Schubert Motorsport crew to be honest.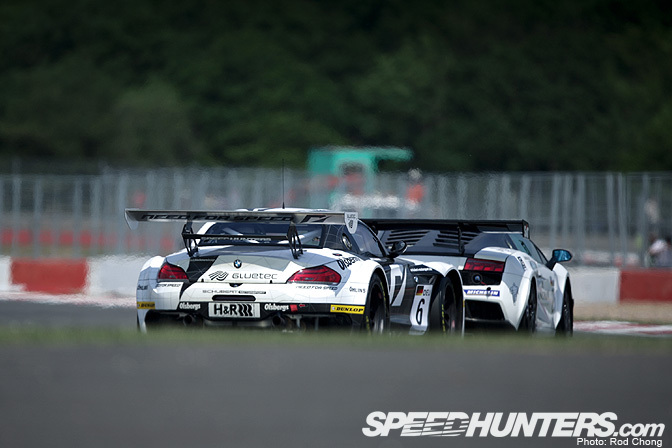 Edward seemly spent a large portion of the Race One stuck behind the Reiter Gallardo. This spoiled any chance of a race win.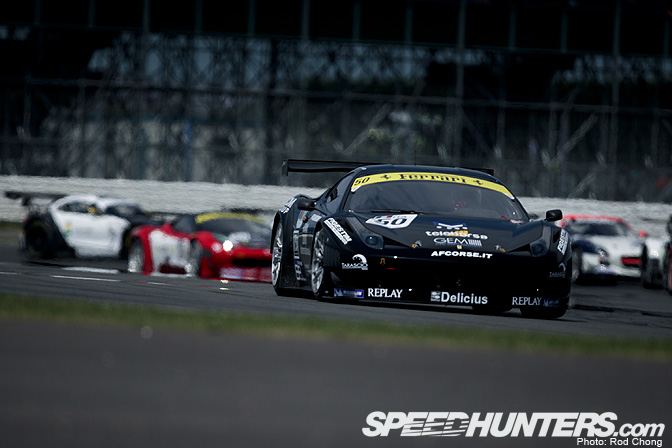 This left the brand new AF Corse Ferrari open to cruise to a dominant victory.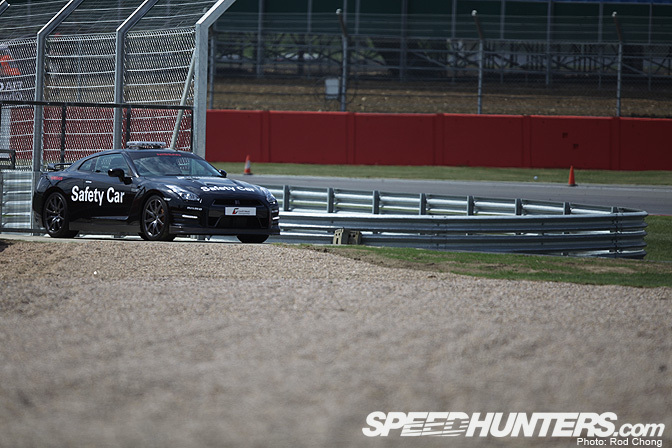 Yet another GT-R… I'm sure Nissan could spare one of these for a Speedhunter?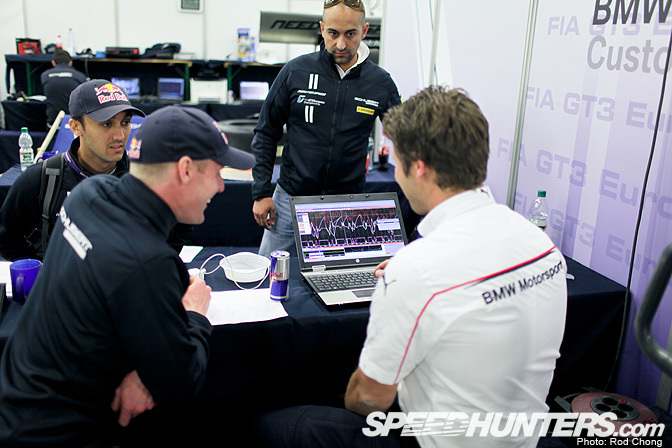 Heading back into the Schubert pit area, I found Edward and Aziz pouring over data with one of the BMW engineers.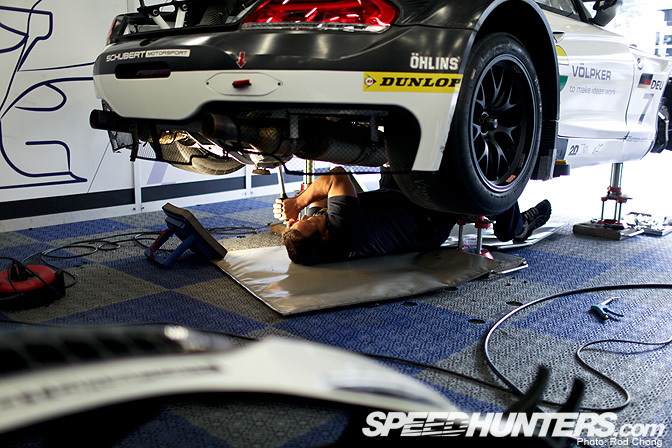 The Z4s themselves had been partially disassembled.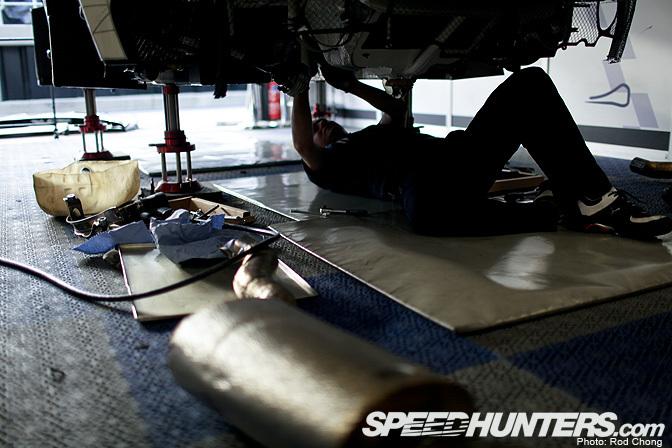 It seemed like a long evening was ahead for the mechanics.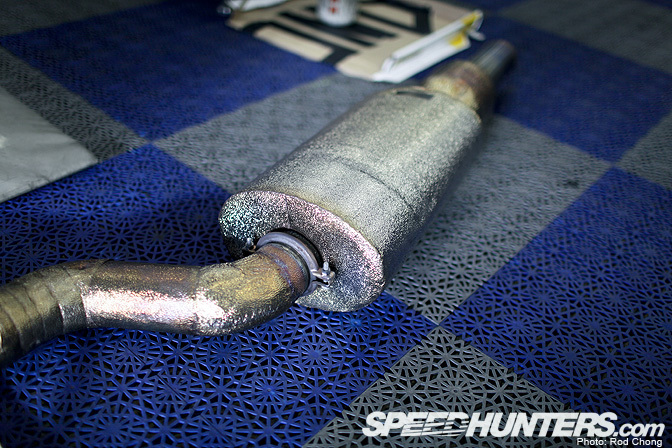 Check the trick wrap coating on the mufflers.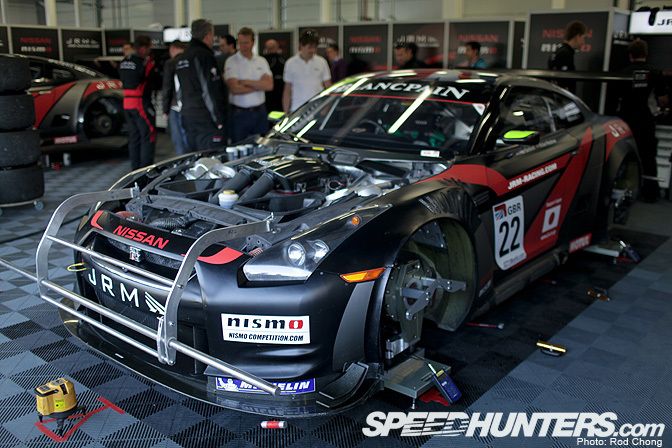 Next door to us were the JRM crew. Words cannot descibe the noise these cars produce when they are started up indoors BTW!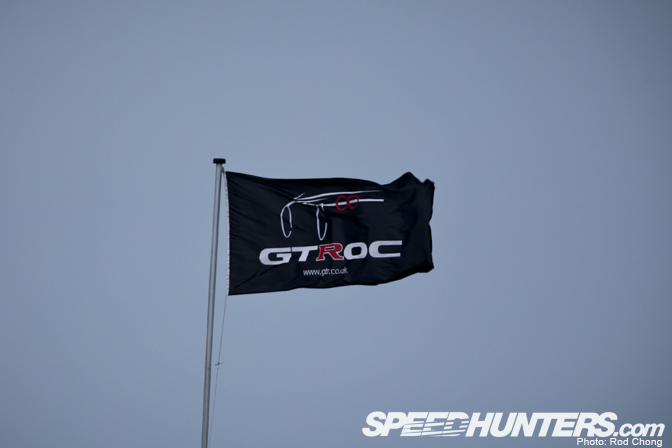 I decided to situate myself on the outside of Abbey for the start of the second FIA GT3 European Championship race… As I was waiting for the proceedings to get started, I couldn't help but notice the UK GTR Owners Club flag flying over the Stowe hospitality building, directly opposite the track from me. Hmmm… Interesting…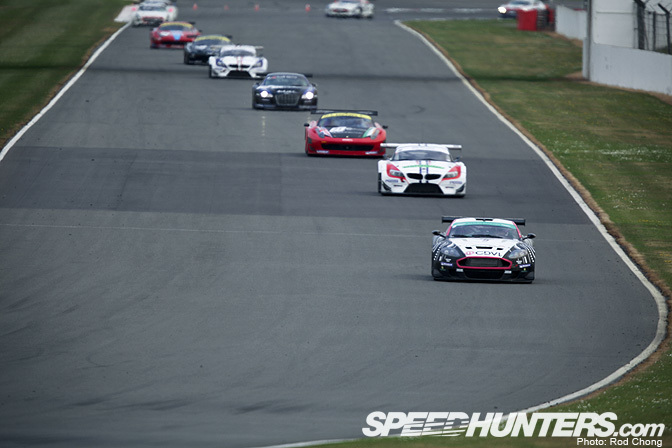 One thing that was cool about shooting at Silverstone, was that it was possible to follow along race events via the excellent PA system. It seems like there was a big accident at the race start, I missed it though!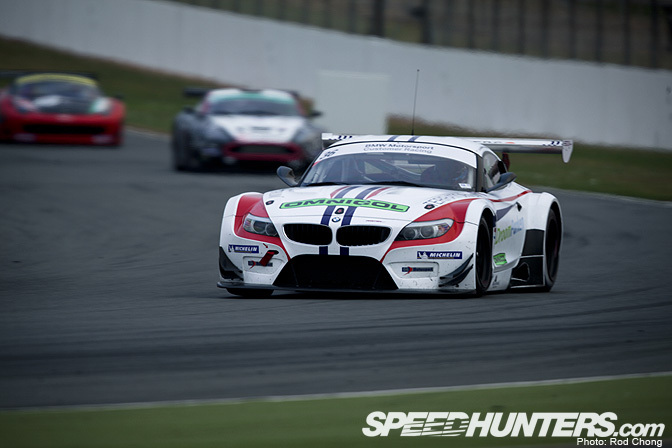 It didn't take long for the all Dutch Faster Racing BMW Z4 GT3 to take the lead.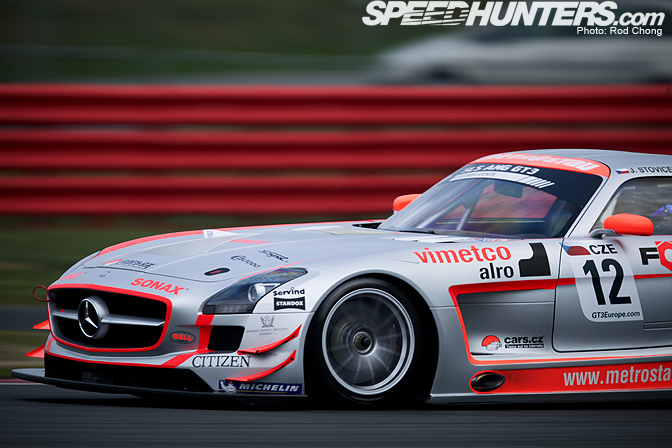 I seem to have a habit of shooting the number 12 Mercedes SLS. Even though it's one of the slowest cars on the grid, it's one of the prettiest… The SLS is such a new race car, I still get a real kick, every time I see it.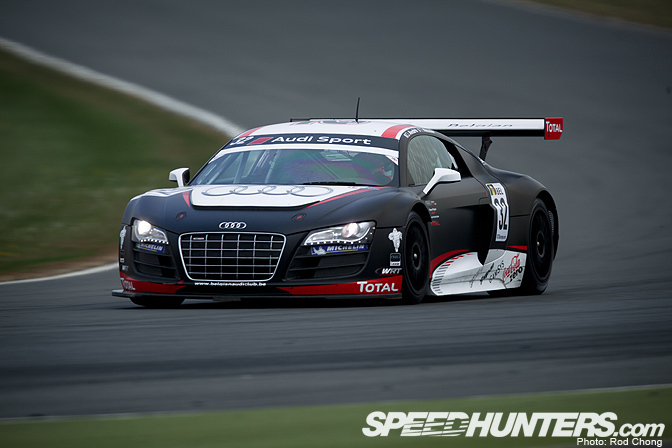 I have to admit I'm a little guilty of neglecting the older race cars on the grid.
It wasn't that long ago that we were announcing the Audi R8 LMS with pure glee in our eyes. Yet two years later, I barely notice them… How odd, I must be getting jaded! Reset needed!
They are beautiful cars it has to be said, but don't seem to factor much in the FIA GT3 races. As all the cars are supposed to be "performance balanced" I can only assume this is due to the relative speed of the drivers.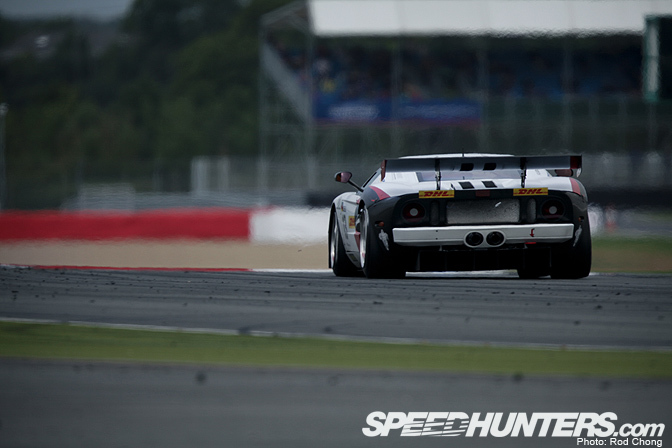 Here's another car that could use some more attention: the GT3 spec Ford GT.
Notice the body roll as it powers though the high speed Stowe corner. This is a chassis on the limit of adhesion right here.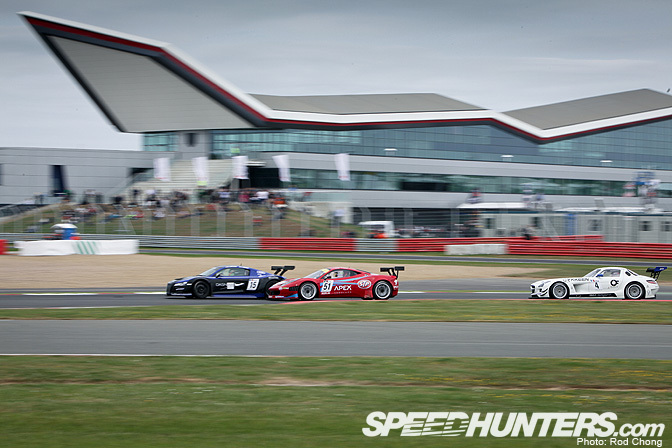 As the race progressed I made my way from Abbey Corner over to the last sequence of corners: Vale and Club.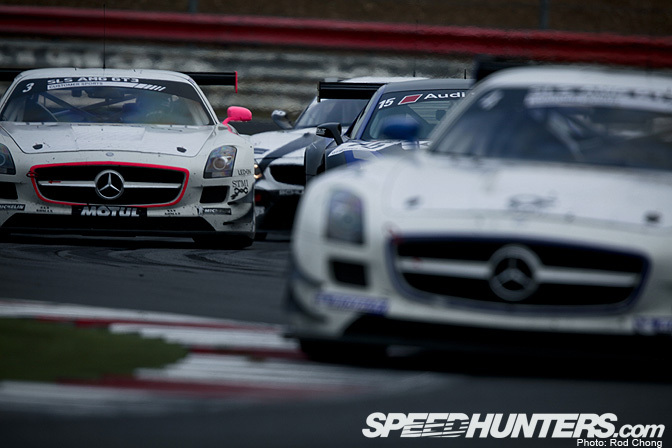 Vale was the scene of some intense and aggressive overtaking manoeuvres. In this shot we can just make out Edward Sandstrom lining up his last set of victims. At the race start, his co-driver Aziz was tapped into a spin and ended the first lap in last position. So the charge back to to seventh place has to be commended!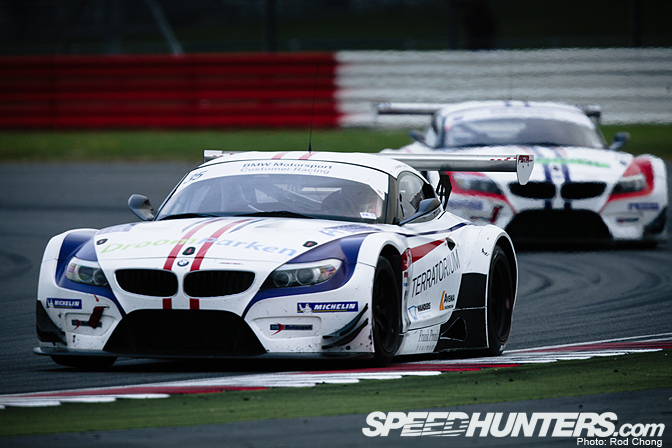 As the flag came down it was Faster Racing that scored a dominant 1-2 finish with their pair of BMW Z4 GT3s. The cold Sunday weather seemed to suit their Michelin tires quite nicely.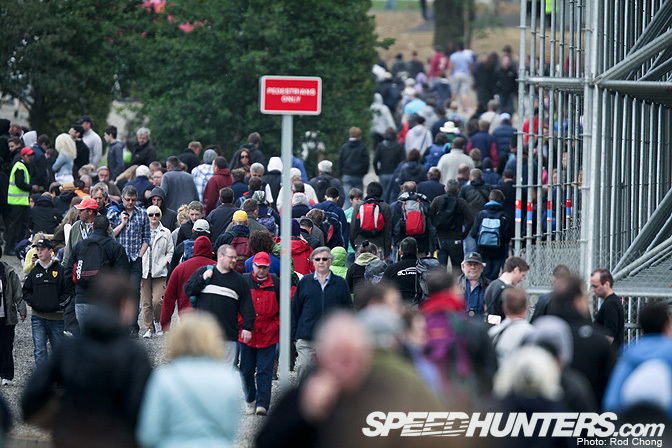 BTW I have to give props to the event promoter, as this was the best GT1-GT3 race weekend I've had the pleasure to attend. There was a good vibe in the paddock and around the circuit.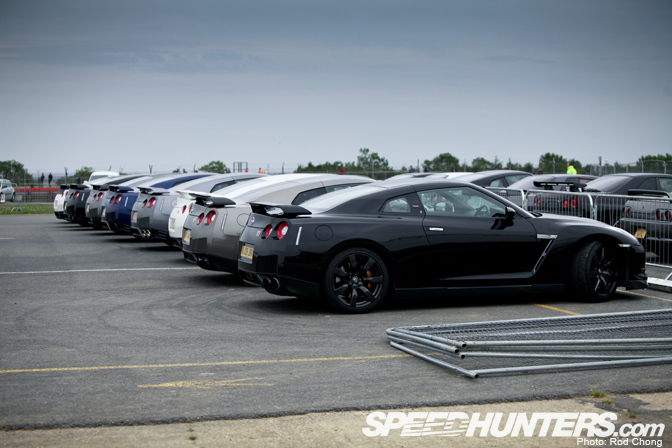 As the GT3 podium ceremonies got under way, Jonathan and I decided to sneak over to the Stowe Apron building to check out if the GTROC were up to anything.
This is what we found.
Nice.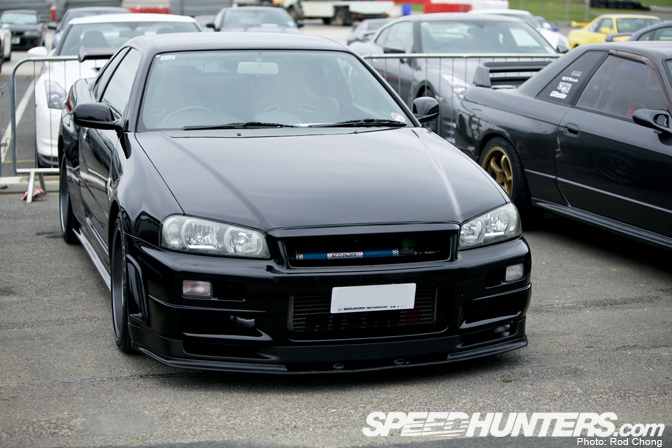 It must have been my Speedhunters jacket that gave us away, as we were immediately greeted by some of the GTROC members, including the owner of this very special R34, Matthew Bourne.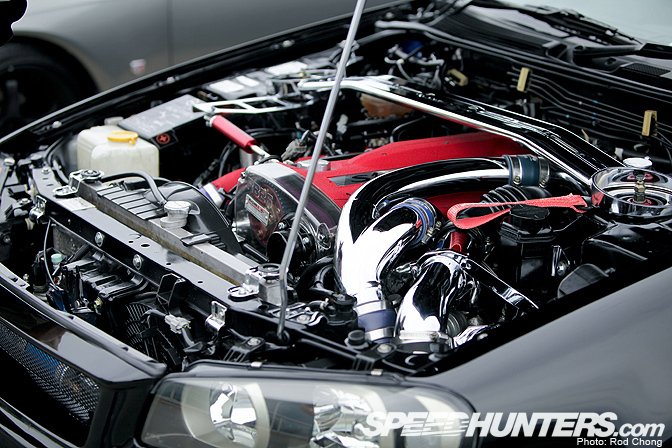 This is a rarest of rare, Nismo built GT-R. I think it deserves a full Speedhunters feature, so we'll be looking to get Matt hooked up with Paddy McGrath for a proper photo shoot.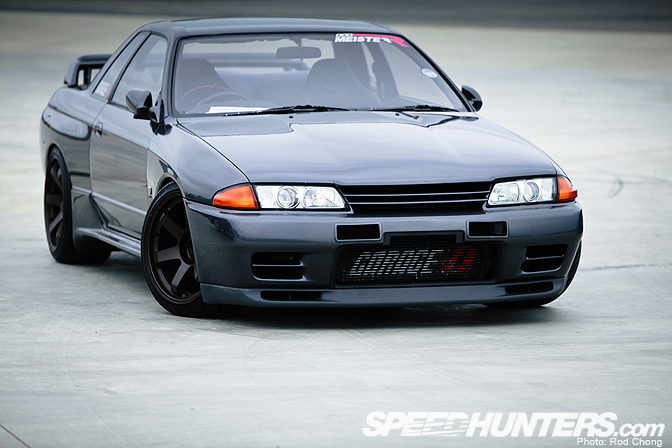 This R32 was just begging to be shot! At this stage Jonathan and I were grinning from ear to ear.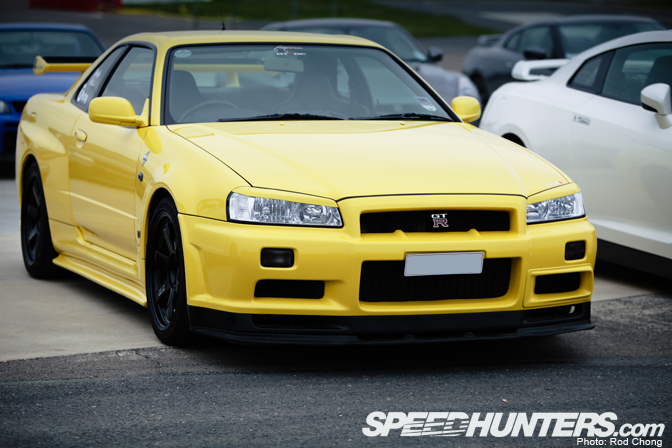 One of only a handful of yellow 34s in the UK.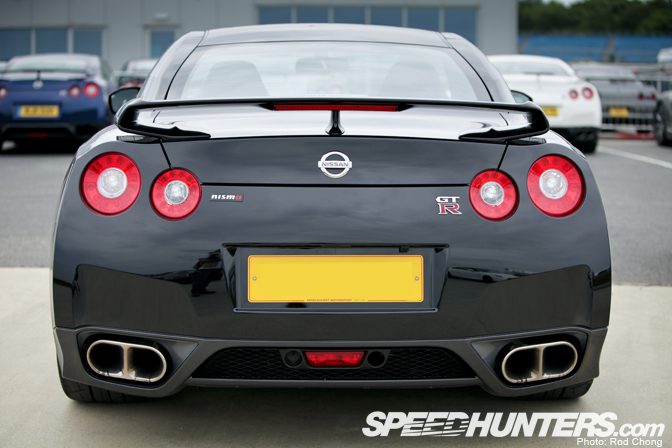 This R35 was pointed out as having the full catalogue of Nismo goodies bolted on.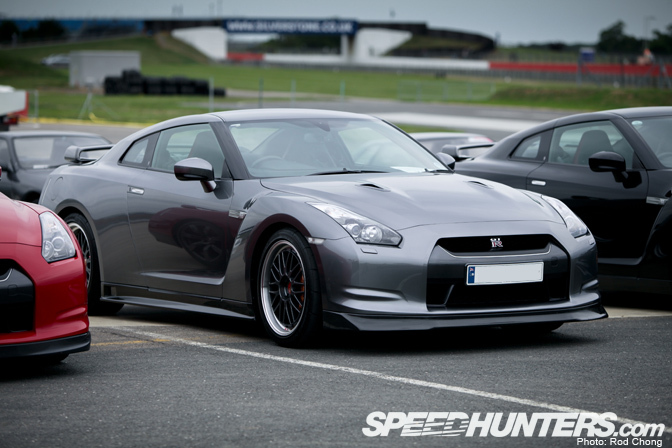 It's this type of find that makes our lives as Speedhunters so special. We'll be looking to do more collaborations with the GTROC in the future, as we'd love to cover more of their events with proper detail.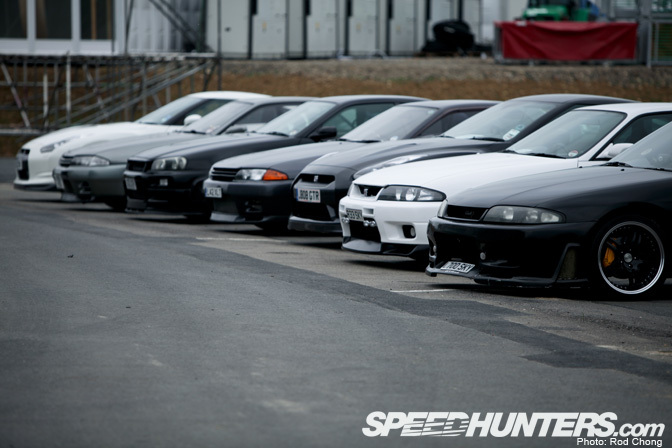 I felt like I was paying full attention at Silverstone this weekend, and
the discovery of the GTROC meet was the reward for my unfettered
mindset. Had I been on auto-pilot, I might not have noticed their
flag and found this impressive array of mouth watering GT-Rs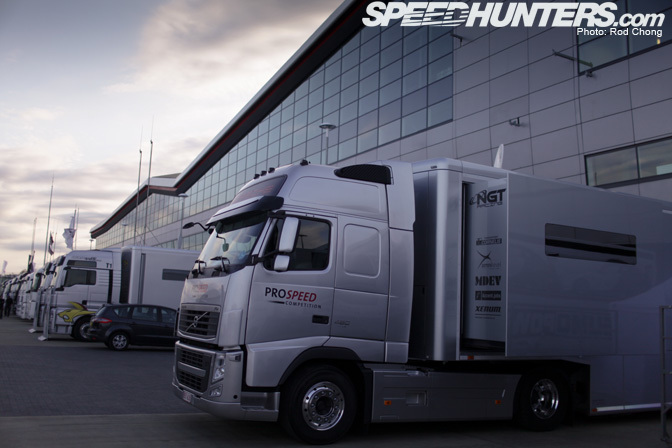 Ok that's all from me for now.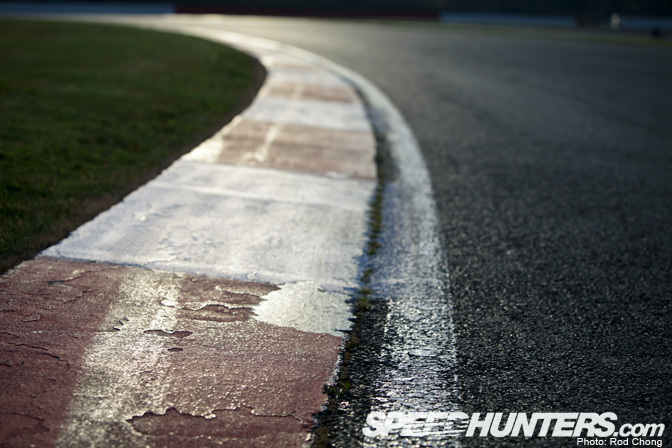 Paddy should be along soon with his own story from the event – I'm particularly looking forward to his coverage of the Supercar Meet. The selection of exotics that came out to Silverstone was pretty staggering!
We also have driver blogs from David Brabham and Edward Sandstrom coming up too.
Ciao!
:Rod