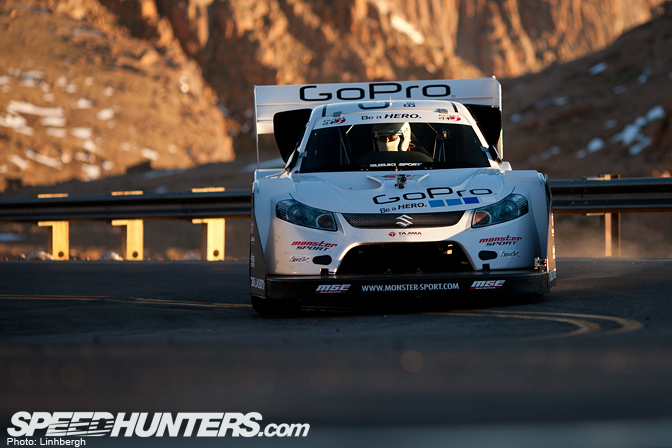 Sixty percent oxygen is what you have to live on when you're standing on the top of Pikes Peak at 14,110 feet. Every step and every movement becomes a chore. The simple act of laughing at a silly joke will leave you gasping for air. Life at the top of the mountain is, quite obviously, not easy. It's a serious test for anyone up at that altitude –including the cars.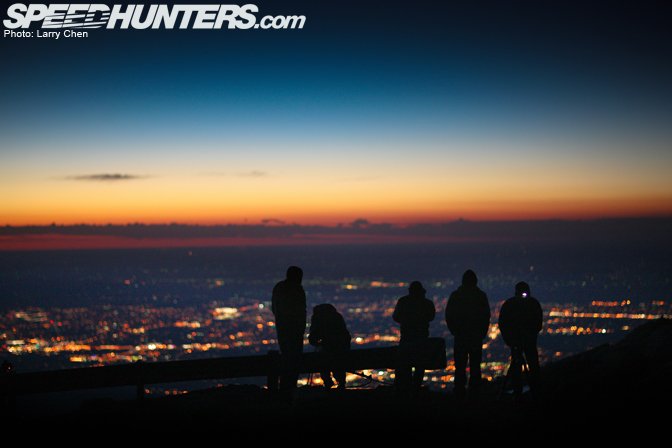 The morning started off like the previous morning: 230am wake up calls, grumbled to find clothes to throw on in the dark, headed over to the 7-11 convenience store to grab some last minute supplies for the day and drove up to the mountain to be greeted with views like this.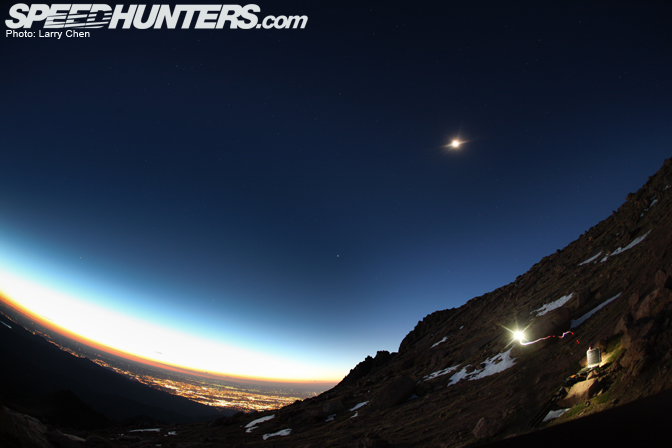 Whatever grumblings you had in the morning are instantly washed away when you see the warm glow of morning creep into the night sky and the twinkling city lights as viewed from the elevation of 13,500 feet.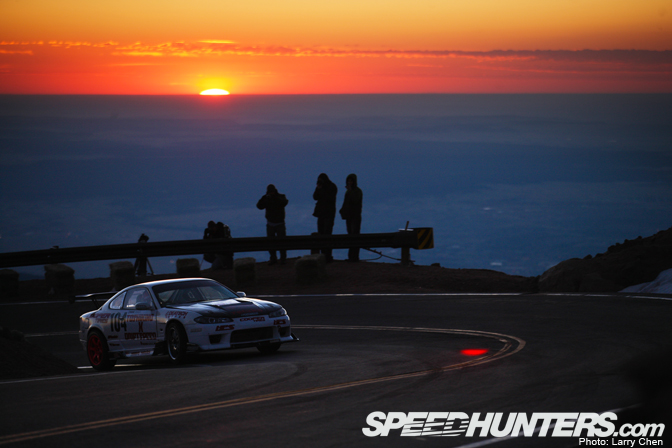 There's no need for coffee when you realize you're standing on Pikes Peak and are about to experience breath-taking sunrises. Your morning coffee is the sound of an S15 flying up the mountain side…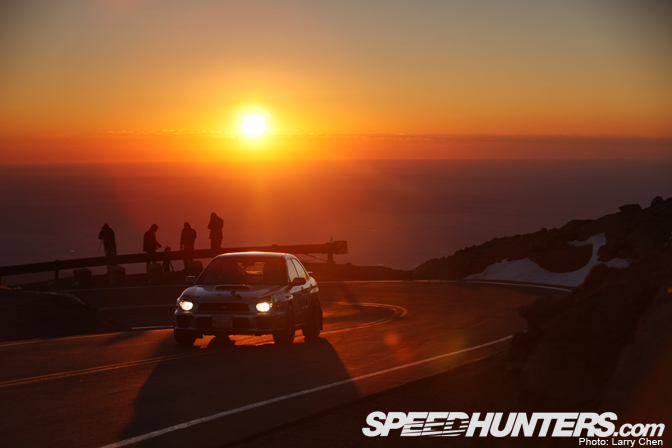 …the sound of an angry boxer engine…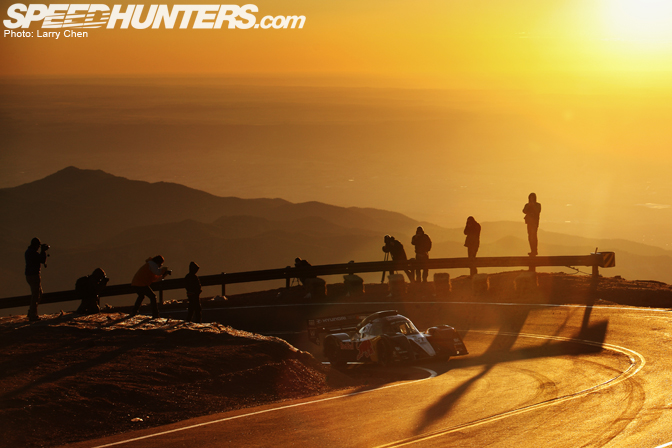 …or the howl of the RMR PM580.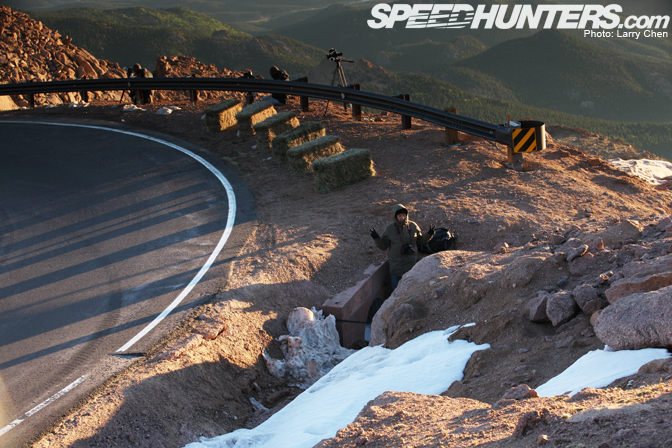 Since there are no designated photo spots, its up to the photographer to get creative (not to mention, safe) about where they shoot. Since the paving of the road, they've added these deep rain gutters. I found these to be of great help to get a nice and low shot.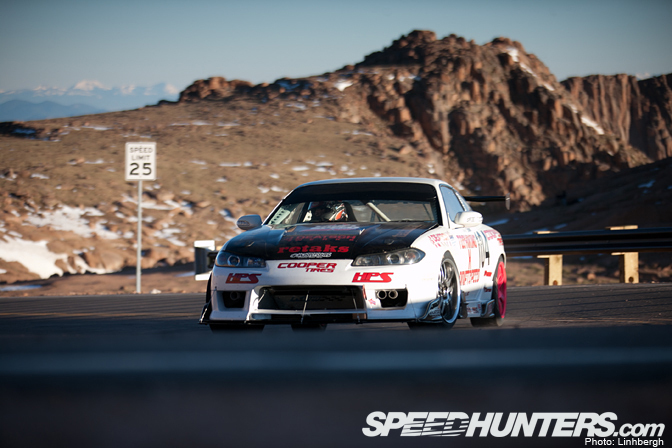 The result of standing in a drainage ditch? Shots like this one of Toshiki Yoshioka's S15…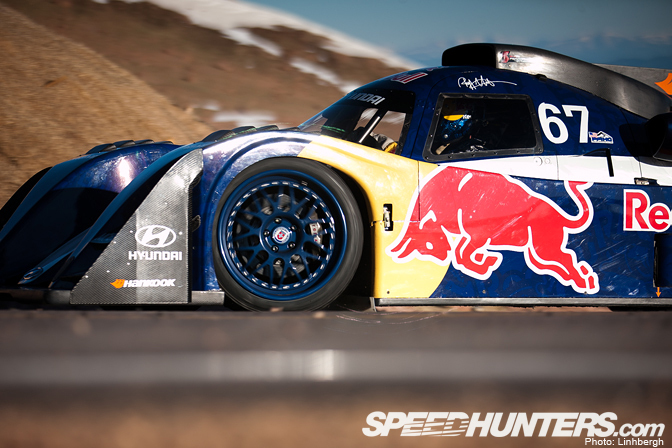 …or this one of Rhys Millen's Hyundai prototype which shows off the not-so-perfect "because race car" exterior condition of a seemingly perfect car.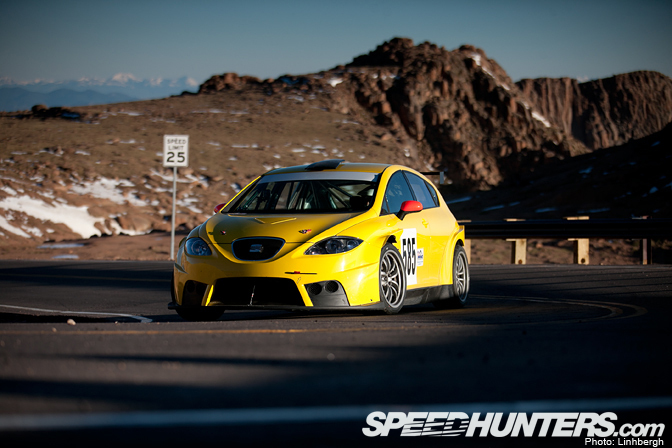 Like on the first day of practice, this heavily modified SEAT (pronounced say-at) Leon Supercopa, which is competing in the time attack class, continued to solidify the fact that it does not have a bad photo angle.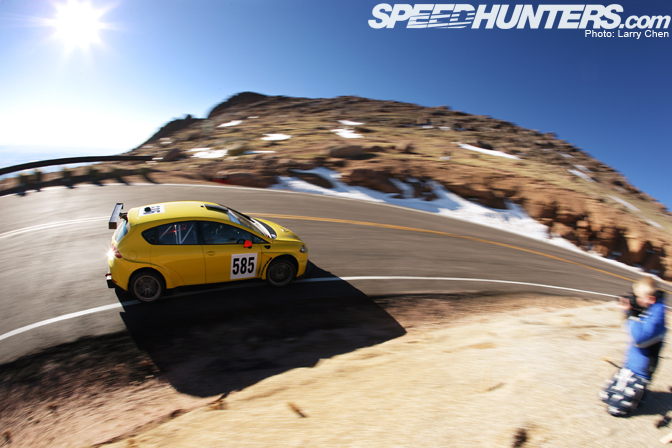 Even little kids couldn't help but to take photos of the SEAT.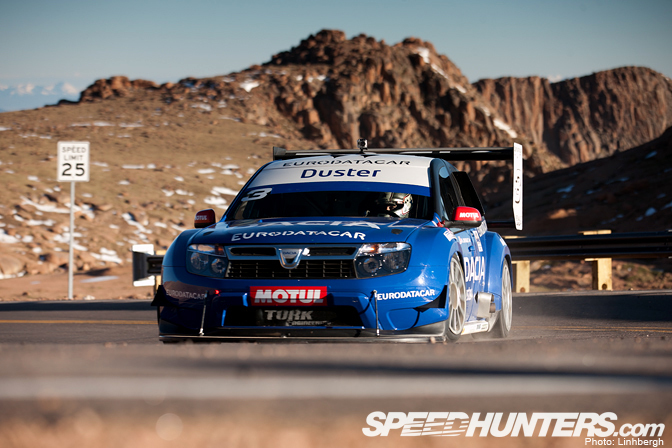 The ever amazing VR38 powered Dacia Duster also showed off its best angles.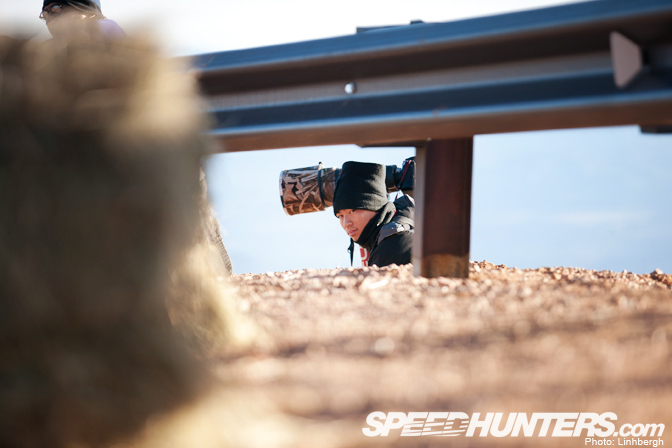 Larry Chen also had to get creative with photo spots. Luckily, he somehow attached himself to a side of a cliff to shoot. The result?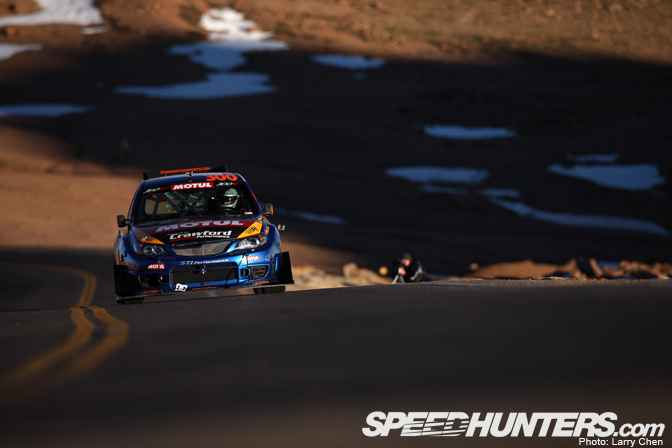 Shots like this…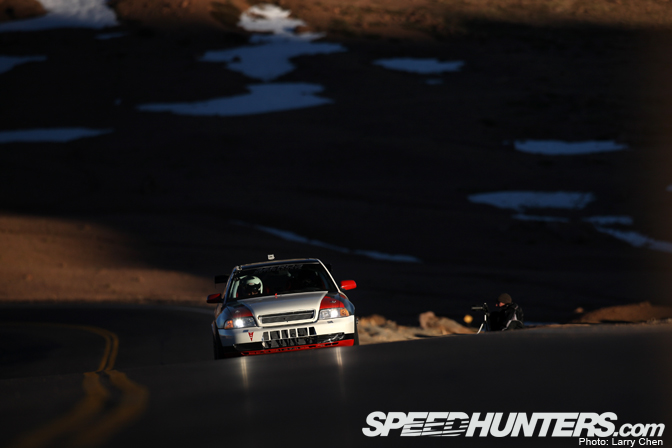 …and this.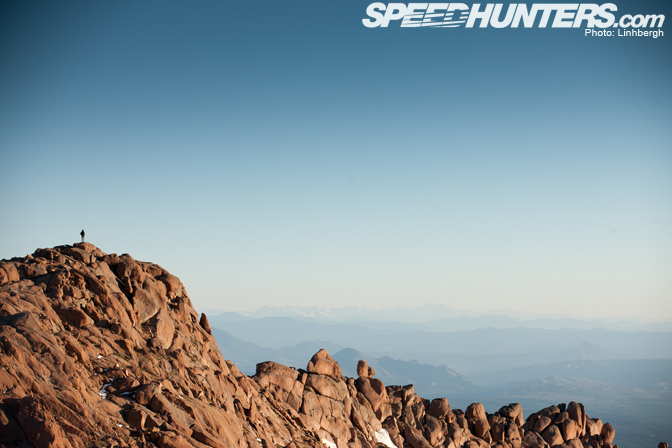 The views from close to top (approximately 13,500 feet) are nothing short of spectacular.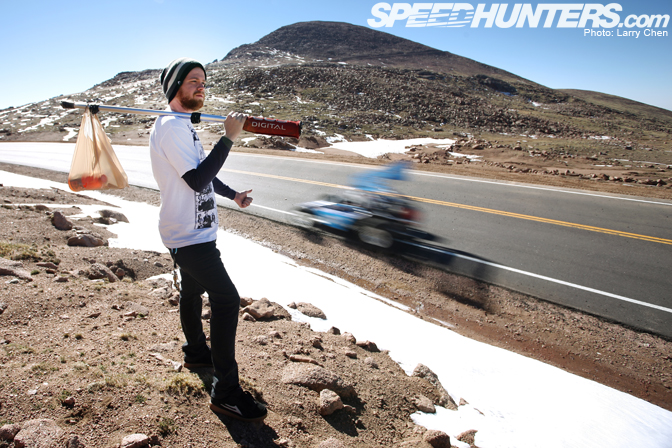 It was strange to find video guy, Joshua "Hobo" Herron, try to hitch a ride from one of the race cars.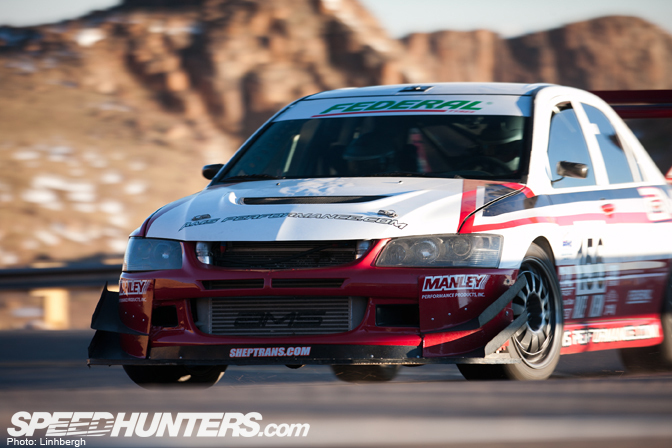 Dave and Allison Kern were looking spectacular all morning long in their AMS Evo…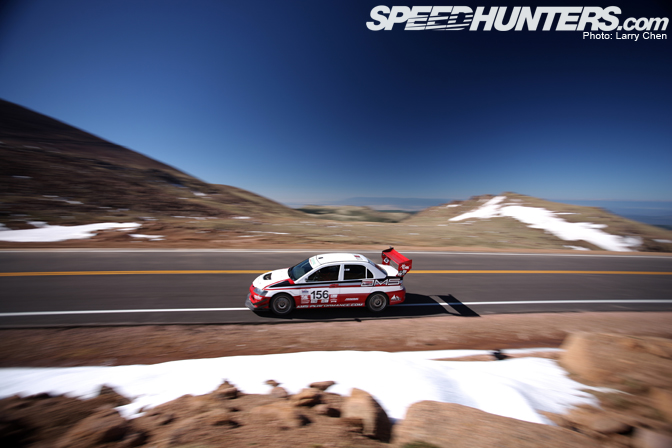 ..not to mention their new livery.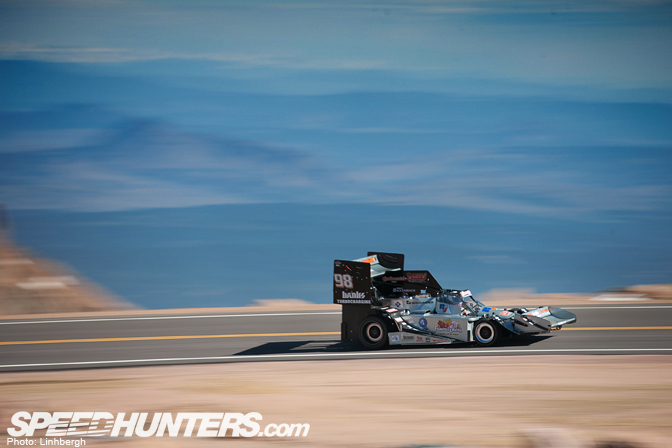 Paul Dallenbach seemed to be struggling with his 1307 horse power unlimited car since the first day's practice. During one of his runs, he went off course. Luckily, nothing was damaged or broken and was able to squeeze in another run before the practice session ended.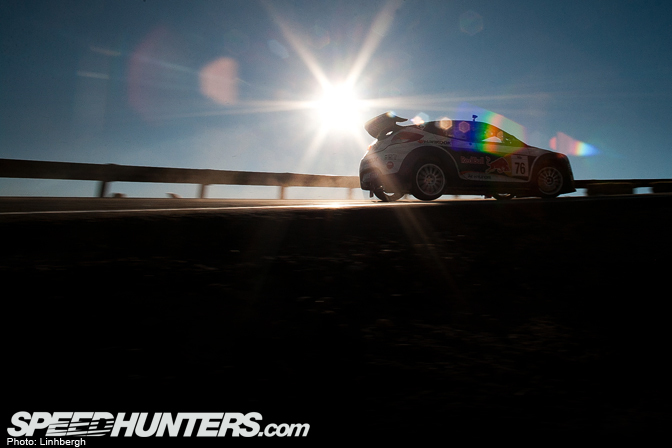 Lauchlin O'Sullivan, driving the rally cross Hyundai RMR Veloster, is competing in the Pikes Peak open class. He has been looking solid on both days of practice.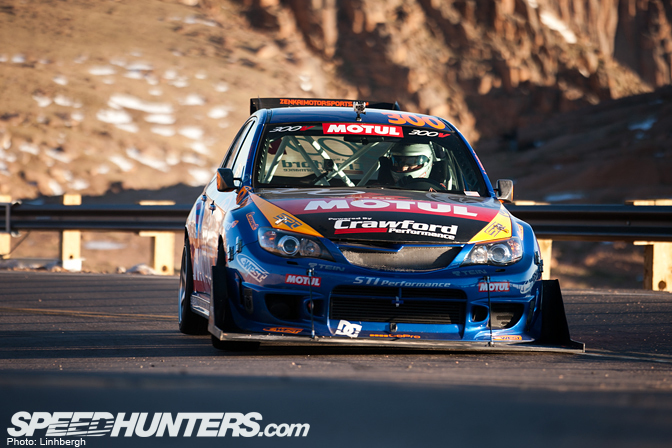 The splitter on Stephan Verdier's STI can compete with the one that Tajima runs on his Suzuki.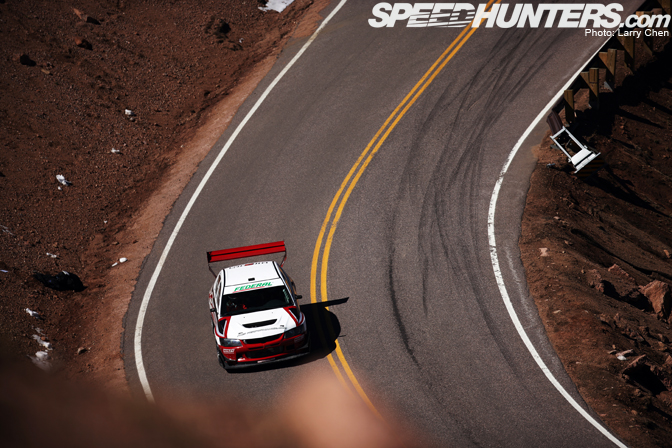 The tire marks from the week's runs will stay on the pavement for months.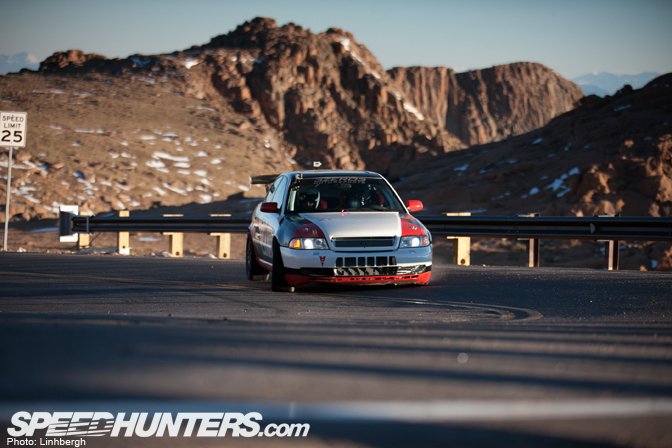 The variety of cars competing in each class is astounding. There are things like this time attack classed Audi A4…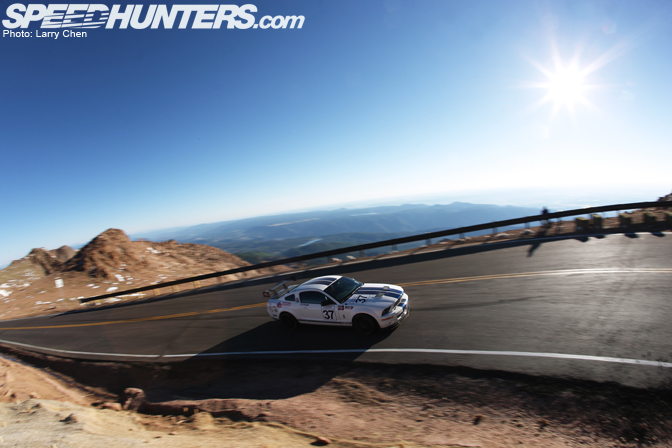 …to this supercharged Shelby GT500…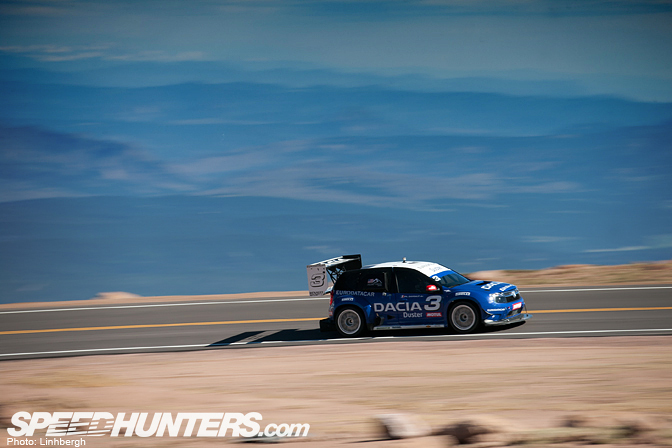 …to a car and car company that doesn't even have a presence in the United States, this Pikes Peak prepped Dacia Duster…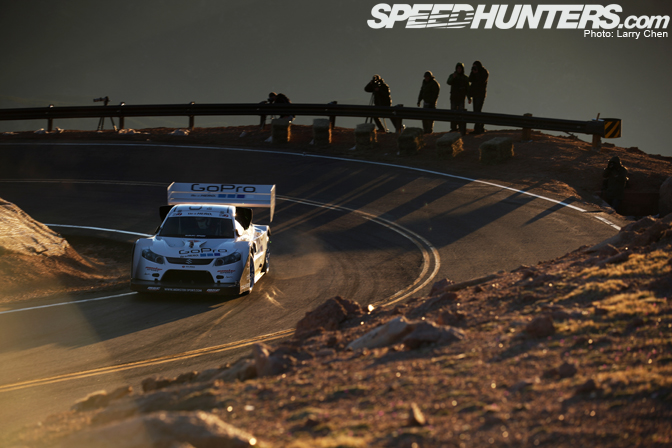 …and, finally, to one-off cars like Monster Tajima's Suzuki SX4.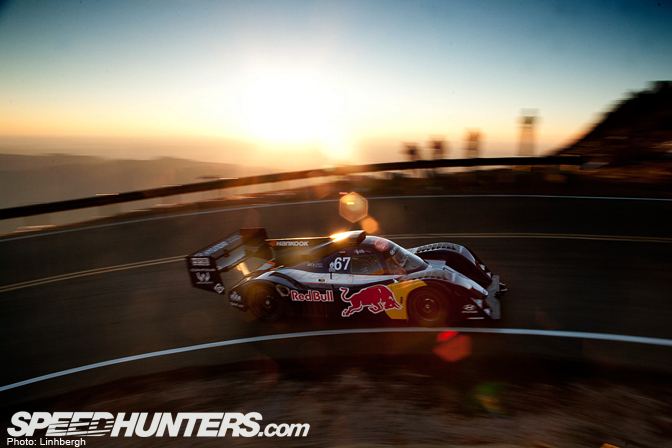 To save every last hundredth of a second, Rhys Millen was cutting into every corner.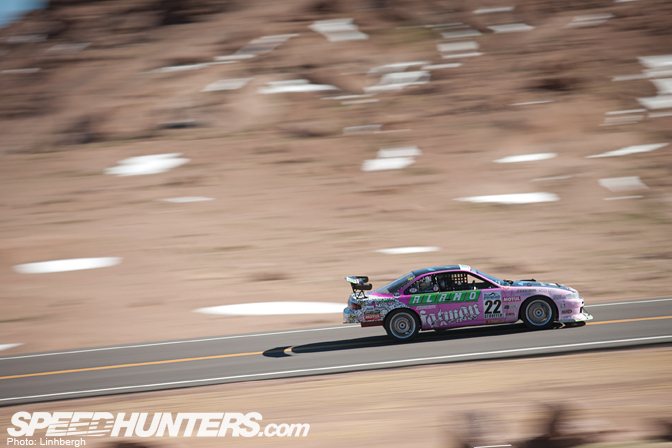 Kenneth Stouffer returns to the mountain with his pink zenki S14. We featured this car last year.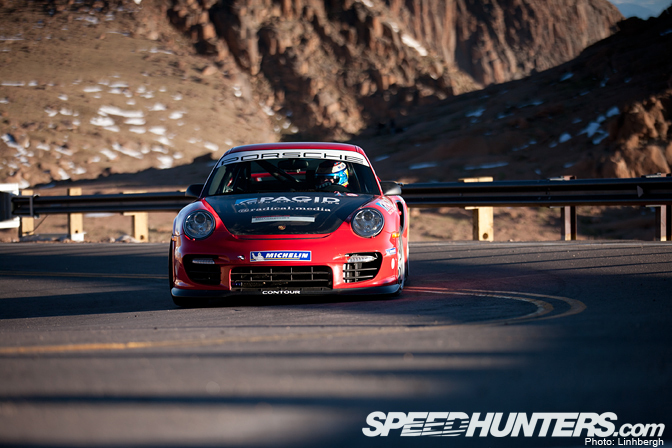 Last year, Jeff Zwart drove a Porsche GT3 Cup race car. This year, he's driving in a much more powerful, but street going GT2.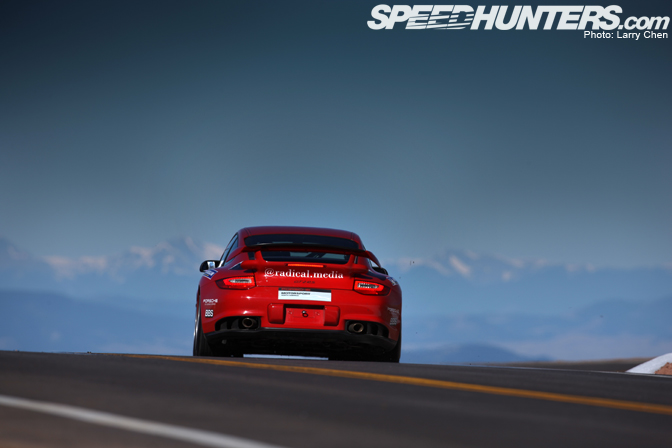 The straight line speed is much more than that of the cup car, but its cornering speeds are slower.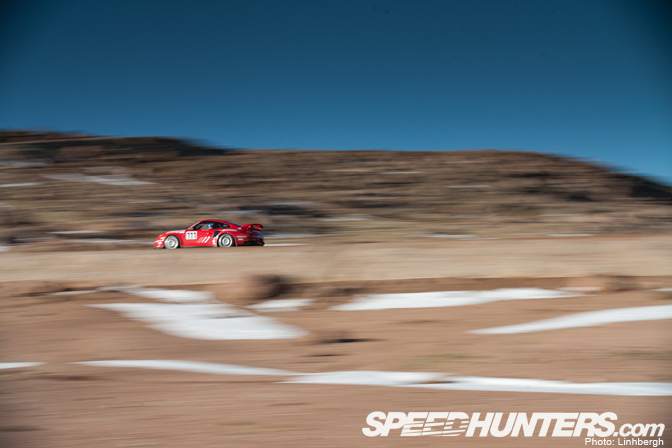 It is also one of the quietest cars driving in the practice sessions. Most of the time, I know when to shoot from the incoming noise of some form of race car. But with the GT2, all you hear is a soft "whooooosh!"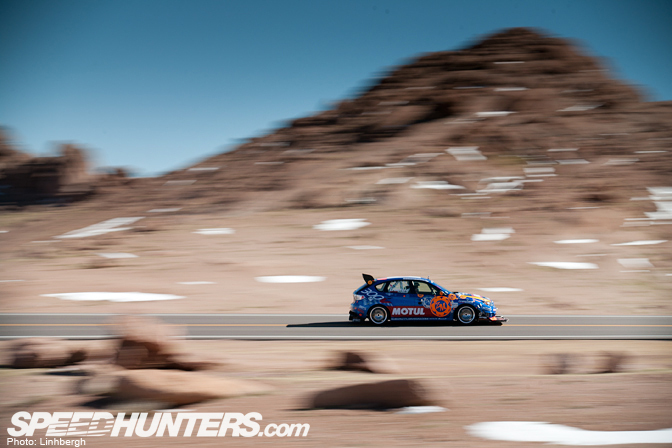 Watch out, cow herder coming through!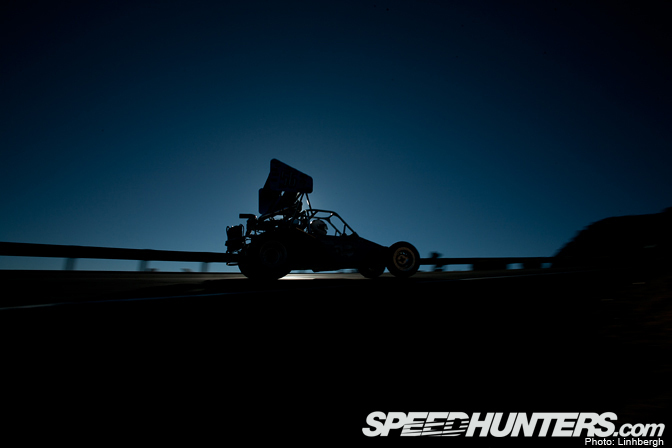 The open wheeled cars looked particularly fun as they dove into every corner and power sliding their way out.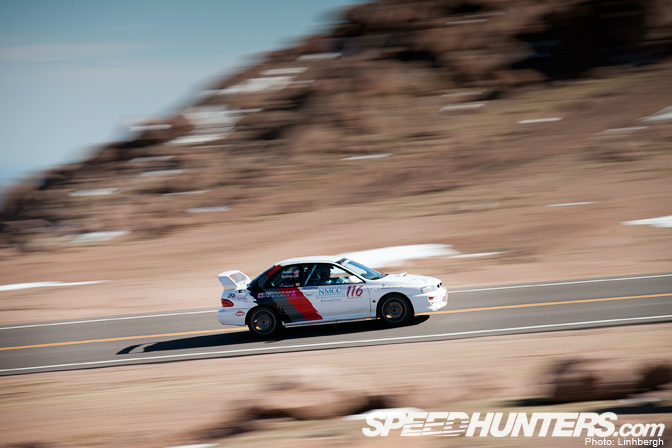 How about some GC8 lovin'?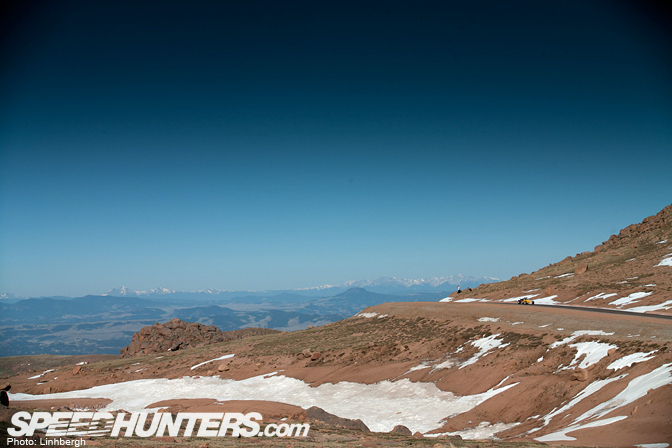 No matter where you are on the mountain, you'll be treated to views like this.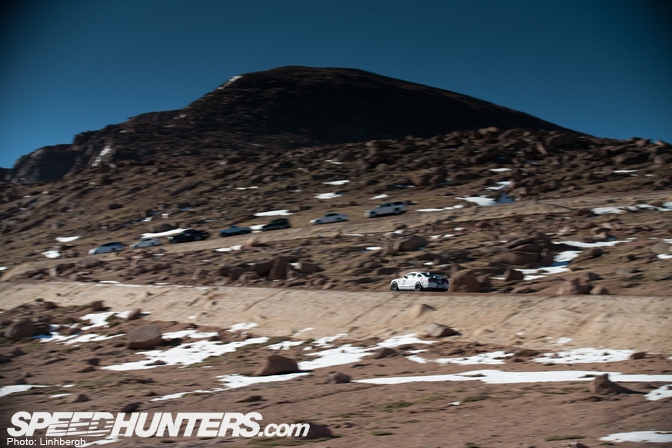 Ladies an gentlemen, I present to you the peak of Pikes Peak. Up on that massive piece of rock is the finish line.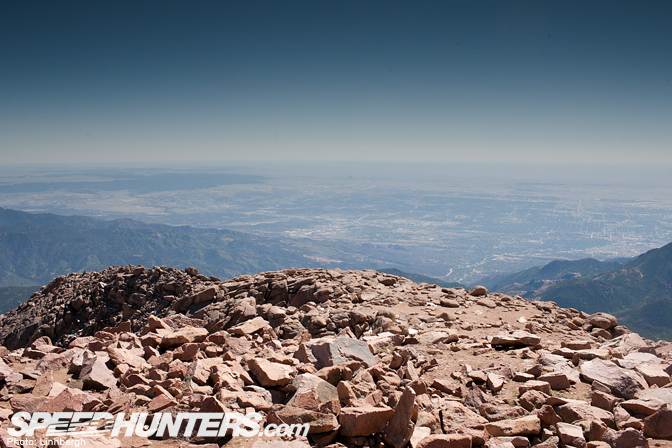 After practice, I headed up to the summit for a bit of short-of-breath tourism.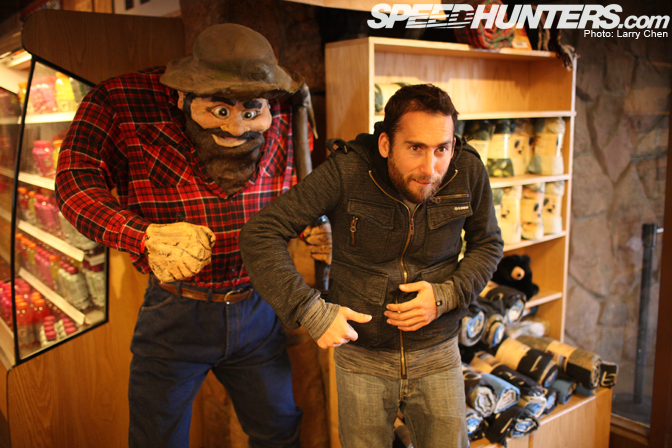 At the top stands a gift shop. There, you can purchase the fabled "Pikes Peak donuts." High altitude donuts which are made above 9,000 feet and require a different recipe and cooking temperatures. At altitude, the donuts are soft and flakey but once you take them down to sea level they deflate and taste as if it was stale.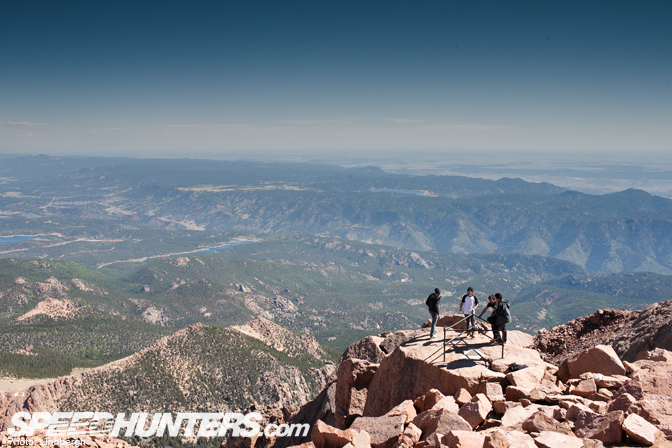 The views from the top are even more impressive than the views leading up. On a clear day, you can see for hundreds of miles.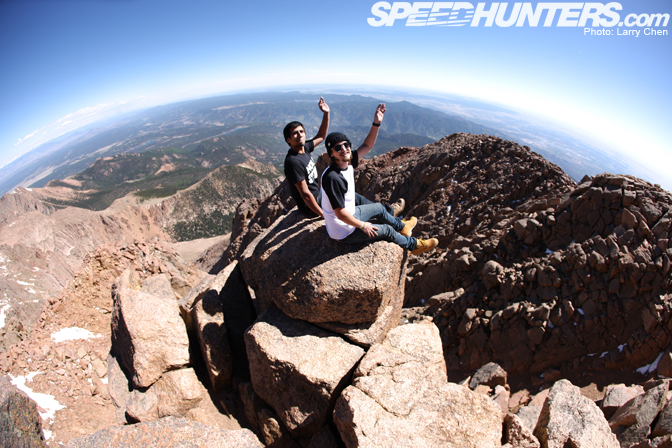 Filmmakers, Justin Shreeve and Joe Ayala, say hello to the world. They're also rather nuts for sitting on the ragged edge.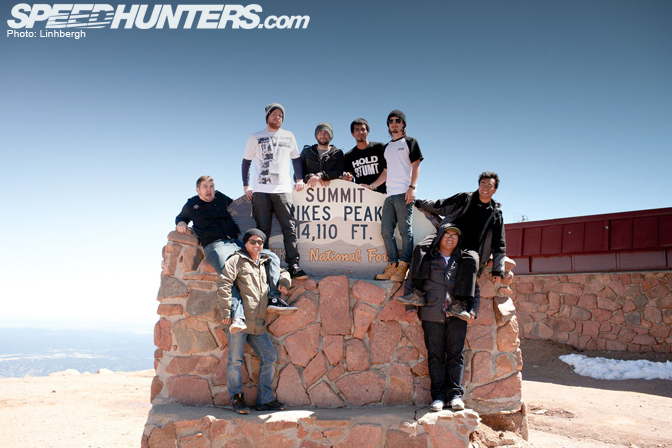 Formula Drift media invades Pikes Peak. From upper left to right: Skylar Smith, Joshua Herron, Will Roegge, Joe Ayala, Justin Shreeve, Larry Chen and Grady Nguyen.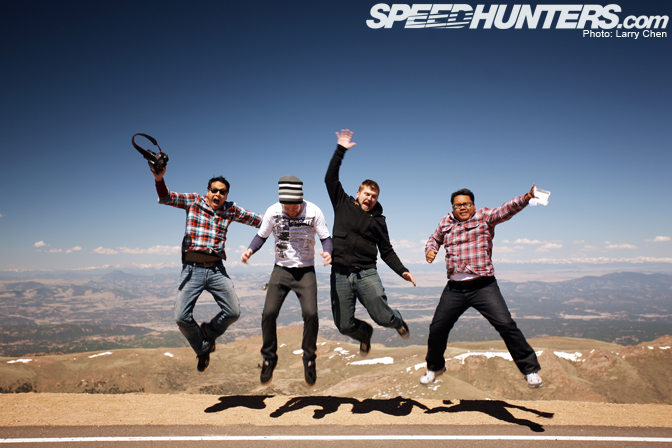 Doing a simple jump shot like this took the breath out of everyone involved. My vision temporary blanked out upon landing. Doing something as simple and trivial was a stark reminder of what the drivers will go through on race day. To some, it'll be 156 corners that will hopefully end before the 10 minute barrier. Sunday can't come soon enough.
-Linhbergh