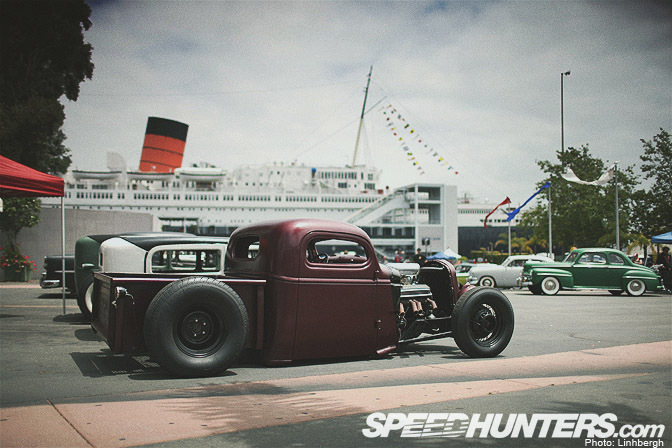 At any given weekend in Southern California, there's plethora of automotive related events to attend. There could be various meets, car shows, auto crosses or full on track days at your disposal. This past weekend was no different. On Saturday I attended the E30 Motor Werks bbq/meet. On Sunday, it was Ink-N-Iron, a hot rod/custom car show and tattoo convention which was held at the Queen Mary in Long Beach.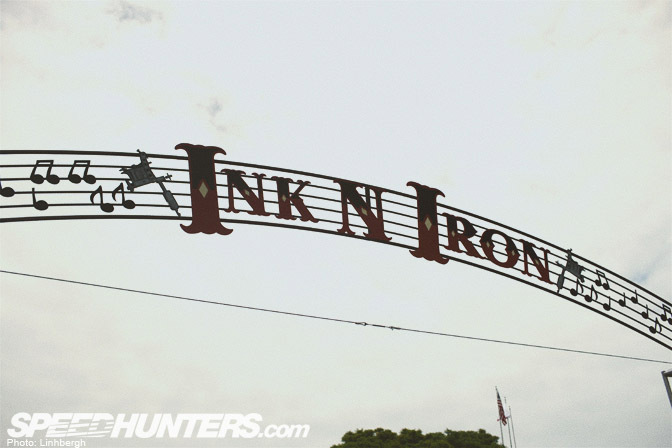 Of all the car shows I've attended, I've never been to one where I needed to go through airport-like security.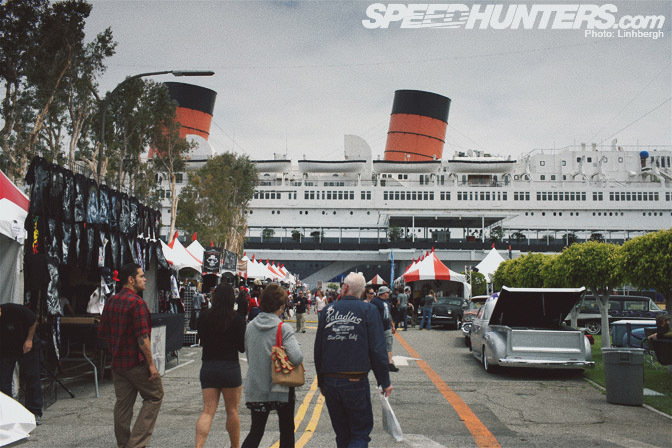 But after going through the metal detector, getting a pat down, and had my fanny pack searched, I entered the show. It felt as though I just walked into a bizarro Disneyland. Instead of the shops that lined Disneyland, there were hot rod/tattoo culture clothing vendors. It felt even more odd when you turn around and the Queen Mary cruise liner was a stones throw away.
Inside the Queen Mary was three levels of tattoo venders. If you wanted a tattoo, almost all the big tattoo artists can be found within the ship's belly.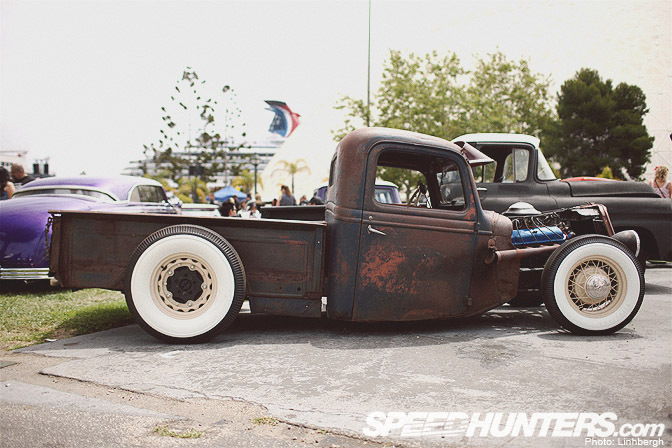 This slammed out truck was one of the first cars I came across as I entered the car show area.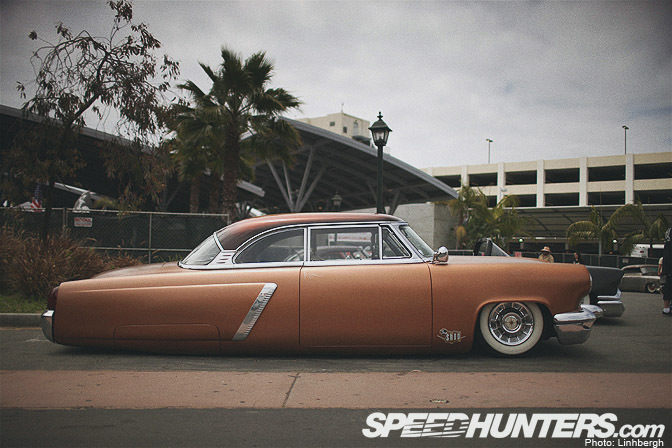 Not too far from that was this mid '50s Lincoln…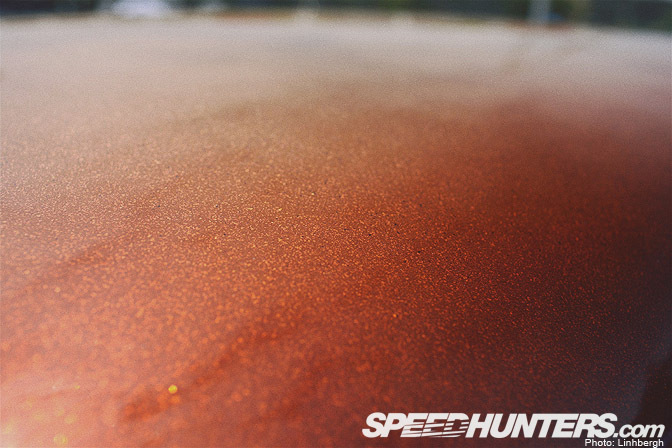 …that had some sweet metal flake on the roof.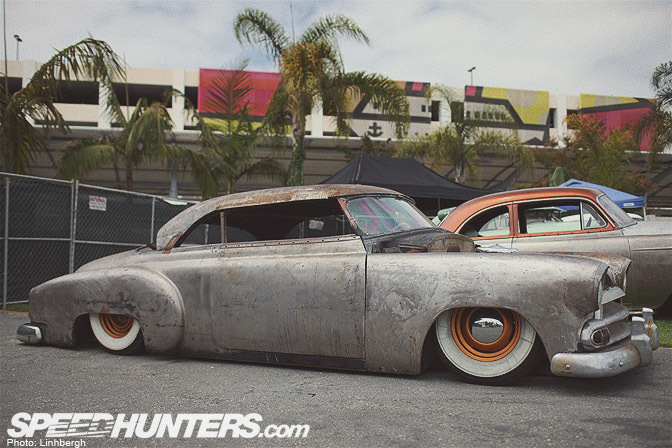 Lovin' this very raw '50s Chevy.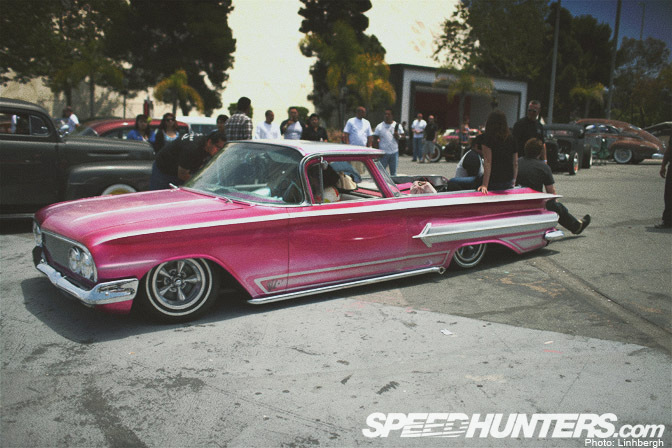 Can't really go wrong with a slammed out sparkly pink 1960 El Camino.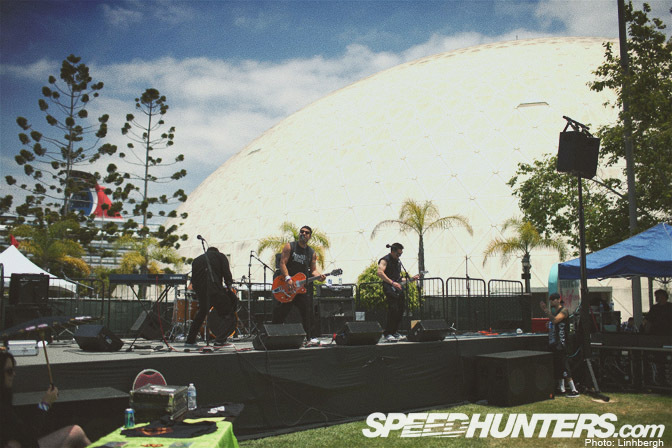 Aside from the venders, food stands, beer gardens and tattoo stations, there was live music all around. This was the secondary stage that flanked the car show area.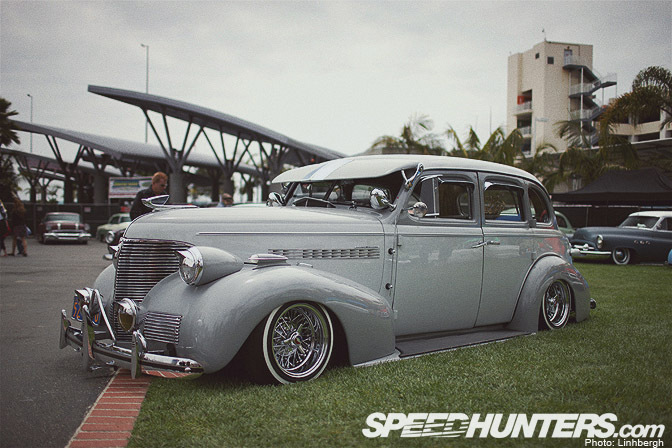 A trend that I've fallen in love with lately is this "bomb" style as the lowriders call them and as demonstrated by this 1939 Master Deluxe.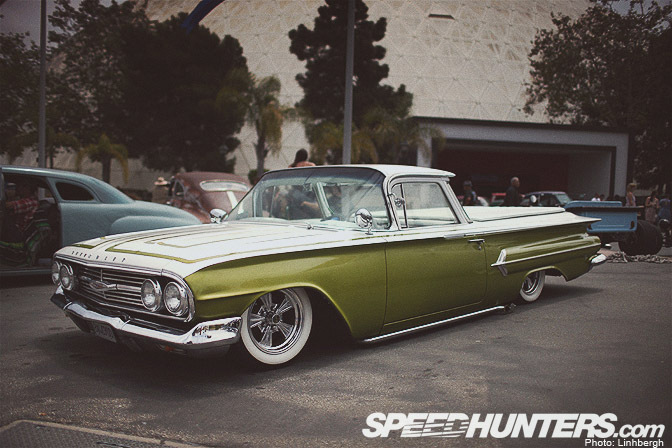 Another slammed out El Camino. This one is a bit more toned down than the pink one above, but still just as awesome.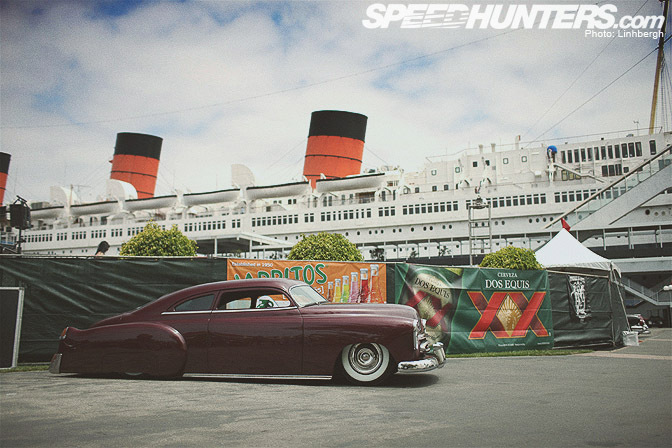 Can't really go wrong with a slammed Led Sled can you?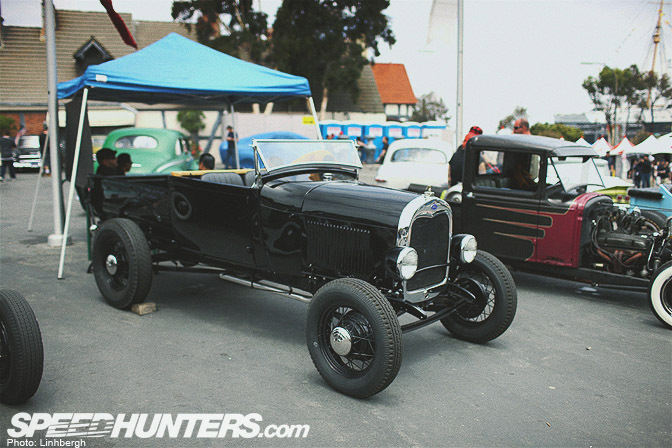 This Ford Model T was the most different of the cars at the show. It still sits on its original ride height!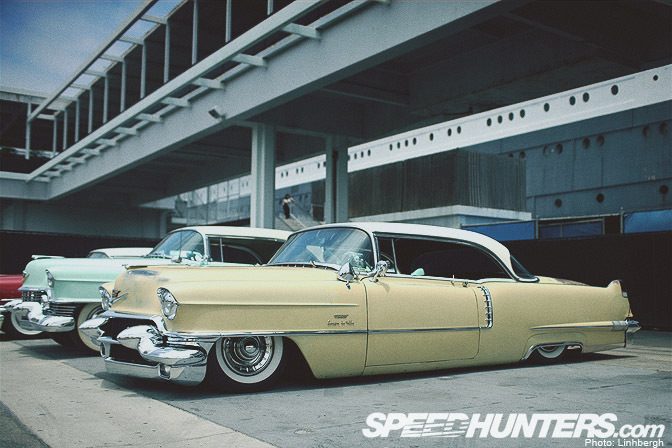 One of my favorites was this 1956 Cadillac that wasn't even parked at the car show area. It was stowed far away in a corner by the Queen Mary.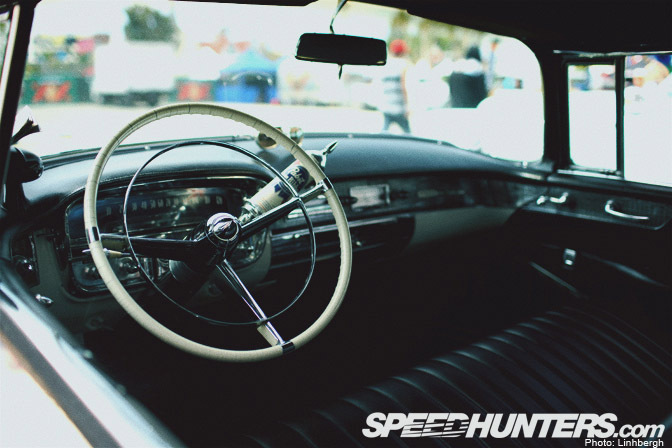 Check out that PBR gear shifter.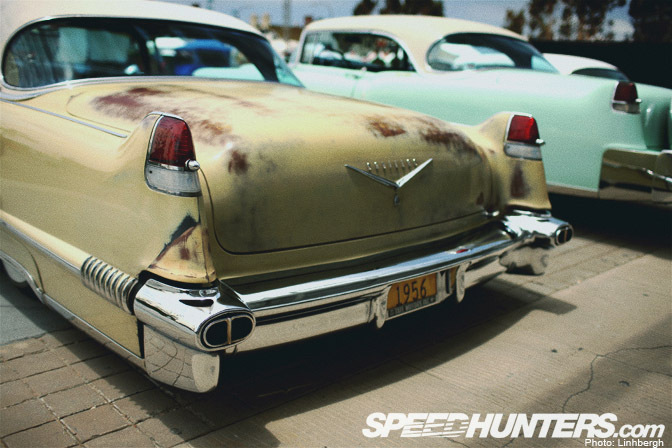 Exhausts that exit out of the bumpers? Major awesome points.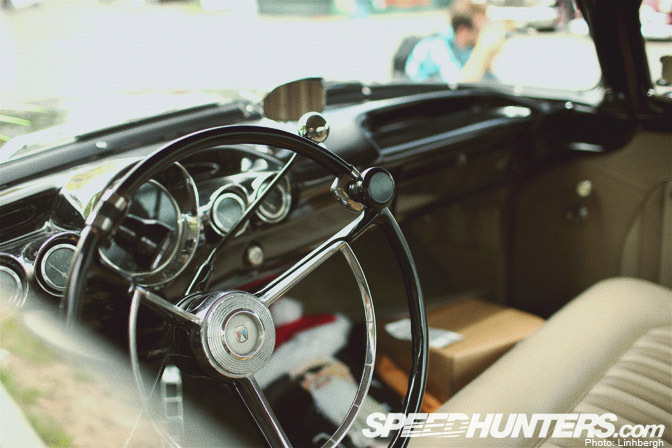 I just love the look of these classic interiors.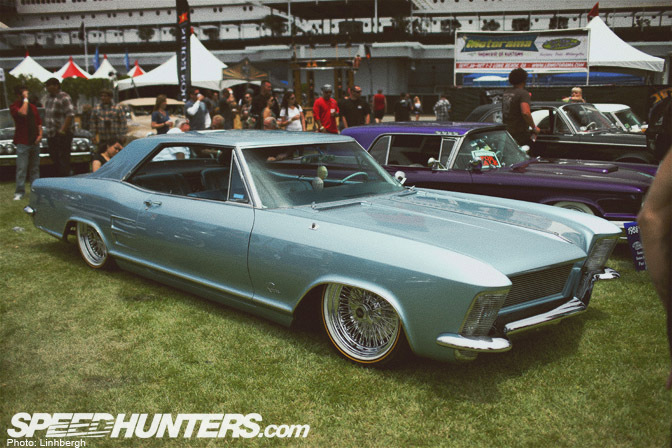 Not your normal '63 Buick Riviera.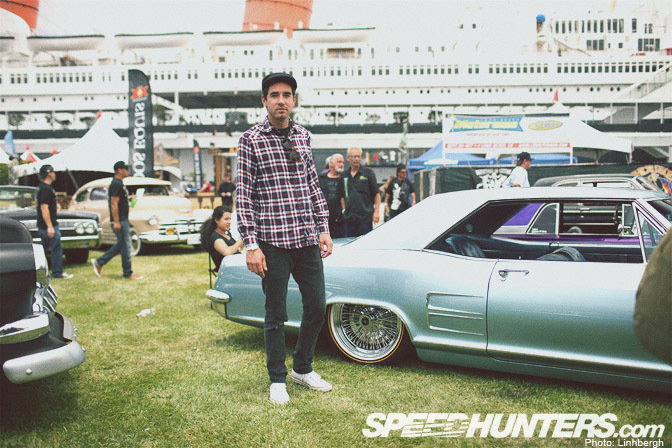 Look who I came across at the event! It's Tommy Roberts, Matt Powers' spotter.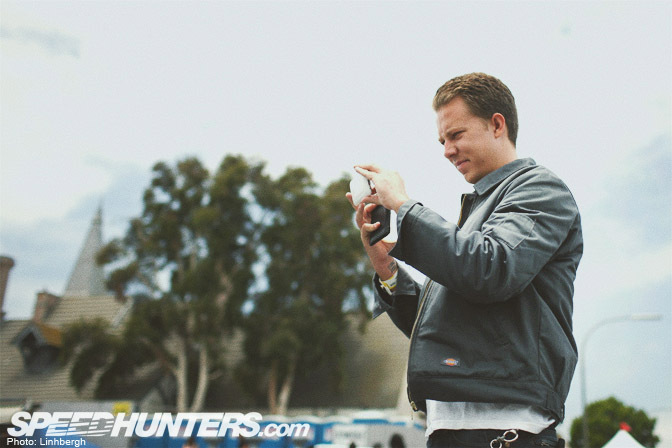 I also stumbled across Stanceworks' own Ben Terry.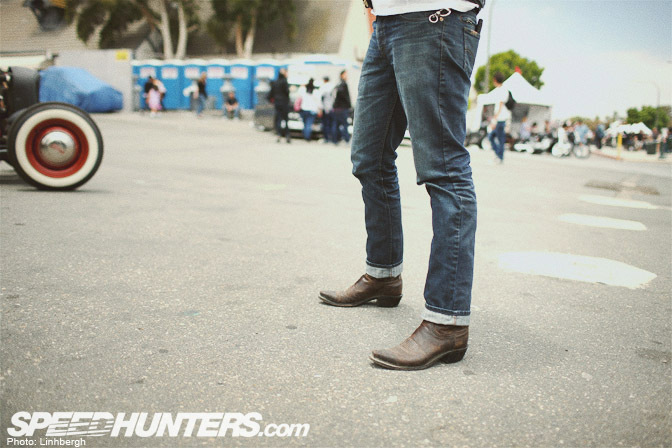 Seems like he's trying to bring back Texas style in a big way.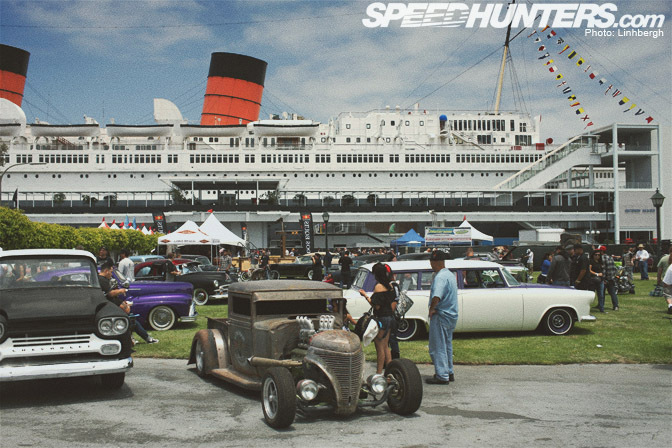 The crowd grew as the day progressed.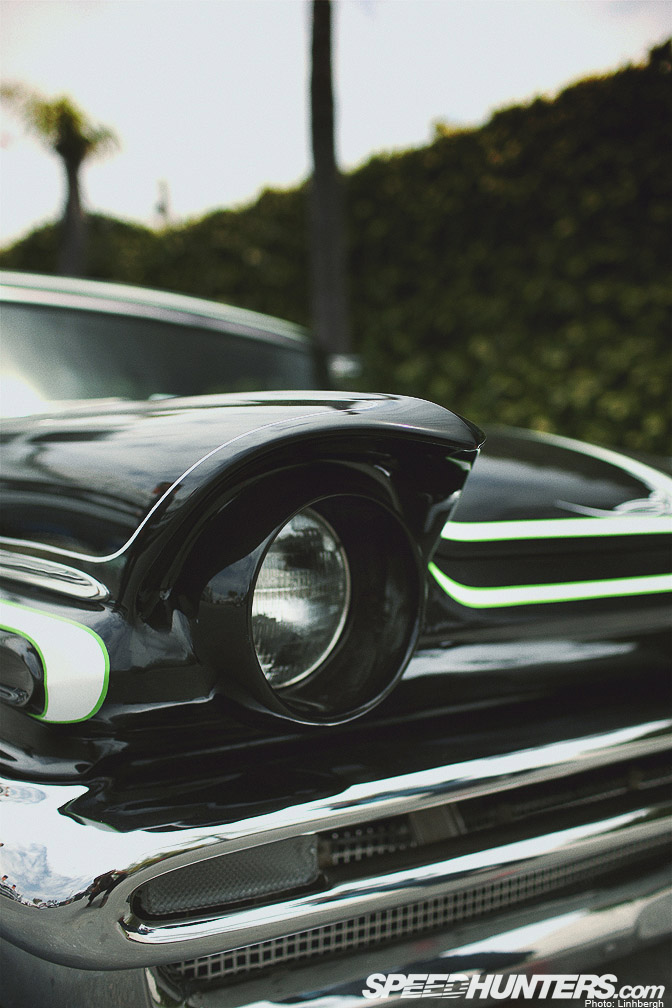 I've now attended quite a number of hot rod and customs shows and I have to say that out of all the car cultures and sub-cultures, this scene's attention to detail and craftsmenship is unrivaled.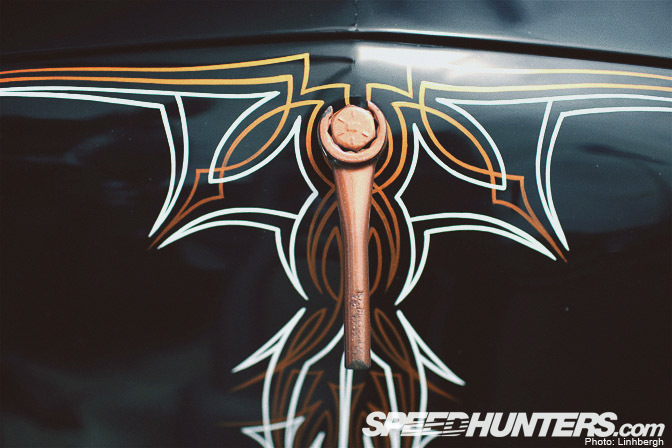 Where else will you be able to see clever bits like this truck latch?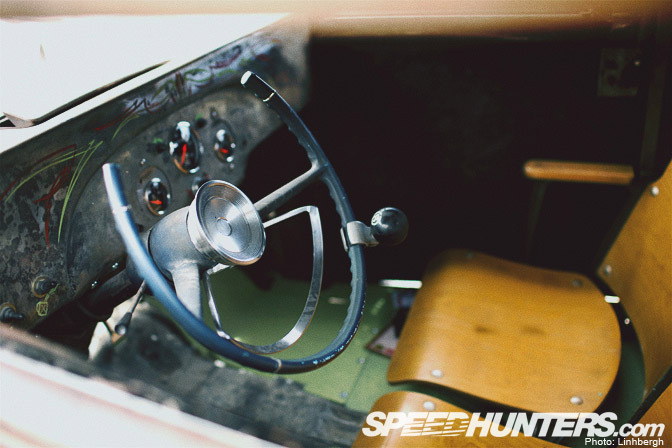 How can you not like the chopped steering wheel and turning knob…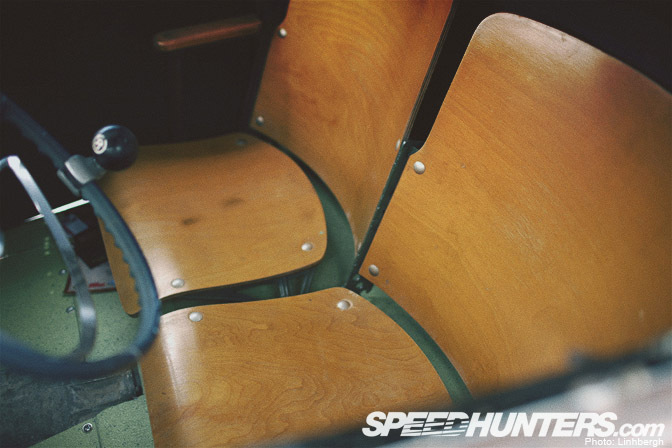 …and chairs that look as though they were taken straight out of an elementary school classroom and bolted into the car. Even the choice of flooring has that old classroom feeling!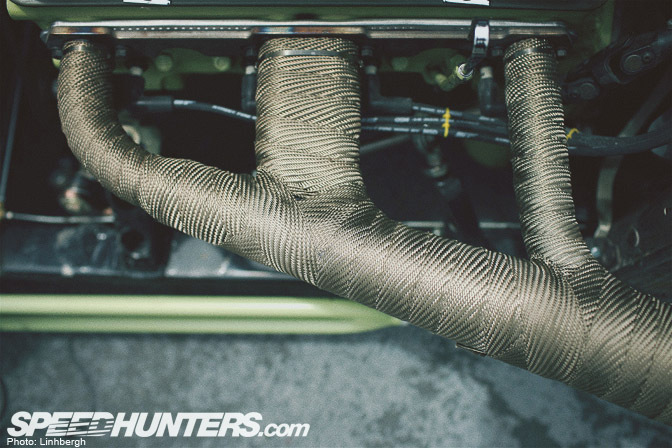 I've seen a lot of header wraps in my time, but I don't think I've ever seen it done this well before.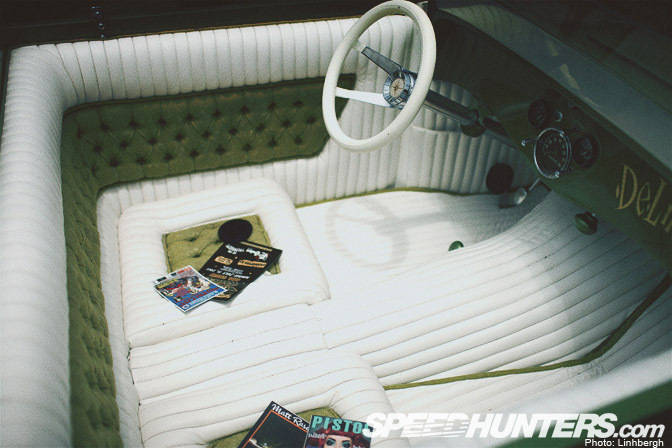 This interior looks like it came straight from a coffin. Imagine trying to keep the white clean!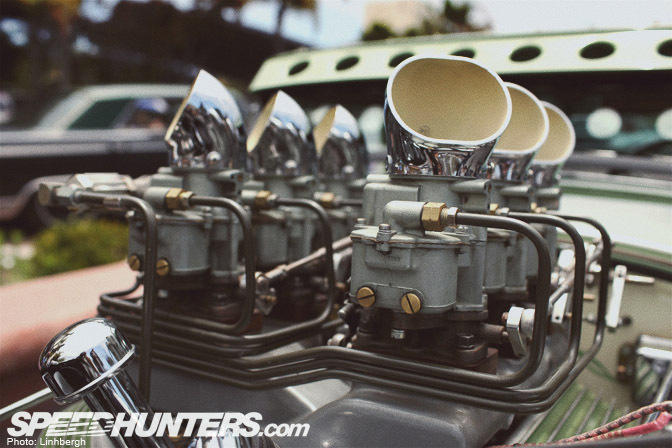 More crazy attention to detail: these bent hard lines.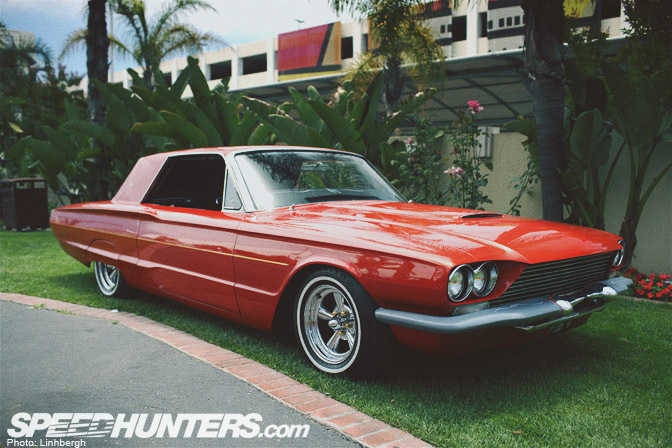 I liked the look of this 1966 Thunderbird. It had an almost-pony car quality to it.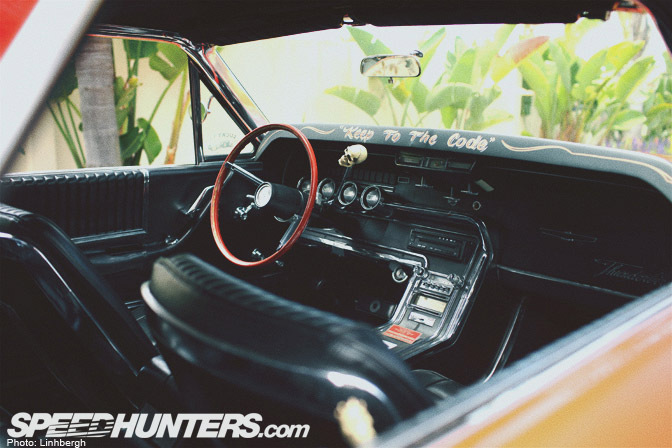 Some more classic interior lovin'.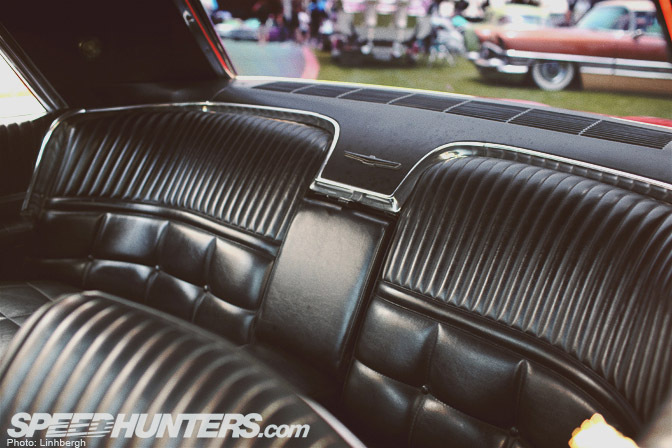 Check out the leather work on the back seats! They really don't make interiors like they used to.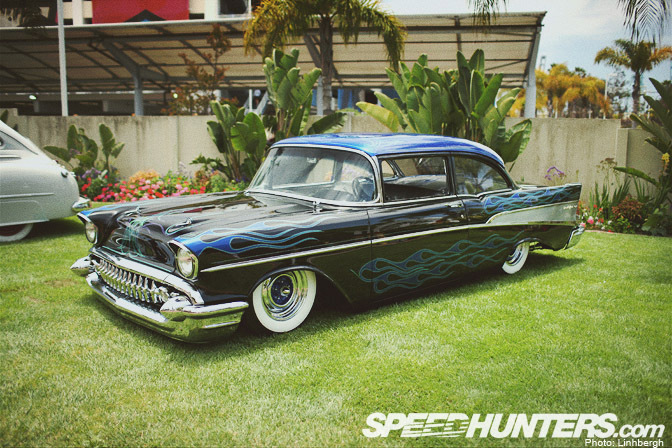 I'm usually not a fan of flames on a cars, but for some reason, it works on this '57 Chevy.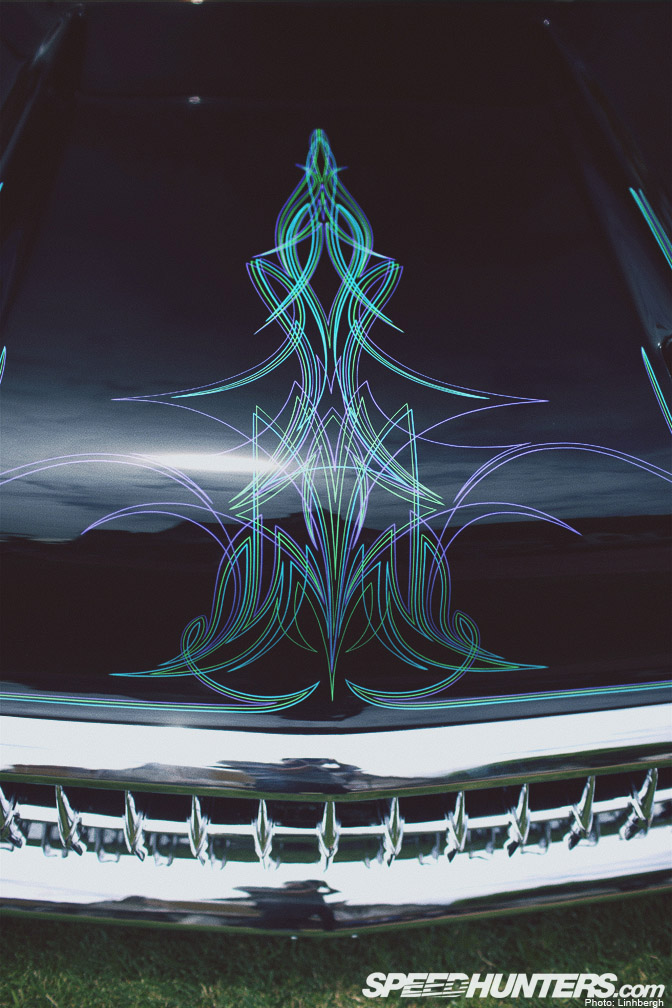 The 
 pin-striping is also beautifully done.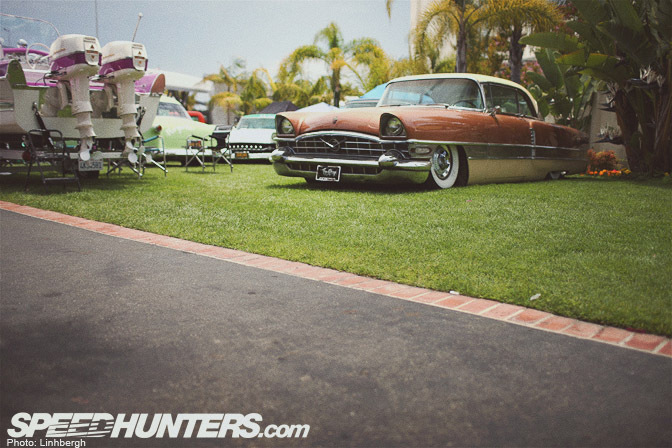 This mid '50s Packard is looking rather comfy on the grass.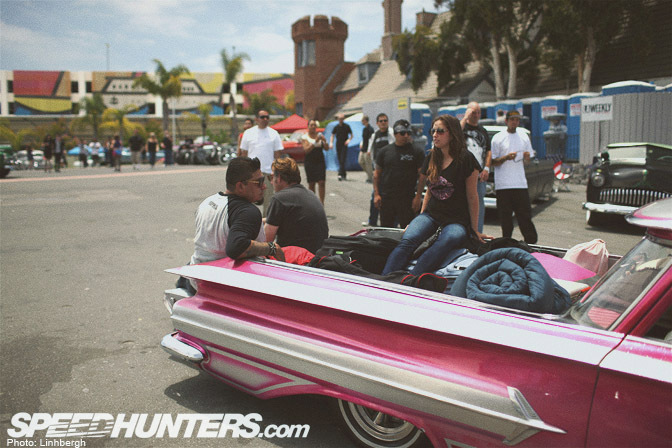 This is a snapshot of life being fully lived –a good life.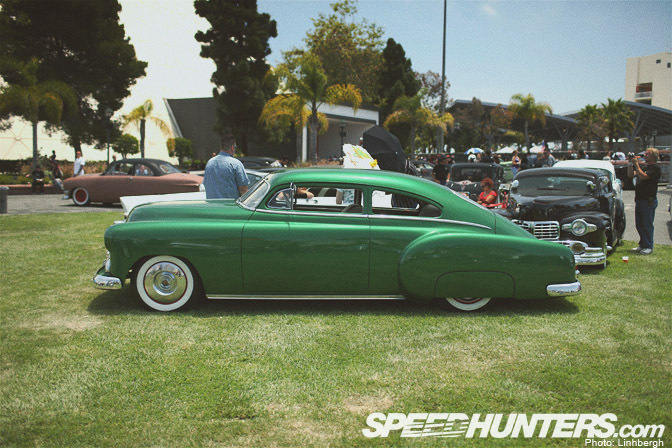 Late 40s- early 50s Chevy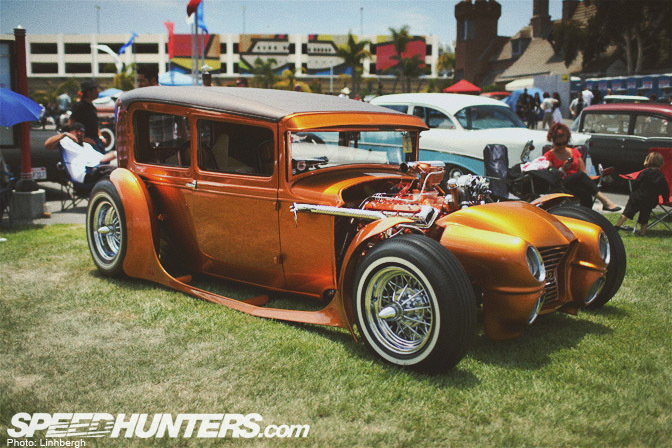 This custom rod was built in Japan and is known as "Rodriguez."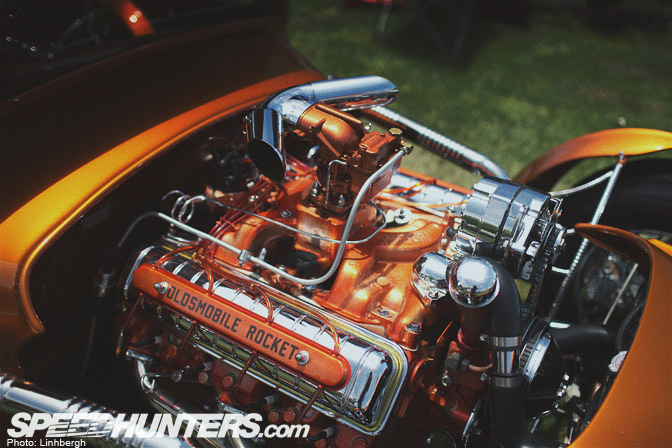 Even the engine matched with the car's wild exterior styling!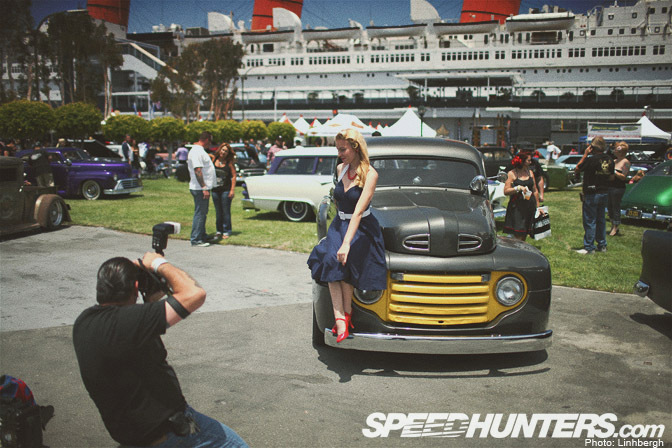 There was of course, no shortage of pin-up style girls around with folks ready to snap their photo.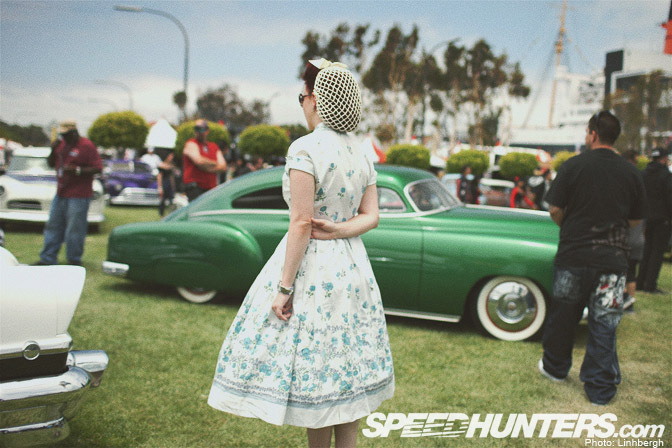 I'm just as guilty as everyone else.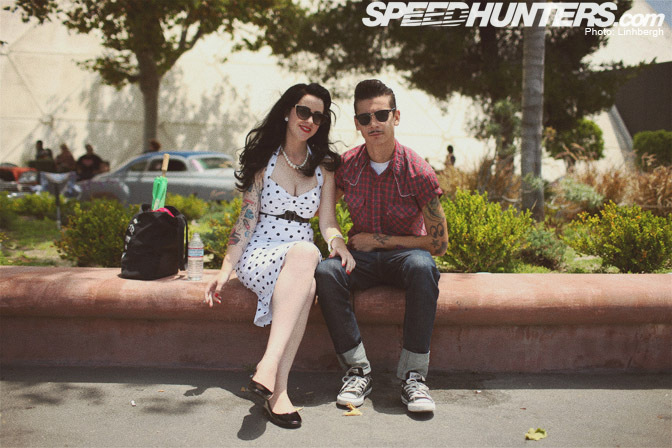 There also was no shortage of folks that lived the hot rod and customs lifestyle to its fullest extent.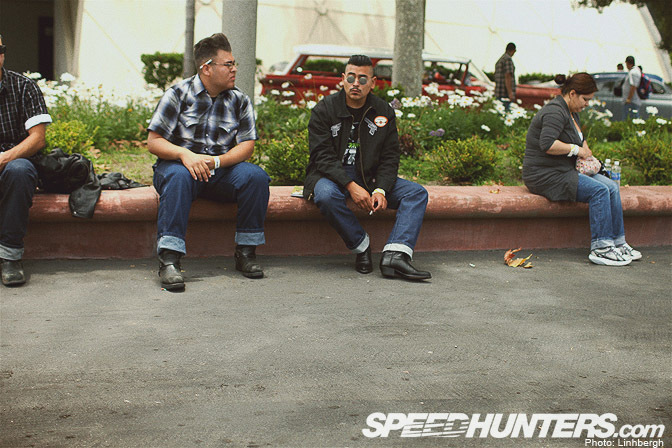 At times, it looks as though you're on the set of George Lucas' "American Graffiti."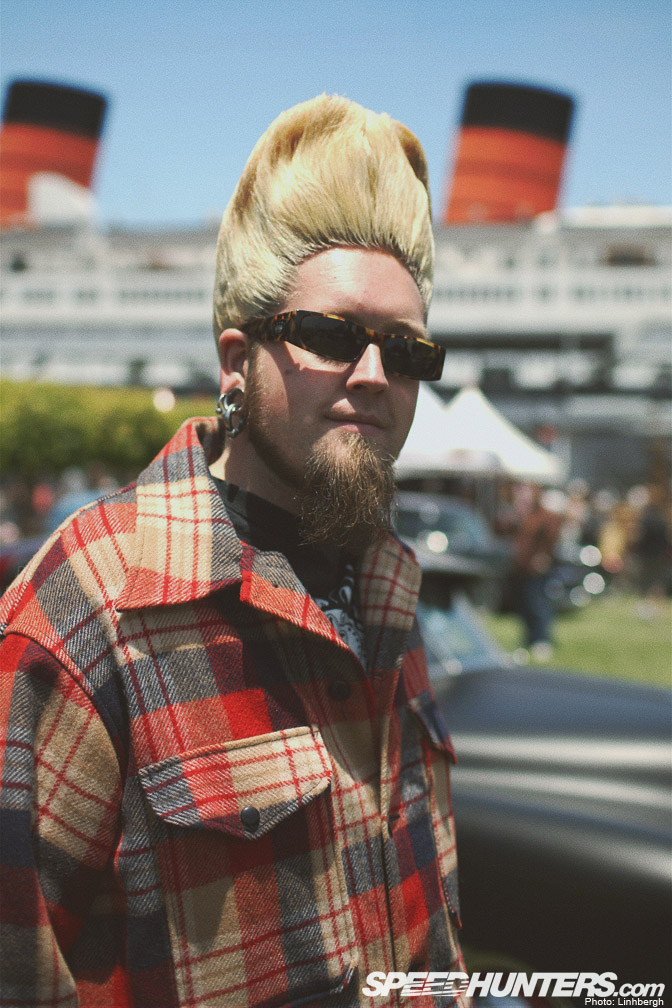 This guy takes the award for the most amazing hair at the event.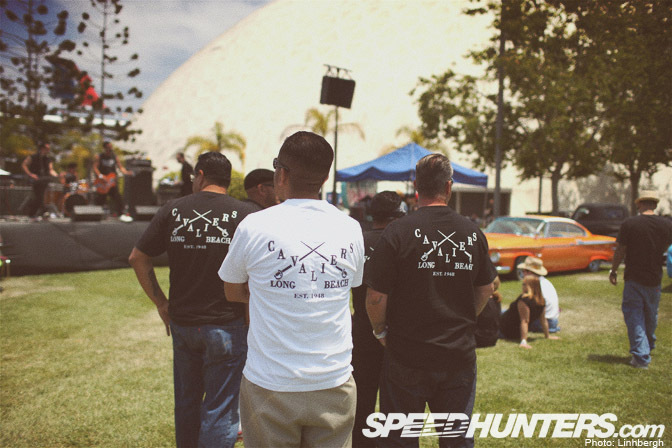 The Cavaliers of Long Beach, a tough looking bunch.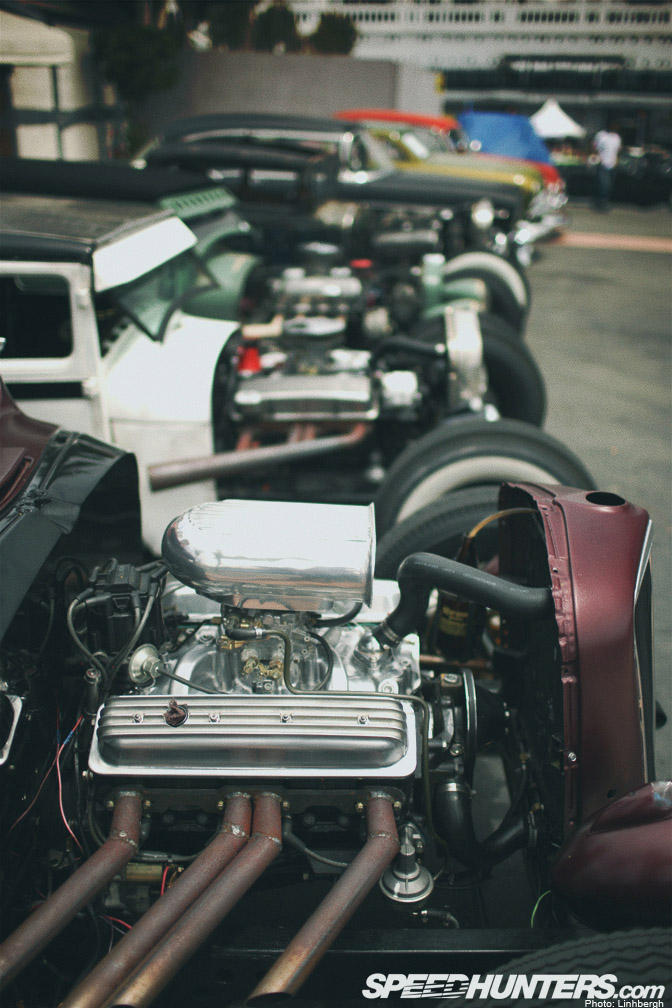 This is the line up of the Cavaliers' cars and engines.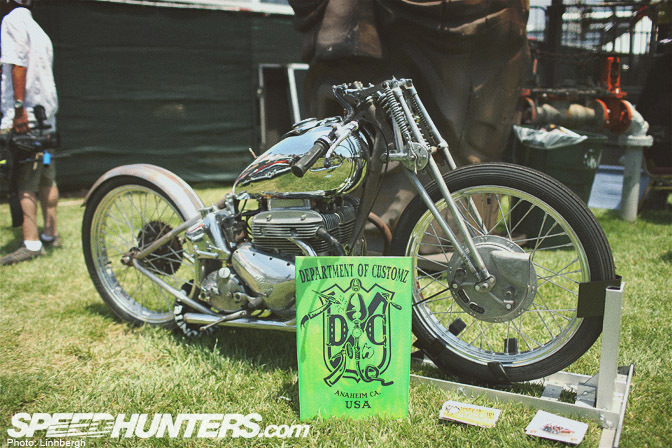 What's a hot rod and customs show without a few bikes?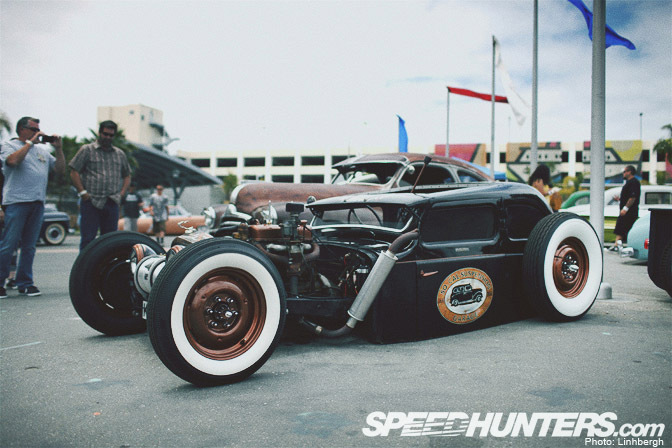 This car was the highlight of the event for me. Nothing sat lower and nothing else had this much presence or character.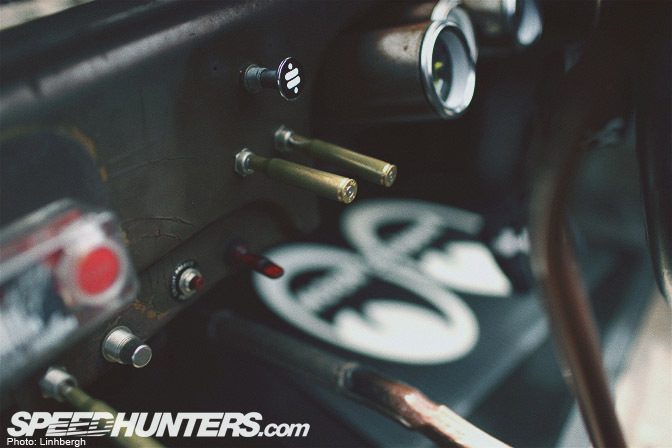 The switches on the interior were made from bullet casings…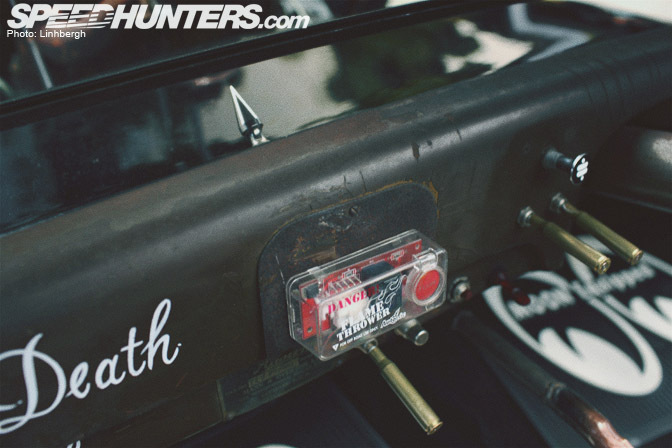 …and when a car has a "DANGER: Flame Thrower" button…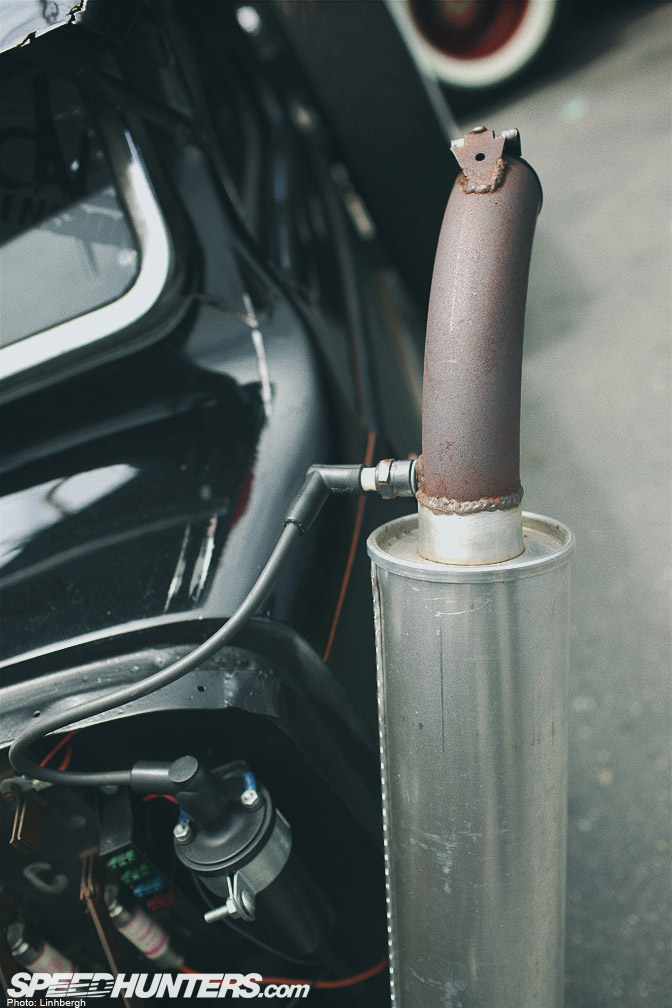 …you know for a fact great things will happen. 
The flame thrower button triggers this spark plug that's mounted to the end of the exhaust for easy s'mores creation.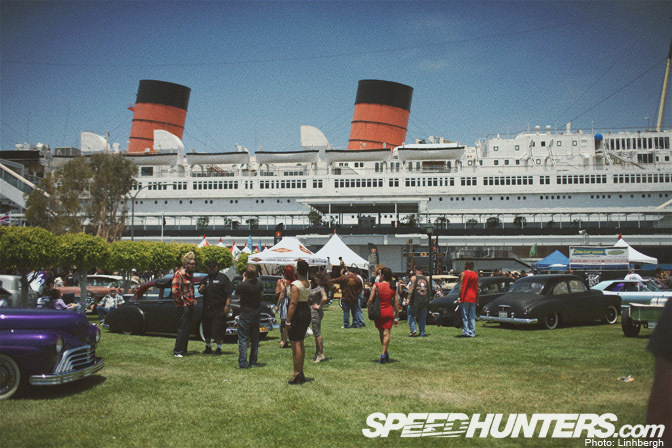 A Sunday spent with the Queen Mary cruise liner, hot rods and customs? That's a Sunday well spent.
-Linhbergh