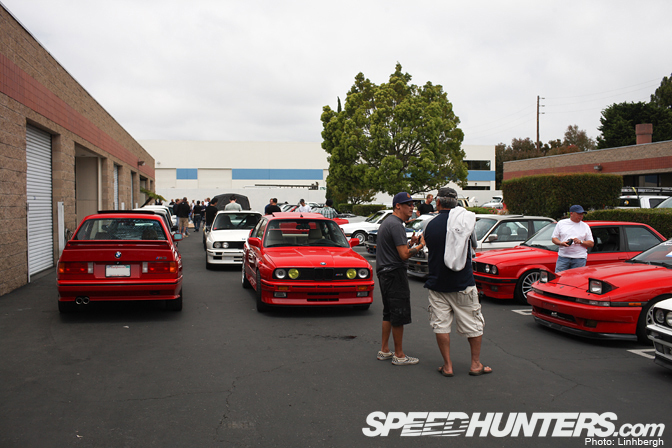 It's been a few months since I bought my E30 sedan. Since then, I have to admit that I have not participated in any of the usual automotive socializing. I'm a member, but do not frequent the forums, e30tech & r3vlimited and I have not gone to any E30 meets in Southern California.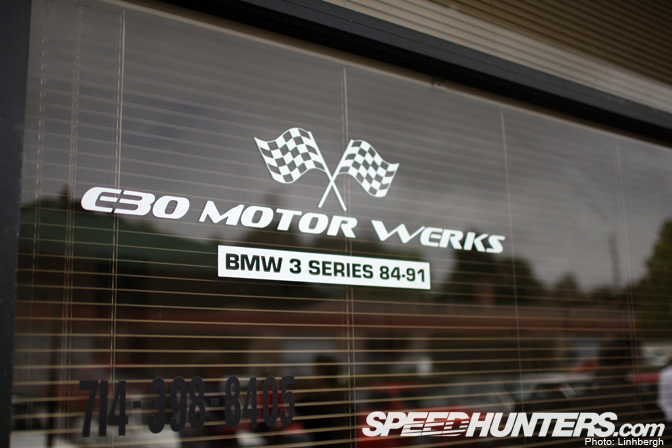 So, when I heard about a car show and BBQ at E30 Motor Werks, in Huntington Beach, CA, the shop where my E30 gets its maintenance work done, I knew I had to go.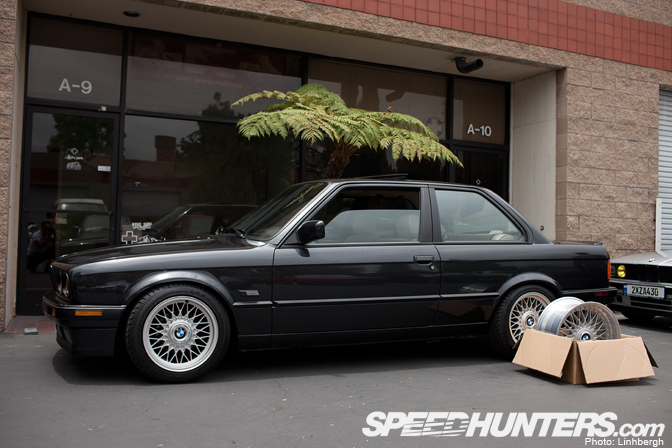 With previous knowledge on how meets usually work, I arrived fashionably late thinking the meet would be just starting.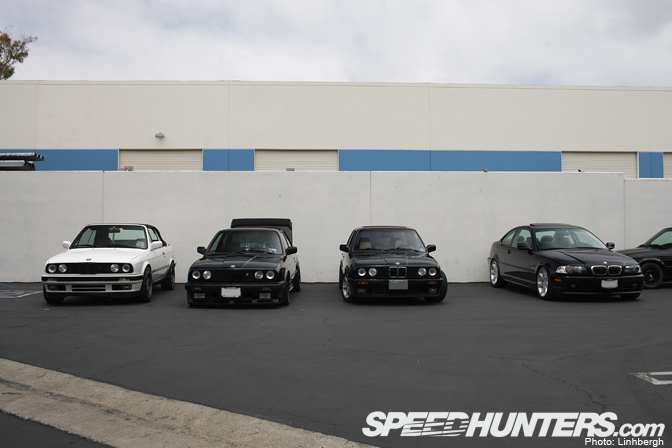 But I was wrong. The parking lot of E30 Motor Werks was almost completely full.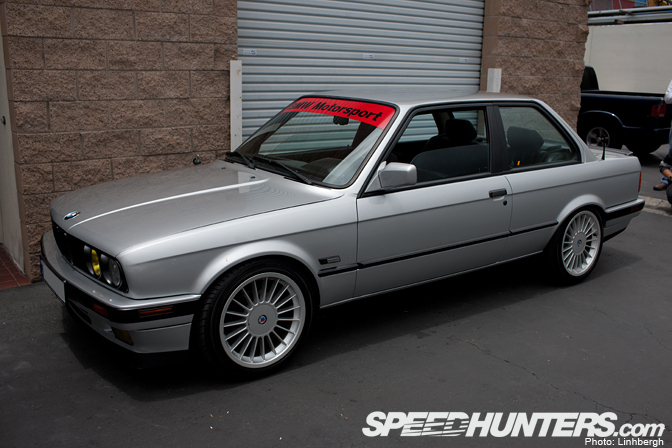 There were even cars parked on long the shop.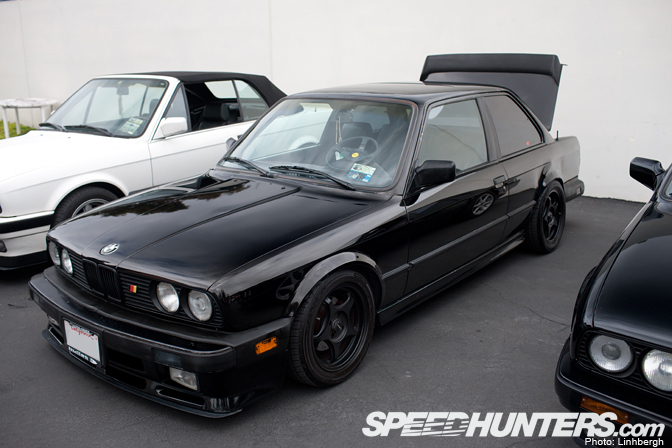 I was surprised to see just how varied the E30 crowd was.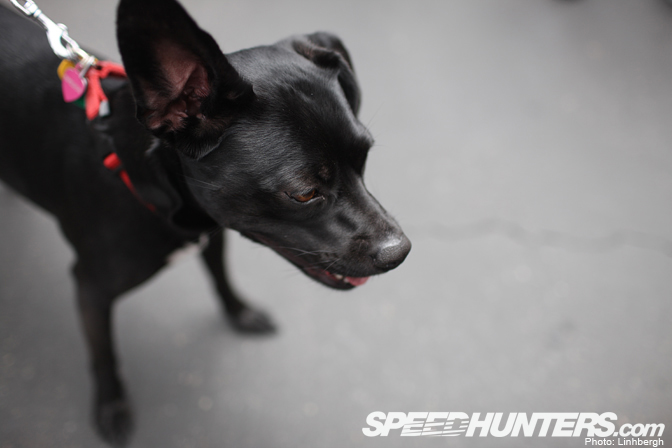 Even dogs love E30s.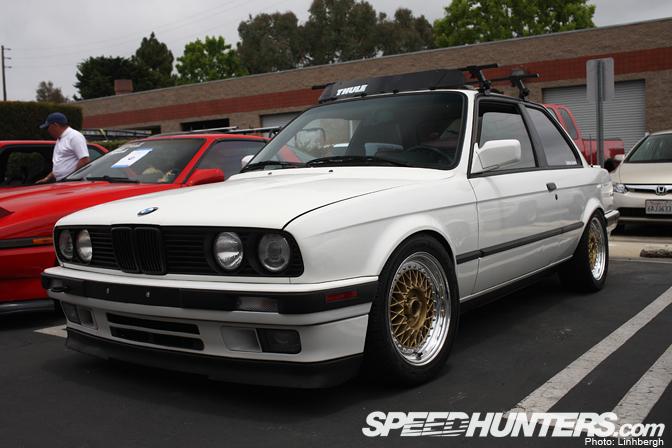 There was a good showing of the street tuned E30s…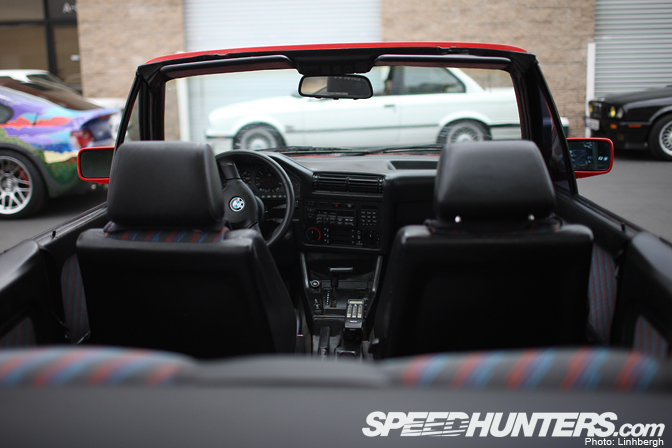 …to a spattering of convertibles…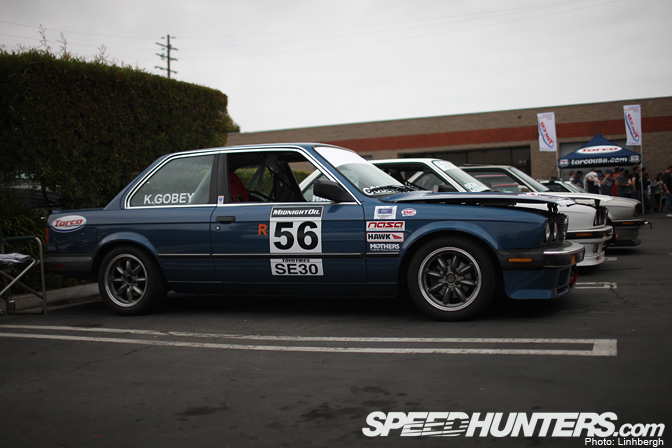 …and to full fledged spec E30 race cars.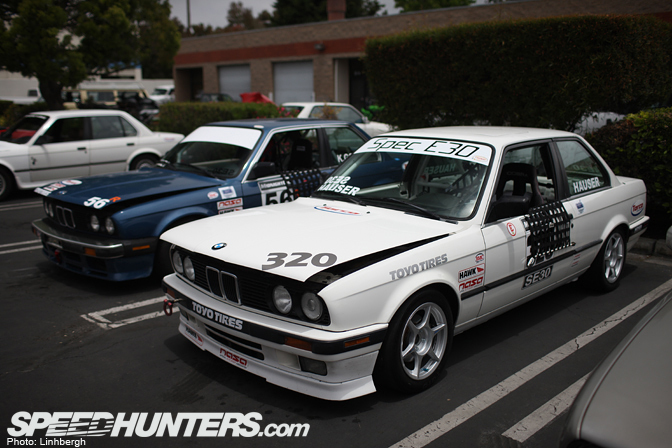 It was definitely a treat to see these spec E30s up close.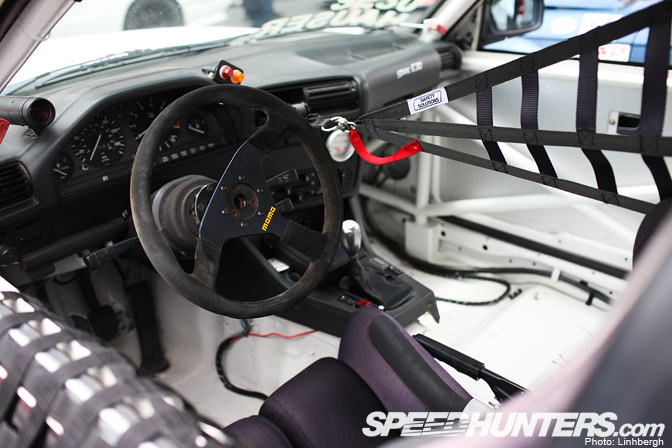 Their interiors featured the usual racecar-ness.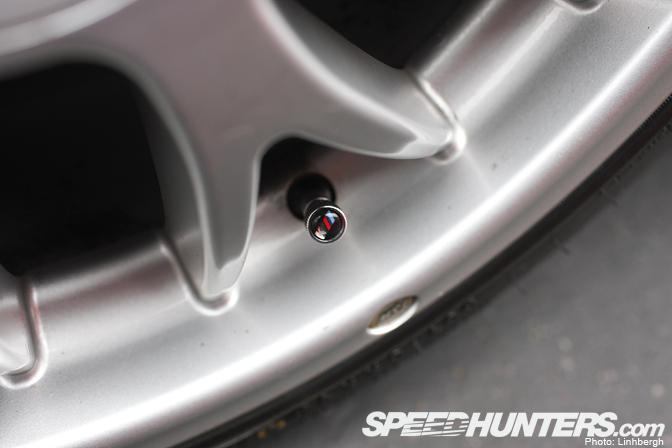 BMW M division influences were found everywhere. From this valve cap…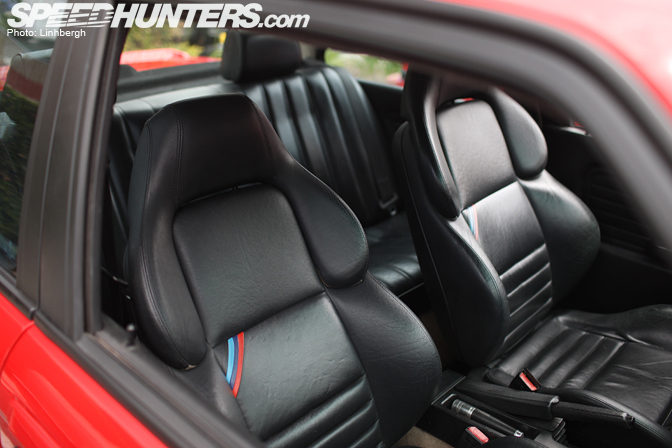 …to these seats…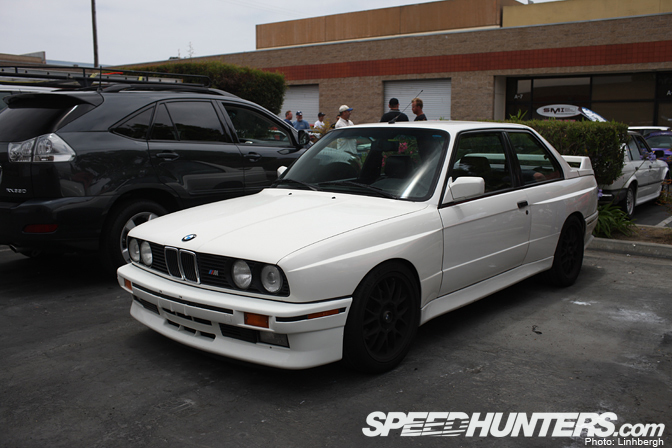 …and of course, to a full fledged M car, the E30 M3.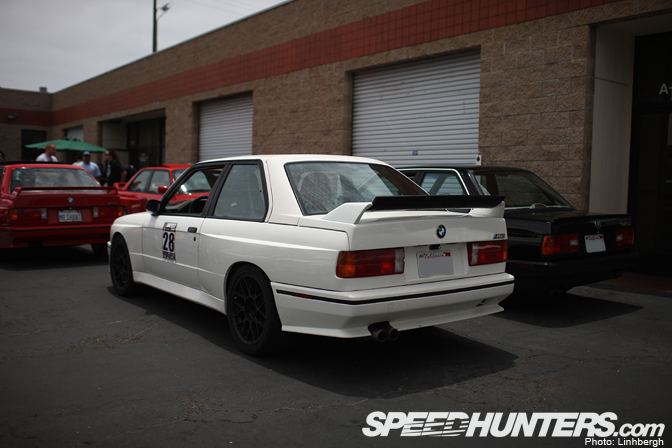 There were quite a few E30 M3s strewn about the parking lot. Each one was drool worthy in their own way.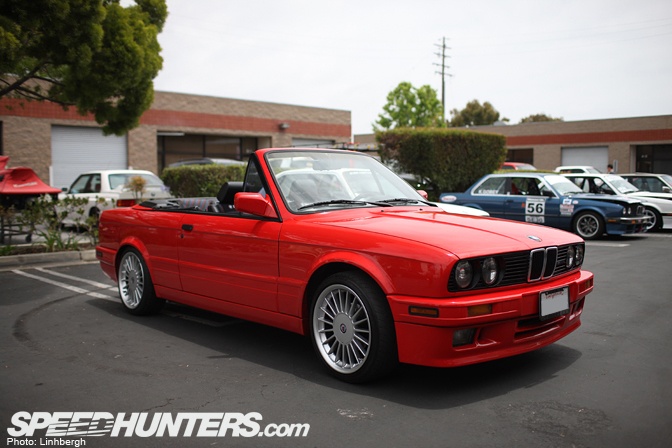 This E30 convertible on Alpina wheels caught my eye because of its extremely clean exterior…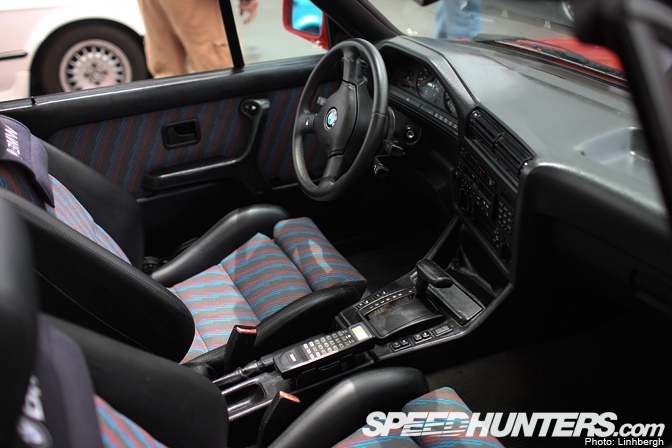 …and also its extremely clean interior.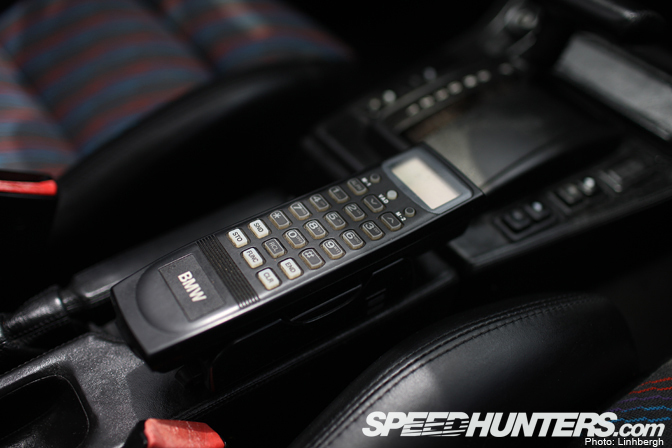 The car even had the original BMW phone! If Zach Morris saw this, he would die from jealousy.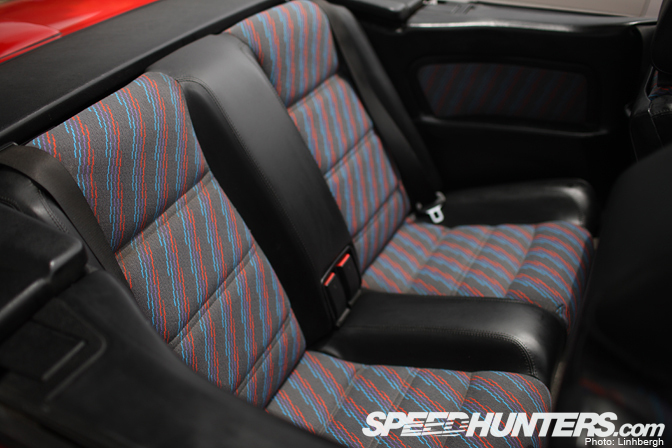 The interior really did look like it came straight off the factory floor…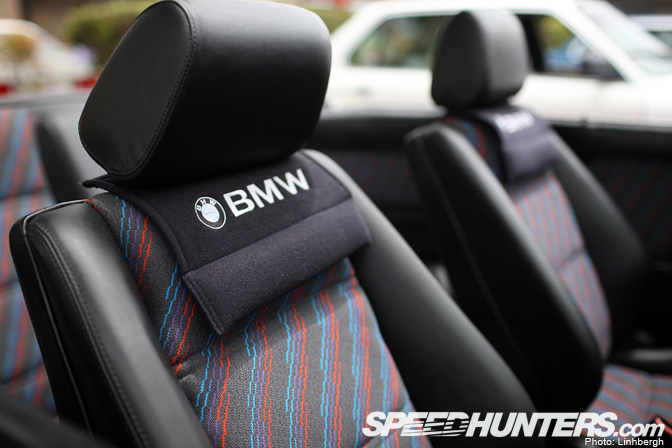 …and that no one has ever set their bums on any of these seats!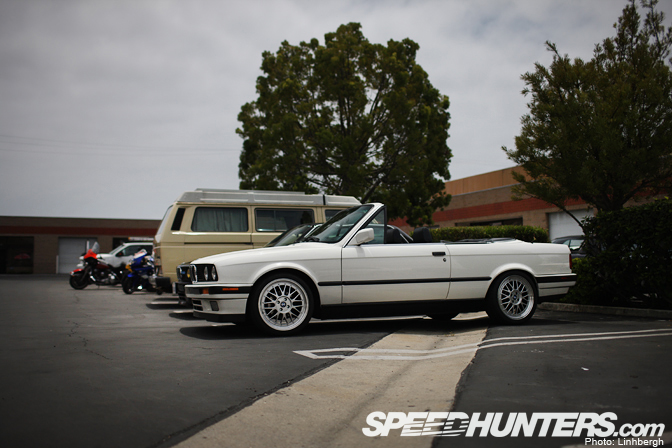 Another super clean convertible…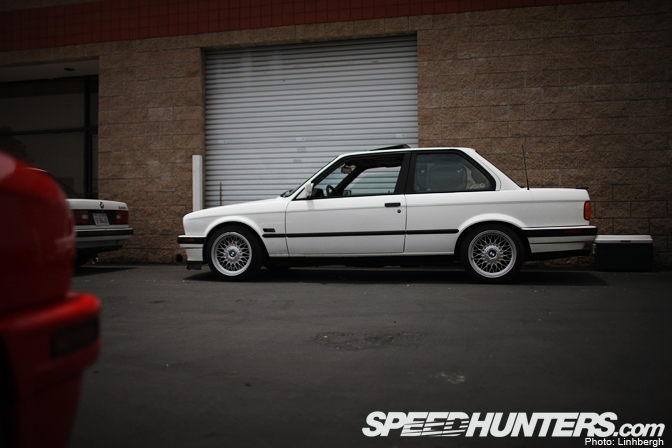 …and an equally clean two door.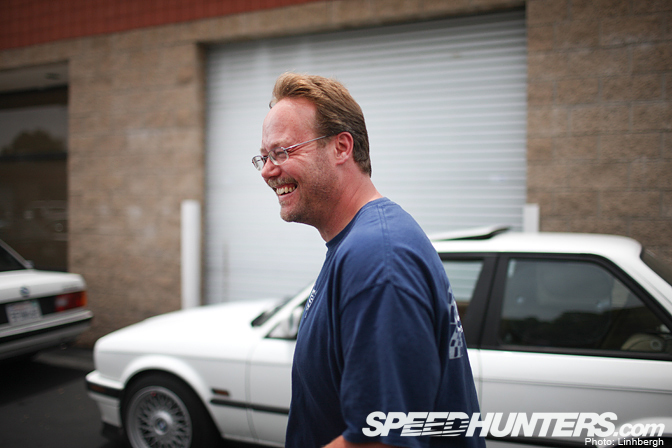 This is Mr. E30 Motor Werks himself, Robert Calhoun. He owns, operates, and masters his BMW discipline from his shop.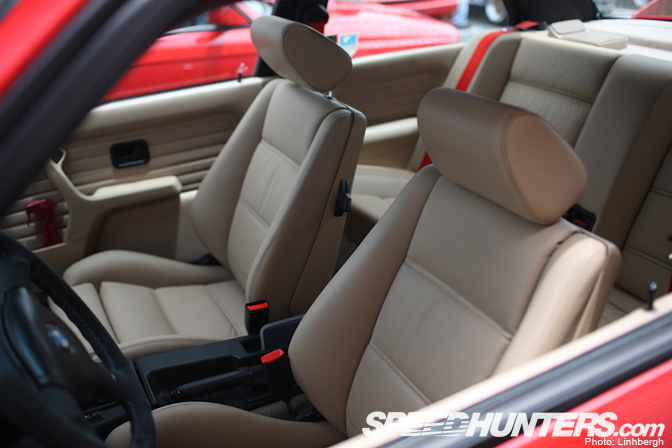 This interior is exactly what I want my E30 to be. It features reupholstered E30 Sport front and back seats.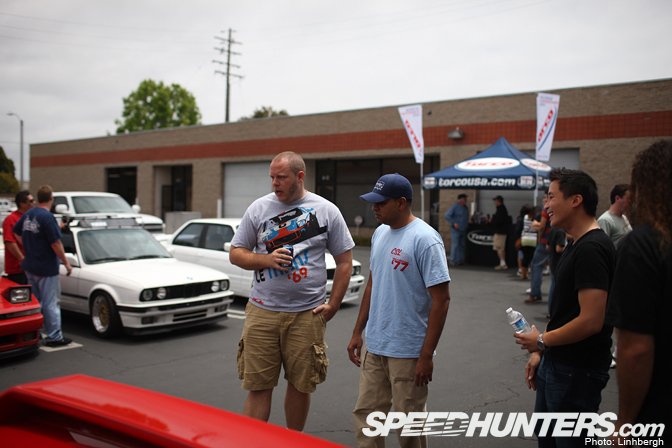 I spotted this man sporting a Le Mans shirt. The 2011 24 hours of Le Mans was actually going on as this meet was happening so it was only fitting that he wore that shirt.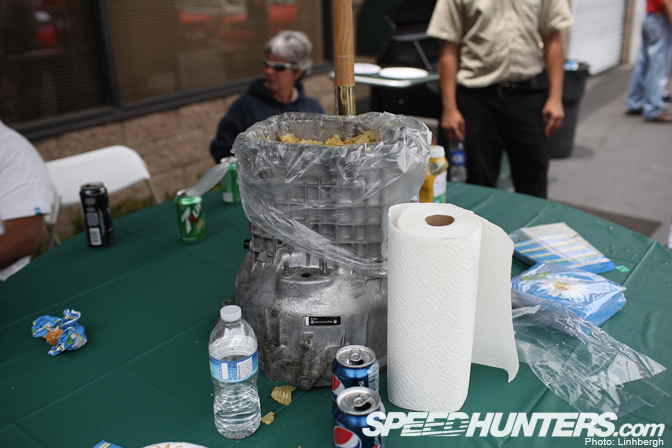 What's a car meet with BBQ without some automotive inspired party trays? Check out this transmission potato chip bowl!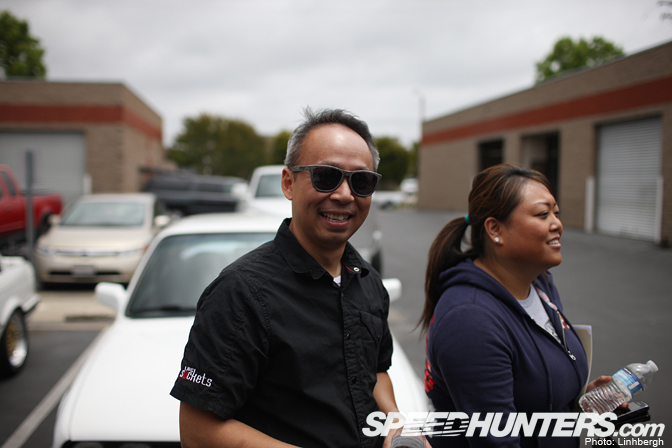 This is Thuy Dang, from Live Sockets Entertainment. He's the one that informed me about this meet.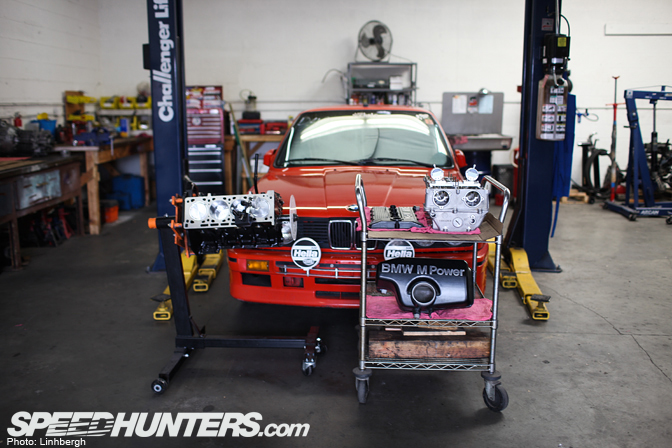 Inside the actual shop sat Thuy's E30 M3.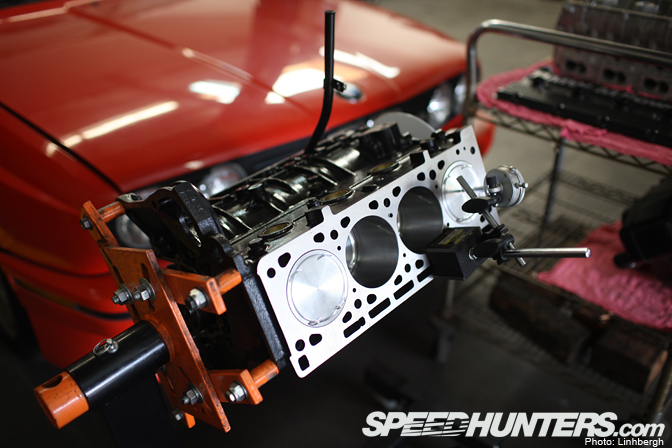 The engine is currently being rebuilt as it blew a while back. The bottom end is just about finished…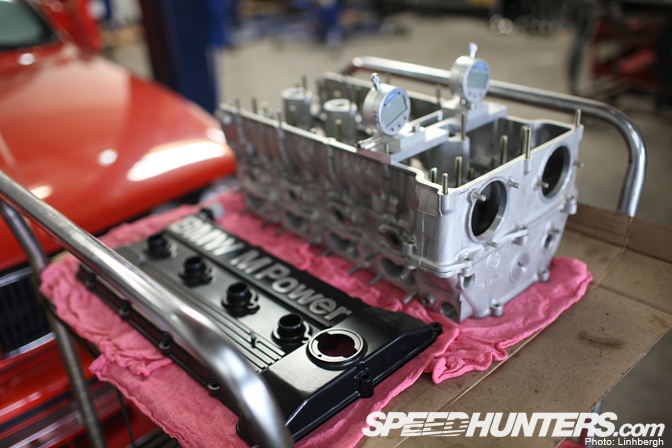 …but the head still has a bit of work to do.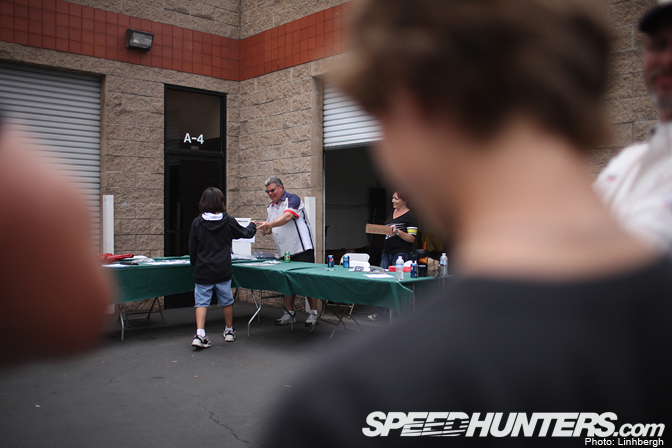 Outside the shop, the crowd gathered for a good ol' fashion raffle.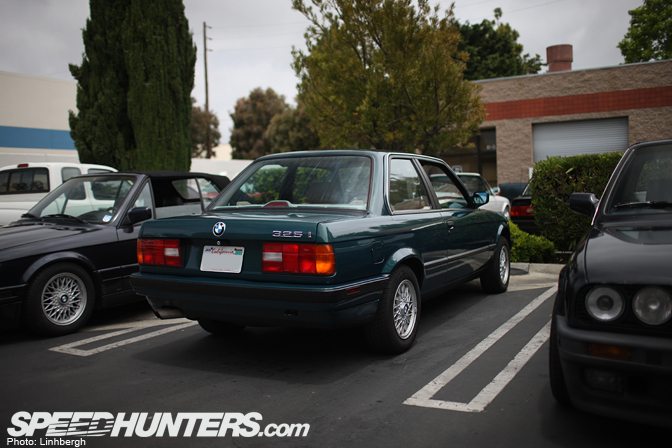 Of course, not everyone that attended had a fixed up a E30…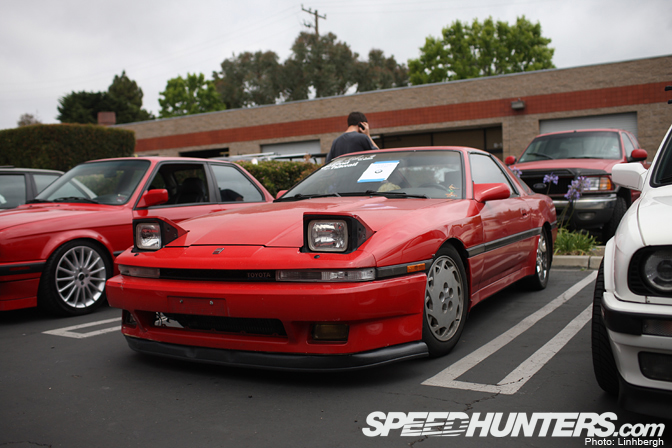 …nor was every car an E30!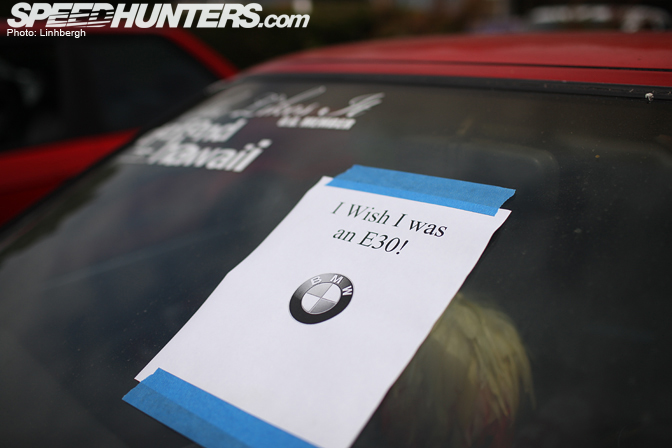 At least the mark 3 Supra's intentions were correct.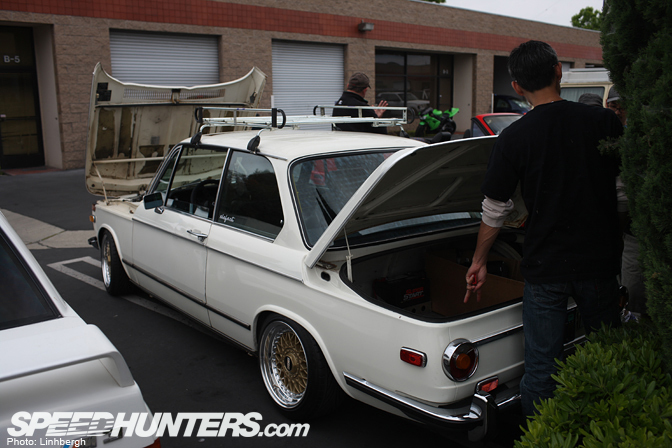 The highlight of the meet was this BMW 2002, which owned by Ray Chau, dropped on a set of gold BBS RS and features an E30 M3 S14 motor swap!
I will be meeting up with Ray and this car later this week for a full feature.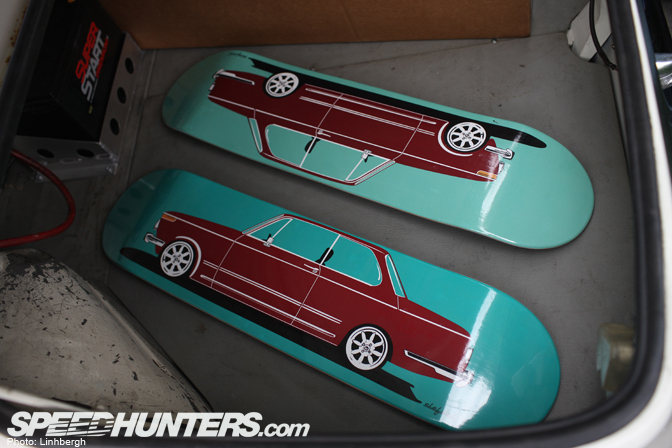 Ray makes and sells these amazing skateboards with BMW art on the back.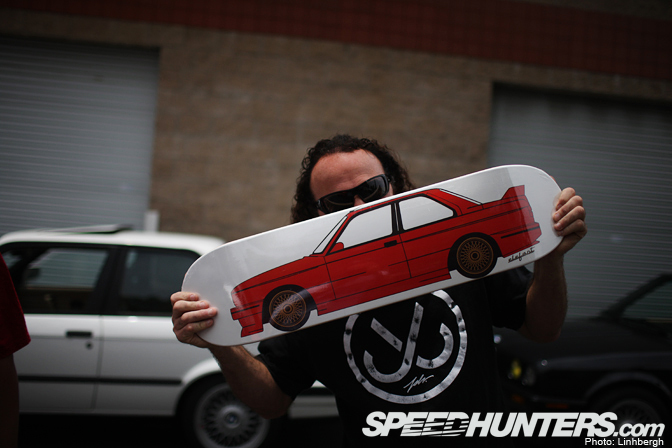 This man bought the last of Ray's E30 M3 skateboards!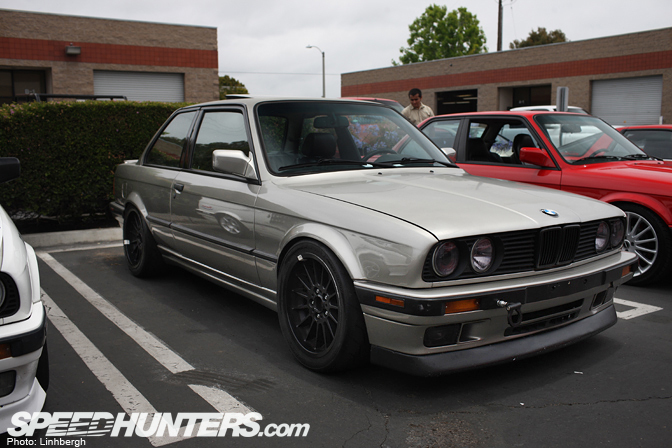 This E30 was another highlight from the meet. It was simply modded, has a decent drop…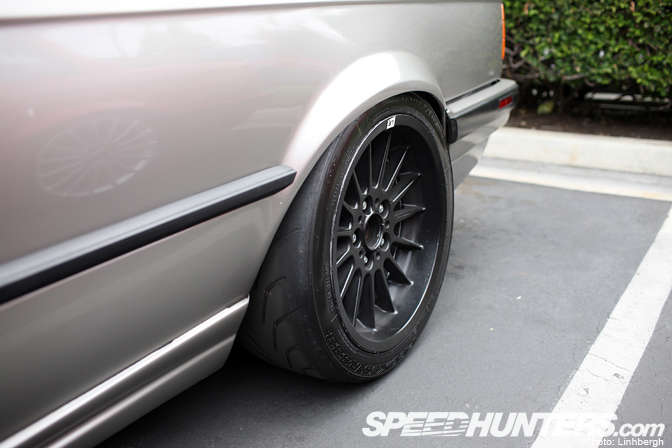 …stuffed in a nice set of sticky tires under the wheel wells…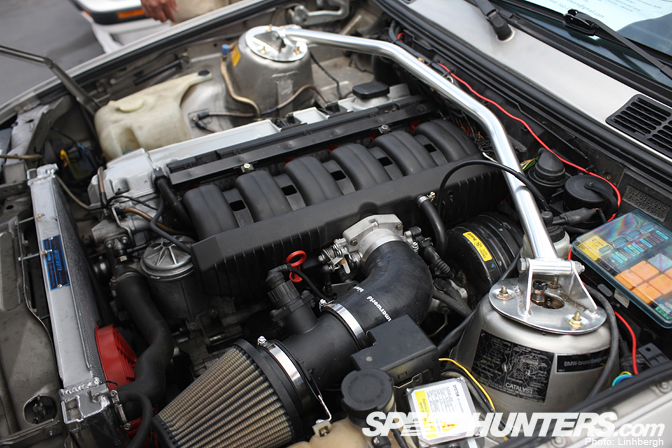 …and packed a new S50 power plant which originally came from an E36 M3.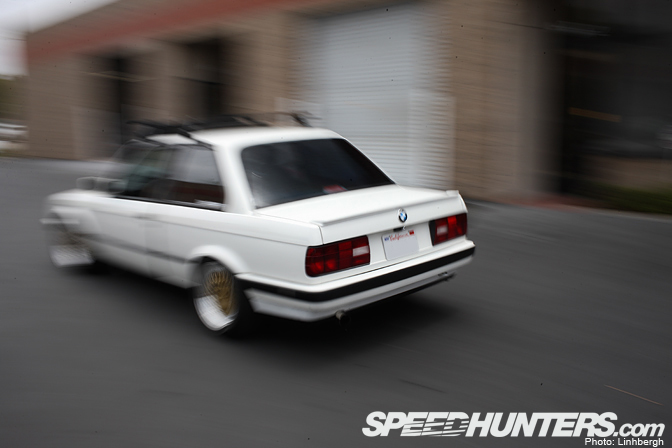 After spending so much time at big race events as of late, it was a treat to finally be able to spend an afternoon with a small group of like minded folks, check out a wide variety of E30s, learned a bit of more about the car I known, and garnered a lot of inspiration for my own build. It was a Saturday well spent in my book.
-Linhbergh