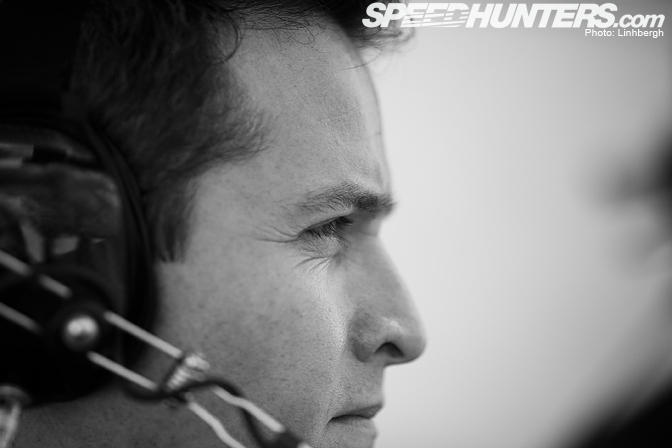 The quest into the unknown has piqued the curiosity of countless people throughout time. Christopher Columbus, Will & Orville Wright, Charles Lindberg, Yuri Gagarin, Chuck Yeager and Neil Armstrong are a few of those pioneers with the outright guts to step into the unknown. And because of that curiosity, we as a race have progressed just a bit further.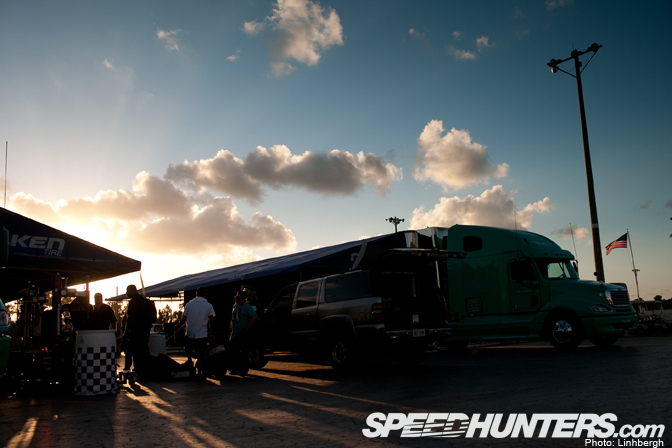 The whole of the Formula D grid took a quest into the unknown when it arrived to the state of Florida, for the third round of the season, at Palm Beach International Raceway.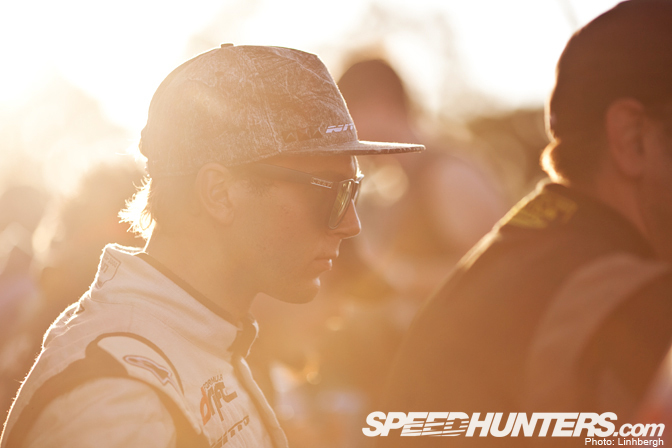 No one has a single clue what to expect upon arrival.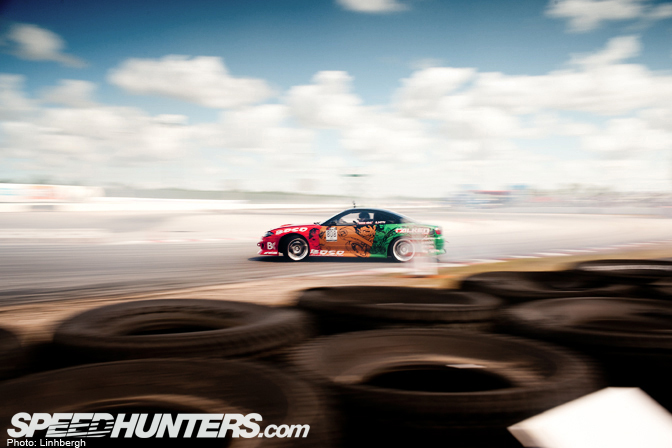 Crews had to start from scratch to set up their cars for the course as they have no previous data to go upon.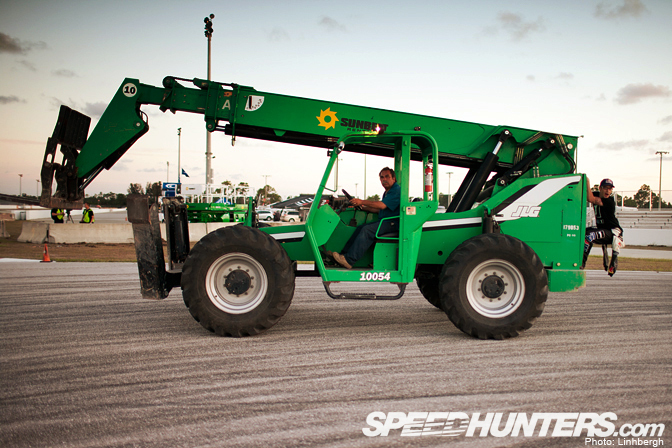 As we know by now, the track layout was changed during Thursday practice. Ryan Tuerck thought he'd hitch a ride with one of the construction vehicles as they changed the track to the new configuration.
From a photography stand point, a few of us found the track to be a bit difficult to shoot. Finding the right place to stand and right angle to shoot at became a challenge as we, like the teams and crew, had no previous data to fall upon.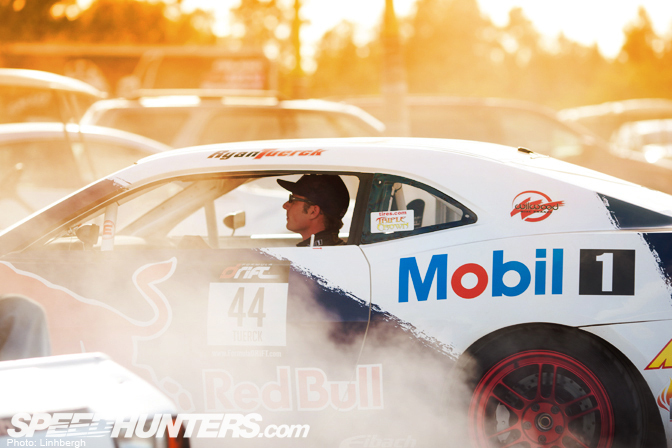 Challenging as it may, Larry, Charles and I still had some speedhunting to do.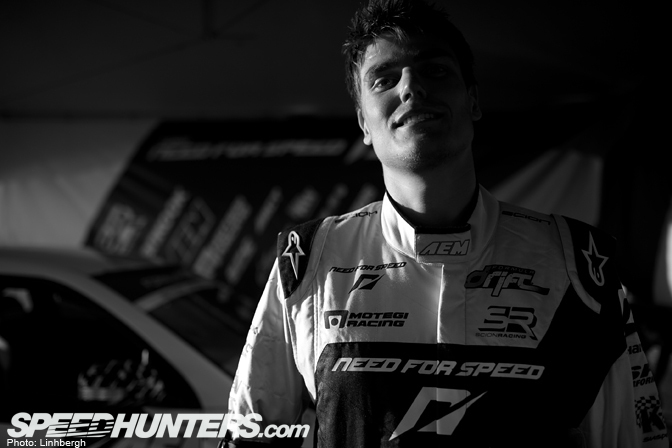 And that meant our usual stalking of Team Need for Speed drivers, Fredric Aasbo…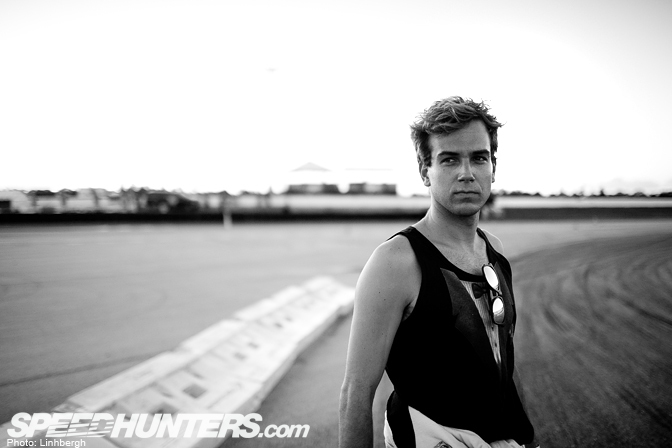 …and Matt Powers.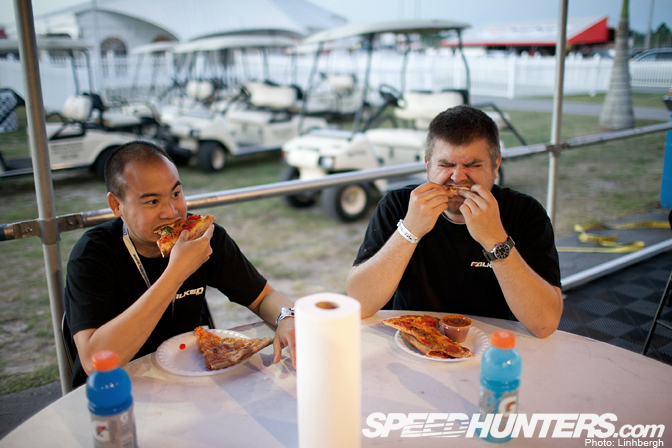 Our usual speedhunting also meant that we would dive into the Falken pit area to see what those folks were up to. What I found was their two media guys, Jesse Lee and Skylar Smith, stuffing their faces with pizza.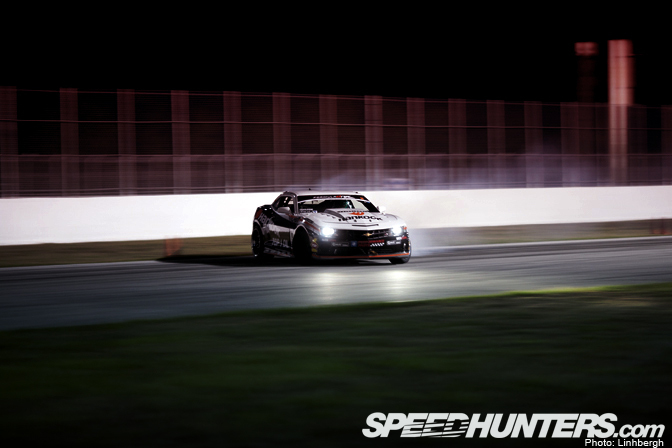 Even for Thursday practice and also everyone's first time on the track, it was great to see everyone throwing it in so hard.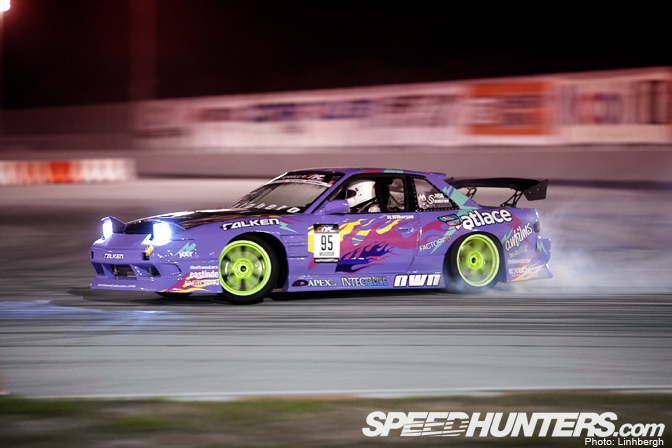 Walker Wilkerson preferred the first track setup, but he made due and looked comfortable with it in no time.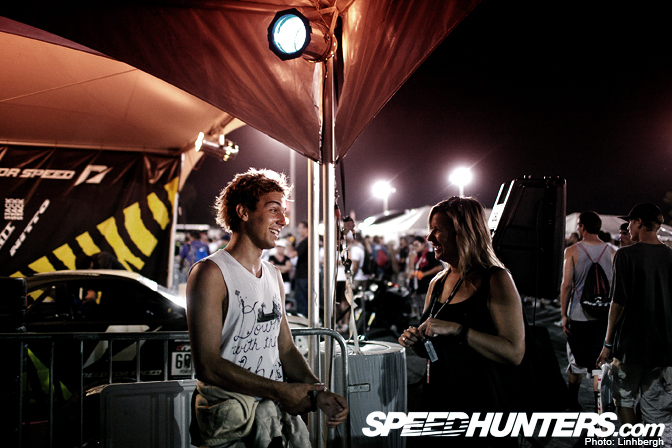 As Thursday practice was going on, Matt's team prepped his car as he was conversing with Team Need for Speed's shadowy important person.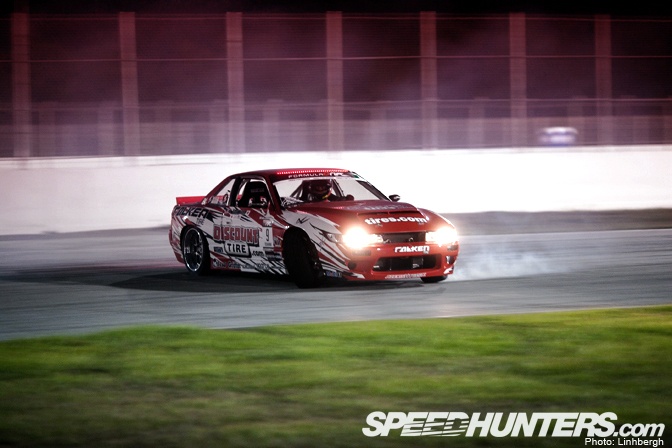 There was something about all these Silvias being able to throw it in backwards. It's like all the drift ghosts of Ebisu was somehow infused into these cars.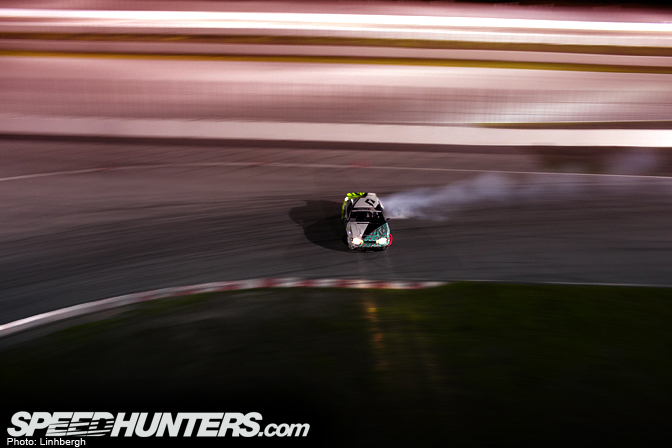 See what I mean?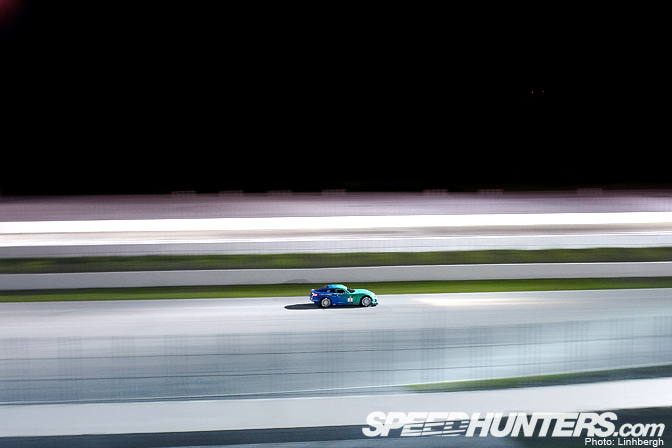 Darren McNamara's Saturn Sky, one of the best looking cars on the FD grid.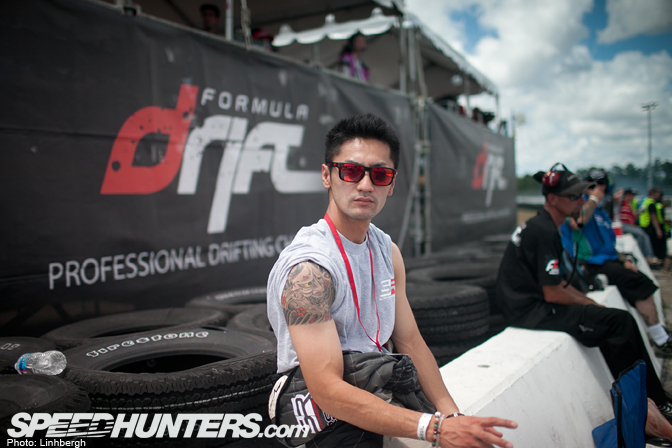 Ken Gushi did his best tough-guy impression, which I don't think he needed, as that tattoo on his arm makes him look like some sort of yakuza member.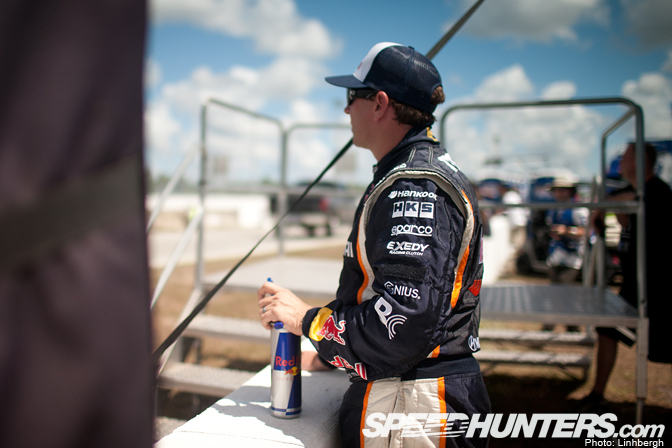 Before Rhys Millen went out during Friday's practice session before qualifying, I spied him spying on the competition.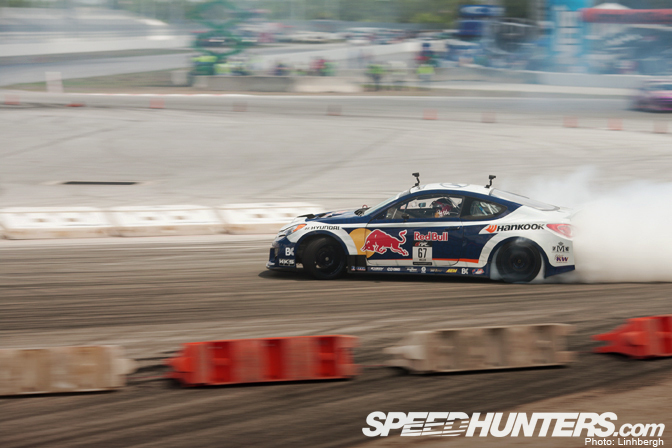 But I don't think he needed to do any spying as in his Genesis he was one of the smoothest looking guys all weekend long.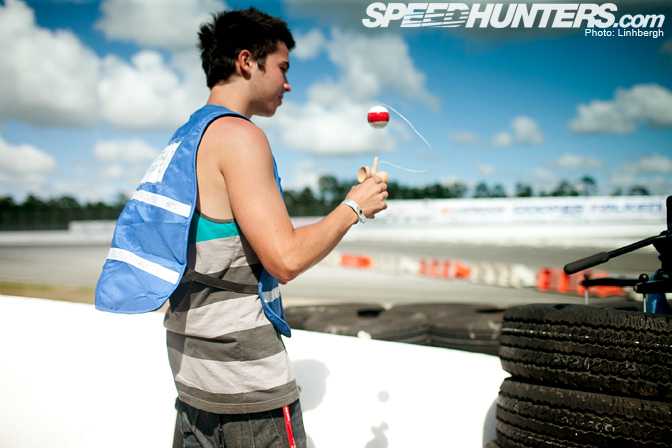 If any of you have been to an FD event, you may have know that there is a bit of down time during the practice sessions. Video dude, Abbitt Wilkerson capitalized on the break downtime to brush up on his Kendama skills.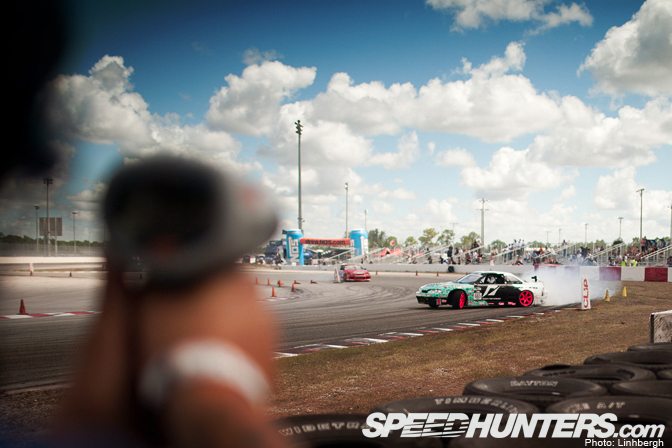 In addition to learning the new track, it seems like Matt also had to dodge laser beams at PBIR. 
Actually, that's one of the other teams' speed gun. Teams are now employing the use of these to gauge the speed of their competitors.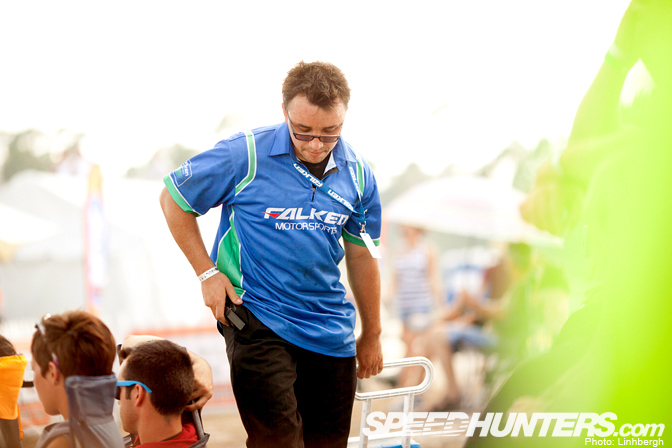 The Falken drift team saw the addition to a new hired hand. His job at Palm Beach was a very important one: to keep everyone on the team happy as they went about with their track side duties. That meant delivering water…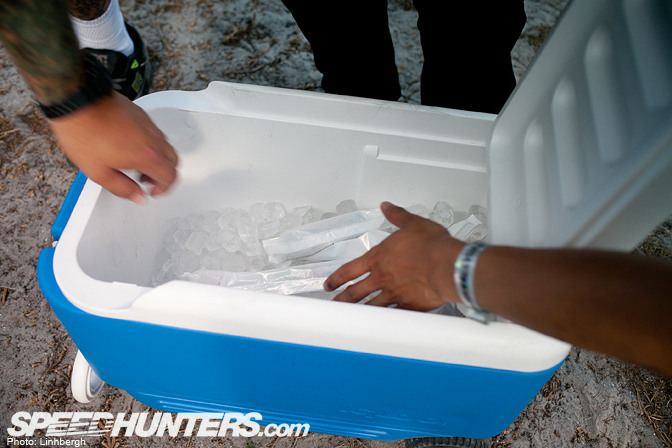 …and ice cream!
When it's hot and humid at the track, keeping the team's moral high is an important part of running a drift team. Seems like Falken has gotten it down to a science!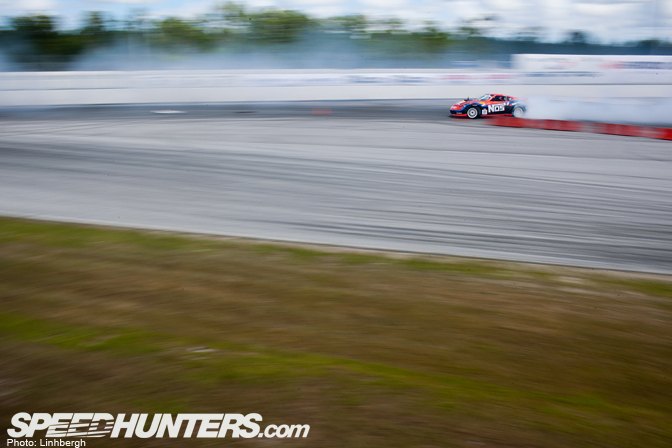 From a photography standpoint, it took until competition day to finally find the right photo spots, and the right angles to shoot when on track.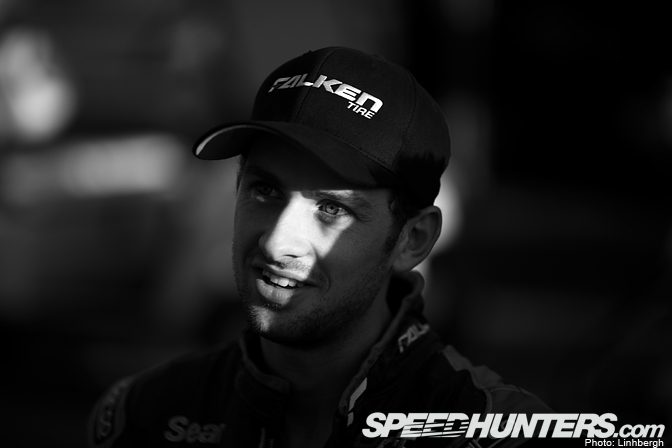 But off track, I found a new found love for the human face.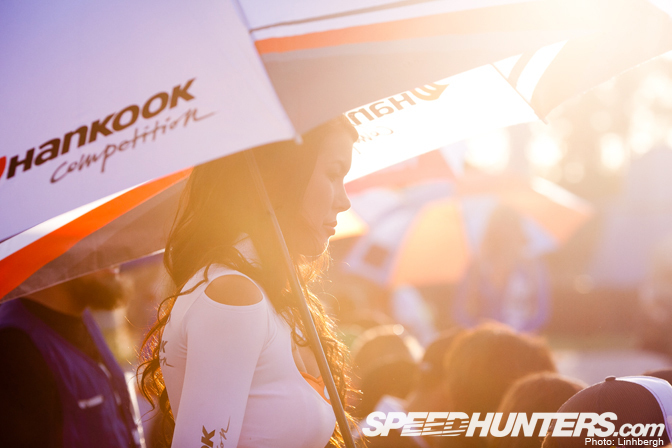 I put on my longest lens during the drivers autograph session and captured life as it unfolded in front of me.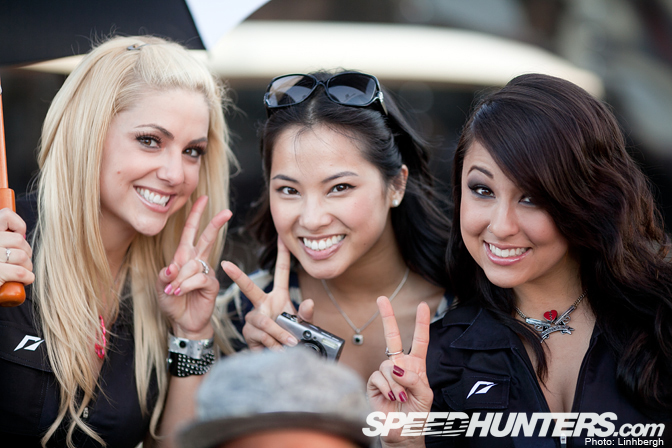 There were times when people noticed there was a lens pointed at them, like these three photography spotting sharks, Team Need for Speed girls, Courtney Day, Victoria Mai, and Miki Taka.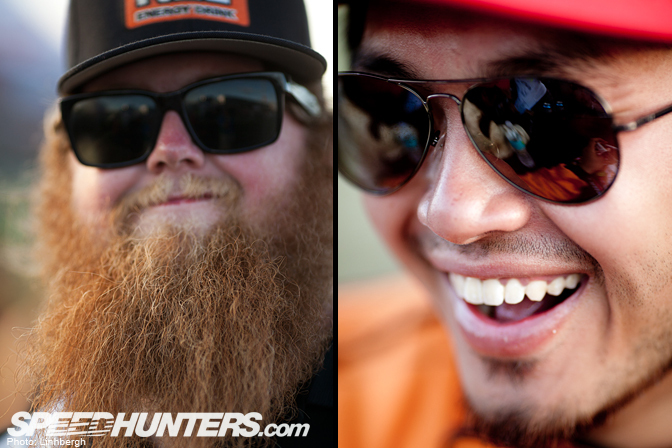 But there were the times when life happened too intensely that the camera lens became invisible right in front of them.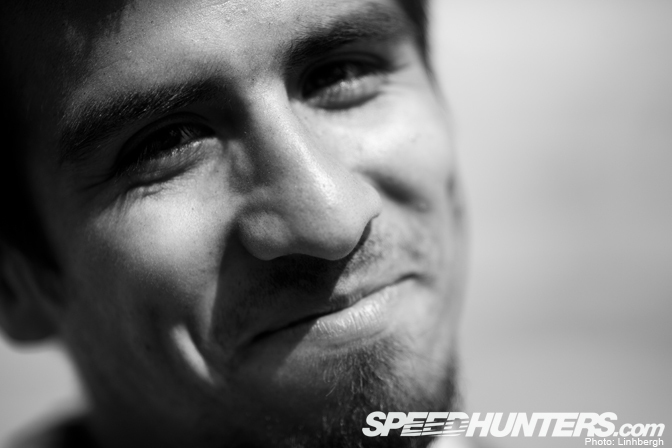 This new found view on the inner life of Formula D proved to be much more tender and soft…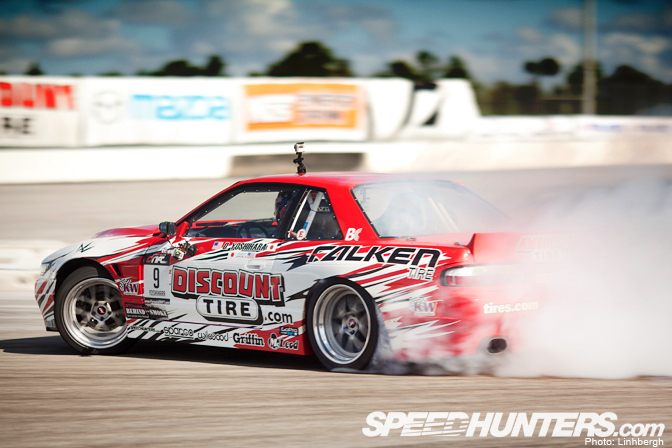 …as opposed to the intense on track action we're all now so used to seeing.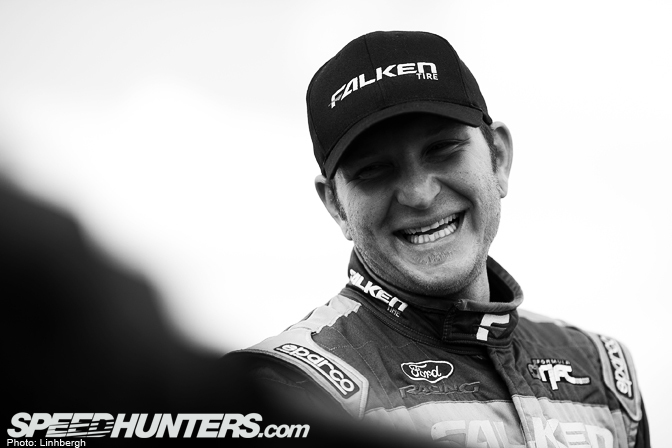 As cool as seeing a car do its thing around a track, the intimate moments proved to tell the story much better than almost any of the action shots.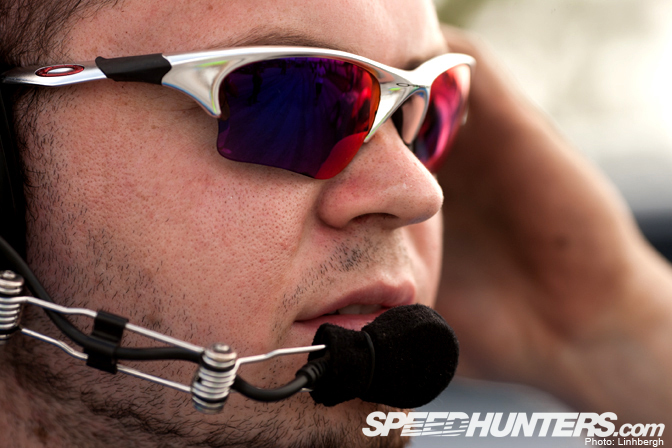 When it comes down to it, the cars are just inanimate objects. It takes the effort of countless individuals to get a car started, let alone drift on track.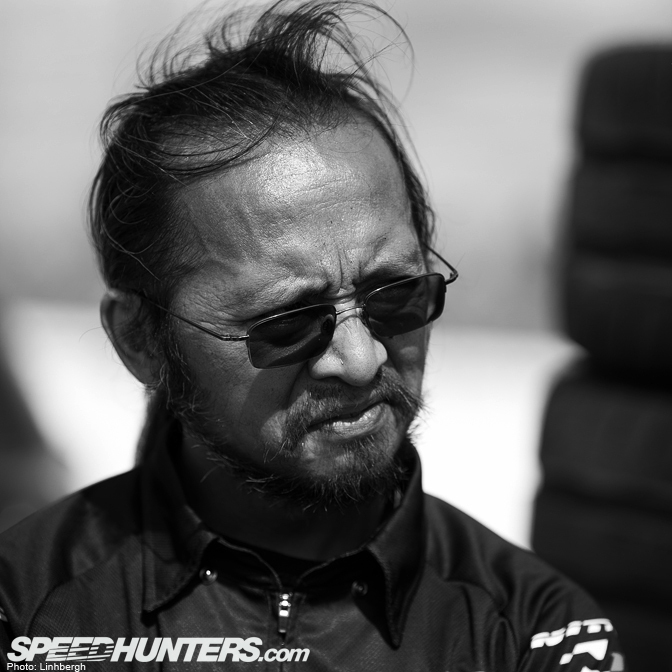 It takes the effort of people like Ron Bergenholtz…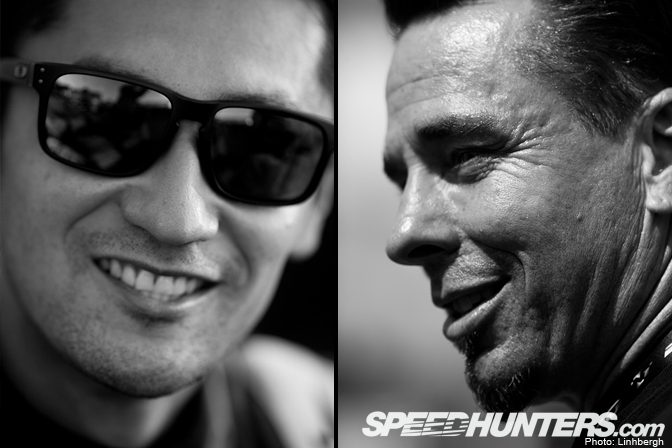 …driver, Ken Gushi, Matt Powers' crew guy, Tom Roberts…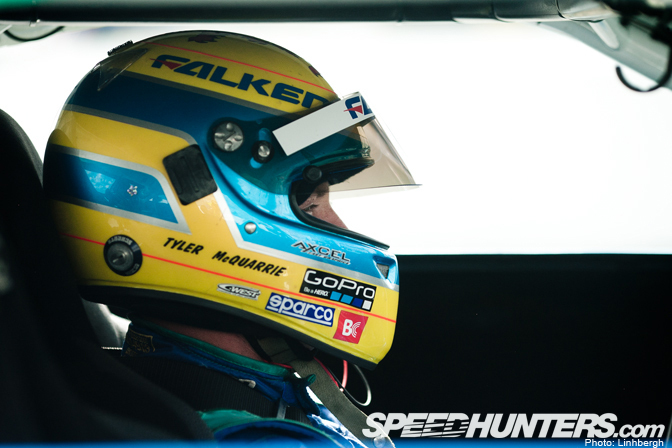 …Tyler McQuarrie…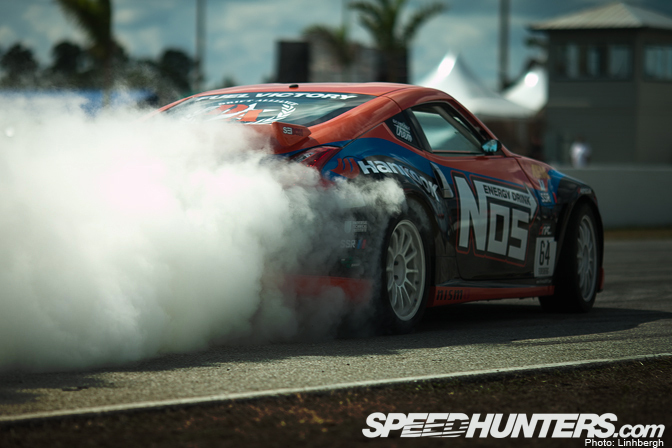 …and of course, the cars themselves.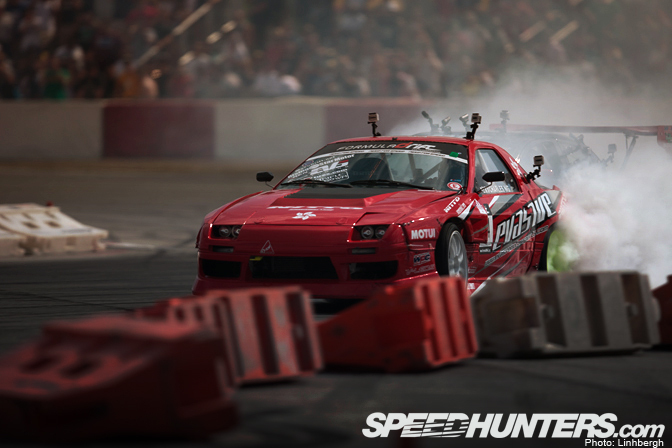 The cars are without a doubt, the main attraction. 
They're the reason why everyone was out there.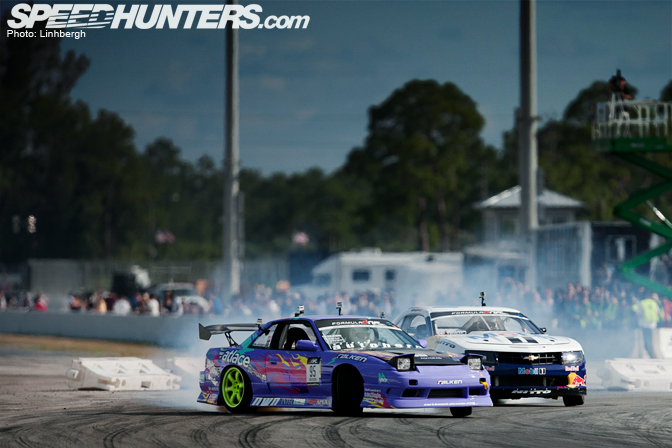 The Palm Beach track was short and fast. It favored the much more powerful cars, but it didn't stop underdogs like Walker Wilkerson from trying his best to stop the bigger teams.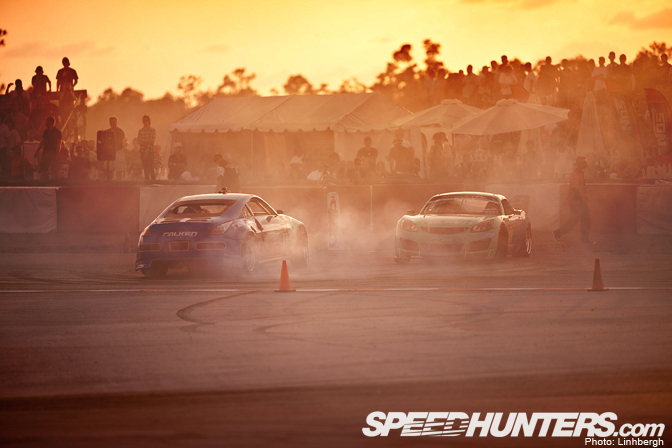 The light during the top 16 ceremony was nothing short of breath-taking.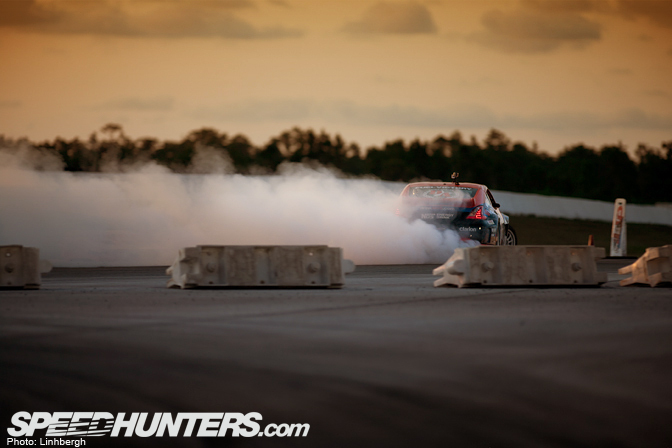 With the exit of Tanner Foust from this year's FD competition, Chris Forsberg is the new drift robot. Each and every run was solid, consistent and the car poured an insane amount of smoke.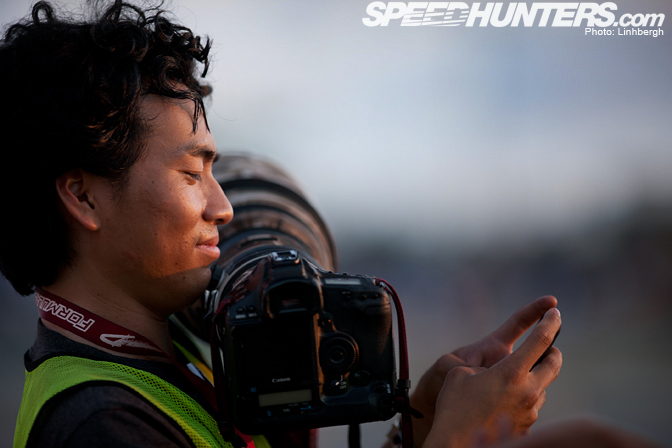 When the top 16 competition started, that perfect light we photographers call "magic hour" only lasted about half an hour. We all made the most of it, even if Larry Chen was busy texting whomever he was texting.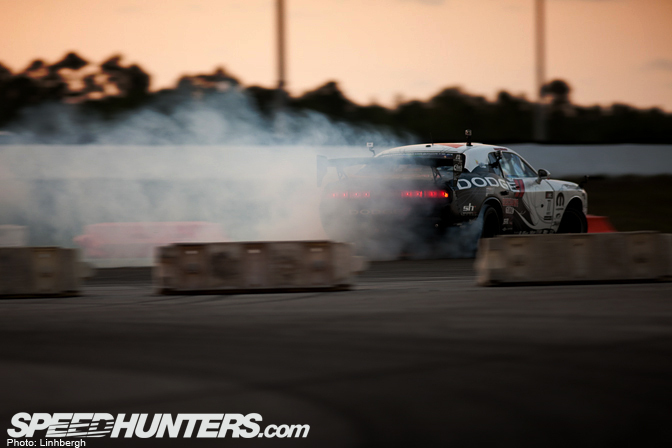 After missing two rounds because of car problems, Sam Hubinette was back and proved the Challenger's worth.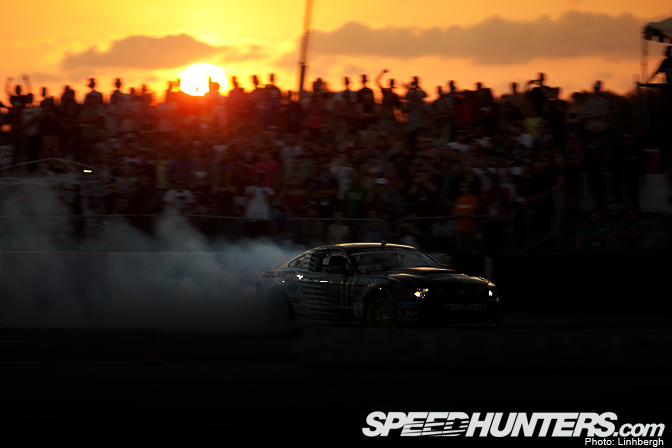 Vaughn Gittin Jr. was 
back on form two rounds after his slump in Long Beach.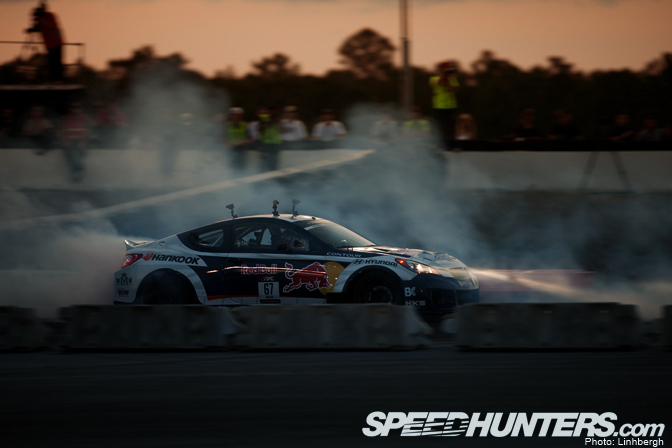 Even moments after the sun dipped below the horizon, the light was still amazing.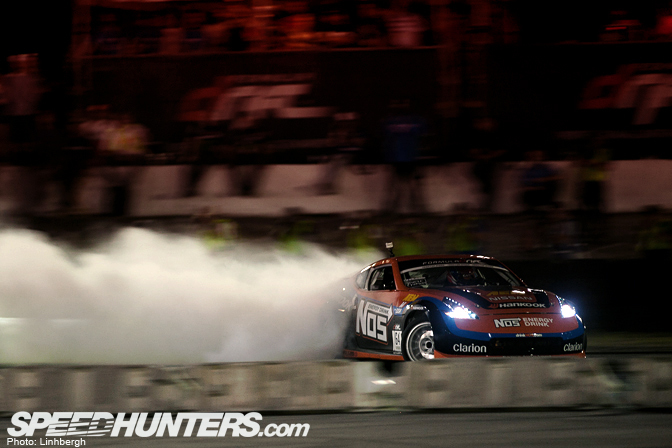 This is Chris Forsberg doing the robot.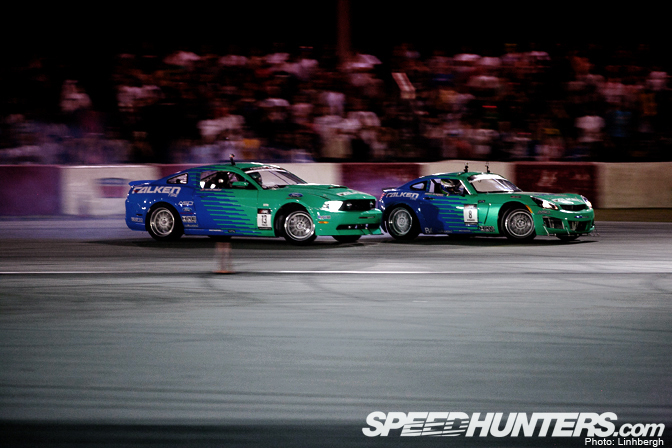 When the weekend started, people were skeptical how the new track was going to be. The single runs weren't the most exciting display of the sport, but once the tandem competitions started, the track pepped up and became alive. The action from the top 16 was electrifying.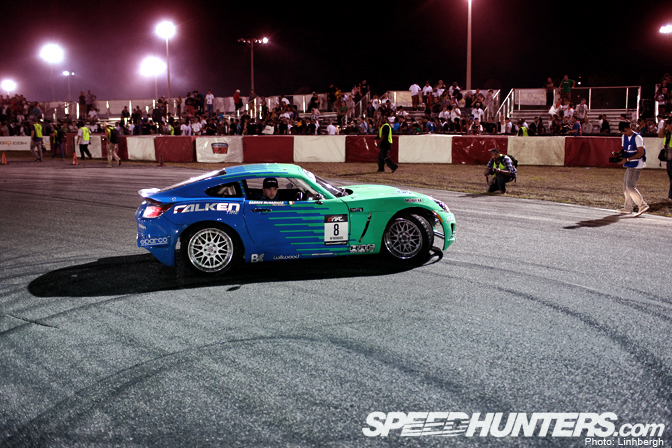 It was an all Falken podium with Darren McNamara finishing third…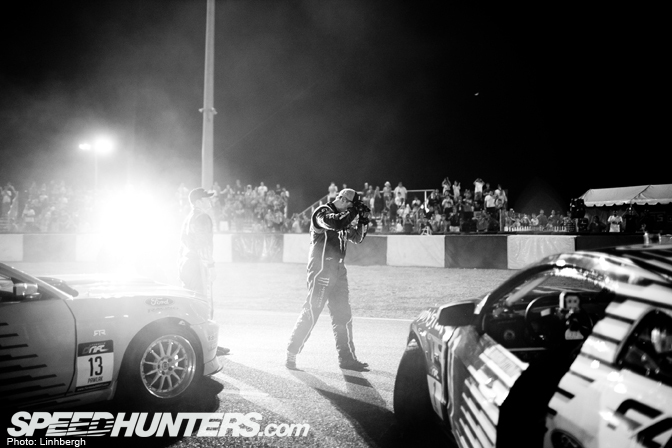 …and Vaughn Gittin Jr sitting in second.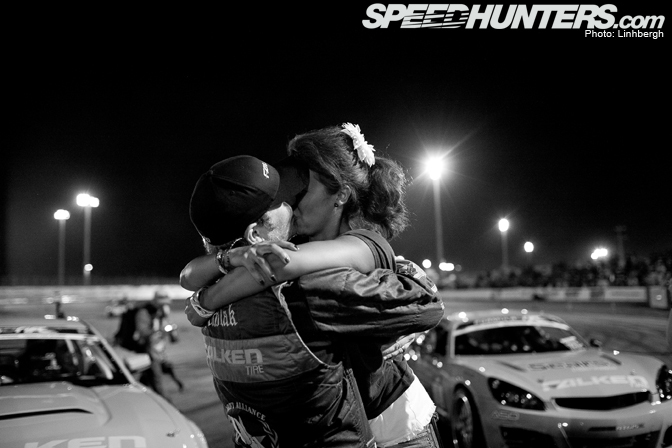 But when the action stopped and the tire smoke cleared, this single moment was the reason we everyone was there. The moment when Justin Pawlak won the event and his wife Sandra ran onto the track and awarded him with his trophy.
There were a lot of unknowns going into Palm Beach. But after it was said and done, the track, the cars, and most importantly, the people proved what it was worth. It was worth that final passionate kiss.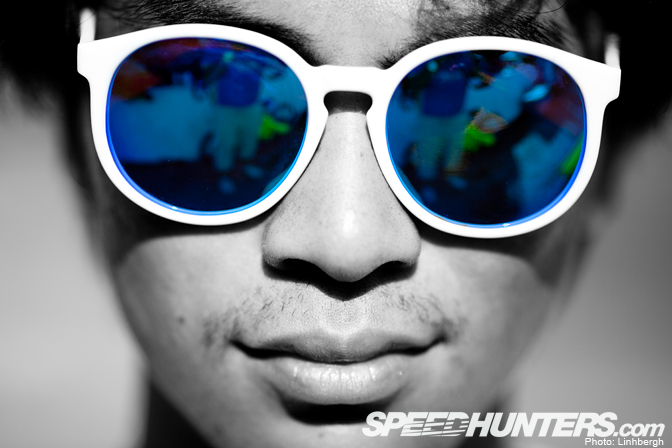 If people like Columbus, the Wright brothers, Lindberg, Gagarin, Yeager and Armstrong is to teach us anything, it is that the unknown, no matter how scary it could be, is worth that first step and all you have to do is do it.
The whole Formula D did just that and walked away with one hell of an event.
-Linhbergh