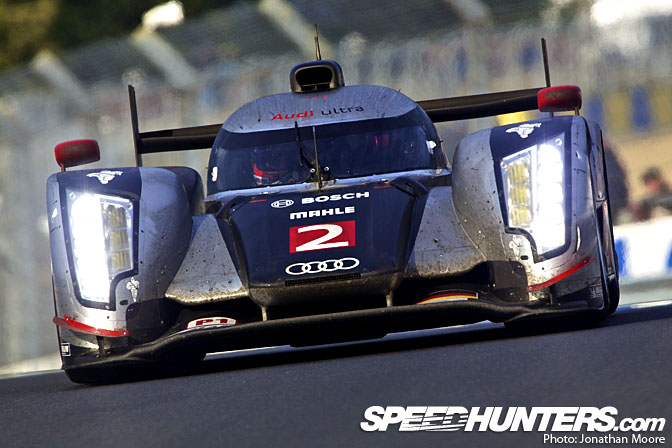 What a finish! Both Audi and Corvette were hard pushed right to the very end at Le Mans this year, and had to earn their victories in LMP1 and GTE respectively. The surviving #2 Audi R18 driven by Benoit Treluyer, Marcel Fassler and Andre Lotterer crossed the line just 13 seconds ahead of the first of the quartet of Peugeot 908s – finishing a battle between the #2 and #9 Peugeot that started 13 hours earlier and ebbed and flowed throughout the night and all the way to the flag.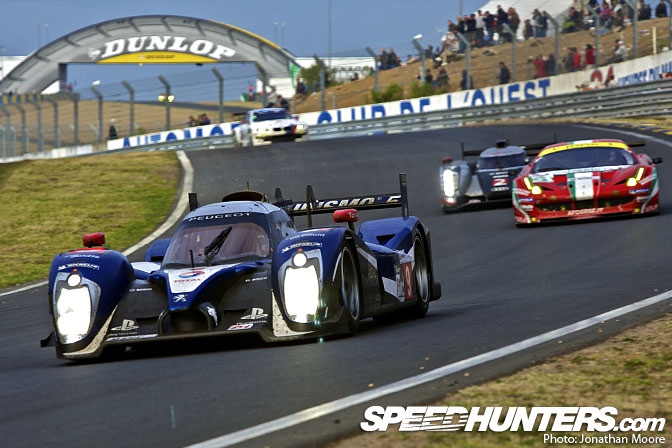 The #9 Peugeot put up an epic fight and occasionally took the lead during pit stop cycles. Neither car gave any quarter through the traffic: I witnessed plenty of near misses as they carved through the slower GTE cars – exactly the thing that had laid waste to the #1 and #3 R18s earlier in the race.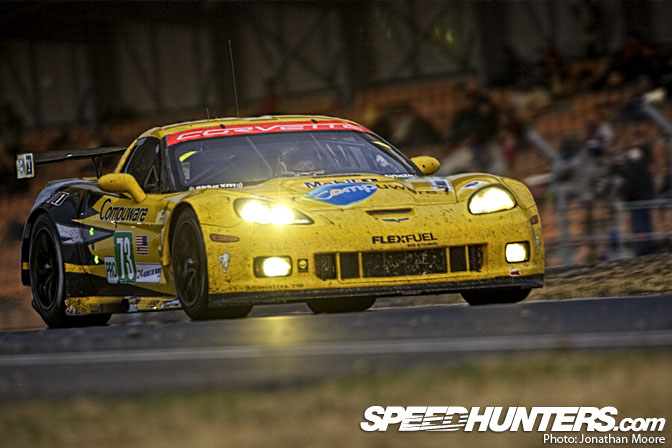 After heartbreak for the #74 Corvette, which had held the GTE lead for the majority of the race until then, the challenge was taken up by the sister #73 C6R – Tommy Milner was particularly impressive – and they took the flag after 24 hours of racing just a minute ahead of the #51 AF Corse Ferrari which featured ex-F1 driver Giancarlo Fisichella on its driver line-up.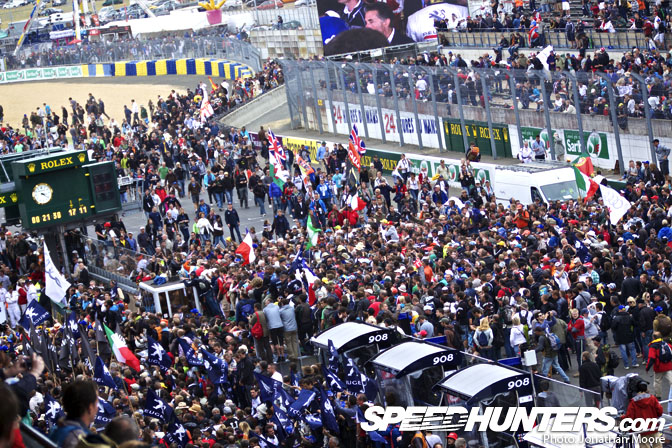 As usual the crowd were pushing at the gates to get onto the track for the podium celebration, but for once there was no ceremonial finish: the leading cars were so close that the final lap was at full racing speed. Once all the finishers were safely through, the gates opened and the crowd flooded the track. It's always a great sight! Stay tuned for more behind the scenes stories from Le Mans coming this week, particularly from the drivers' parade – which had to be one of the most intense things I've ever experienced! For me, 24 hours of sleep is called for…
RESULT:
LMP1
1st: #2 Audi R18 TDi (Fassler/Lotterer/Treluyer) 355 laps
2nd: #9 Peugeot 908 (Lamy/Bourdais/Pagenaud) +13s
3rd: #8 Peugeot 908 (Montagny/Sarrazin/Minassian) +2 laps
4th: #7 Peugeot 908 (Gene/Wurz/Davidson) +4 laps
5th: #10 Peugeot 908 HDI-FAP (Lapierre/Duval/Panis) +16 laps
LMP2
1st (8th overall): #41 Greaves Motorsport Zytek-Nissan (Ojjeh/Lombard/Kimber-Smith) +29 laps
2nd (9th): #26 Signatech Nissan Oreca 03 (Mailleux/Ordonez/Ayari) +35 laps
3rd (10th): #33 Level 5 Lola HPD (Tucker/Bouchut/Barbosa) +36 laps
GTE
1st (11th): #73 Chevrolet Corvette C6R (Garcia/Milner/Beretta) +41 laps
2nd (13th): #51 AF Corse Ferrari 458 Italia (Fisichella/Bruni/Vilander) +41 laps
3rd (15th): #56 BMW M3 GT (Priaulx/Muller/Hand) +42 laps
4th (16th): #77 Team Felbermayr-Proton Porsche 911 RSR (Lieb/Lietz.Henzler) +43 laps 
5th (17th): #76 Imsa Matmut Porsche 911 RSR (Pilet/Narac/Armindo) +44 laps
GTE-AM
1st (21st overall): #50 Larbre Competition Corvette C6R (Bornhauser/Canal/Gardel) +53 laps
2nd (21st): #70 Larbre Competition Porsche 911 RSR (Bourret/Gibon/Belloc) +54 laps
3rd (26th): #68 Robertson Racing Ford GT (Robertson/Robertson/Murry) +70 laps
Jonathan Moore
Speedhunters Le Mans 2011 coverage