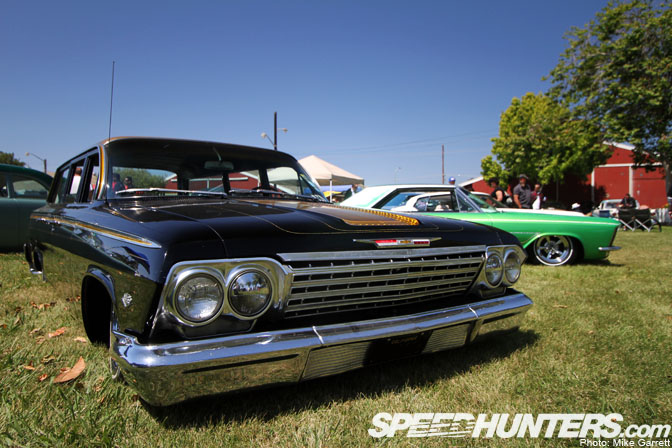 A Speedhunter is always on the move, and right now I'm preparing for a road trip up to Infineon Raceway for the Sonoma Historic Motorsports Festival.
While I'm very excited to shoot vintage racing in California's Wine Country, I first need to wrap up my coverage from the Cruisin' Nationals.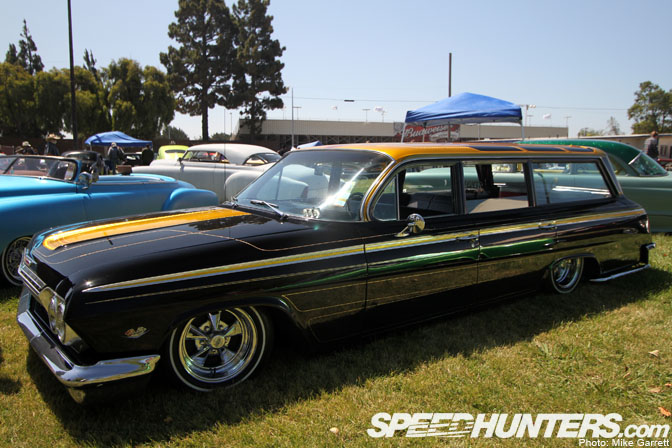 Here's a second view of the '62 Chevy Wagon from the opening shot. The black on gold combo looks oh so right in the Santa Maria sun.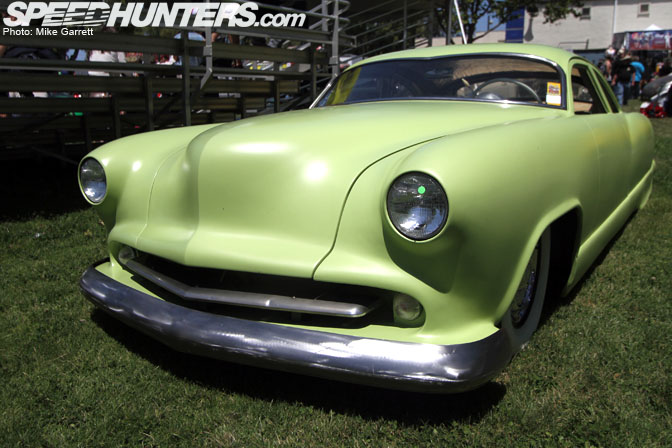 Can any of you guys tell what this car started off as? Give up? How about a 1951 Kaiser…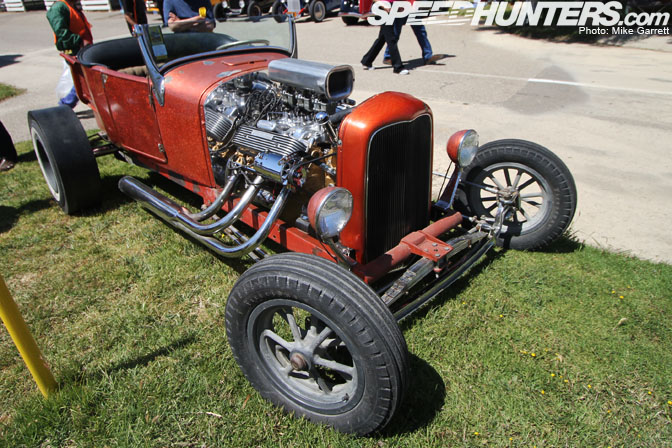 Here's another one of those time capsule Hot Rods.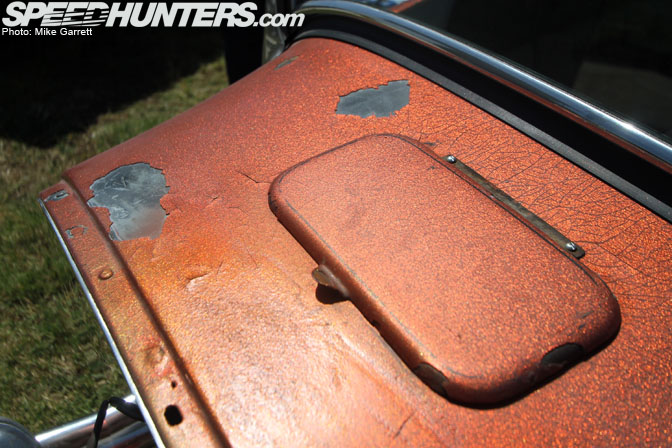 I'm not sure when it was built, but the condition of the paintwork says it's been around for quite a while.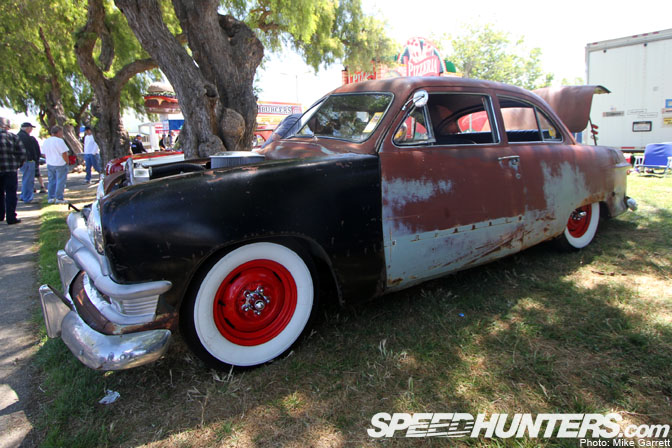 At times it can be hard to tell whether you're looking at a work in progress, or a finished cruiser…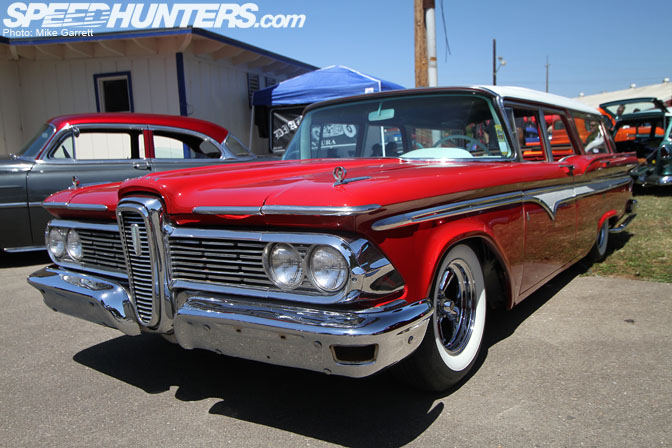 A '59 Edsel Wagon with some very fat whitewalls. Can you dig it?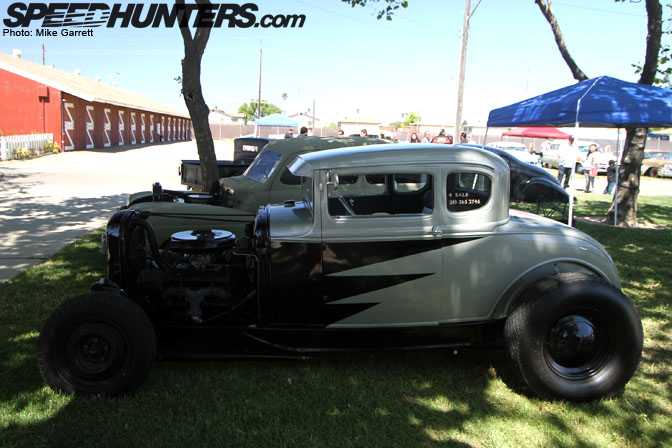 The retro style graphics on the side of this little coupe are a nice touch.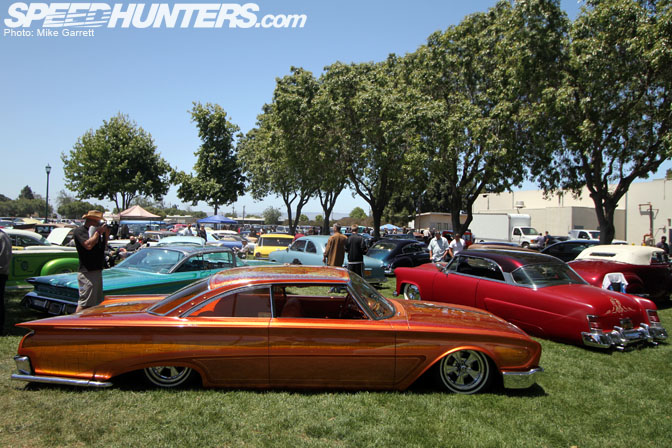 Our friends from Starlite Rod & Kustom and the Autoholics car club made the trip up from SoCal with a nice selection of cars.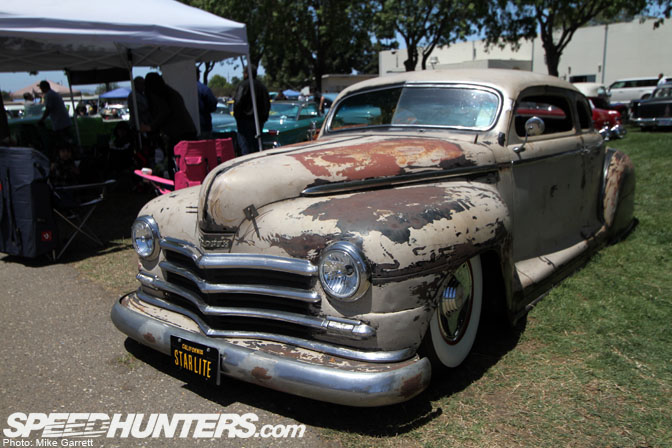 This is another one of those cases where the patina might just be too cool to paint over.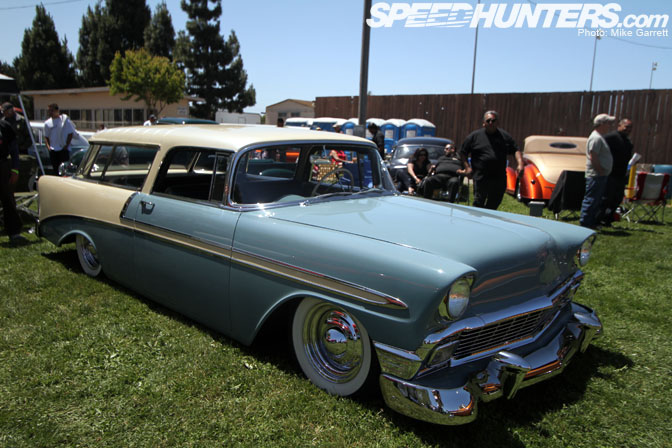 A beautiful Chevy Nomad with lowering, custom wheel covers, and not much else. One of GM's great all-time body styles for sure.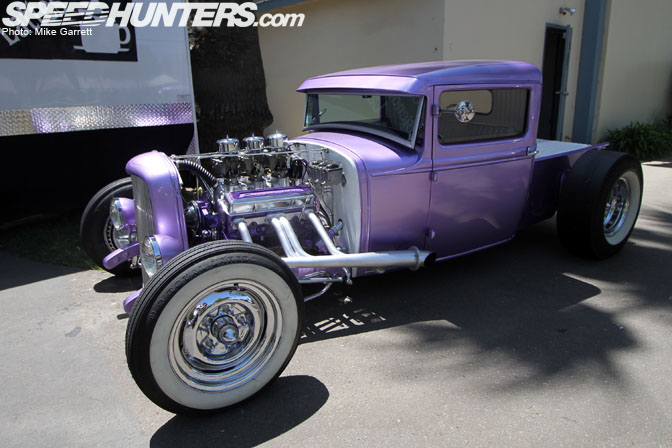 This might be one the pickup truck you can own without always having to help your friends move…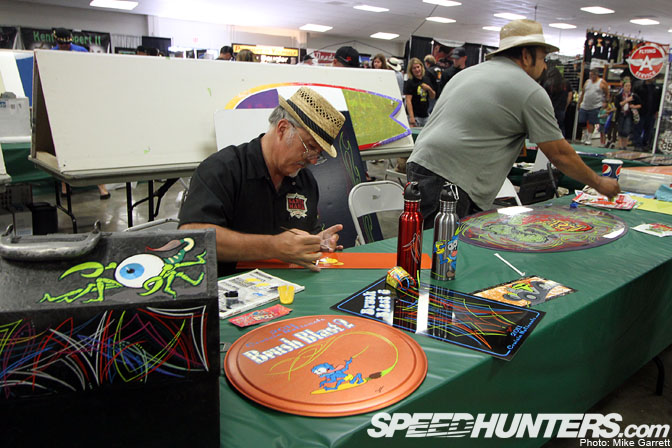 More pinstripers demonstrating their art.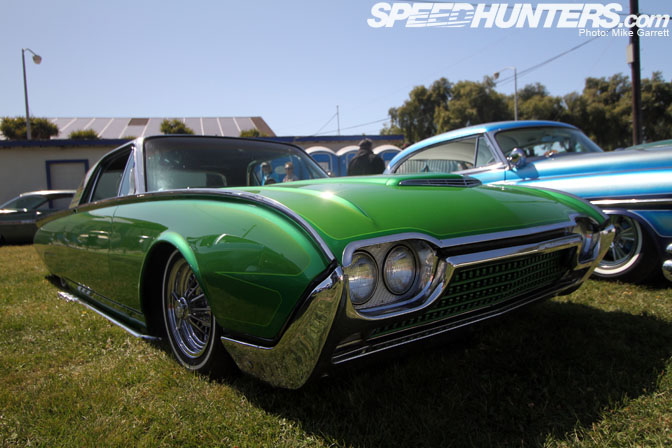 Another one of thos great Thunderbirds from the early 1960's.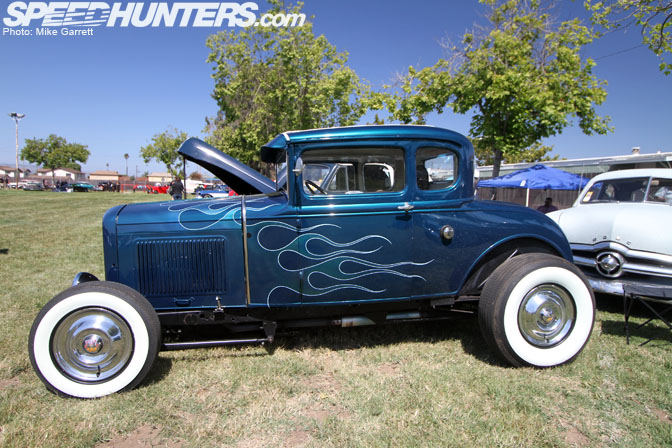 A very traditional '31 Ford Coupe here. Everything about it looks period correct.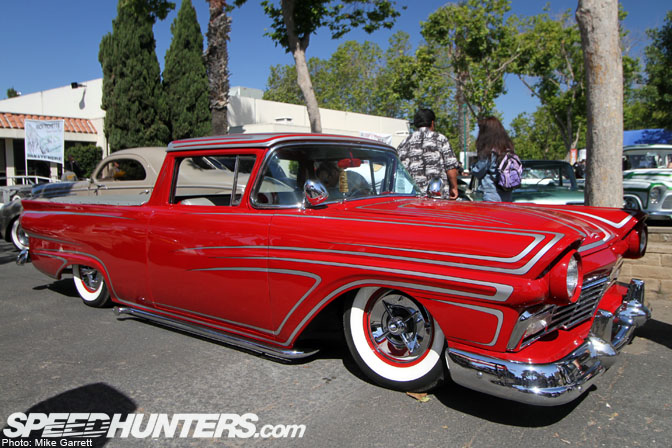 This Ranchero has it all. Low stance, spotlights, side pipes, custom hubcaps, and a beautiful scallop job.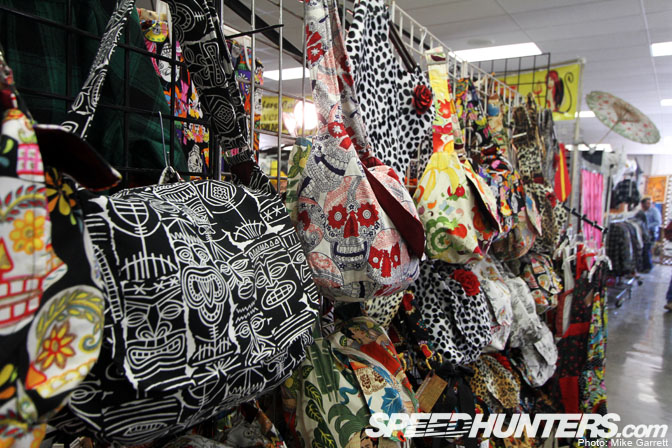 I wonder if my wife would want one? Hmmm…
A 1940 Caddy looking as gangster as a car can get. I felt threatened just standing near it.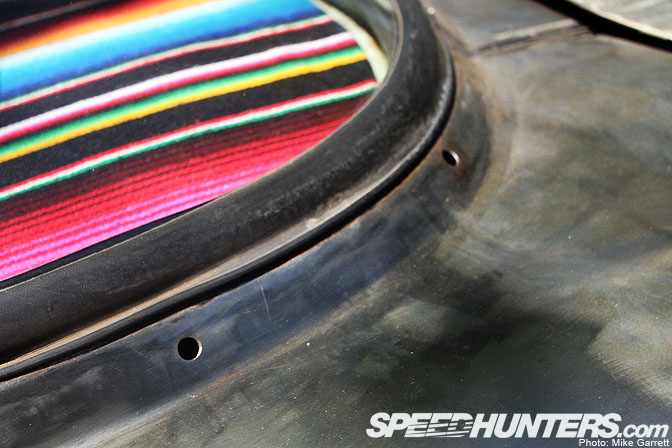 Bare metal and a Mexican blanket for the perfect contrast.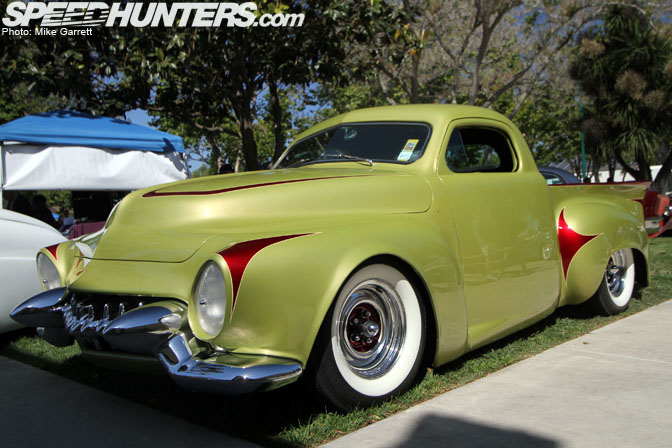 An out of this world '49 Studebaker pickup better known as Atomitron.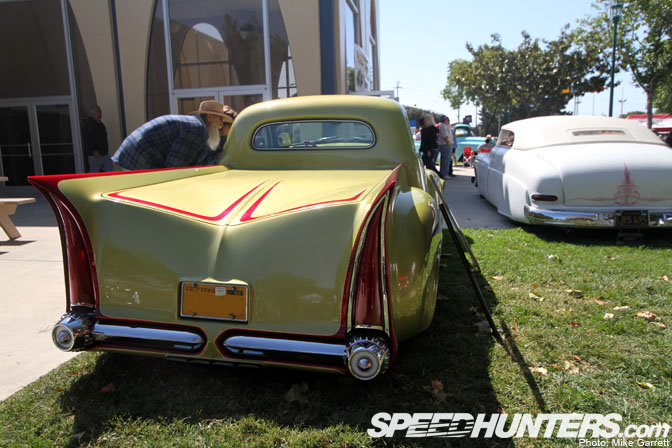 Photos can hardly do this truck justice. The bodywork on the rear end is unreal.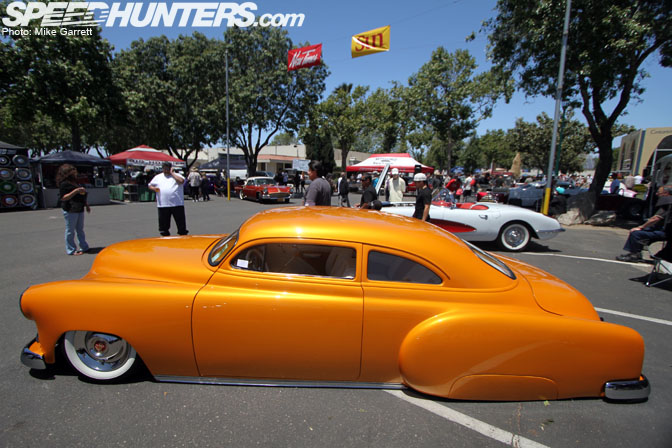 This stunning orange '51 Chevy apparently came to the show all the way from Arizona.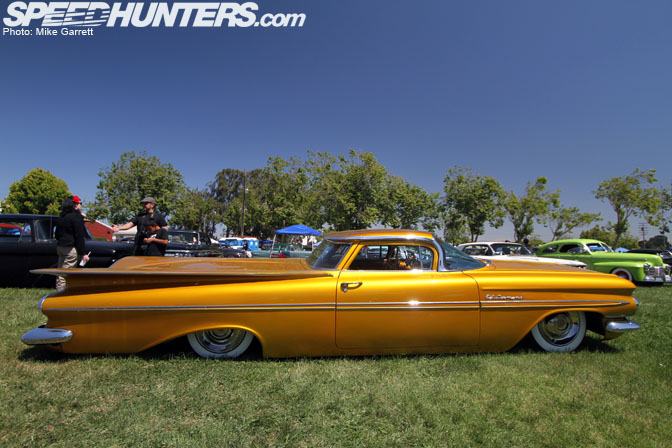 I'm guessing the owner of this ridiculously chopped El Camino isn't very tall. Don't think there's any way I could wedge myself into this one…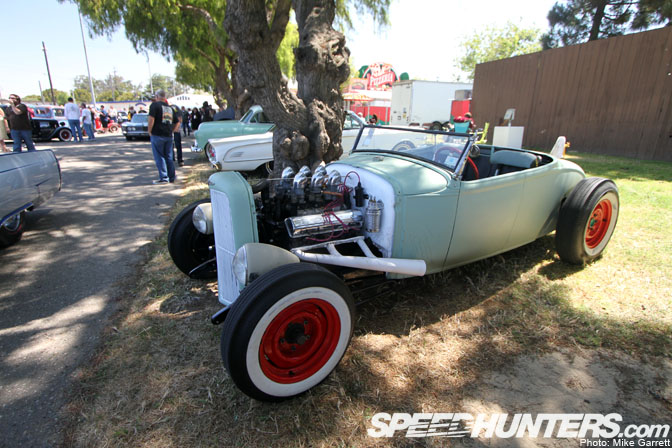 It might not be flashy, but the bare bones look of this Roadster made it one of my favorites of the day.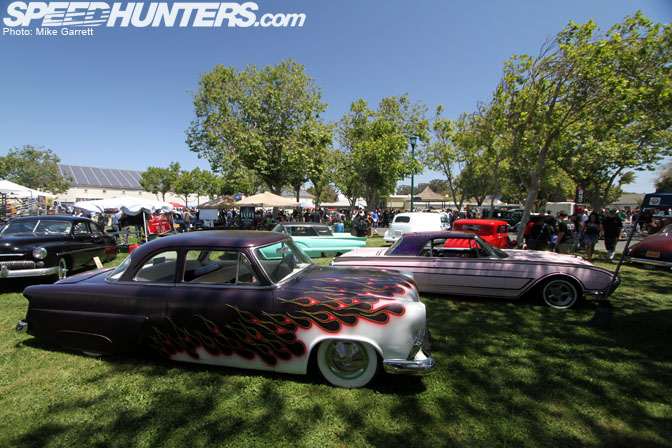 Well, I've got some vintage racing to shoot, so I'll go ahead and stop here.
Hope you guys enjoyed my look at the 2011 Cruisin' Nationals in Santa Maria.
-Mike Garrett