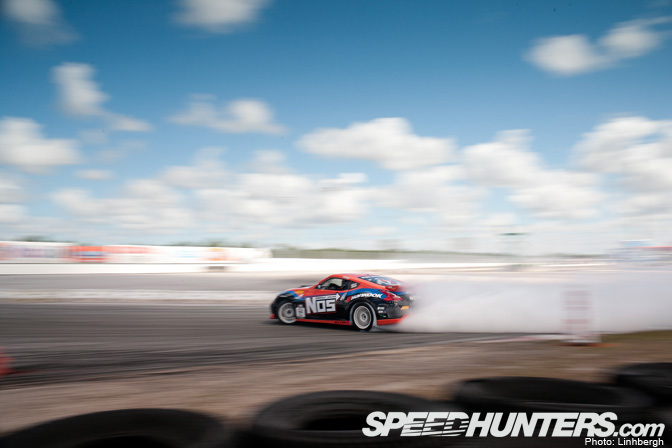 No matter where you go and no matter what event you attend, the number one topic when you meet and greet anyone is the weather. It was no different at West Palm Beach, Florida, for Formula D. Everyone came into the event thinking it was going to be deathly hot and humid. But Friday's qualifying day proved those fears wrong. It was a breezy and rather lowish humidity day for the state of Florida.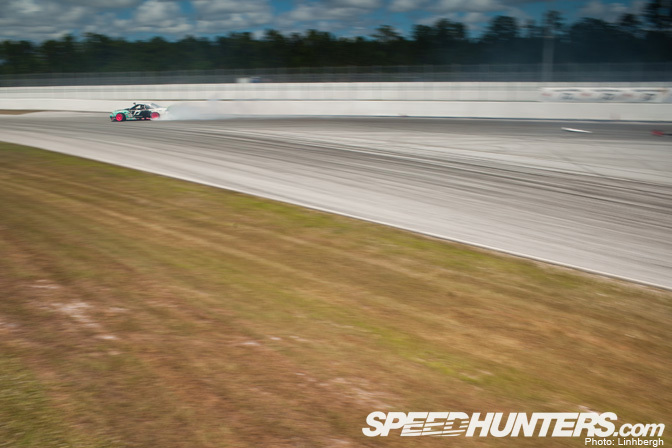 With good weather, a brand new venue for the FD teams and competitors, and for the first time ever, an FD event was being held in Florida, it was going to be a good day filled with much tire burning and inhaling of tire smoke.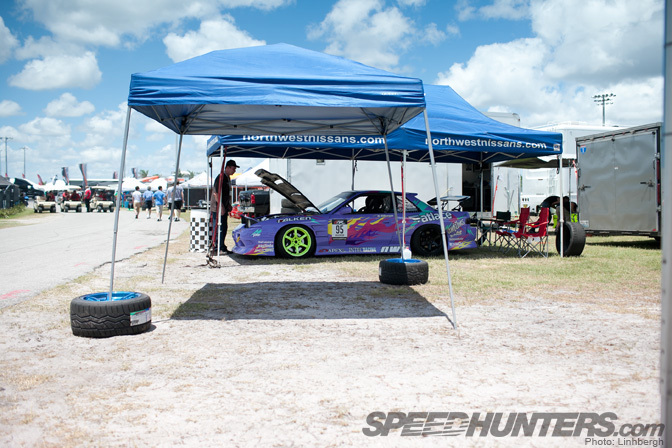 Upon arriving to the track, the paddock was bustling with activity.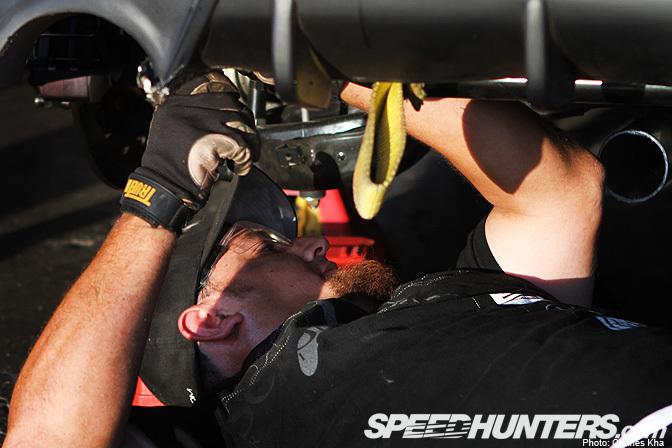 Fredric Aasbo's team made some last minute changes to the car…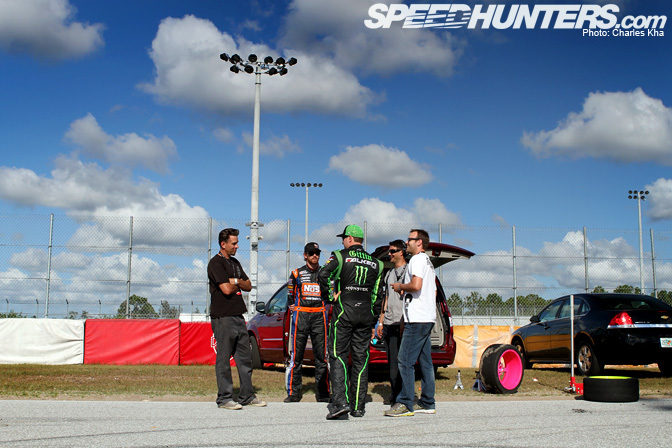 …drivers and teams met up and conversed…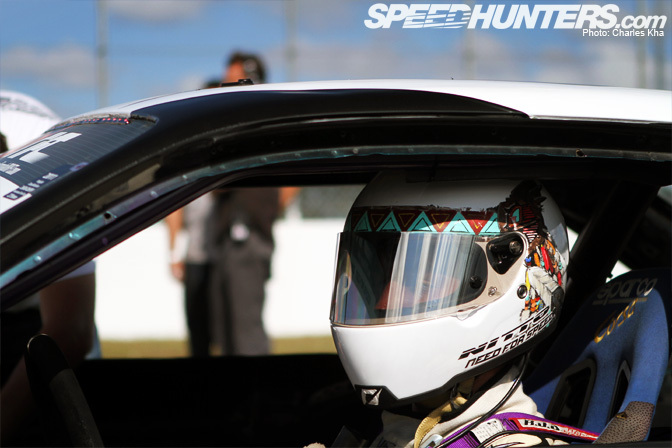 …Matt Power was getting in the zone…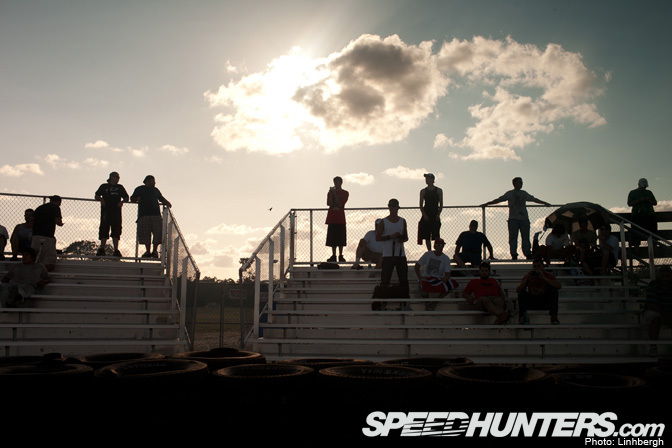 …and the fans were out and about to enjoy the day's festivities.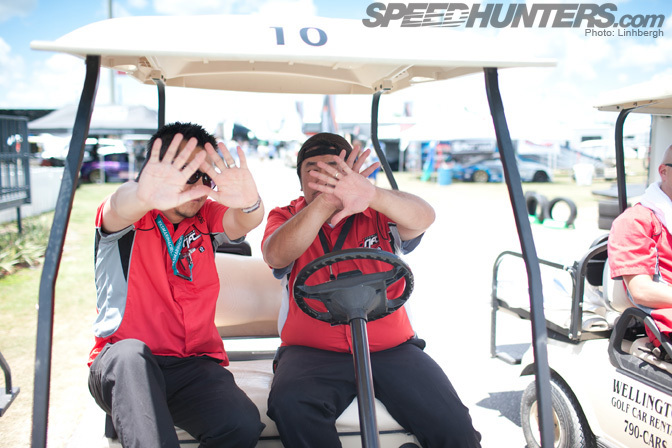 Out on the paddock, which was receiving a huge dose of mid-day heat, Formula D co-founder, Jim Liaw, and the head Formula D media gestapo, Andy Luk, did their best to hide from the sun and also my camera lens.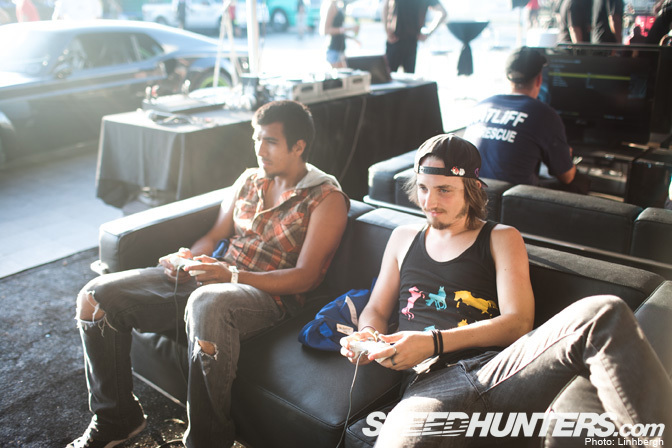 Back in the Need for Speed booth, media guys Joe Aya and Justin Shreeve took short breather with a healthy dose of competitive video gaming.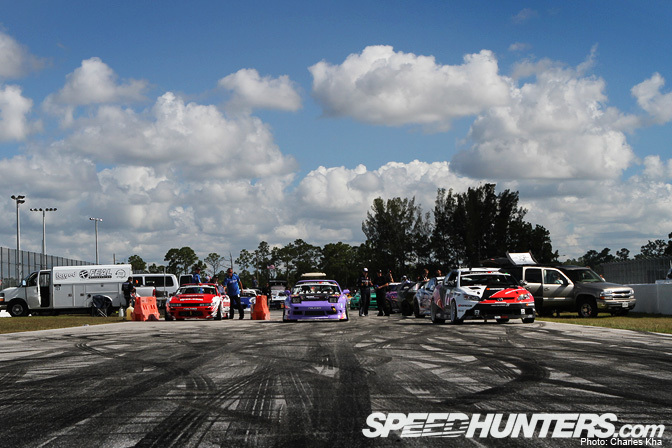 Since we had three photographers out to cover the event, we decided for the most diverse coverage, we would divide and conquer. Charles went to the hot grid to shoot the action…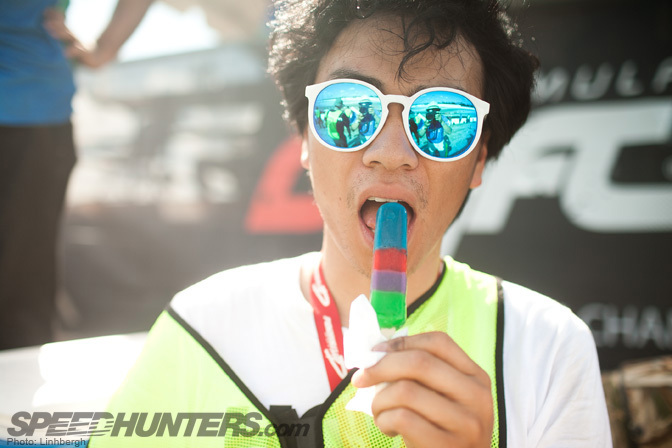 …Larry Chen had some ice cream…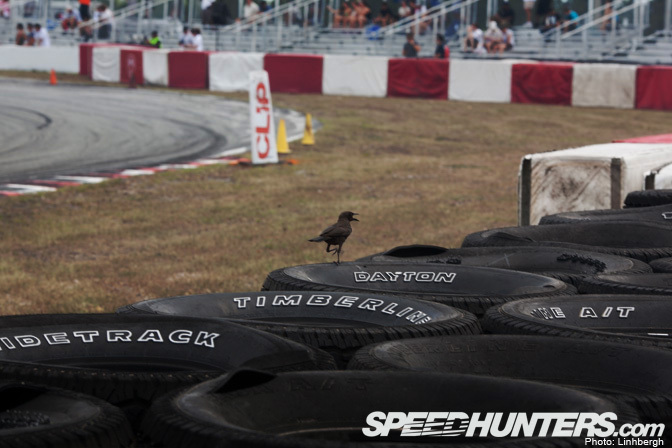 …and I was out shooting nature.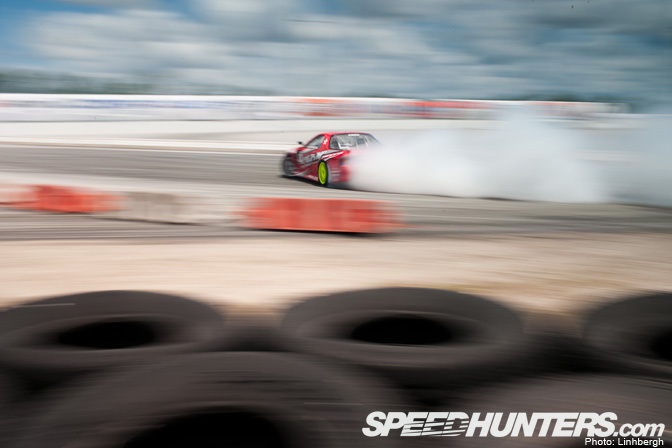 But really, some qualifying went down and we were out there doing our best getting coverage. Even if some of us were enjoying some ice cream….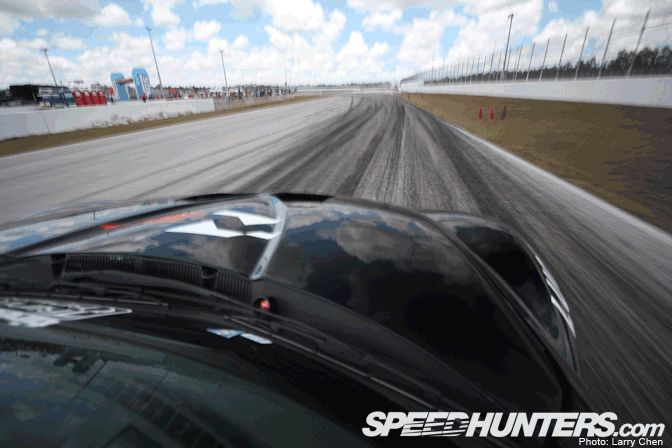 Here's the Formula D Florida track layout as it is demonstrated by Joon Maeng. It's short course, but very high speed.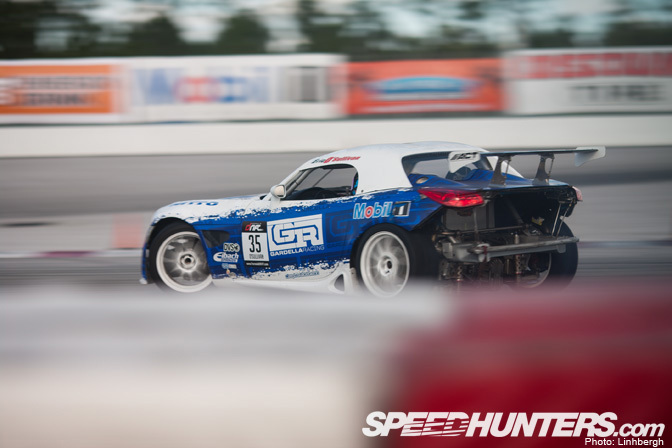 After Eric O'Sullivan's big crash at the previous day's practice, it was good to that the guys from Gardella Racing was able to put his car back together in time for qualifying.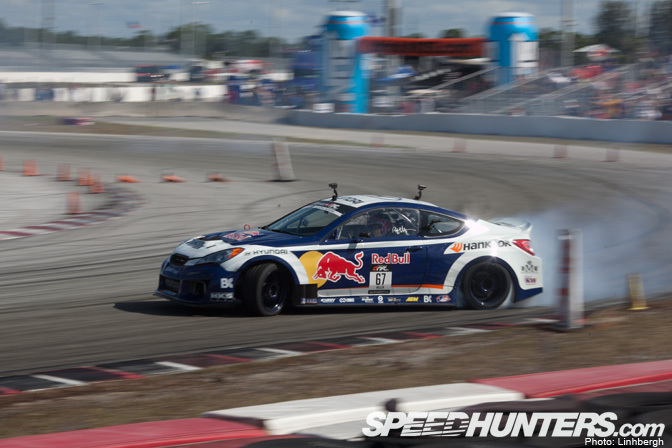 Let's take a look at the Top 5 qualifiers of the day. Rhys "I-can't-believe-this-car-will-be-running-again-at-Pikes-Peak" Millen put in some quality runs which placed him as the number 5 qualifier.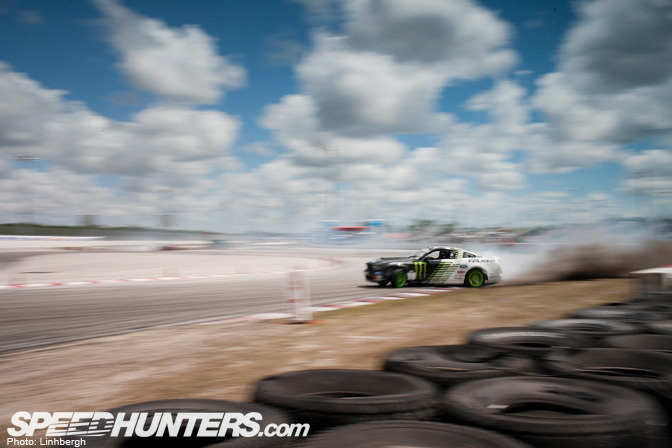 Sitting in 4th is Vaughn Gittin Jr…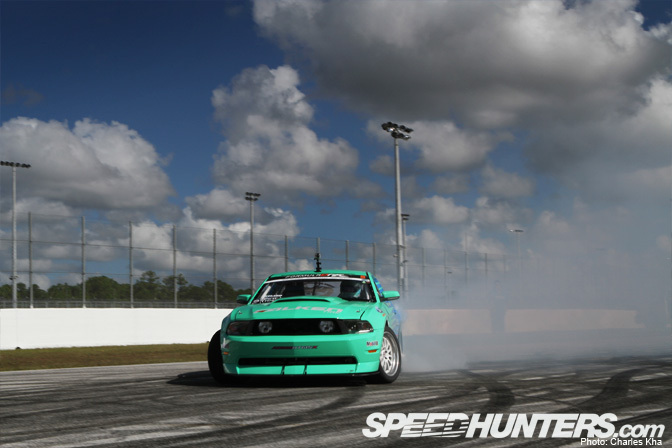 …Justin Pawlak sits in 3rd…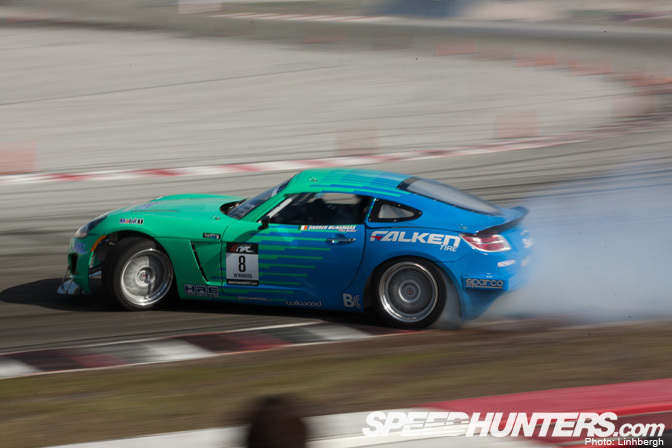 …Darren McNamara place in 2nd…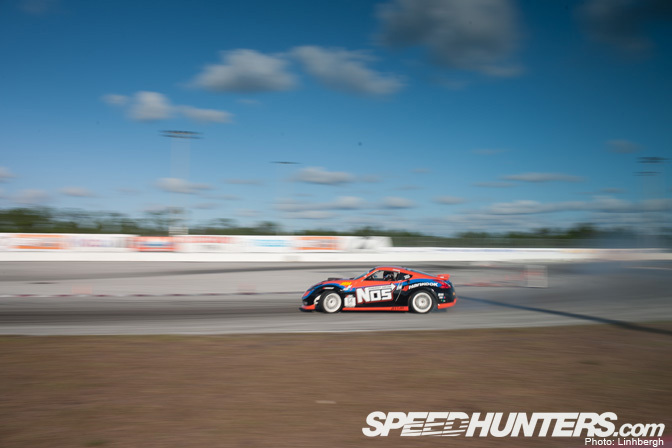 …and the number 1 qualifier was Chris Forsberg in his NOS Energy Drink Nissan 370z.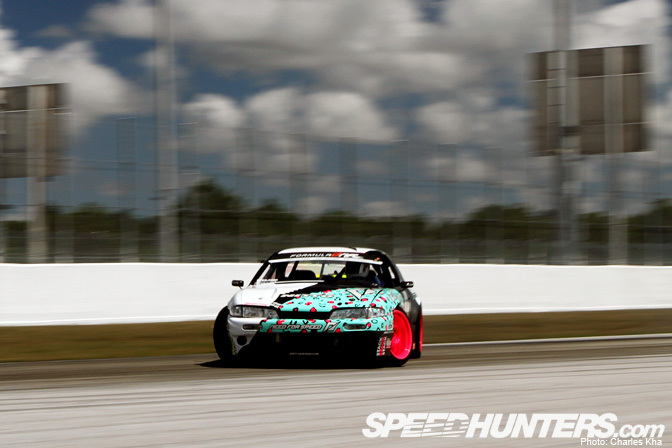 Matt Powers, the V8 S14 drivin' Team Need for Speed driver, had a tough time with the new track. Luckily, he qualified 27th. But unluckily, he will be competing with the 6th place qualifier…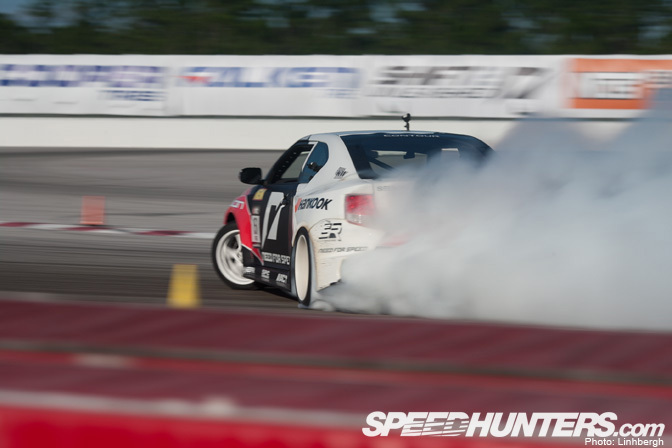 …Fredric Aasbo. It'll be the first Team NFS teammate battle of the season!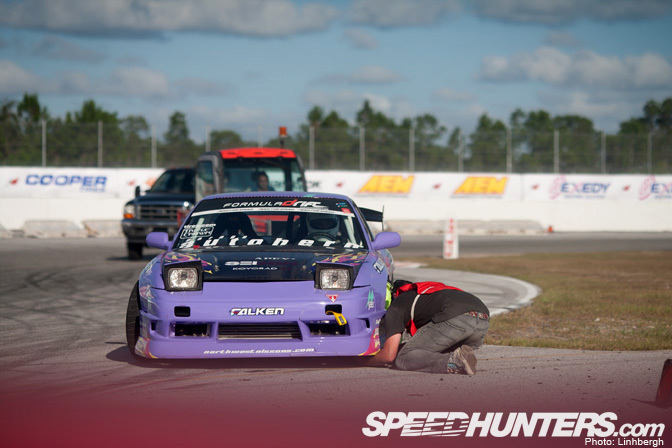 Walker Wilkerson pulled "a Matt Powers" during his second qualifying run. He chucked his card hard into the first turn, hit the rumble strips and busted up his tie rods like Matt did in Atlanta. Fortunately for Walker, he was landed a solid first run which put him 19th on the grid…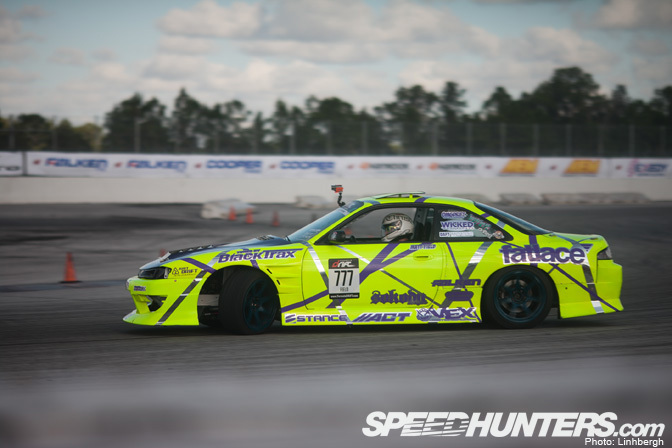 …while his Fatlace teammate, Matt Field, unfortunately was not able to qualify for the Top 32.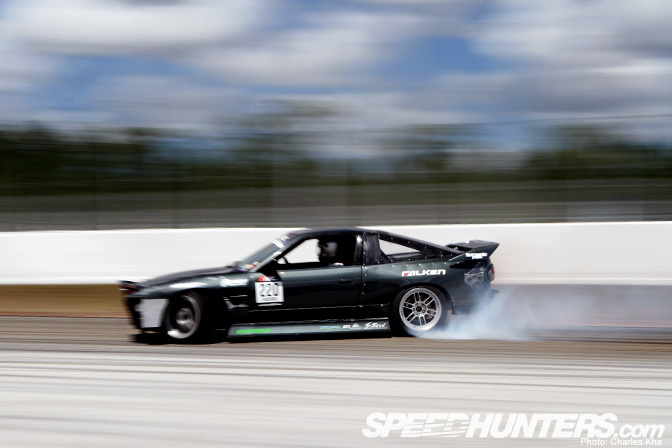 Another privateer which was unable to qualify was Mike Skudlarek.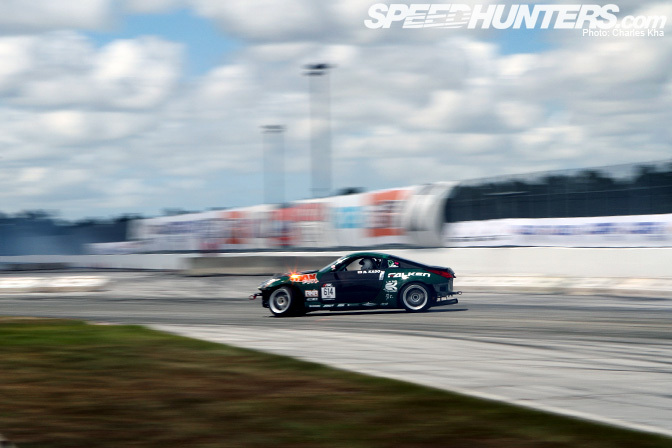 One of the many other privateers on the grid, Ryan Kado, put in some solid runs and was able to qualify. He sits 22nd on the grid.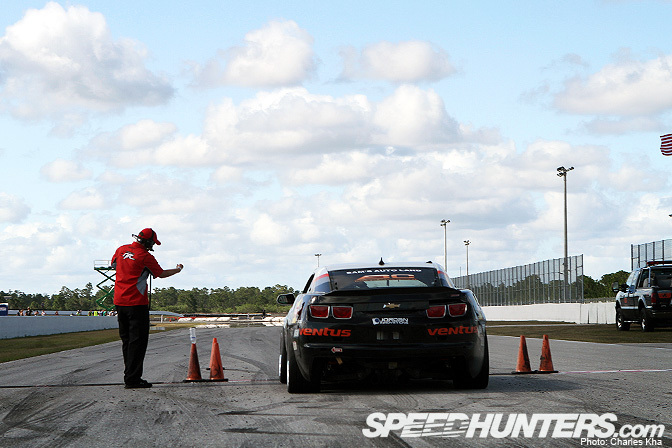 The king of qualifying and the king of backwards entries, Conrad Grunewald, placed 7th on the grid.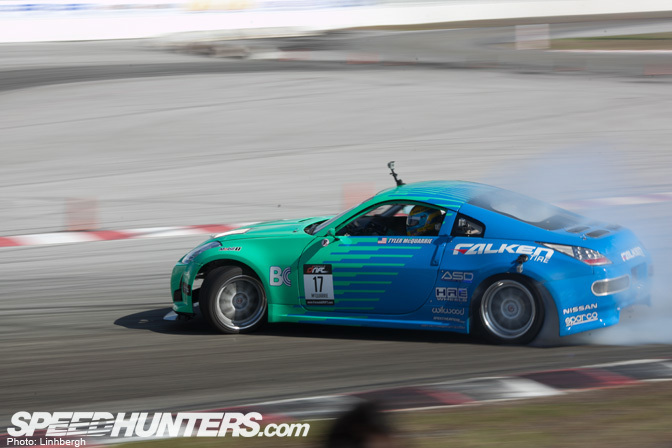 Tyler McQuarrie put in good work today. 8th on the grid.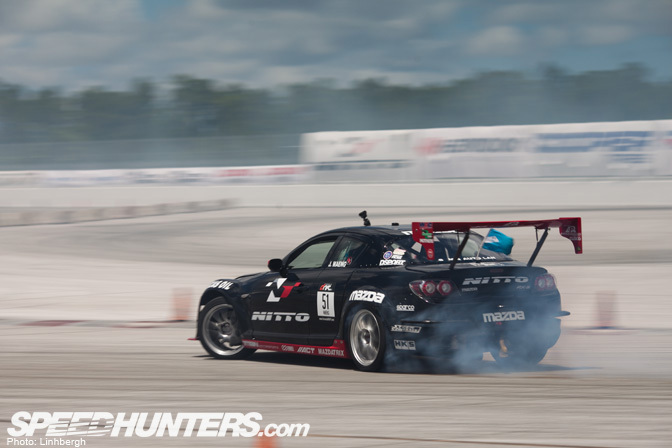 I still don't know why Joon's nickname on the FD paddock is "gentle." If you've ever seen him live at the track, gentle is the last thing you'd think about. He sits 9th on the grid.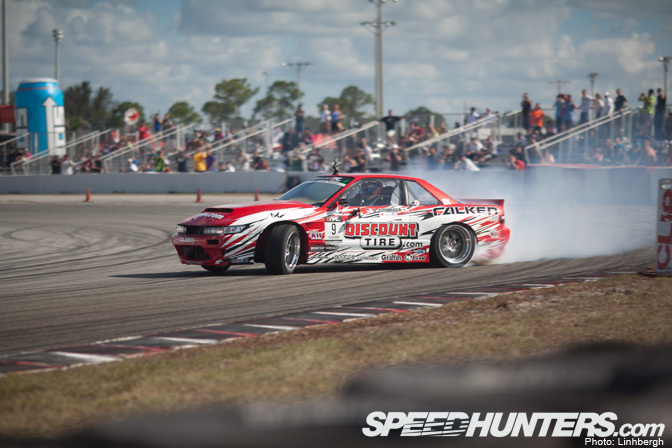 Dai Yoshihara qualified 12th…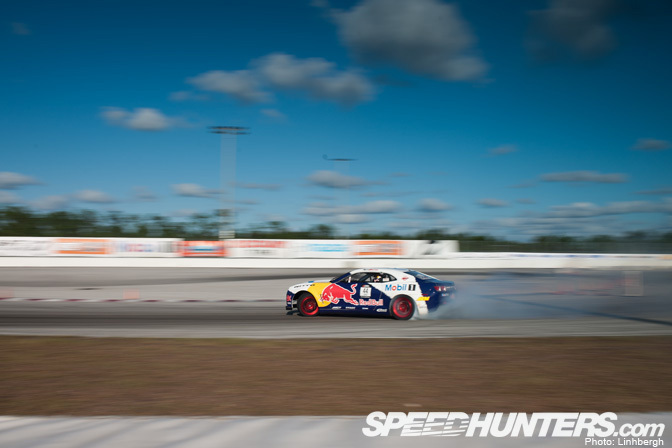 and Ryan Tuerck placed 14th.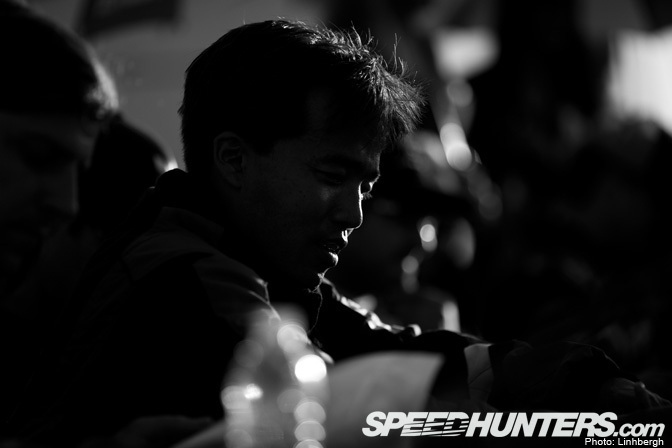 Taka Aono improved the performance of his Corolla by a bit of weight reduction. He cut his hair! This performance boost helped him qualify 15th.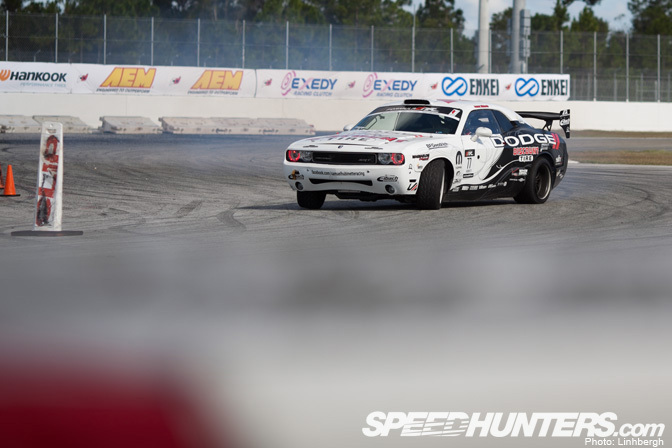 After missing out on rounds 1 and 2 of the season, it was good to see Sam Hubinette out on track with a healthy car and sitting 16th on the grid.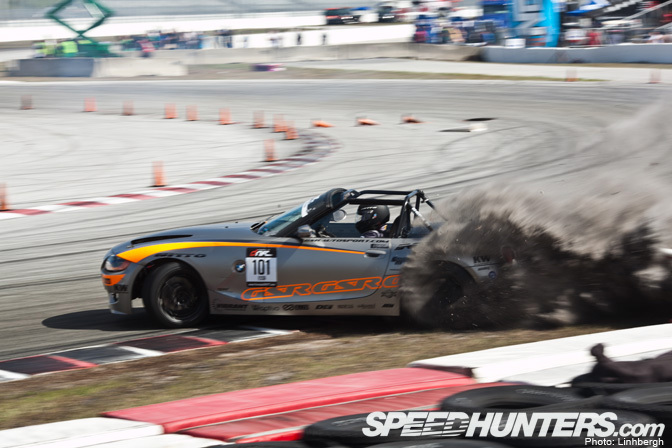 Michael Essa was having a not-so-great time but was, luckily, able to qualify… in last place.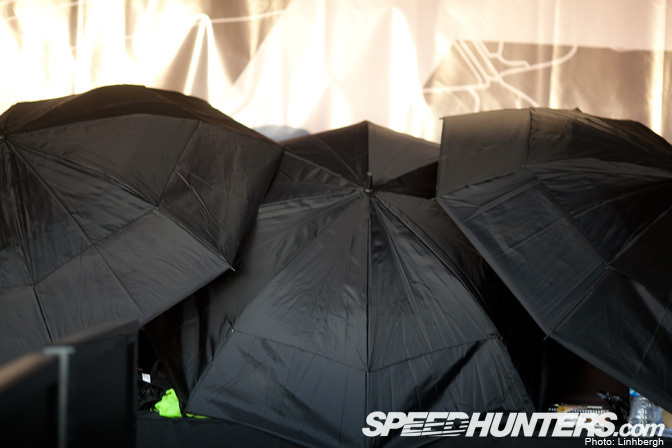 If you were to visit the Need for Speed booth after qualifying, you would've been greeted by a table filled with open umbrellas.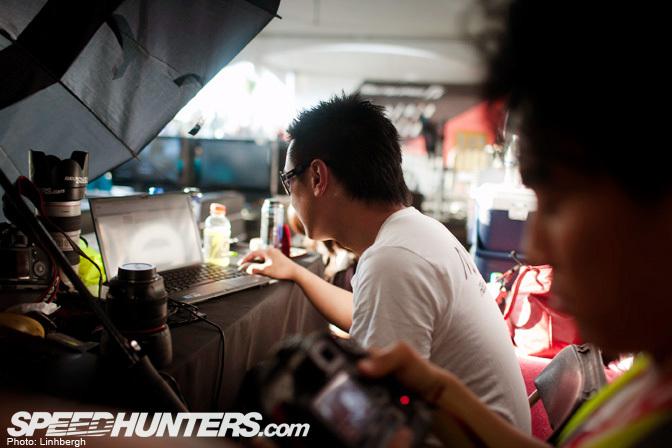 That was because the sun was shining into our faces as we camped out in front of our laptops downloading and sorting images.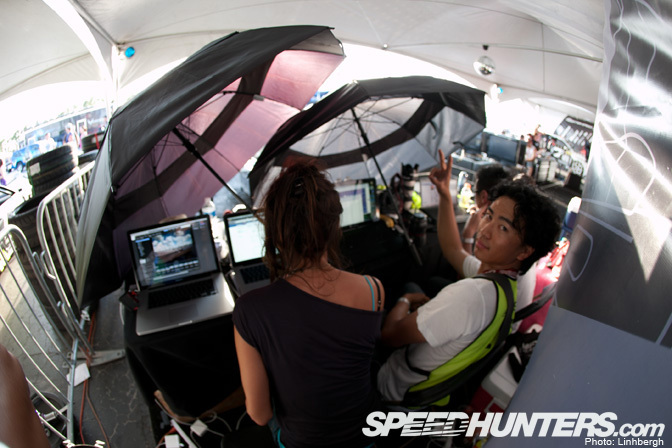 This is what Operation: Hide-from-the-sun looked like from the inside.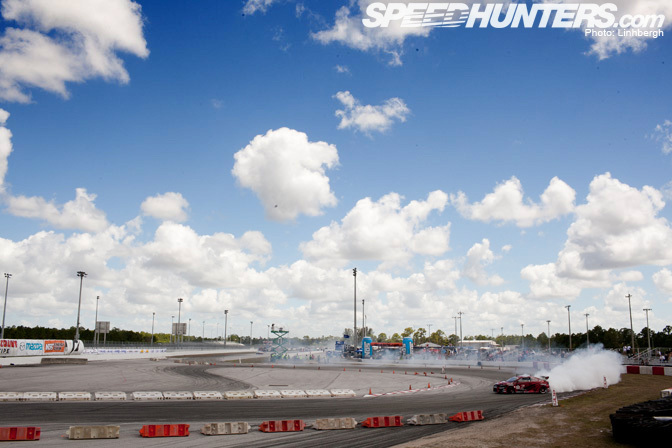 Tomorrow's Top 32 will definitely prove to be an interesting one. We're looking forward to it.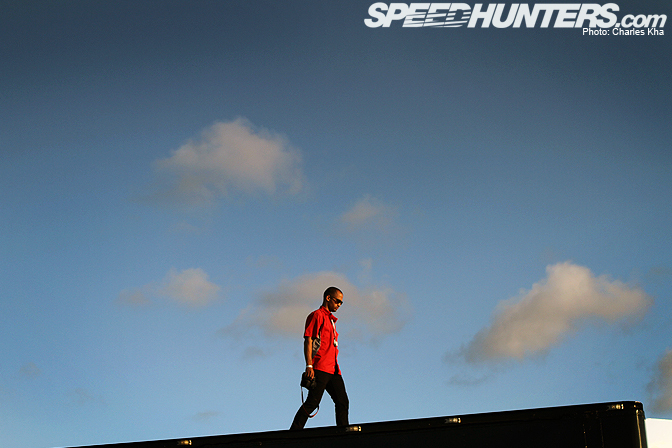 One last thing, tomorrow's Team NFS top 32 battle, Fredric vs. Powers, who's going to take it?
-Linhbergh
Speedhunters Formula D Florida coverage
Complete Top 32 qualifying list:
1. C. Forsberg #64
2. D. McNamara #8
3. J. Pawlawk #13
4. V. Gittin #1
5. R. Millen #67
6. F. Aasbo #151
7. C. Grunewald #79
8. T. McQuarrie #17
9. J. Maeng #51
10. T. Yoshioka #21
11. K. Gushi #33
12. D. Yoshihara #9
13. O. Graven #113
14. R. Tuerck #44
15. T. Aono #86
16. S. Hubinette #77
17. R. Petty #808
18. A. Pfieffer #88
19. W. Wilkerson #95
20. M. Waldin #23
21. K. Mohan #99
22. R. Kado #514
23. P. Cyr #68
24. C. Ng #84
25. J. Jones #29
26. E. O'Sullivan #35
27. M. Powers #665
28. O. Bakchis #723
29. J. Russakoff #85
30. L. Longberger #28
31. M. Feicok #222
32. M. Essa #101