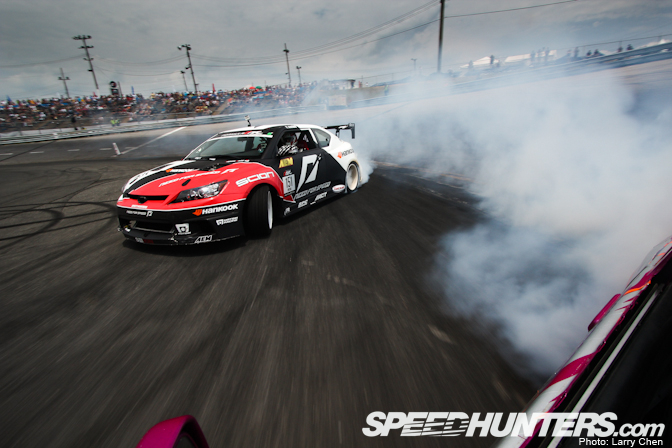 Like many things, jet-setting has its pros and cons. It's a great thing to be able to travel to various parts of the United States and beyond, but it's another thing to experience travel when all the right chess pieces aren't correctly aligned. You are at the whim of whatever form of transportation you planned.
Leaving New Jersey, Larry experienced a mini-"Stuck" incident and we both had a bit of ground transportation issues once we landed in the great state of Colorado. Ahh the life of a Speedhunter, eh? Nevertheless, things have finally slowed down enough where I can finally give FD New Jersey the time it deserves.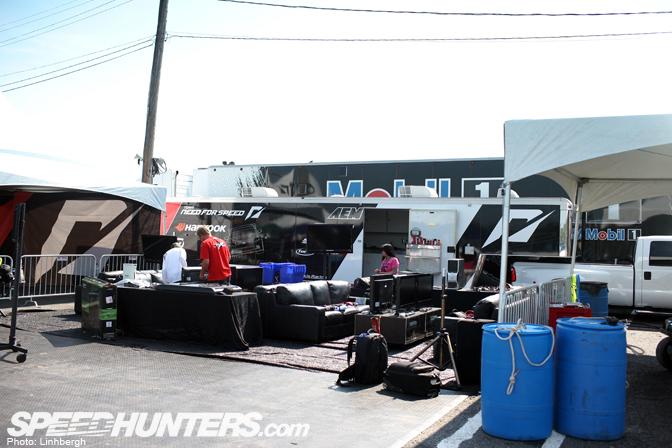 As we mentioned in our previous look at New Jersey, the NFS booth took a huge beating from the flash rain storm. The main canopy blew away and everything else under it became completely soaked.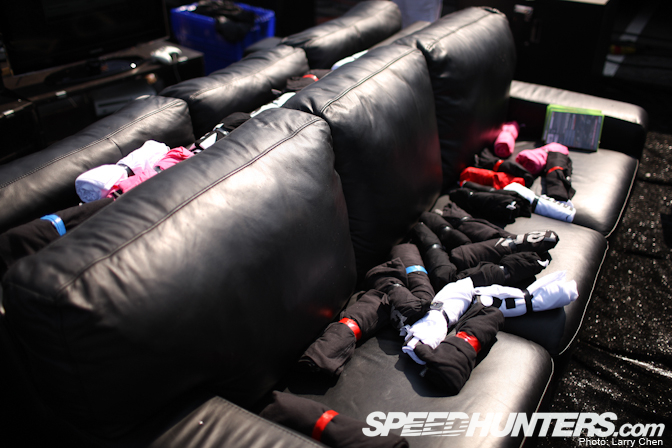 The day after the rainstorm, there was not a cloud in the sky. This much needed sunshine gave the booth time to dry out as well as gave time for various NFS swag to dry out as well.
In the late morning, the amazing folks at Formula D were able to construct a temporary main canopy. The TVs and game consoles all surprisingly worked after its intense showers the previous day.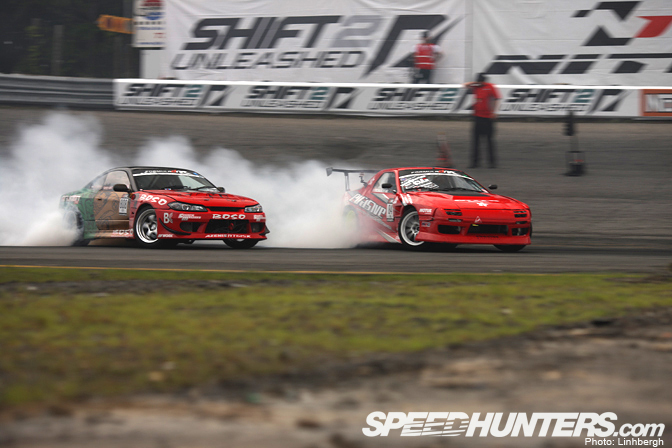 Top 32 practice seemed much different than from the two previous rounds. The tandem battles were much more intense almost as though they were battling in the top 32 for real. This fierce competition would be a sign of things to come during the main competition.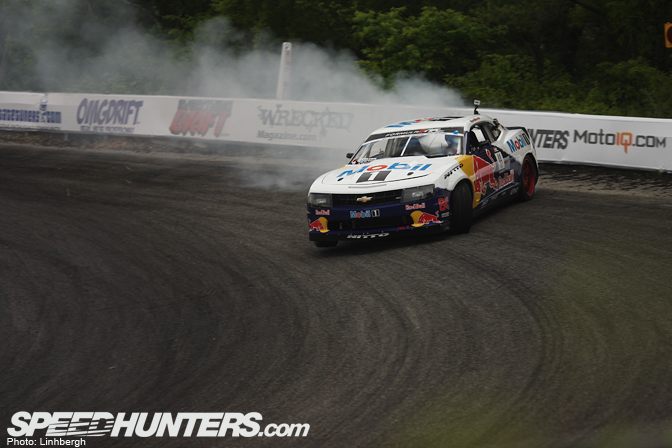 The start of the Top 32 proceedings started off with Ryan Tuerck doing a bye-run. Since there were only 31 qualifiers, Top Qualifier Ryan had an easy pass to the top 16.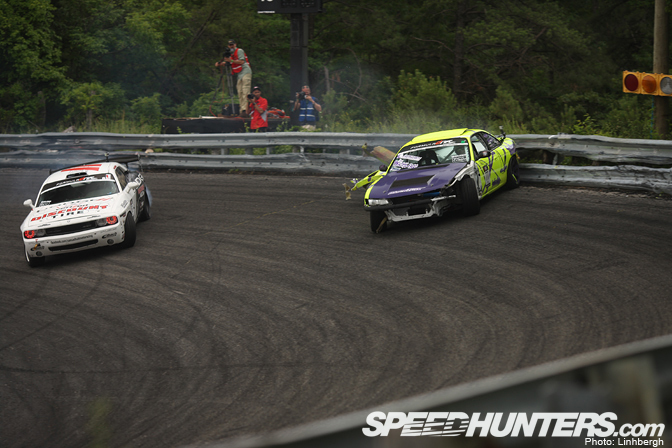 Next up was Kenneth Moen driving Samuel Hubinette's Dodge Challenger battling the neon highlighter hero, Matt Field. Kenneth gave Matt a love tap which resulted him in spinning out.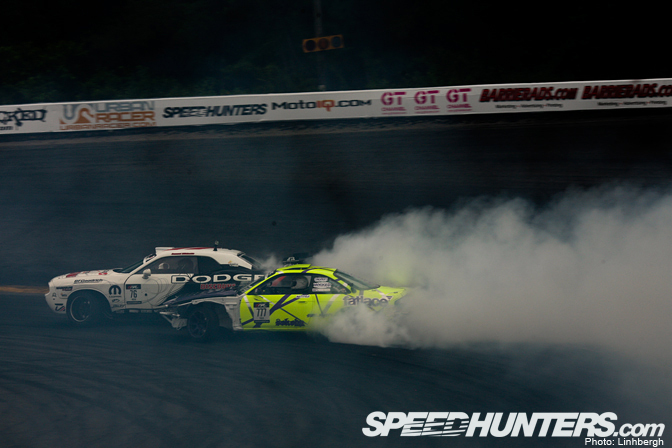 …but on the second round, Matt knew he had to step it up if he was to move on to the top 16. And step it up he did. His follow run was one of the closest tandem battles we've seen all year!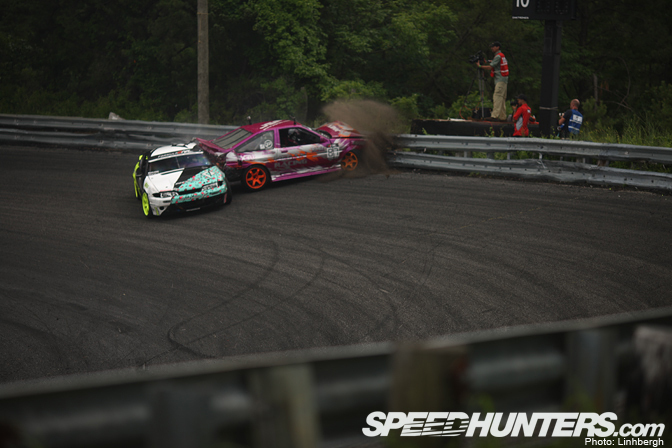 The next battle with the other highlighter S14 hero, Matt Powers, went up against John Russakoff – quite literally. Russakoff tried to initiate into the bank, straightened out and made contact with the barrier. Powers was door to door with Russakoff and made hard contact with his Corolla.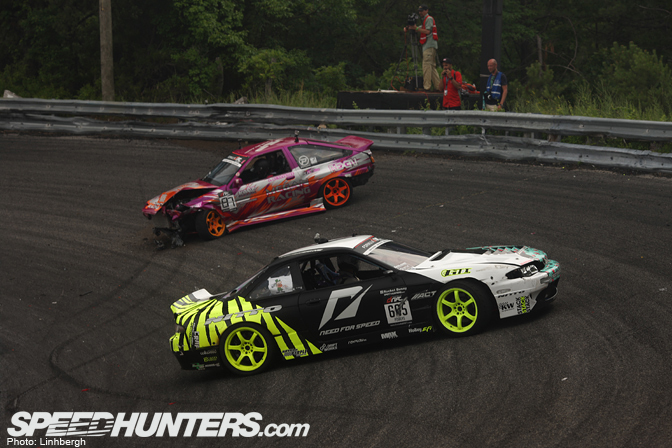 John's car was heavily damaged…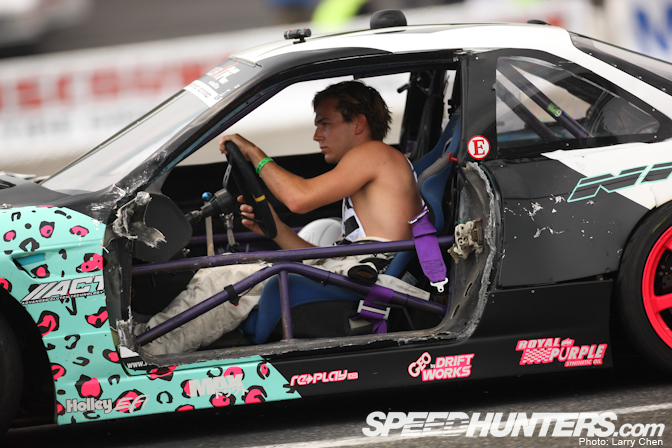 …but Powers was able drive off, even if he was missing a door. Russakoff suffered a broken ankle, and was taken to hospital. Powers banged up his knee but was still able to walk, and more importantly, drive a car. He moved on to the Top 16.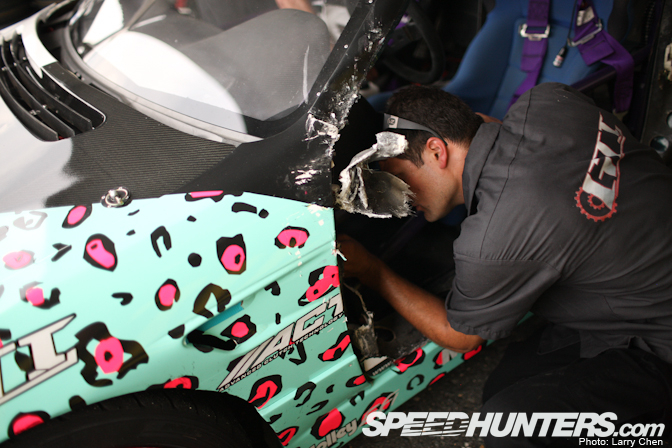 Immediately after the car came into the pits, Powers' crew went straight to work repairing the door for his top 16 battle.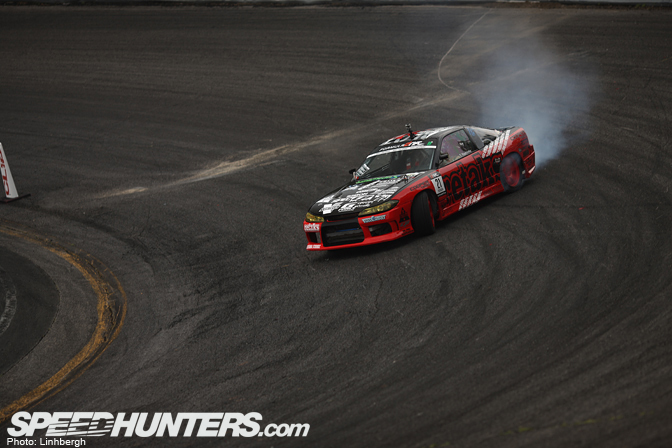 Toshiki Yoshioka became the second to get a free ride to the top 16 as his competitor, Ryan Kato was not able to make it to the line on time. Wall Stadium started to take its victims one by one.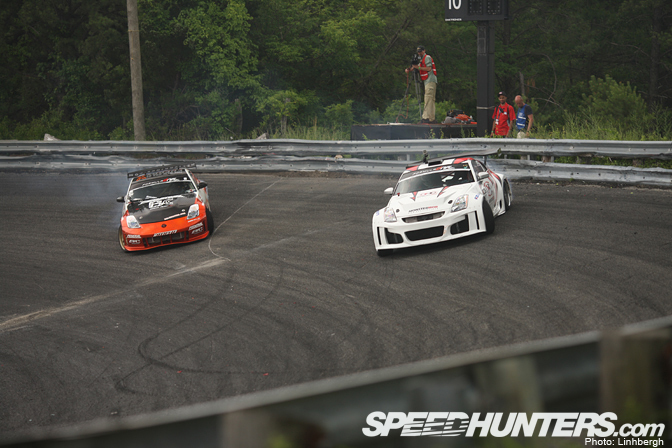 Otto Graven, the man driving the not-too-easy-on-the-eyes 350Z, is one hell of a driver. He took out Matt Waldin and moved on to the top 16. We're excited to see how Otto will do for the rest of the season and also coming into the 2012 season.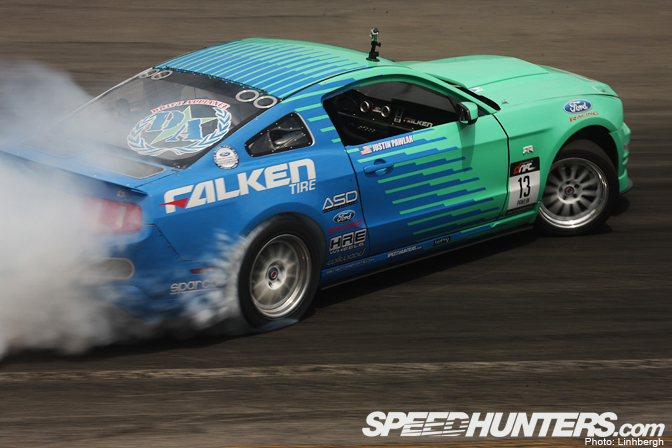 Justin Pawlak was the third driver to get that free ticket to the top 16. Luke Lonberger became another victim of Wall Stadium and was unable to make it to the line.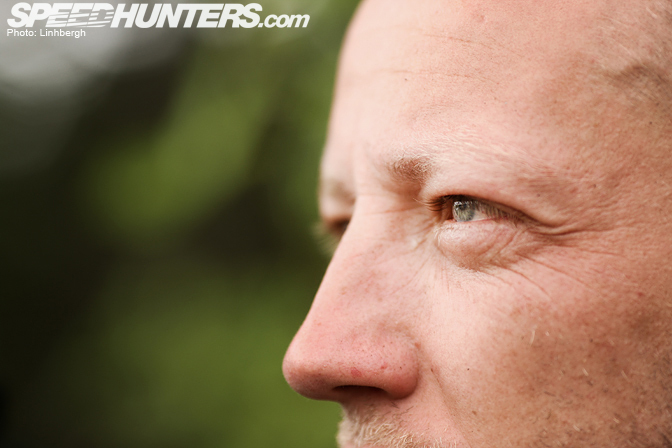 British video guy, Stephen Brooks, was at a complete loss for words as he experienced Formula D's tandem battles. He loved how utterly loud the cars sound and was at awe of how big FD events are compared to his home series, the BDC. I can't wait to see what his vision has in store for New Jersey!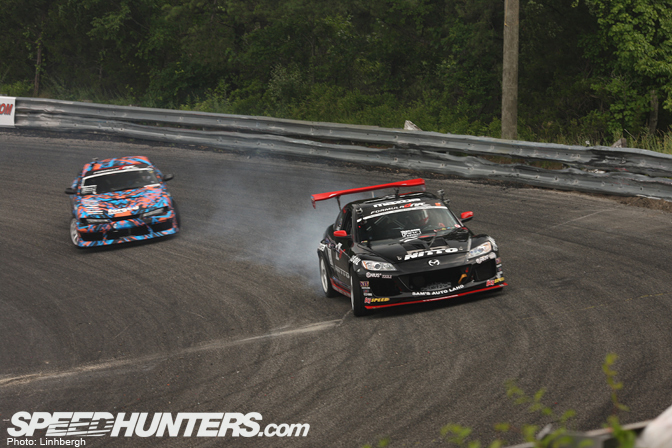 Joon Maeng seems to be having not the best mechanical luck this year. He suffered a broken axle during his battle with Odi Bakchis.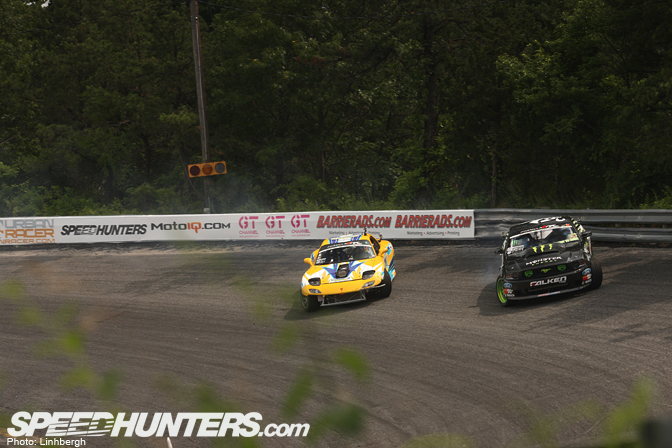 The battle between Vaughn Gittin Jr and Jim Guthrie was a rather perplexing one. Jim hasn't been the most competitive of drivers this season and Vaughn has been on point since his non-qualifier at Long Beach. For this battle, Jim was right on it and Vaughn seemed to be having some engine problems. The first battle resulted in a one more time which Vaughn won, moving on to the top 16.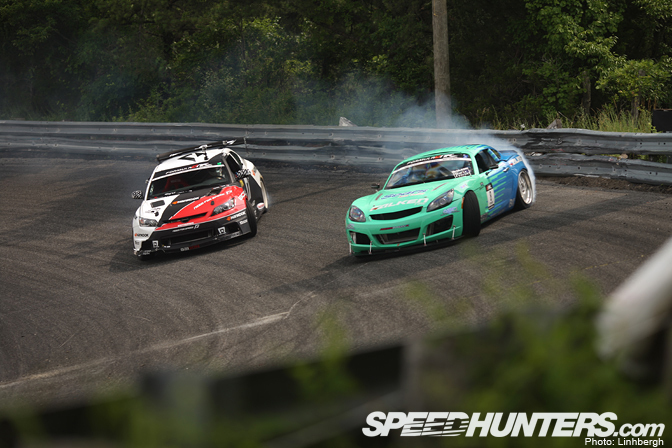 Team Need for Speed driver Fredric Aasbo tried his best to beat the juggernaut that is Darren McNamara and his Saturn Sky, but the juggernaut could not be bested. DMac moved on to the top 16.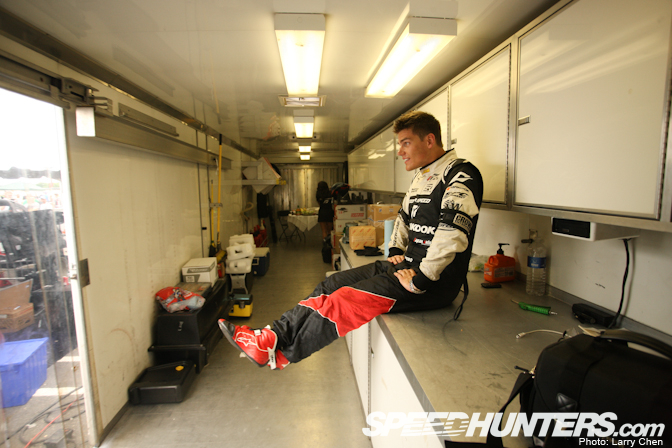 Even after being defeated by DMac, Fredric Aasbo could still be found in good spirits.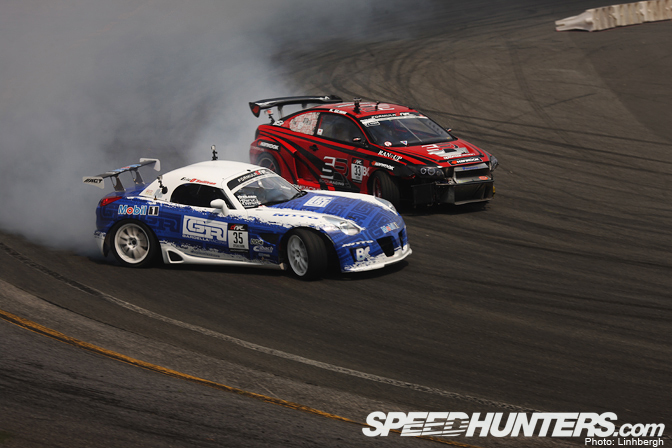 The second most electrifying tandem battle of the top 32 was Eric O'Sullivan versus Ken Gushi. Ken didn't let up one bit and was door to door with Eric for both rounds. Ken moved on to the top 16.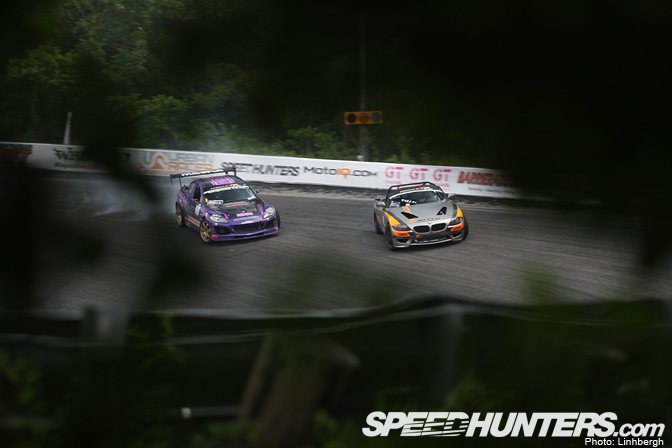 Michael Essa is having a bit of trouble catching a break with his new BMW Z4. He couldn't keep up with Kyle Mohan's well developed RX-8. Mohan moved on to the top 16.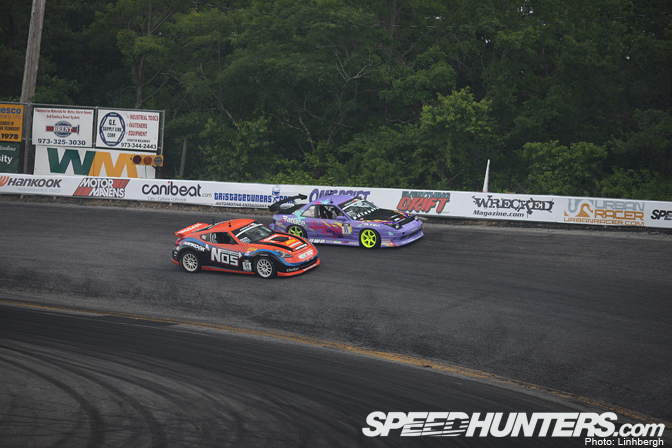 Wilkerson vs. Forsberg. David vs. Goliath. Goliath won this round as Walker broke his transmission during the launch off the line.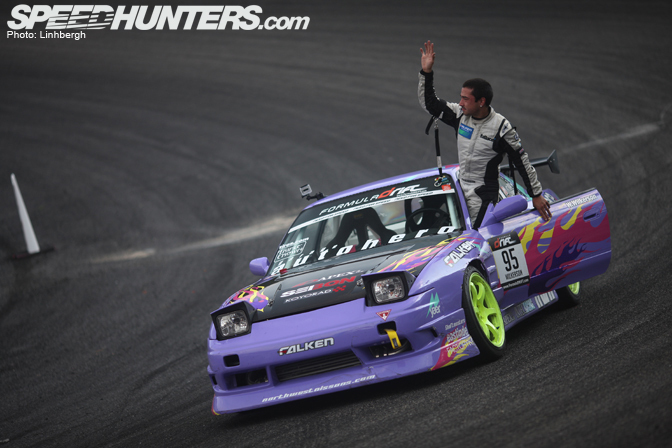 Once a good sportsman, always a good sportsman. See you in Seattle Walker!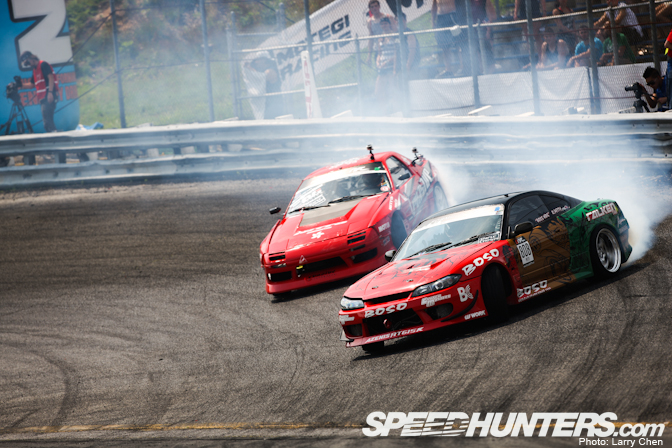 Charles Ng's FC RX-7 and Ross Petty's S15 are arguably the two most aesthetically pleasing cars on the grid. The last battle of the top 32 between these two were, if anything, a treat both visually and acoustically. Ross Petty moved on to the top 16.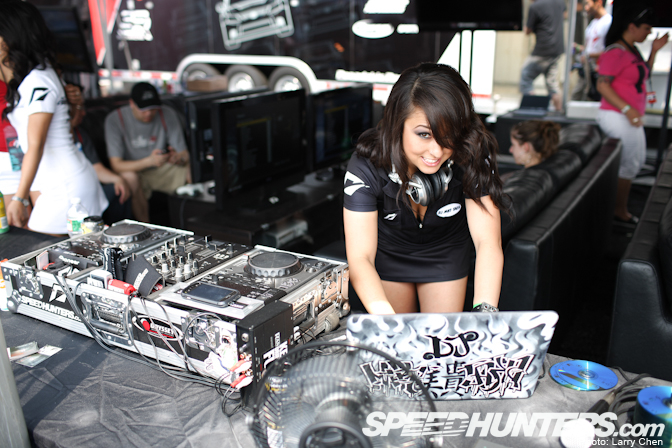 During the break between top 32 and top 16, Miki Taka was found to be in a much happier mood. Being dry and also having working DJ equipment can do that do a girl.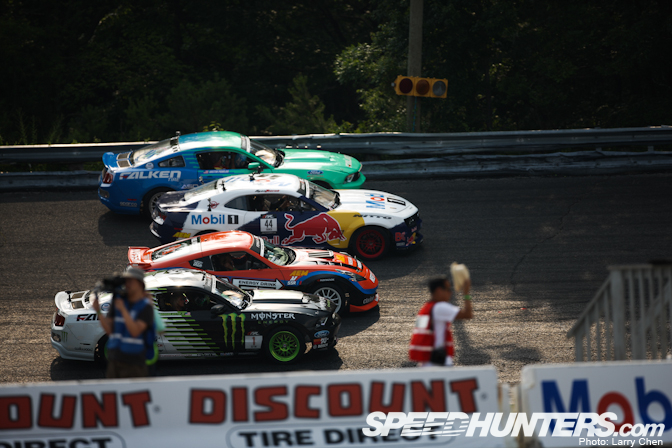 The Top 16 opening ceremony started off with the usual national anthem followed by a very intimidating line up of Justin Pawlak, Ryan Tuerck, Chris Forsberg and Vaughn Gittin Jr. rolling slowly down the Wall Stadium bank. Now that's what you call door to door stock cars!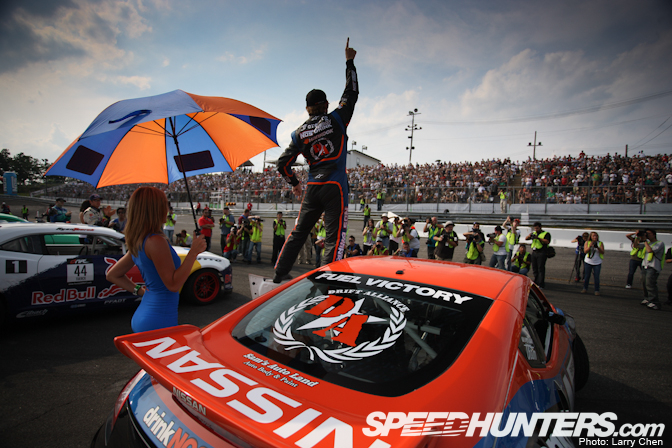 Forsberg showed his usual flamboyancy during the Top 16 driver introductions…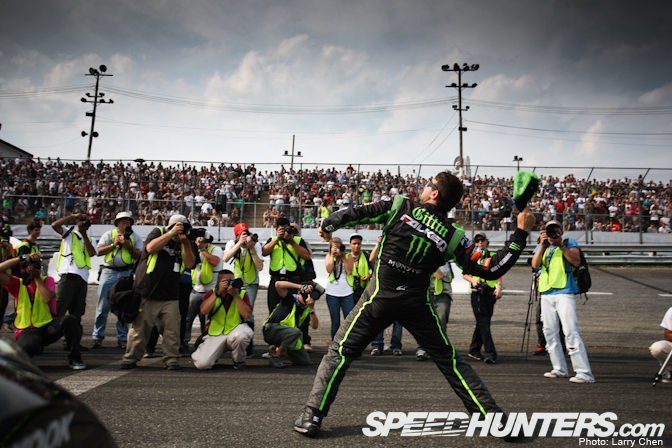 …as well as Vaughn Gittin Jr.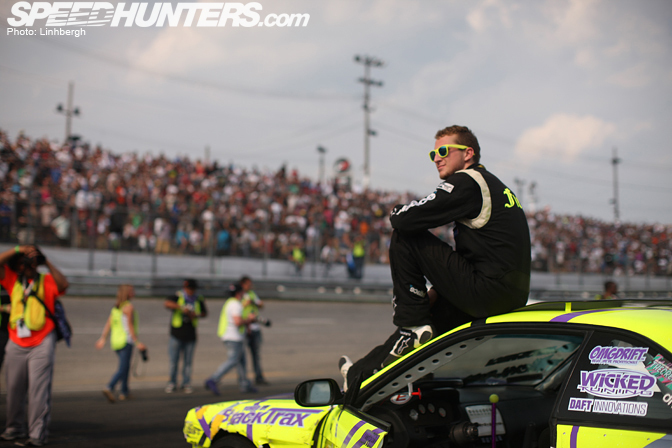 Whereas others took a much more relaxed approach to the driver introductions, like Matt Field. Though, I don't know why he was so calm and collected…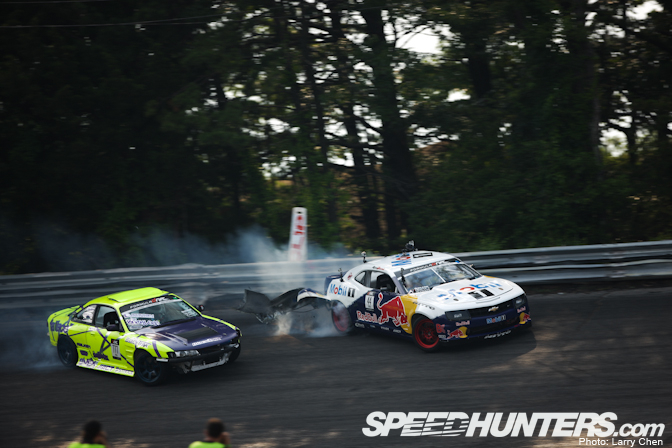 …as he was up against Ryan Tuerck for the first battle of the top 16. Matt tried his best but could not keep up with Ryan's Camaro.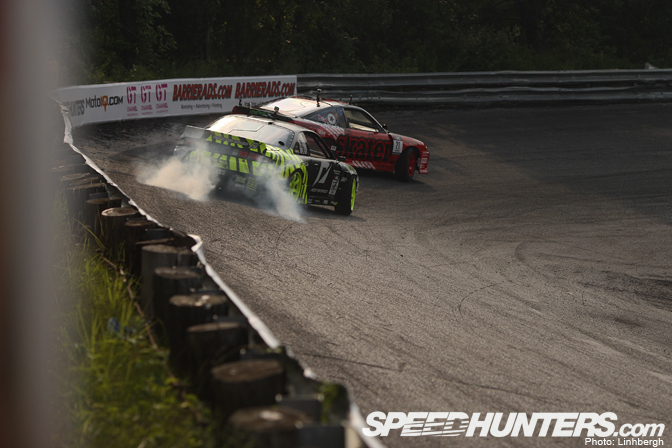 Matt Powers entered his top 16 battle with Toshiki Yoshioka, with a temporarily fixed door and still bruised knee and took out Yoshioka.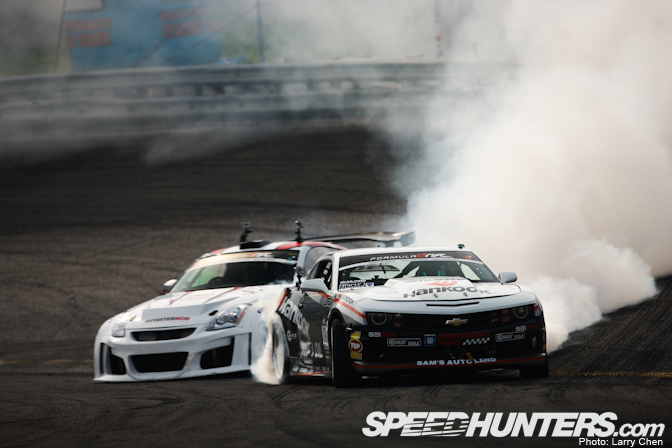 Conrad Grunewald became the man to watch as he kept taking out his opponents with ease, like Otto Graven.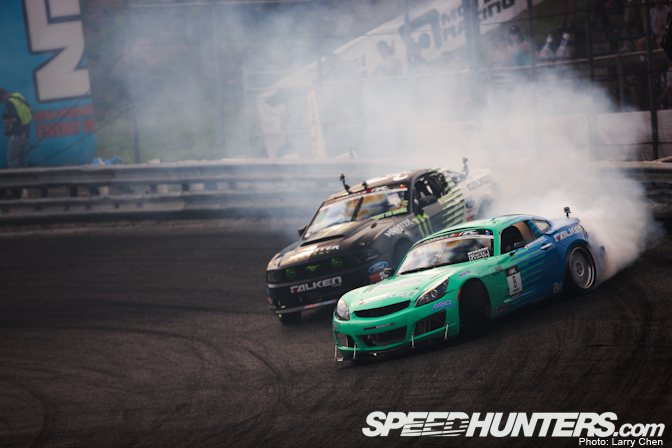 DMac thought he could put the hammer down on Vaughn Gittin Jr but could not. JR moved to the great 8 as well.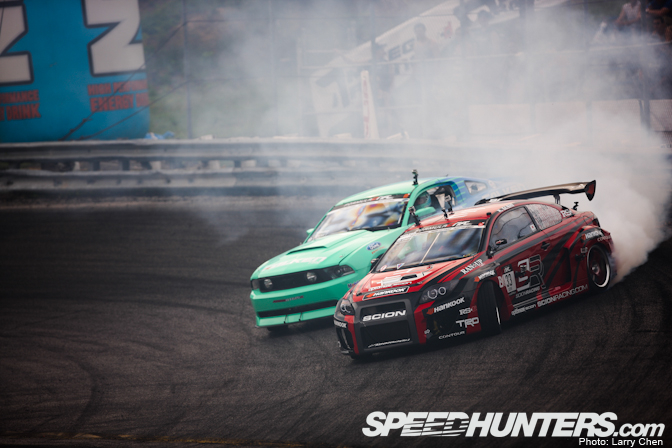 Gushi was unable to get JTP away from his doors. JTP moved on.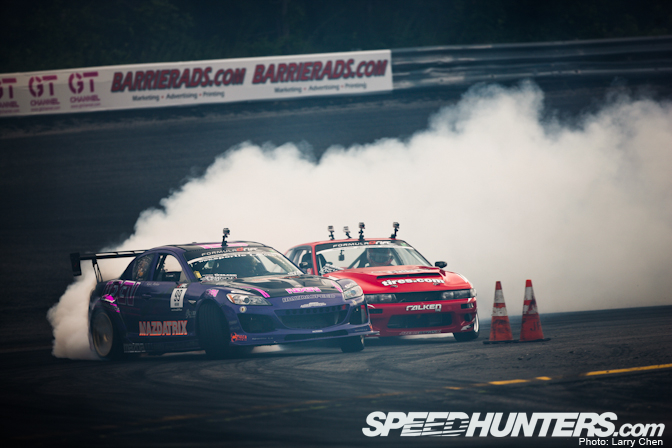 The last time Kyle Mohan and Daijiro Yoshihara met in Florida, Kyle knocked out Dai. In Jersey, Dai reaped his revenge.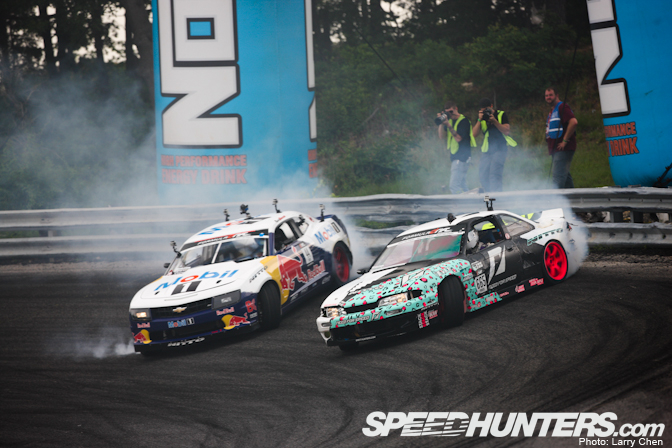 Like Matt Field in the top 16, Matt Powers faced the brick wall that was Ryan Tuerck and his Camaro.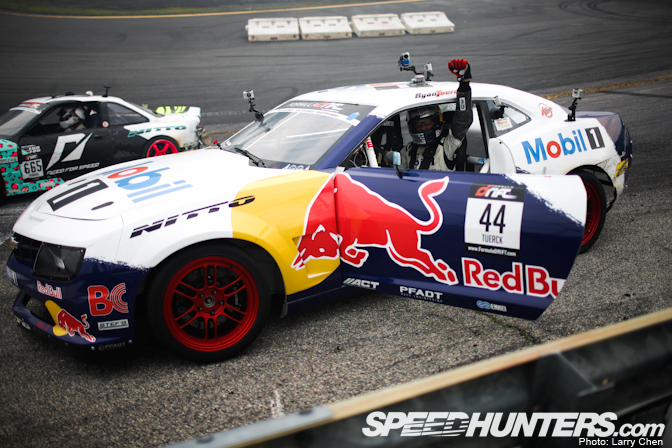 Powers did his best, but could not defeat the mighty Red Bull Camaro.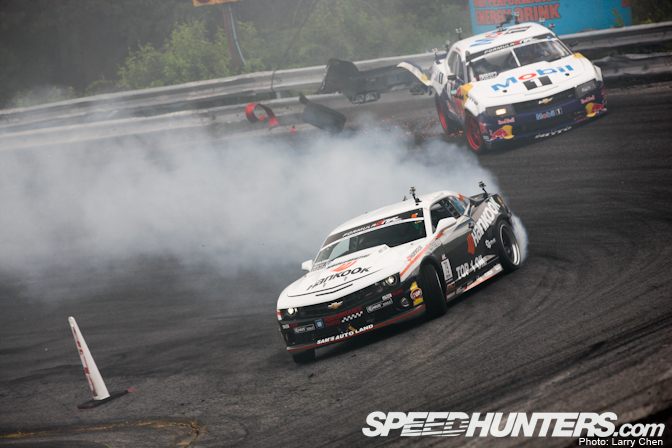 What did finally take down the Camaro was the Wall Speedway bank, rather than Conrad's Camaro. Conrad moved on to the finals.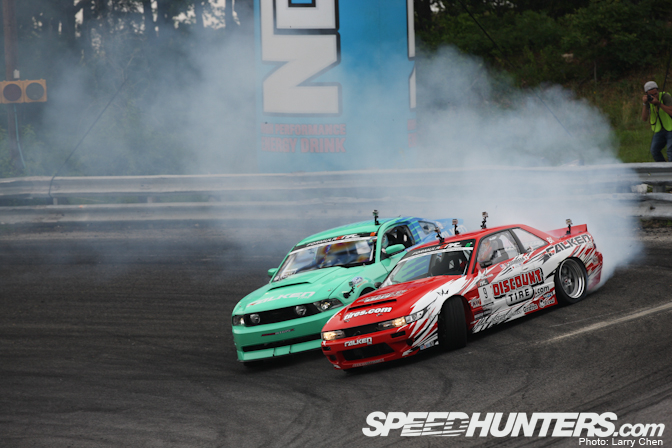 The weekend at Wall Speedway was a weekend filled with crashes, car breakdowns and insanely close tandem battles. The top 4 battle between JTP and Daijiro Yoshihara was one of those battles. Dai was eventually taken out by JTP and was awarded the third step on the podium as Ryan Tuerck was unable to battle Dai for the 3rd place finisher.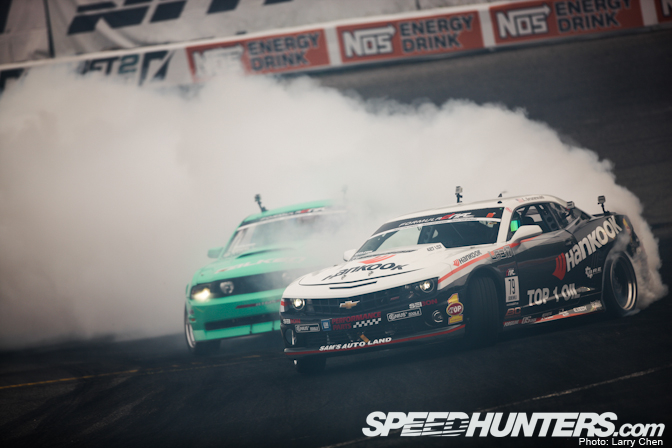 The final battle between JTP and Conrad Grunewald was furious and was finished in the blink of an eye.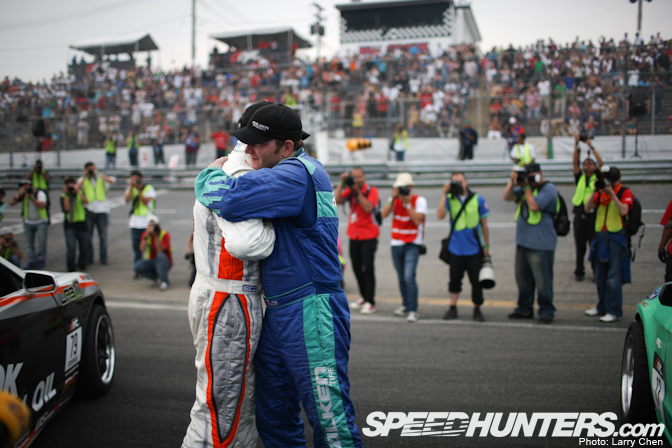 But the weekend was Conrad's to take…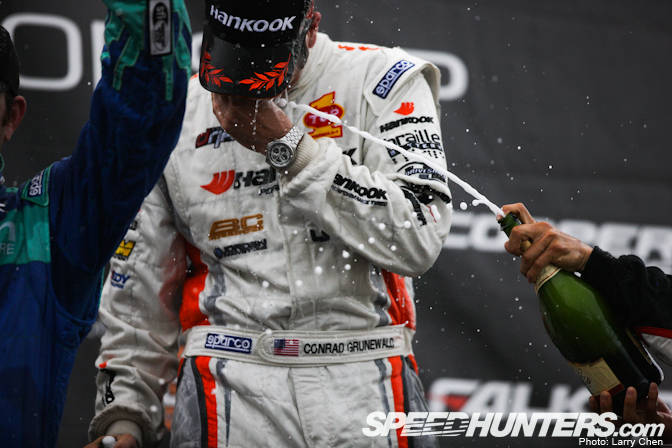 …and he took it.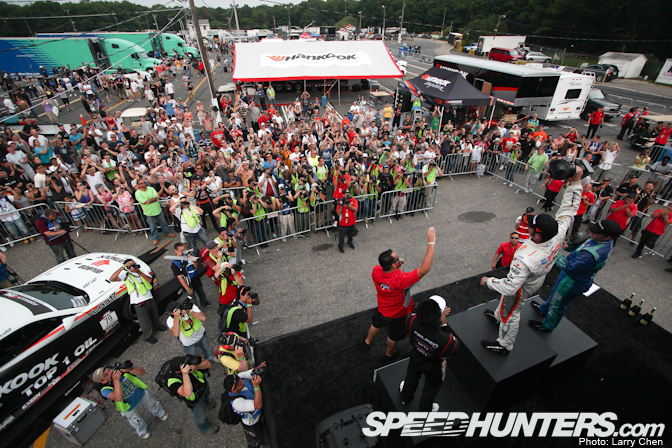 Formula D New Jersey was a roller coaster ride from start to finish. It was interrupted by a freak rain storm. Wall Stadium was hungry for victims and took them by the handful. During the top 32 competition, there were upsets left and right. But at the end of the day, a winner that was deserving of the spot stood at the top of the podium, Conrad Grunewald.
– Linhbergh