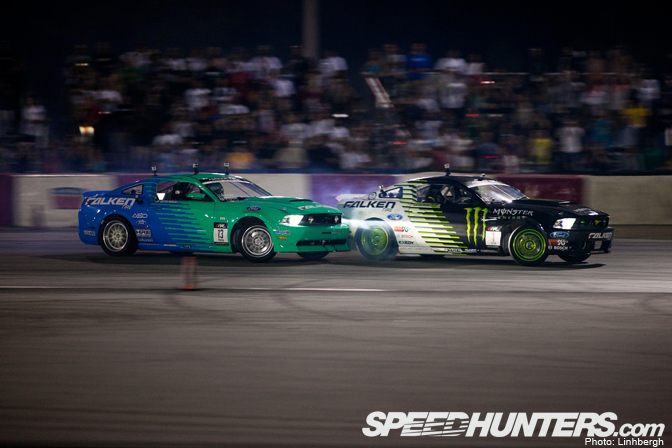 I'm finally back in Vancouver, and although I've yet to unpack, I thought I should start sifting through our photos for our coverage of Formula DRIFT Florida. My impression of FD's debut at Palm Beach? It was a great event, topped off with a fantastic crowd and some truly impressive tandem battles. Here's what unfolded.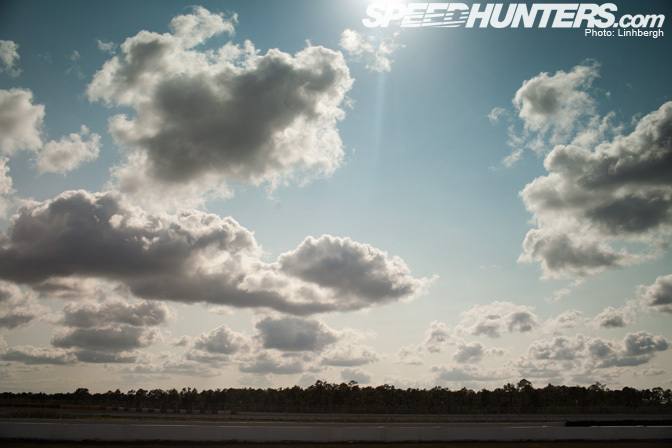 The skies were certainly picturesque, and the weather a lot milder than many were anticipating. That's not to say it wasn't hot though!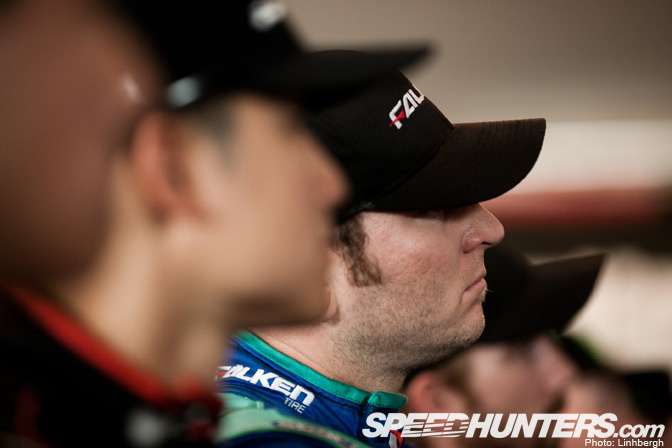 For the drivers, the day kicked off with a briefing from the judges.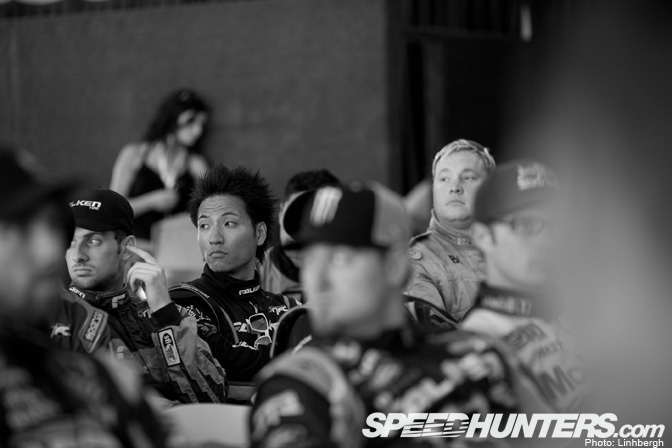 Drivers briefings are done behind closed doors, and it's where the judges outline exactly what they are looking for in the upcoming battles.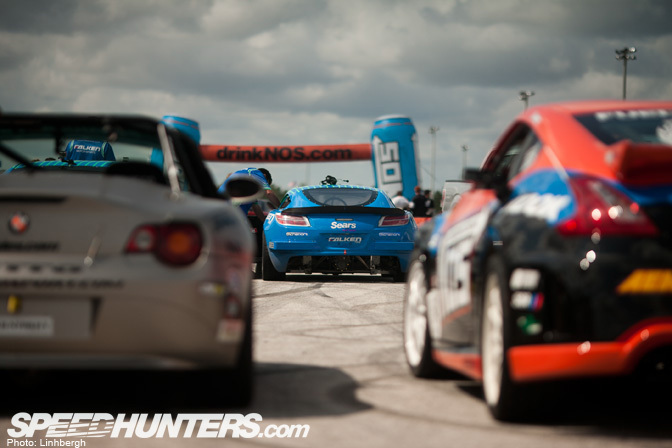 As soon as the briefing had concluded, it was time for the drivers to hit the track for one final practice session.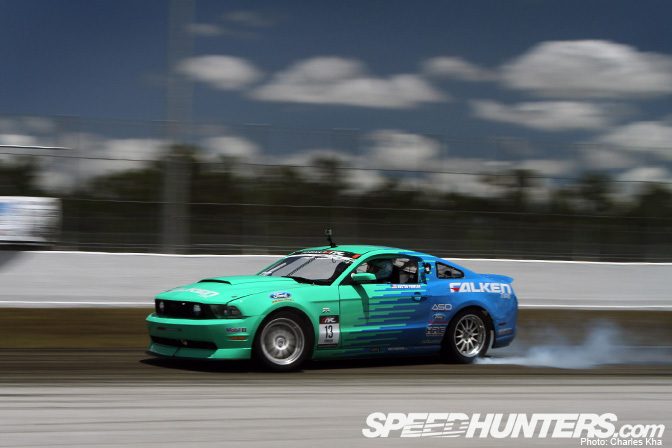 The drivers used the short practice session to do tandem battles, perfecting their lines and strategies for the Top 32.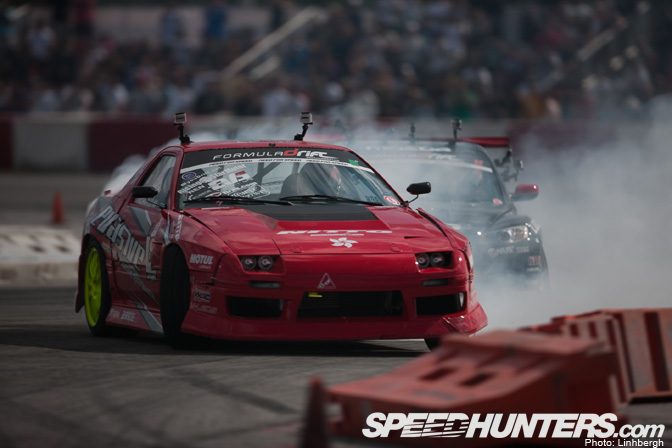 Crunch time. Things kicked off with a bang in the Top 32, with Charles Ng defeating Joon Maeng's machine gun RX-8.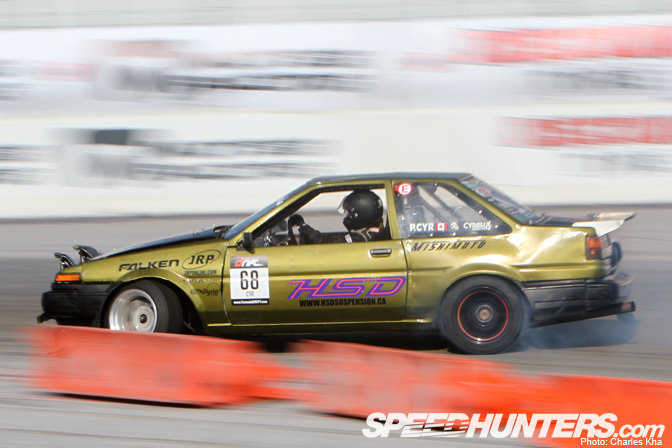 Pat Cyr drew Yoshioka, but despite a valiant effort was unable to make it through to the Top 16.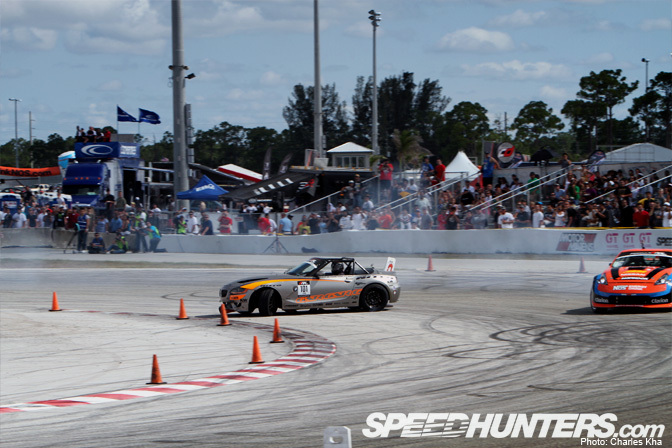 In the Top 32, Michael Essa lost to Chris Forsberg after spinning out.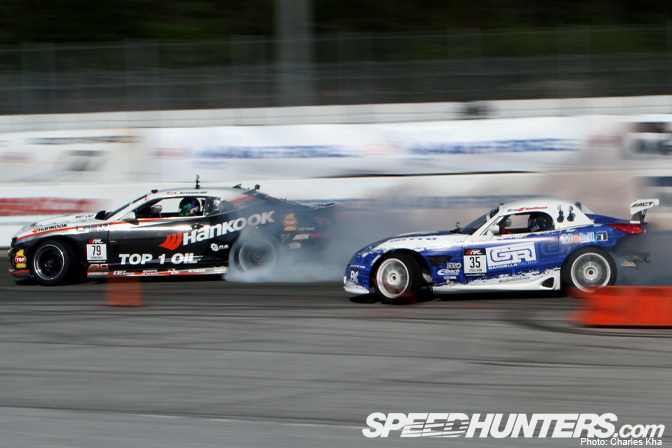 The Gardella Racing team did a great job of repairing their Solstice after Eric O'Sullivan crashed in Thursday's practice. Despite keeping up with Conrad Grunewald's Camaro, it wasn't enough to progress through to the Top 16.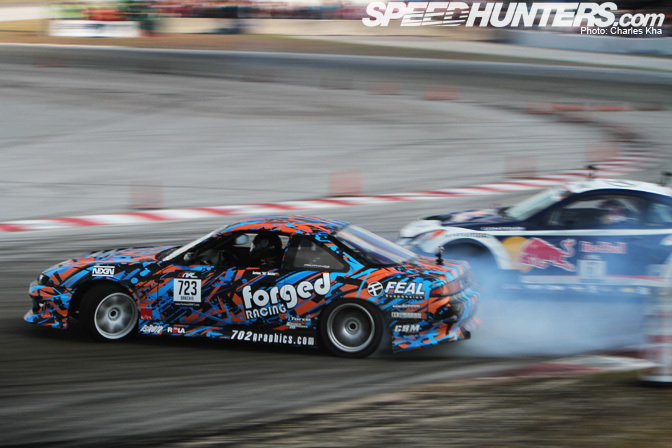 Rookie Aurimas Bakchis tasted defeat against Rhy Millen's Hyundai.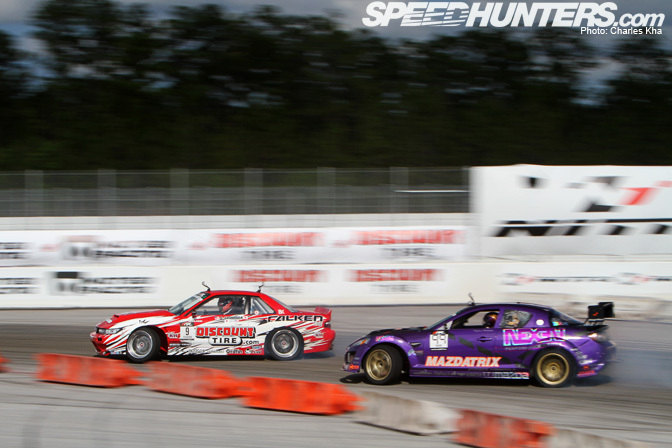 Kyle Mohan showed no signs of being fazed by his Top 32 opponent Dai Yoshihara, who won in Atlanta. Mohan pushed Yoshihara all the way to the finish line.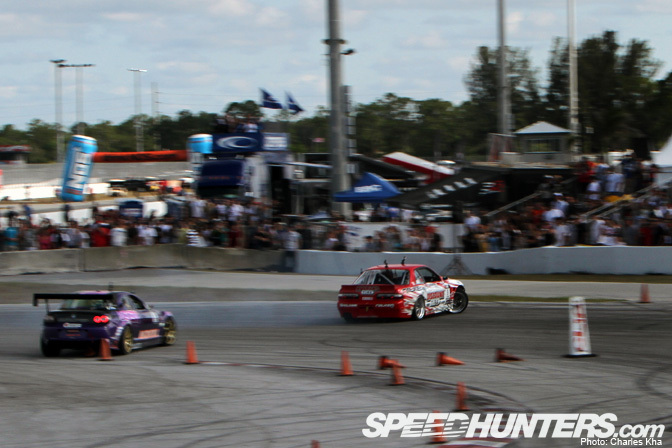 In Dai's chase run, he came in too hot and too close to Mohan, with both drivers spinning out as a result.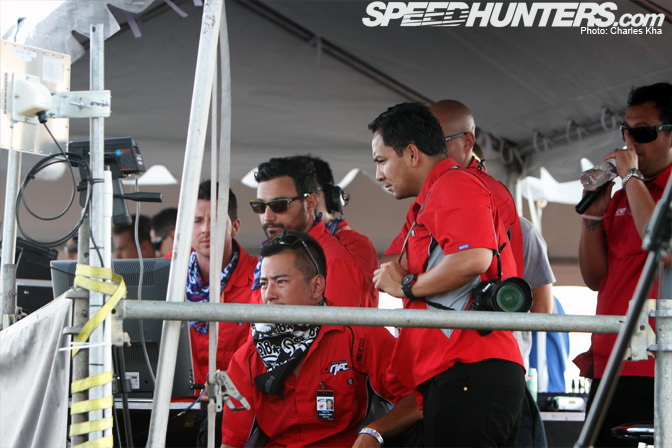 The judges were studying the replays to determine who was at fault.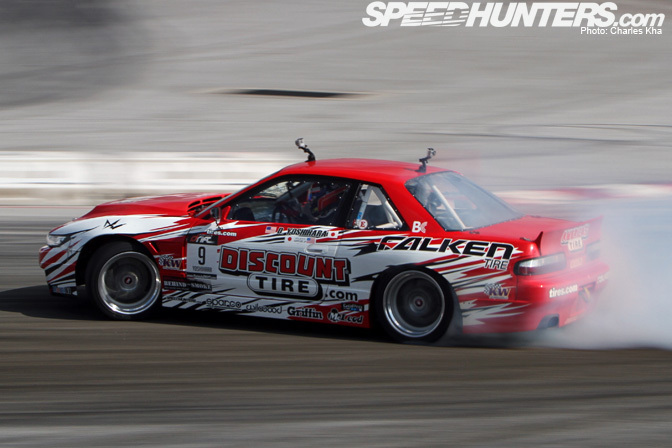 The win was given to Kyle Mohan, knocking Dai Yoshihara out of the competition. It was an uncharacteristic mistake that meant Dai would relinquish the lead in the championship.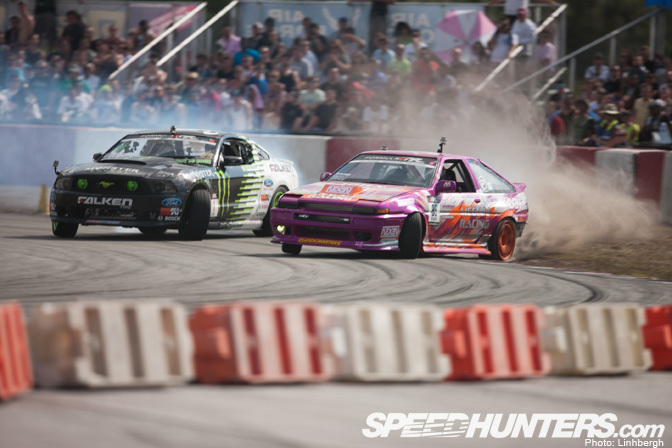 Russakoff's AE86 is now powered by a turbo Honda K-series, and he pushed it to the limit as he tried to fend off reigning champ Vaughn Gittin JR. The Monster Energy Falken Mustang progressed.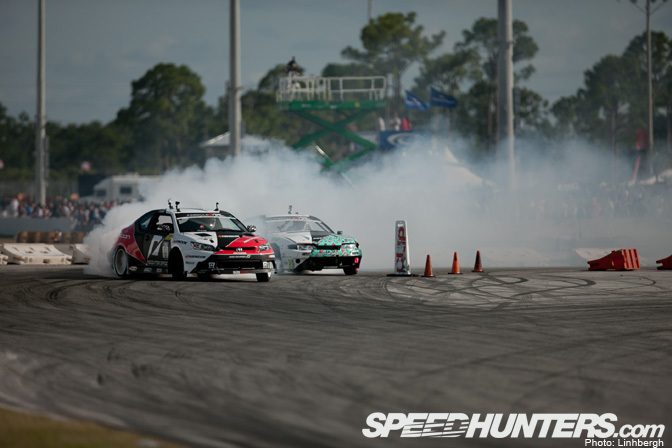 Matt Powers didn't have a good qualifying session, and the qualifying order meant he'd be going up against his team-mate Fredric Aasbo. It was a monumental battle between the two Team Need for Speed drivers, and the judges' decision came down to the smallest of driver errors. In his lead run, Fredric Aasbo threw it in hard, and ran slightly wide of the first clipping point…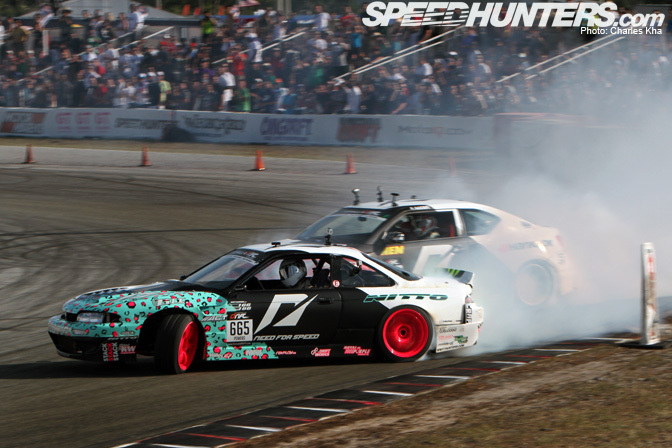 …Which was enough for the judges to give the win to Matt Powers.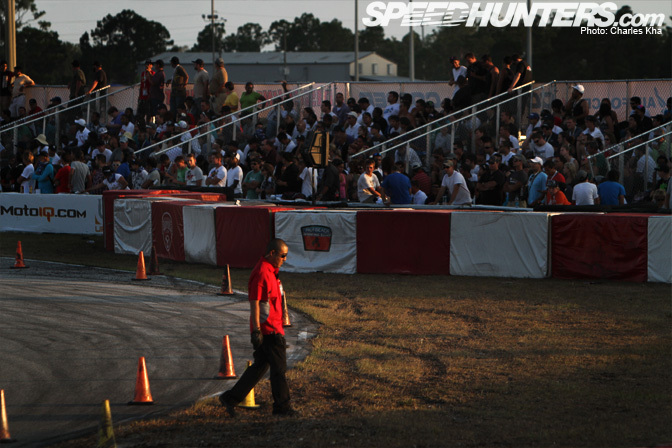 With the sun setting, the temperatures became much more pleasant as the organisers prepared for the Top 16 drivers' parade.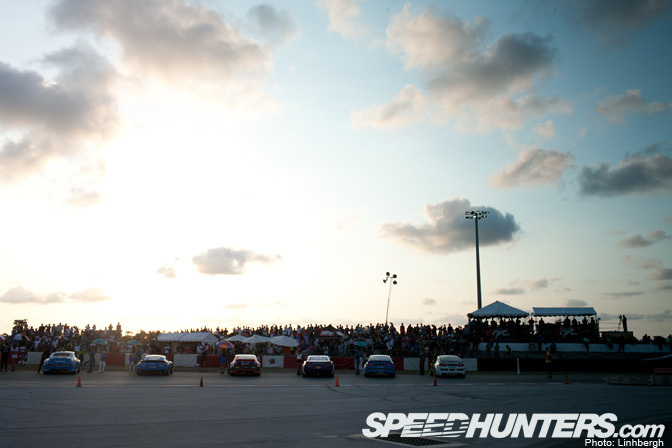 The crowds always love the opening cermony, and I'm sure the drivers do too!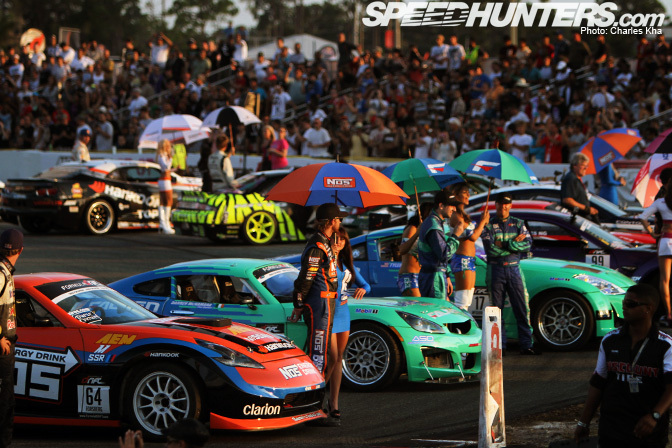 Chris Forsberg season seems to be coming together. After strong showings in the two previous rounds, he took out the top qualifier spot in Florida.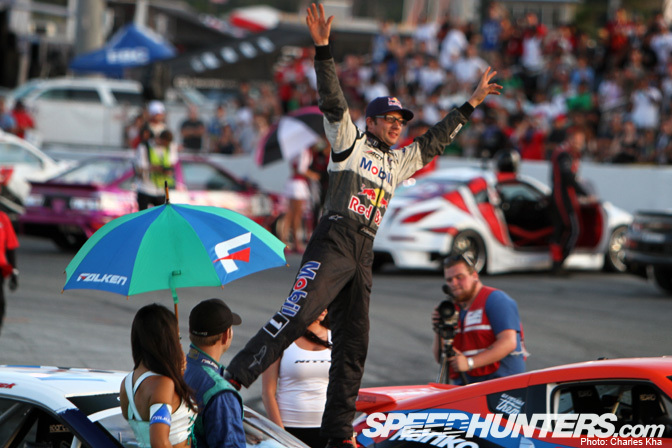 Having finished 2nd and 3rd in the previous two championships Ryan Tuerck will be hoping his new Camaro will get him to the top step of the podium this year.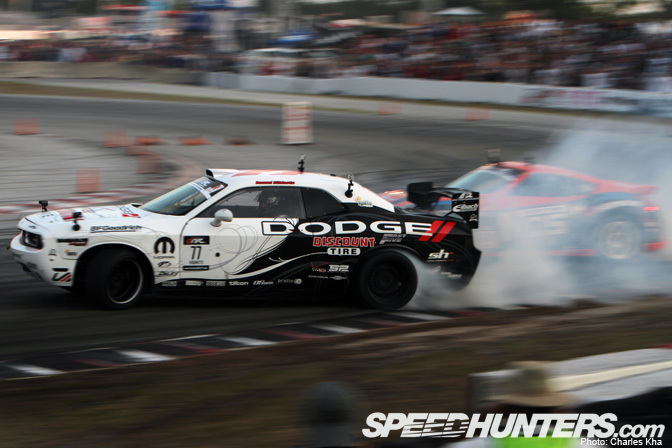 Although Sam Hubinette put in some strong runs, it wasn't enough to beat the in-form Chris Forsberg.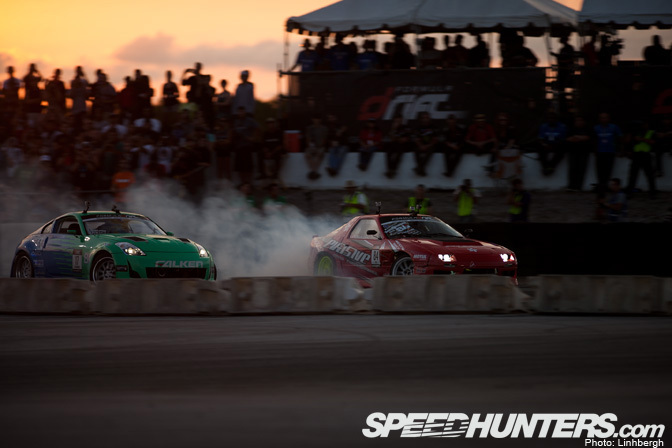 Charles Ng put up a big fight, but couldn't keep Tyler McQuarrie at bay.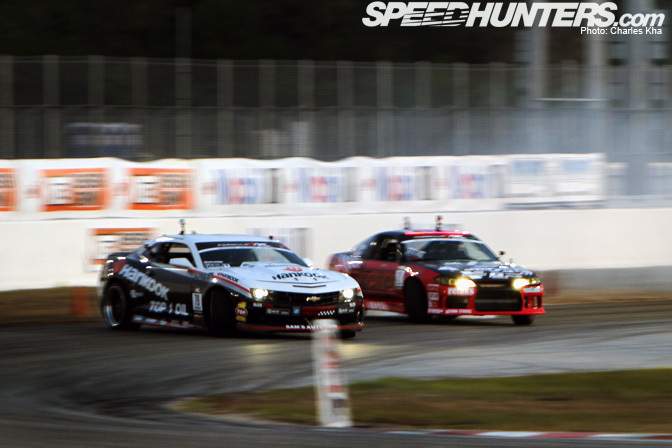 Grunewald vs Yoshioka was another great battle. Yoshioka, who was on the podium at the previous round, threw in a backwards entry during his lead run. Unfortunately he scrubbed too much speed to make the first turn, meaning Grunewald went through to the final 8.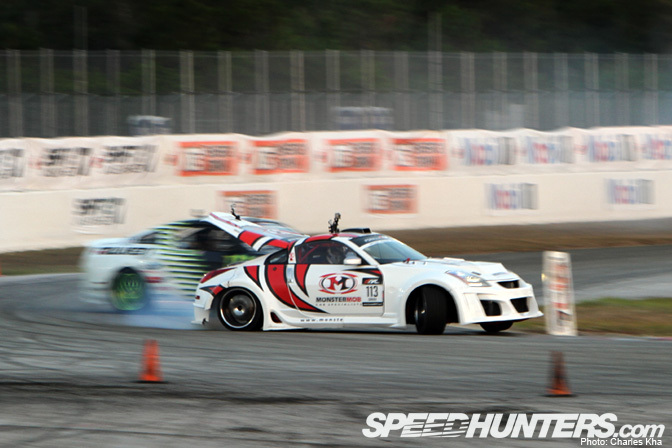 South African Otto Graven made it through to his first FD Top 16. His Z33 has some impressive squat out of the corners, although the flying trunk didn't help against his battle with JR.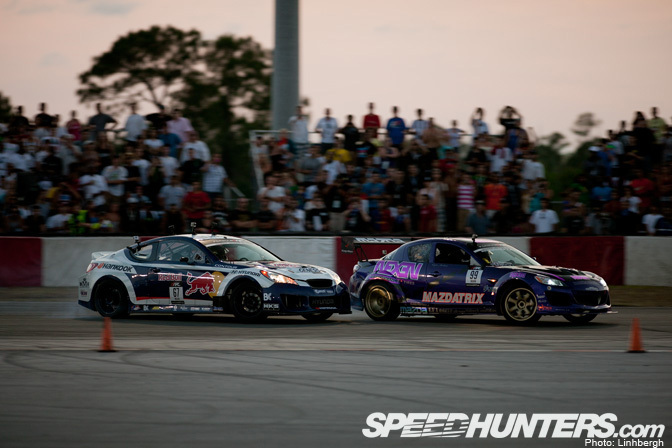 Rhys was arguably one of the smoothest drivers in Florida, putting down some perfect lines.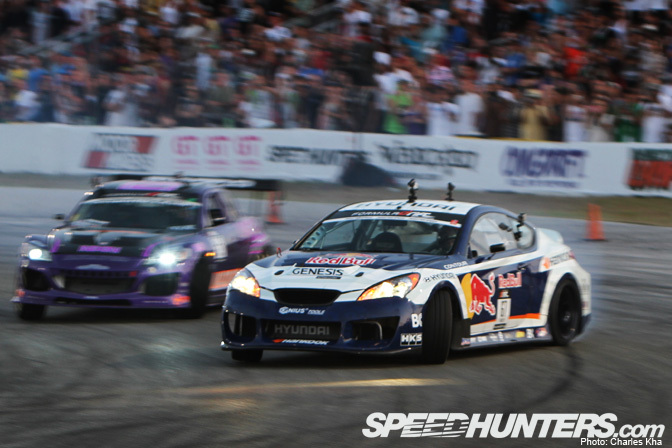 In the Top 16 he was paired up with Kyle Mohan who was on a high after knocking out Dai Yoshihara.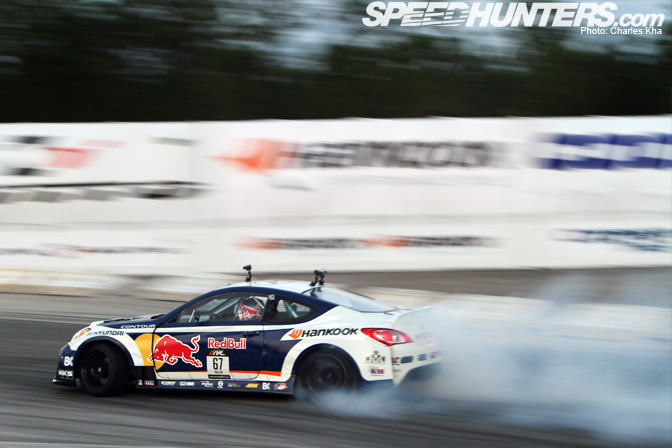 Rhys came out on top and was well on his way to recovering the points lost after having to retire in Atlanta.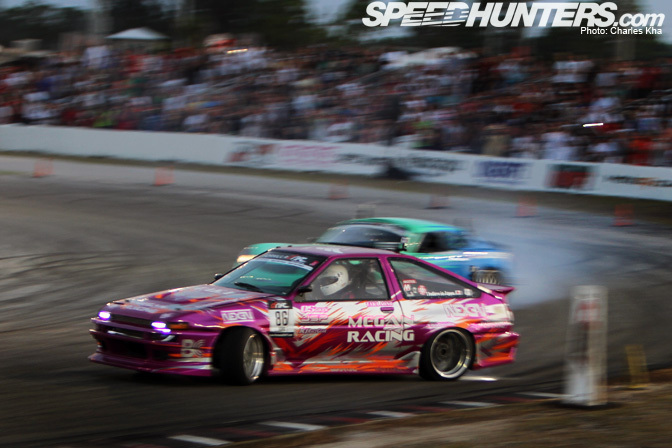 It was Japan vs Ireland when Taka Aono was paired up with Darren McNamara. Darren's Falken Tire Sky is one of the fastest cars in the field, and the underpowered hachi struggled to contain it.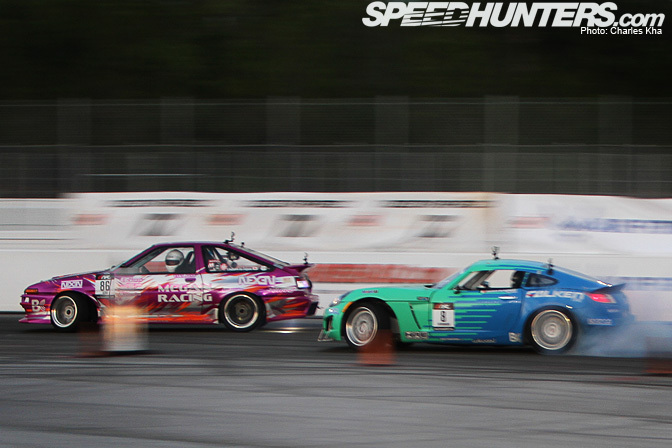 Here's Aono sneaking a glance at D-Mac as the near the finish line.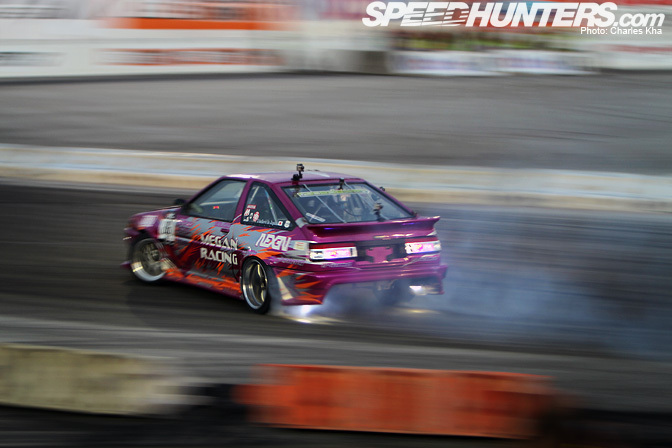 For a team with limited resources, Megan Racing have done a great job with their three drivers: Alex Pfeiffer, Taka Aono and John Russakoff.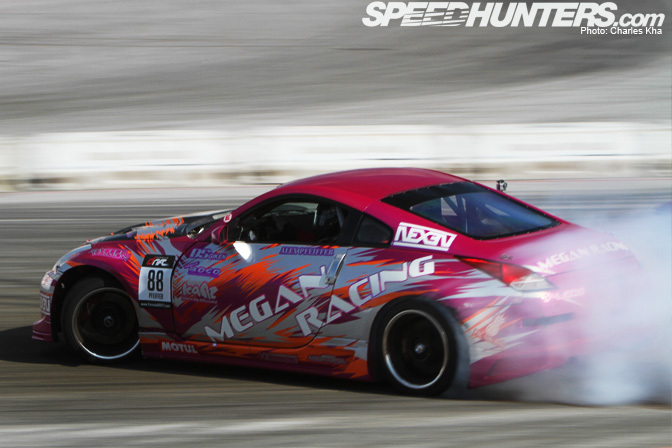 Alex Pfeiffer wasn't having the best of weekends. Alex tagged the wall on Thursday (prompting the course layout to be revised), and had to contend with brake issues on race day.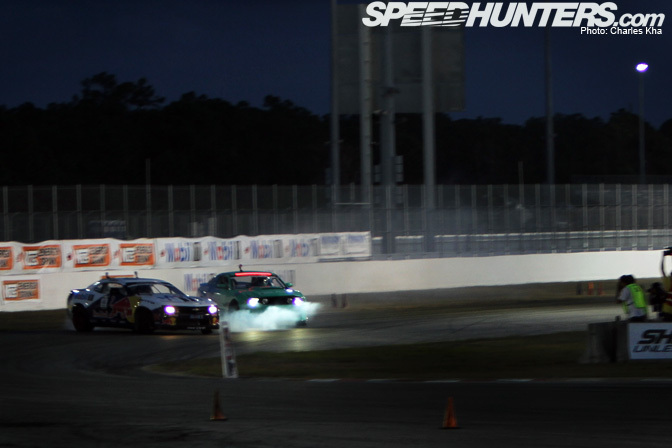 It was an all-American muscle battle when Ryan Tuerck went up against Justin Pawlak.
In this Ford vs Chevrolet battle, it was JTP's Mustang that won.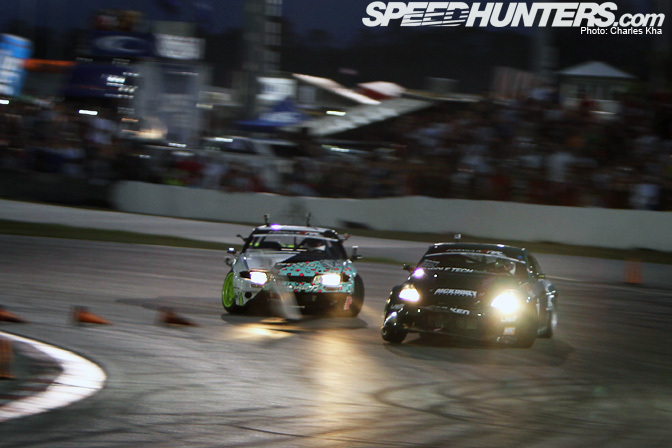 Rookie Ryan Kado was on fire in Florida. There are some impressive rookies this year, and Kado is most certainly one of them.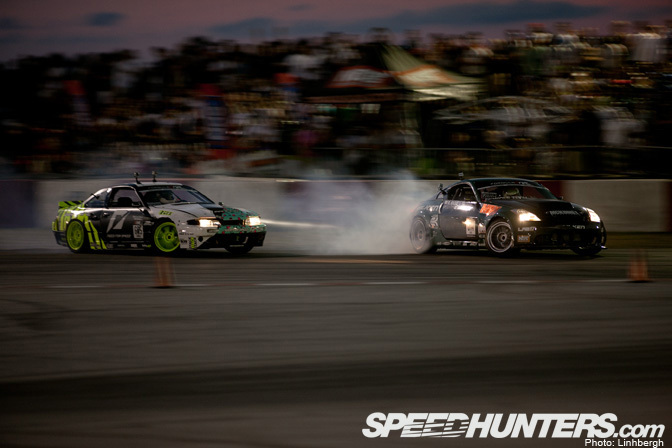 Having beaten Ken Gushi in the Top 32, he then went up against Matt Powers. Matt wasn't having a good weekend, and his S14 was overheating after his battle with Aasbo. In spite of this, Powers edged out Kado to make it through to the Great 8.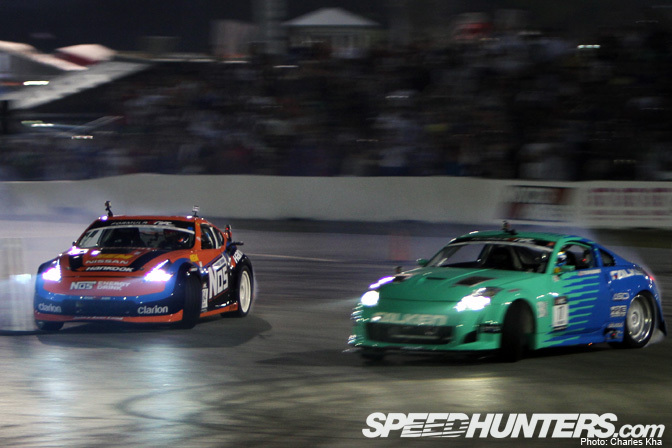 The battle of the Zs between Chris Forsberg's Z34 and Tyler McQuarrie's Z33.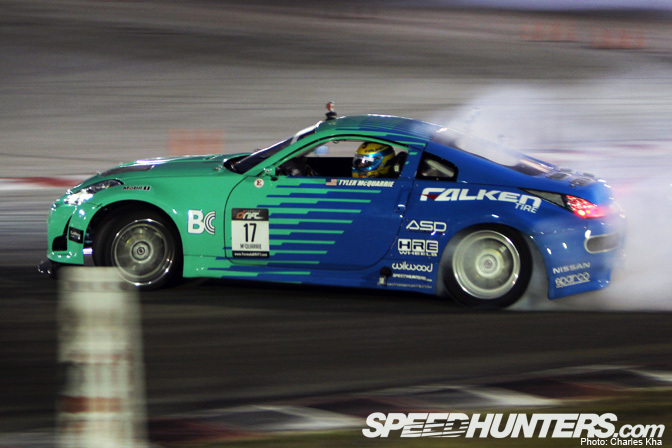 Tyler McQuarries progress ended here, with Forsberg proving unstoppable.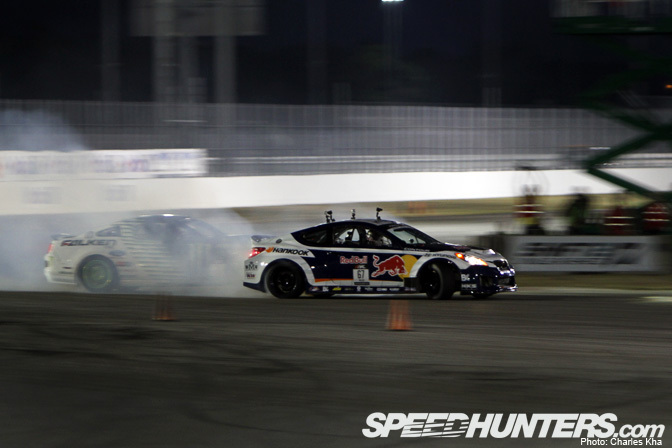 There were so many juicy battles at FD Florida, such as when heavyweights Vaughn Gittin JR and Rhys Millen went up against each other.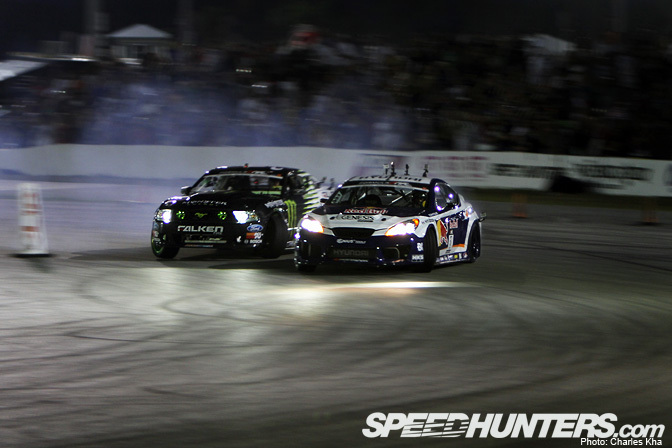 Vaughn demonstrating some close proximity.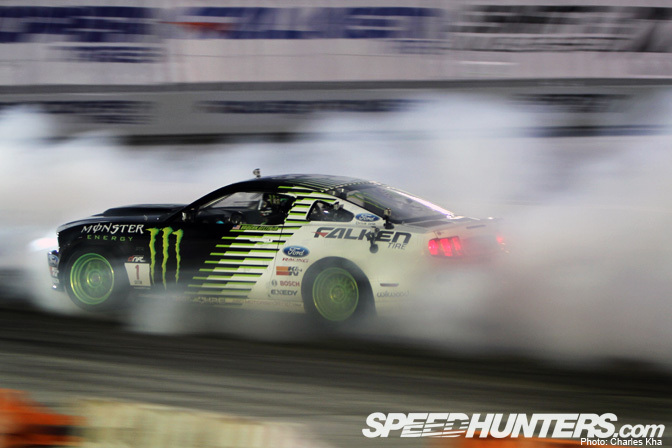 Vaughn is still trying to make up for points lost in the opening round at Long Beach where he failed to qualify. At the end of the year, perhaps we'll look back at Florida as the turning point in the season.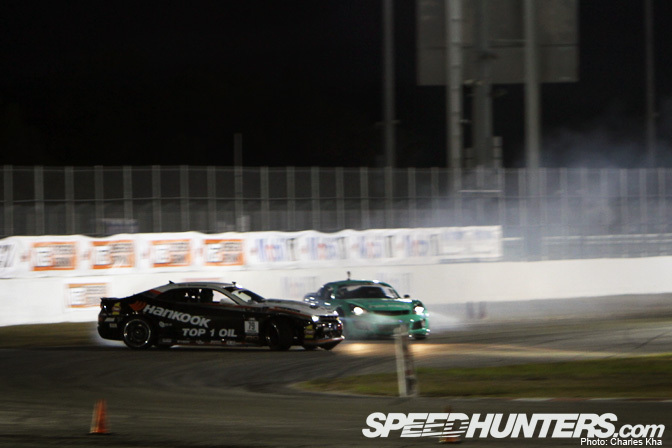 Conrad Grunewald is proving quite handy at backwards entries…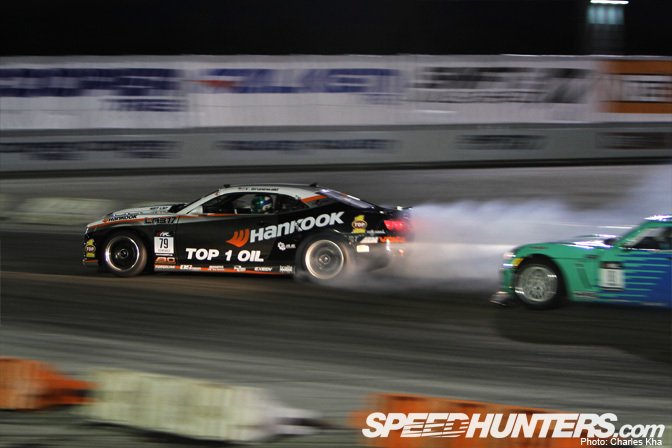 …And he pulled out all the stops in his Great 8 battle against Darren McNamara.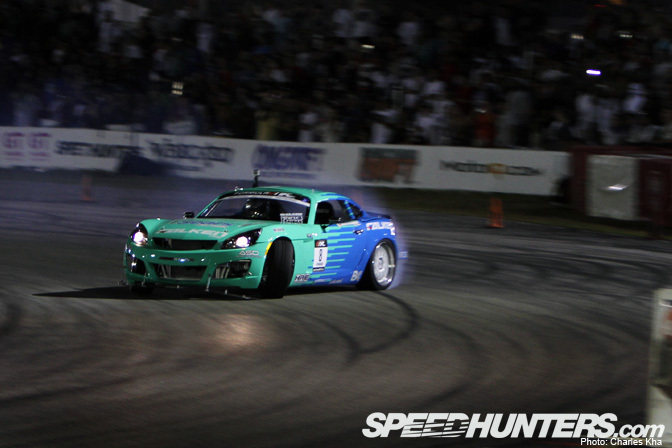 In D-Mac's lead run, a misunderstanding at the start line saw Grunewald bail out of the battle. After re-running it, the drivers proved inseparable, with the judges calling for a One More Time.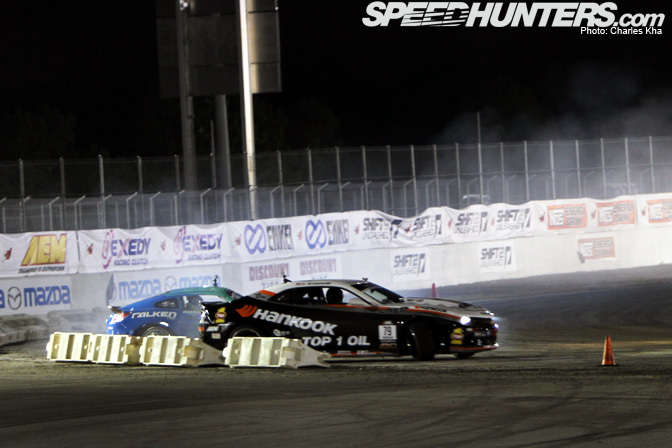 In the OMT, Conrad once again threw the Camaro in backwards, but this time he couldn't catch it. D-Mac was forced to spin behind him to avoid contact…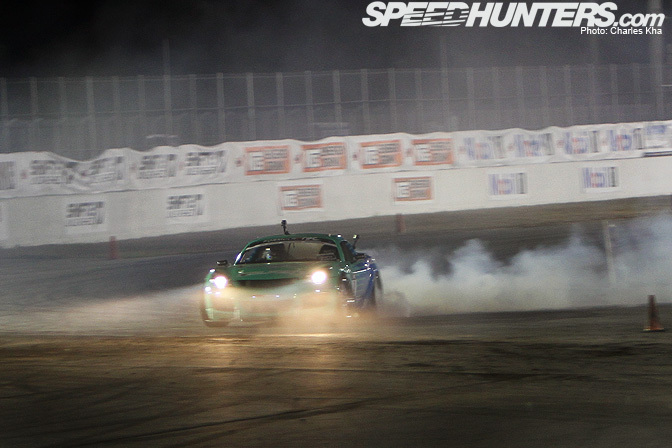 …Giving him the win.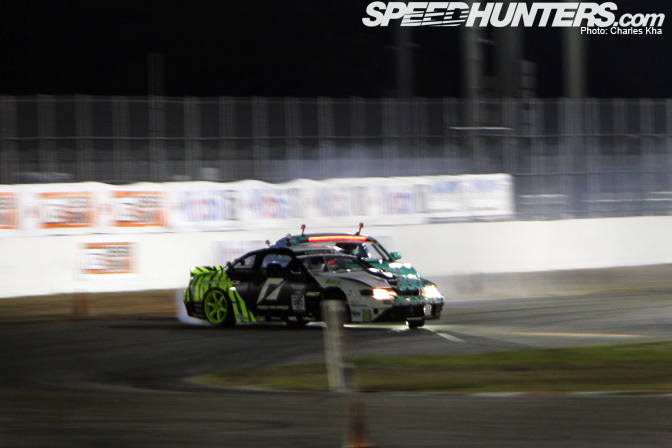 JTP was all over Matt Powers like a cheap suit, and despite Matt laying down another big entry…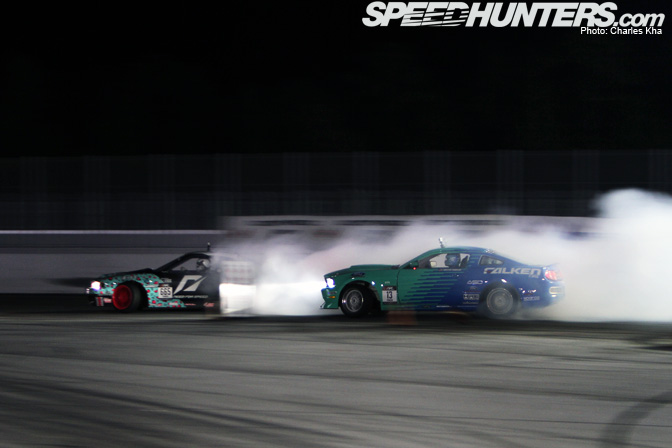 …It wasn't enough to stop Pawlak from progressing to the final four.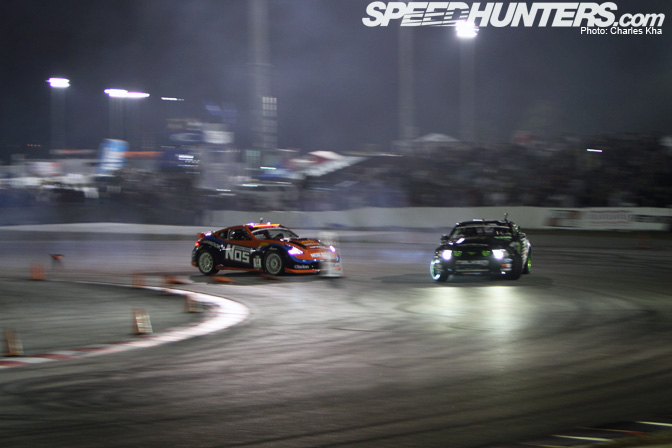 In his chase run, Chris Forsberg ran wide going into the second corner, but Vaughn also made an error.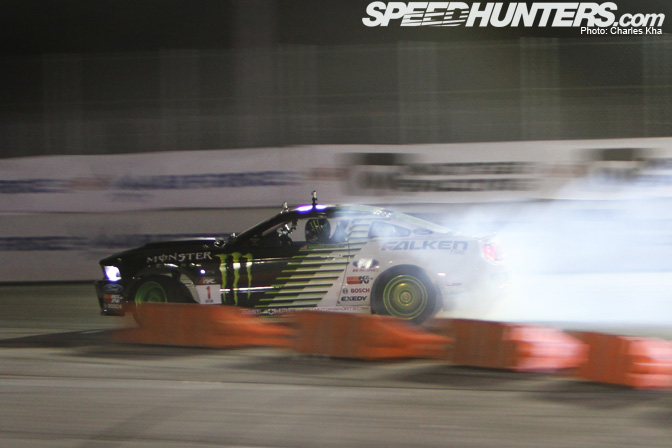 The judgest decided the pair couldn't be separated, so a OMT was called. After another close fight, JR was given the nod to be in the final battle.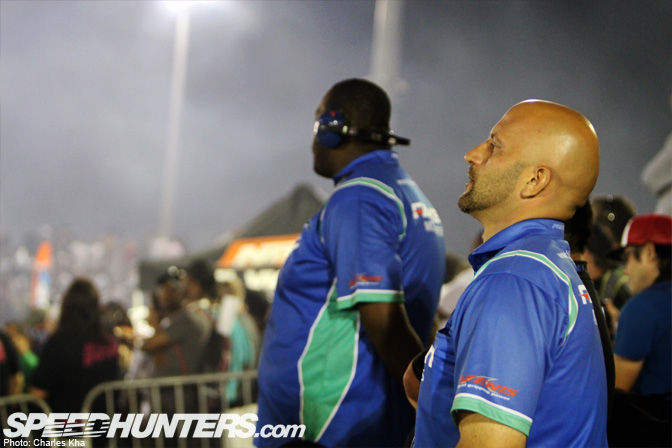 The drivers weren't the only ones feeling the stress.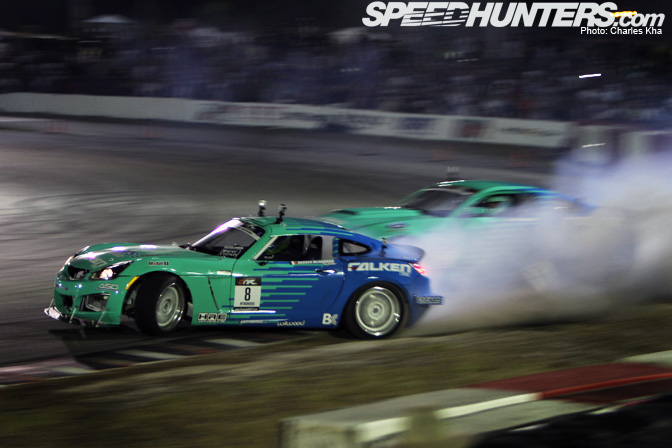 In the other Top 4 battle, D-Mac went head to head with team-mate Justin Pawlak.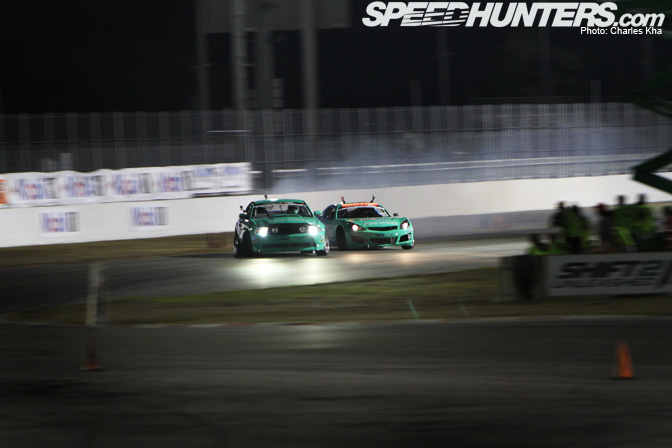 Both drivers took a no-holds-barred approach, serving up some more aggressive entries.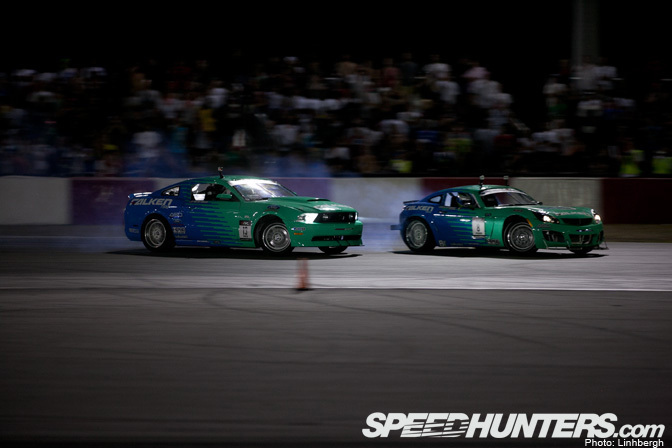 Both runs had great proximity, and by the narrowest of margins JTP was given the win. That meant D-Mac would go up against Forsberg in the consolation battle, with JTP paired up with JR for the finals.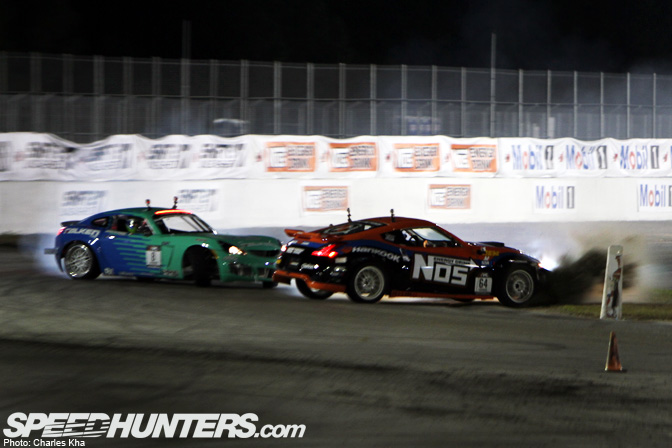 In the battle for third, Forsberg's extreme entry saw him spin going into the first turn…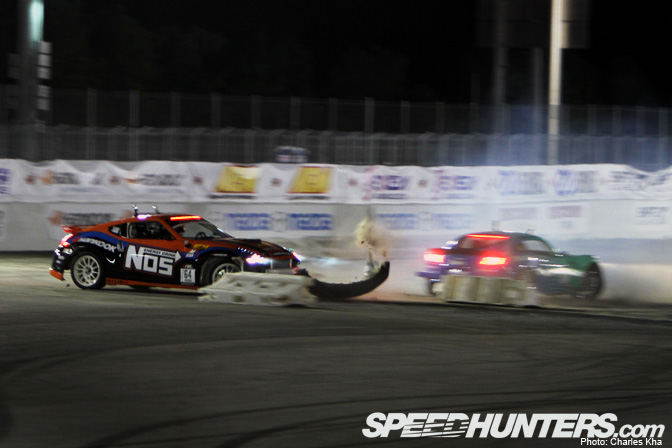 …With both cars spearing off course.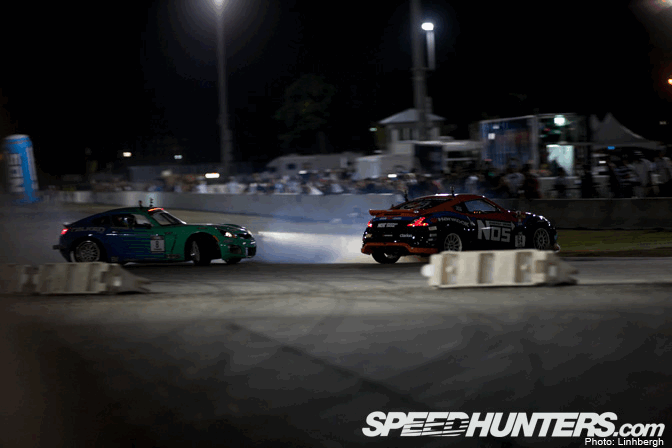 D-Mac did well to avoid hitting Forsberg's 370Z.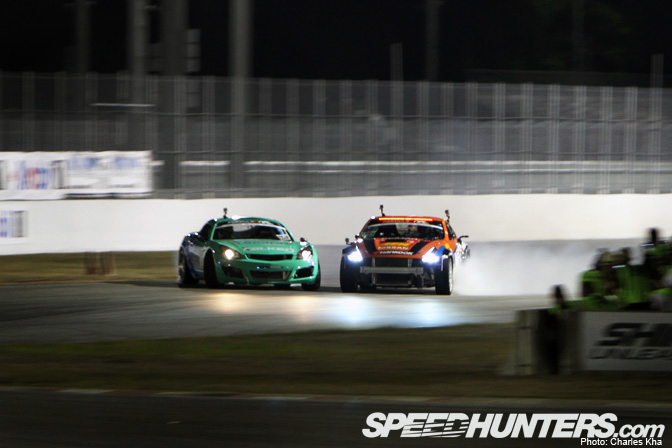 With nothing to lose, Forsberg went all-out in his chase run, entering the course mere inches from D-Mac's Saturn. 
It wasn't enough to make up for the spin however, with third place going to McNamara.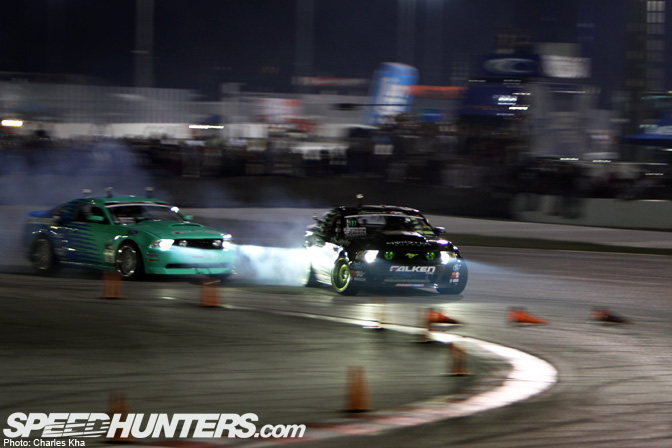 The final battle for top honours was an all Mustang, all Falken fight between JTP and JR.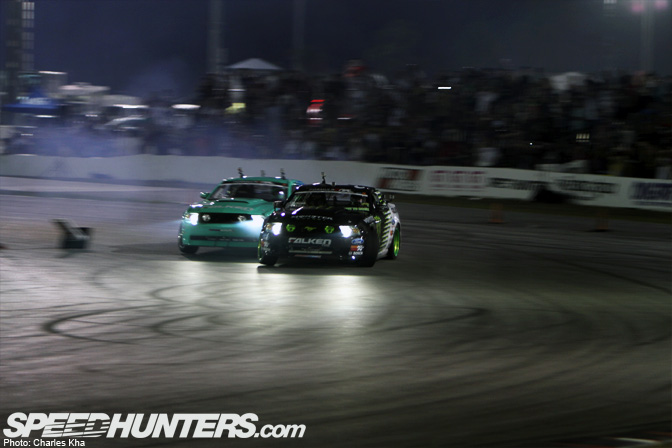 There was no love lost between the two team-mates as they pushed for the round win. It was a fitting end to FD's debut in Florida.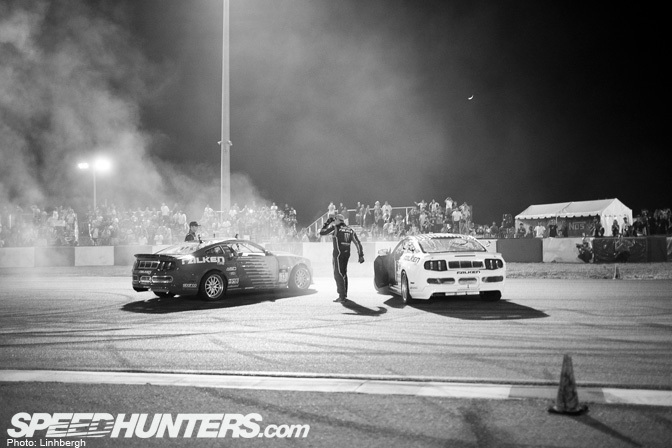 From where I was standing, it was impossible to separate the drivers' performances…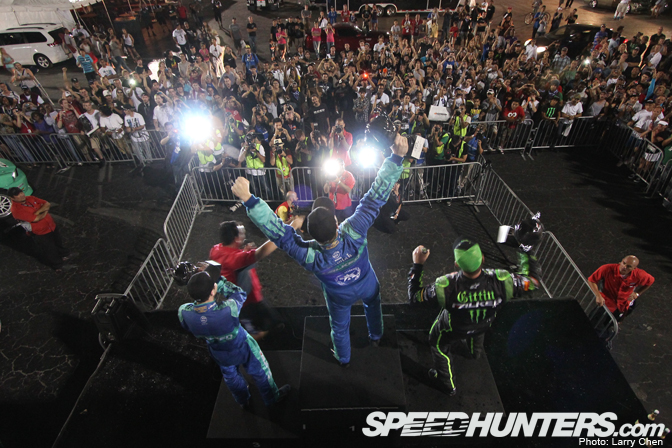 …For the judges however, it was unanimous with the win going to Justin Pawlak. Having won two from three rounds this year, JTP is now in the championship lead, with D-Mac jumping up to 2nd. Former points leader Dai Yoshihara has slipped down to third. In just a couple weeks, the FD circus moves to New Jersey. Who do you think will reign on the bowl of Wall Speedway?
- Charles Kha
Photos by Linhbergh Nguyen, Larry Chen and Charles Kha
Formula DRIFT Florida coverage