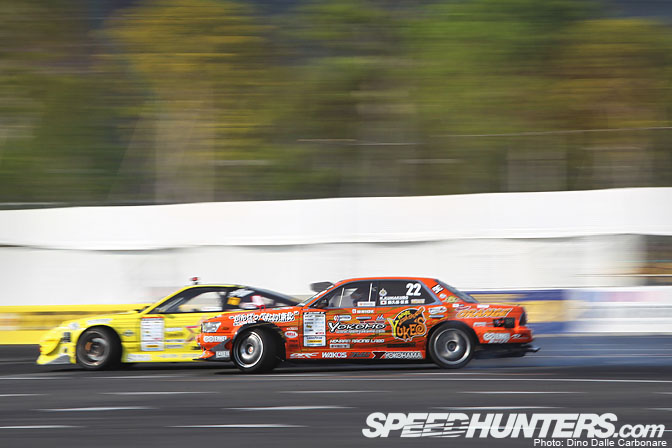 It really felt like an eternity since I had covered a D1 round. Not being able to make Round 3 in Autopolis and Round 2 in Suzuka meant I still hadn't seen any of the new cars up close when I arrived in Odaiba on Saturday morning, let alone had a chance to chat to the drivers about how it is all going following the much talked about split with Dai and Tsuchiya.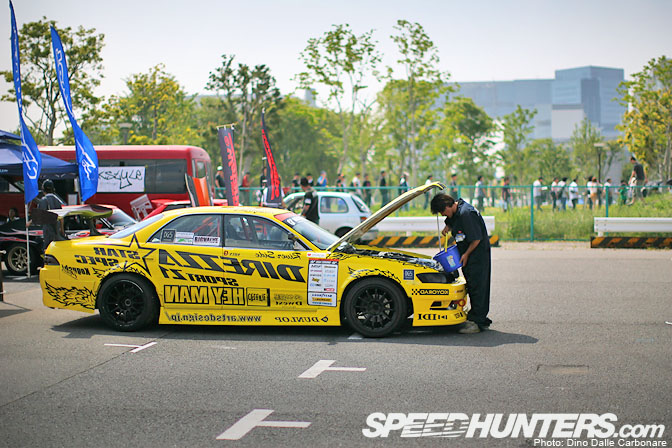 So during most of the morning practice I walked around the vast pit area checking all the cars that had made it to the event, like Minowa's cool Hey Man JZX90 Mark II…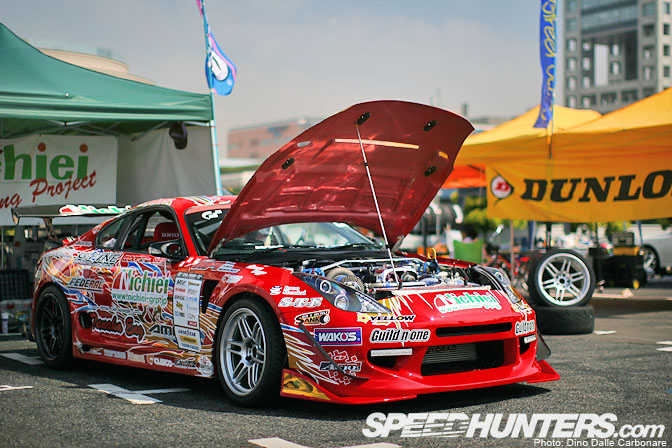 …and Yuji Tanaka's Guild n one JZA80 sporting some fresh new graphics and sponsors.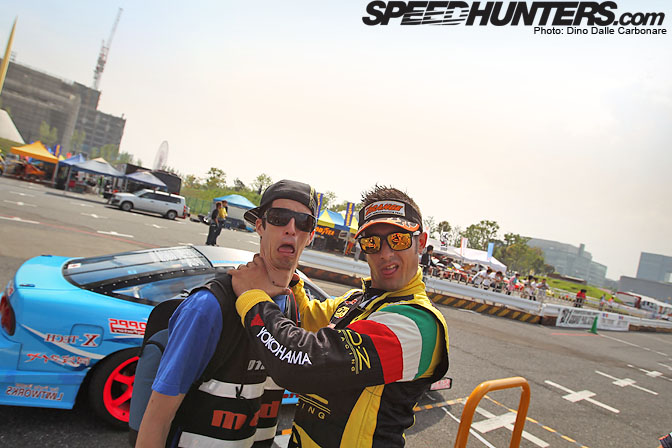 Federico Sceriffo managed to place 15th during Friday's qualifying but later found out that D1 is now allowing only the top 12 to go ahead and enter the Best 24 on race day, mixing it up with top qualifiers from other groups as well as seeded drivers who automatically qualify for the second tsuiso battles (or Best 16). The idea behind this is to mix up the field a little bit, but it is beyond confusing to follow!! Here he is taking out his frustration on poor Aaron Mai from NZ Performance Car.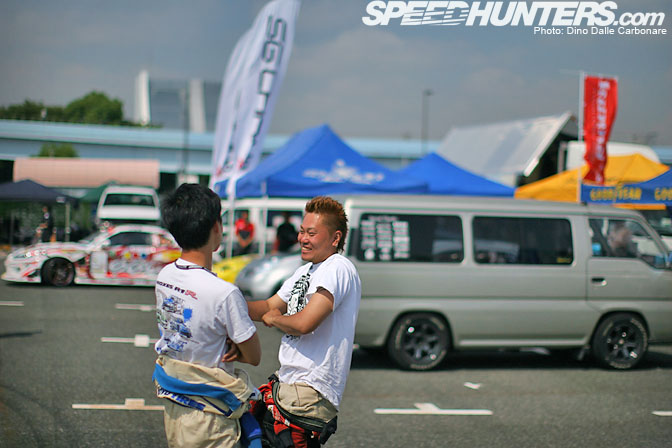 Saito and Kawabata having a chat while the guys from B Group were out for a practice.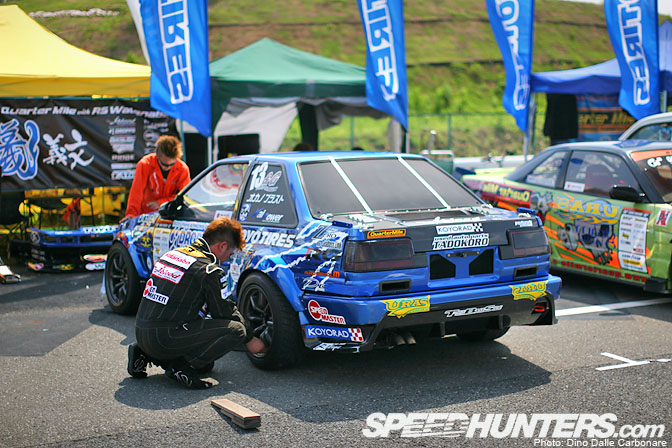 You gotta love Todoroko's new livery for this year. His 420 HP 13B-powered AE86 was really performing well through the weekend and was among some of the top qualifiers for both rounds!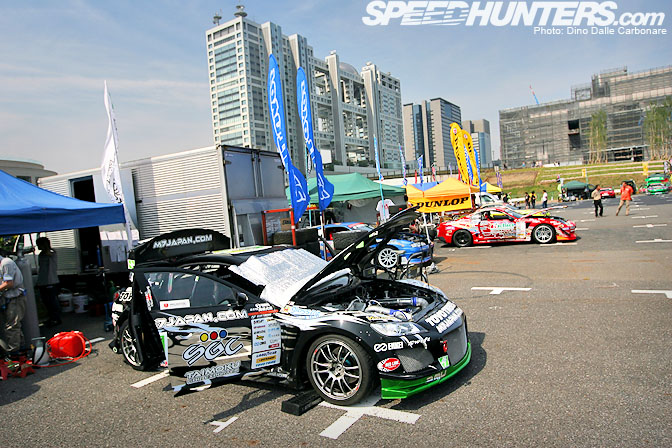 After working on the car for most of last year Ama-san has finally let Suenaga take out the RX-8 into competition. They have had time to set up the car extremely well and it really showed out on the tight Odaiba course. It looked like not even half the potential of the 13B was being used, it's going to be great seeing it at Fuji initiating at a 110 mph!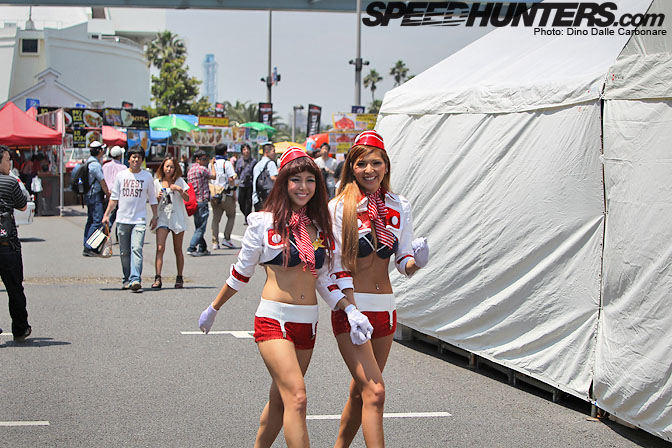 You guys asked for more girls so I will be freely spicing up my posts with as many shots as I can. Enjoy;)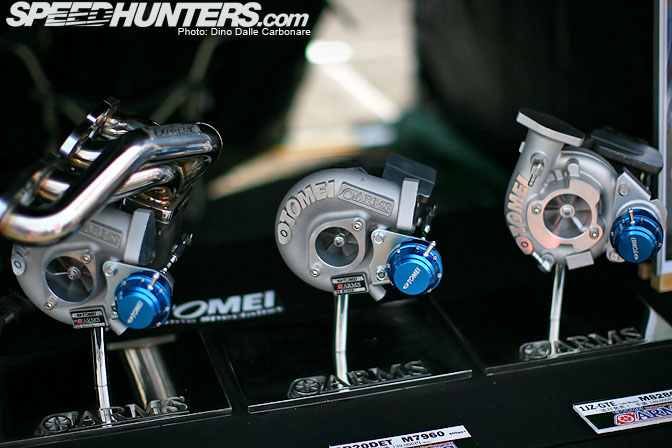 The nerd in me always seems to find some new technical innovation to drool over at events like these and as I was fondling Tomei's latest line up of blowers…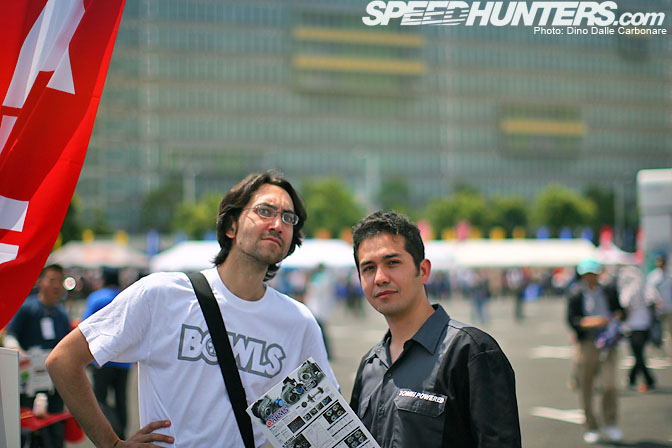 … when I spotted these two suspect characters. I think Allen Lorenzo from Tomei Powered was trying to persuade Alexi that…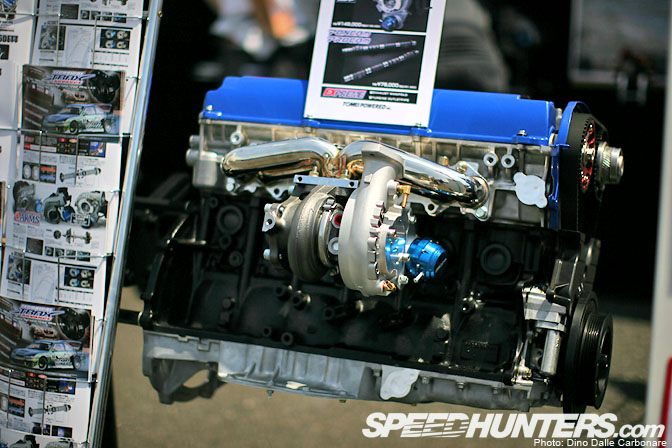 …he should definitely go for the new 1JZ turbocharger they have just released. As they chatted about boost curves and throttle response I decided to head back trackside and see how the qualifying round was going.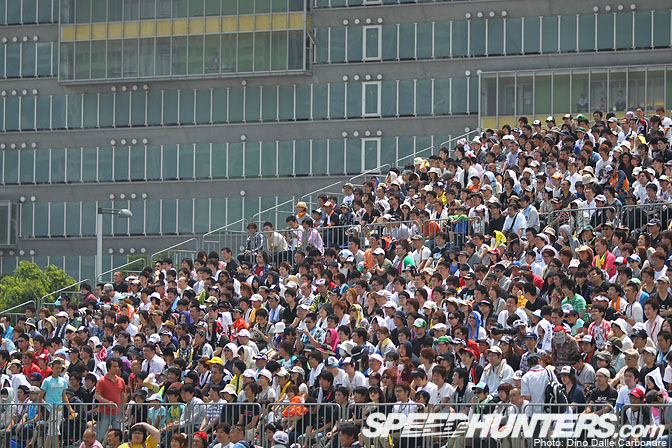 There were virtually no empty seats available throughout the weekend!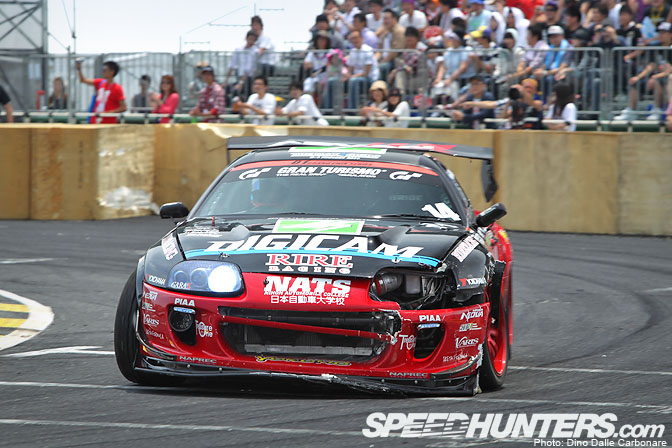 Orido's impact with the sponge barriers left the front left of his Supra looking pretty mangled up…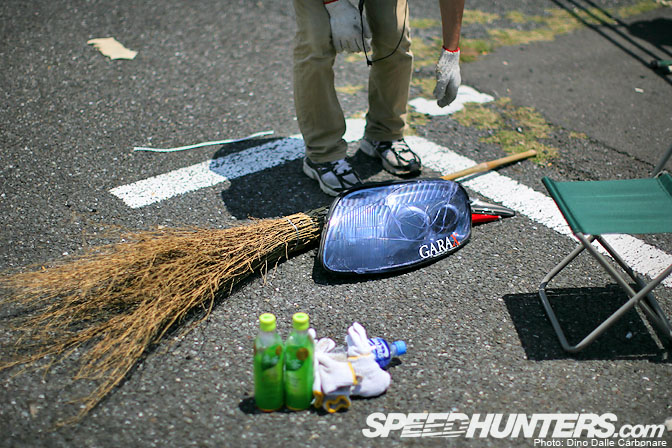 …leaving behind a few bits and pieces.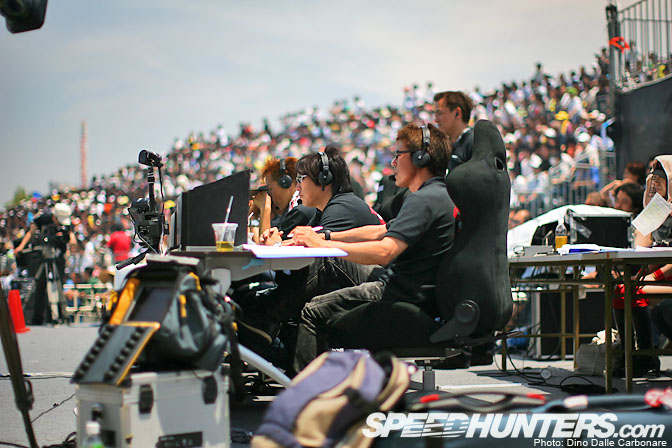 Joining Manabu Suzuki as assistant commentator was Japanese Rally driver Toshio Arai who, even if probably not so well clued up in the finer points of professional drifting, knows a thing of two about going sideways.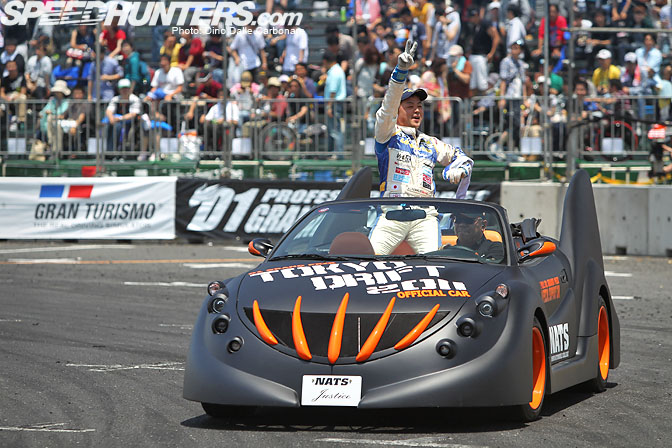 One main difference from previous years is that for 2011 the tansou, or single runs, earn drivers championship points. Kunnyz really nailed his two judged runs managing to qualify first and earning him a prize as well as valuable points. Here he is making his way to the podium where he received a prize for his performance.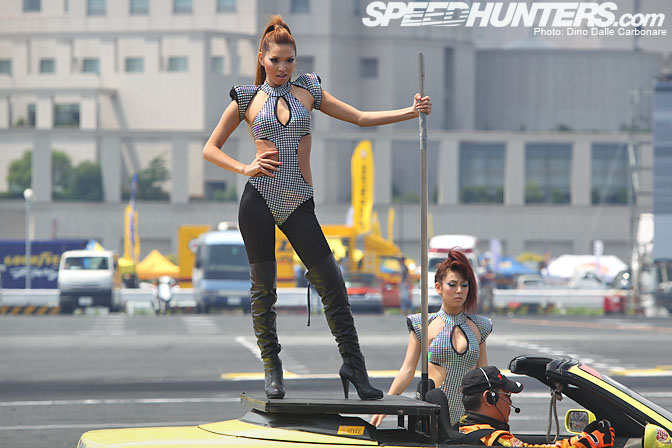 What would Tokyo Drift be without mobile pole dancers! After the Team Orange show the C.J.D. girls hopped on Kuma's chopped S13…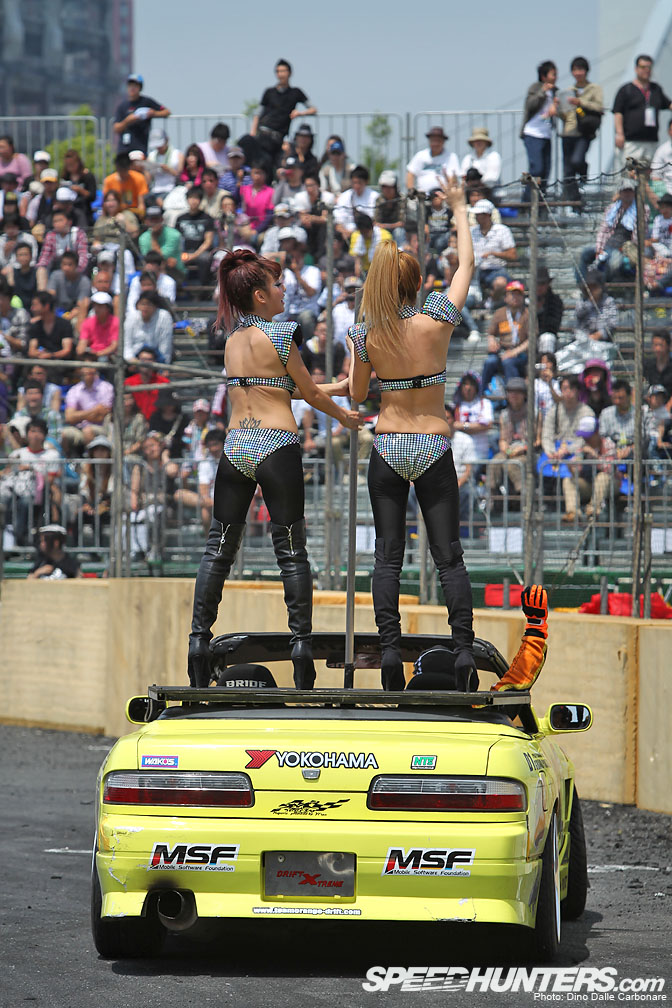 …and were escorted back to the pits. Better hang on to the pole girls, Kuma might kick the clutch!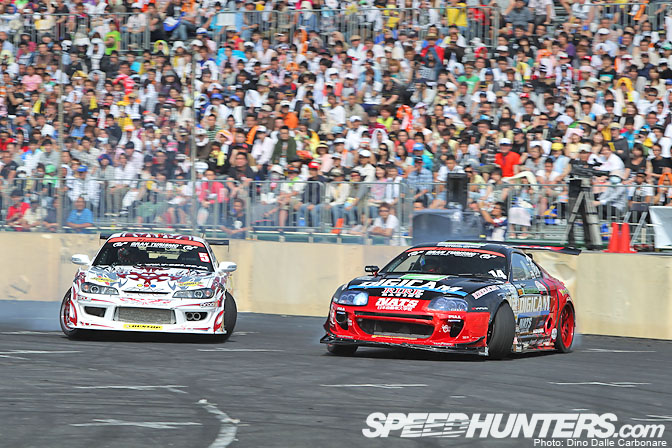 During the "First Stage" (which combines the Top 16 qualifiers of Group A and B, with the 8 seeded drivers) Orido beat Hasegawa of Team Vertex after his mechanics managed to mend his Supra in just a few hours. He then went against Imamura, who as a seeded driver went straight up against Orido in the second battle of the "First Stage" which in old D1-talk is like Best 16. Told you this was confusing!!  Imamura took the win and went up…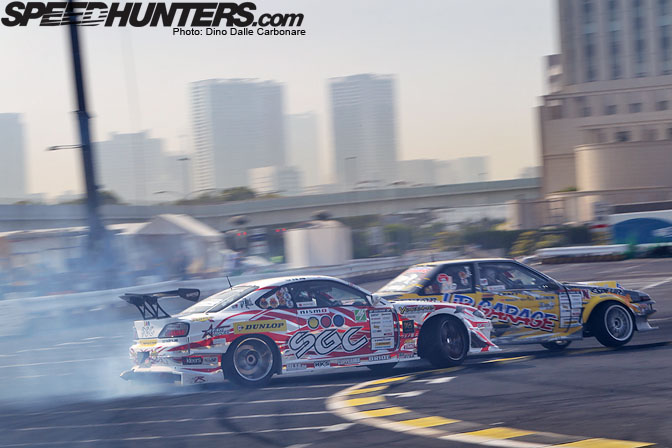 …against Hibino in the "Second Stage" (think Best 8). Imamura's consistent driving style allowed him to grab the win.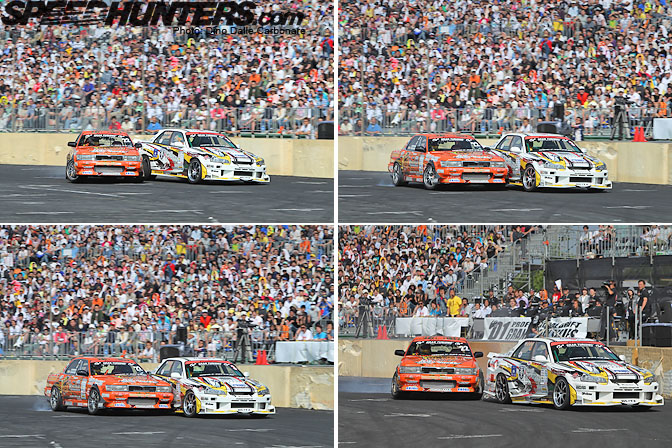 Kumakubo's battle against seeded driver Nomuken ended in disaster as the propeller shaft in the Skyline snapped mid corner instantly slowing down the big Nissan. Kuma backed off but an impact was inevitable. Luckily damage was mostly aesthetic.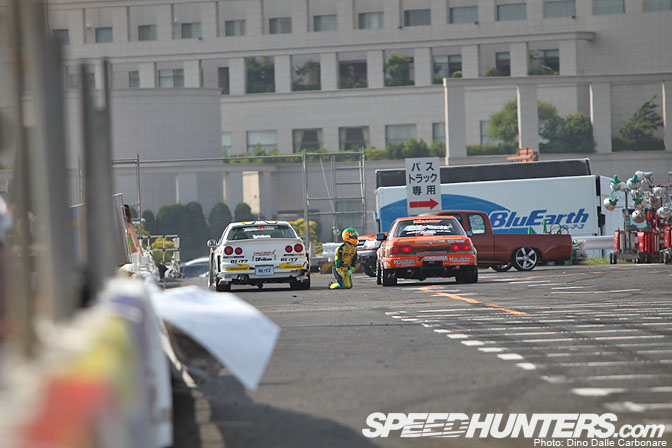 The Blitz ER34 halted before reaching the access road to the pits where the little monkey man took the opportunity to politely apologize to Kuma for the unexpected failure.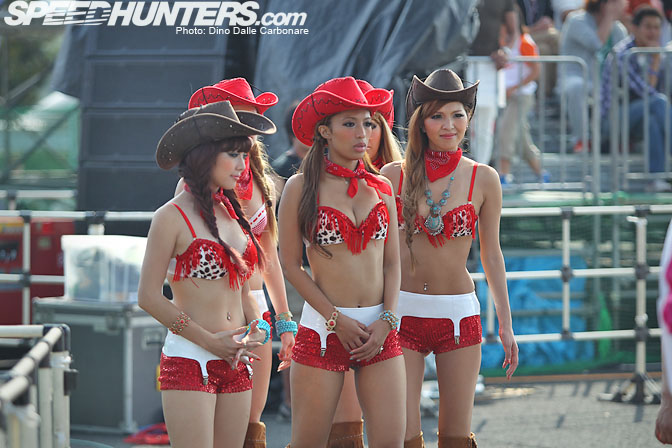 Action from the "Final Stage" (Best 4 and onwards) is next, so stay tuned for Part 2!
-Dino Dalle Carbonare