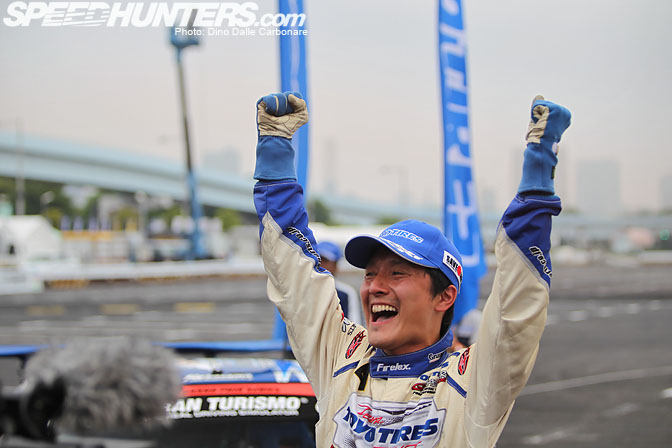 Right, it's time to wrap up the coverage from D1 Tokyo Drift with this final look at Round 2 Battles from Sunday afternoon. If you were keeping up on our Facebook page you would have found out in real time that Kawabata managed to take the win, beating the unstoppable Imamura. It was in the second Sudden Death run (yes I know it kind of defeats the meaning of the actual term!) that Kawabata proved to the panel of judges that he had the upper hand and as he came out of his car, he burst into tears knowing he had done it.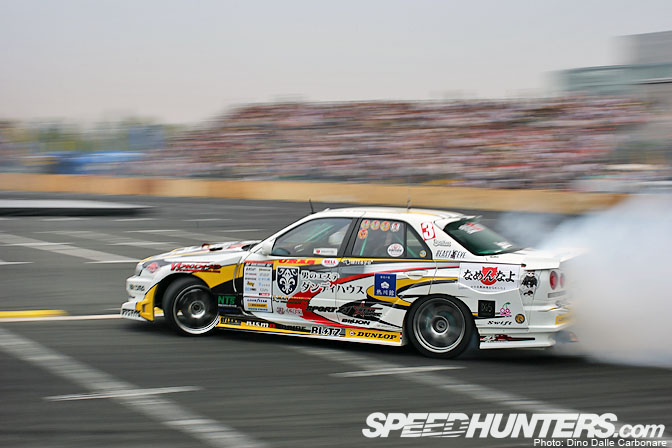 With the new format, once the second of the qualifying runs are finished, there is over an hour break to allow the spectators to grab some lunch or check out the dozens of team and sponsor stalls. The entertainment on track kept going with various dance shows, but it was Akira Iida's drift demo run in the Lexus LFA…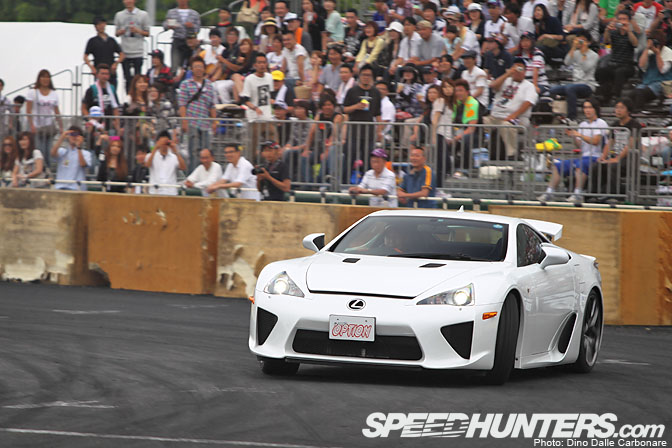 …that everyone, including myself, were waiting for. There's nothing quite as satisfying as seeing a prohibitively expensive supercar driven to within an inch of its life.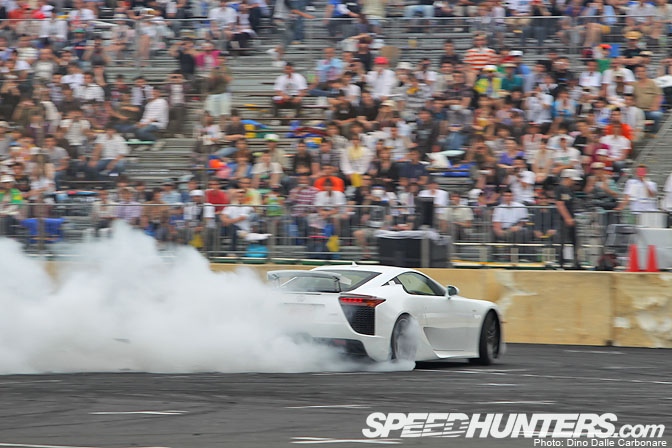 After looping around the course a few times in both directions Iida-san just sat in front of the judges burning the rear 305-section 20-inch tires until they delaminated. Job done. All to do now was to return it back to Lexus with a thank you note!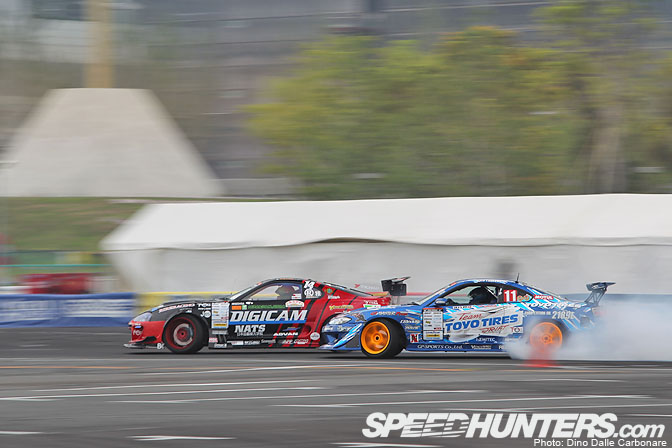 Orido's Tokyo Drift weekend ended at the First Stage when he lost against Sakuma in the Best 16 battle. After the two impacts with the wall his Supra was probably not performing quite as well as he wanted.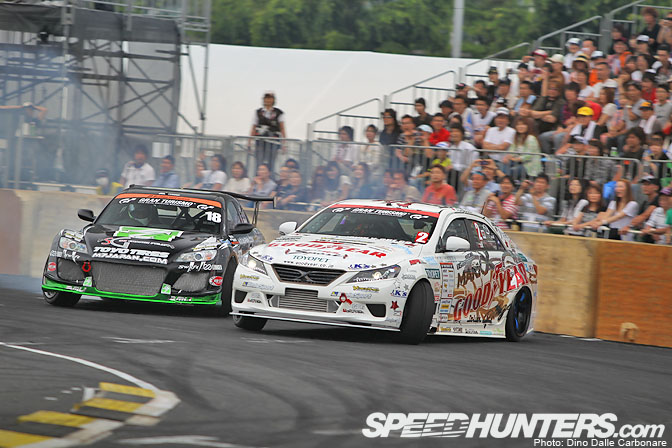 Another great First Stage Best 16 encounter was this run against two new machines, Suenaga's RE-Amemiya RX-8 and Kunnyz's MarkX beast. The 2JZ's 900 HP were just too much to handle for Suenaga, he did give it a good go but Takahashi had the upper hand.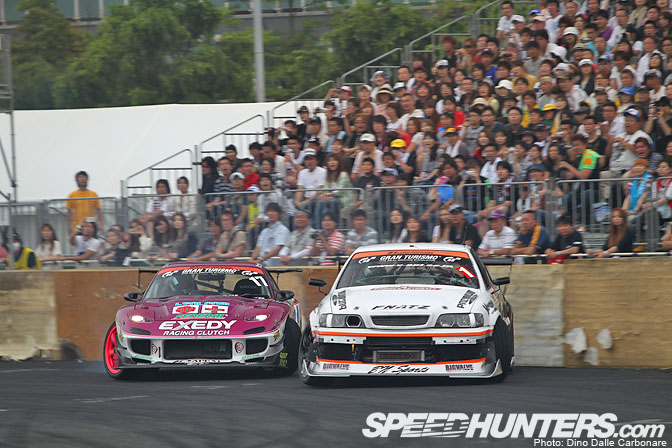 Like I mentioned in the Part 1 Takayama was really killing it during Round 2, the R-Magic FD performing so well he managed to kick out Daigo Saito at the second tsuiso of the First Stage.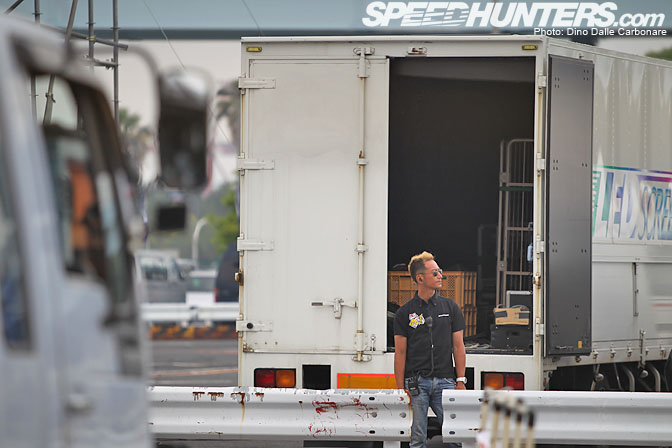 Kawasaki-san, editor of Drift Tengoku Magazine, was curiously positioned along the access road where the cars build up speed as they entered the course. The idea with having so many judges this year is to be able to keep an eye on the drivers at various points along the course, which is why Tarzan Yamada spent all weekend sitting at the initiation point to check how well drivers set up their drifts. I don't know about anyone else, but I would have personally liked to have seen Tarzan with a microphone, doing what he does best when not driving, being funny as hell!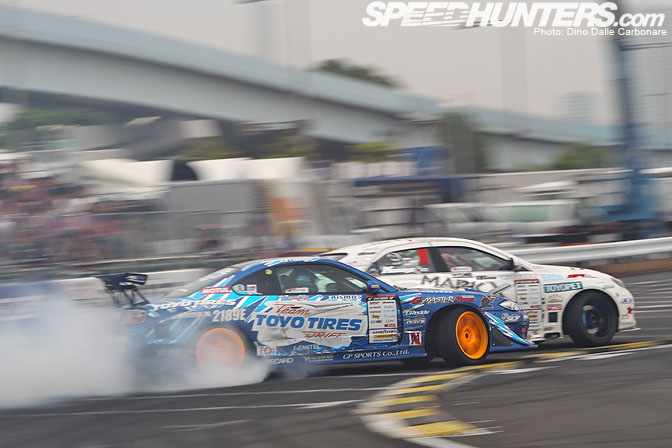 Sakuma proved that old cars you are very well used to can really make the difference in a tight fight. His Second Stage bout against Kunnyz went in his favor.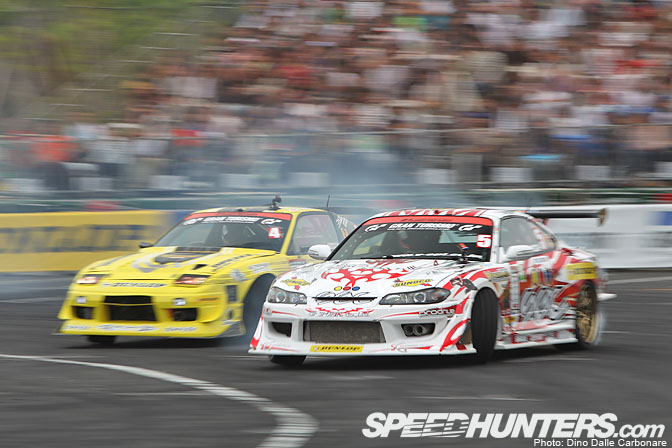 Imamura was obviously pumped after having won the first round the day before and moved through his battles without any hitches, disposing of Koguchi in the Second Stage…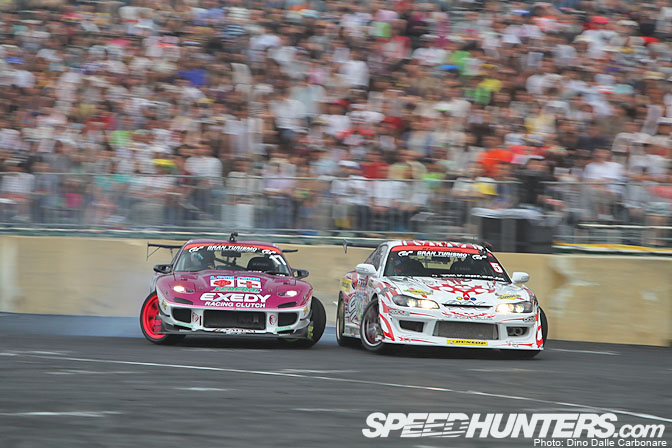 …and then Takayama in the semi final.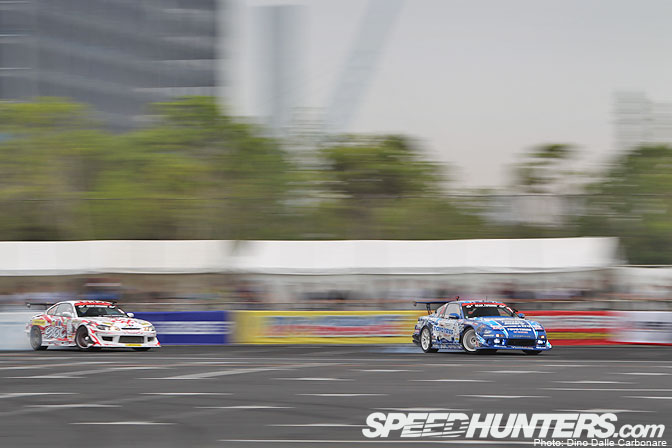 After having beaten teammate Sakuma in the semi, Kawabata went on to fight for the win against Imamura. He was visibly much faster at entry, but despite this the judges kept calling for "Sudden Death," wanting to prolong the action for the spectators.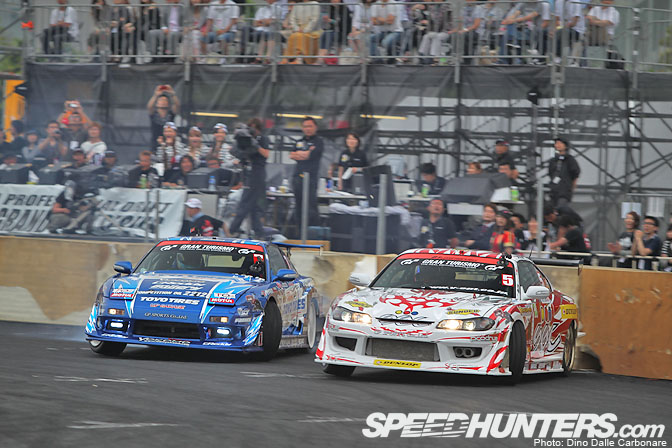 It was textbook drifting all the way, no errors, just spotless driving from both but it was Kawabata that had the edge in both entry speed and chasing distances, keeping glued to his opponent's door.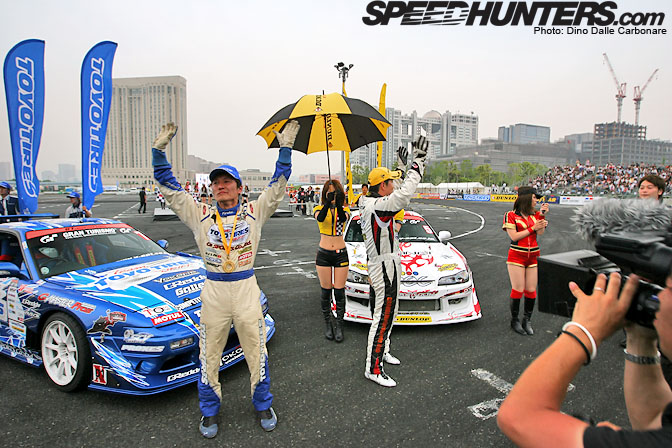 Kawabata is always emotional, and Imamura started making crying faces too, to play around. All in good humor of course.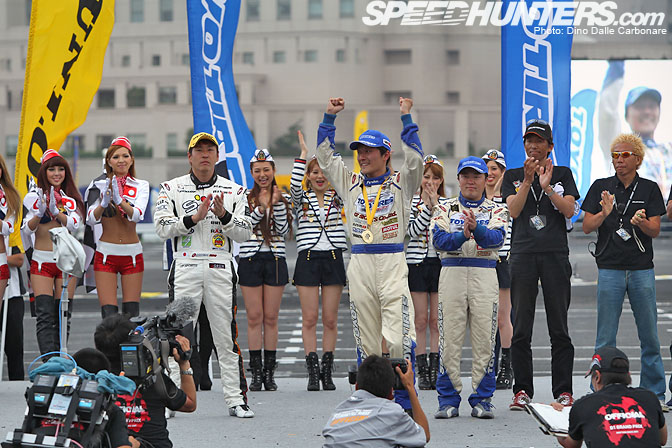 Kawabata earned very important points with this win, placing him fourth in the current point standings behind Takahashi (Kunnyz) in third, Daigo in second and Imamura on top spot.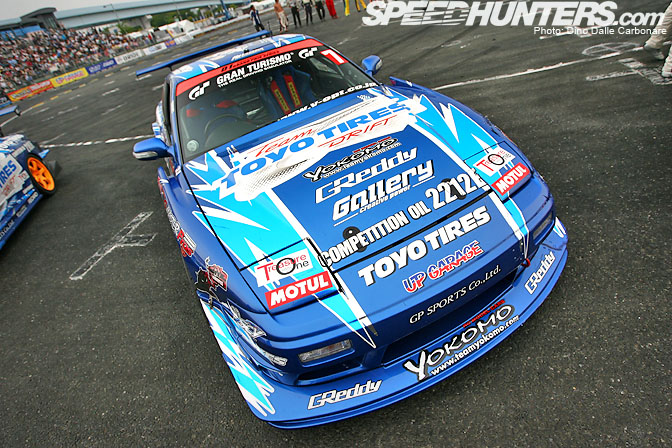 Tokyo Drift is always a great event to attend but I think it's time for a break from the high profile D1-GP series; I think the more chilled out D1 Street Legal round coming up next month in Nikko will be just what the doctor ordered. What do you guys think?
-Dino Dalle Carbonare