Hello fellow Speedhunters! Here is my driver blog from Formula Drift round 3.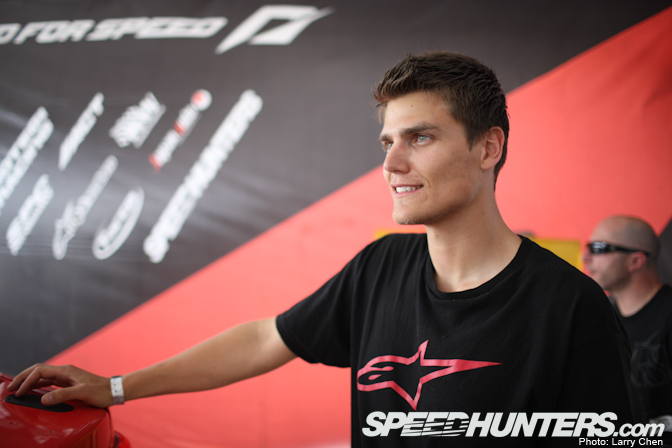 As the entire Formula Drift circus rolled into Florida and Palm Beach for the first time ever, the Need for Speed and Papadakis Racing stable got ready to bring out the tC for the third time this season.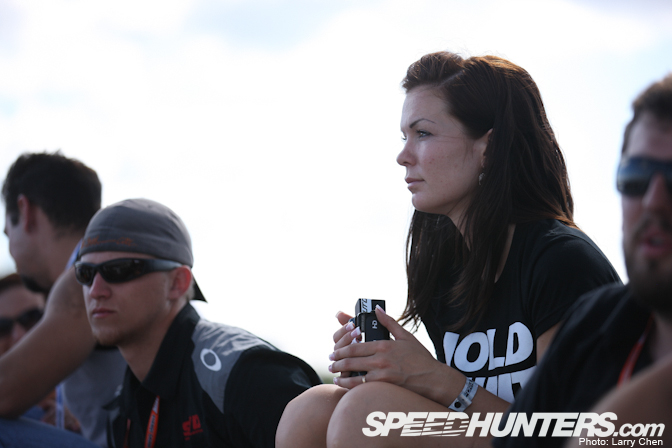 My girlfriend Wenche had flown over from Norway to take part in the antics. It felt great to see her again as it was over two months since we hung out last!
By the way, she's a die hard car nut. Thinking of it, she's just nuts in general.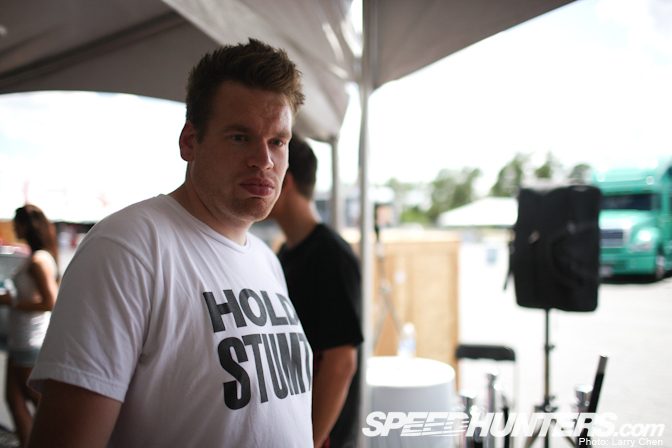 Steffen was there, calling the spotter duties. He was ready for Florida as well!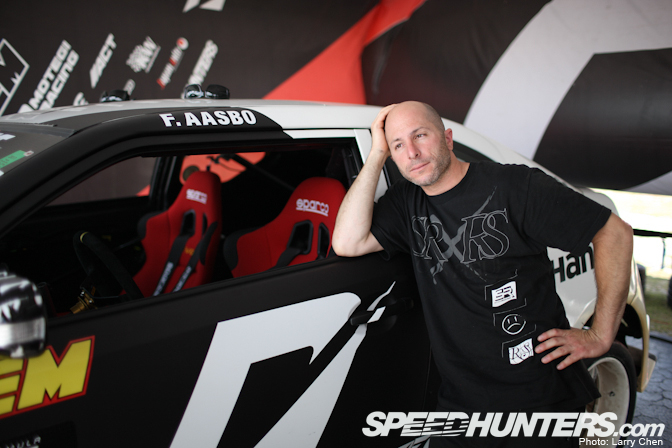 Steph was dreaming of a vacation in Miami…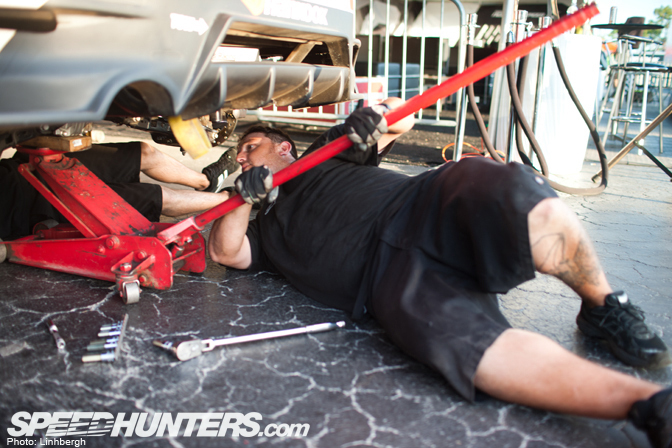 …Whereas Aldo and Shawn were swapping differentials.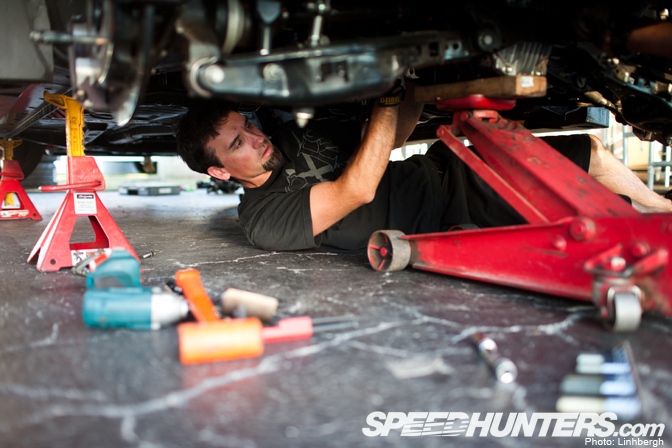 Sorry for bringing you so much work over the weekend, guys!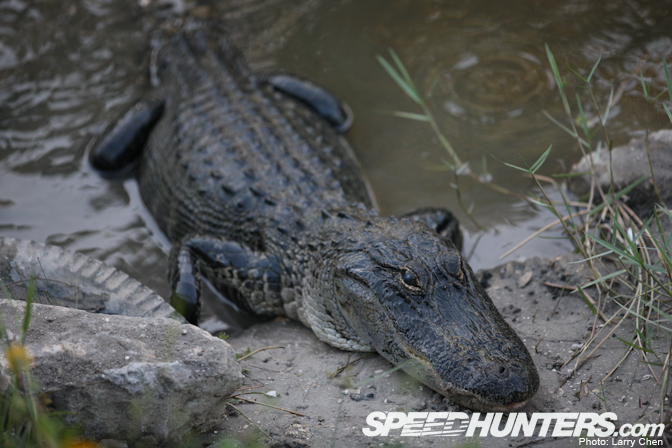 We also made a new friend – say hello to Aldo-gator! He sort of runs his own team in the pond behind the track with his mate and two turtles.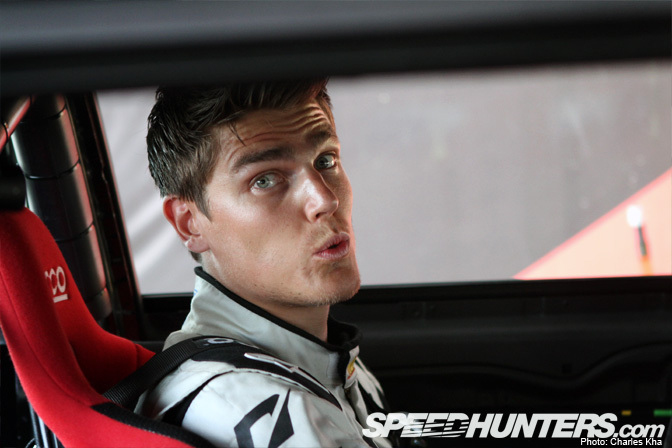 Together, we were ready to take on Formula Drift Round 3: Invasion!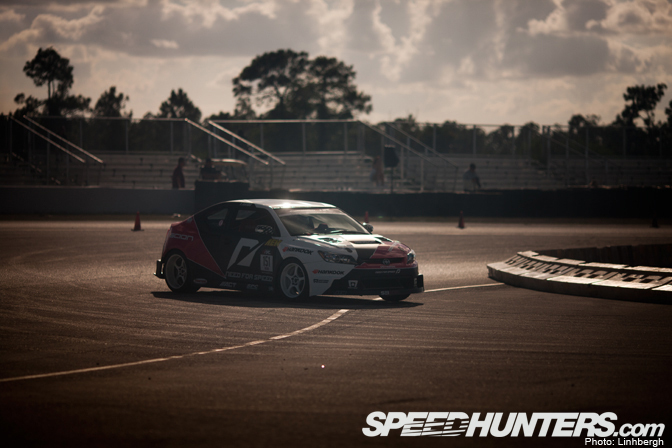 It all started with the Thursday practice. The original course layout was quickly rearranged after two unfortunate crashes by Eric O'Sullivan and Alex Pfeiffer early in the practice sessions. The new layout is best described as a smaller, reverse Autopolis for those of you who know the D1 courses.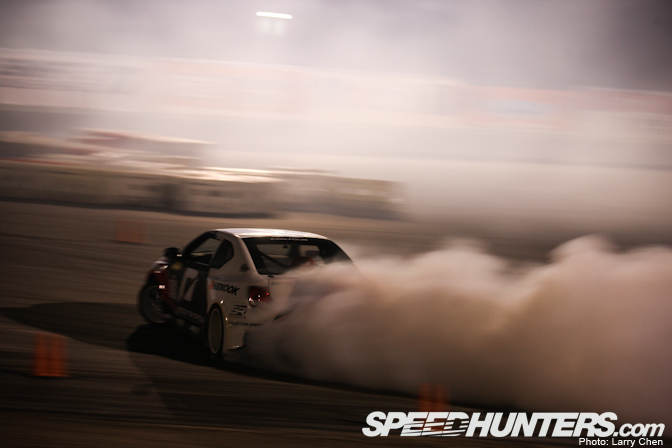 The track starts with a 85-90 mph entry to a near 90 degree left hand turn with an inner clip. A quick transition shoots you over to the second inner clip on the right hand side before you reach for the outer clipping zone. A longer transition sends you left for the last inner clipping point.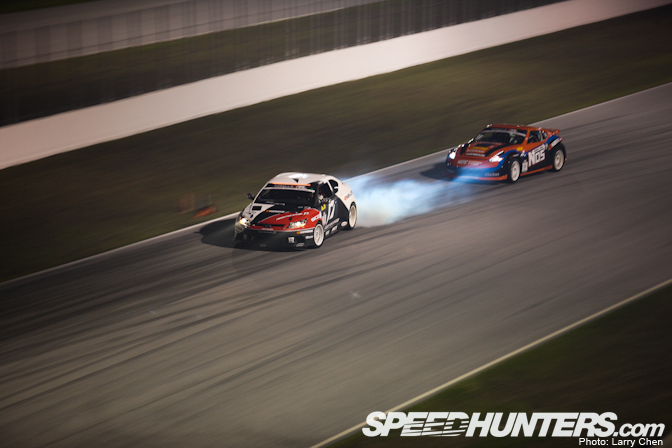 It was interesting to see who would catch on to the track the fastest.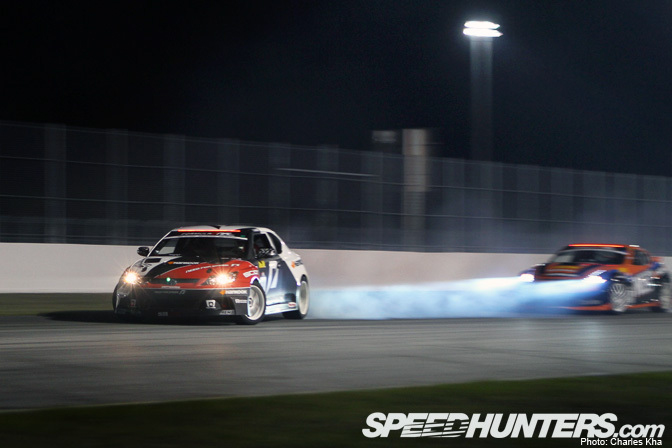 Mind you, we were in no man's land, as none of the drivers had drifted here before.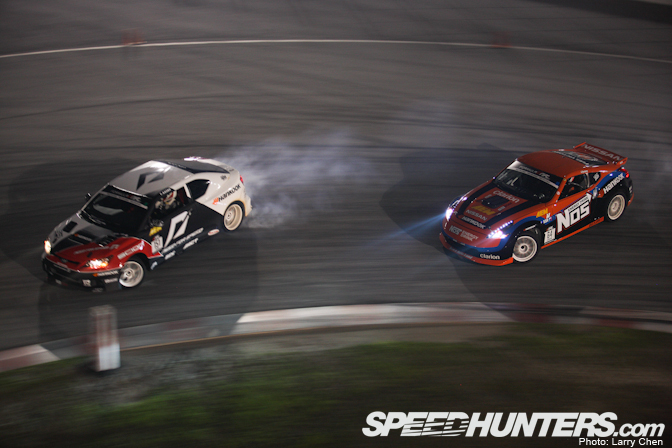 Fellow Hankook driver Chris Forsberg went on to show everyone who was the boss by qualifying first on Friday!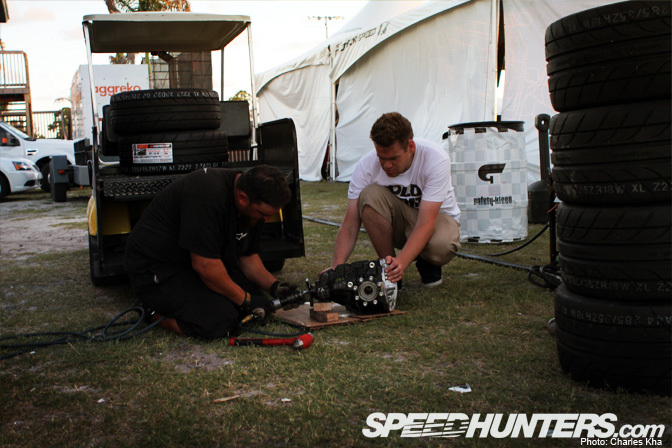 Here's Aldo and Steffen prepping our spare differential for install. This one holds a slightly steeper ratio than the one we usually run.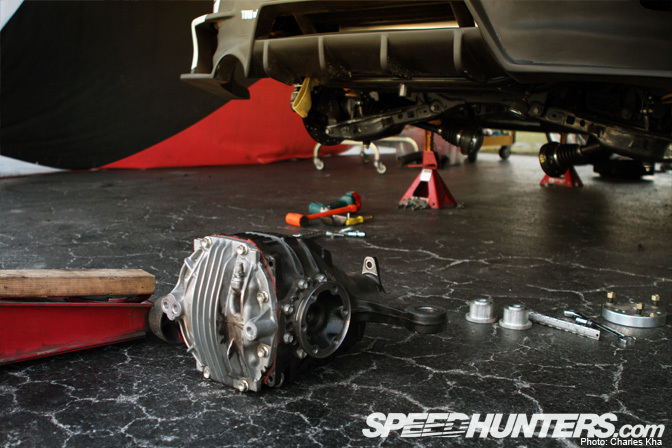 We ended up running the same ratio as we've run for the first two rounds, and the gearing fit the track near perfectly.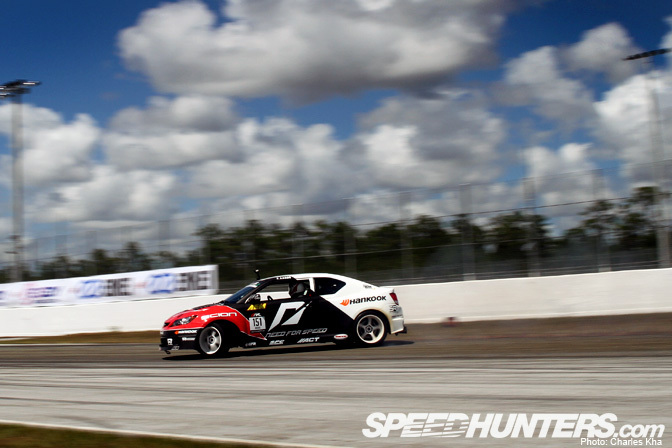 Our motor pushes low peak numbers compared to our competition with its 400+ whp (most V8 cars are 550 whp to 850 whp), but the powerband is extremely broad which makes the gearing less critical.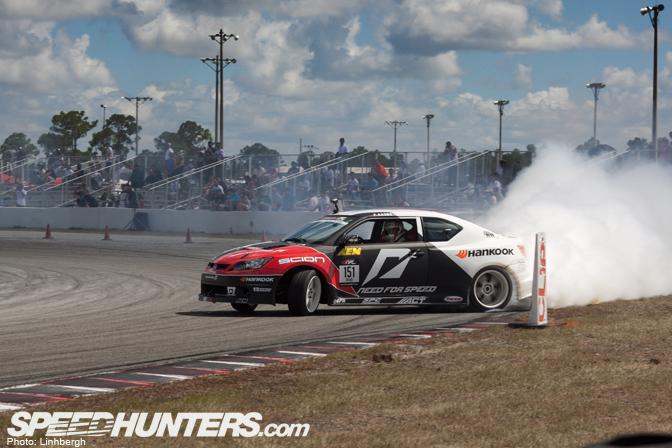 It was so much fun working the line more and more towards the outer clipping zone!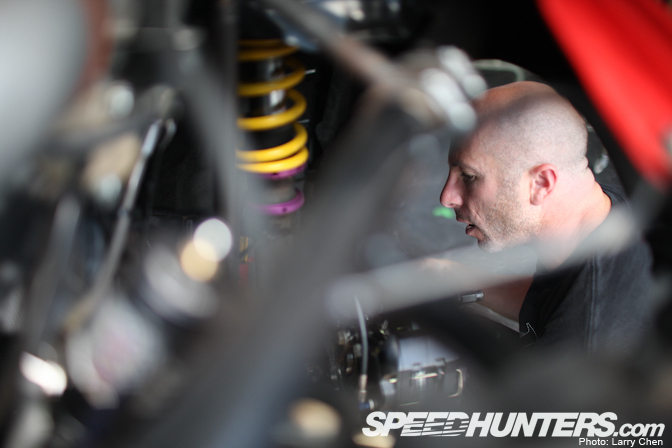 The tuned 2AR-FE motor in the tC is the world's first of its sort, meaning our program is a test bench of the limits of the design. Issues are inevitable, as we move forward and put the car through the tension of pro drifting.
Hence, the team with Stephan in front monitors the car through data logs as well as visual and mechanical checks. And yet again, Larry Chen of world paparazzi fame captures the moment!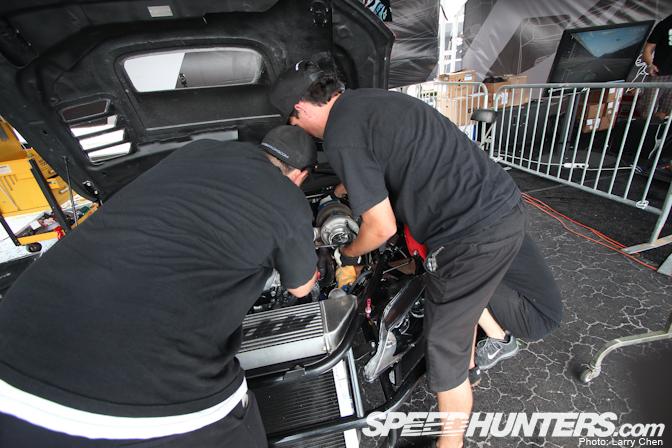 After I lost a lot of power in one of the very early Thursday practice runs, the leak was easily traced down to a cracked manifold runner. Shawn and Aldo immediately started removing the turbo assembly.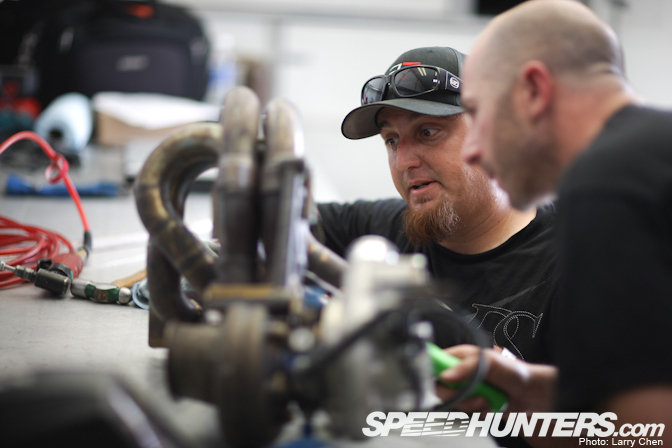 Aldo usually does the TIG welding, and bounces his approach off Stephan.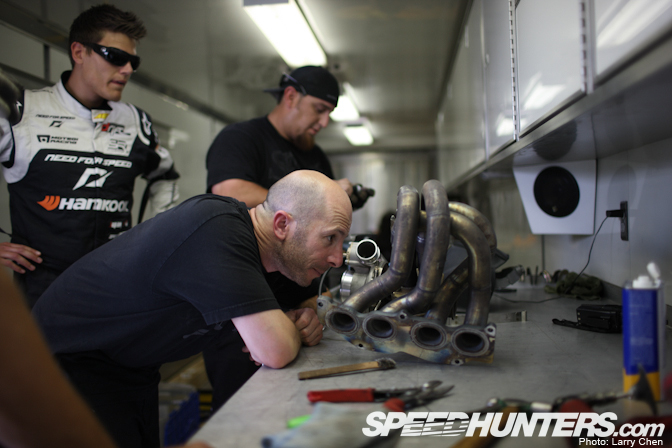 It's incredible to witness how calm and collected they attack the issues at hand.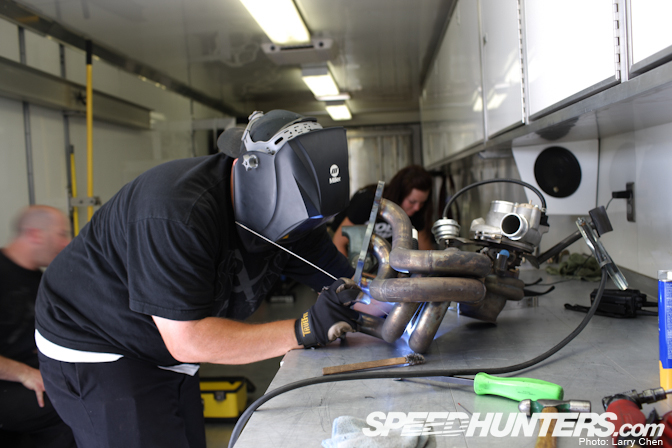 And bam! Welded up and ready to go back in the car…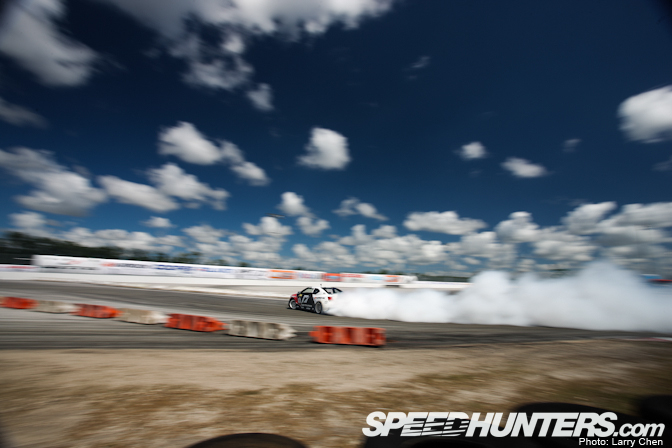 And off I went!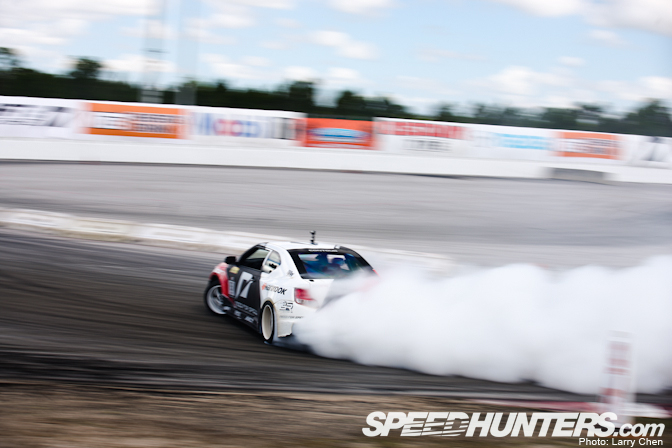 Come Friday's qualifying, we had gotten through some good practice runs although we lost most of Thursday's practice due to the manifold repair.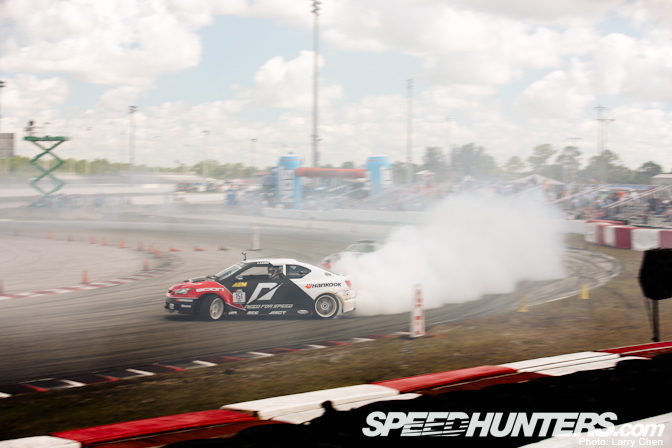 The track flowed well and I had a lot of fun behind the wheel. Since the layout didn't really have any hairpins or slow areas I could stay on the throttle a lot. I like that!
I was a little inconsistent towards the outer zone, but I felt at home. I felt ready.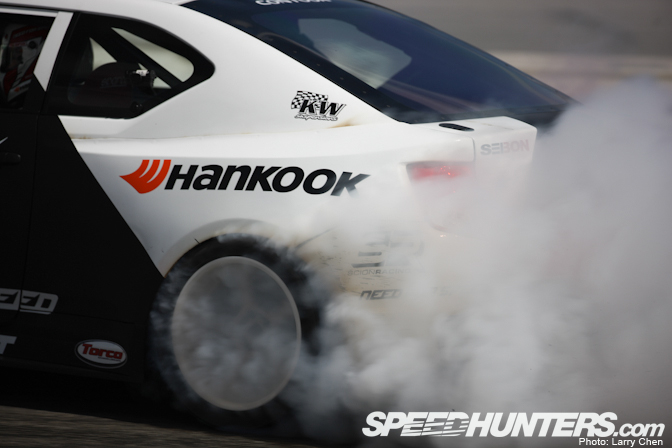 Qualification and Top 32 are the two most tense moments for me during a competition weekend. For me, those two sessions are when it all comes down to the wire and you aim at giving everything you've got.
For my two qualification runs, I did one safer, smoother run, but went harder for my second run. Only the best run counts, so it makes sense to try to hedge your bets.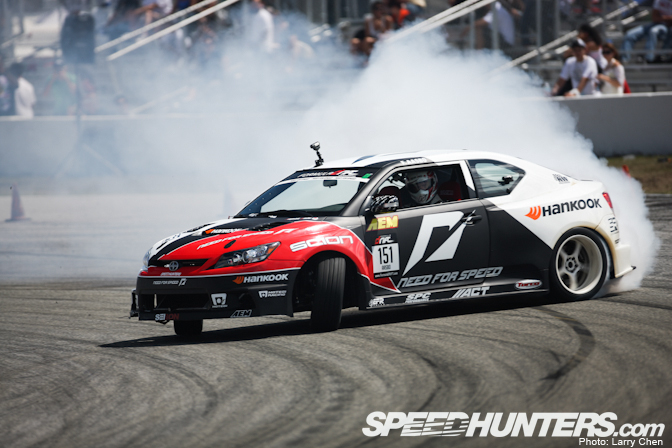 I really like this picture!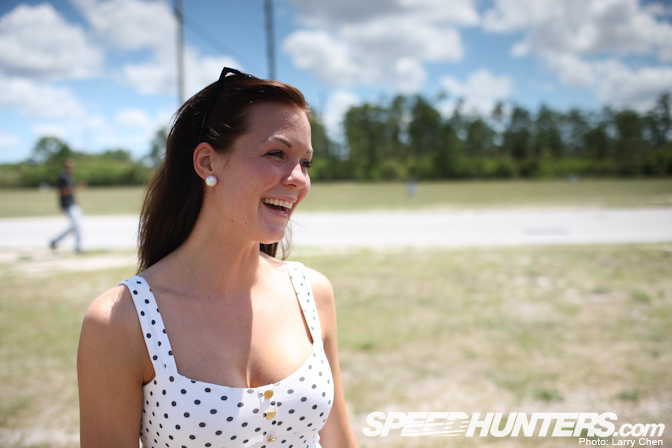 And this one too!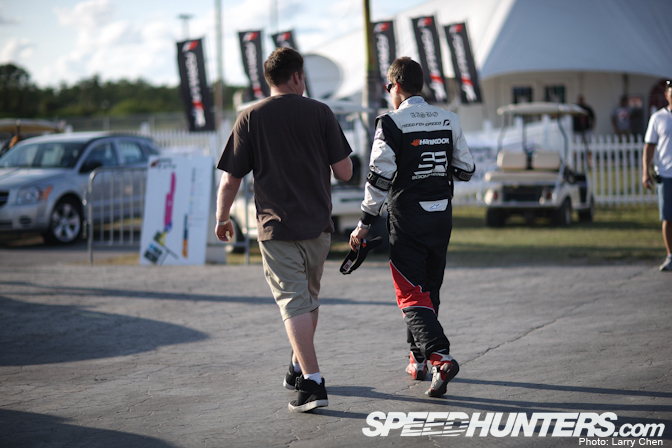 As Steffen came and met me in the pit, we walked on to the drivers' meeting where the qualification results would be announced. A great time was had right there.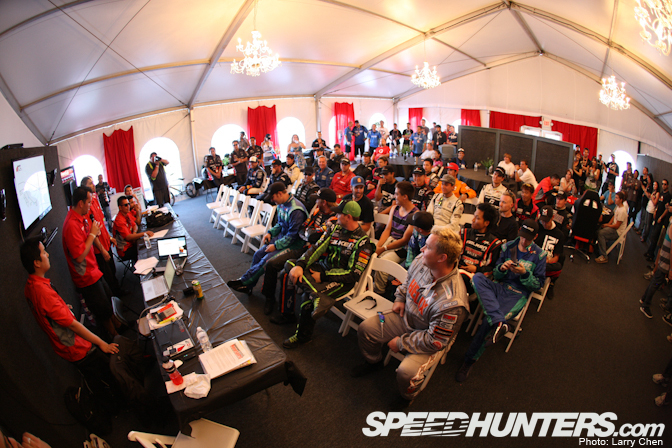 The drivers' meeting is a serious aspect of Formula Drift, but with this round being all new it had more of a grassroots feeling to it. Slightly less formal, but still a great walk-through of qualification results, tandem criticals and gator jokes.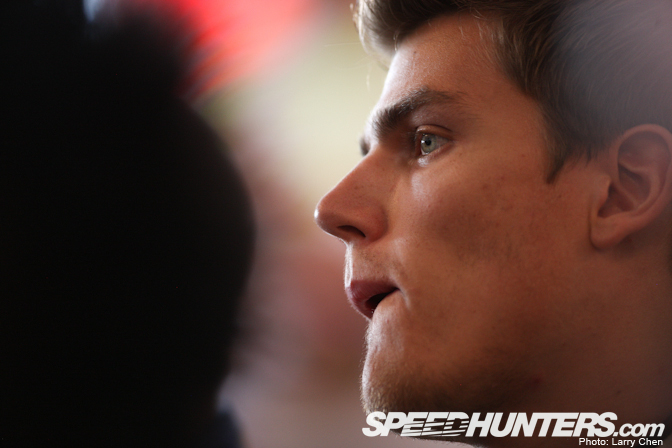 I listened carefully as they walked us through the competition results and speeds.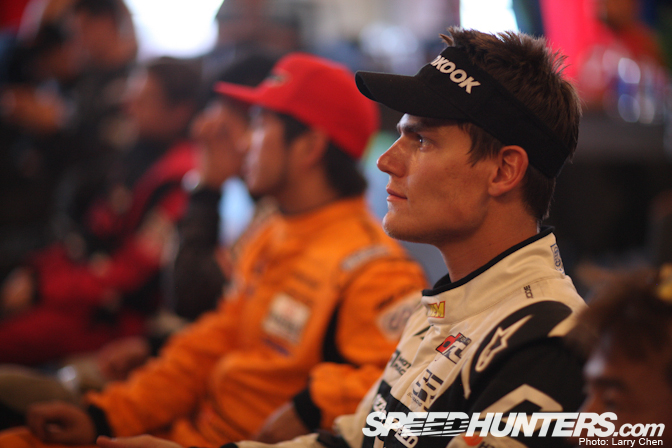 I often bite my jaws hard when I am concentrating. It must be a syndrome or something.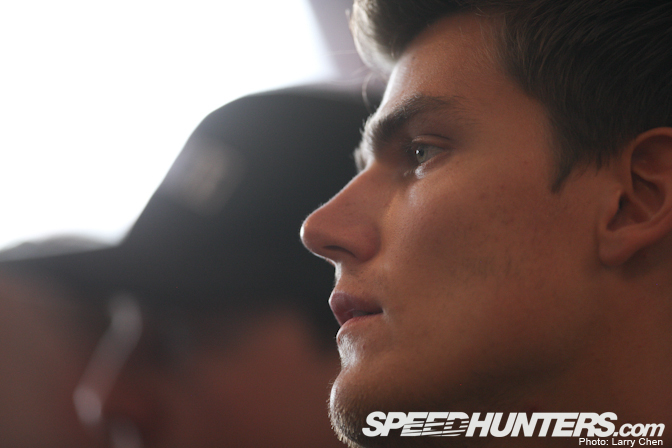 Ye, ye, I get it. Mister serious face needs to loosen up!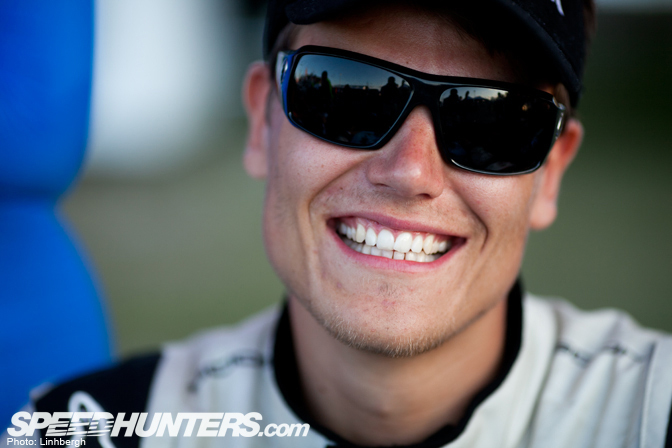 Even though I did not hit the initiation speed threshold and lost five points just there, we managed to qualify in sixth place! I know it doesn't matter, but still – if I had been able to get a slightly better launch and reached a 2 mph faster top speed and otherwise put on the same run, we would have qualified second!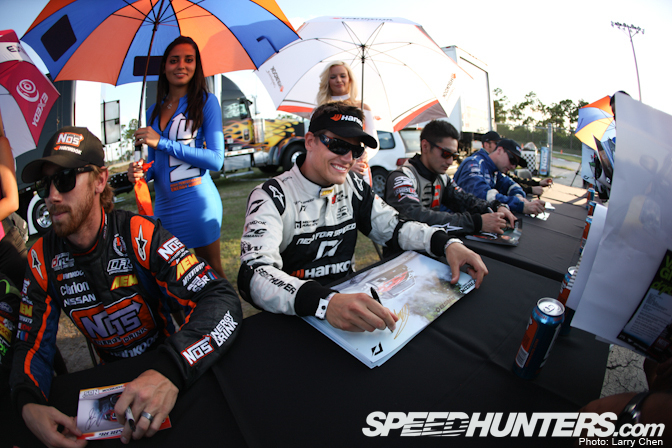 I was very happy, and felt that we were onto something. I couldn't stop smiling during the autograph session! For this being FD's first Florida event, a lot of the fans that came by knew the full score. I really hope this event returns, and I really hope I can drive here next year!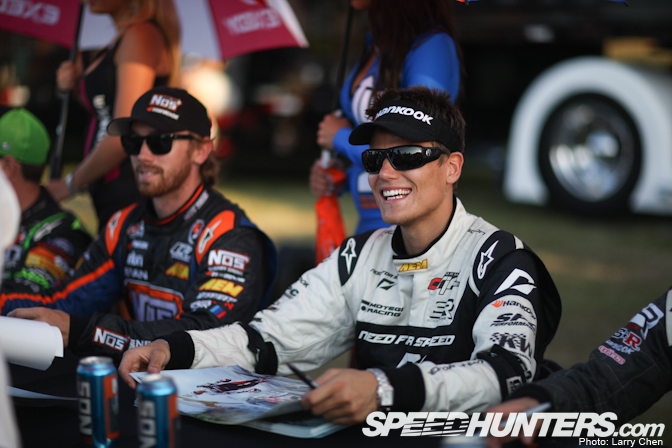 I even met some great guys from Curacao, who invited me to one of their local drifting competitions! Coming from little Norway, I have always kind of envisioned the Caribbean as some kind of far away imaginary place for pirates and cavemen… And then, I bounce into some real Caribbeans and they turn out to be just like you and me with the most healthy addiction you can have (drifting). It was great meeting you!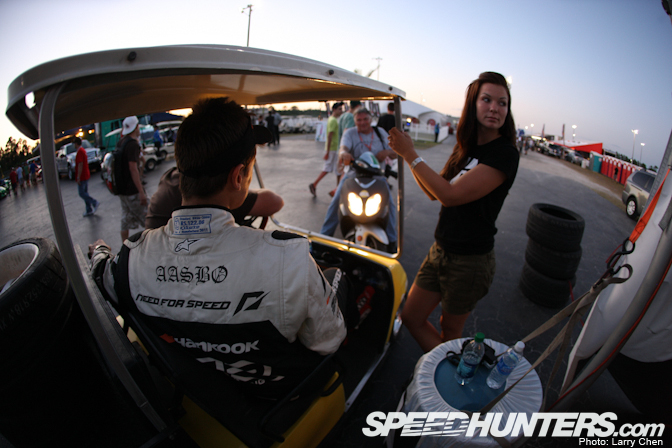 I think this was some kind of chicken run with Scion Racing house photographer and all around great guy Chris Harrington. Speaking of pirates – he's a REAL one.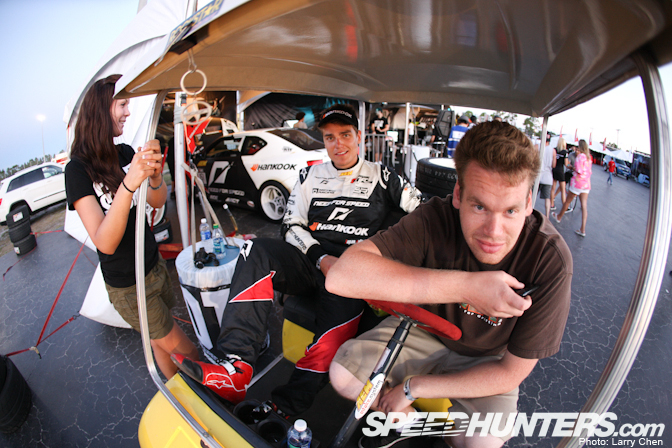 We are also competing in Formula Golf Cart this season. It follows the FD schedule and is kept pretty underground.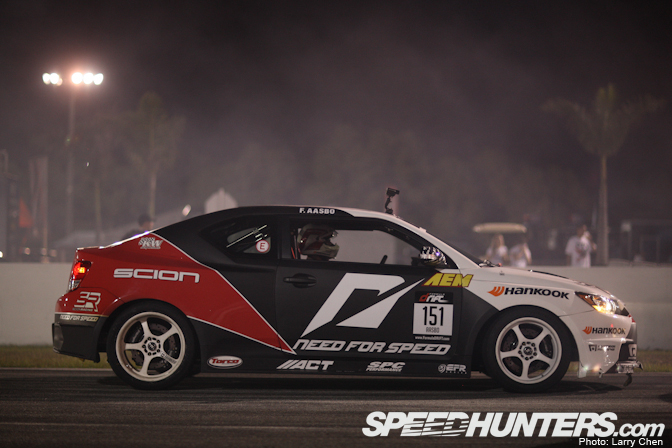 It was time for the tandem battles. Two practice sessions were held – one hour on Friday and one hour on Saturday.
The faster, less technical layout of the Palm Beach International Raceway FD course fueled an interesting discussion about what path pro drifting in the US has taken. There is a movement of people that feel like FD has become more of a drag race than a style competition of who can hold the deepest entries, the biggest angle and the sickest transitions. There are fans that feel that the traditional drifting judging criteria are secondary in today's FD competition – especially on certain tracks.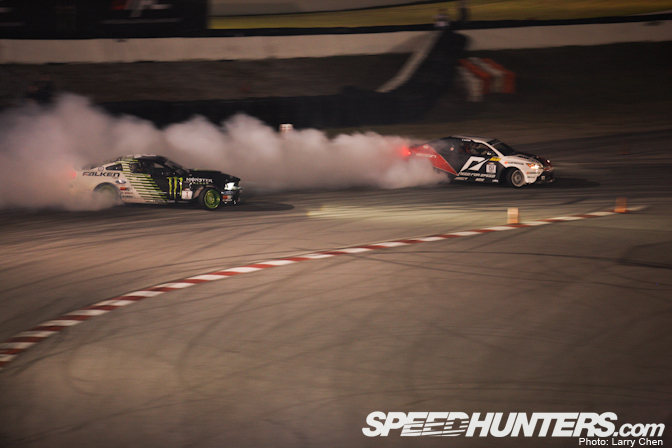 Voices are raised and it is argued that the key to getting a win in FD these days comes down to being able to make a gap throughout the course, and that this emphasis overshadows the other judging criteria.Feel free to get more insight from fans and input from some of the major players here.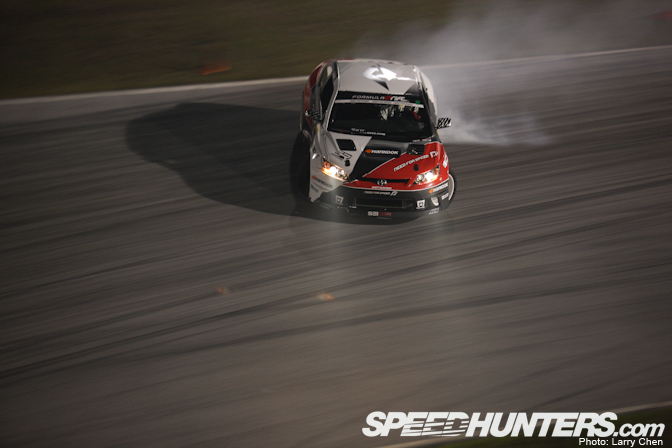 My opinion on all of this is that 1) This is just a sign of a sport becoming increasingly competitive. Teams will improve where they can, and as speed is one of the criteria that has a lot to do with the grip and dynamics of the car, the cars will only get faster and faster, making for a bigger gap between the top cars and the rest. I think we are seeing the machinery become more important as the series is become more competitive.
2) FD judges are addressing this by doing steps to increase the focus on style and angle by giving more points for top qualification spots and putting more emphasis on entries. As of 2010, the highest qualifier receives 12 championship points which definitely is a big deal in the championship series.
3) The wilder you get with your entries, your angle and your transitions, the higher risk you run of doing a mistake in addition to slowing you down.
In reality, I think it all comes down to what is actually impressive to watch. And personally, I think what I am watching in Formula Drift is very impressive.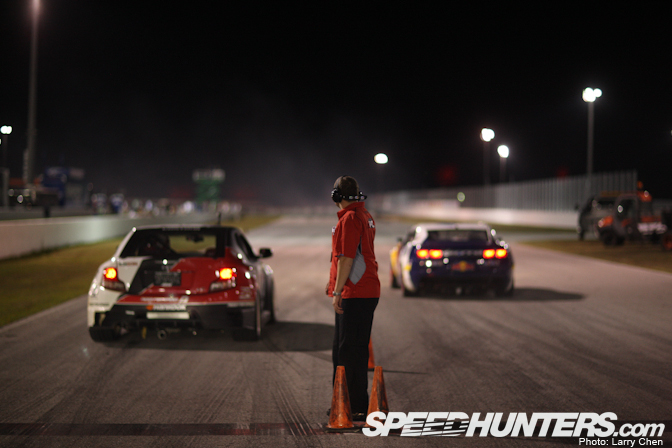 Could it be that a super fast entry followed by super hard braking and all four tires locked approaching the first turn, but not the craziest angle, looks more impressive than a backwards entry?
Could it be that a run with little angle and slow transitions that utilizes the full track and literally flies through the course faster than anyone else is more impressive than super hard transitions and a lot of angle?
Could it be that doing the same run over and over and over again is more impressive than going all out sometimes?
I don't know the answer as I do not judge FD, but as a driver I am driven to find out – and adapt. In my last blog I said that consistency is king in Formula Drift.
I just wish I could take note of it myself, and not just preach it!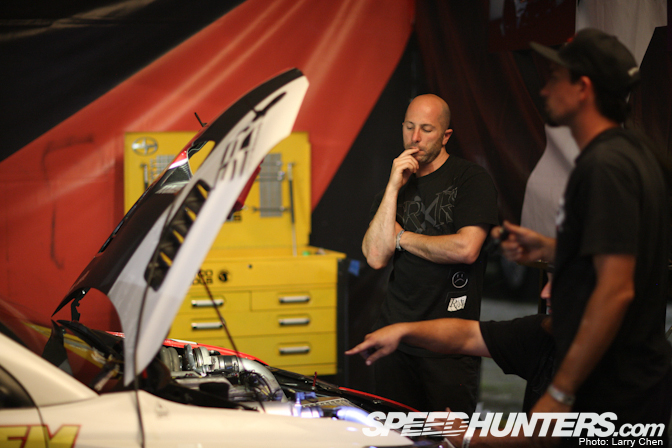 At this time, however, we had other concerns. The exhaust manifold was starting to crack again, but the welds of the intake manifold starting to crack as well which was more worrying.
Aldo pulled out the TIG yet again, with Steph managing the process and Shawn wrenching along. I really wanted to help, but I realize that at this point we are all better off with me focusing on the driving.
I went to the spotter tower to watch the practice session unfold with Steffen (Moy), as Stephan (P.) kept me posted on the progress in his usual, incredibly calm way.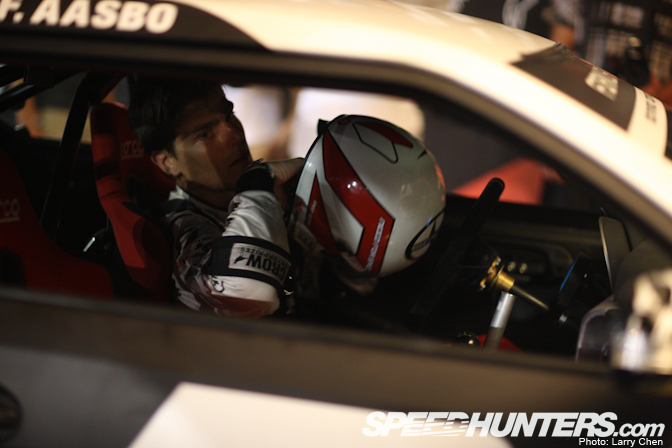 With half an hour left to go, we hit the track and managed to get a handful runs in. I shot for some chase runs to see if I could hold the line and not shoot in from the outer clipping point.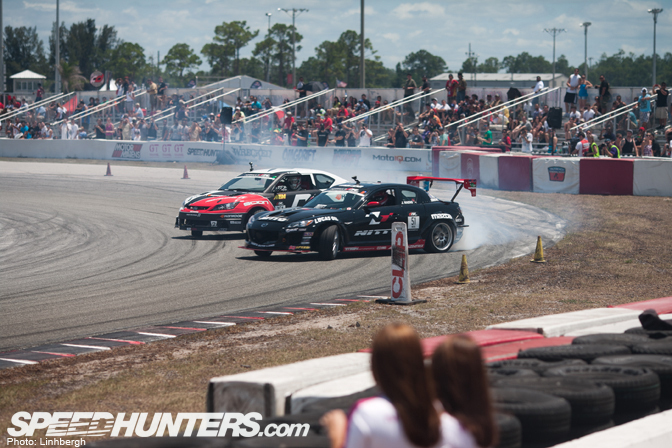 Then Saturday morning came around, and practice started off good! Unfortunately we had to cancel early yet again, as the motor started idling higher and higher due to a blown intake manifold gasket.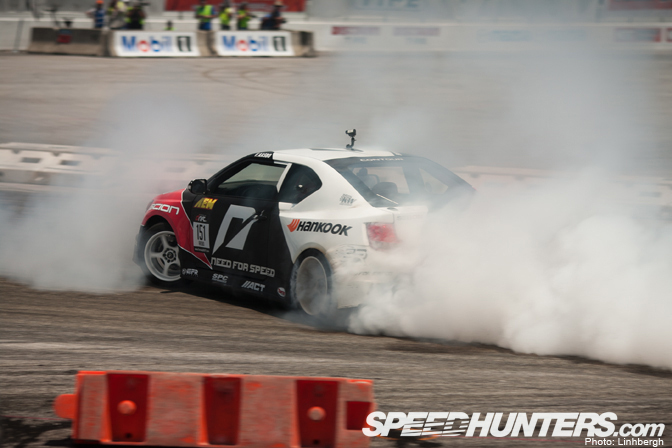 The team got me out there again incredibly fast, and a good half hour worth of practice was had.
Following our sixth place qualifying spot, I was to battle none other than Need for Speed team mate Matt Powers! We all had a funny vibe going on in the pits, as we all knew that one had to leave early, but at least an NFS driver would get to Top 16.
It was cannibalism at its worst. And best!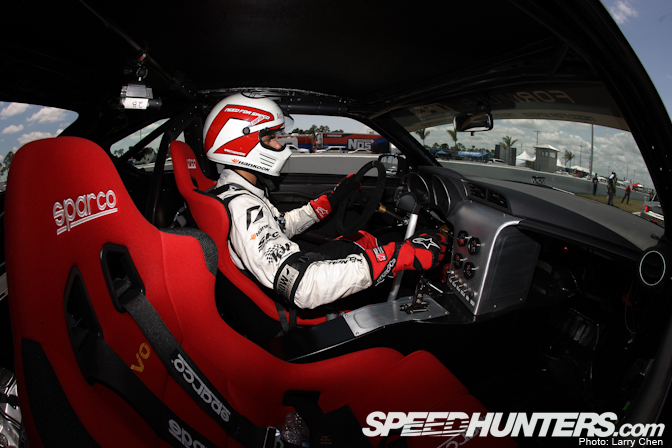 We had one of the last battles of the Top 32 ladder, and as we rolled up Steffen and I had agreed that I were to copy my second qualification run for my lead run, and mirror Matt as good as I could for my chase run.
And off we went. It was the first Team NFS Formula Drift Top 32 battle of the year.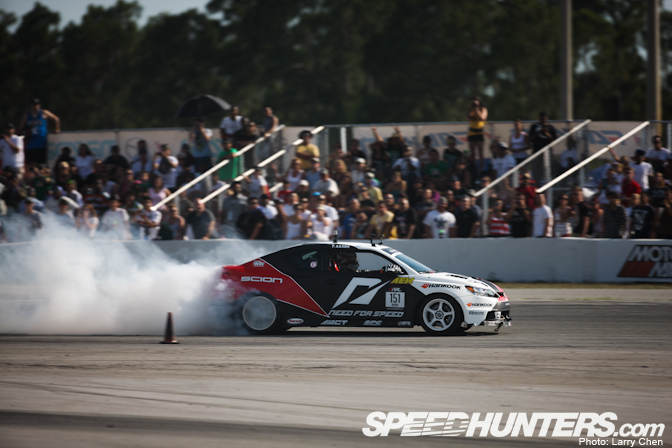 I went in deep…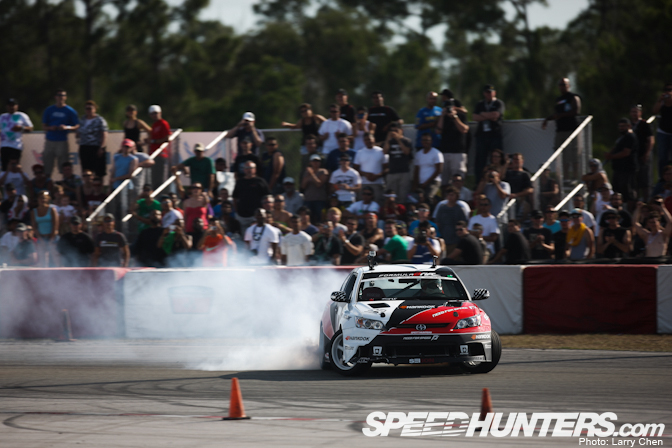 … transitioned for the outer clip…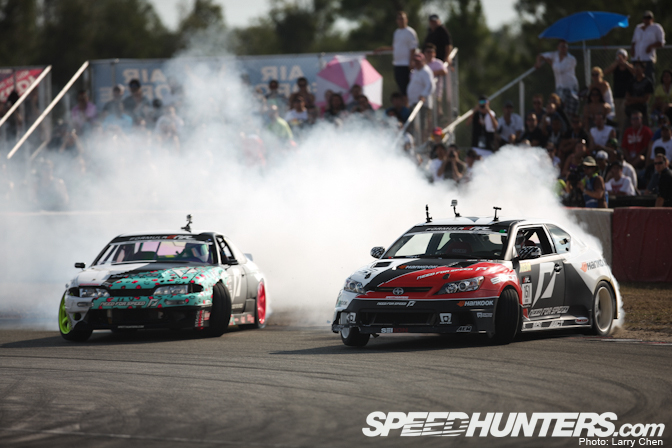 … and dropped a tire by overshooting the zone by a foot. Judges had specified that they did not want to see dirt drops.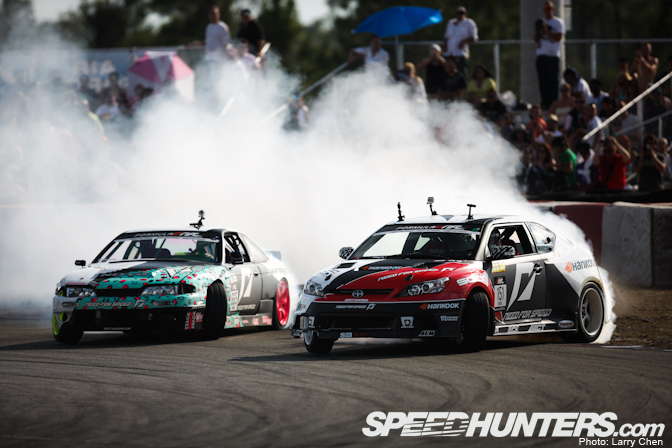 I shot out of the zone with guns a blazing.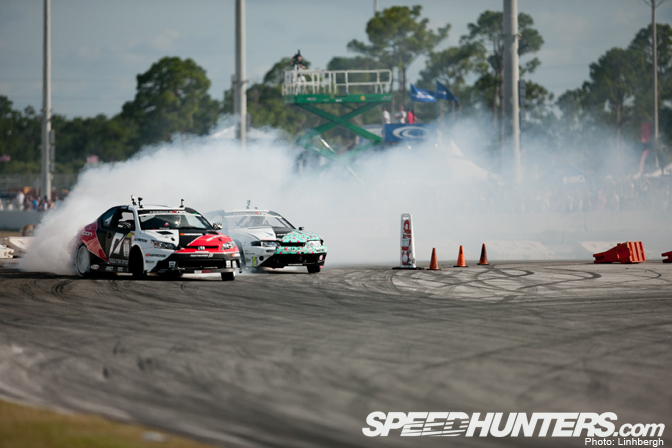 Matt showed off his strength by chasing close throughout the course. Less angle, but close proximity – a text book example.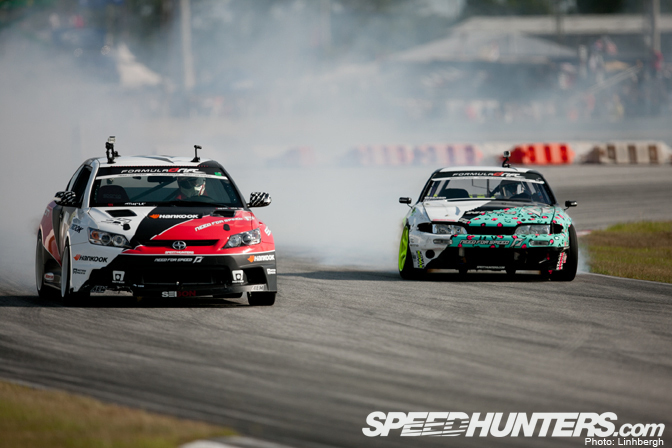 It was clear that Matt had the advantage, following the dirt drop and the fact that I overshot the first inner clip.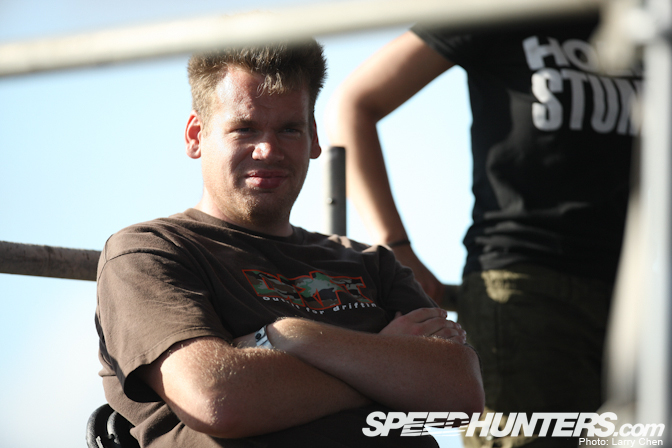 Something magical had to happen if we were to move on or get a OMT.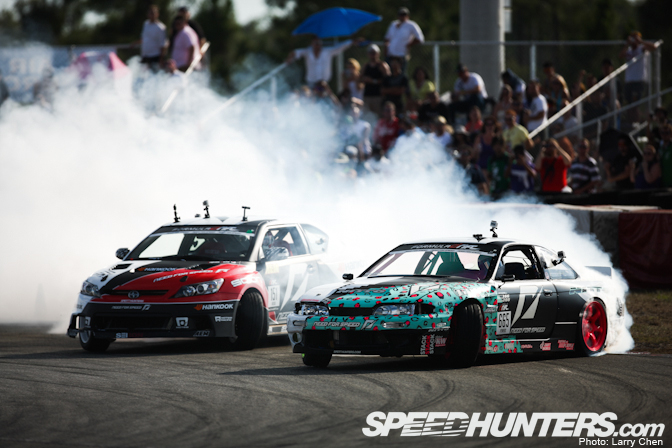 So I dug in there, holding back just that little bit to pull off a strong chase run. It was the best chase run I managed to put down that weekend, but was it enough?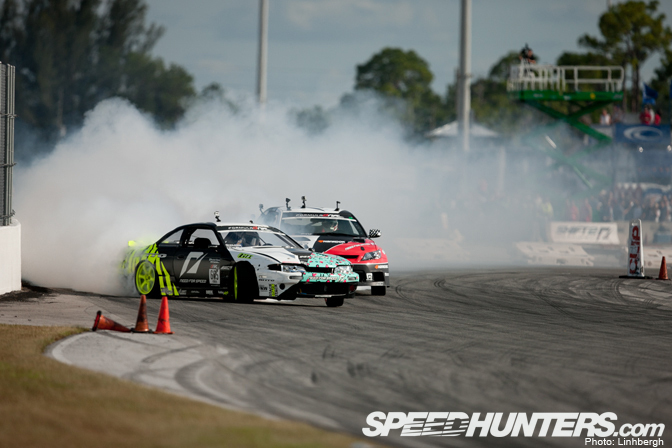 Isolated, I think the chase run would have yielded a slight advantage to us, but I didn't think it could make up for the mistake I did in my lead runs.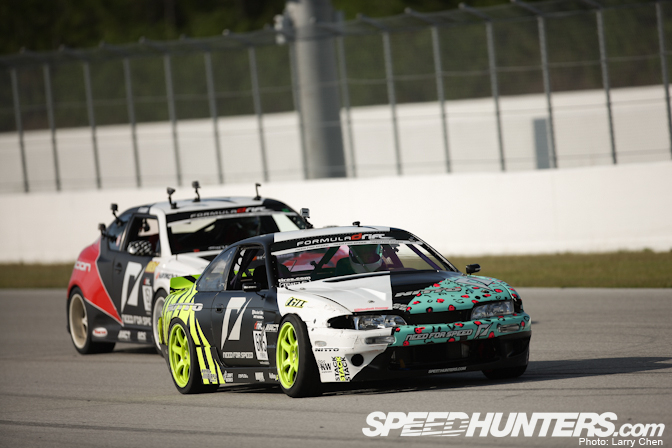 A lot of people told me we had one of the best battles of Top 32 and looking at the video I was very happy with my chase run. Feel free to check for yourself here.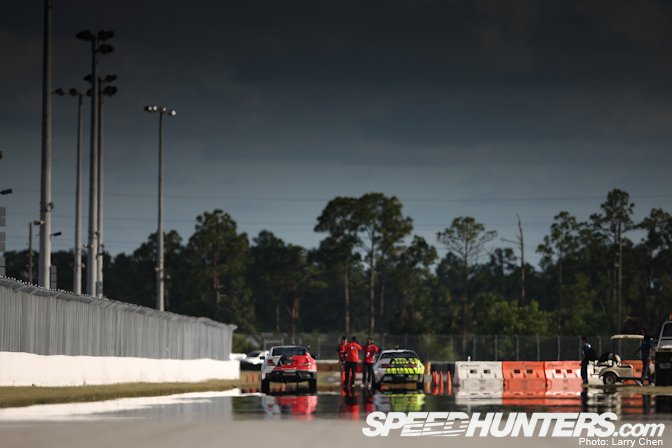 Matty Matt took the win after my mistakes in my lead run and moved on to Top 16.
I was the first to congratulate Matt on the win and I have to say it definitely went to the best driver.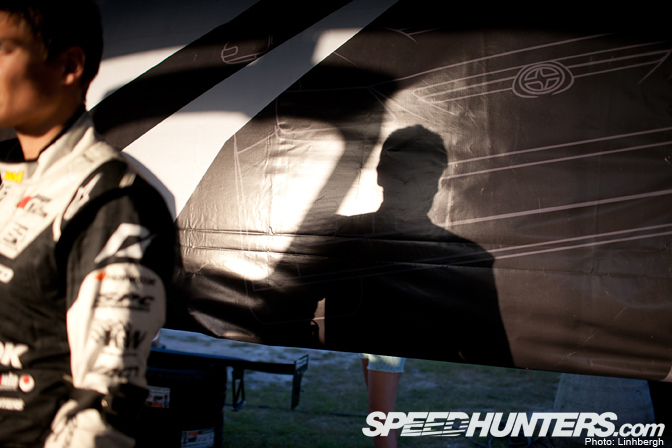 What kept returning in my head was that I really wanted to bring my A-game for the battles. I wanted to bring the best battle that I could, but failed in my lead as I overshot the entry and then the outer zone.
It's not about beating the other driver and not about winning as such, but it's about bringing out the best in you when it matters the most. I don't feel like I have been able to do so lately, and maybe the reason is that I have wanted to do well so much that I've pushed myself to errors and mistakes.
When I met Matt in Vancouver this February for Team Need for Speed's kick off, we had some time to chat about what we felt following the 2010 season, and what we felt for the season that we had ahead of us. I have a ton of respect for Matt and his approach.
He might look like a lightweight, but I think it is clear that this season proves he is not.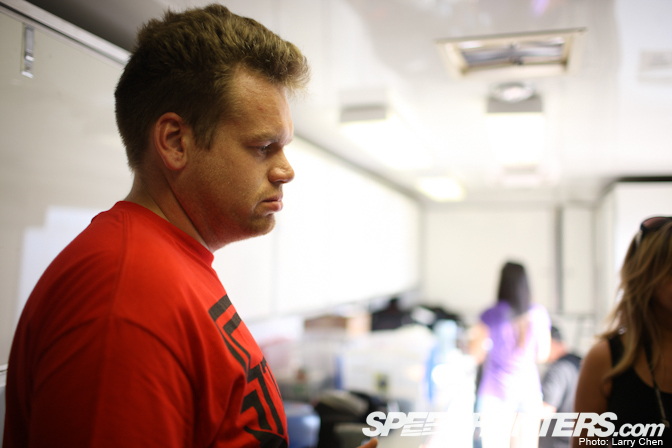 Poor Steffen was disappointed. He wants us to do well as much as me and we are so tight in this together.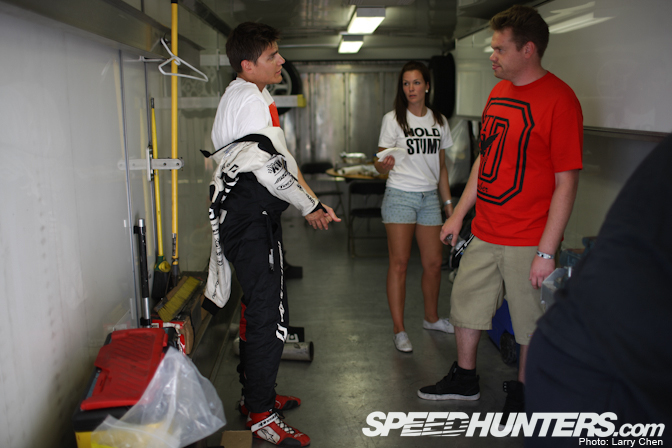 Wenche told me I have to do the dishes when I get home.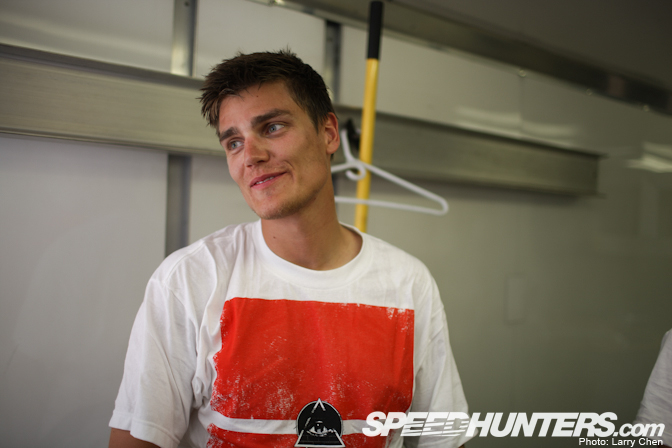 Unfortunately, I suddenly forgot how to do the dishes.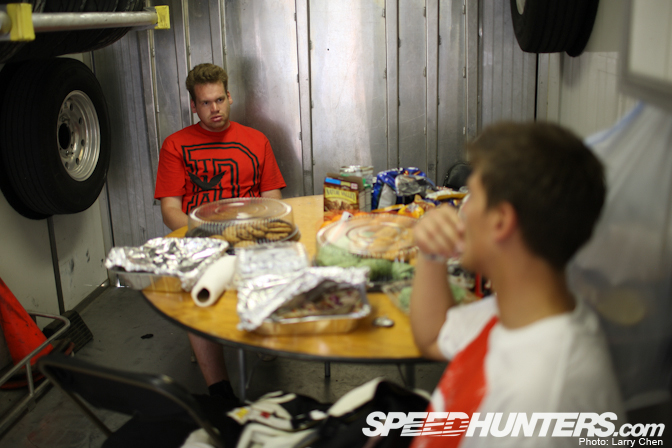 Steffen took all of Stephan's cookies.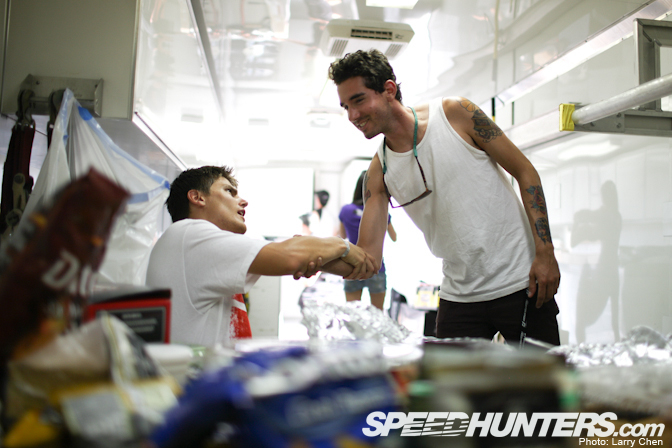 Tommy, Matt's spotter was very happy!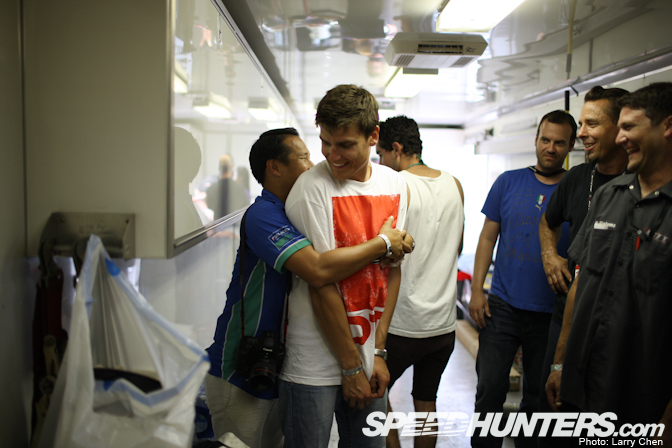 Then Linhbergh came around and gave me a good, long, awkward hug. Steffen went on to say he would unfriend all of Matt's crew on Facebook, including, but not limited to, Costa, Big Tom, Dave and Tommy. Haha!
On my end, I wondered if the 'gators would appreciate a little bit of "vegan meat".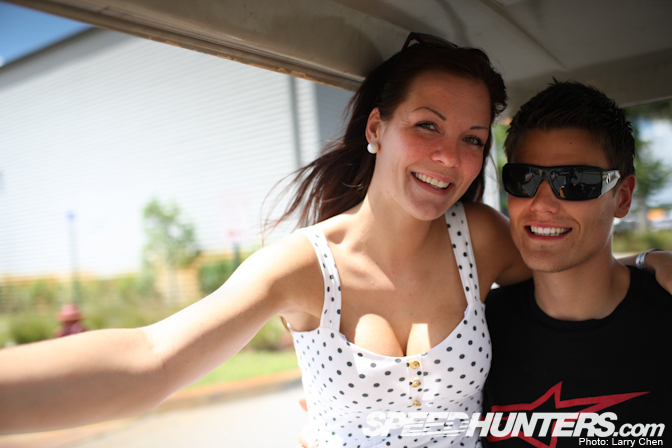 So, Wenche and I went to the pond behind the track to feed the alligators. Then, we cheered on Matt to his great Top 8 finish!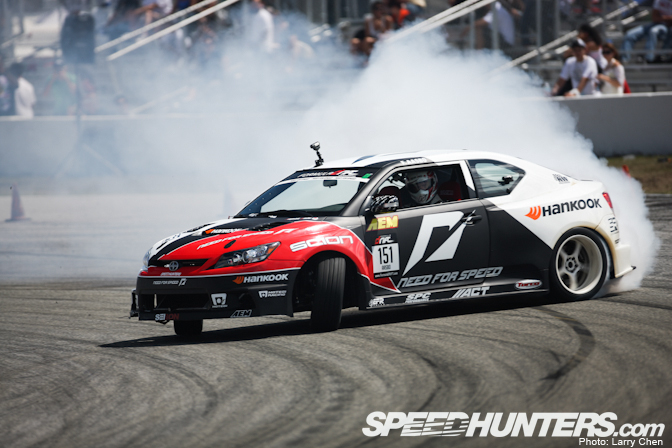 Later that night,  A certain Ian Stewart, who's ASD fleet had just swept the podium, saw me sitting on the hood of our rental staring out in the wild. He came by, looked at me, smiled and said: 'Freddie, your day will come'.
To me, that said it all. I can't believe how lucky I am to be a part of this drifting community.
A huge thanks go out to my sponsors and friends around the world, and to Larry, Linhbergh and Charles for their astounding photography.
Fredric