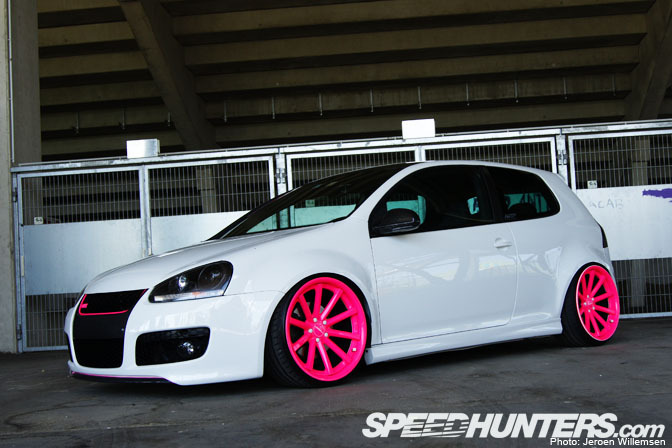 Like I mentioned in my first Wörthersee Tour story I arrived real early on the Monday before the event. I already knew that a friend had arrived on Saturday so when I got their I texted him saying I arrived. But because my hotel room wasn't finished I told him to meet me at the Shell gas station. I got there first and immediately pulled my camera out and started shooting.
One of the first cars I saw was this white on pink Golf from Austria. I got to talk to the owner, Benjamin Gemperli,  and said I really liked his car and wanted to shoot it for Speedhunters. He told me he had an appointment on that day with a certain Ronald, also for a shoot, and that I could tag along.
I thought to myself what a coincidence because my mate's name was also Ronald. Then he pulled out a business card and I recognized it as being my friend. It is a small world after all and it seems we both have the same taste in good cars.
At the red light this cyclist passed me and stopped right behind the Golf, I could almost hear him think and saying 'those damn hipsters!'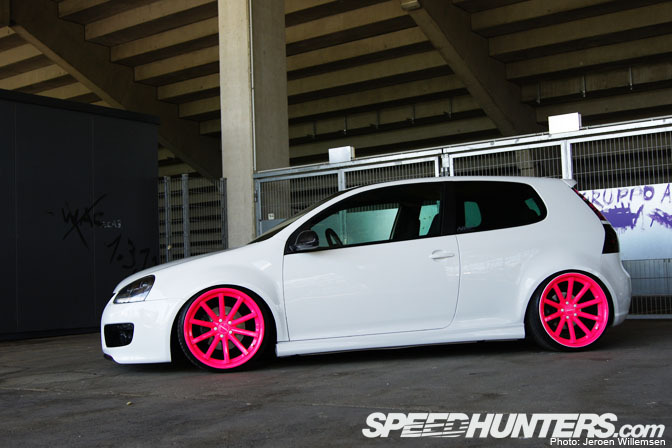 We arrived at a soccer stadium that was the perfect venue to shoot this car. Maybe some of you would look at this car and won't see what has been done besides the drop and wheels. But when you take a closer look and walk around the car a few times you begin to notice a lot of cool touches.
One major attraction are the wheels that I have never seen before on European shores. They are a set of Vossen CV1 painted in a custom pink color. Benjamin ordered the wheels first and actually built the car around it. To make them fit he widened the fenders 6cm in the front and 7cm in the back. He also enlarged the radius by 4cm in order to get the perfect fitment. He even had to shorten the drive shafts in the front to make the wheels fit. But there is no denying that the visual impact is immense.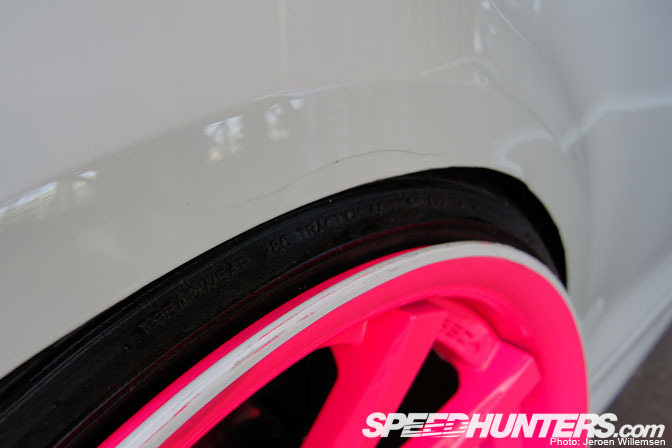 He did all that work because the car isn't on airbags; instead he had H&R build a custom system for his application. He's also replaced all of the bushes in the VW. In this photo you'll spot a little crack that developed after driving for so many miles. Pure dedication if you'd ask me.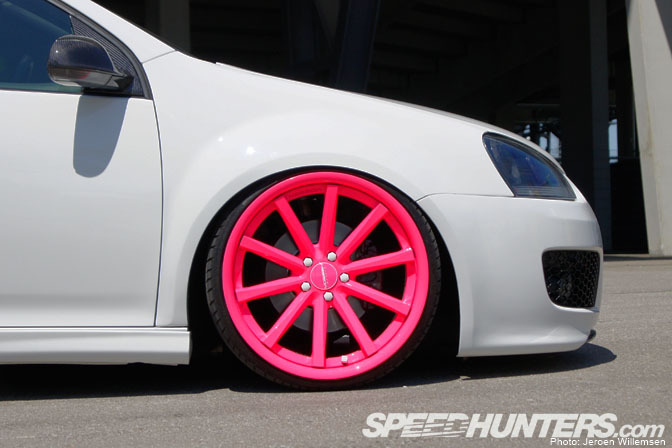 The Vossen CV1 wheels are 20×10.5-inch, with +30 at the front and +15 in the rear. They are wrapped with Hankook S1 265/25/20 tires.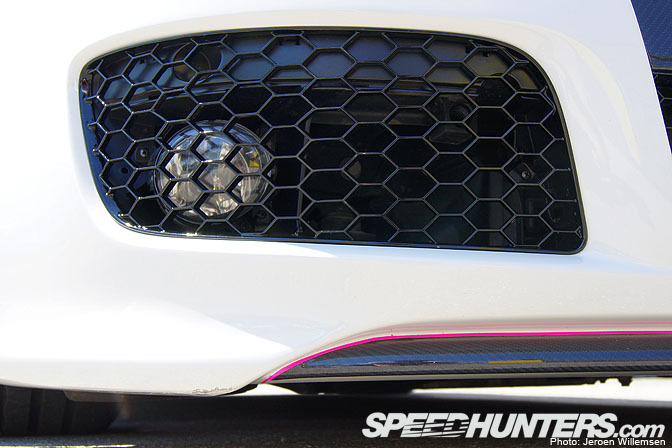 The front bumper came from a newer MKV GTI together with the carbon lip that came from a Edition 30 GTI. In the standard bumper you would see these lights integrated but BenJamin placed them behind the grill inserts. So he had to remake the inserts. It is something I haven't seen before but it really looks nice.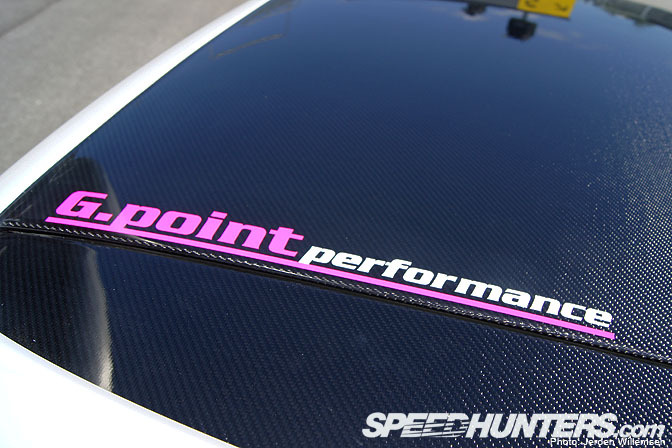 The guys responsible for building such a great machine: G-Point Performance. The roof has been made in carbon although this is purely for aesthetic reasons because it has been laid on top of the original roof.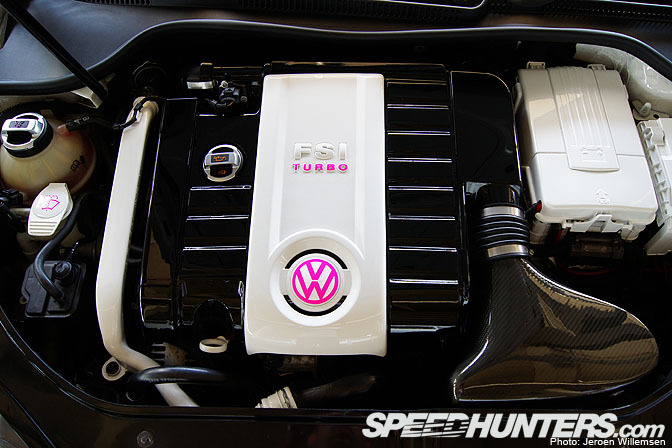 The GTI is powered by this 2 liter FSI turbo that has been chip tuned and exhales through a modified exhaust. The plastic cover has been painted black with some pink and white accents.
These supercool seats come from VW Motorsport and have a nice painted white back shell.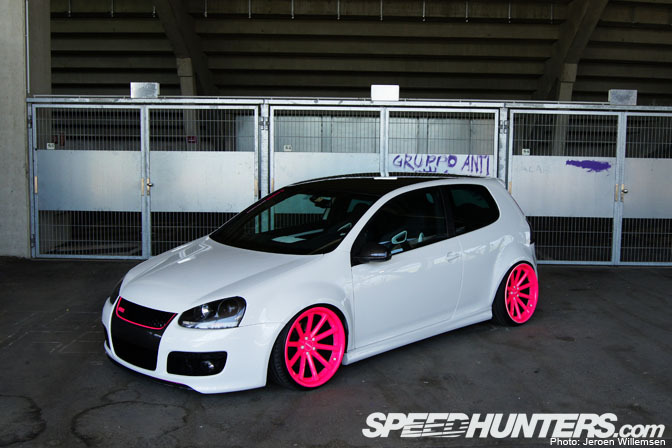 The car really stood out at the gas station – not like a sore thumb but more like a oasis of refreshment. There are still people that keep pushing the envelope and this car is a proud testament of that.
– Jeroen Willemsen