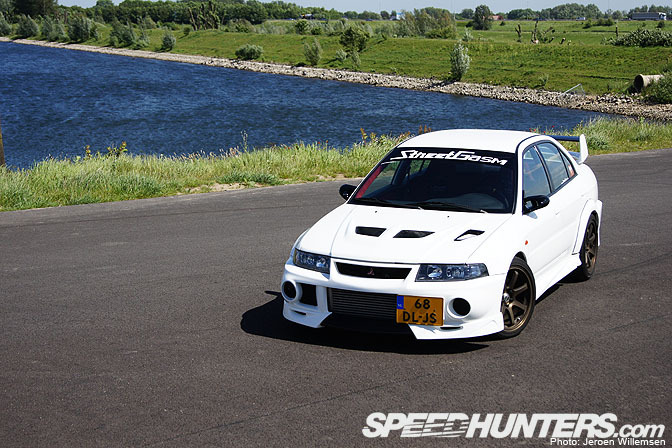 After I got an email from 'Maus' the head honcho at the Streetgasm club in Holland I arranged a meeting to see what they had to offer. Maus now drives a EVO X after he sold this EVO VI to a good friend of his. I'll have a feature on the X later on but first I'll feature this EVO VI that belongs to Tom.
While searching for a cool spot to shoot the car we started in an underground parking garage, but the lighting was terrible so we quickly went looking for another spot. In the end we found this place at the end of a small industrial park.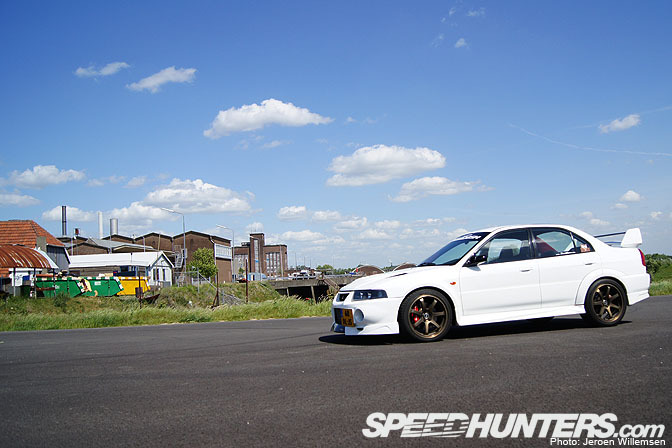 The EVO VI is a timeless piece of automotive history. I really love this car for its rawness and uncompromising looks.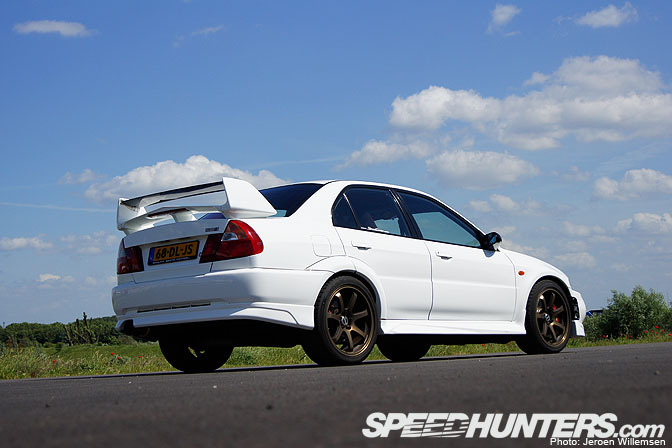 The car looks surprisingly fresh after all these years. It is apparent that the owner has taken good care of the car and still is for that matter.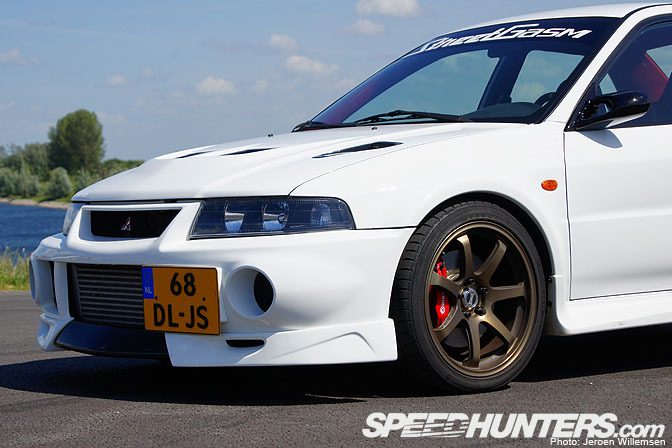 The front bumper received a new splitter to accentuate the aggressive lines.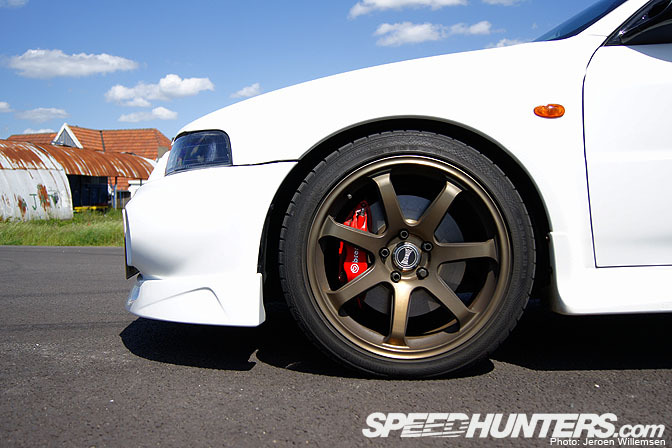 These wheels, in a nice bronze finish, are made by Ultralite and come in 18". Behind them are the standard red Brembo calipers but they are fitted with newer carbon brake pads.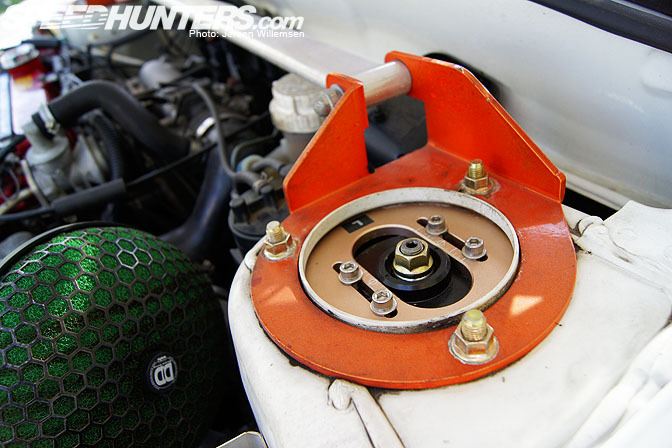 To get the car a bit stiffer and better handling a the owner called upon Proflex and had them deliver their Rally Suspension System. Other handling items include the Summit strut bar and Powerflex urethane bushings.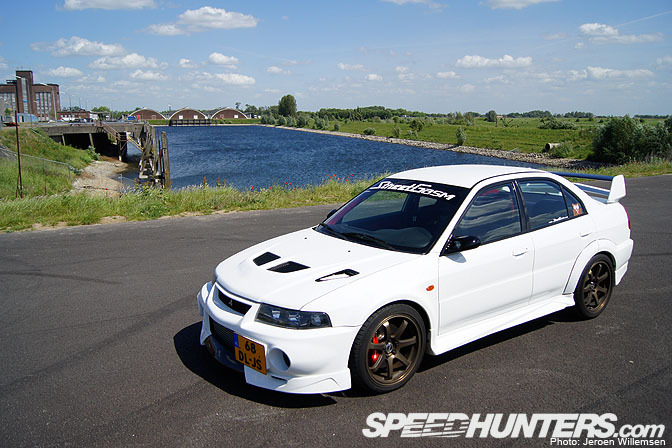 The hood of the car got a nice little extra in the form of the Ralliart air scoop.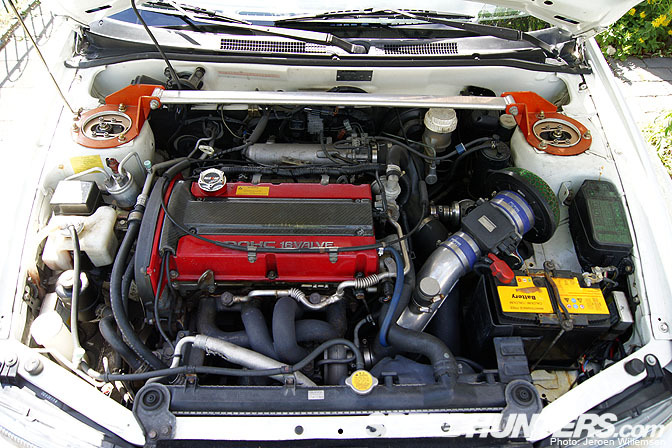 One of the most famous engines in the world besides the 2JZ and the RB26 is this 4G63 found in many versions of the Lancer EVO. The engine has been upgraded with parts from HKS, GReddy and Invidia. It might not be the cleanest of bays but it gets used on a daily basis.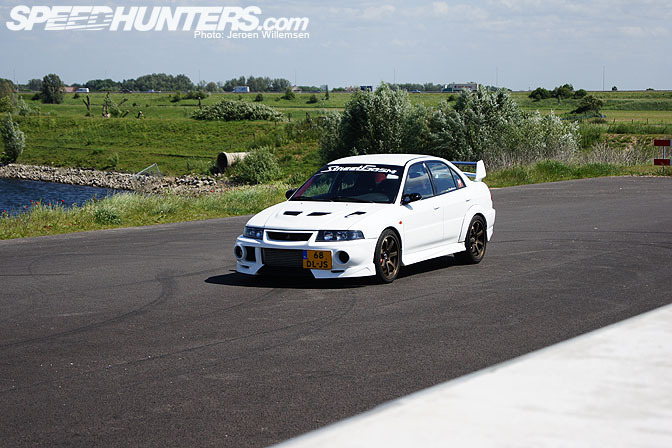 While shooting the car I tried several angles. When shooting this photo I was almost blown away by the heavy wind while standing on a ridge.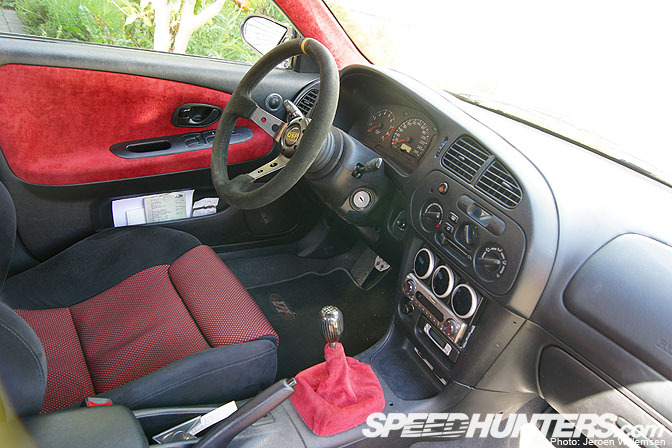 Inside the interior we can find all the creature comforts and some extras like the wheel and gauges.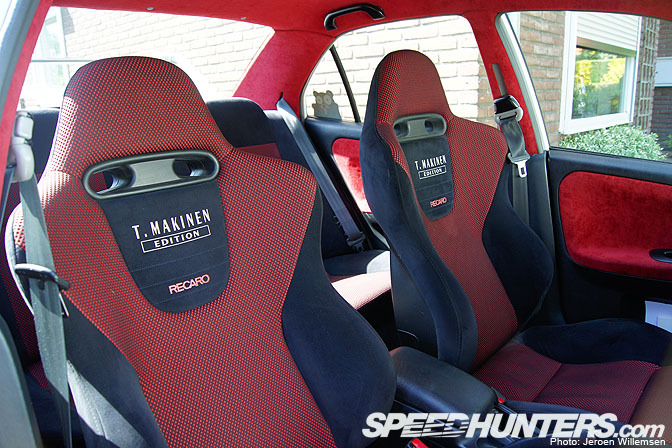 The iconic Tommi Makinen Edition seats by Recaro. The rest of the interior has been color matched with red fabric.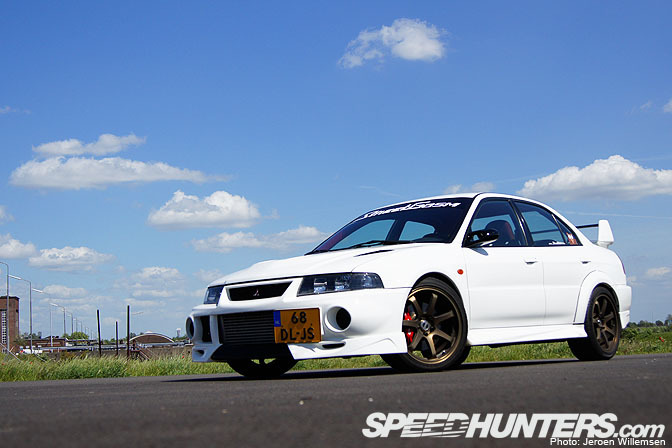 Now I'm off to get ready for the 24hrs Nürburgring race. I just heard from the Speedhunters team that it's pretty wet, so I'll be definitely bringing my raincoat with me! 
Exterior:
-Ralliart Extreme Splitter
-Ralliart Extreme Sideskirts
-Ralliart airscoop
-Custom made One piece headlights (with xenon )
-Ganador mirrors
Interieur/ICE:
-Original Recaro Tommi Makinen interior
-SLM turbo pressure meter
-SLM oil pressure meter
-SLM oil temperature meter
-Pioneer Headunit
-Rockford Fosgate audio system
-QSP Deep dish steering wheel
-Carbon shift knob
Motor:
-Ralliart Package
-Ralliart fuel pump
-Ralliart ECU
-Ralliart Clutch Kit
-HKS Hi-Power RS Suction Kit
-HKS SSQV Blow-off valve
-HKS Type 1 turbo-Timer
-Invidia manifold
-Invidia o2 Housing
-DC Sports open exhaust system
-Magnecore Spark plug cable set
-Greddy intercooler
-Greddy Piping
Suspension/handling:
Proflex Rally suspension system
High Performance Carbon brake pads
Summit strutbar front & back
Powerflex urethane bushings
Ultralite Atec Bronze 18'' wheels
Blue light weight lug nuts
-Jeroen Willemsen