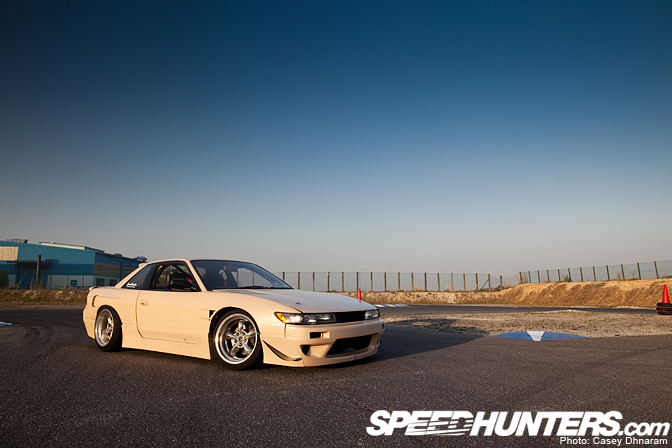 As a car enthusiast, I've always thought that throughout our younger years we grow up having cars in the back of our minds; cars that we will hopefully get to experience one day in real life. Perhaps that applies to you as well.For me, as a teenager I was always into modified cars but not your typical sports cars like Ferraris and Lamborghinis. Of course I still love them, but my soft spot was definitely the grassroots styled cars across the Pacific Ocean on a group of islands called Japan. Over the years, there have been thousands of cars and drivers that I've poured over in videos and magazines. One car and one person I've always been glued to is an Australian fellow by the name of Jesse Streeter who moved to Japan in the early 2000s and is still currently located there.
It was great to meet Jesse at the Wreck `Em drift day held at Meihan a few weeks ago…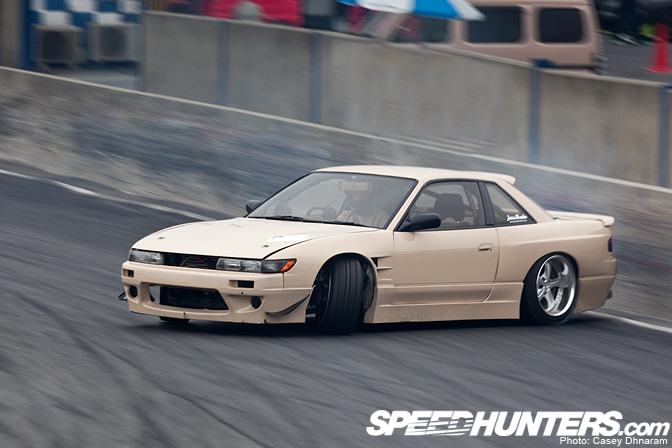 …And seeing him throw some strong entries against the not-so-forgiving wall at Meihan all day long.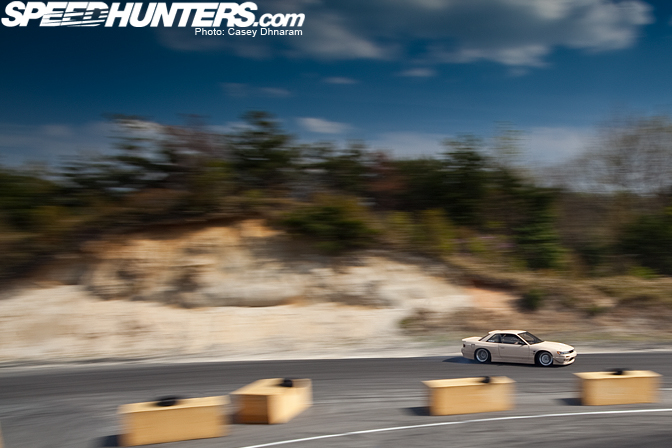 While many people are drawn to the big-dollar pro builds, I find myself always attracted to grassroots drift cars such as Jesse's Silvia.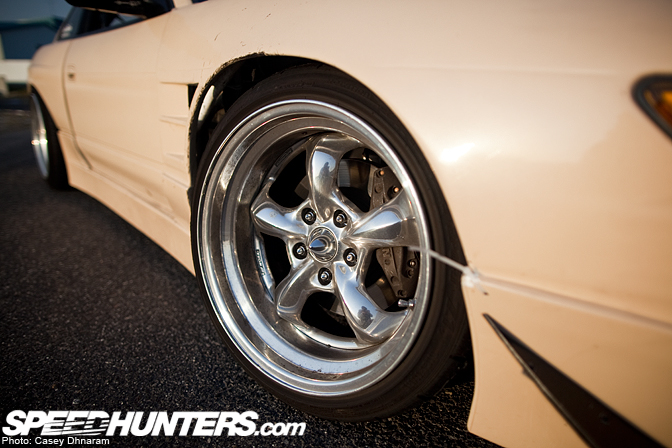 So let's see what's underneath the beige chassis and what makes this car so special.
Up front are the 17x9J Work Goocar Hemis with an offset of +0. The steer tyres have been wrapped in 215/40/17 Dunlop Dirrezzas. In terms of brakes, the fronts calipers are from an R33 Skyline GTS-t with C34 5-hubs. On the rears are slotted rotors with stock PS13 calipers.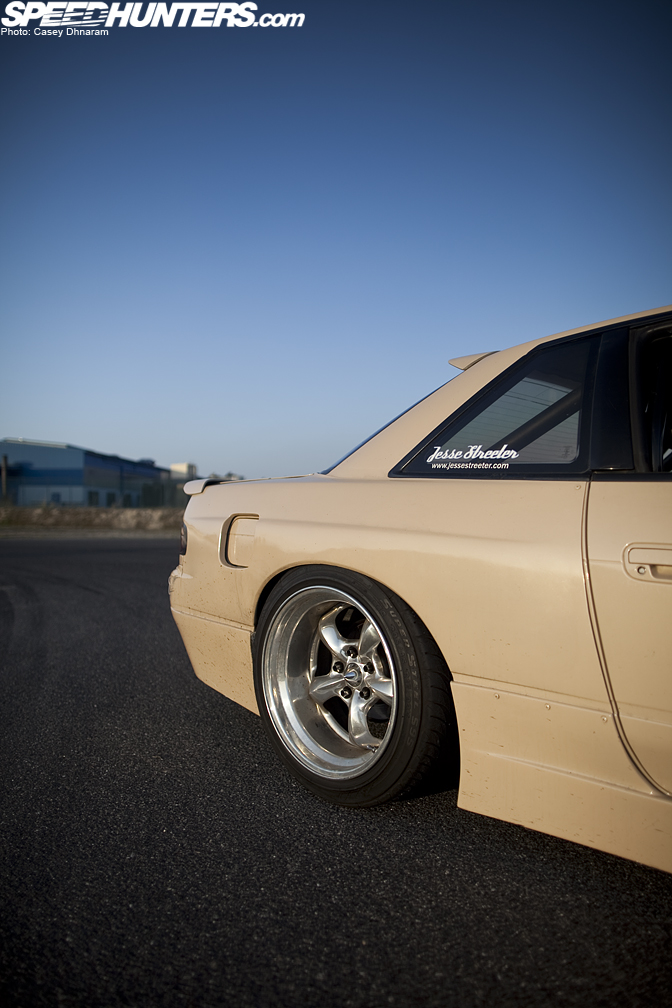 Moving onto the rear, slightly larger wheels have been fitted that fill in that large widebody space. Once again, Work Goocar Hemis are fitted, albeit in a larger 17×10 -22 running Federal 595 SS tires.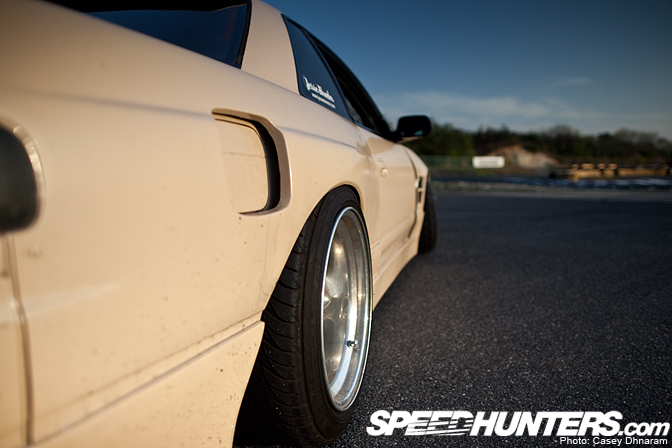 10-inch wide rims with a -22 offset did a good job of filling out the Origin 55mm over fenders.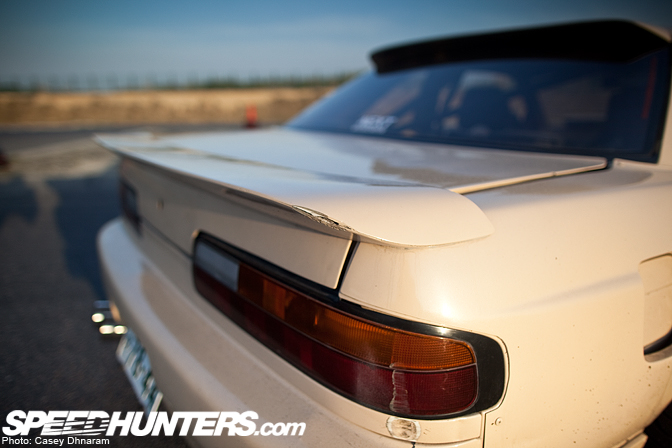 This being Jesse's second PS13 chassis it's in quite good condition apart from a few scars here and there. What makes the car flow so well is the amount of small aero accessories placed everywhere, for instance the D-MAX roof and trunk spoilers.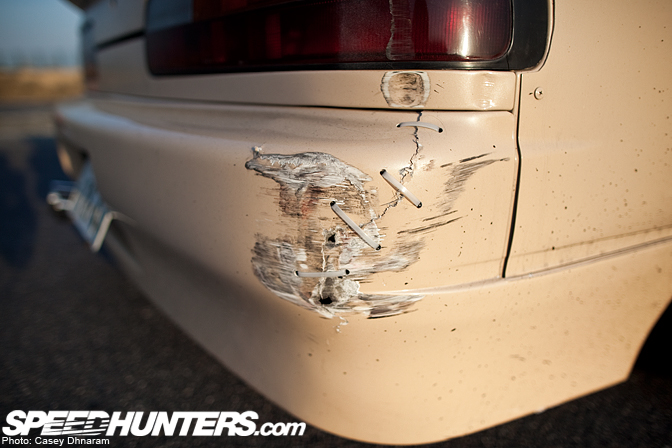 The car is sporting full TRA Kyoto aero, if you're not familiar with this I'm sure one click and you will know what I'm talking about. Maybe 666 or RocketBunny might ring a bell. Of course battle scars can always be fixed with a few zipties.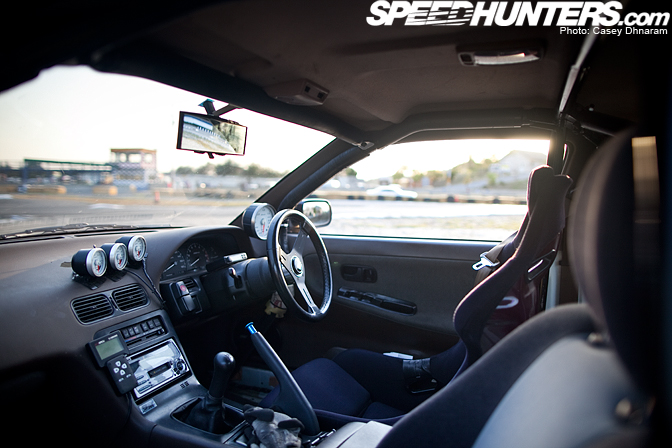 The interior is very clean and efficient. It's simplicity is made up of a few things such as a 330mm Nardi steering wheel, handbrake button, a 6 point roll cage and a set of Defi boost, oil and water gauges…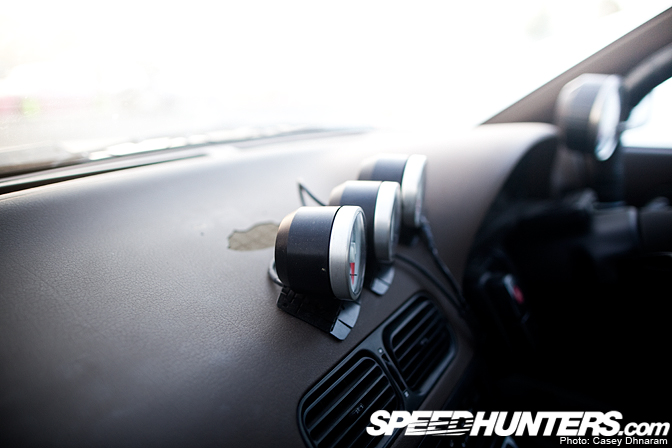 …Which have been mounted on the PS13's dash easily viewable from the driver's seat…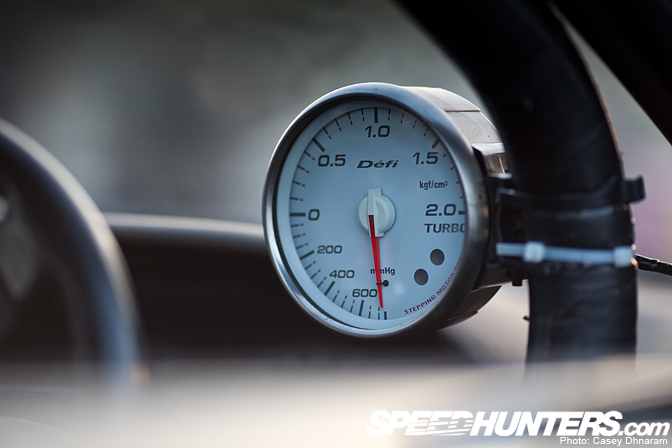 …Not forgetting the boost gauge located on the roll cage on the driver's side.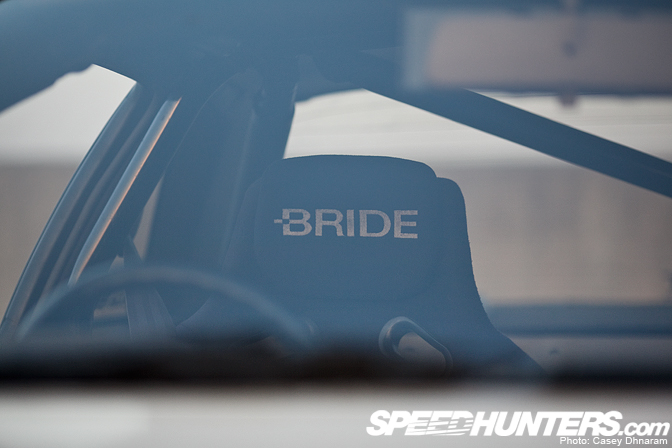 Each time Jesse steps into his office he is seated in a secure position thanks to a Bride Zeta II bucket seat.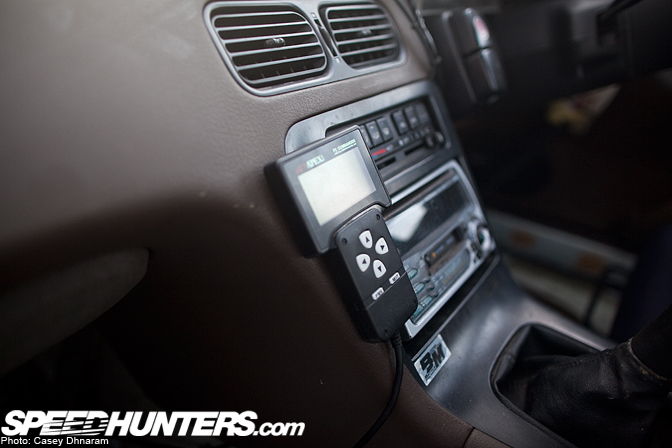 The SR20DET's management comes courtesy of A'PEXi, with the Power FC hand controller mounted on the dash.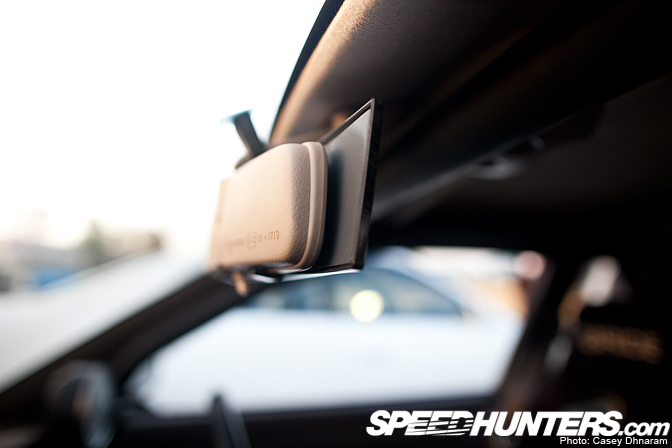 Just like most cars in Japan, Jesse is a fan of the ubiquitous wide Broadway mirrors just to get a better angle of who is riding up against his door.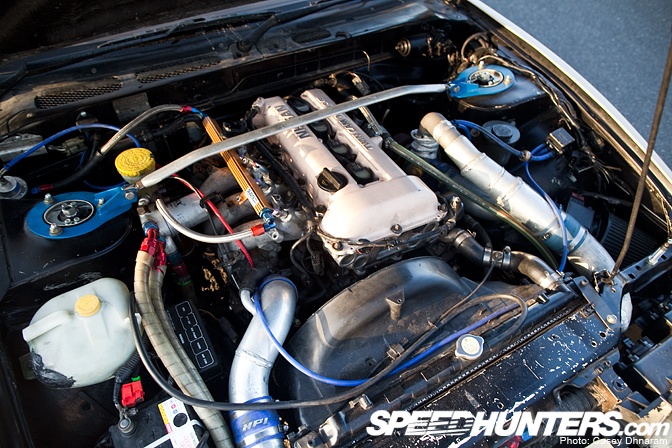 Moving into the heart of this S-chassis we have a SR20DET running a low mount TRUST TD-06 20G pushing 1.4kg/cm of boost. 272 degree Ex and In cams have been installed as well as rocker arm stoppers.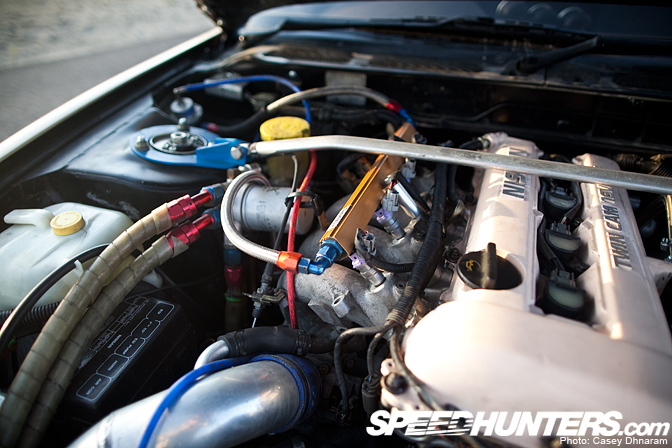 A Cusco oil catch can, twin core radiator and HPI upside down mounted intercooler have also been fitted.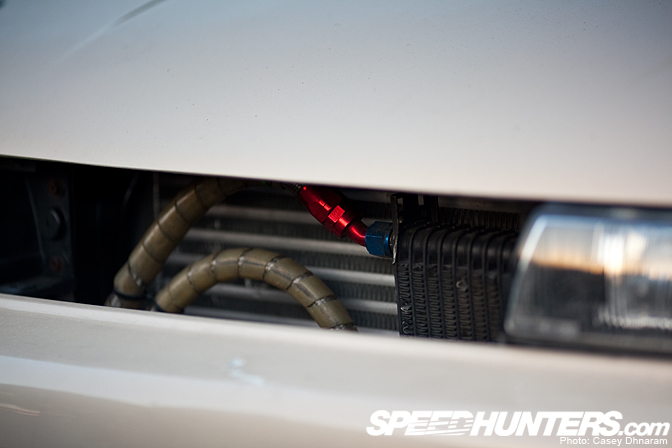 Peek between the headlights and you'll spot the HKS Type R oil cooler.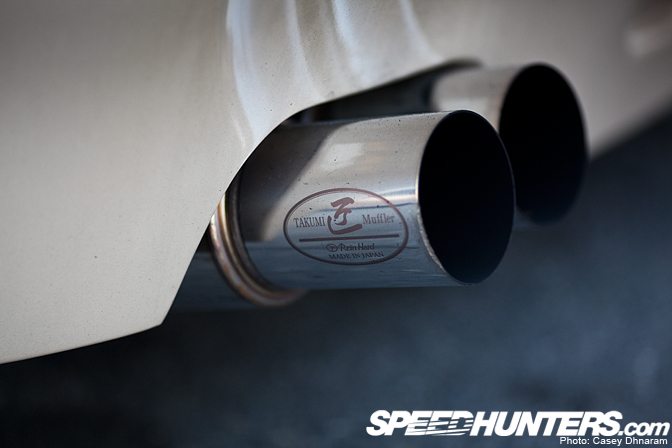 The SR20DET has had a full exhaust upgrade from the stainless exhaust manifold through to the Takumi muffler which gives the 2.0 litre a loud raspy note to it. A three-puck clutch and lightened flywheel definitely get every bit of power to the rear wheels. The rear differential has also been upgraded to an ATS 2-way.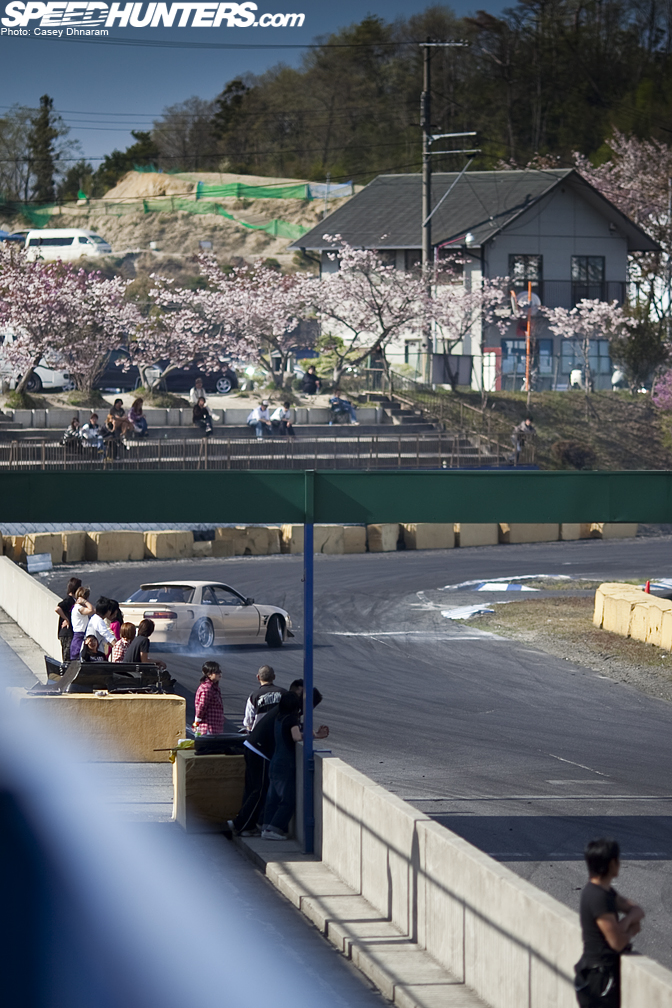 In terms of footwork, Jesse's opted for a set of of Silkroad RMA8 coilovers running 8kg/mm in the front and 6kg/mm in the rear.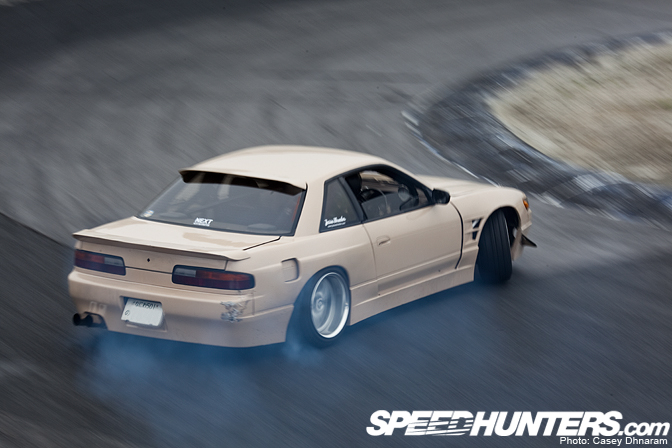 The standard LCAs have been taken over by a pair of S14 ones along with Uras tension rods and 326 Power knuckles, which allow Jesse to throw down the big entries.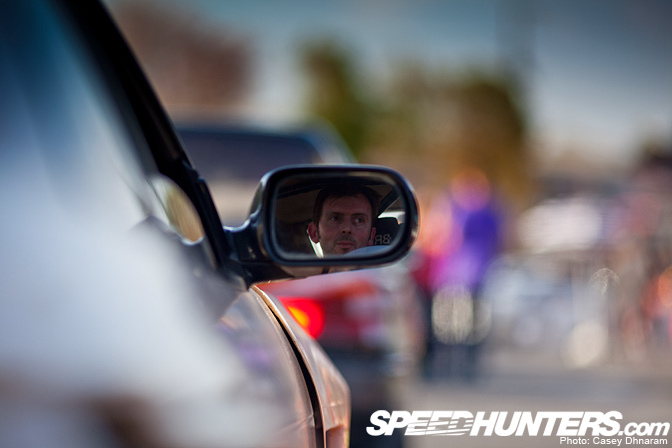 It was great to meet Jesse Streeter, the man behind this creation. I'm sure many of us appreciate the time and effort you've put into your Silvia.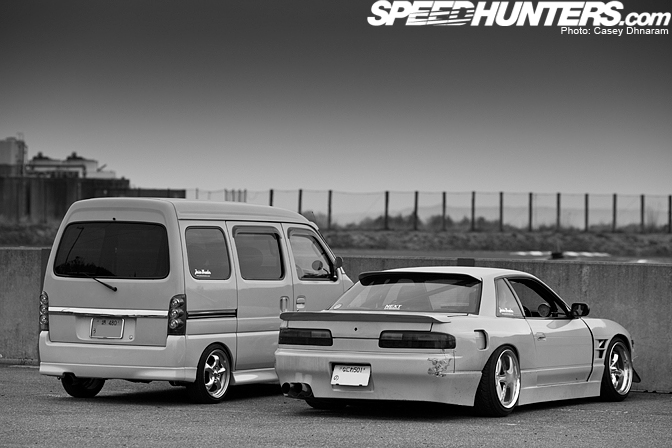 I will leave you with this one final image of his PS13 next to his Suzuki Every Kei van fitted with a DAMD Locoboy Type II body-kit and Work Goo Hemi wheels that match his drift car.
-Casey Dhnaram
Exterior:
- Square (non projector) headlights
- TRA Kyoto Aero (front/side/rear)
- No brand 25mm front fenders
- FRP trunk lid
- D-MAX roof and trunk spoilers
Interior:
- 6 Point bolt in rollcage
- 330mm Nardi steering wheel
- Zetall Bride bucket seat
- Hand brake button
- Defi 115mm boost gauge
- Defi oil pressure gauge
- Defi oil temperature gauge
- Defi water temperature gauge
Mechanical:
- SR20DET
- Trust TD-06 20G (1.0 – 1.4kg/cm boost)
- Stainless exhaust manifold
- 272 degree Ex and In camshafts
- Rocker Arm Stopper kit
- Z32 air flow meter
- Sard 800cc injectors
- A'PEXi Power FC
- 2 core radiator
- HKS Type R oil cooler kit
- Cusco oil catch can
- GT-R fuel pump
- HPI upside down mounted intercooler 
- Standard Nissan 5 speed manual transmission
- ATS 2-way LSD
- 3 puck clutch
- Lightened flywheel
Suspension, Brakes & Wheels:
- 2x 17×11 -8 Work VSKF with 235/4517 Federal 595 SS
- 2x 17×10 -22 Work Goocar Hemi with 235/40/17 Federal 595 SS
- 2x 17×9 +0 Work Goocar Hemi with 215/40/17 Dunlop Dirrezza
- Slotted stock S13 rear rotors with stock S13 callipers & pads
- R33 Skyline GTS25t front brakes with C34-5 stud hubs
- Silkroad RMA8 coilovers 8/6kg rates
- Uras tension rods
- S14 Silvia front lower control arms
- Cusco rear upper control arms
- 326 Power special knuckles
- HICAS lock system