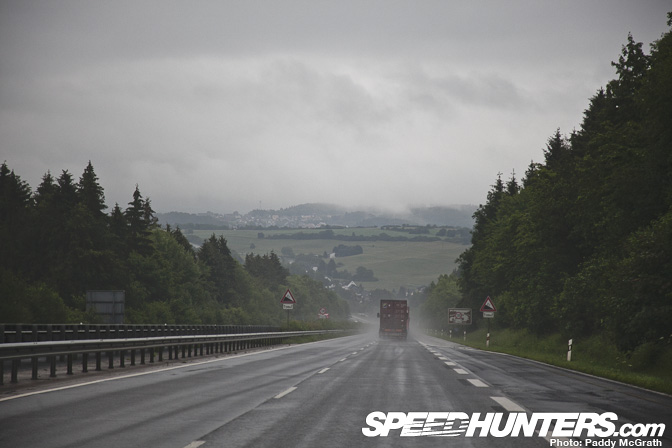 To be fair, I can't say we didn't see it coming. An ever so brief spell of sunshine this morning was our only glimmer of the big yellow chicken in the sky. From pretty much the moment we set off from our hotel to the track, the skies continued to darken and darken.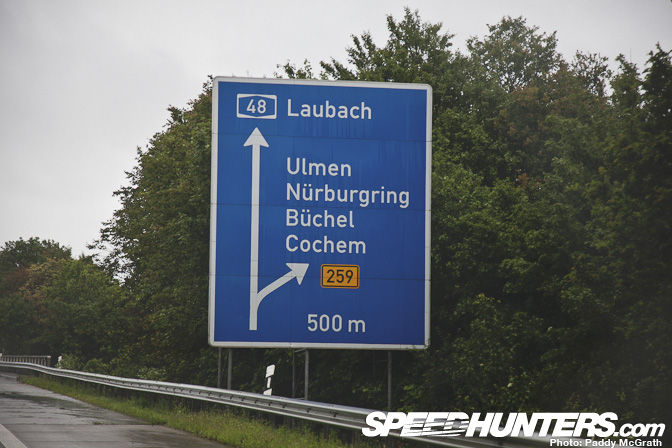 If you're just joining our coverage (and mostly wondering what in the name of God is he talking about), a strong contingent of Speedhunters are gathering at the mecca of all that is motorsport – the Nuburgring Nordschliefe – for what is surely the toughest twenty four motor race on the planet.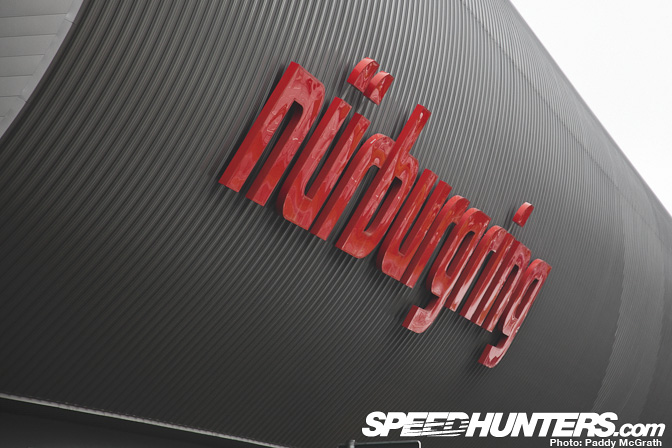 Arriving at the Nurburgring is always a special moment. Although the once subdued nature of the circuit has been replaced by a vast resort-like appearance, a development that has put this hallowed ground at risk, but that story is for another day …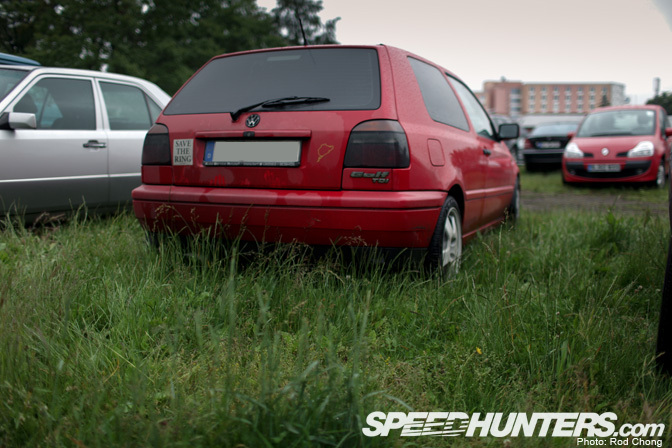 … although there are constant reminders of the struggle to save the ring all around the area.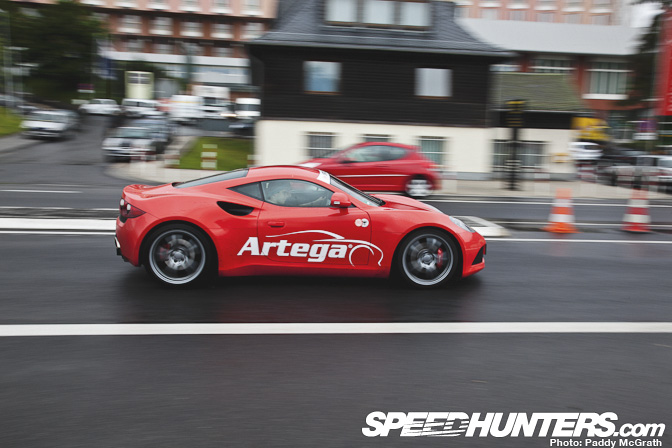 The main road outside the circuit is a perfect place to watch the world pass by. I think this is the first time I've seen an Artega in the flesh and I've got to admit, I was pleasantly surprised.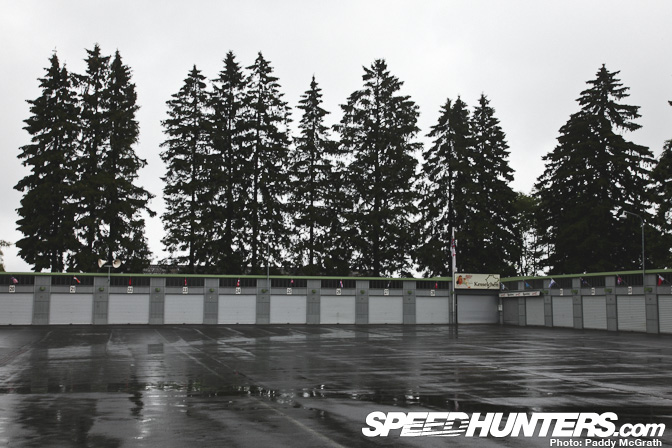 The original paddock still stands proud on the outside of the circuit. This is probably as quiet as it will get all weekend.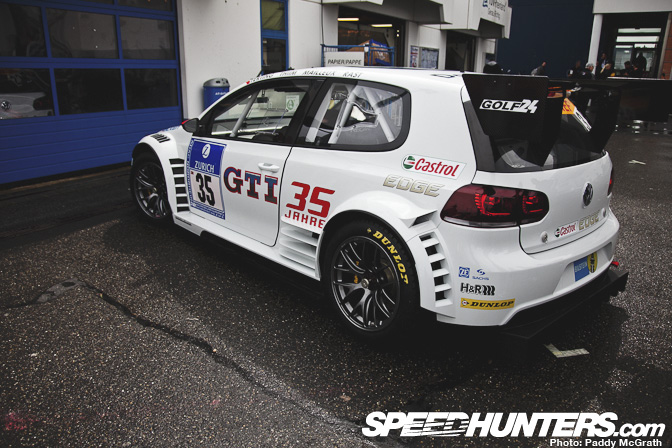 Arriving just before noon today, the paddock was a hive of rather relaxed activity as the cars were brought through scrutineering. Both Rod and myself are quite fond of the aggressive styling of the Golfs competing, what do you think?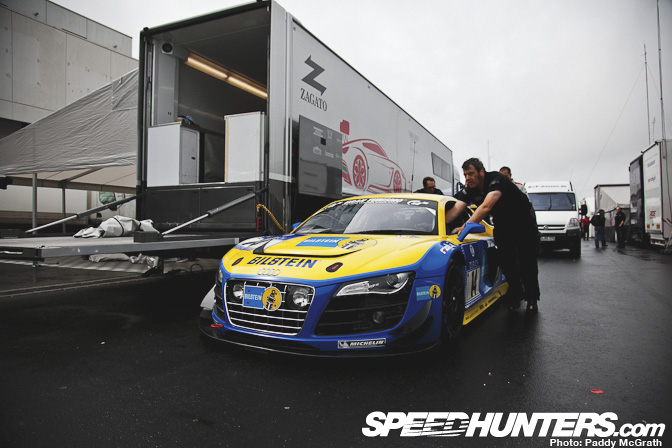 There were plenty of familiar faces floating about …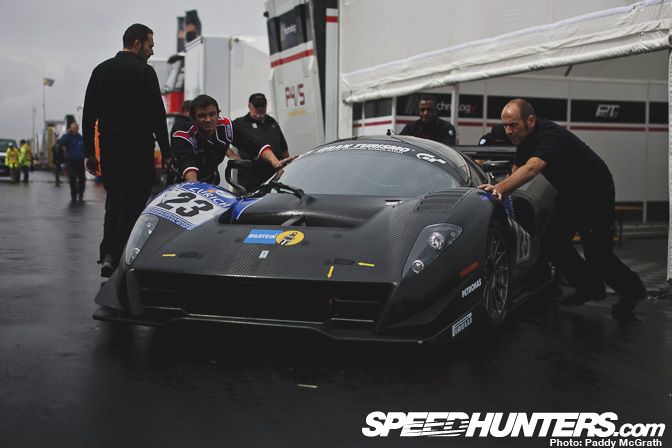 …Along with some which may not be so familiar. There is no doubt that there will be a lot of eyes on the Ferrari P4/5, a privately developed car by James Glickenhaus, as it has a lot to live up to.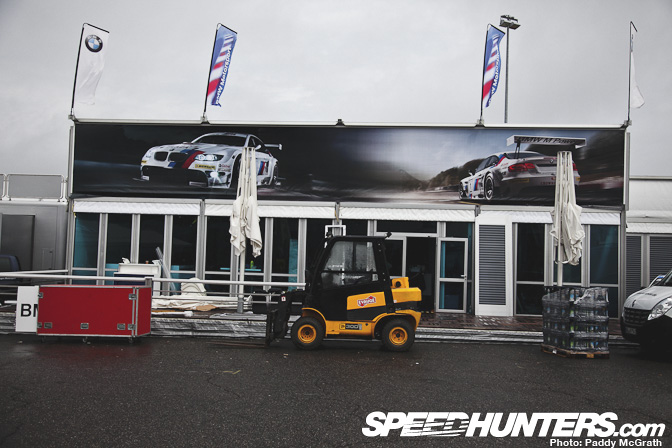 It's still early days here at the Nurburgring, with most teams and manufacturers still assembling their lounges and VIP areas.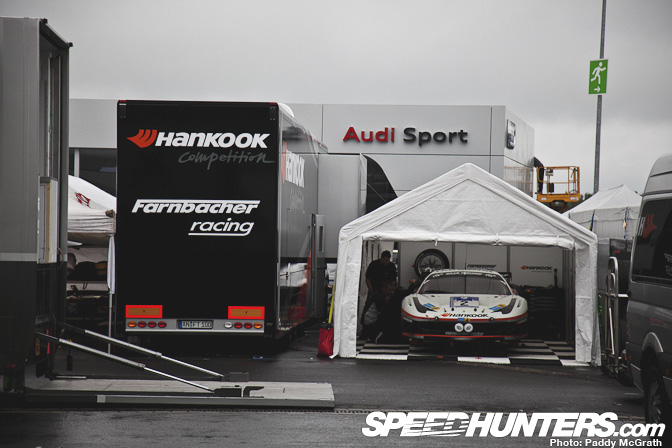 The Farnbacher Racing 458 Italia is another car we will be closely following throughout the course of the event.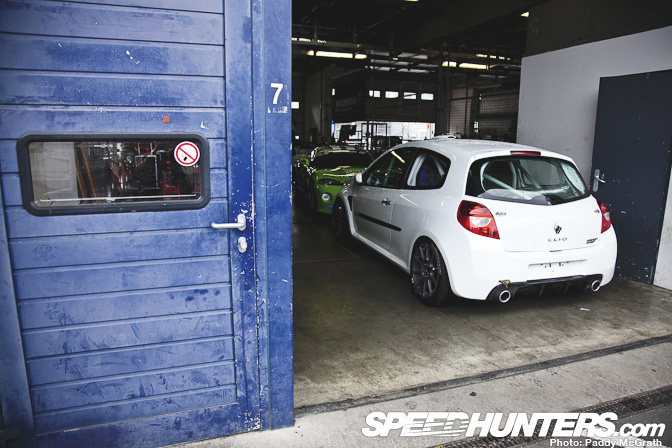 Each pit garage will need to share space with up to seven other cars. As you can imagine, things will be quite hectic once everything kicks off tomorrow.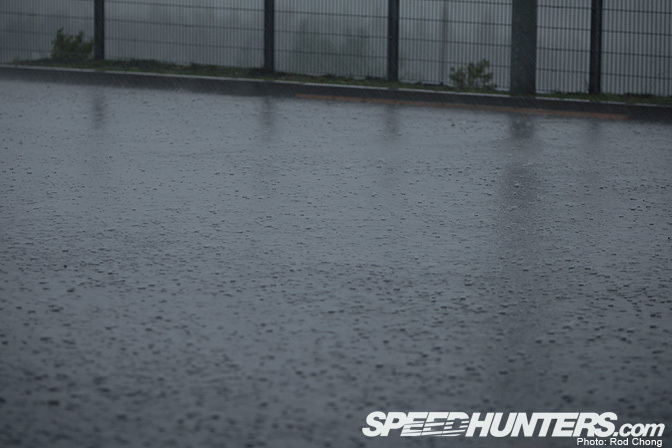 Eventually, the skies got bored of just threathening us with bad weather and unleashed a storm of bibilical proportions on top of the region. This was just at the start of the downpour when it was relatively light rain but it got a whole lot worse quite quickly. Hopefully this will be our share of wet weather for the event …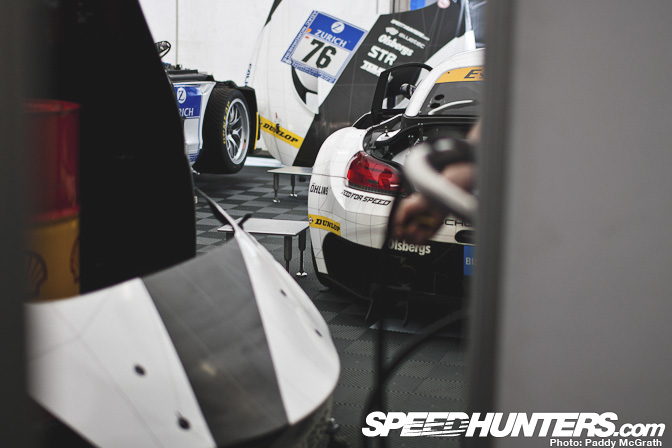 Schubert Motorsport were busy preparing the Team Need for Speed cars. It's going to be a tough challenge to improve on last year's result but no doubt the team and drivers will be pushing very hard.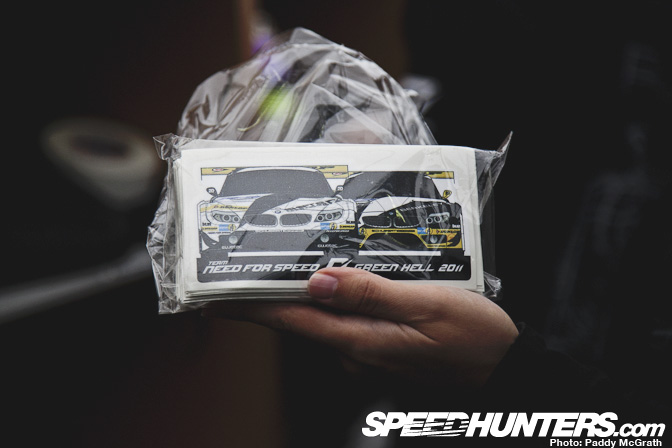 Any of you lucky enough to be at the event might be even luckier again to pick up one of these limited edition Team Need for Speed Green Hell 2011 stickers. Keep an eye on our social media feeds to find out where and when you can find us !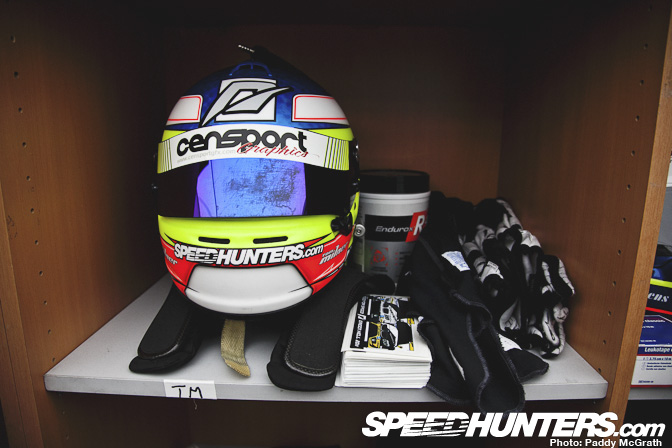 The drivers will also have some to share.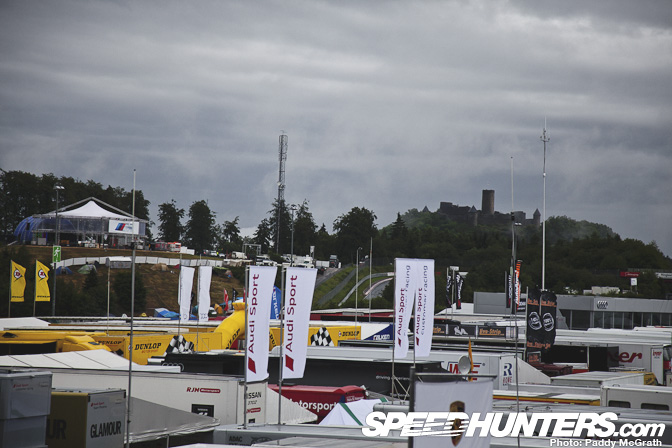 The rain stopped just long enough to allow us to wrap up our business at the track.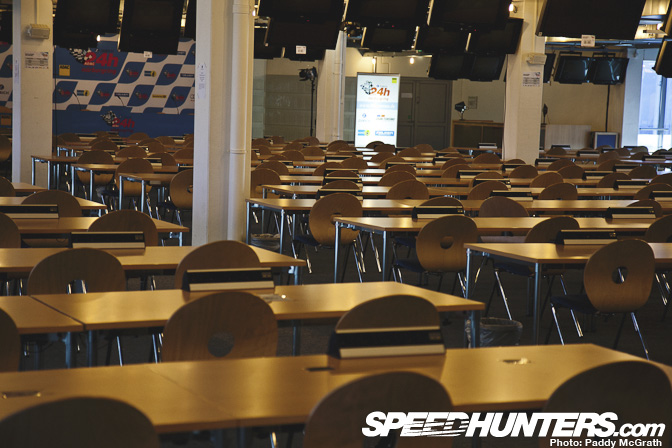 This will definitely be the quietest the media centre will be for the next few days!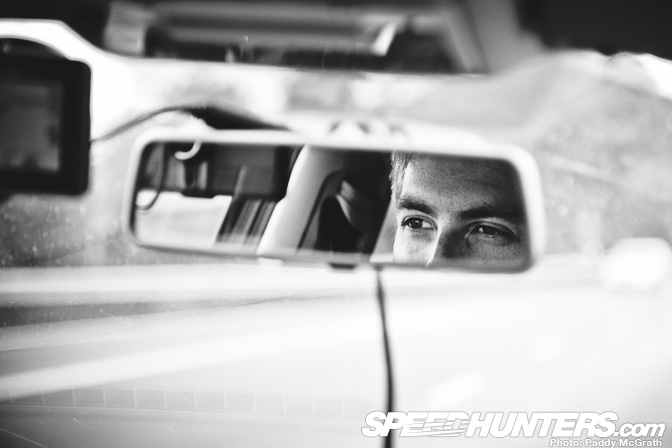 Anyone want to take a guess of who our chauffeur is here as we leave the track?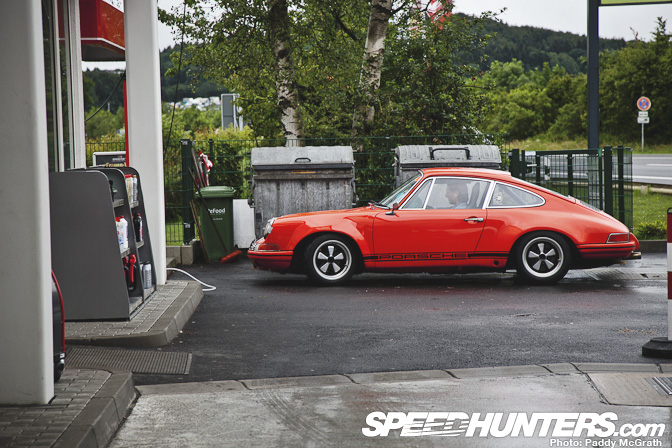 He was even kind enough to bring us to a local gas station. However, it wasn't the fuel we were interested in…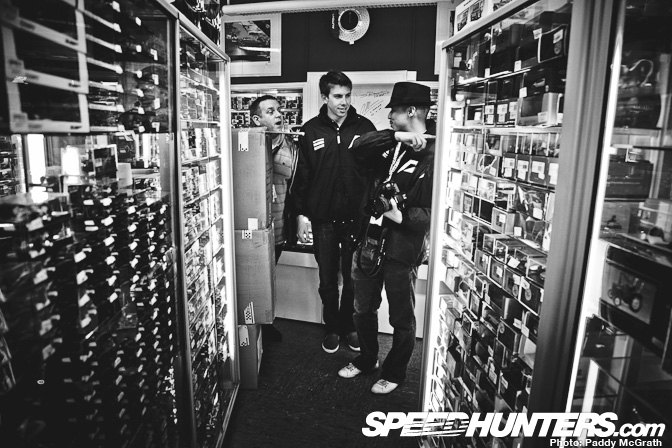 …Rather the incredible diecast store that hid within. Thank you Mr. Milner !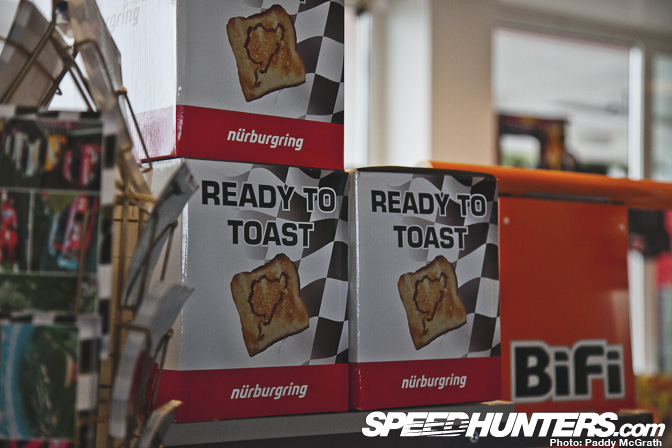 Nurburgring toaster anyone?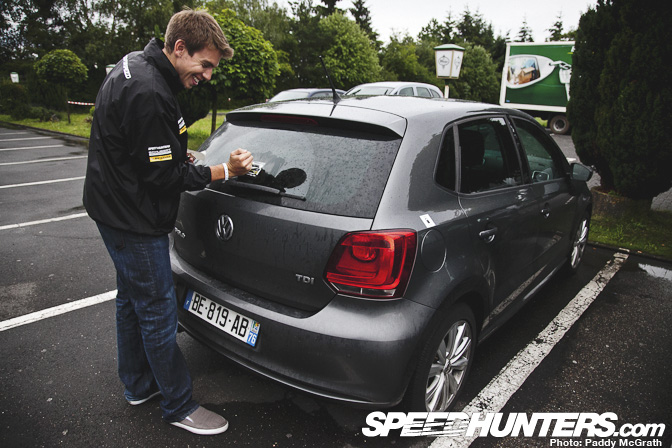 Tommy adds another 10HP to his rental – he wins Le Mans two weeks ago and drives a Polo as his hire car? I think we need to have a talk about this!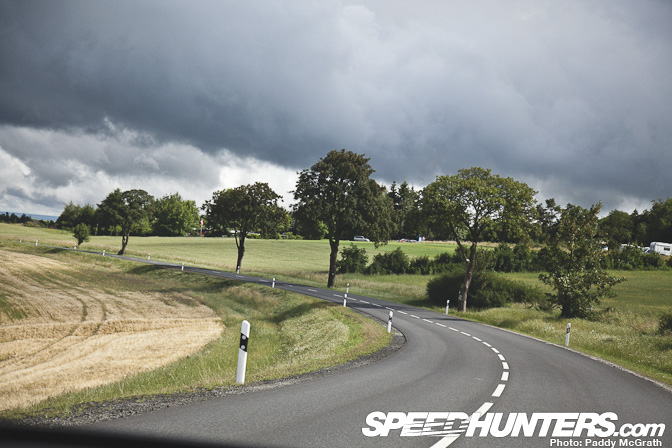 With a break in the weather and all our accreditation sorted, we headed back to our hotel for one last night of relative peace and quite. Because tomorrow, all hell is going to break loose!
-
Paddy McGrath