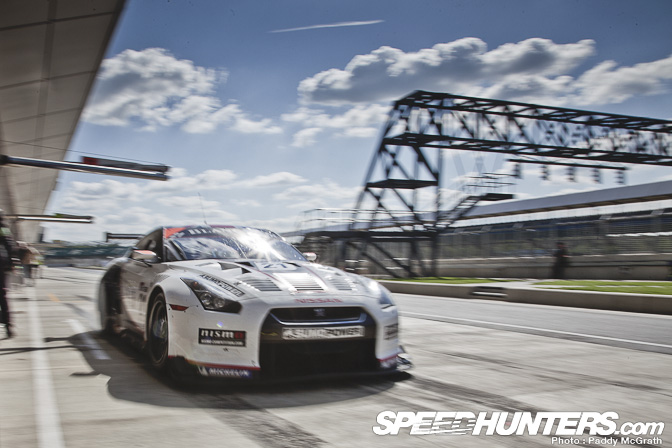 It's been a couple of days since the chequered flag dropped on what was a truly incredible weekend of racing and I'm still trying to recover from it. I know Rod touched on how he has become so used to seeing these incredible grids of racing cars that he needs to try and reset his mind to appreciate and enjoy them again and not to take them for granted.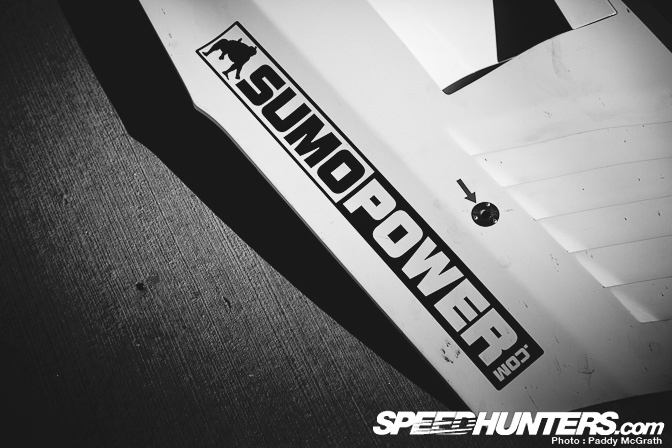 I understand exactly where he is coming from. It's so easy in this line of work to become indifferent to the incredible surroundings that we find ourselves in.  It's nice to know that as a team, none of us want our work or experiences to stagnate and that in some ways we all compete amongst ourselves to improve the quality of our work and in turn, provide you with the best coverage we can offer.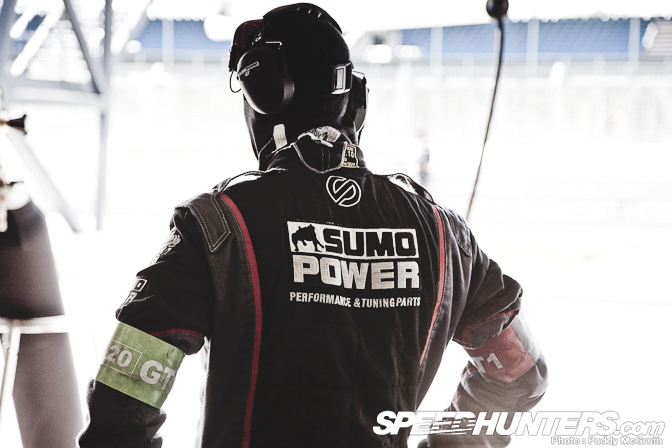 Even though the work may seem glamorous, I can assure you it can be very difficult at best of times and it can appear to be insurmountable at the worst of times. Most days start before the sun rises and often don't finish until long after it has set again. Just when you've sat down and begun to relax after downloading some memory cards and having reviewed the days work, there is that oh-so cruel realisation that we still need to process, export, watermark, upload, organise and categorise the images and this is all before we need to write the accompanying story, categorise, tag and figure out the best time to publish it.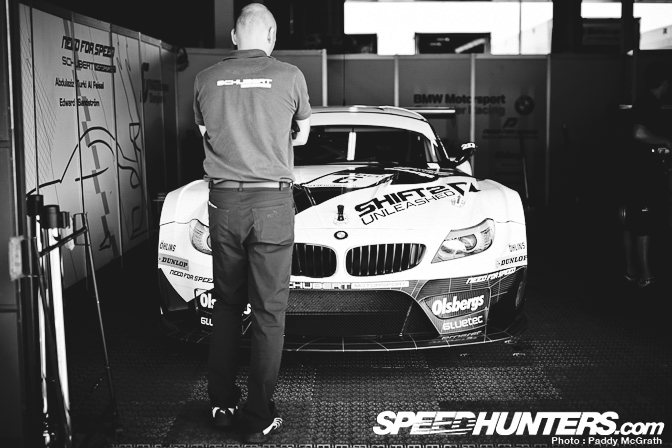 It might seem like I'm complaining but I'm not. I'm sitting here now in the Speedhunters' Ireland office – I'm tired, sore, drained and stressed – but I have one hell of a smile on my face.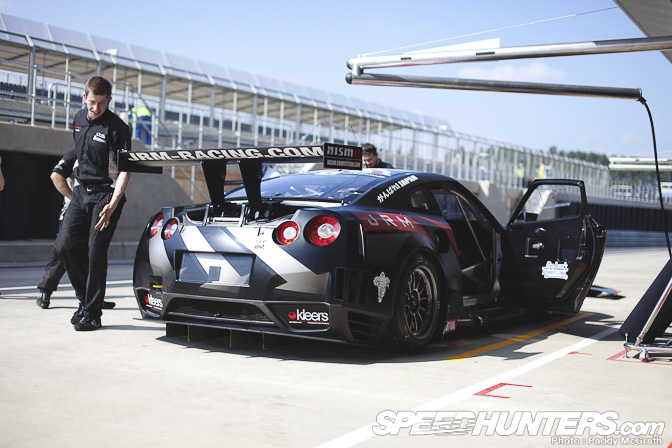 I'm a photographer first and foremost so sometimes I find the writing part of the job quite difficult at times. But like the rest of the team, I always give my absolute best when trying to report on an event or showing you guys a car I think you'll either like or at least appreciate.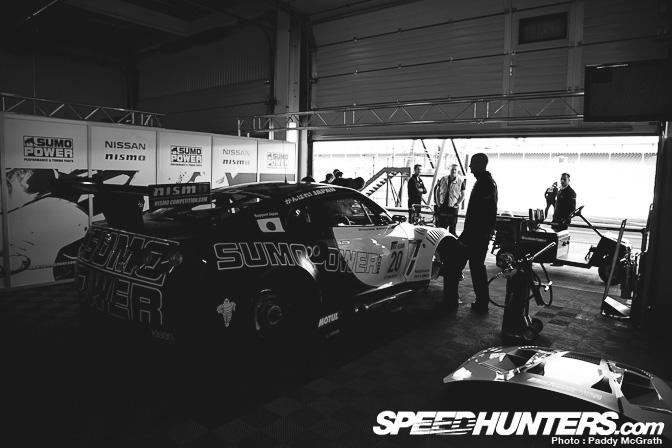 I've wrote this article ten times over in my head, whilst driving the long distance back from Silverstone but yet again, I always end up changing things or going in a completely different direction once I get in front of the keyboard.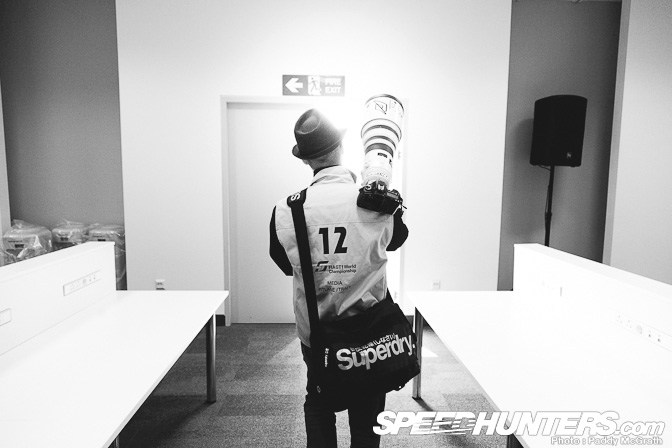 Jonathan and Rod have produced two cracking stories from the event so far, so following these guys is no meant feat.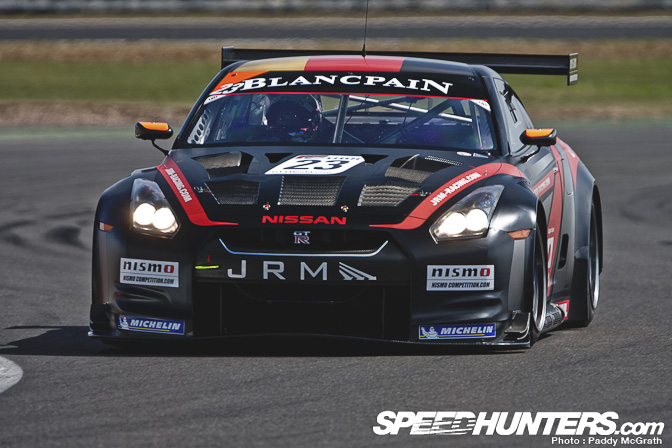 But rather than regurgitate what they've already shown you, I thought you might be interested in reading about what goes through our minds when shooting and talk to you about just what it's like to shoot at an FIA GT event.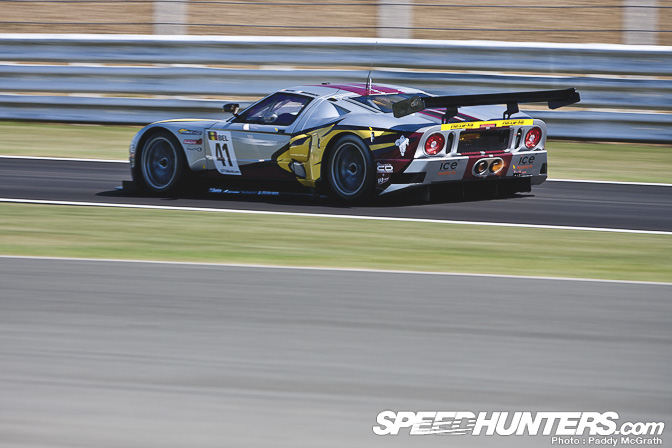 Jonathan and Rod are pretty much veterans at shooting GT racing. This being only my second ever GT event, I'm still struggling to adjust to how everything works and to just how fast the cars are. The Friday practice sessions are the perfect opportunity to try and get to grips with the circuit and cars.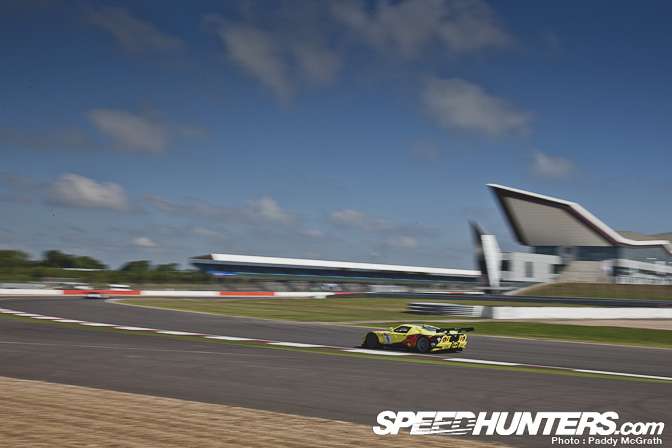 I'm used to shooting quite close to the cars, so adjusting to the longer focal lengths is quite a struggle. Silverstone maybe an amazing racing circuit, but its wide open spaces and general lack of elevation changes make it quite a challenge to shoot.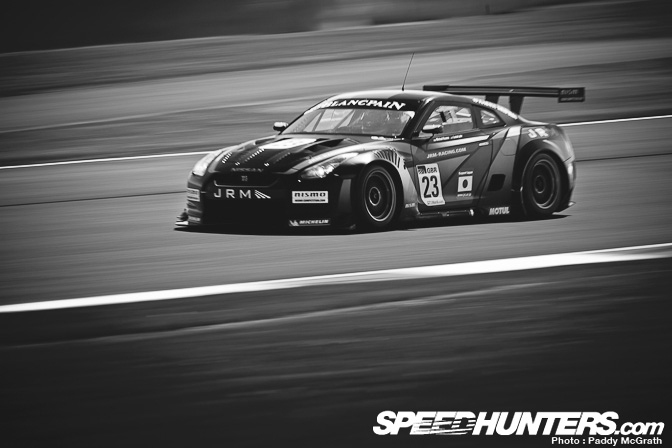 What I'd consider a fast shutter speed at any other event, becomes too slow to accurately capture the speed of the GT1 cars. Watching the cars come out for their warm up laps before reappearing on a fast lap is actually kind of comical in some ways. It just looks like the cars have been sped up and it takes quite some time to adjust to the difference in speed between the classes.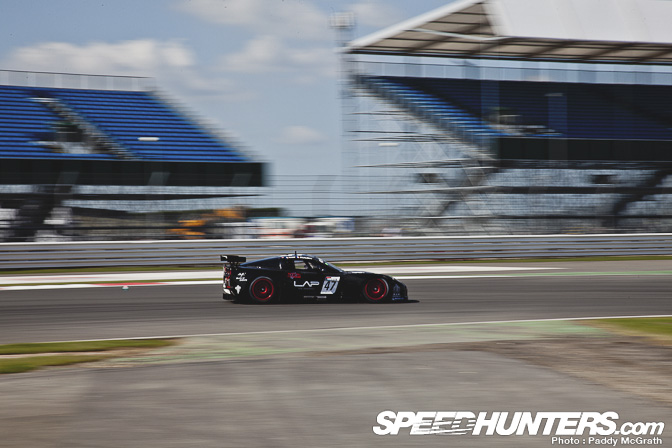 Regardless of event, class or location one of the most important things I strive to achieve at an event is variety. Nothing annoys me more than getting back to the office and realising I had spent far too much time in the one spot concentrating too much on getting that one shot.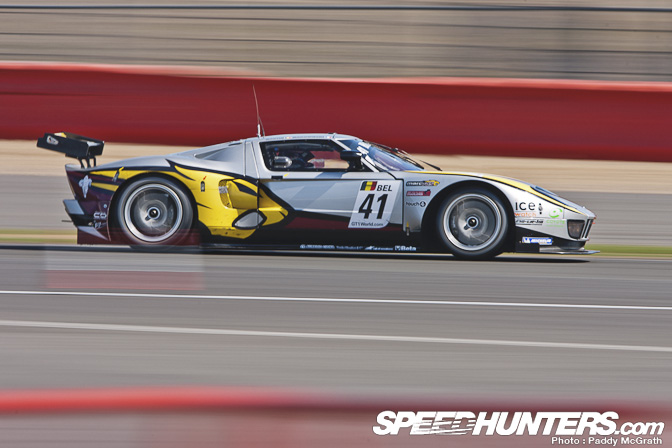 One of my favorite lecturer's in college once told me that the greatest photographs you can take are often happening behind you. This shot of the #41 Marc VDS was taken looking across an access road through a small gap in the circuit where the cars passed through for only a split second. Where I was standing was no more than twenty feet from the previous Corvette shot but the cars were on a completely different part of the circuit (The Corvette was entering the new Village section of the track whilst the Ford was exiting Becketts)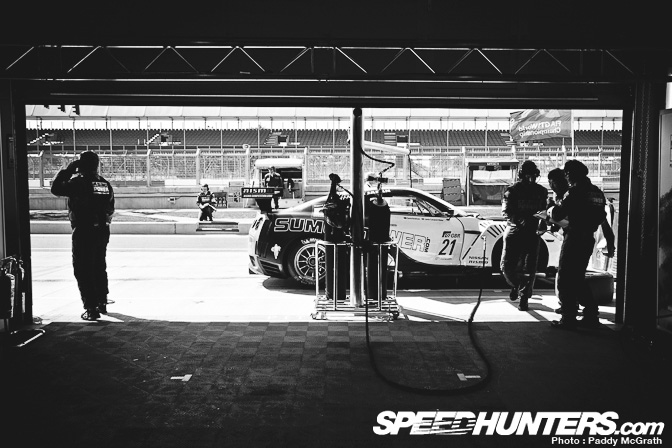 The pit area of an event is always a fascinating place to be. Although the view of the track is pretty much obscured, the pits and paddock still provide an amazing insight into the GT1 world.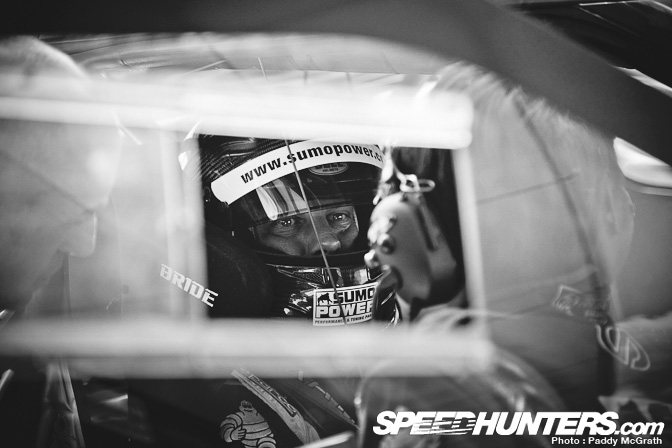 Jamie Campbell Walter in the #21 Sumo Power GT-R GT1 relays some feedback to the crew chief …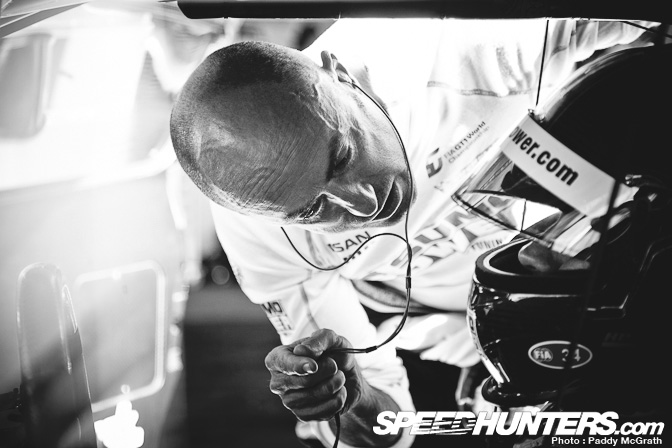 … whilst his team mate David Brabham shares his own experiences with him from an earlier session. I was lucky enough to be shadowing David for most of the weekend, the results of which we will share with you shortly.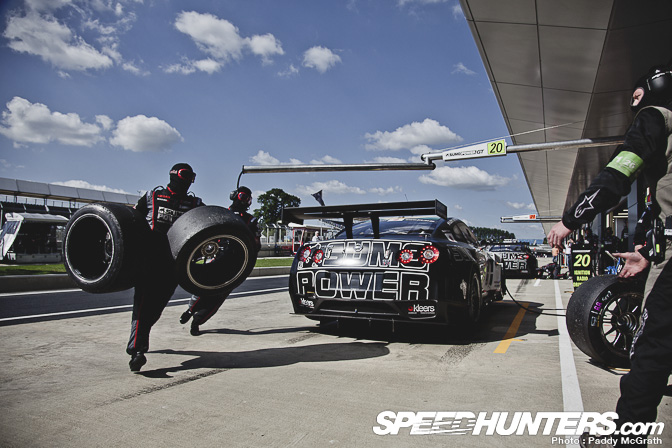 Right from the off on Friday, the teams have their game faces on. Practicing pit stops and driver changes over and over again is no easy task, especially considering that only two crew are allowed work on the car during a stop. It's also pretty important to make sure your not in their way, especially during a race. You don't want to be the reason a team loses a race after all !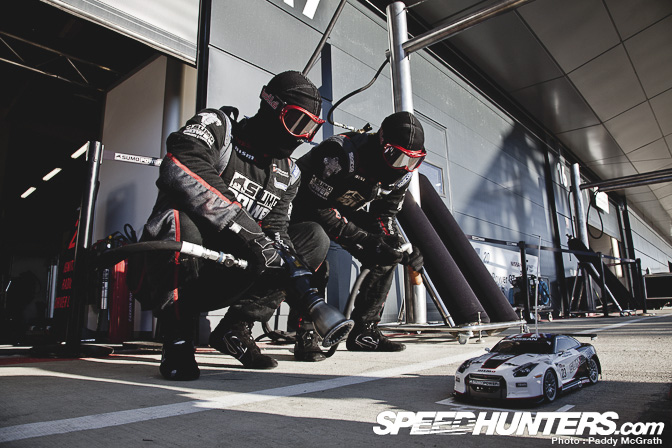 Although the teams take things very seriously, they still have time for a bit of comic relief. I think you're going to need a smaller driver!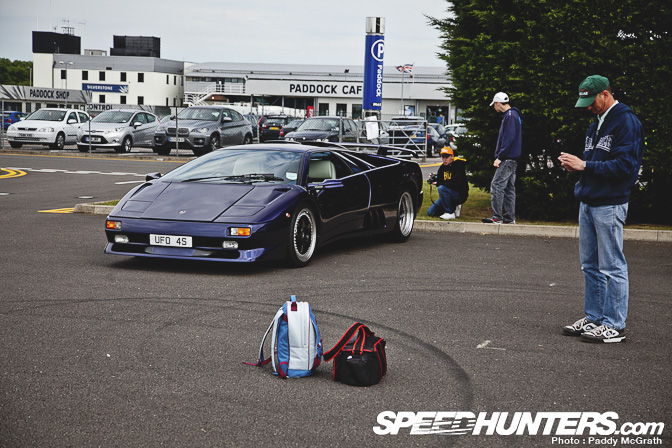 Exploring the area of the old paddock on the Saturday morning for a fresh spot to shoot the action turned up some surprises lurking around – like this Diablo SV.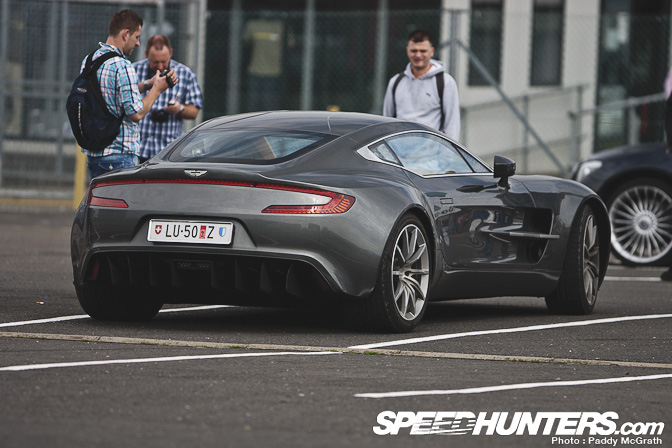 Even more amazing was this Aston Martin One77 casually mingling with other cars in the public car park.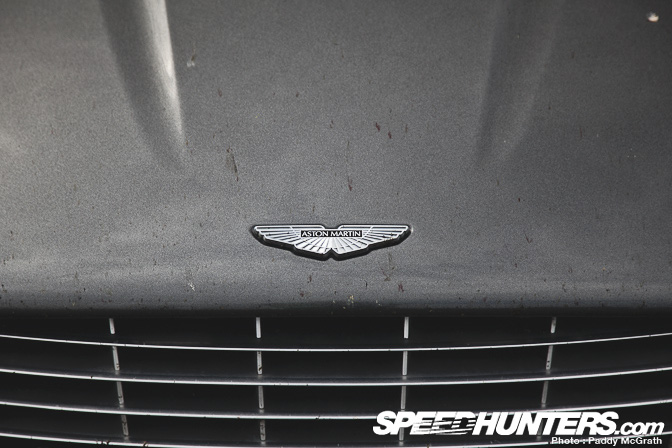 It was nice to see that the car was being used as intended.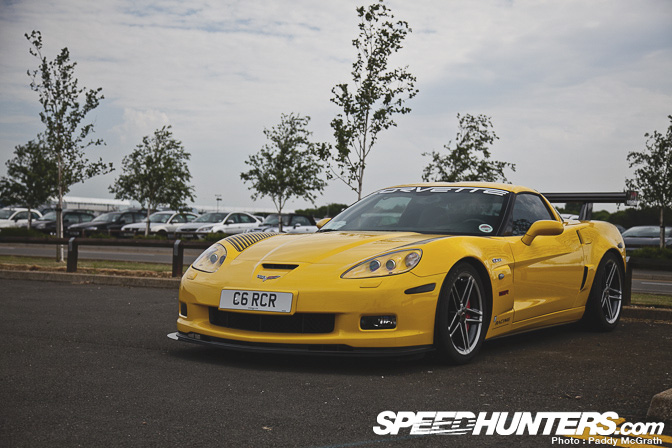 This C6 R was another I stumbled upon whilst searching out locations. I find it kind of fortunate that if I wasn't out searching for locations, I would never have found these cars. The biggest surprises however would come on Sunday morning. More on that in a bit.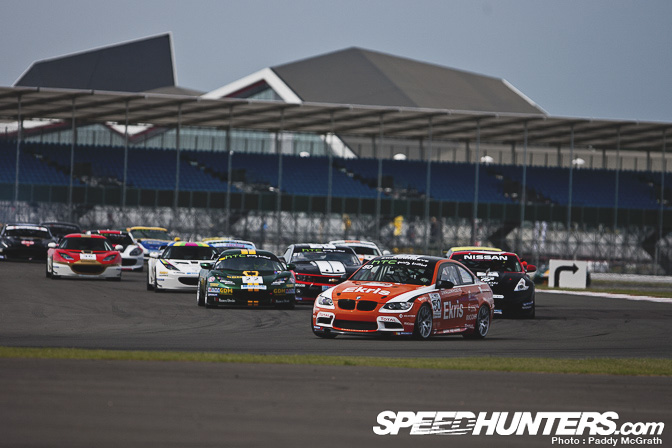 By using the other classes, in this case GT4, I was able to identify potential spots for the opening GT1 race later that evening.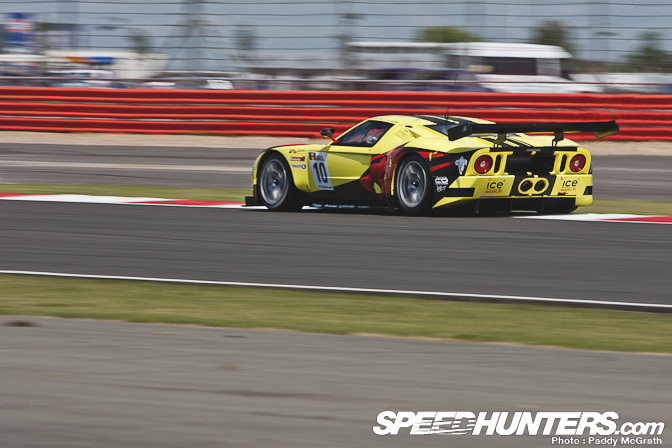 I'd usually consider a 1/125th of a second shutter speed to be too fast to use in most circumstances to illustrate movement, but it's pretty much spot on for the GT1 cars. If anything it's probably a bit too slow as it can be a struggle to retain sharpness at the longer focal lengths. The above was shot at 300mm whilst …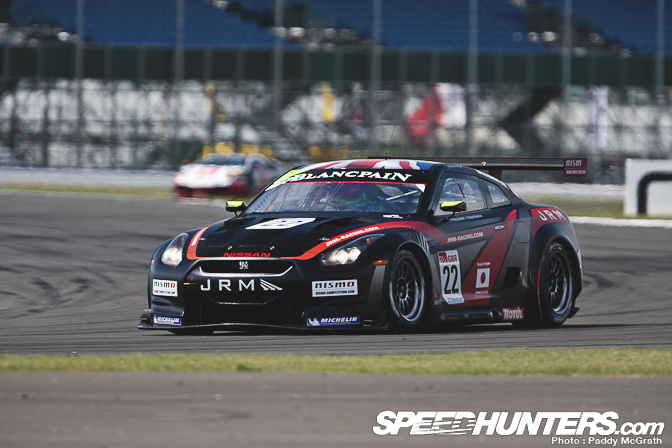 … this was shot at 600mm (and a 1/250th) from roughly the same location but shooting in a different direction. When shooting at such a long focal length, every movement of the camera and lens is exaggerated by quite some amount so shooting a 1/125 at 600mm is pretty much twice as difficult as shooting 1/125 at 300mm.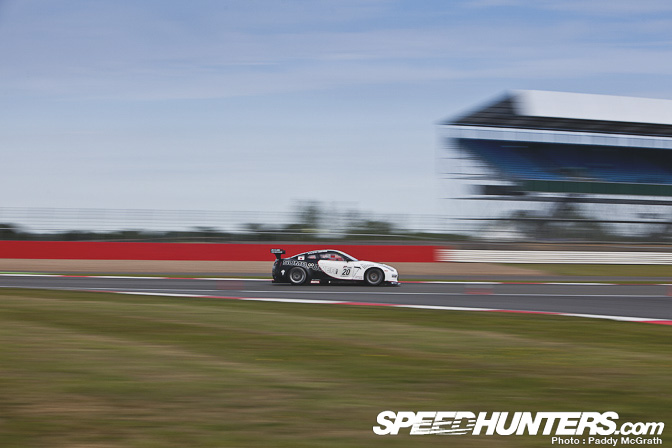 For really slow shutter shots, I like to try and use a shorter focal length where possible to try and capture the surroundings as well as the car.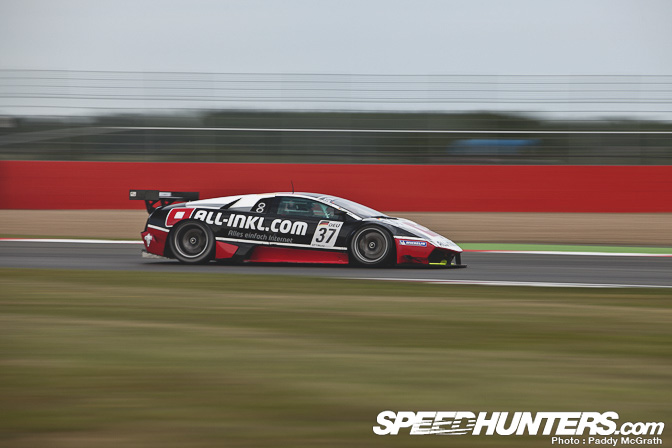 Jonathan and myself were actually talking about slow shutter speed shots over a quiet drink in the bar on Thursday night. We were both talking about technique but more importantly about how important the circumstances are to achieve an especially slow shot. A lot of people seem to think that it's just a case of winding down the shutter speed and spraying enough shots in the hope that one is sharp but we both figure it's much more complicated than that.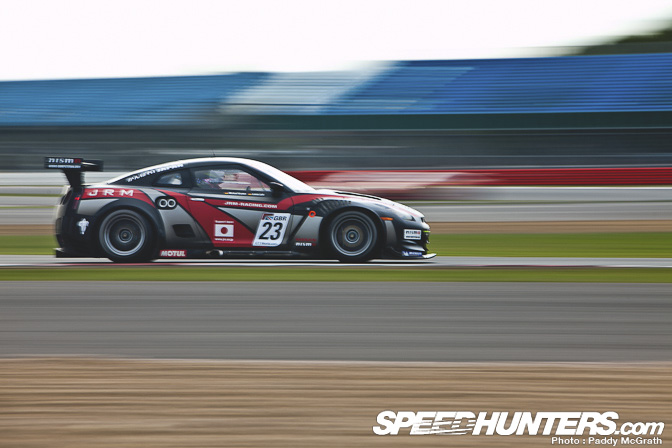 When you drop below a certain shutter speed (there is no defined number here as it's relative to the car, the car's speed and that particular section of track) you introduce many more variables that are quite easily overlooked. The above shot of the JRM GT-R GT1 was shot at 1/20th of a second and although the technique was perfect (look at how the horizontals are all parallel and pretty much dead straight) the car is still slightly blurred. This is because the car is ever so slightly turning in and away from the camera and because the shutter is open so long, we have actually caught the car moving that little bit further away. It goes to show that there are some variables beyond a photographer's control that you can't control.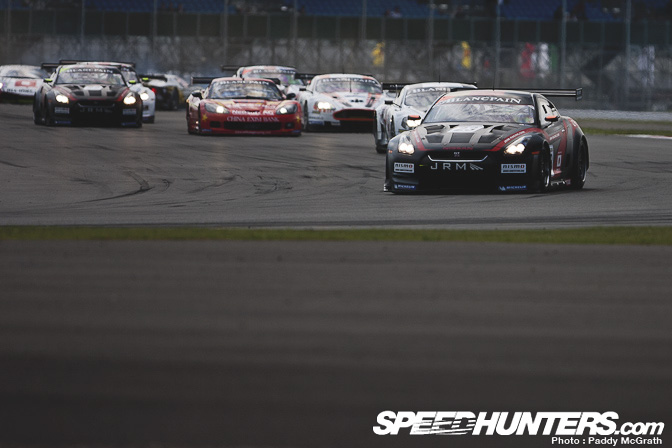 By devoting a lot of time to your recce, it means that come race time you know where you need to be and when. From the beginning of the race …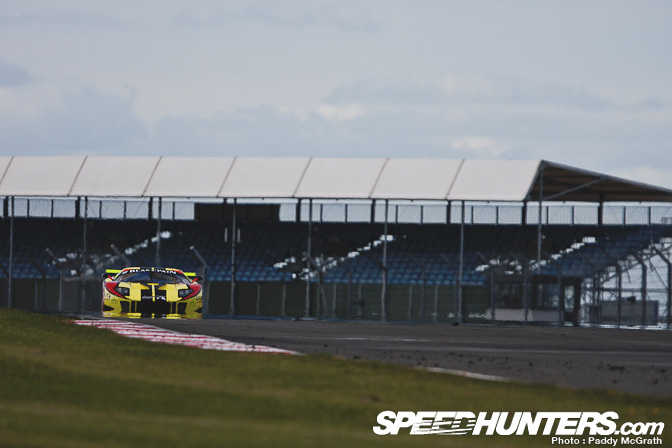 … to the middle …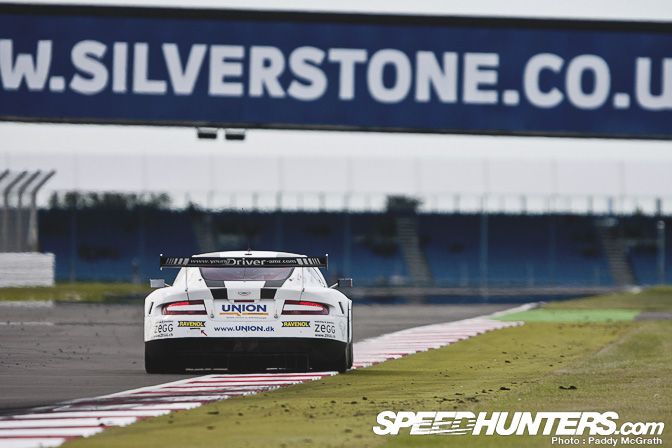 … and the end. Although these last three photographs are miles apart in terms of apparent location, they are all within a couple of yards of each other.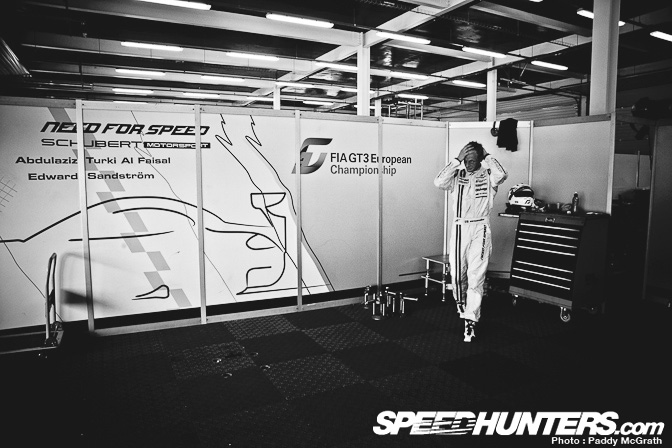 With Jonathan and Rod covering the on-track GT3 action, it left me to keep an eye on the pits.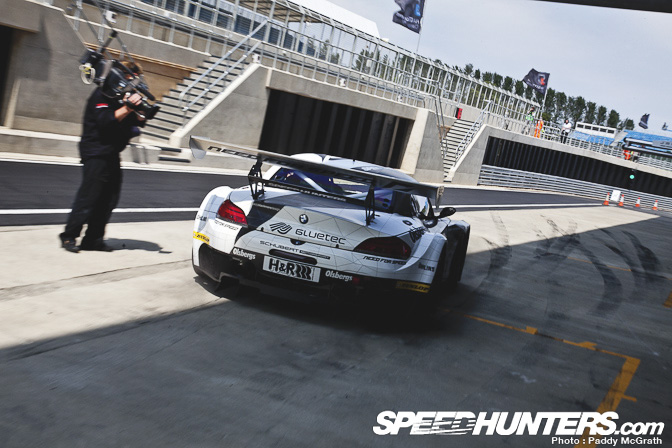 It basically involves waiting around a whole bunch for a flurry of activity followed by waiting around some more.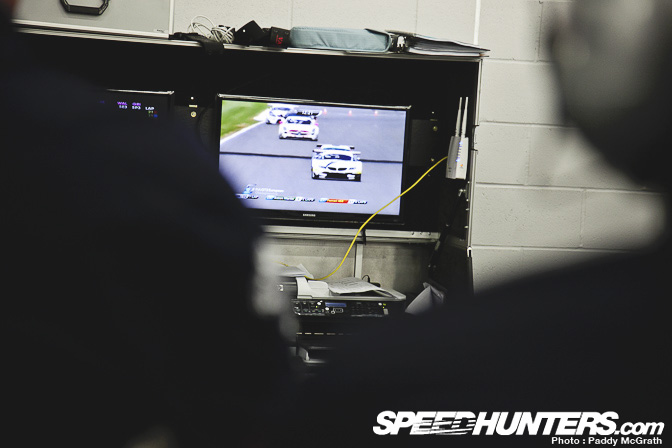 By rights, it should be the short end of the stick but I really enjoy working amongst the teams and trying to capture their individual character.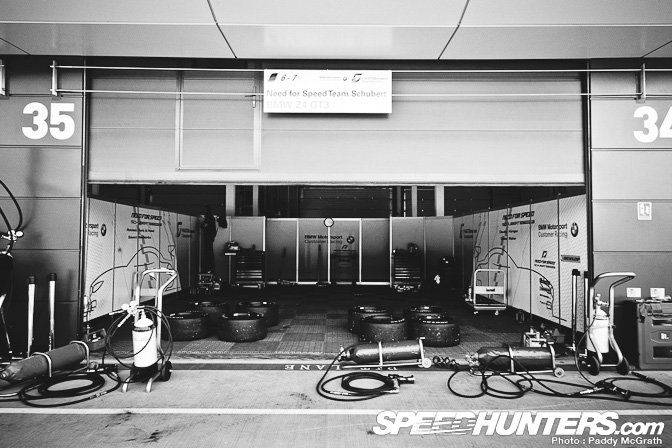 This is pretty much what the pit area looks like for 95% of the race with the team out back monitoring the event unfold on the TV screens.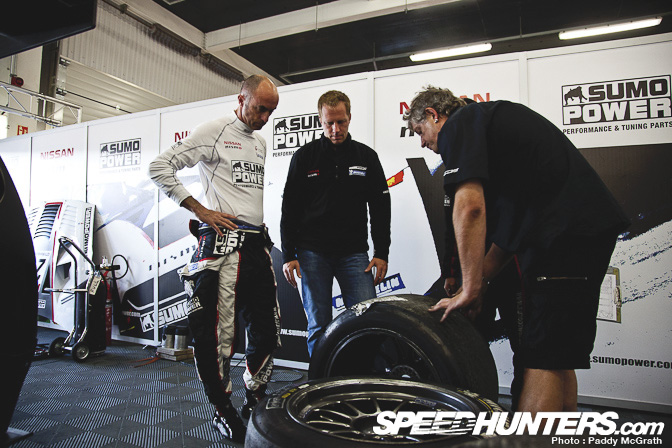 Sunday, however is when things get really serious. The last of the weekend's races which includes the GT1 Championship race. I think it's fair to say that for everyone involved, Sunday is definitely the most stressful. It's a last chance for the media to get the shots they need, for the drivers to geab the points they need and for the teams to get everything right just one more time.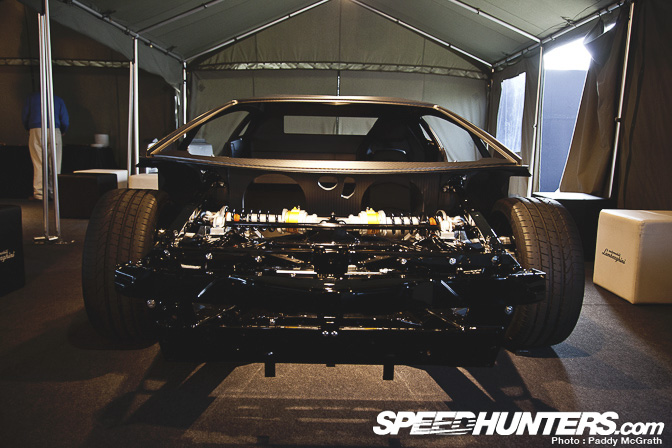 Running around the paddock early on Sunday morning I was tipped off by a good friend and Redline magazine staffer Stephen Errity about the presence of a naked Aventador in the Lamborghini VIP area …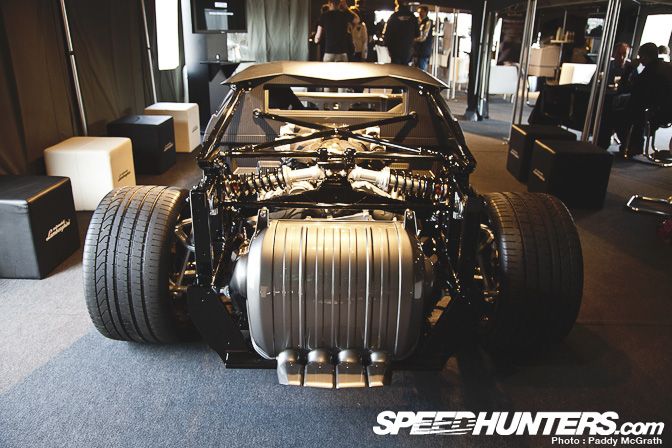 … and what a sight to behold it was. On returning to the media centre to chat to Stephen about the car I had a bit of a scary moment. On searching through my camera bags and laptop bag I couldn't find my itinerary which included my ferry ticket for the return journey home. It may seem like a small thing, but I'm one of those people who needs to have everything in order so I needed to return to my van in the media car park which was located on the other side of the circuit. Just barely catching the shuttle bus, I returned to my van to find my tickets had fallen behind my driver's seat. Panic averted ! Locking the van and walking away from it and back towards the bus stop, I was very fortunate to stumble across this …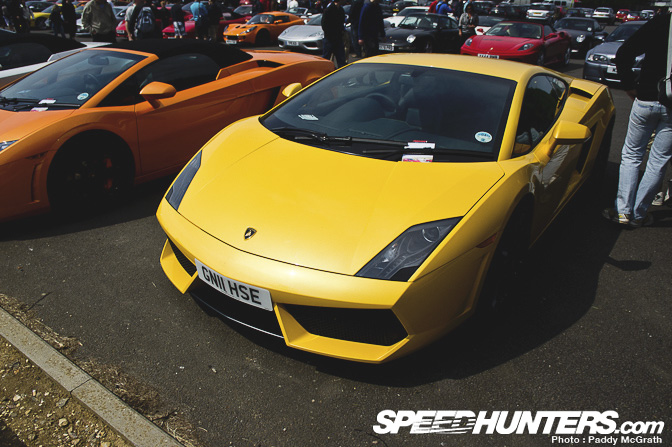 … a gathering of exotics in the opposing car park. With both my cameras back in the media centre and time ticking away to the first GT3 race of the day, I remembered that for once I had charged and packed a point and shoot camera in the van. Lucky break !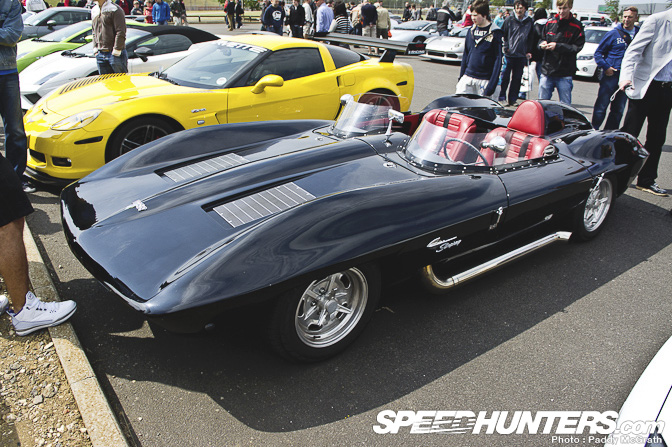 Although I'm a believer that cars like this are best viewed in isolation, I wasted no time taking snap shots of the assembled machinery.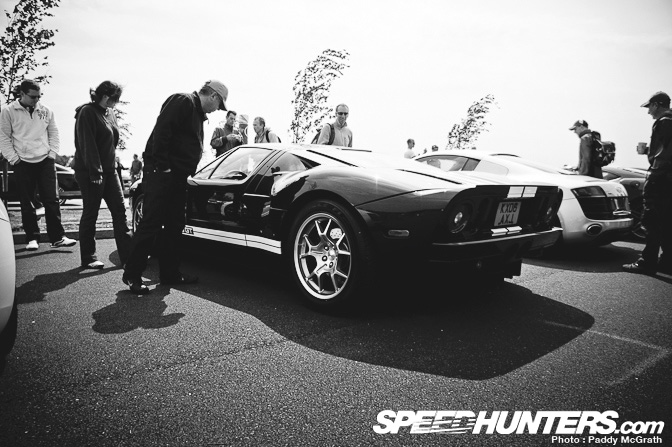 From a Ford GT …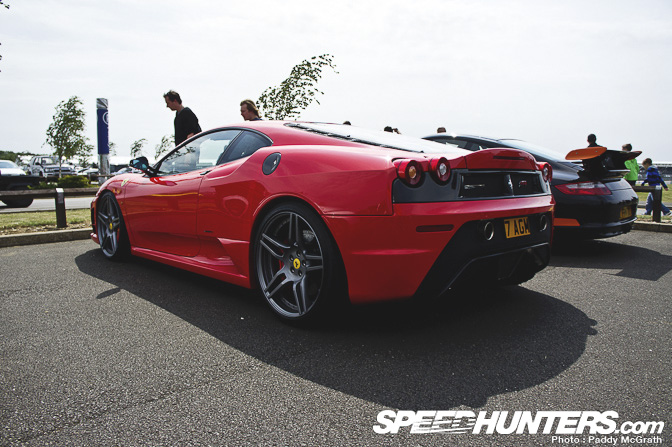 … to this F430 Scuderia which was joined by …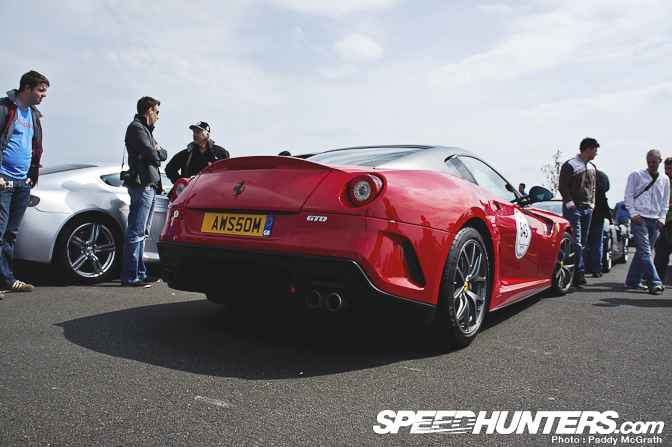 … a 599 GTO, I was really thankful to have some good luck for a change.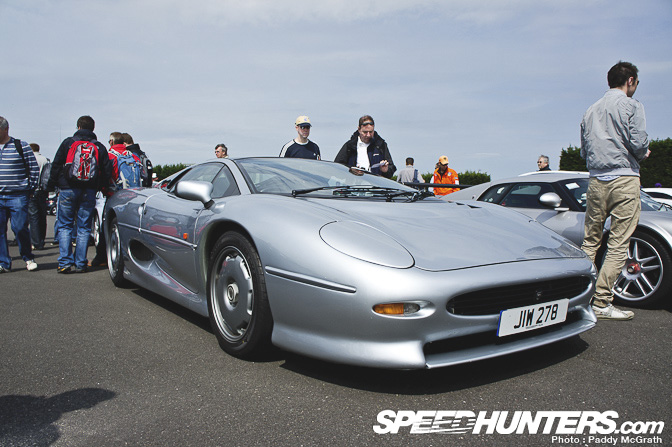 This Jaguar XJ220 …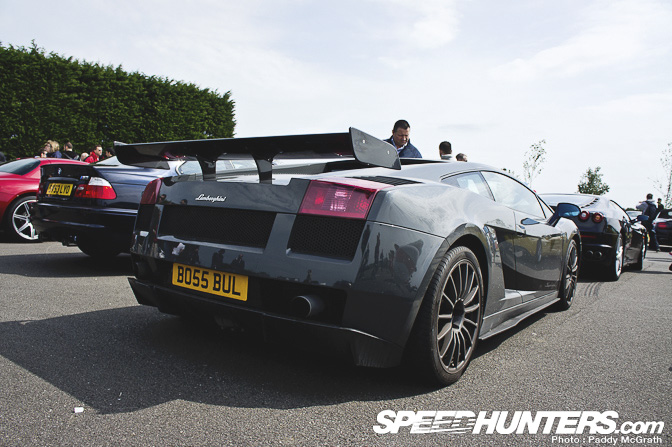 … along with this Gallardo Superleggera and …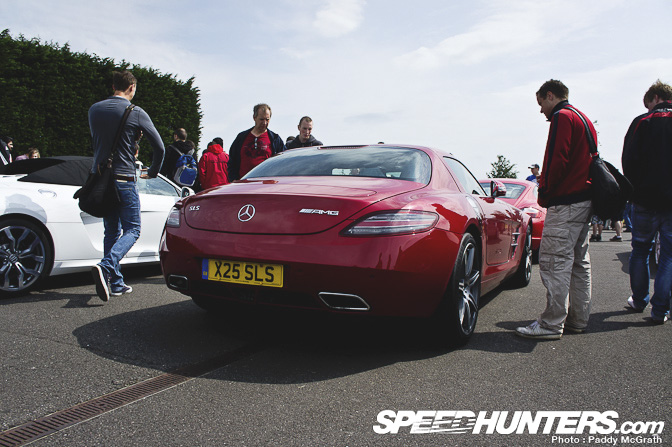 … this SLS were my personal highlights of the lot. Like I said earlier, it's hard to truely appreciate each of these cars when they are surrounded by so many other cars also deserving of your attention. It's a bit like trying to listen to all of Beethoven's symphonies at once, it's just too much to appreciate.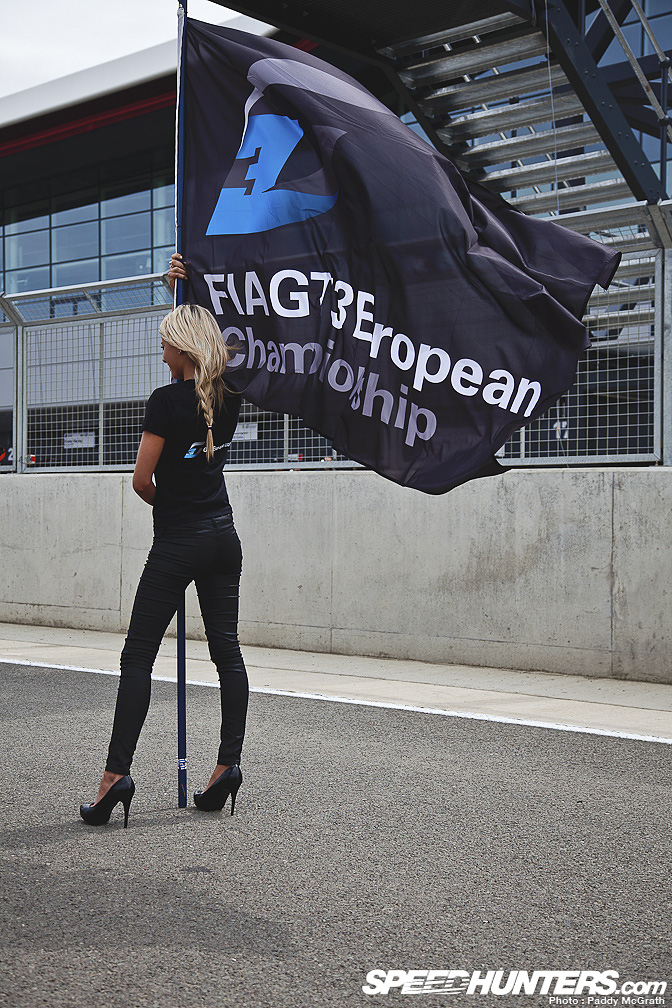 Once again, Jonathan and Rod took to the extremes of the circuit to capture the action whilst I had the pleasure of working the grid and pit area.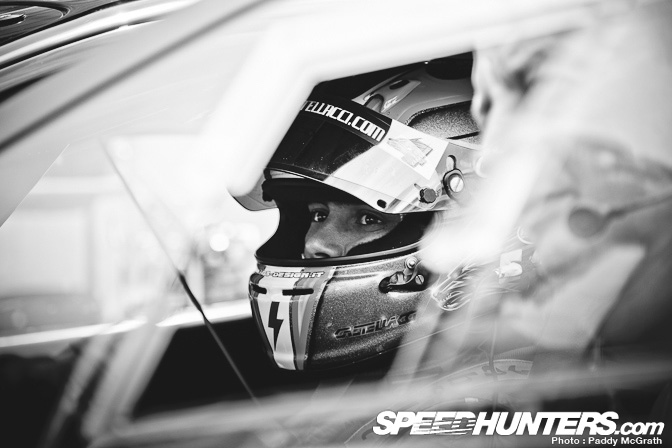 Again, the grid walks provide some amazing photo opportunities to shoot a look into the human side of motorsport.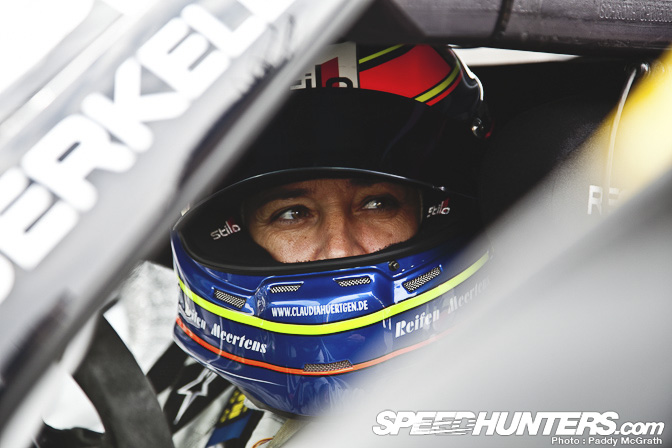 It's one of the things that I think we often overlook. Motorsport is about both man and machine, not just the machines. (In this case it's about woman and machine)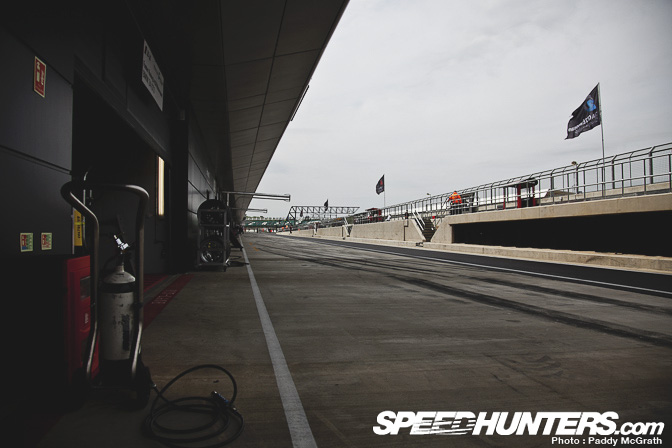 Once the race is underway, the pits become eerily quiet and abandonded. That is until the grid comes thundering past.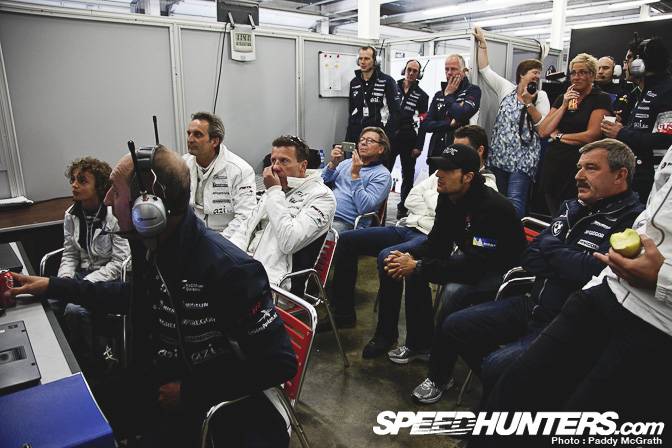 Team members, friends and families all become enthralled by the on-screen action. It's quite strange to hear the cars pass outside and then watch it happen a second or two later on the screens.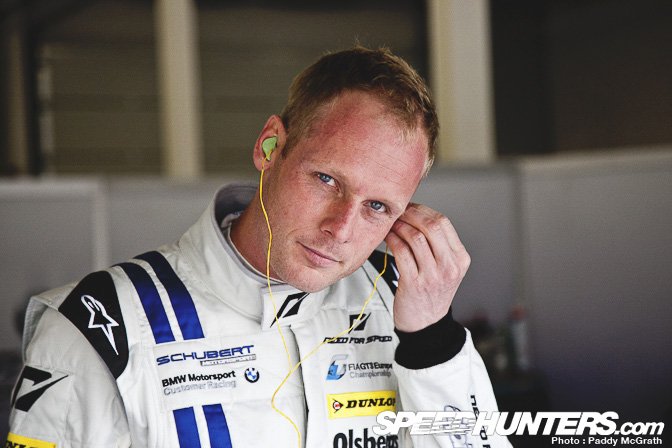 I'd love to know what's going on through any driver's mind as they wait for the mandatory stop and driver change.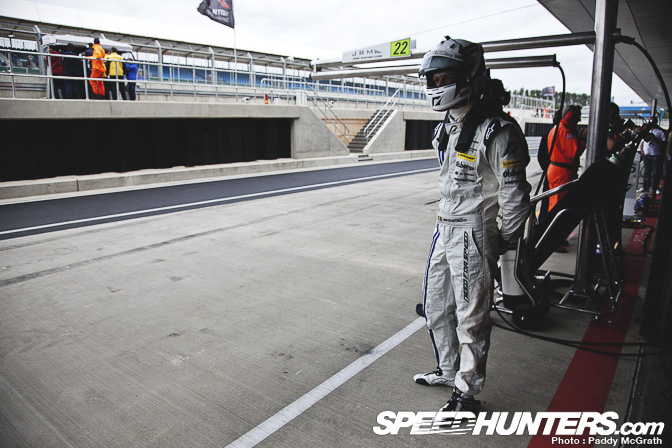 Edward will be along shortly with his version of events from an action packed weekend.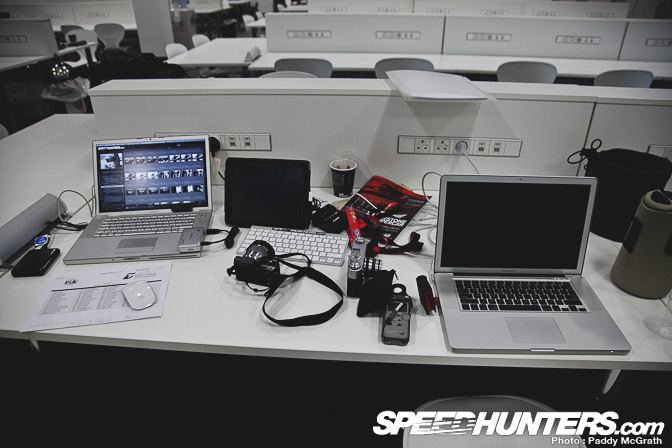 Once the GT3 race had concluded, it was time to briefly return to the media centre to download images and mentally prepare for the main event of the weekend, the GT1 Championship race.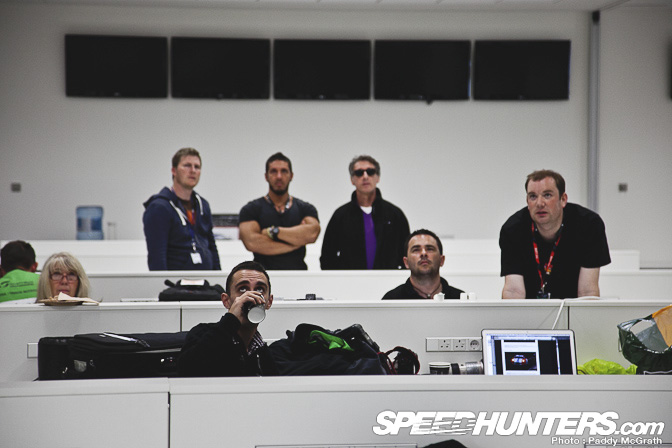 The day of a media worker – stuck in a room with no windows, lots of coffee and looking at screens of various sizes. We're allowed outside the odd time though which is nice.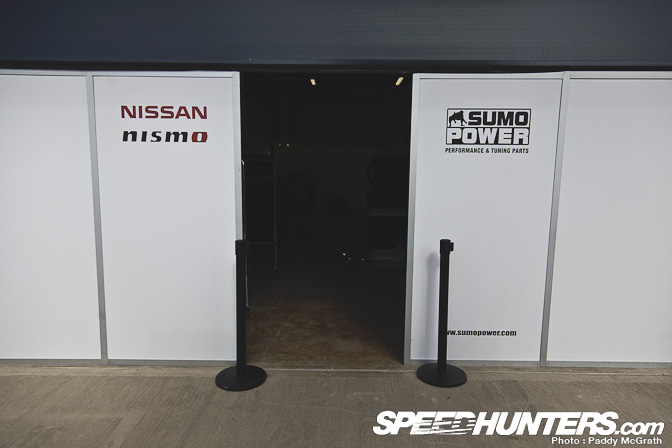 Stepping through this door, a whole new world awaits.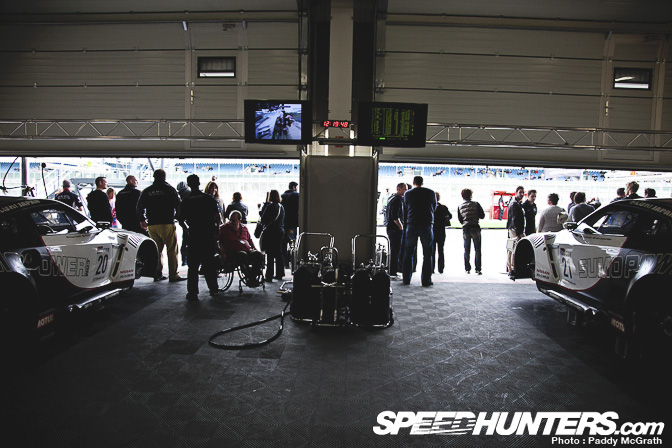 A world where every one is waiting.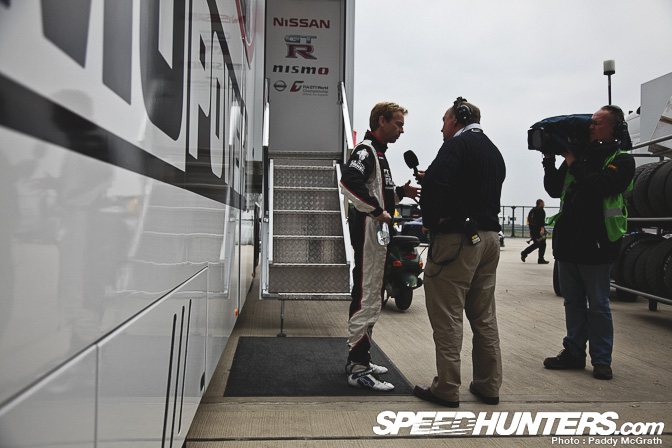 Drivers entertain the media …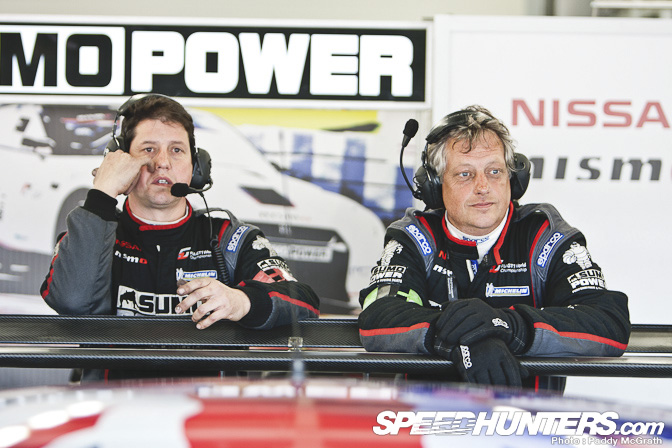 … whilst the crews wait to move the cars into position.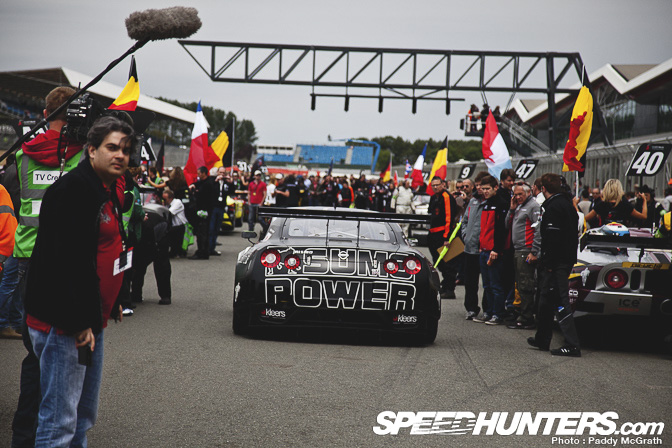 Before long, it's time to grid the cars.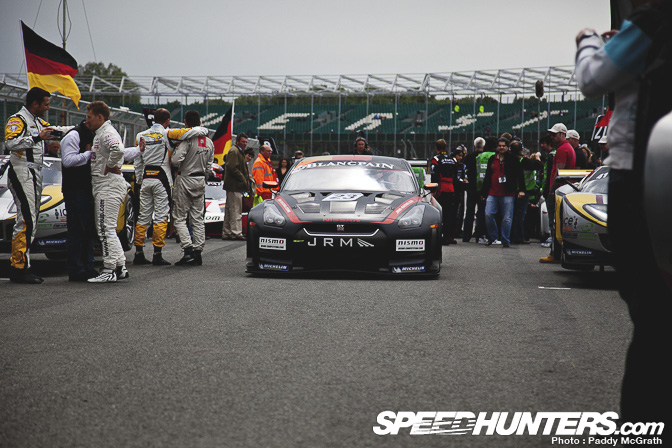 There is a different sort of energy and atmosphere between the GT1 and GT3 grids. I'm not saying one is better than the other, just each is different.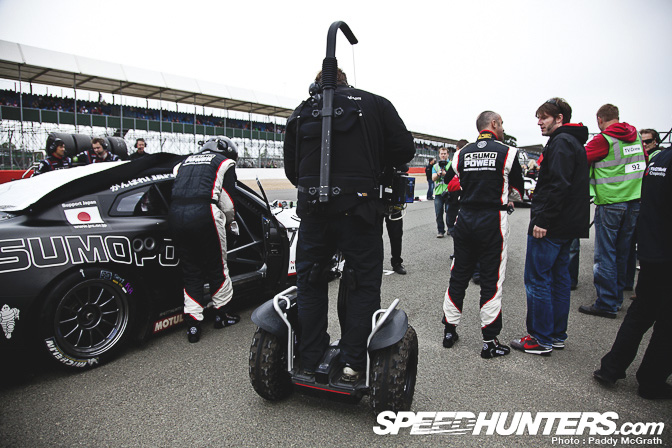 This picture has nothing to do with this story except for the fact I just wanted to post a picture of a video guy on a Segway.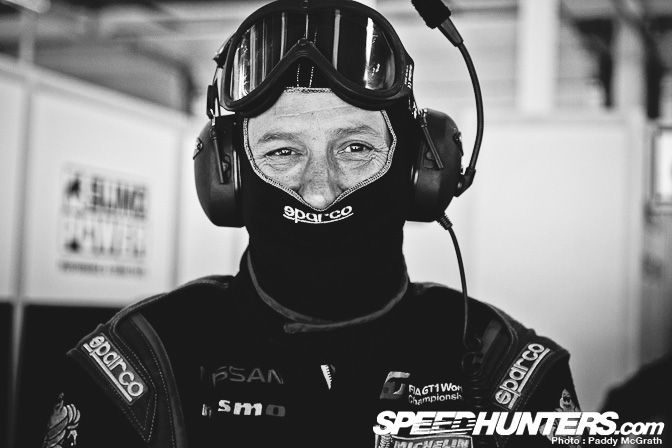 I've got to say how friendly the Sumo Power guys are – by all means I was nothing but a moving obstruction all weekend to them and they never once seemed bothered by it.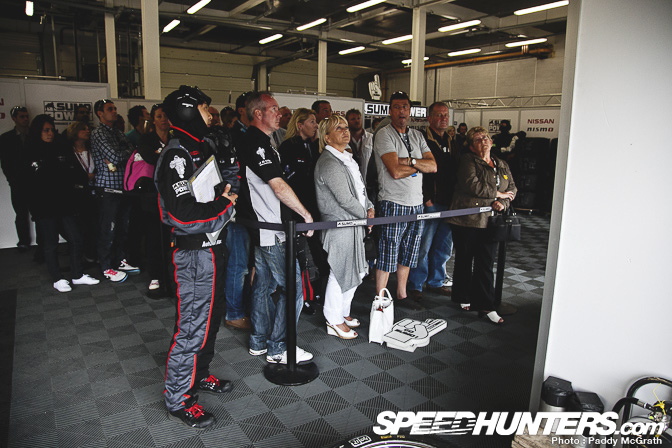 With the pit pretty full, the atmosphere was something else.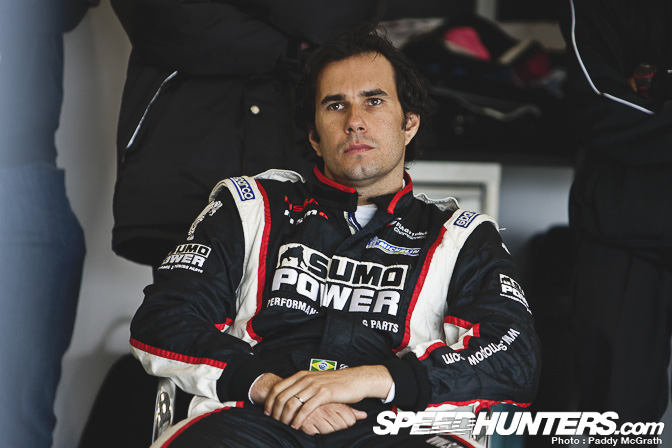 Even whilst the race is running, that sense of anticipation remains.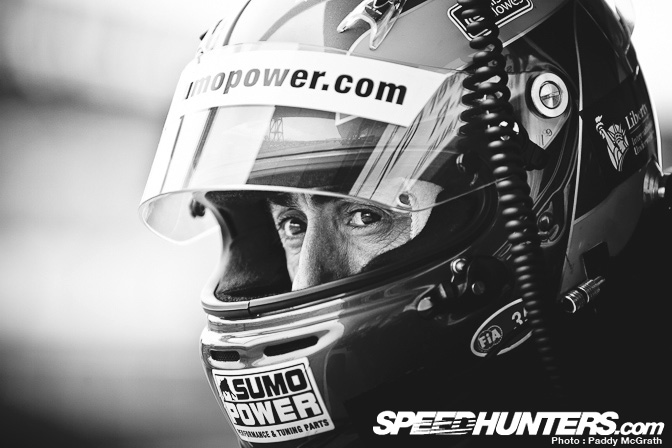 Maybe David will be kind enough to talk us through just what goes through his mind whilst he's waiting for the driver change.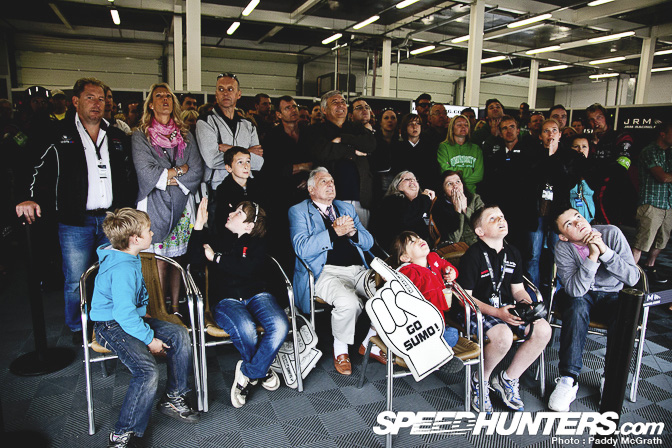 Moving down the pitlane to the JRM garage just after that incident between Mucke and Westbrook, the atmosphere was pretty damn tense.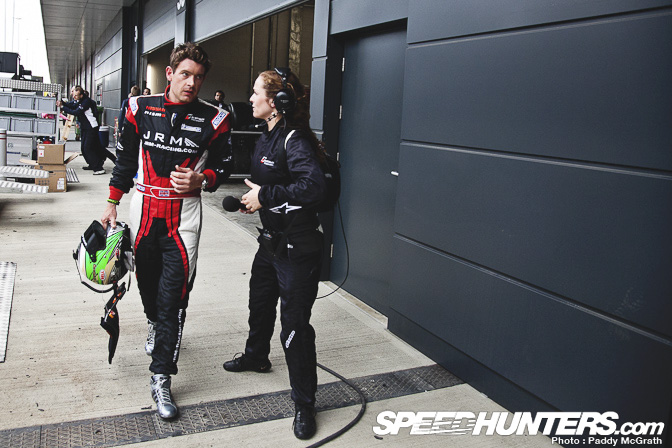 Once Westbrook arrived back at the garage, he was already being approached for his version of events. Folks, if you see a TV presenter running towards something with her cameraman in tow, you'd best keep up.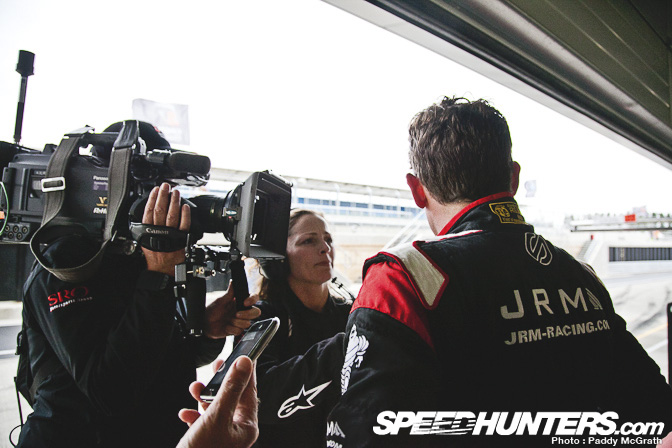 Credit to Richard though, he kept calm during the interview during whilst he must have been absolutely fuming under the collar. A true professional.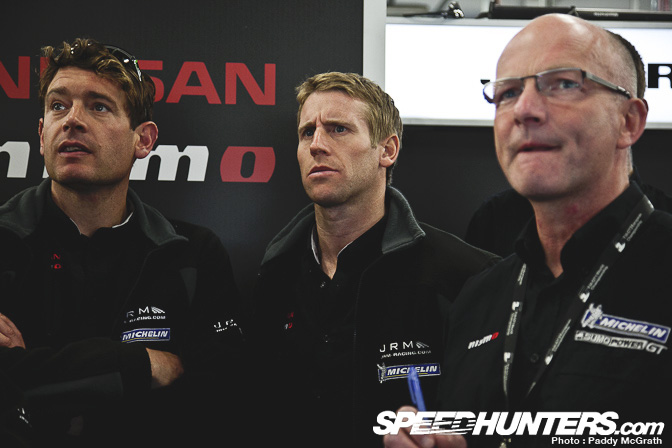 Having to watch the remainder of the race unfold from the sidelines must be hugely frustrating for any driver.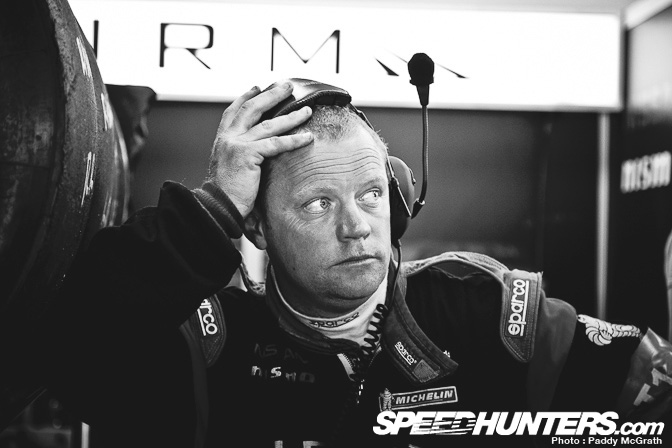 The final laps, proved almost unbareable to watch. It always looked like the Aston Martin would just pip the JRM GT-R to the finish but credit where it's due …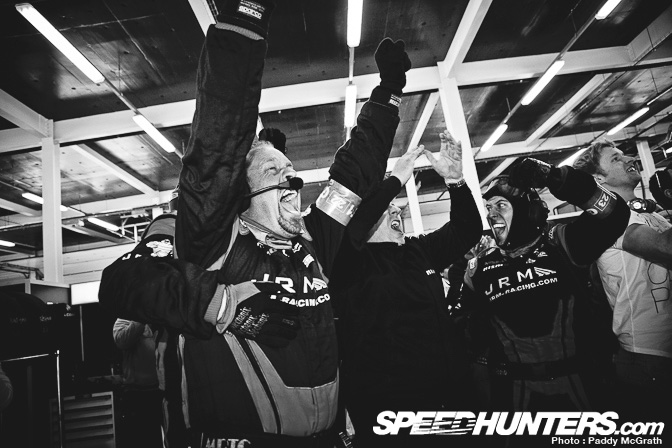 … these guys don't go down without a fight. After a hugely tense ending, JRM emerged deservedly on top.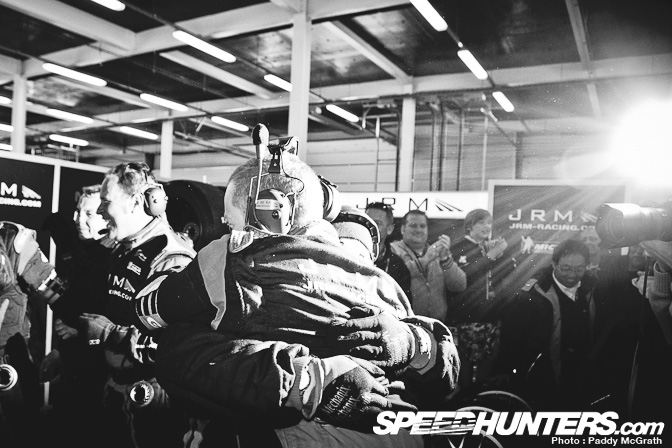 The celebrations were absolutely electric. A well deserved result for a great team.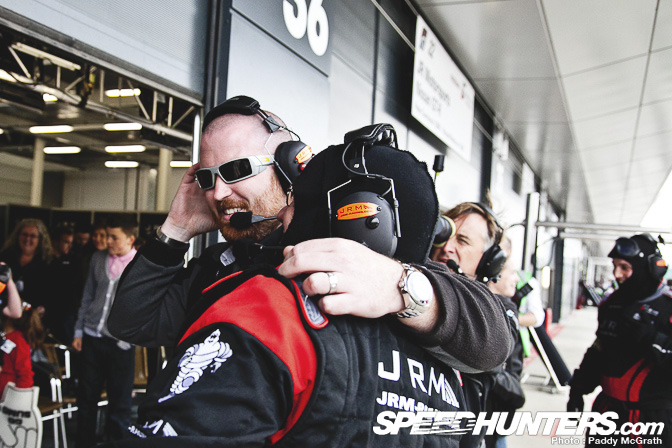 However, whilst some were celebrating …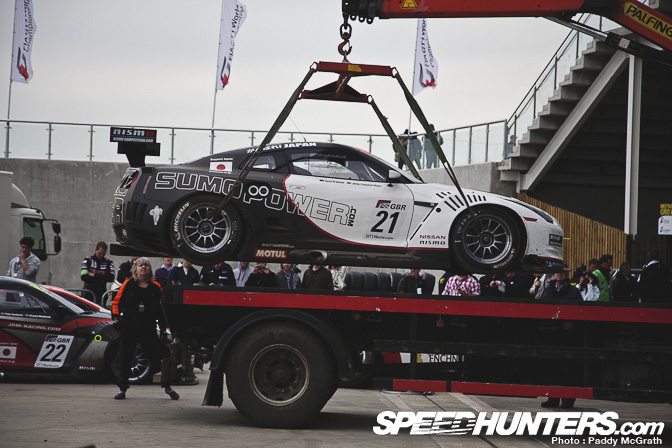 … others were left trying to figure out where it all went wrong.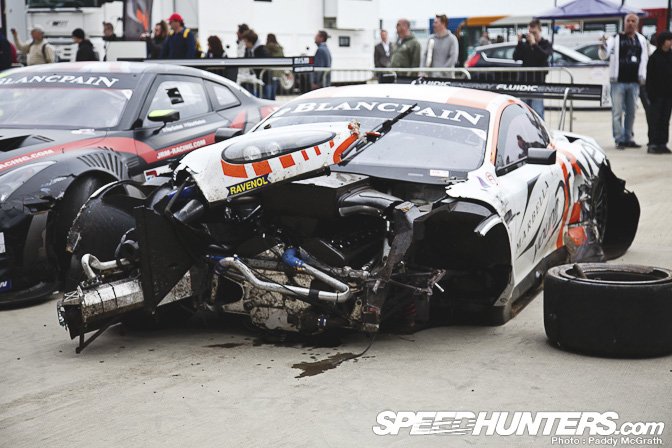 The aftermath of the incident between cars #8 and #22 were put on public display in Park Ferme …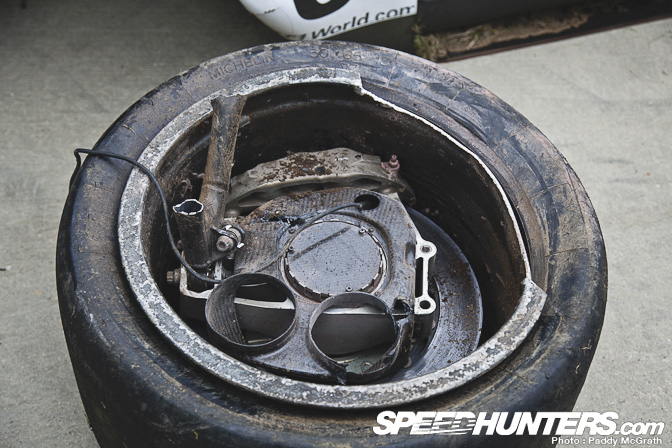 … where it was evident who came off worse from an avoidable incident. Strangely the GT-R was relatively unscathed in comparison.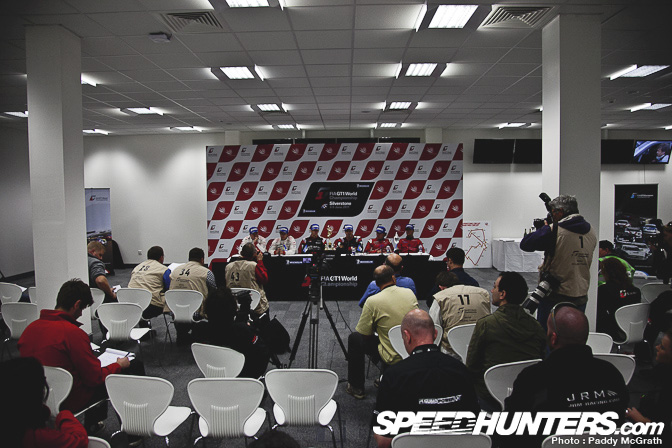 I don't think just one press conference would ever be enough to cover what was just an hour of racing.
It's been a couple of days since the chequered flag dropped on what was a truly incredible weekend of racing. I'm tired, sore and mentally exhausted. However, I have only one question.
When's the next one ?
–
Paddy McGrath