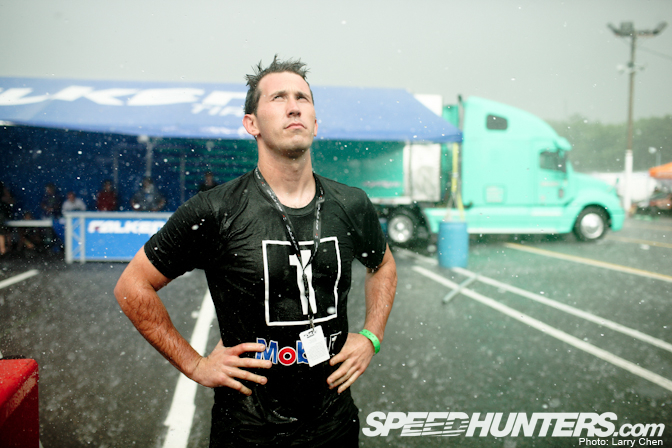 I say this all the time, but it really would be too easy if things
went exactly the way it was planned. Formula Drift Round 4 in New Jersey
had it's fair share of spills and thrills. There were thunderstorms, crashes, injures, big upsets and much much more.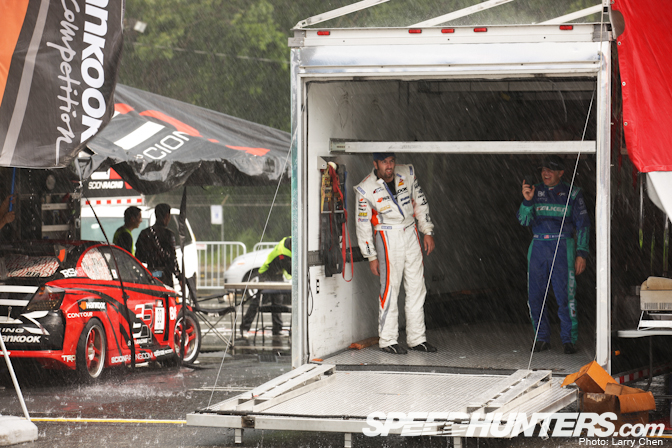 Conrad Grunewald looked out and wondered when the rain will stop while Tyler McQuarrie just laughs it off.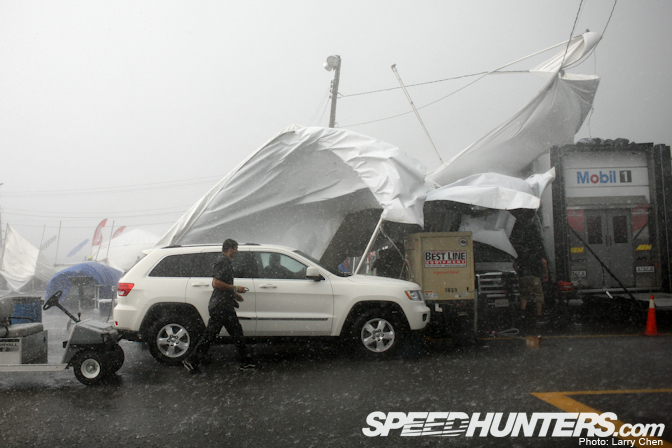 Some of the storm was no laughing matter. The Need for Speed Activation booth turned into a giant sail.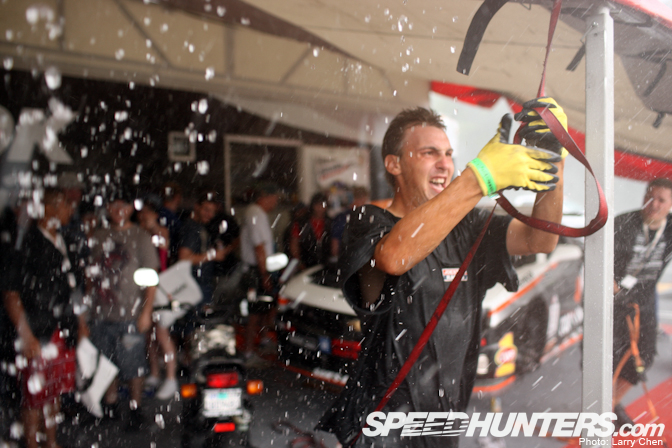 Formula Drift is sinking! Abandon ship!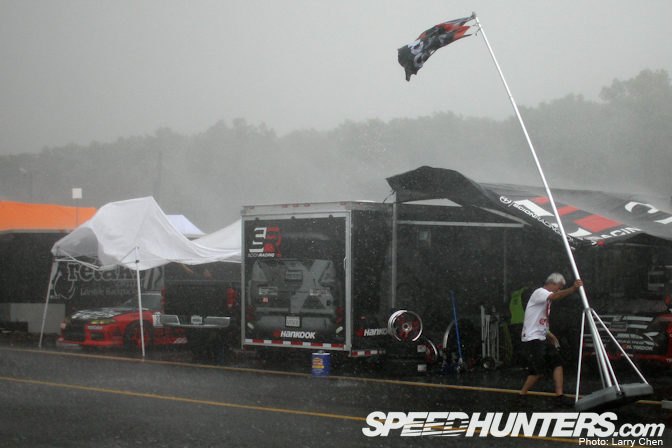 Papa Gushi would have blown away if it were not for that flag pole.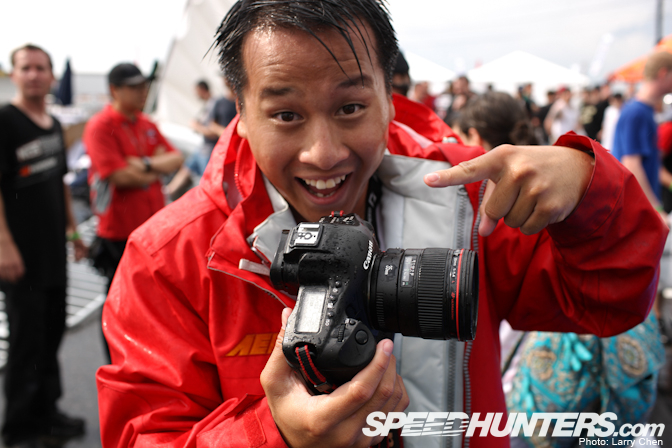 I've never seen anyone so happy to get his camera soaked.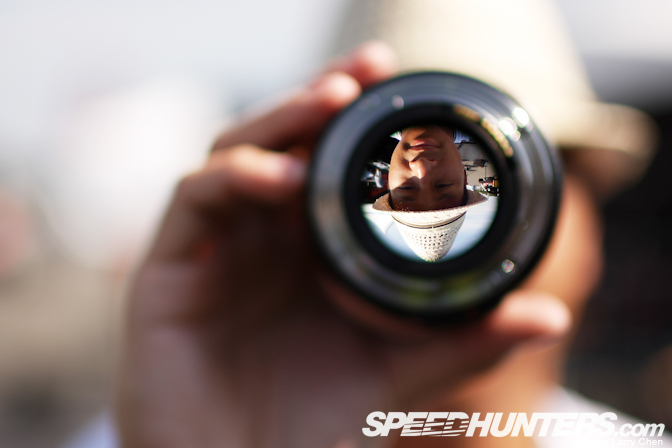 The next day our lenses were fogged up. We had to let our gear dry in the sun so we could continue hunting for speed.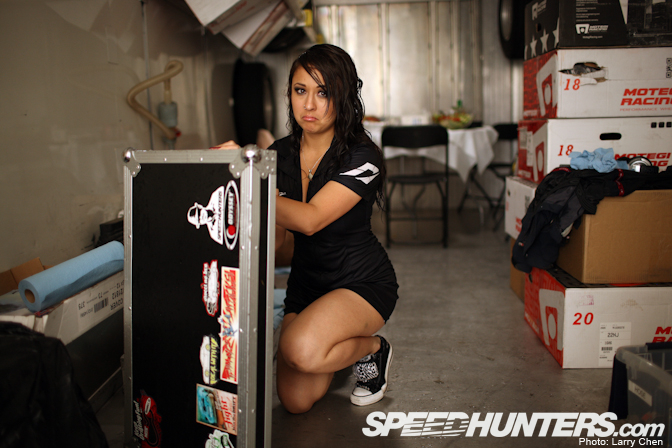 DJ Miki Taka was terribly sad because her DJ equipment got soaked.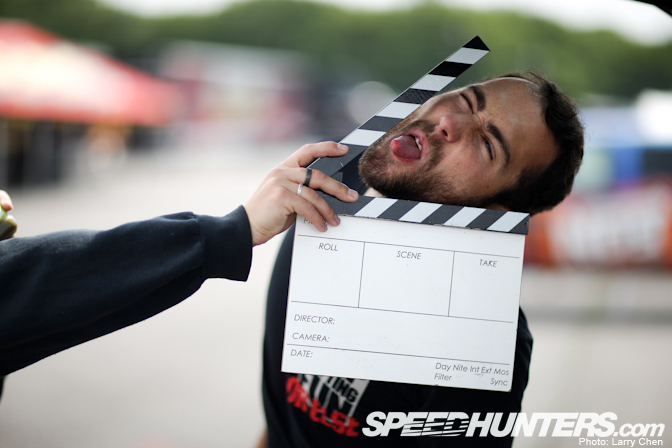 Will Roegge tried to cheer Miki up by getting his face chopped of by the "clapper".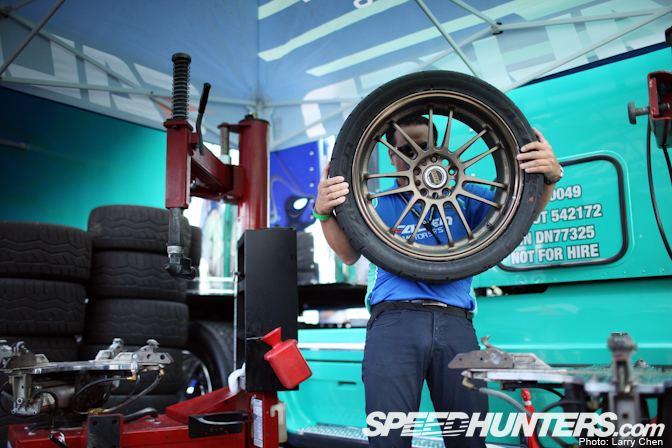 Roles were reversed as members of the media became part of the pit crew. Linhbergh changed tires…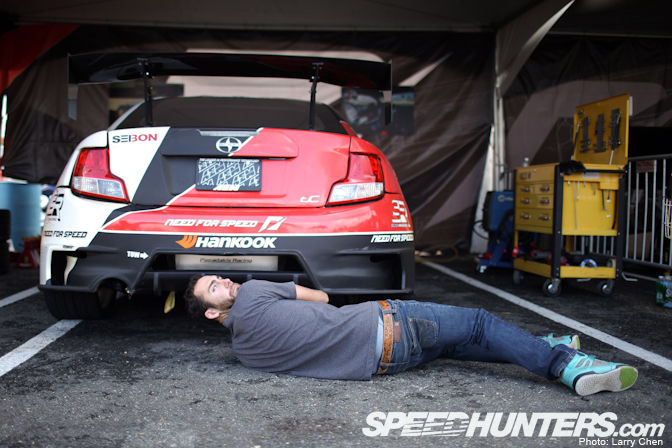 …and Will Roegge helped out where he could. He is no stranger to fixing exhausts.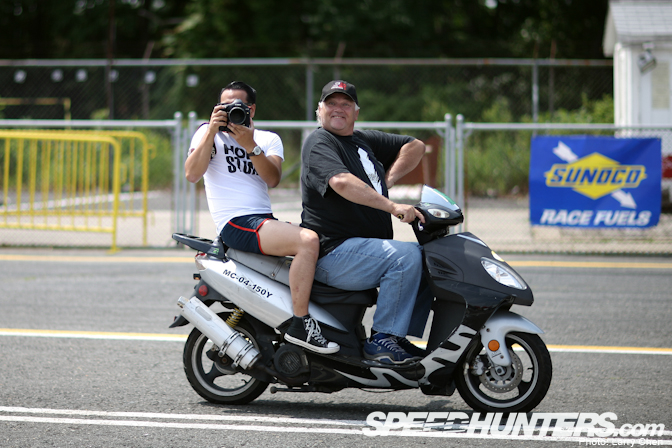 You have to watch out when you are in this part of Jersey. You might just be a victim of a ride by shooting.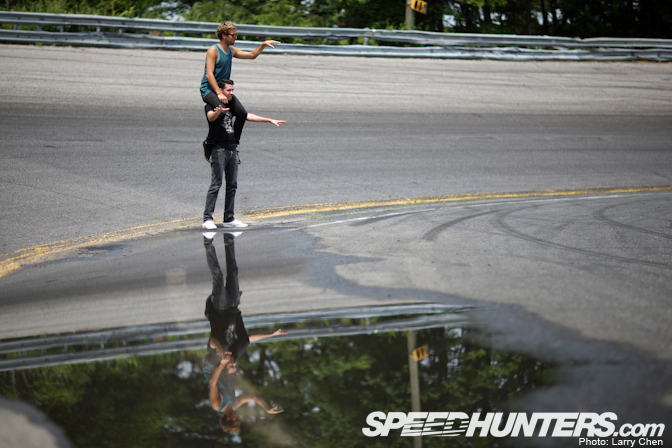 Drivers and their spotters walked the track before practice to get a better feel for the track.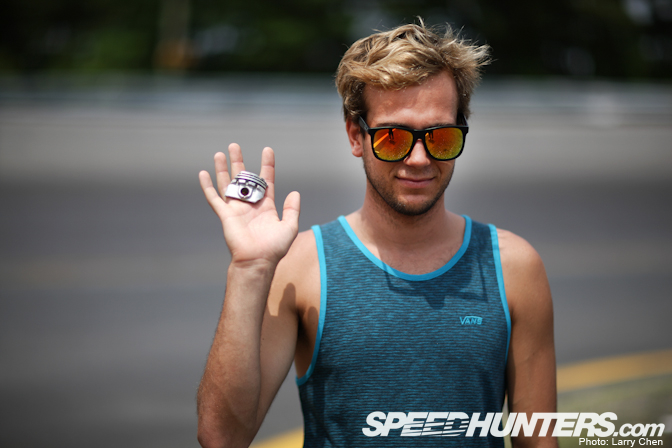 You never know what you will find track-side. Old piston? Check.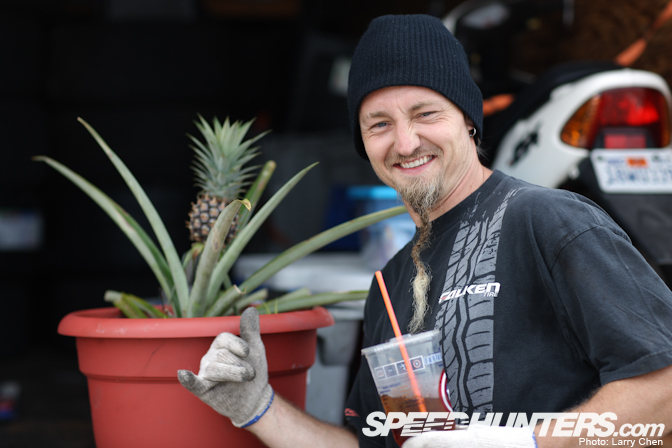 Ross was so excited to show me Garage Boso's new mascot. They bring Mr. Pineapple with them all over the country for good luck.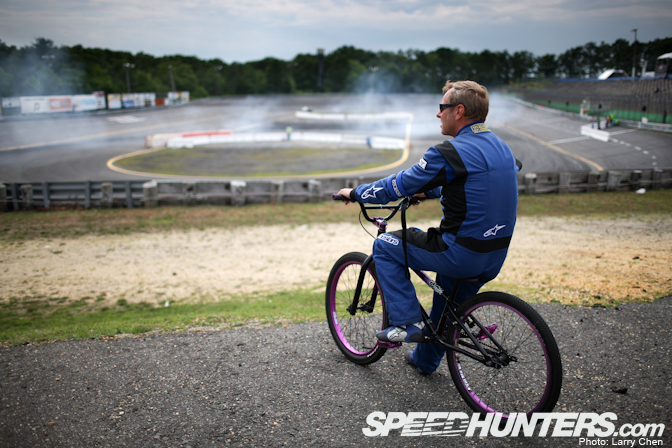 Jim Guthrie made it to the top 32 for the first time ever. I
know he is going to push harder now since he got a taste of being part of the
main show.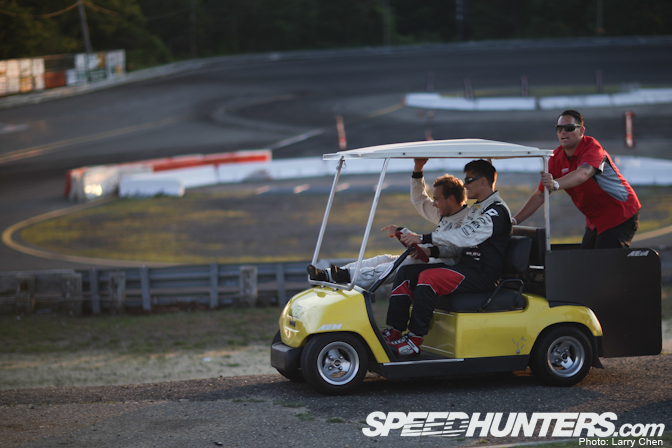 Fredric Aasbo and Matt Powers recorded some footage for Saturday's live stream after practice.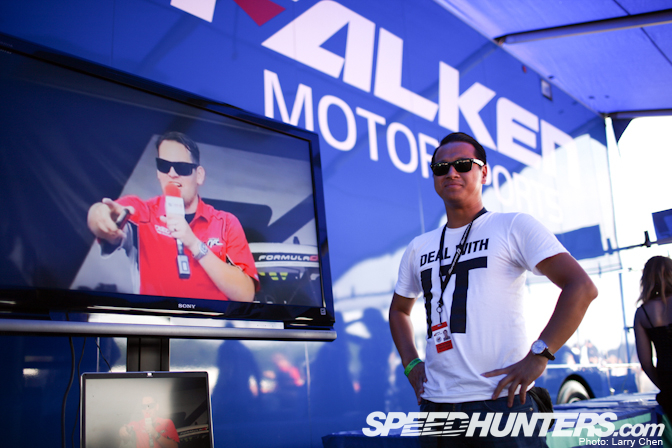 Jarod: "Only you, can prevent understeer. DEAL WITH IT."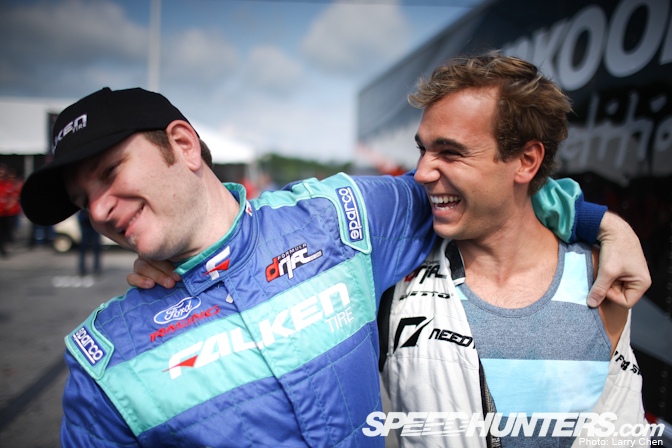 Matt was all smiles hanging out with his rival on practice day…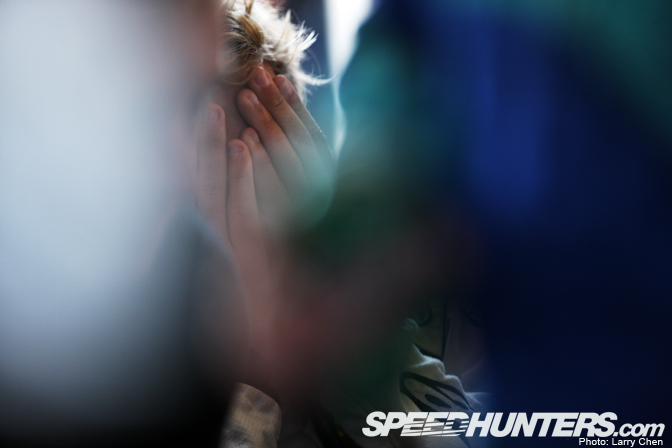 …but the stress quickly kicked in after he qualified a safe but disappointing 25th.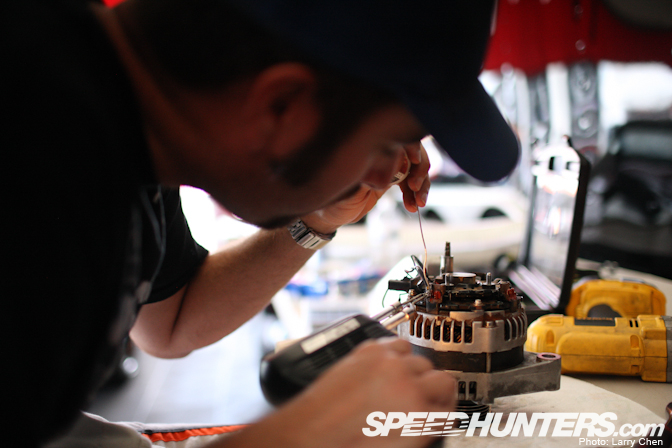 Conrad does some last minute repairs to his alternator. He might not have seen the top of
the podium if he did not
catch this problem early on.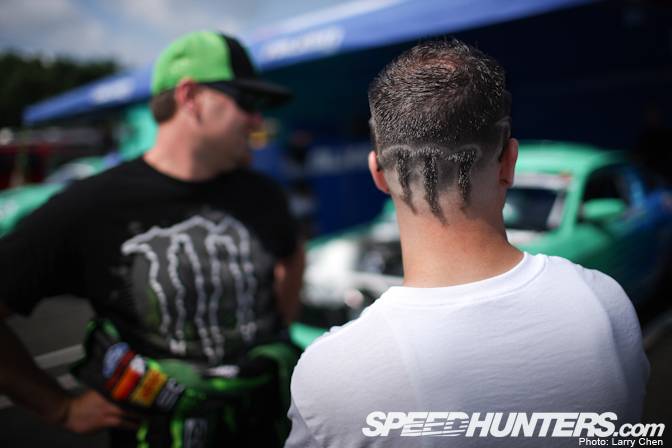 When you become a champion, you have to change your phone number
constantly to avoid the "super fan". They always find you somehow.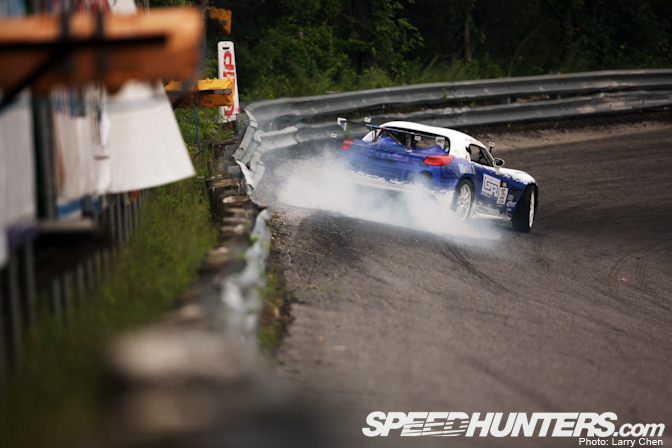 Eric O' Sullivan looked great zipping around the track in the Gardella Racing go-kart.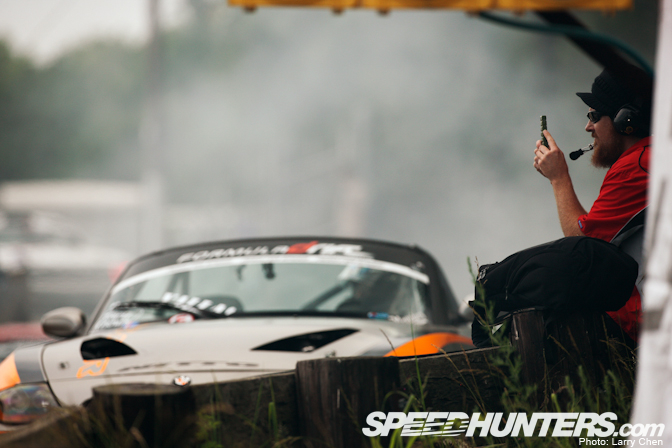 Even though the Formula Drift staff have been around drifting for so long, they are still fans of the sport.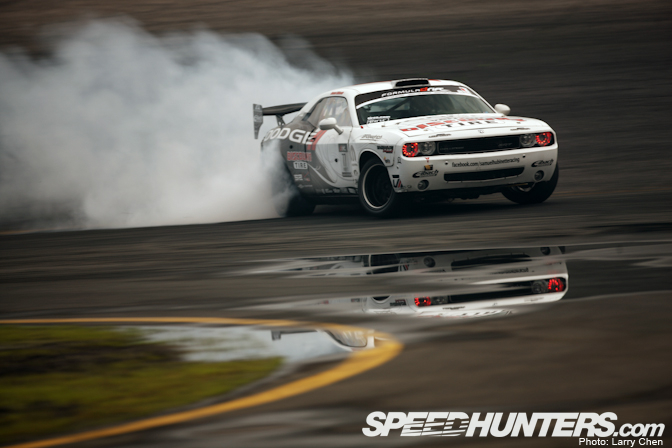 The SHR Dodge Challenger looked itself in the reflection and said, "Damn, I look good!"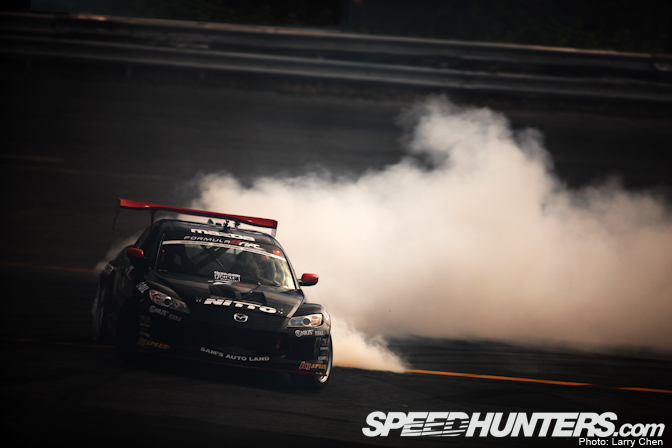 I will have to wear a gas mask if Joon Maeng had the chance to run
five times in a row. The amount of smoke he makes is incredible, to say
the least.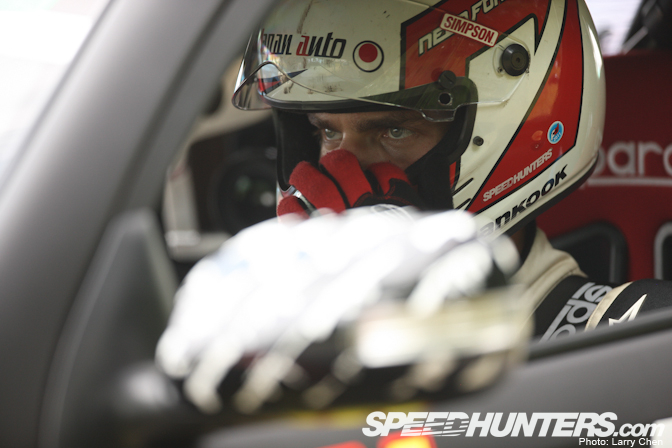 Fredric had a good learning experience from watching other drivers in
Florida after not making top 16. He talks about it more in an upcoming
interview with him and Matt Powers.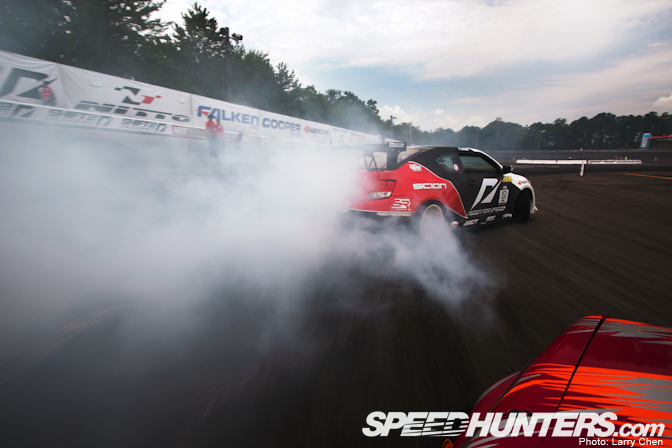 It was his first time on this tiny oval course but he drove it like he has been driving it for years.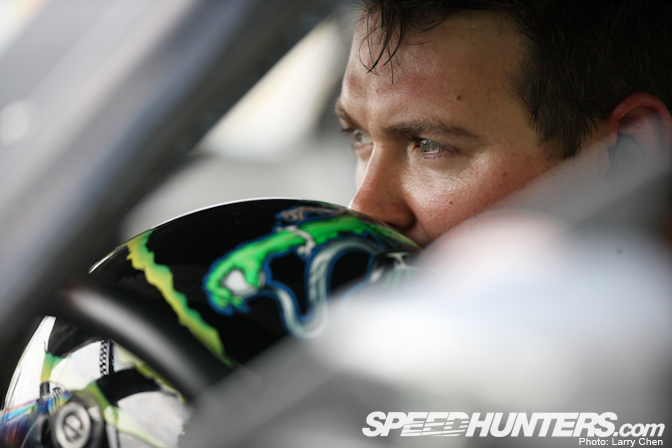 Vaughn Gittin Jr. had a good momentum coming from his 2nd place finish in Palm Beach.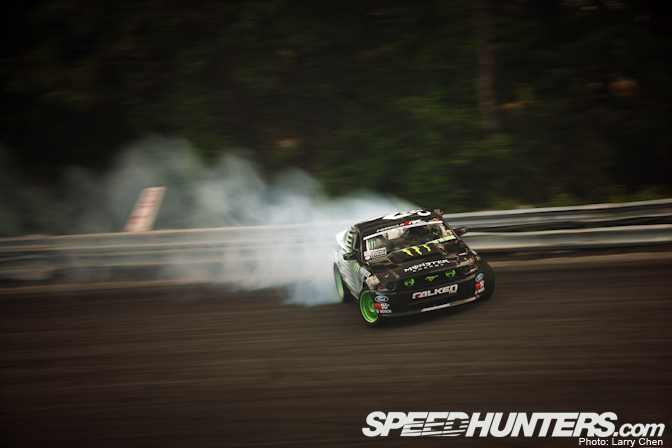 Considering how hard his bracket was, he carried it into this round well. He ended up getting 5th place.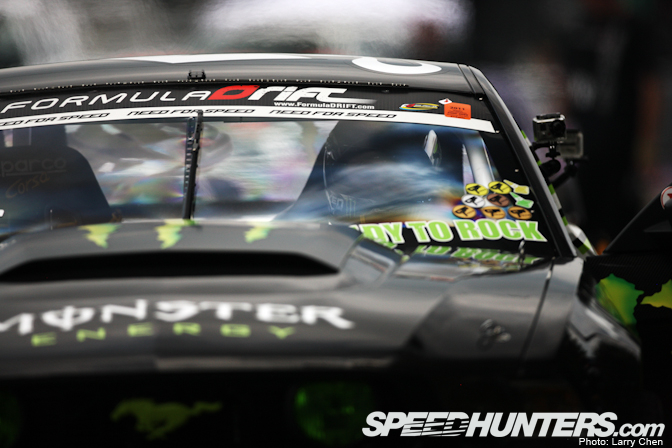 I am sure we will see him on the podium a few more times this season.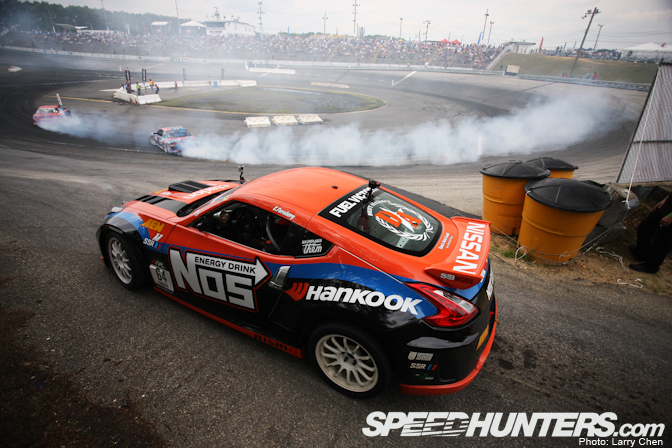 The unique thing about Wall Speedway is the drivers can watch
complete runs from the starting grid while strapped in. Chris Forsberg
was enjoying the free show all day.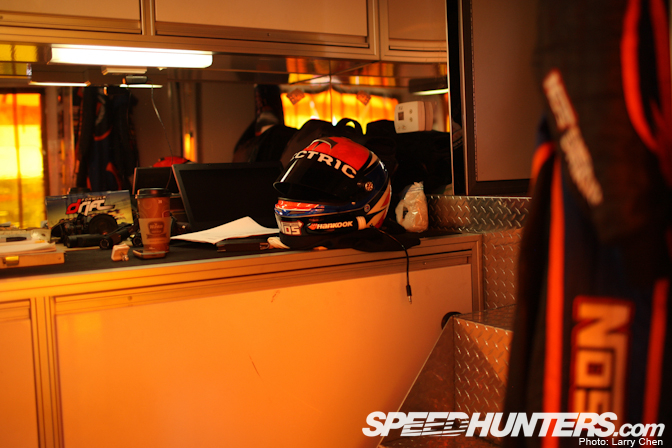 I think Chris Forsberg is one of the most humble drivers on the Formula Drift grid.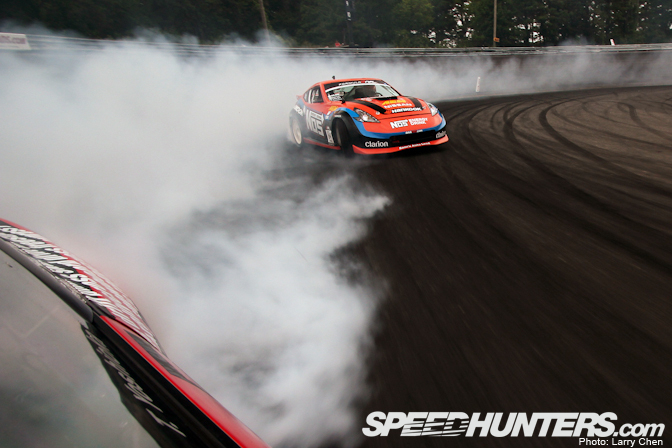 He is getting more and more fun to watch as he becomes comfortable with his 370z.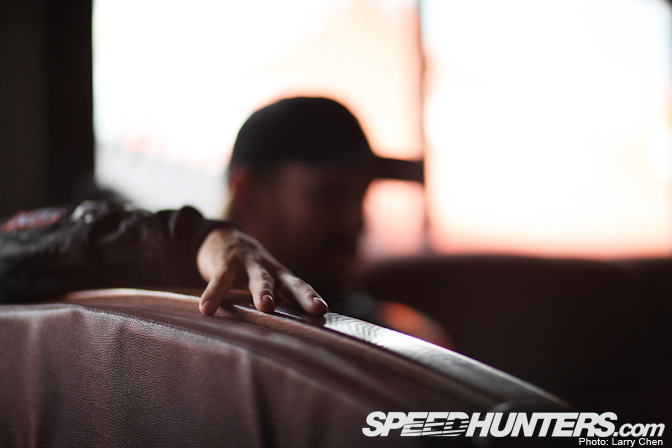 Chris missed the target qualifying speed by a slight margin but he did not
beat himself up about it. He ended up qualifying 6th and he finished in
the top 8.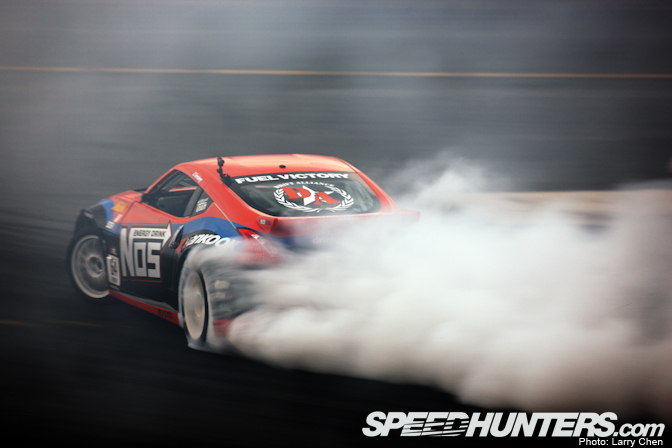 Chris is still 4th place in the fight for the 2011 Championship.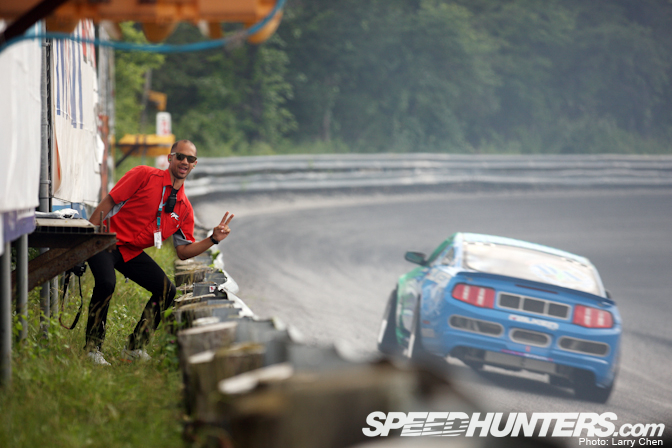 Jose Martinez, the official Formula Drift photographer, believes in love and peace when you are track-side.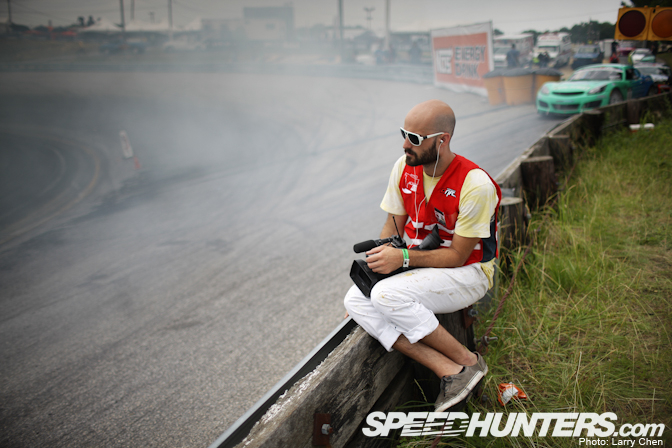 Wall Speedway turns into a cereal bowl after a few runs, but instead
of milk and cardboard tasting bits, there is tire smoke and rubber
particles. Video dude, Andy Laputka, breaths in more tire smoke than oxygen as he sits near the starting line.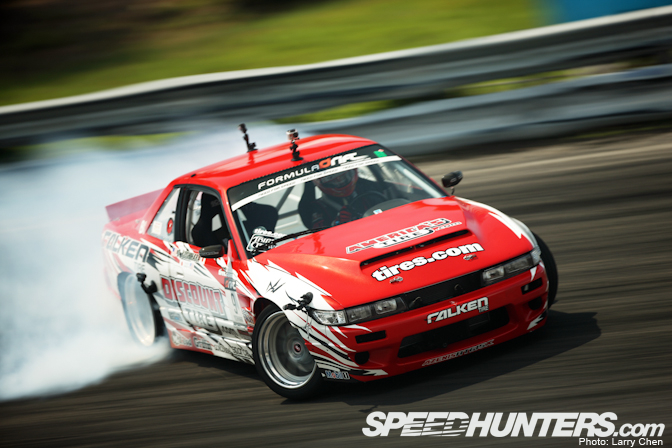 I just love Daijiro Yoshihara's S13. It has got to be one of the most developed S-Chassis in existence.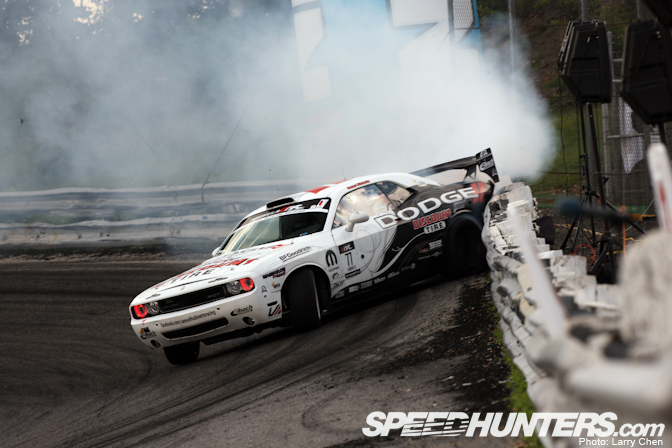 Kenneth Moen must have gotten full coverage on his rental car. I
think the phone call went something like this: "Yeah, I was just driving
along and a deer ran in front of me, so I had to ride the guard rail to
avoid it."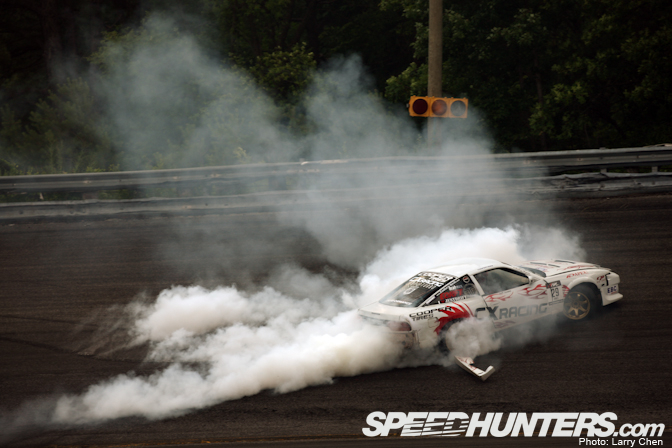 Jeff Jones shows his anger after spinning out on both of his qualifying runs. He literally drove the body panels off his car.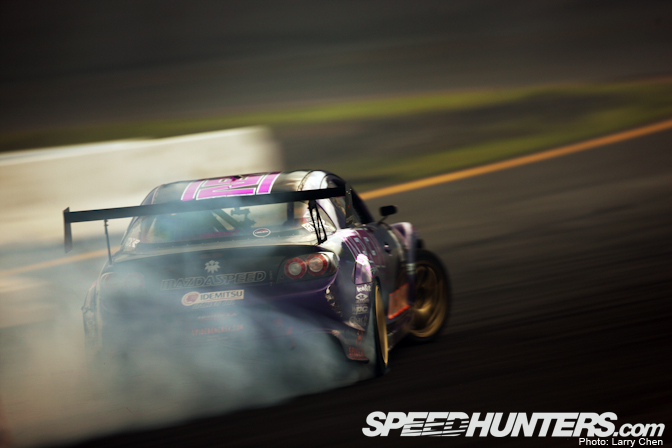 The qualifying monster, Kyle Mohan, made it into the top 16 two
events in a row. I love seeing him do well because he fits two
umbrella girls in his car during the top 16 opening ceremony.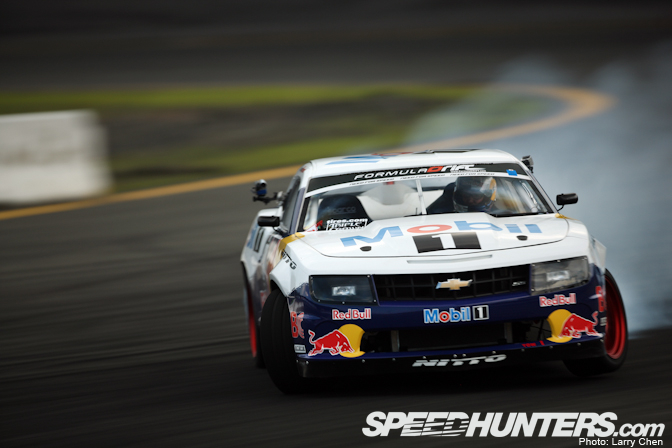 Ryan Tuerck must have had some great CHOWDAAAA before qualifying because he was killing it. He qualified 1st with a 91.2.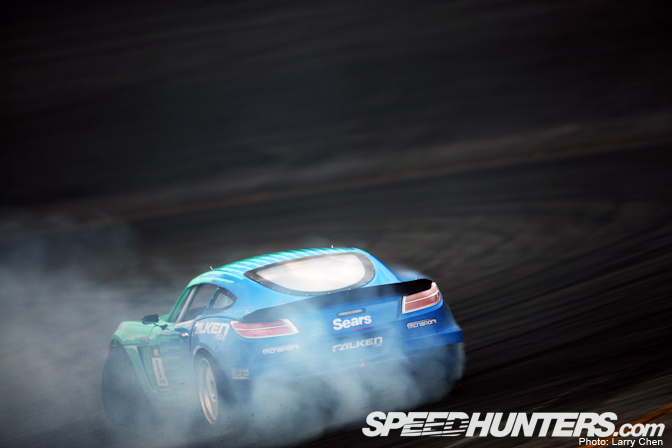 Darren looked like his usual self all weekend. He is one of the few cars that can drift within a drift. Drift-ception.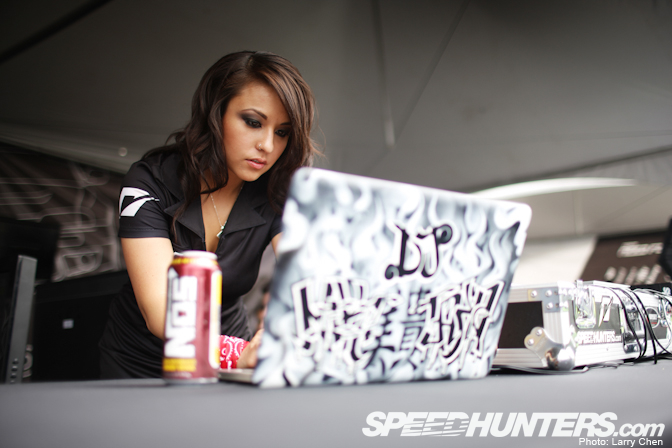 Miki was in a much better mood after her DJ equipment dried off.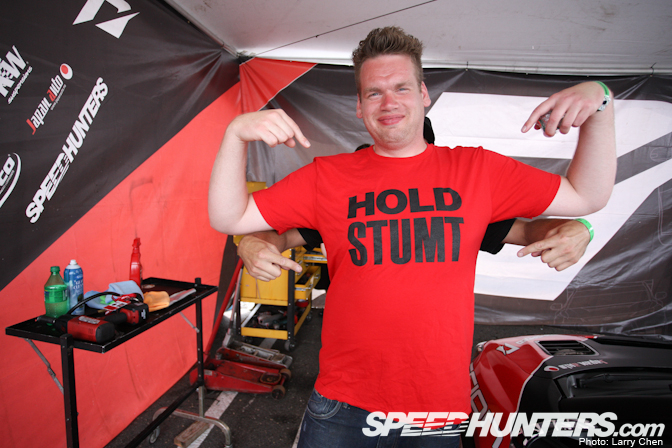 Who loves HOLD STUMT? THIS GUY!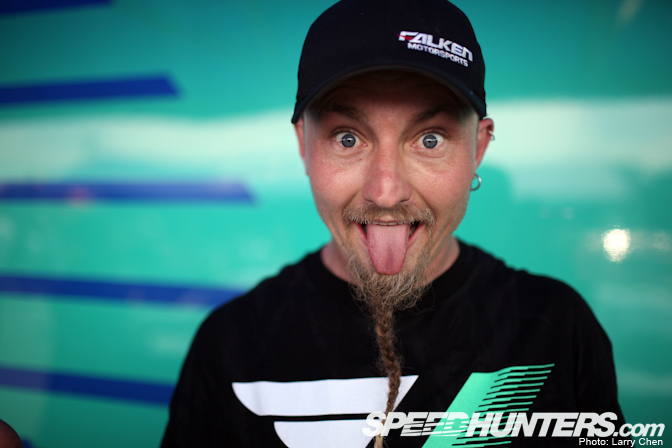 Ross was ecstatic that he made it into the top 16 after eliminating
Charles Ng in the top 32 bracket. Afterwards, he gave his mascot, Mr. Pineapple, a kiss.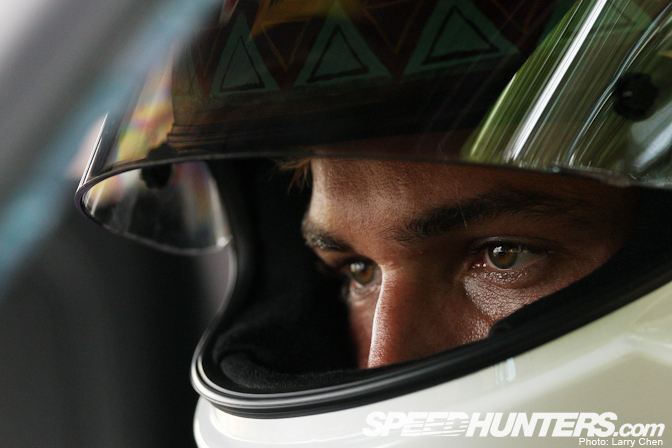 Matt crashed real bad into John Russakoff after John spun out in
front of him. He hurt his leg on his door bar but it was not bad enough
to go to the hospital.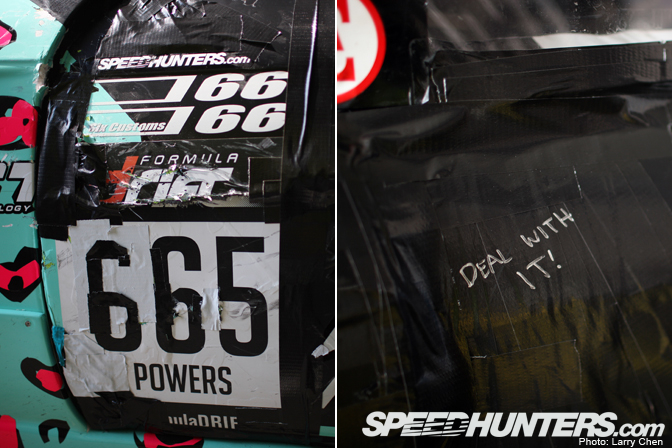 By top 16, Powers' car was brand new.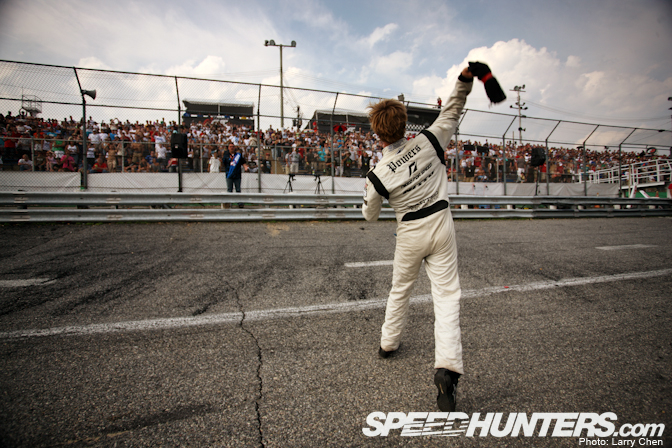 He knew he had to step up the game in order to advance into the top 8.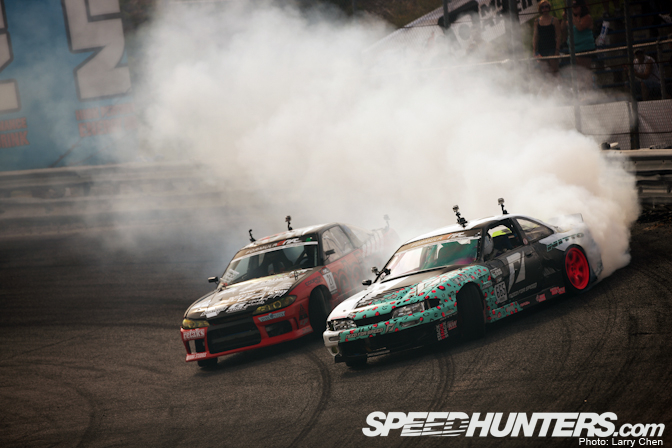 He shook it off and drove like a champ.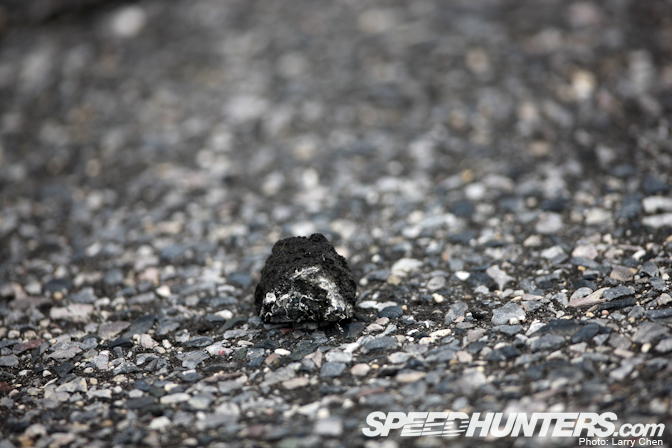 Matt pushed so hard that he kicked up this piece of the track. It struck me on my hip at speed and left a bruise.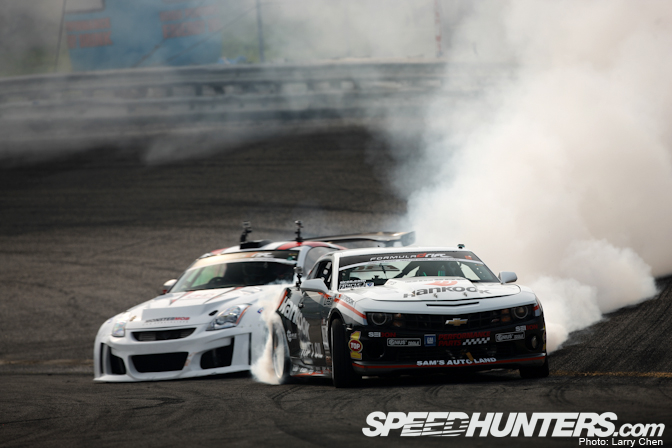 The transition at Wall Speedway is brutal and very unforgiving to low hanging bumpers.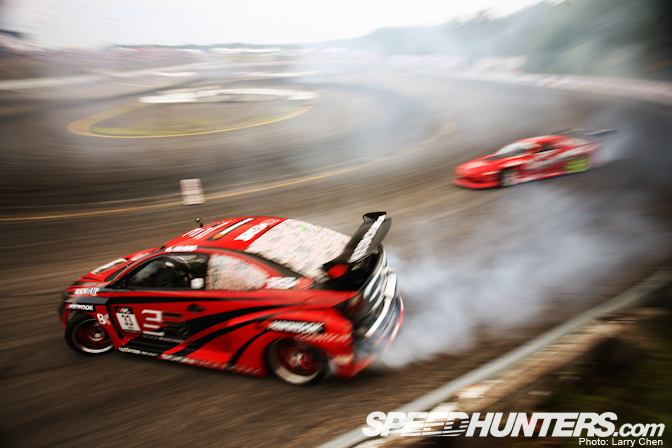 It's great to see Ken Gushi back in the game. He drove to the limit every single run.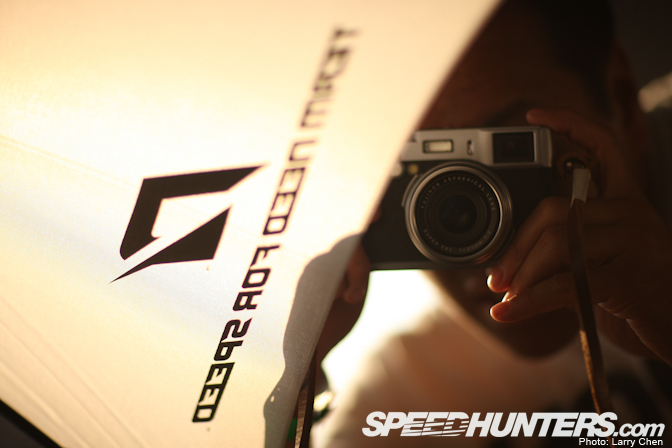 I used an umbrella to shield myself from the sun while transferring my
photos but it did not shield me from hipsters with cameras.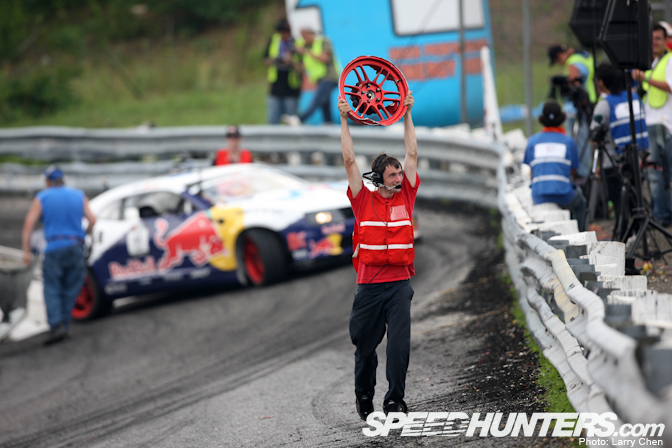 A worthy trophy for the mantel.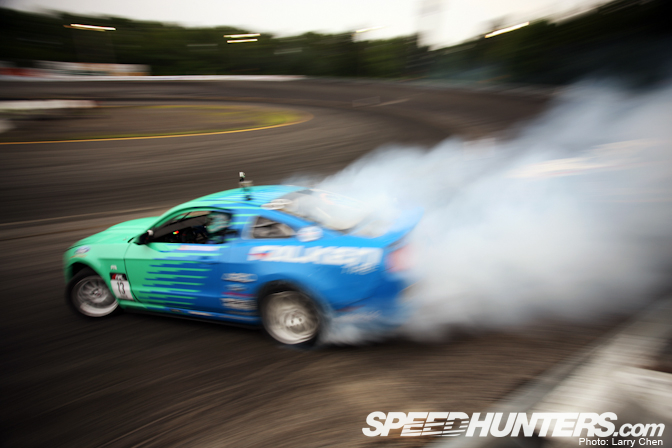 If you look closely, you can make out a Chevy Camaro, in Justin Pawlak's smoke trail, during the finals.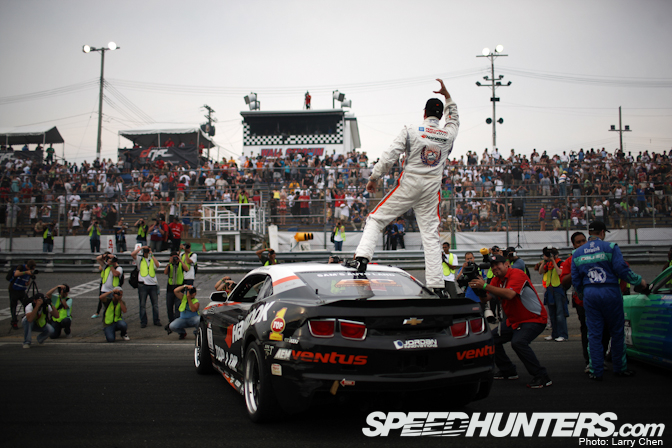 I still don't understand why Conrad's nick name is "The Burger." Though, he
sure did hold that imaginary hamburger high when he won.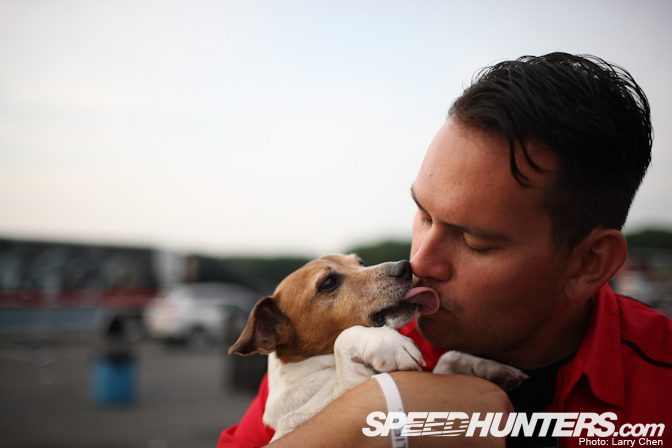 In the end of the day, the real winner of Formula Drift New Jersey was
the lovable Caesar. Not everyone gets to kiss "the voice of drift," Jarod DeAnda.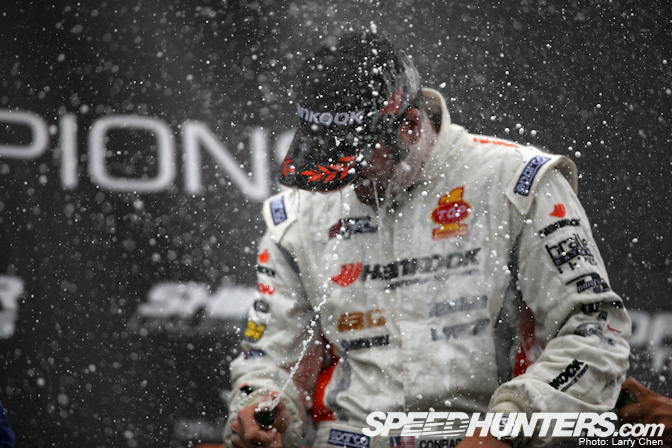 It's refreshing to see another contender for the 2011 championship.
It makes the Formula D season that much more interesting to
follow. With three rounds left, anything can happen.
Larry