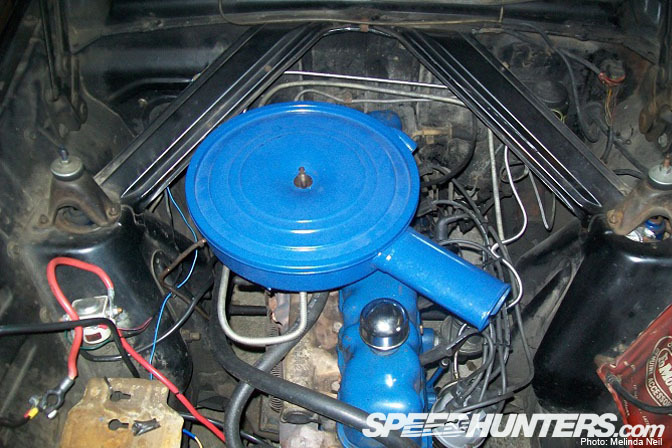 An important chapter in our Things To Do Before You Die series is getting your hands dirty. Melinda Neil and I (who both work at EA) have teamed up to share with you some of the reasons why working on your own car is such an important thing to do. Indeed, Melinda and I both spend our weekends away from the EA office working on our cars. And although it doesn't sound glamorous, often it's these experiences, grazed knuckles and all, that you end up cherishing for the rest of your life.
Melinda: Hey guys! As this is my first post on Speedhunters I thought I'd give you a quick introduction. I am the behind the scenes gal for Team Need For Speed and Speedhunters – cat herder, Formula Drift Team Need For Speed booth den mother, admin and master of paperwork. My car is a 1963 Ford Falcon, nicknamed Veronica. Until recently she was my daily driver, with her little 170 engine, she got me from A to B in a very stylish manner. I am usually at car shows every weekend from April to November. Because of all of this I had a hard time keeping up with her maintenance; I was afraid that if I dug too deep to fix something I wouldn't be able to get her back together in time for work on Monday morning. I'm sure there are a lot of you who can totally relate to that!
She started to get pretty rough, so I bought a beater car so I could do some work on Mz. V. Under the guidance of my fella, I did a ton of work – new exhaust manifold, replaced the head (I never want to see another valve lash ever again!), updated the alternator, plugs – a mild rebuild, but it wasn't enough.
Over the summer, the little 170 that could, finally couldn't. I had done all that work, and I wasn't going any faster! To heck with that, said I…and I got my hands on a sweet 93 Mustang 302. And now my goal is to go drag racing this summer!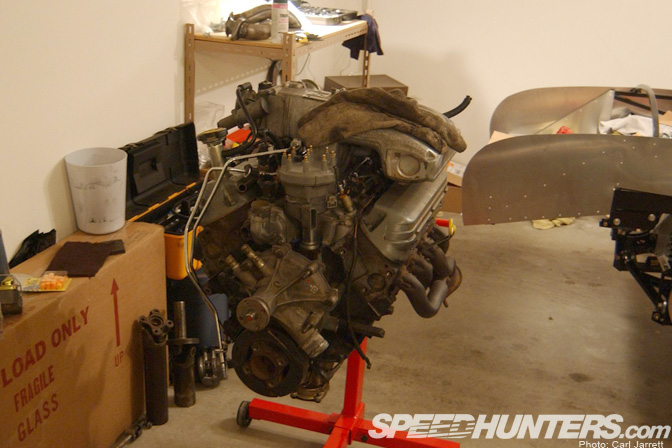 Carl: Some of you may know me as Nerdbutt Doofushead, others from my RX-7 time attack project I've been spottily covering here on Speedhunters over the past year and a half. The RX-7 is the latest distraction of mine away from family and work, but it definitely isn't the first! I've been wrenchin' on things since I was a kid building Frankenstein RC cars out of broken parts, sometimes they worked, sometimes, not so much.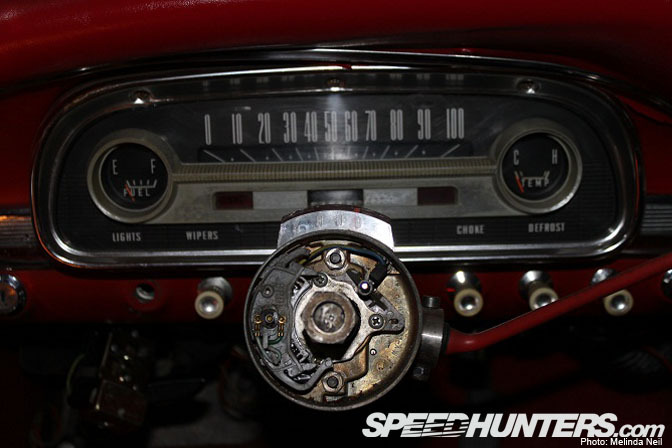 Melinda: Since this is my first foray into the world of engine swaps, saying I was nervous is an understatement. You know that moment when you crack open the dash, take a deep breath and start cutting wires? My stomach churned, good lord what had I done? I felt like I was jumping off a cliff! I got the steering wheel off and started pulling!
Carl: There is always that moment when you're first starting a project where you think to yourself 'what have I gotten myself into?!', I've had many of them. Fortunately, the more of those you get, and the more projects you work through, the less scary they become! Unless it's a big restoration on a car with rust, that is never easy, and never much fun for long periods of time!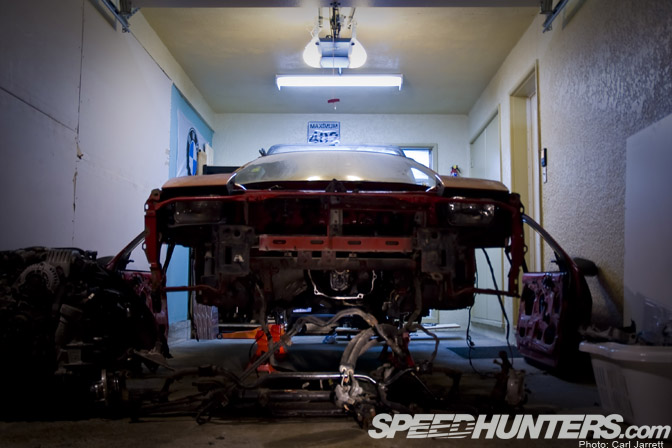 Melinda: Carl, it looks like you know exactly what I mean!
Carl: At the beginning of my RX-7 project, I had never fully rebuilt/restored a car. I definitely felt overwhelmed by the sheer amount of work to do. The RX-7 also had some sheet metal cancer underneath, more than I thought there was. Fortunately for me, a few local rotary guys came to my place to help me disassemble the car.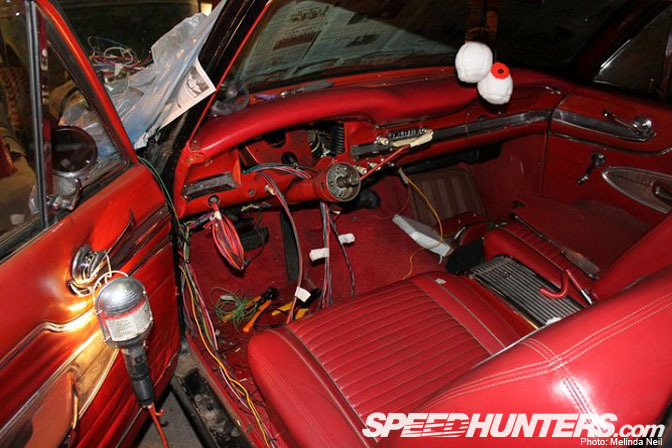 Melinda: Rewiring takes the patience of a saint. I definitely don't have that…I think I was having my first re-wiring tantrum here. I still don't know if I have it all right, but I do know that that wipers and heater work. Ha! Small victories…you have to hold onto them when you can because some days that's all you get. You do so much to the car, but so little shows for a long time. And your friends are always asking…are you done yet?
Carl: It's funny, for over a year after I graduated high school, I worked for a company that manufactured wire harnesses for boats, cars, trucks, and big-rigs, and even after spending a year both designing them in CAD, and assembling them on the shop floor, I still get freaked out by wiring.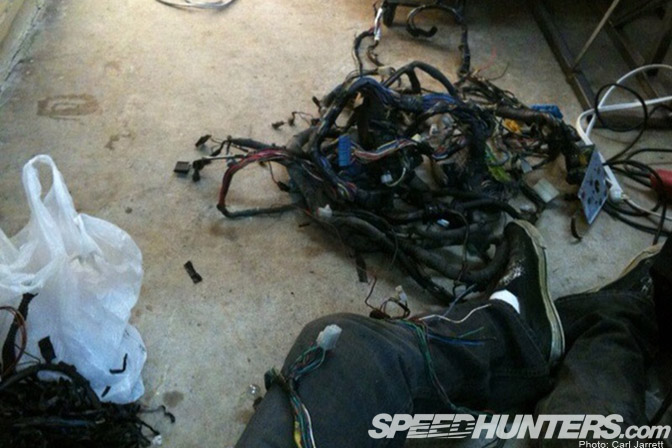 Melinda: Ack! Attack of the dead wiring spaghetti monster!
Carl: First and foremost, figure out what you have, and have not. Get yourself a wiring diagram, Haynes manuals are great for that, and spend some time trying to understand the basic terminology used in the electrics on a vehicle.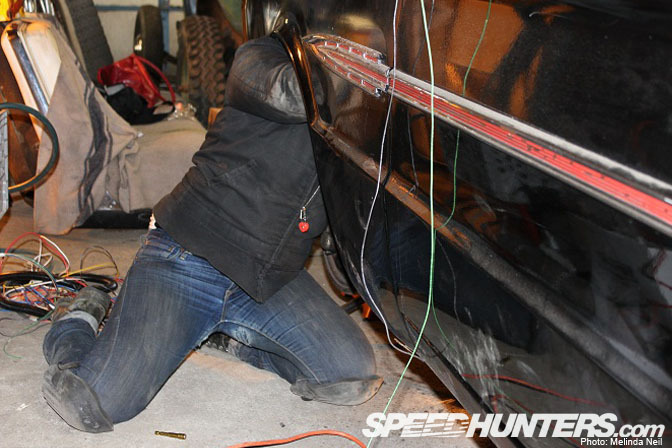 Melinda: There are the little details that you want to take care of as you go along. You hope it's worth it when you spend extra hours feeding the wiring up under the wheel wells and hidden under the bumper in order to make the engine bay tidy looking.
Carl: When it comes to wiring on a car, the right tools will make your life that much easier here just as it would when putting new heads on a 302 or changing the springs on your 88 Civic Hatch. Make sure you have a multi-meter, or at the very least a circuit test light, some GOOD wire strippers/crimping tool, a soldering iron, some heat shrink tubing, and the ever ubiquitous black electric tape.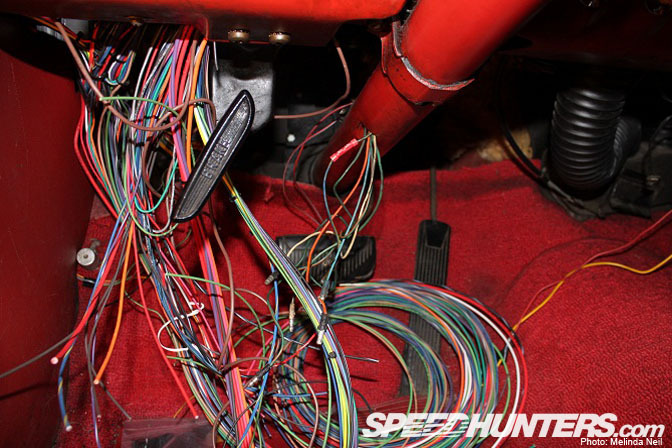 Melinda: Then when you think you are finished with the rewiring, there's more. You have to replace the headlight switch, but the first one was faulty so you have to wait til next weekend to return it. The next one you try and install isn't working either. "Is it me or is it the part?" you ask yourself. So you move onto another part of the car, but that comes to a halt when you need one bolt but now, because you spent hours trying to get a broken part to work it's after midnight and 7-11 doesn't sell fine thread 5/8th bolts. You want to smash things…
Carl: Smashing things is always a good option, if you ever re-build a car, or use a car for parts, be sure to keep a few parts around you won't need, so that you can smash something worthless, versus setting your brand new Painless wire harness on fire.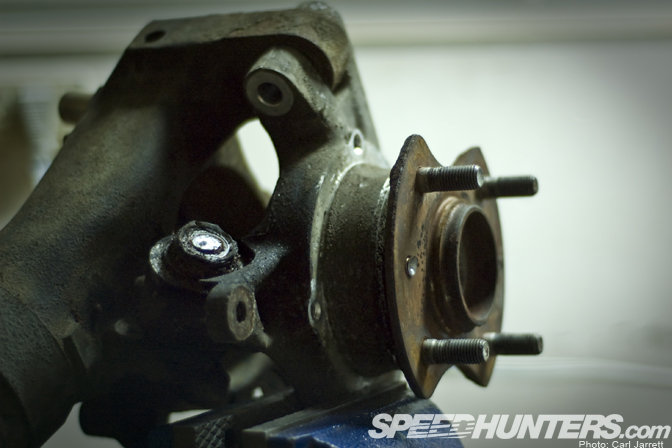 Melinda: And sometimes you do…!
Carl: At some point you will hit a roadblock that will cause you endless amounts of frustration. This is especially true if you're working on an older car. Snapped off bolt heads, bushings that won't come out no matter how much fire, air-hammering, and sledgehammering you do, or that part you're trying to get out that breaks the part next to it are all part of the fun. The best part of these tribulations is when you do finally get it, you feel like you just won some epic battle of man (or woman) versus machine.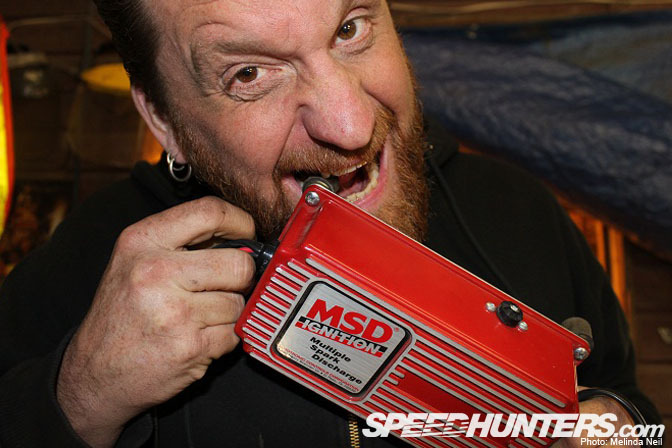 Melinda: But then your helper monkey makes you laugh, and encourages you to keep going.
Carl: One of the best parts of working on your car is that it can be a solo act, where you crank the tunes, and be at one with your machine in your garage and just tinker away, or it can be you and your buddies and turn it into a party. Some of the best friendships have come from the shared enthusiasm for working on cars.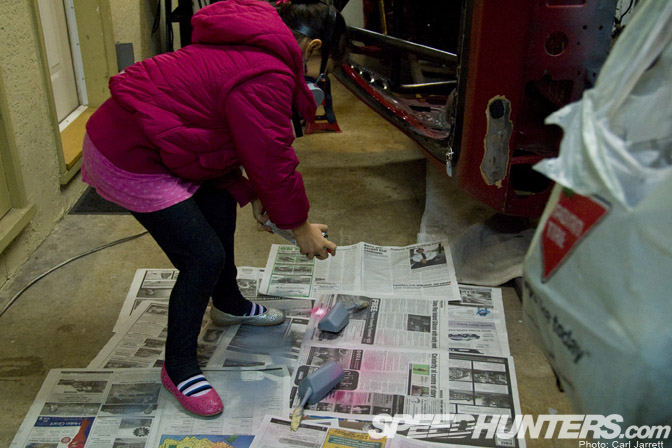 Melinda: Some helpers are very helpful!
Carl: When your friends and family see how passionate you are about your hobby, they naturally want to help out. There is nothing better than getting the personal touch of your kids, even if it is hot pink paint and butterfly stickers!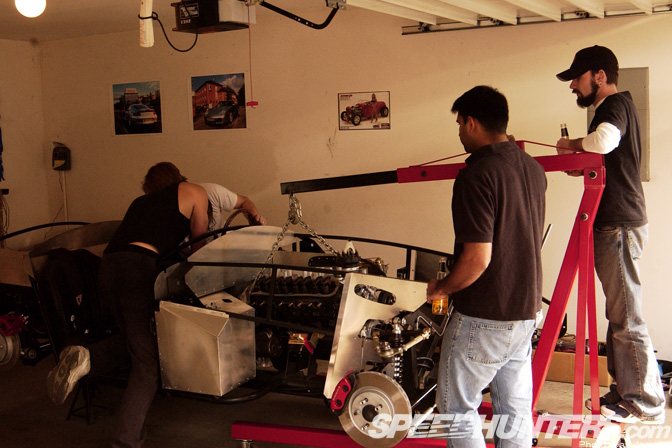 Melinda: The camaraderie is priceless. The questions, the advice, the "well I would've done it this way", the helping hands, the new tricks, and cracking a cold beer together at the end of a long day are irreplaceable. The spot I work in is shared by a few other folks crazy enough to build their own hot rods and there's never a dull moment!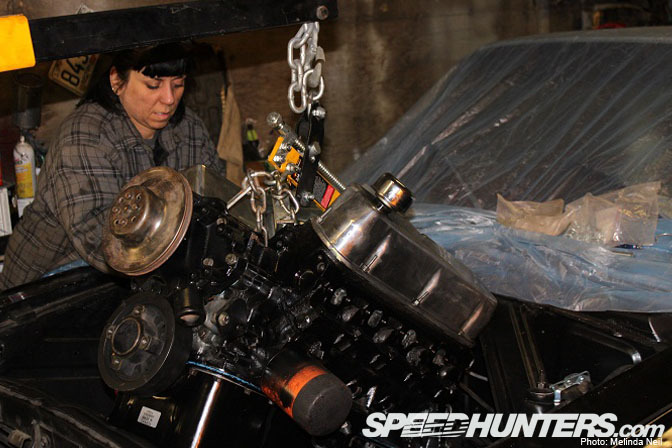 Melinda: There are lots of upsides to working on your own vehicle, whether you are doing a ground up rebuild, engine swap or just changing your oil. It's the fact that you did it. You left your mark on that car. The sense of accomplishment is amazing! Pushing my own comfort zones to find out that yes, I can use that tool and yes, I can solve that problem. It translates to other areas in my life and makes other problems seem so small.
Carl: The other major benefit is, how well you get to know your vehicle, and vehicles in general! The next time you hear that funny noise, or feel an odd clunk, you have a much bigger chance of knowing what it is or where it's coming from. And plus, the next time your mechanic tells you that you're low on 'Halogen Fluid' you can smack him with a leather glove because you'll know he's full of $#!t.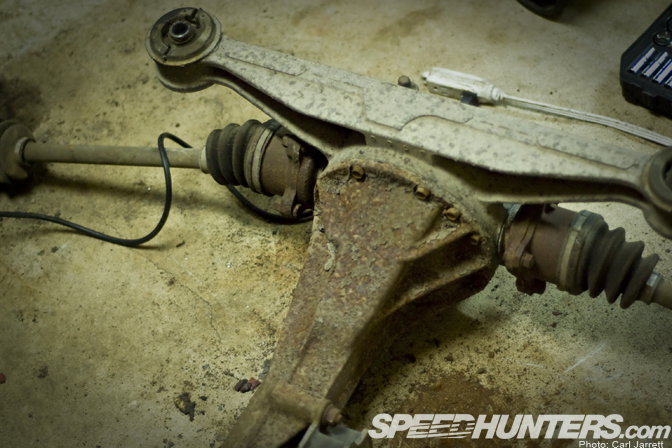 Melinda: I think the TV shows that do rebuilds in 24hrs put unrealistic expectations on people that dream of doing this sort of work themselves. They make it look like you have to have a million dollar shop in order to do this kind of work. Sure, it would be great to be able to have a shop like they do, but until I win the lottery; I work where I can with what I have.
Carl: And most of the time that means working with parts that are not brand spankin' new. You'll learn to deal with the rust, the caked on grease and grime, and stuck bolts.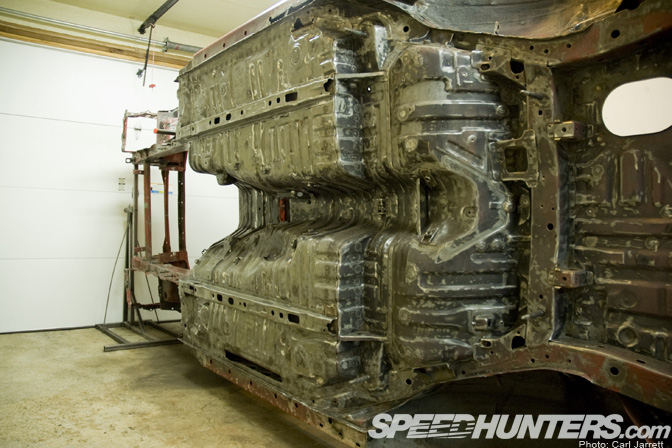 Carl: And sometimes you'll be lucky enough to find a friend willing to help you with the worst of jobs. Stuck inside a small 1 car garage, my friend Dave helped me clean the bottom of this 400,000km RX-7 with nothing but a couple angle grinders with twisted wire wheels on it. We did end up stripping about 15lbs of undercoating and dirt from the car though!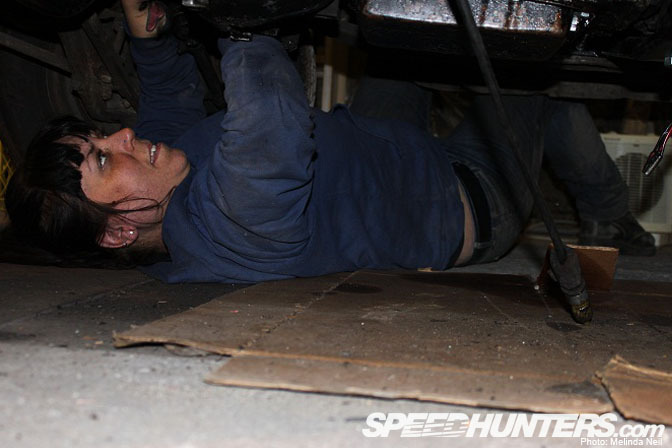 Melinda: It's dirty, loud and cold and even though I complain sometimes… I wouldn't have it any other way.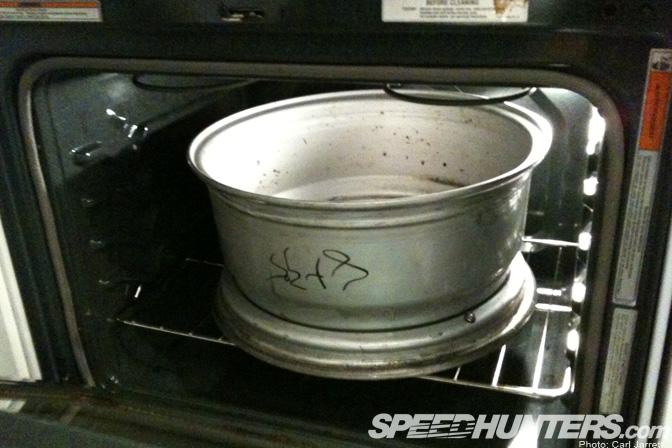 Carl: And sometimes the tools you have to make-do with include the household appliances. Disassembling my 3-pc BBS RS rims required a very understanding fiancée, who didn't mind the smell of brake dust on our chicken dinner the next night.
Melinda: Carl's baked wheel reminds me of the "Bell-B-Que" we have out at our shop…BBQ'ing on a trans bell housing!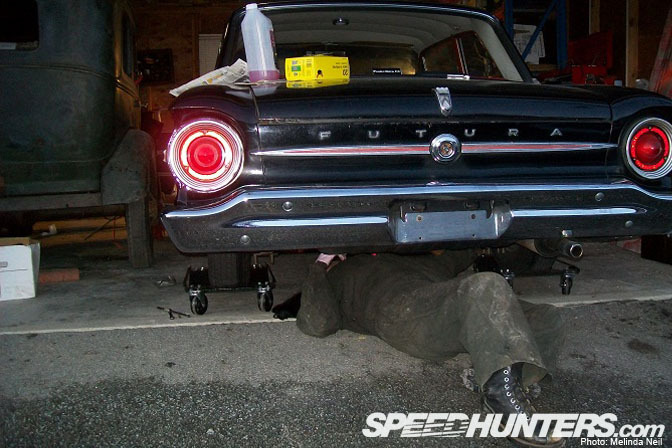 Melinda: Sometimes not having a perfectly flat ground in your garage can be worked to your advantage, like here when I needed to get out the drive shaft. The slope out of our garage was perfect for me to get under the car…she's a little tight as she is much lower than stock.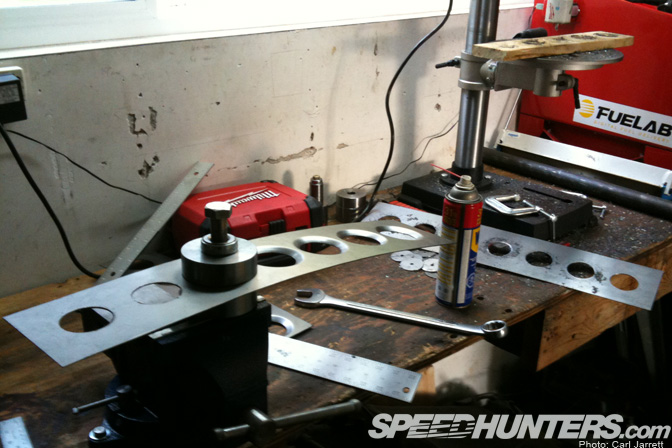 Carl: One of my favorite things about working on cars is learning how to do new things, and a lot of that time it means acquiring new tools. A gear-head can never have too many new tools. Some people say that metal working is a cold feeling art compared to the warmth you get with wood and woodworking, but I disagree! Taking a clean sheet of metal and transforming it into something useful with smooth curves and bends is very gratifying.
Melinda: Learning to fabricate my own parts has become one of my favourite new skills. Knowing that if something doesn't fit, I can make it work. And it means I get to use the grinder and the drill press…super cool!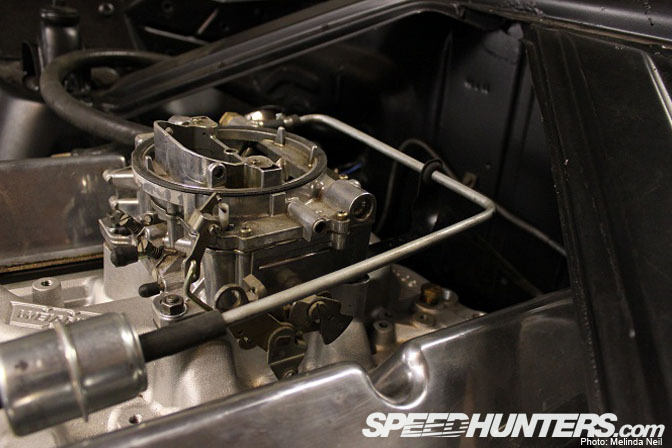 Melinda: Here I made a mount to support the fuel line…painted it and now you can barely see it. Momma is proud!
Carl: Sometimes it's these little things that give you the greatest sense of satisfaction, the perfectly bent brake lines, fuel lines, or the cool little aluminum bracket you made, just knowing you did it is worth the effort.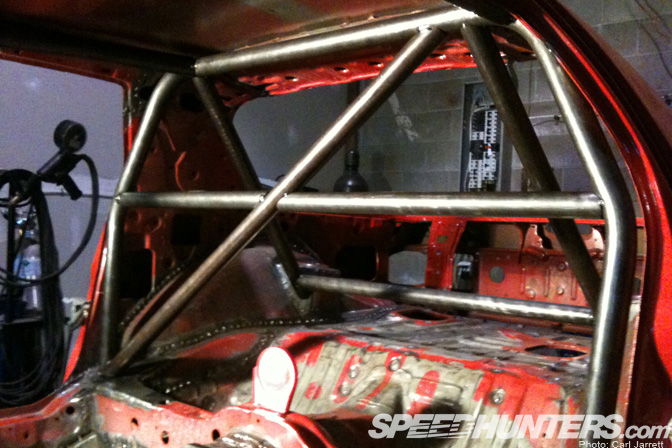 Carl: My belief is, don't let anyone discourage you from doing even the biggest and most intimidating jobs! If you have the tools available to you, the time, and the patience, there is always enough information out there on the world wide web to do anything you set out to do! I've never built a cage before, but I think my friend Colin and I did a pretty decent job. And the next cage I make will be even better.
Melinda: My little mount is nothing in comparison to what Carl has done here. One day when I can make my car go fast enough I will have to bug you for roll cage tips!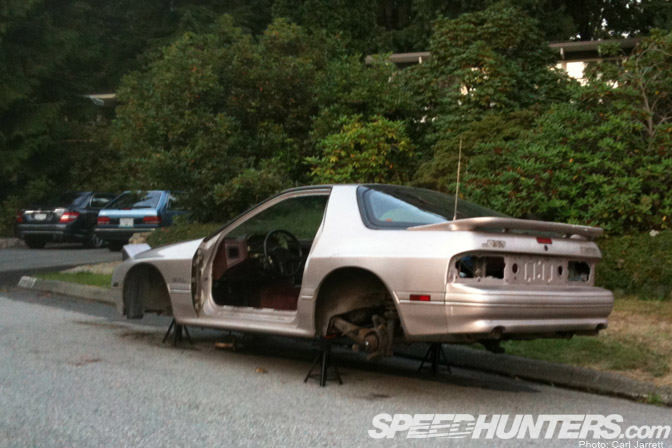 Carl: Sometimes your hobbies can irritate your neighbors though. I'm lucky enough that the neighbors near me know how passionate I am about what I'm doing, and I'm easy going enough that if I'm irritating them I'll do my best to improve the situation. And Amir who lives next to me used to race RX-7s himself, so he understands! However, having a shell of a car sitting on your street for a few days might make the old cranky lady down the street call the by-law office and have them give you a ticket for making your neighborhood look a little redneckish. Just make sure you don't leave big drag racing slicks in your front lawn.
Melinda: Cue dueling banjos!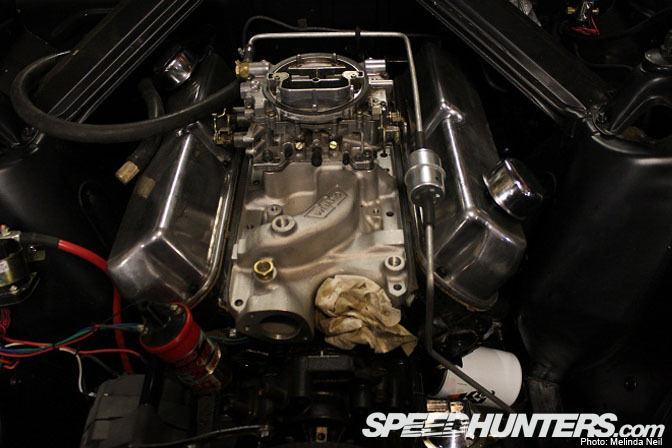 Melinda: So this is the final product with the engine swap, and I still have more work to do. I need to swap out the rear end for a sturdier one, button up the rest of the wiring and work on the brakes. But I have to say that when compared with what I started with…damn she looks good!  I hope to be able to drive her to Formula Drift at Evergreen Speedway in Monroe Washington at the end of July and then take her drag racing after that.
Can you hear me grinning right now?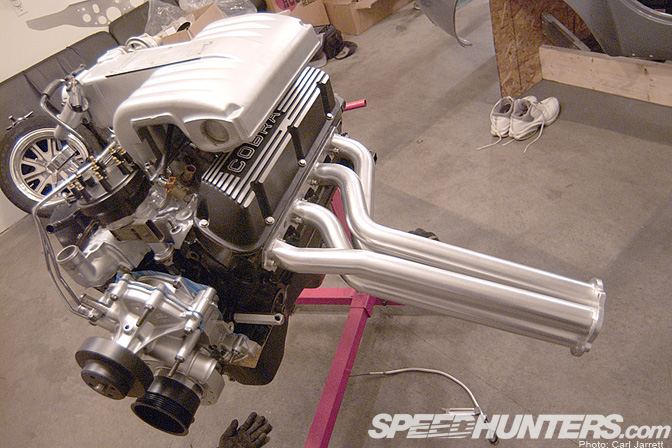 Carl: See the before picture of my 302 above? See the grin of me below? This is what it's all about! Seeing all your hard work come together to make some amateur car-porn.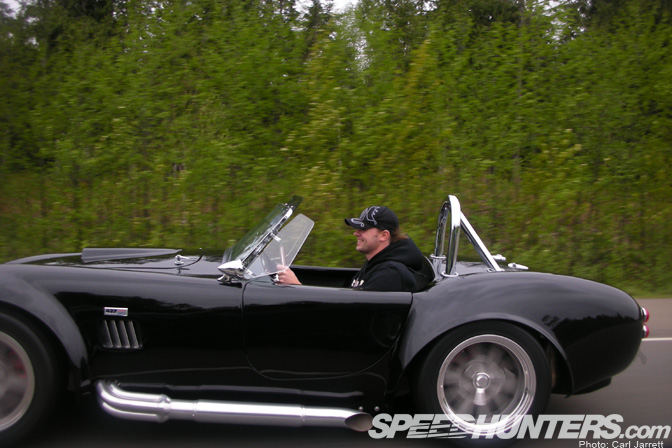 Carl: And that grin on my face, was pretty permanent just about every time I drove the Cobra. Knowing I built it, and it didn't fall apart the first time I drove is directly proportional to the size of the grin and the length of time it lasts. Can't wait for the day to get the Mazda on the track, I am still hoping it's this year!
Melinda : So jealous of Carl here. I cannot wait to do this with Veronica, I miss driving her so much. My winter car makes me so depressed every time I look at it, and when I have to spend money on it (don't ask, that makes me grouchier than rewiring!).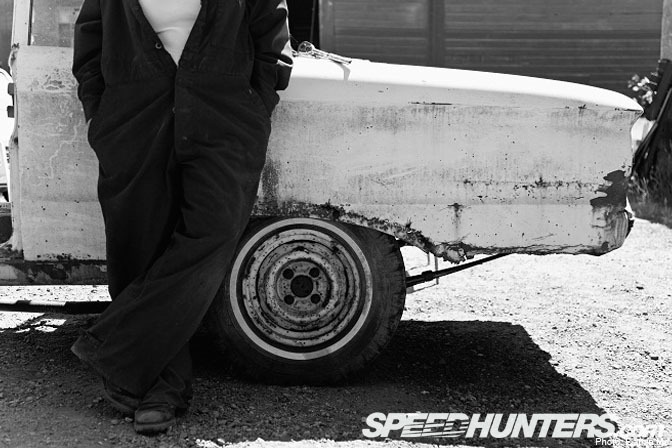 Melinda: And since I am a glutton for punishment, I also have another project in the works. It's been sitting on the sidelines while I work on Mz. V, but the 61 Falcon will be amazing when it gets done. Did you notice that I said "when" and not "if"? Yes, working on your own vehicle is incredibly frustrating but I love it like nothing I've ever done before. It is so incredibly rewarding; my personal toolkit is brimming with knowledge and the friendships forged are solid. And I think Carl would agree!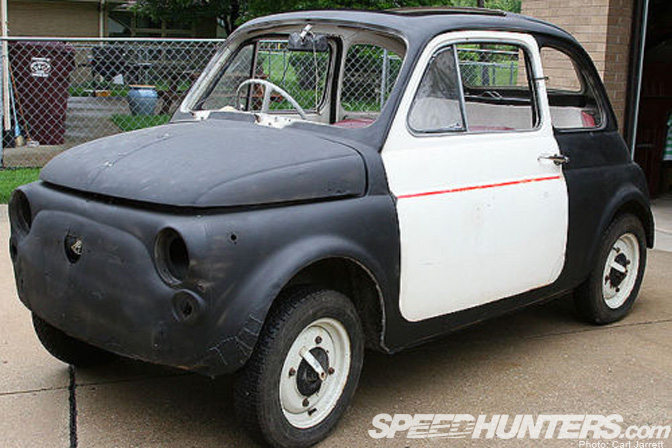 Carl: Melinda is right, no matter how frustrated you become with other projects, it's a slippery slope to grease-monkeydom once you experience those first few victories over machine. My next project, for my soon to be wife, is sitting behind the house right now, patiently waiting for some of my attention, and I'm excited to be able to work on this project with my best friend, getting frustrated together.
So get out to your garage, driveway, underground parking lot, onto the street, or out on your front lawn and get dirty! Don't be afraid to ask a friend or colleague for help, get your family out there, even just for moral support or some pointing and laughing, borrow some tools (neighbors are good for that), and get to know your vehicle! You will never look back.
- Melinda and Carl