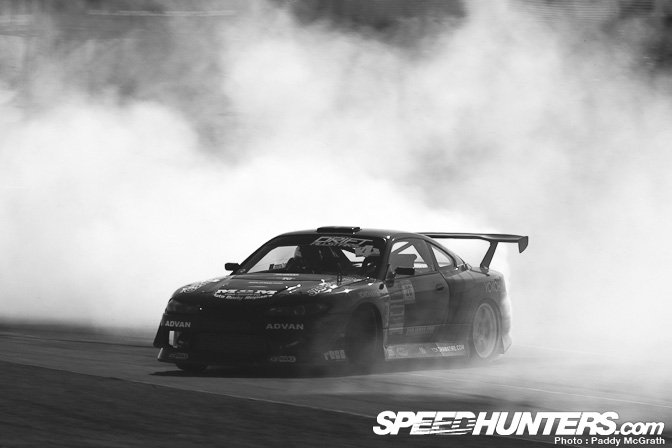 Before I came onboard as a Speedhunter, I spent pretty much every waking minute absorbing every thing I could about drifting and Japanese car culture. In some aspects, I was quite ignorant of other thriving scenes and it's only since I've become a Speedhunter that I've had my automotive pallette expanded ten-fold.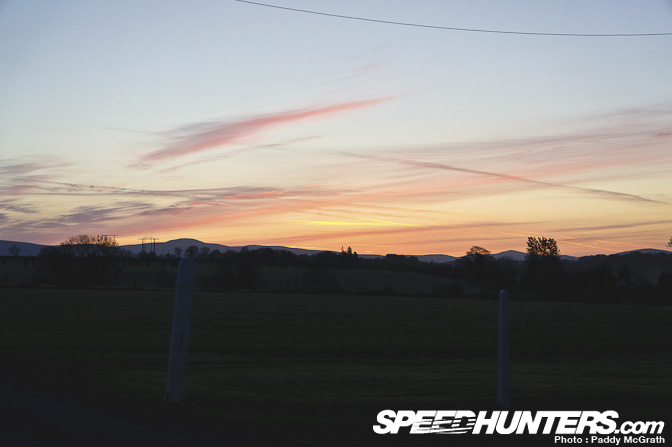 But no matter how many other race series' I attend or static shows from different automotive sub-cultures, drifting still holds a special place in my heart.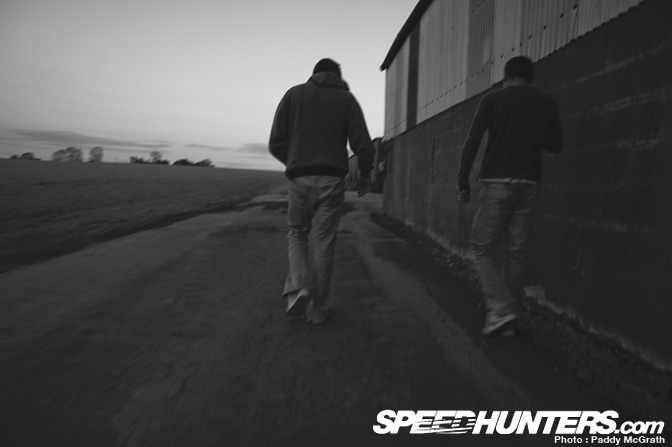 I've been shooting less and less drifting over the last year or so compared to when I was working with Prodrift Series, so anytime I get a chance to come home so to speak, I always try to make the most of the event.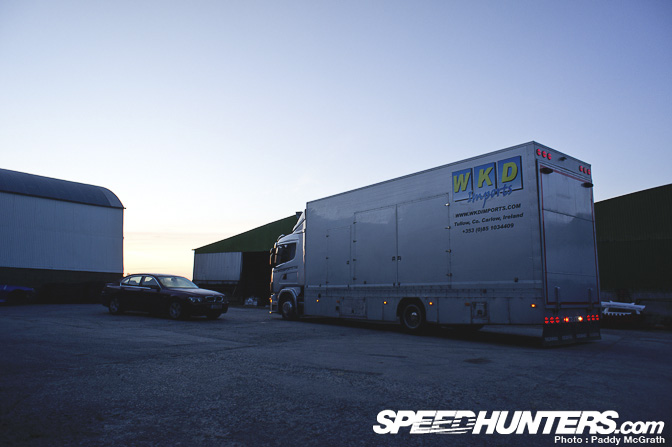 One of those things I always associate with drift events is the journey. I've some very fond memories of being squeezed into a Transit van and travelling through the night by sea and by road just to get a relative glimpse of some top drawer European drifting.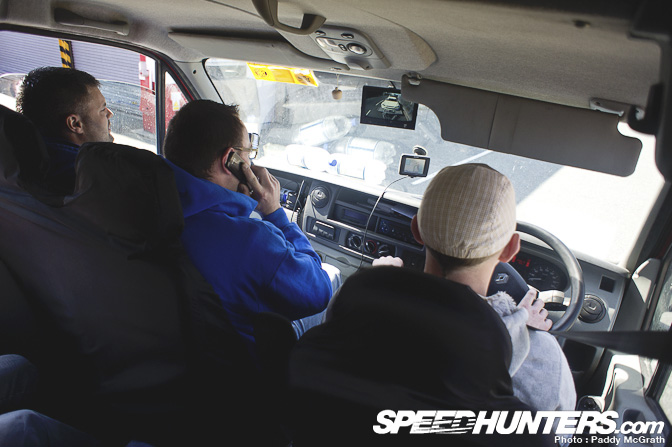 The journeys can be quite long and arduous but at the same time they offer a sense of just being alive.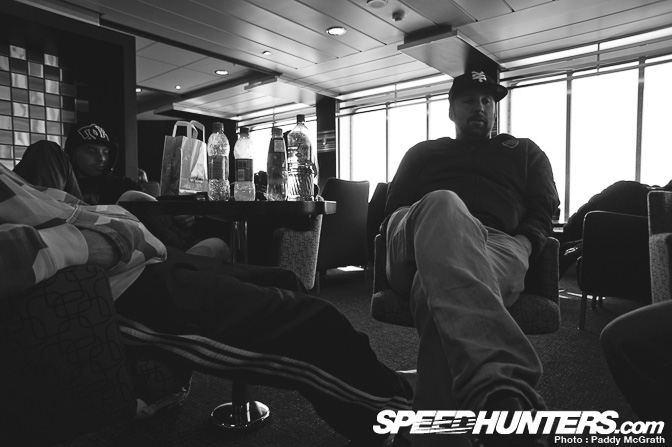 I've become used to long solo trips across to the UK, so I relish the times where these journeys can be enjoyed in the company of friends.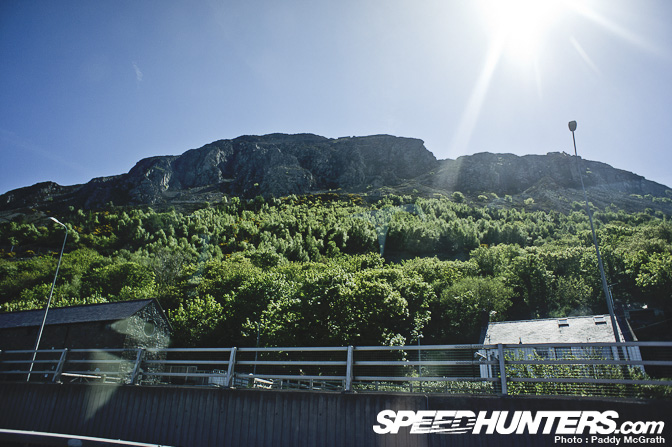 Hurtling along through the Welsh and British countryside often allows some great views. Couple this with some amazing weather and you have all the perfect ingredients for an amazing road trip.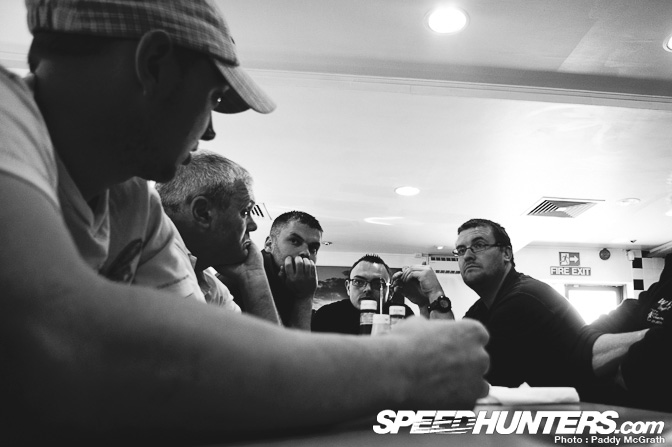 From left to right – Martin Ffrench, Eugene Leonard, Barry Leonard, Dan Moorhead and Wesley Keating. They may look sedate here (you probably would too after our journey so far) but a greater bunch of guys you could not meet.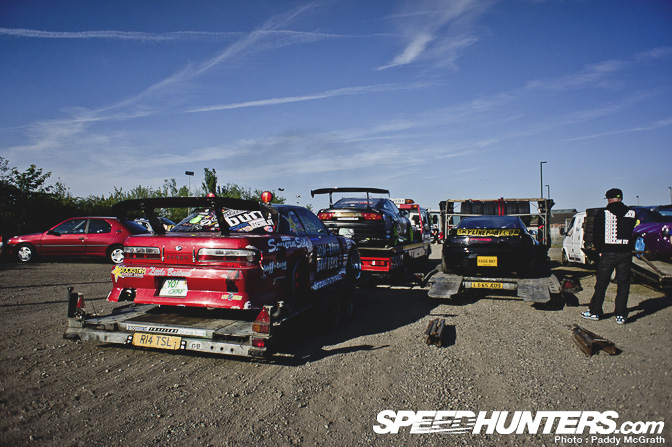 Arriving at the track some twelve hours after leaving home, everyone can convene for a few minutes before the unloading process begins.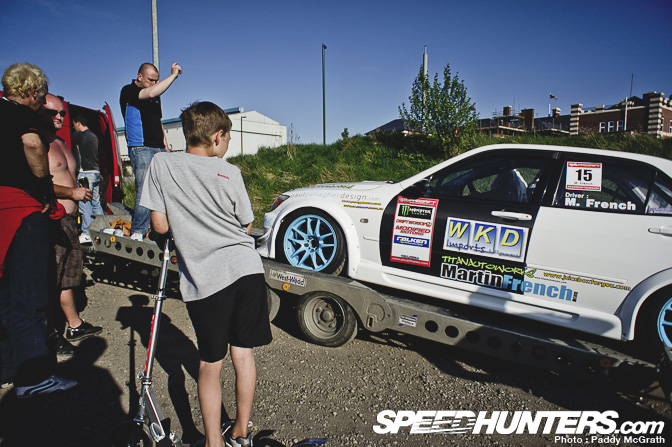 Most of the European drivers still transport their cars with a simple setup of van / jeep and trailer.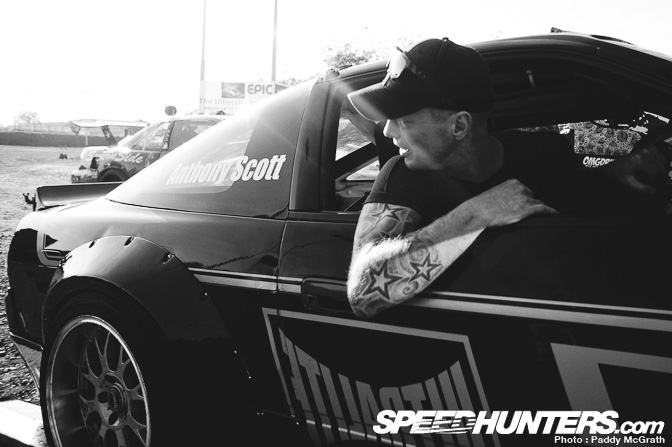 It's definitely one of the cheapest methods to transport your car around but it's also quite time consuming and loading / unloading with a low car can be a nightmare.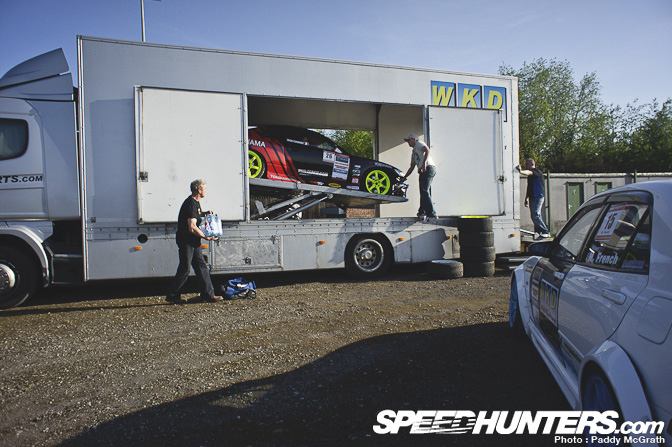 I still find it amusing to see people's reactions when the side doors of the WKD Imports truck are opened. It holds three cars plus tyres and spares easily thanks to an in-genious lift system.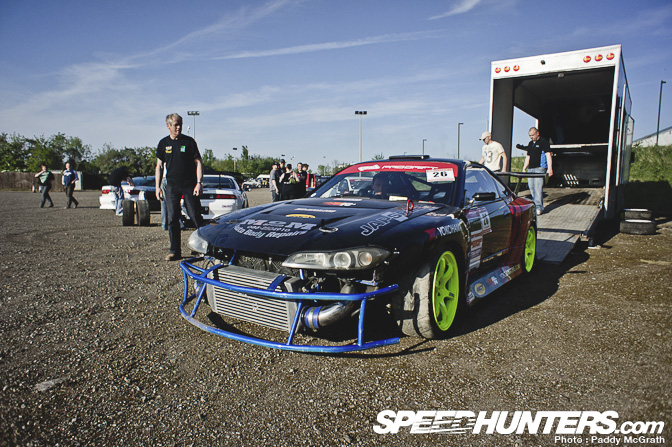 Christy Carpenter's Yokohama backed 1.5JZ S15 looks like something straight off a D1GP grid. We featured the car some time back when it was in its Nexen guise but I think it could be worth a fresh spotlight to identify the changes and improvements Christy has made to the car since.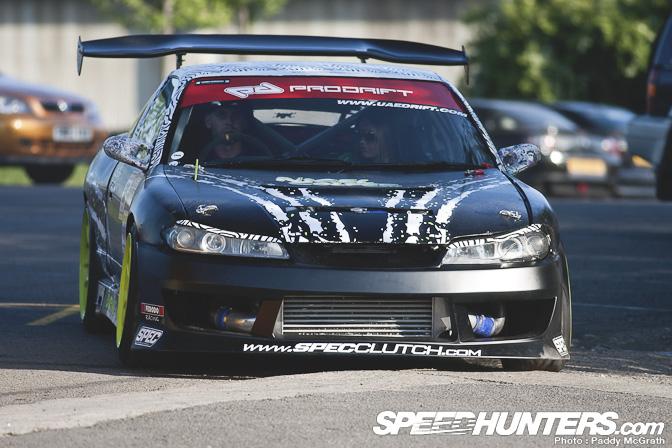 Nigel Colfer has stuck with what has worked best for him and has retained his potent 1JZ powered RPS13 for 2011. We also featured this car last year …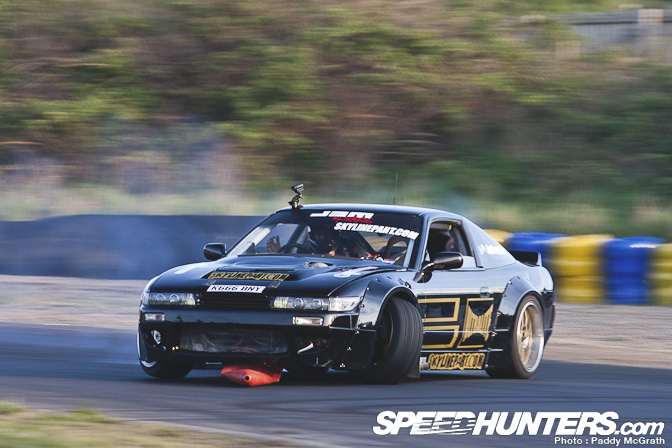 Another who has stuck to the mantra of 'if it ain't broke…' is Anthony Scott in what must be one of the best looking drift cars anywhere. Scotty has enjoyed so much more success in the car since swapping out the RB30 motor for the more compact SR20.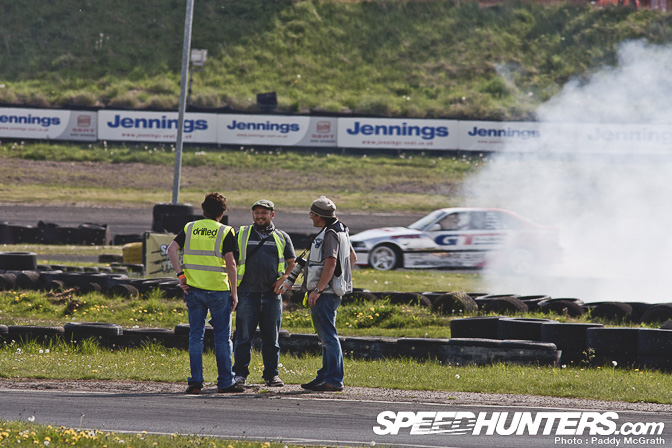 Just some of the assembled drift media – from left to right – Ian Gratton of Drifted, Faruk Kugay of Works Mag and our very own Ross of the wooly hat I'Anson.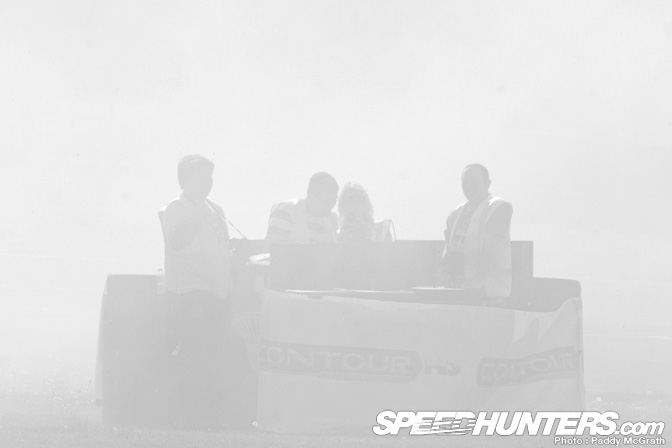 Between Ross and myself, we've covered pretty much every JDM / Drift Allstars event since before the inception of the series. As such we usually get drafted in to assist and guide any new members of the media who maybe attending a drift event or an Allstars for the first time which provides a great opportunity to get to know new faces and have some fun whilst shooting the events.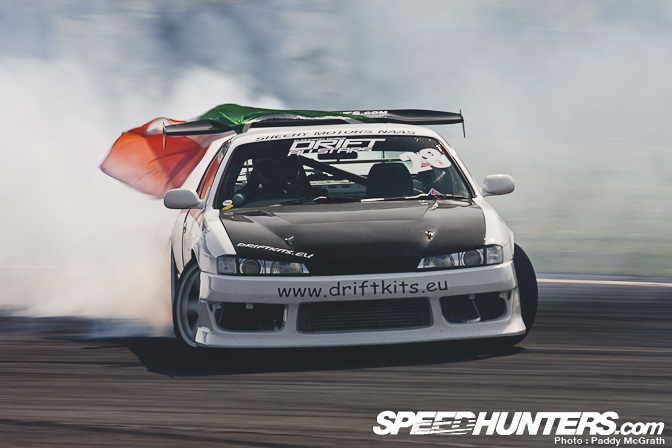 I somehow don't think Francis Meagher, the creator of the Irish tricolour, quite envisioned it being hung from the rear of a Japanese car whilst travelling sideways at eighty miles per hour.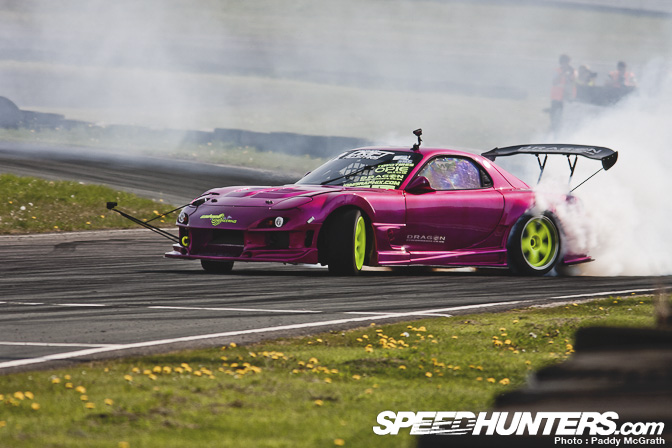 The Dragon Performance RX7 of Brad Hackers. It still sounds, looks and goes amazing.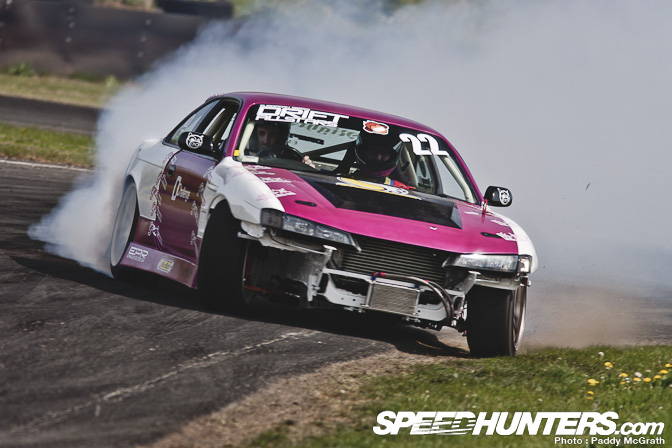 This S14A looked so very aggressive.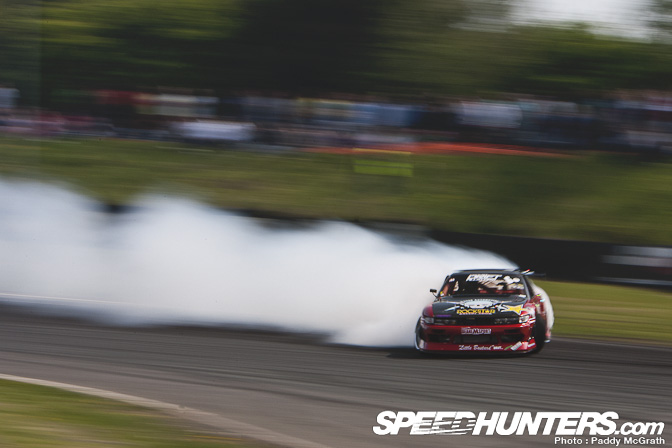 James Deane back in an S body Nissan, always looks at home behind the wheel of one.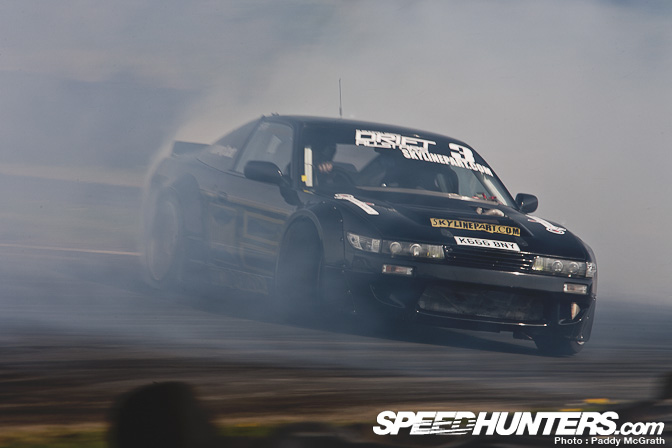 Scotty often uses his S13 for trips to the local shop as the car is fully road legal and registered. I'd love to see the looks on people's faces when he arrives at his local Tesco.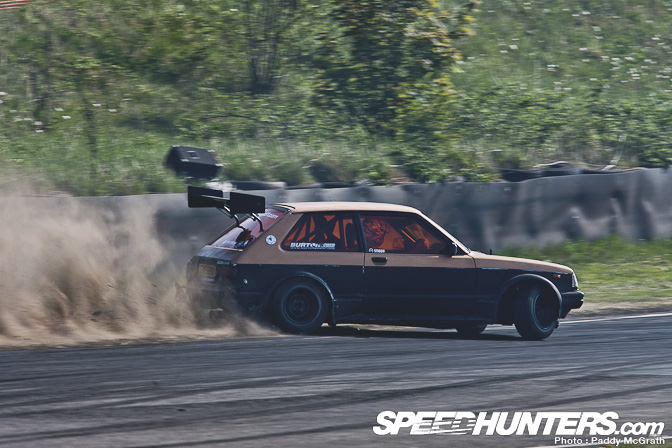 Stiggy taking an aggressive entry into the first corner. Never have I seen one man to do so much with so little.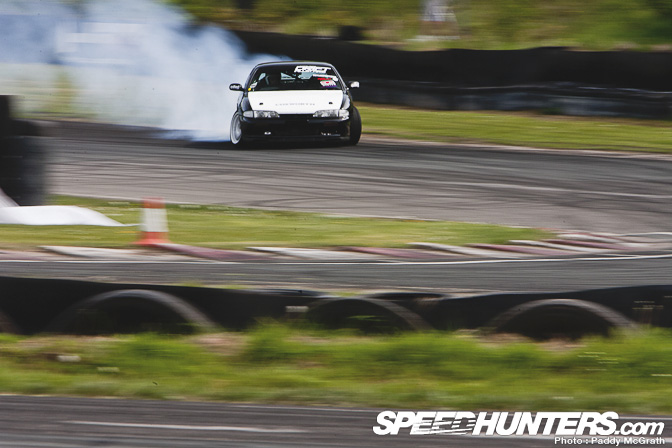 Rob Finn, last year's Drift Allstars startline marshall, this year's top sixteen competitor.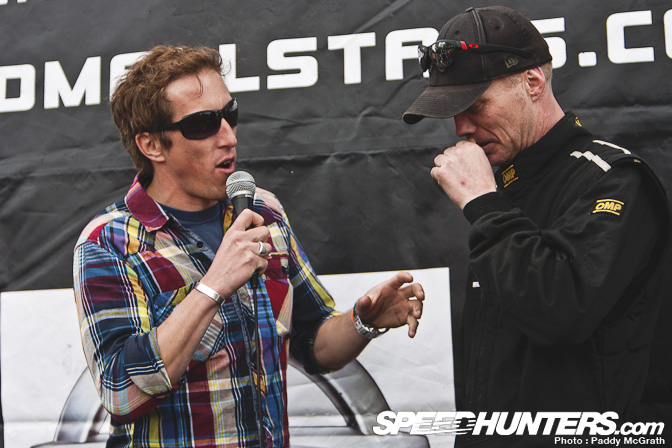 Scotty was obviously moved by the ballad Bryn Musselwhite was crooning for him.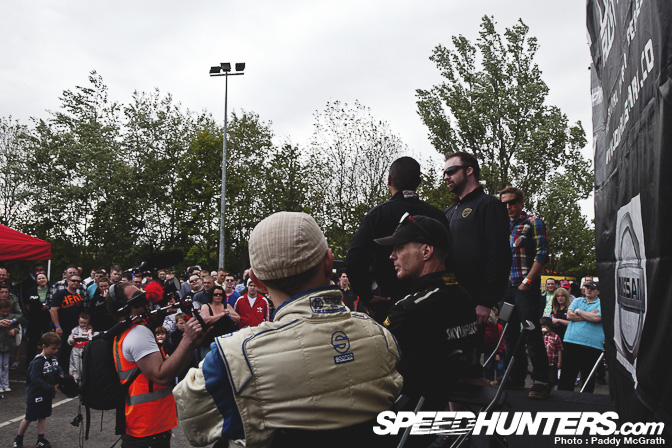 The driver interviews have become popular with the fans. It gives them a chance to get to know the men behind the visors.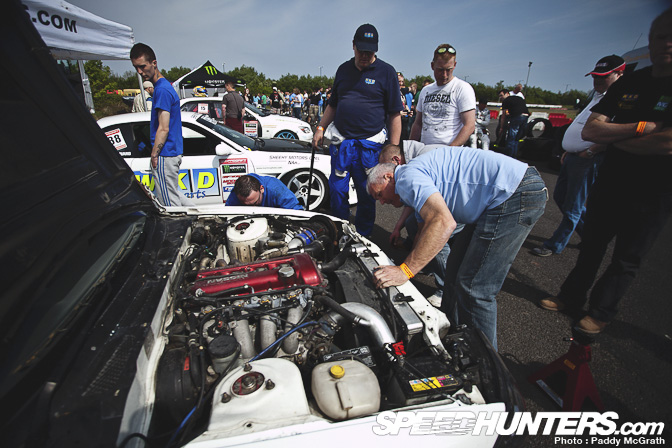 As they day rolls on, things always get a bit more serious. After a coming together with his team mate, Weating rushes against time to repair the car for qualifying.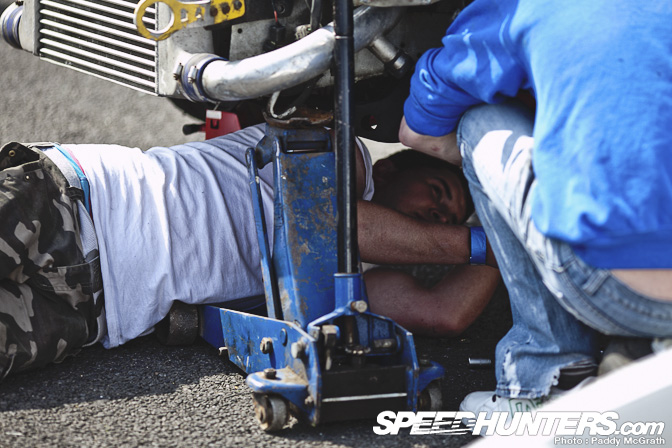 It's an all hands on deck with everyone doing what they can to help out.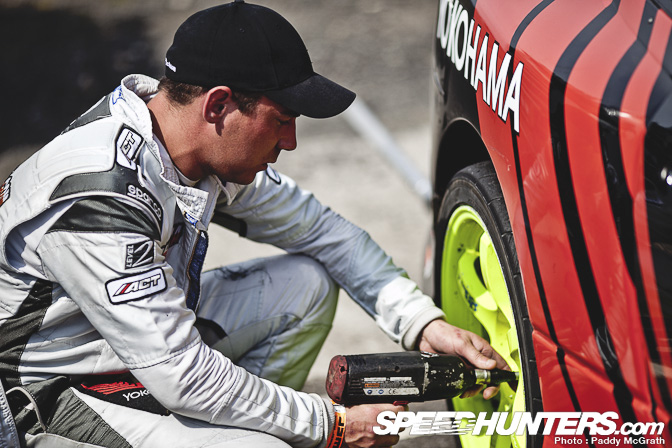 Although most drifters on this side of the pond aspire to the professional level of Formula D, I still enjoy watching drivers looking after their own cars and changing their own tyres.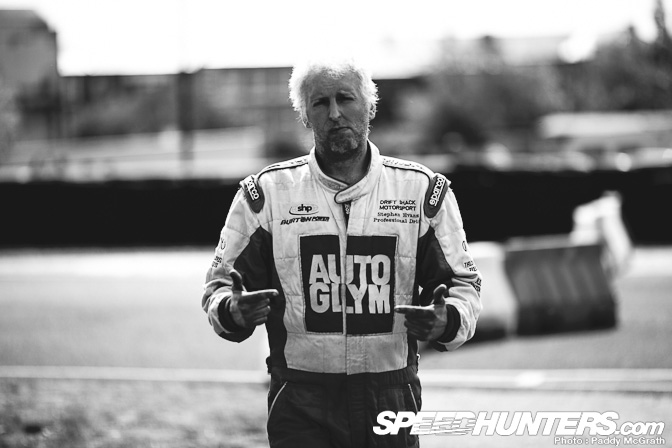 Stiggy, who competed throughout the event with a broken / sprained wrist, is always one to play up for the cameras. A top guy !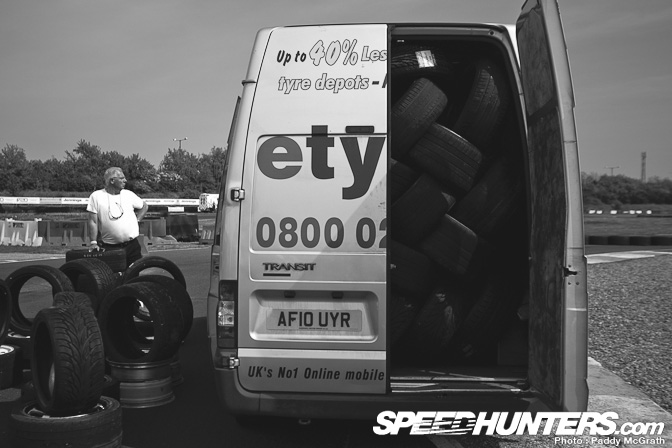 I definitely reckon he could fit more tyres in there …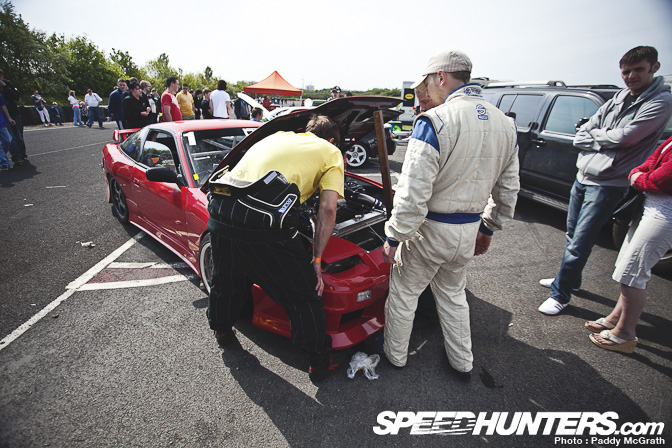 2010 championship contender Jon Calvert was having issues all day and failed to progress to top sixteen.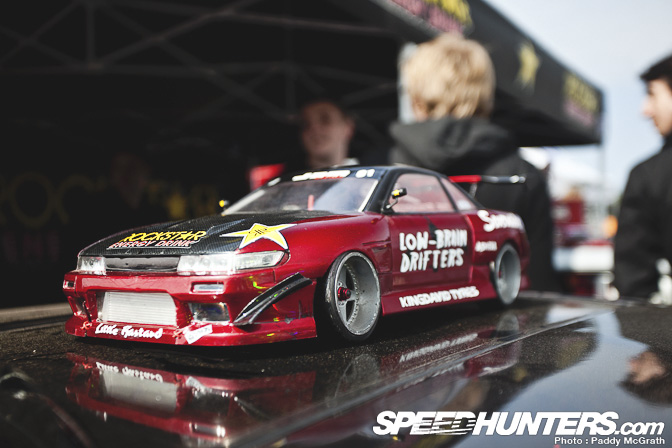 I loved this RC replica of James Deane's LBD S13.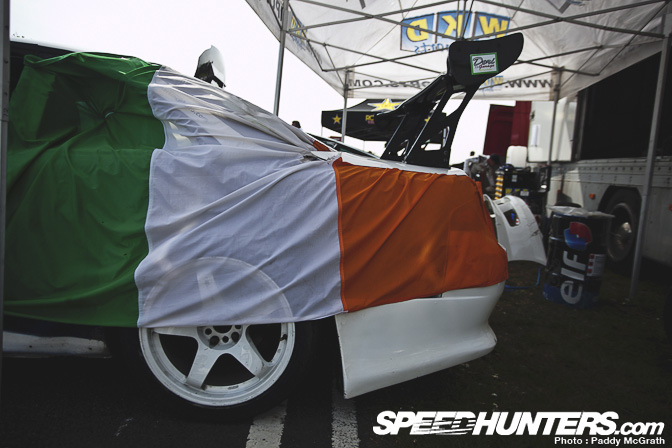 Irish flag as a replacement overfender ? That's surely a first.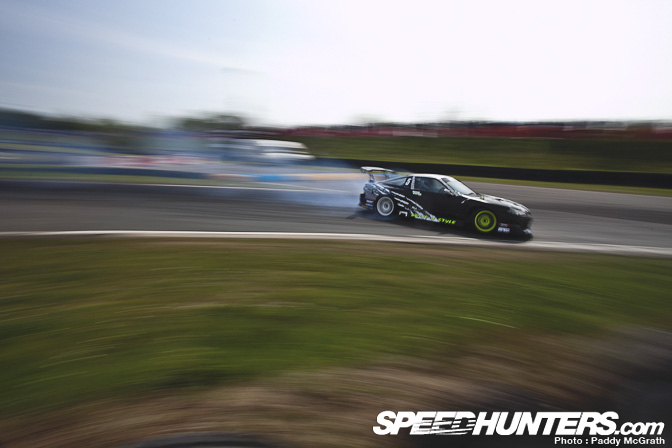 Nigel Colfer exiting the last corner …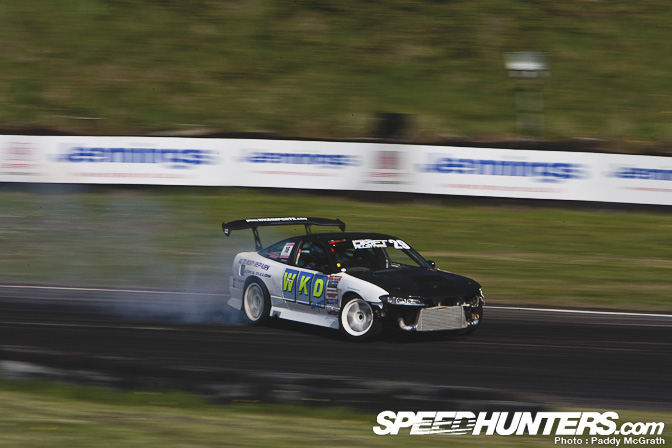 … and Wesley Keating tackling the first.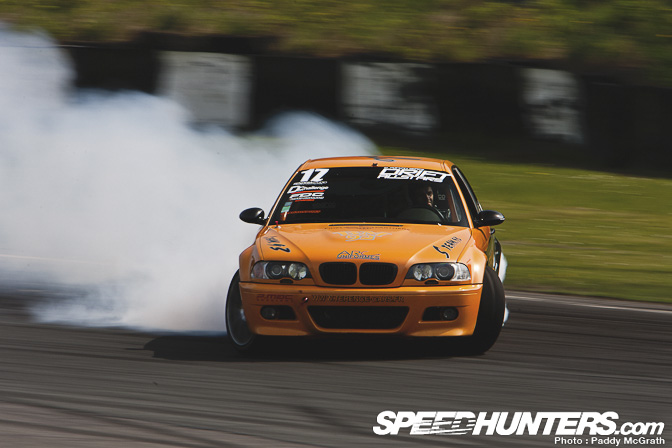 Laurent Cousin's supercharged E46 M3 looked stellar.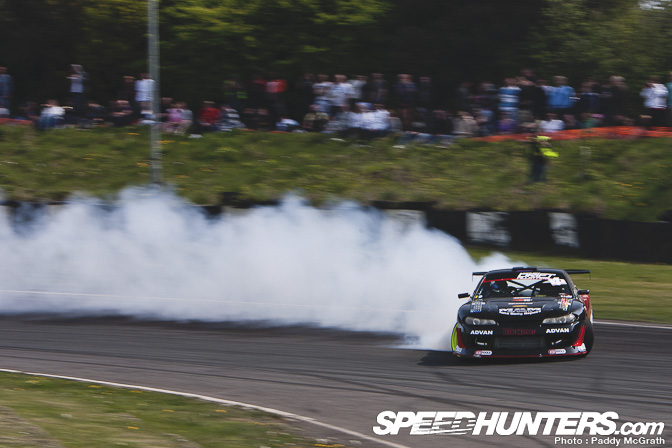 Christy Carpenter looked to be enjoying unleashing his S15 on the Teesside tar.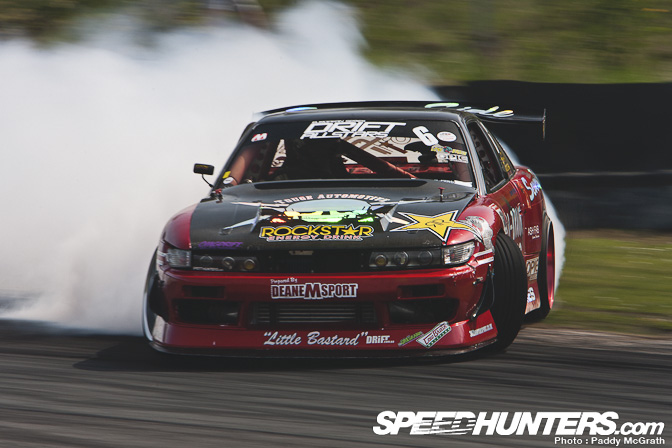 James Deane on his way to first place qualifier by absolutely nailing the first outside clipping point.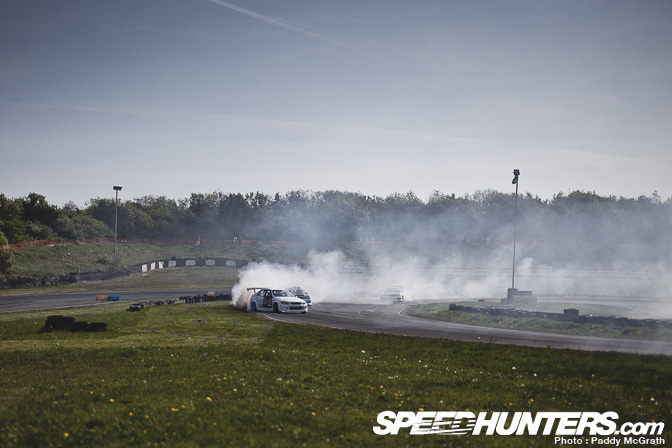 Team WKD lead by Martin Ffrench does their bit to help global warming. By help I mean increase it.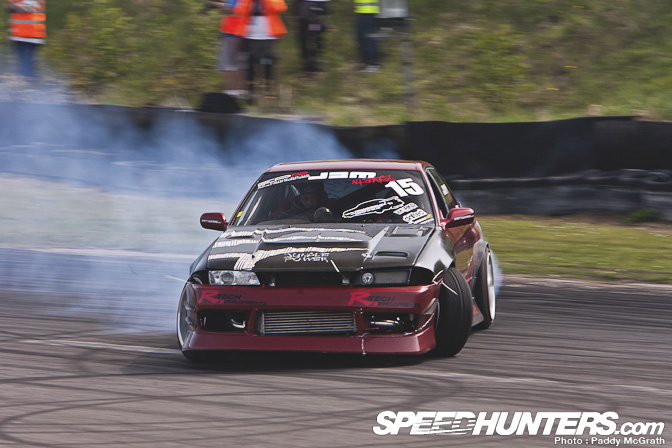 A very cool four door R32 Skyline driven by Jungle Powers but who seemed to be struggling with handling issues all day.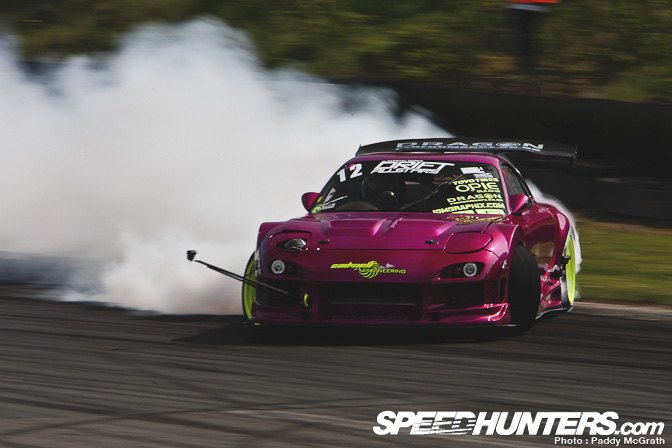 I don't really need an excuse to post another shot of Brad Hacker's RX7 ?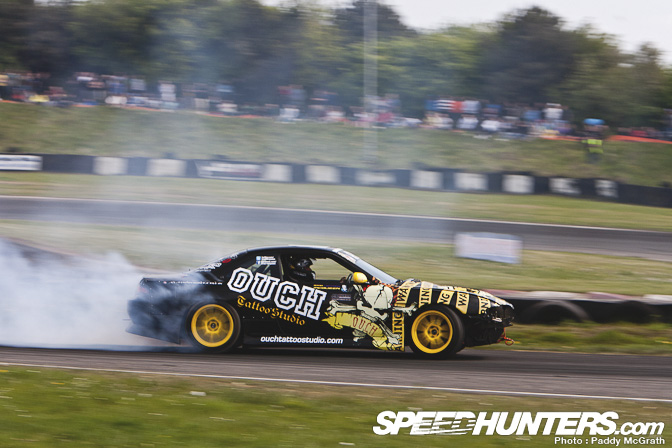 Brad 'Lightning' McQueen in the unfortunately titled Ouch S14 had an incident with the tyres in the morning. But Brad being the hero that he is, got it all working again and laid down two amazing qualifying laps.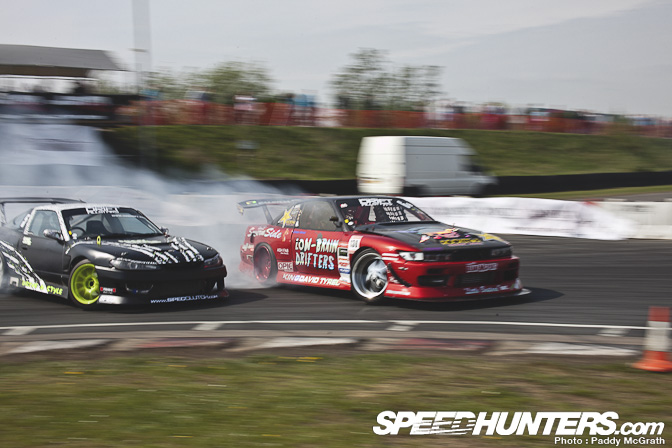 Two Irishmen, one clipping point.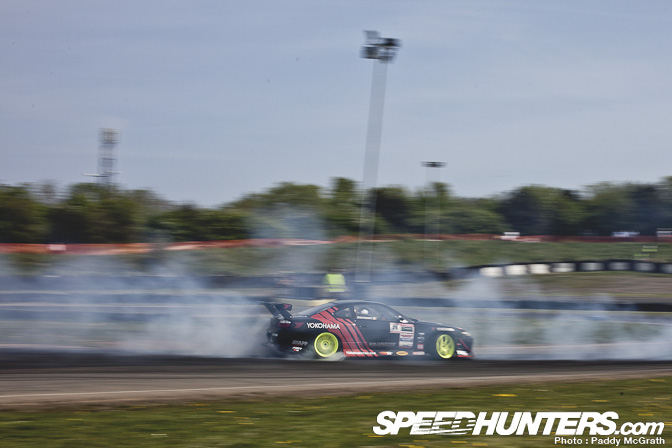 I really like the new Yokohama colour scheme on Carpenter's S15 …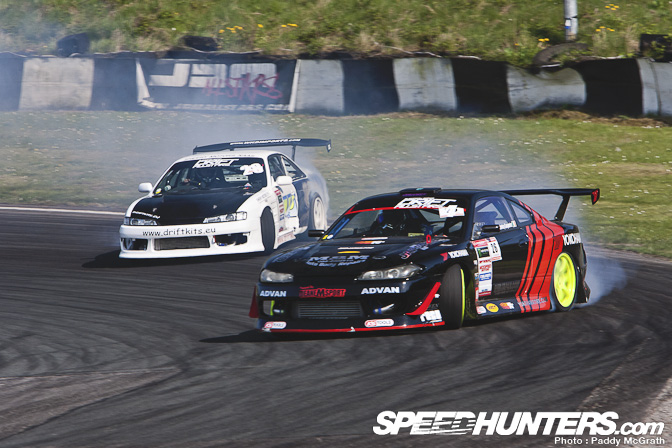 … matched with the fluorescent wheels and BN Sports bodykit it just looks so mean on track.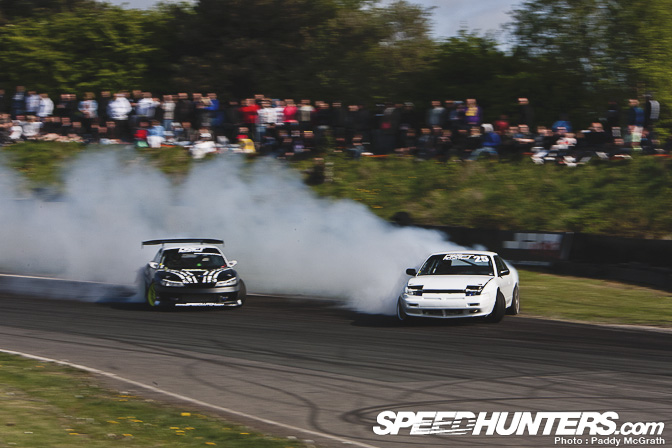 The battle of the 1JZ S13s.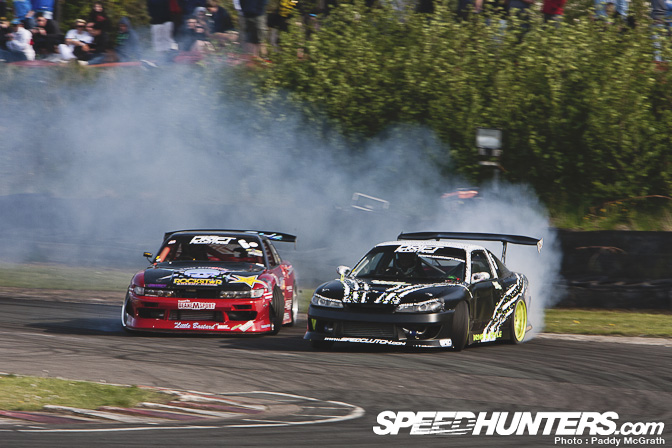 Colfer would defeat Deane on his way to the final …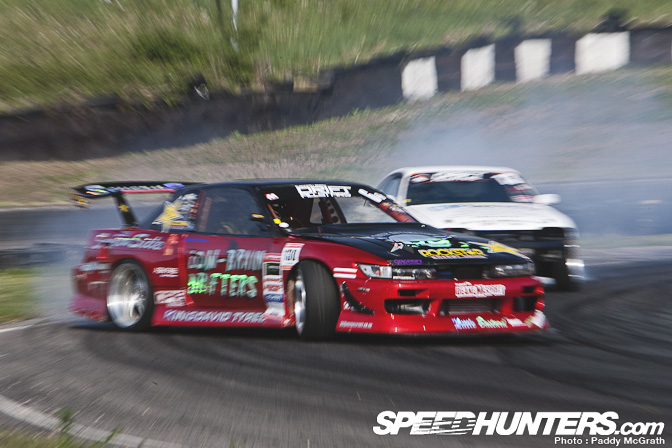 … with Deane defeating Ian Phillips to ensure an Irish 1-2-3 finish at the opening round.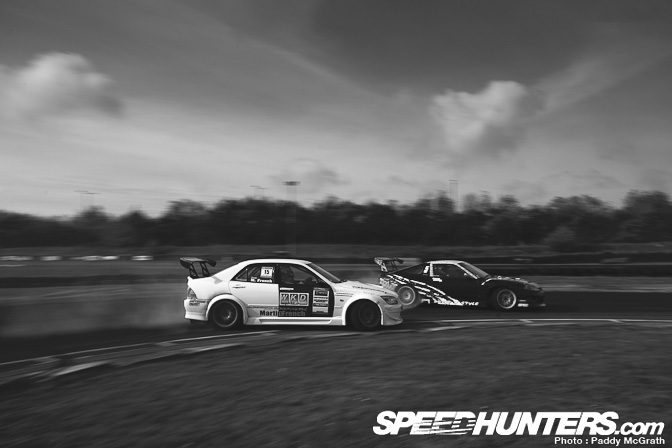 The final was a battle between two men who live no more than ten miles from each other. You can read Ffrench's version of events here.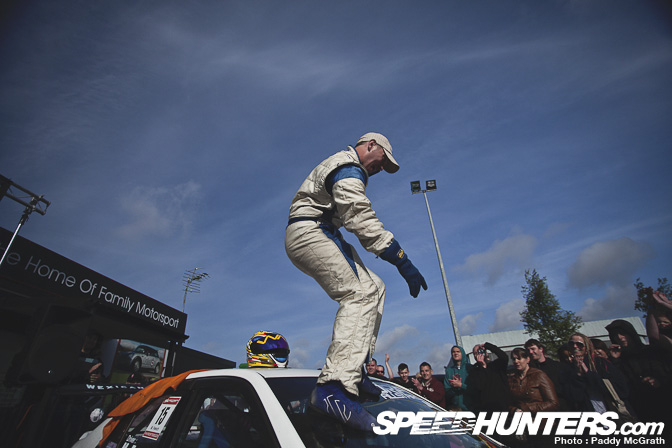 Nothing better than jumping on your roof to celebrate only to fall straight back off. We'll forgive him. This time.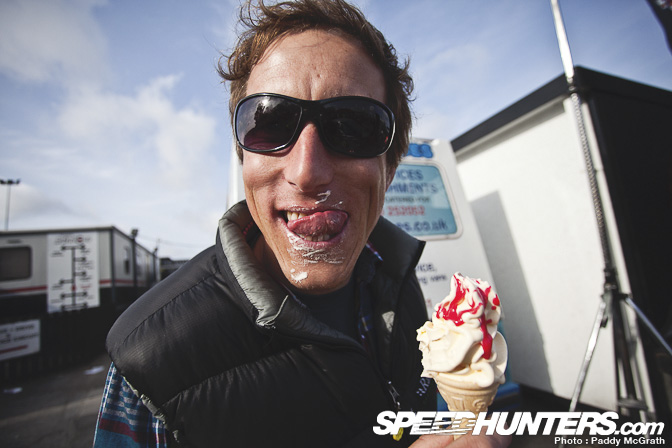 Bryn 'the crooner' Musselwhite does love his ice-cream. I see he's gone with a strawberry dressing on his, good choice sir but I was always a flake man myself. (I've an awful feeling Mr. Musselwhite will be getting revenge on me for this one over the mic for some years to come)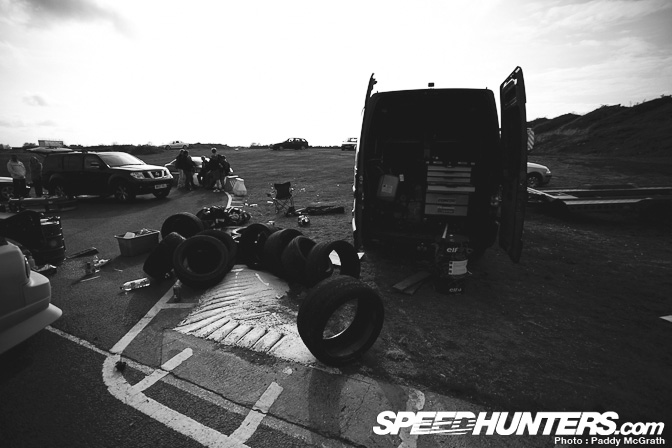 Tyres burned, champagne sprayed and event over. Trying to identify whose worn tyres belonged to whom by examining sizes, widths and how the tyre wore was something Horatio would be proud of.
Until the next day …
-
Paddy McGrath