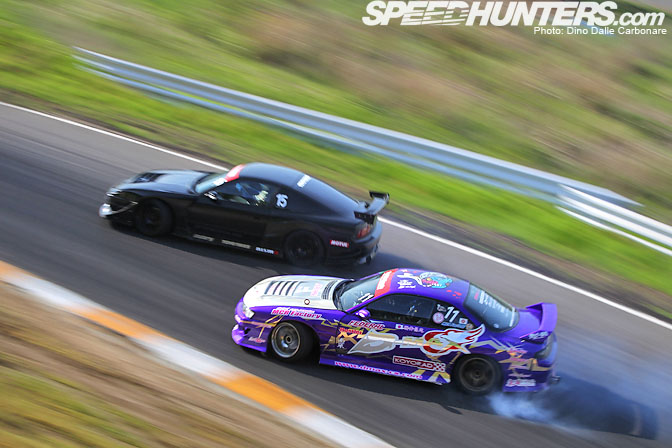 Time now to swiftly proceed with more Drift Muscle goodness and look at additional coverage from Sunday's Championship opener. I'll keep the tandem runs for tomorrow's final post on the event and concentrate on showing more action…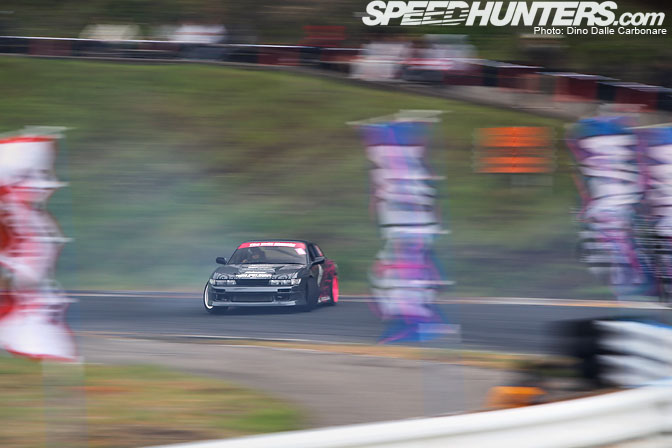 …from the practice and qualifying runs.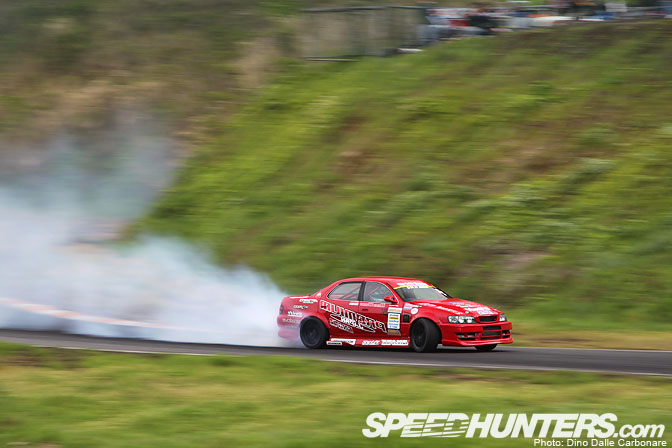 Saito was definitely ripping up the tarmac in his JZX90 Cresta! I noticed a couple of people commented that the car is a JZX100 in the previous post, but if you look carefully that is just a 100 front end conversion with lots of BN Sports bits. Great looking car.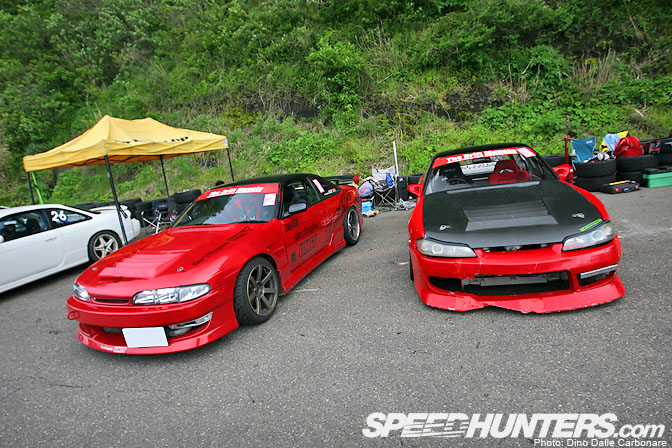 Ok so most of the cars from now on are going to be Nissans, but that's not my fault! So if you aren't a fan sorry, hopefully the next round I will cover in Nikko will have a more mixed variety.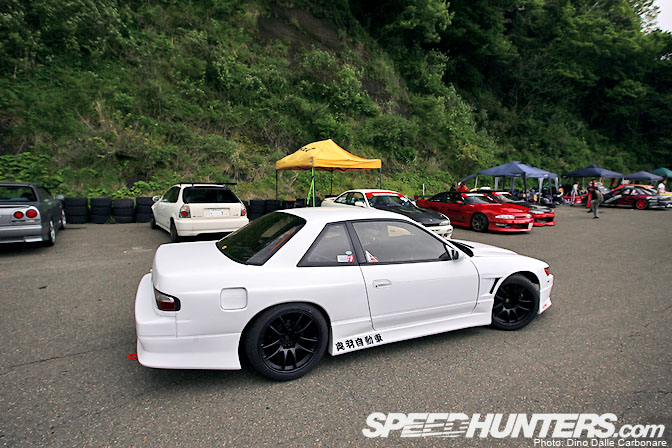 There were some great S13s on show and I personally really liked this widened example on sating black Work Emotion CRs of Team Taku R with Actor.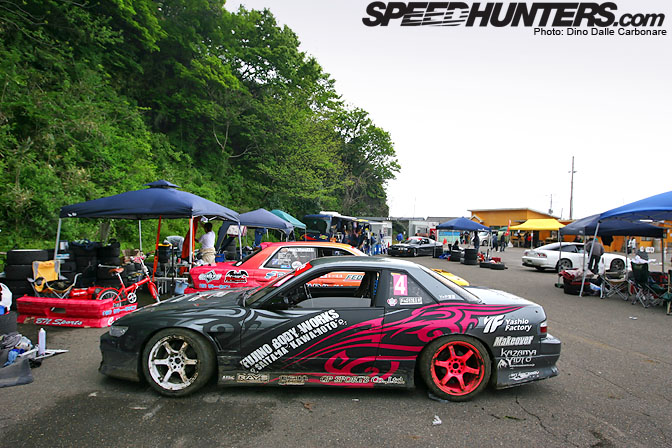 Yes another S13 this time from Fujino Bodyworks looking a little dirty after it dropped down into the muddy runoff before the main hairpin.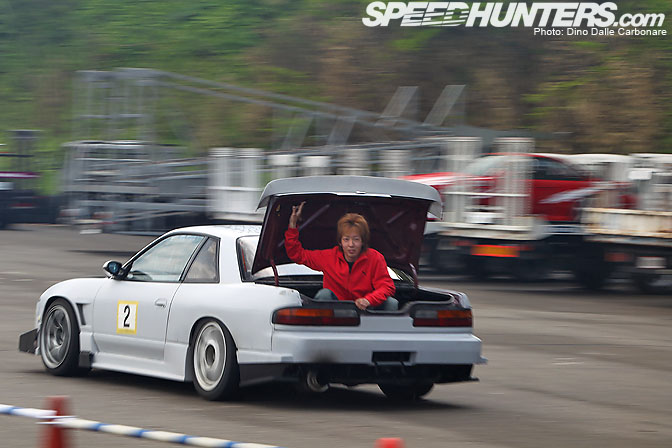 Easy way to move around the paddock!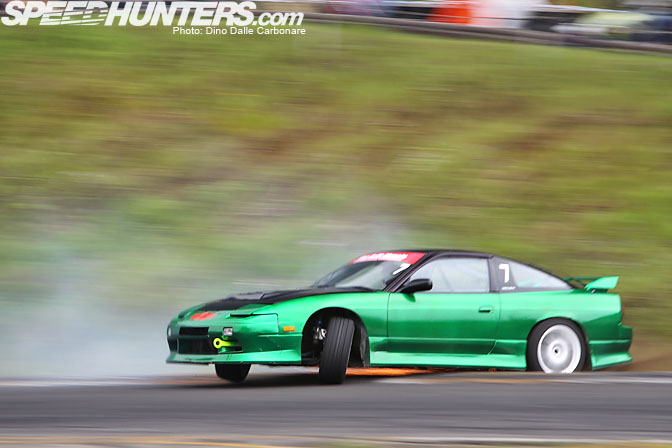 I've seen plenty of flames shoot out of external wastegates but never quite so many sparks coming from the underside of a car. Luckily it didn't hit anything.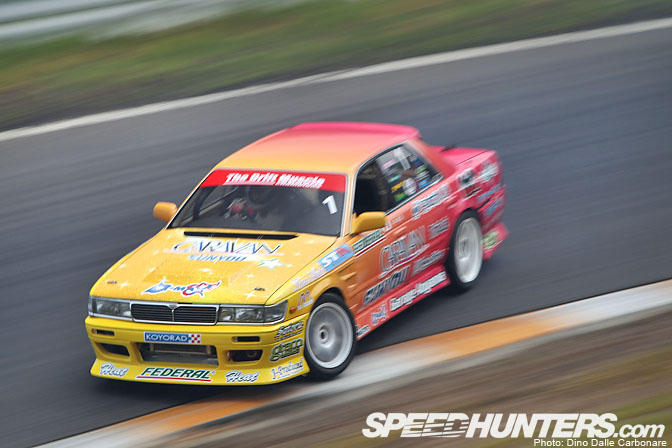 Team Heat definitely had the most colorful cars at the event and I managed to immortalize both cars in the exact same place, Kiguchi's C33 here…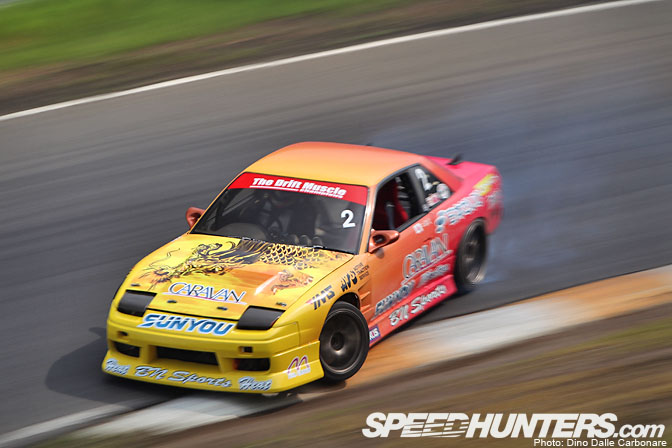 …and Kudou's Onevia going for a slightly more aggressive clipping point.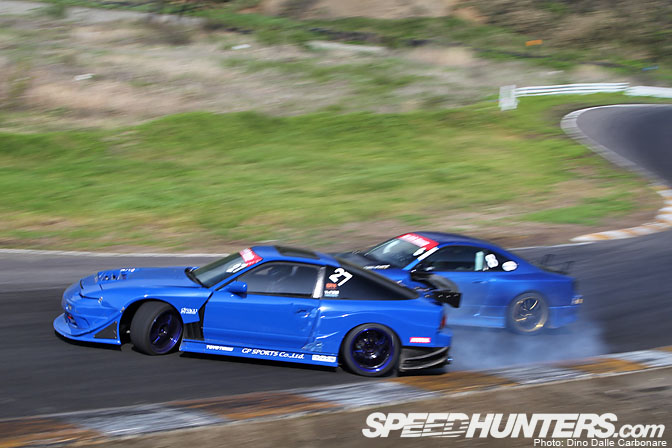 Yet another Team Gallery GP Sports 180SX. This shot was taken during the tsuiso runs at the end of the day and shows a battle between Fujino and Hibino.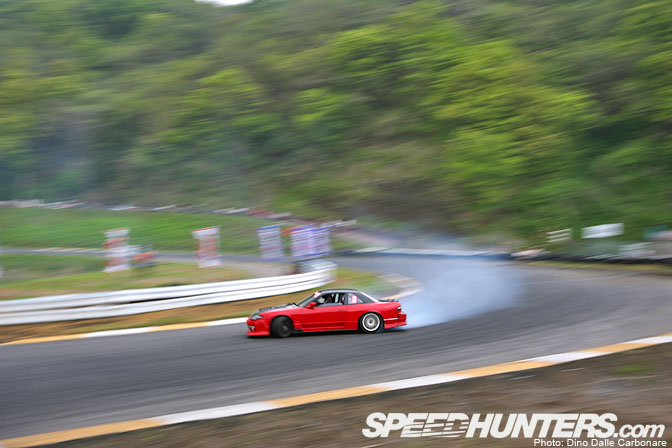 Here is a look at the main judged corner from the exit…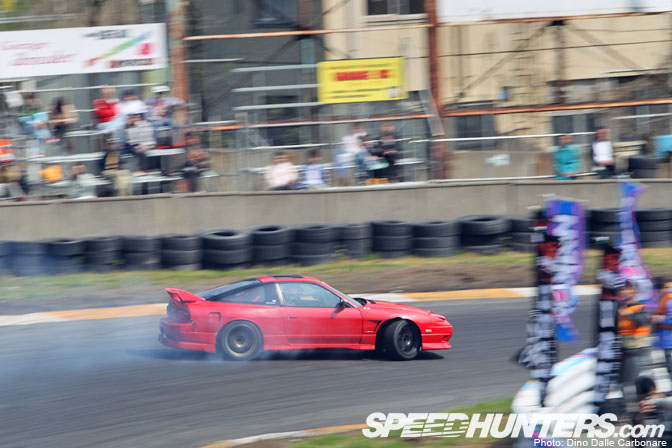 …and the same exact spot seen from the opposite side. From this angle you don't quite realize just how wide the exit it is. It was misleading for a lot of drivers at first but most got the hang of it towards the end of the day, learning to get on the gas pedal earlier and more aggressively.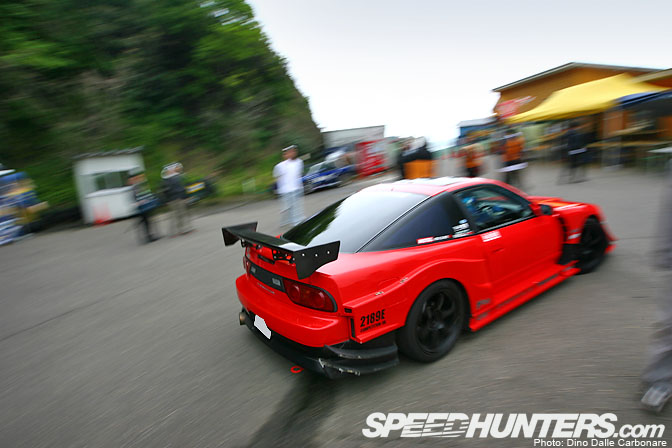 This red Team Gallery RPS13 is driven by Komagata-san…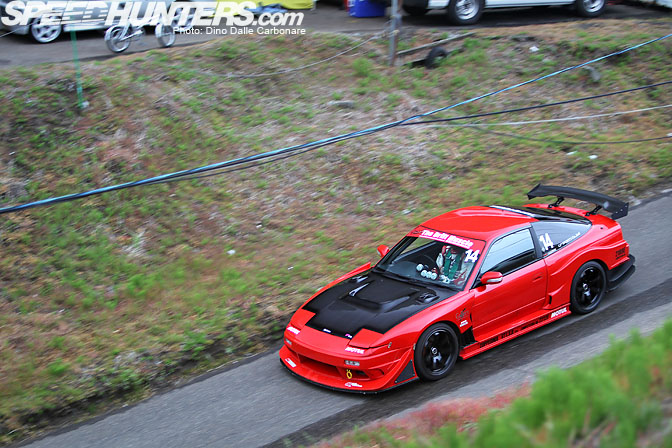 …the owner of GP Sports and manager of Kawabata's Toyo D1 team.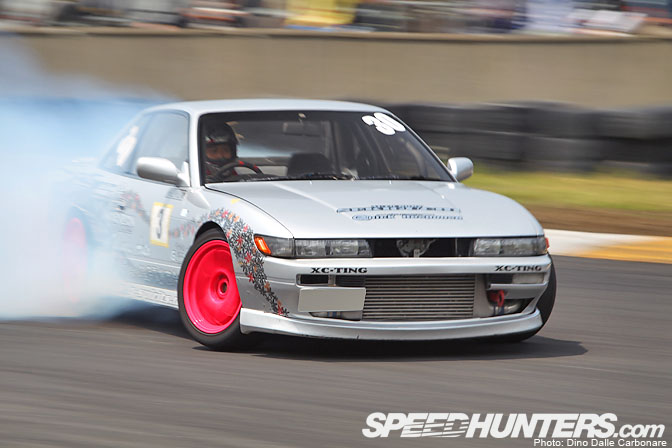 Team 3 Up S13 on retina-scarring pink Gram Lights.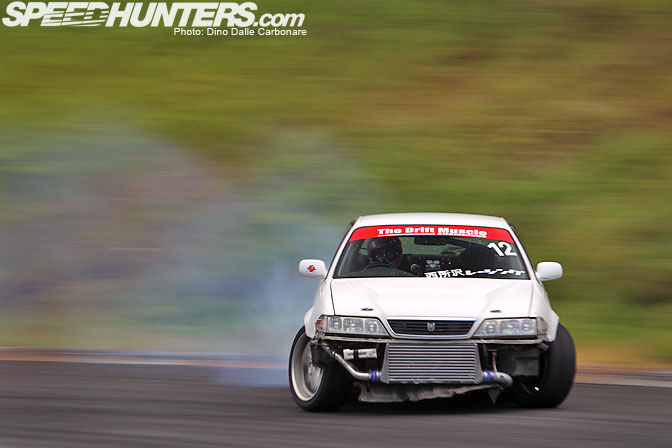 Despite having ripped off both bumpers and having had a slight impact with the tire wall Alexi continued on with his qualifying session. He didn't make it through to the Best 16 but gave it a good try.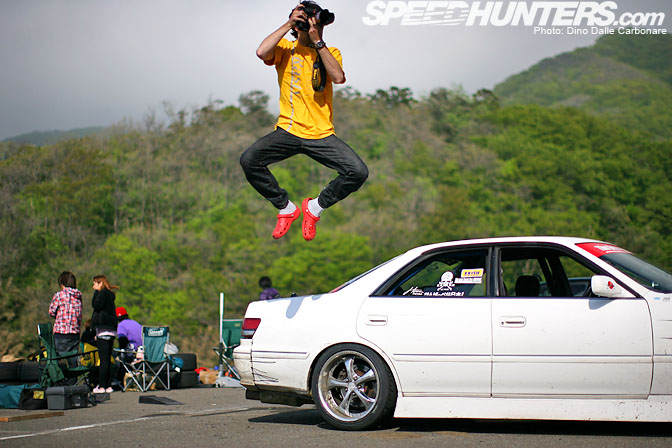 I spotted him back at his pit practicing some curious new photographic techniques. Who needs ladders when you can levitate!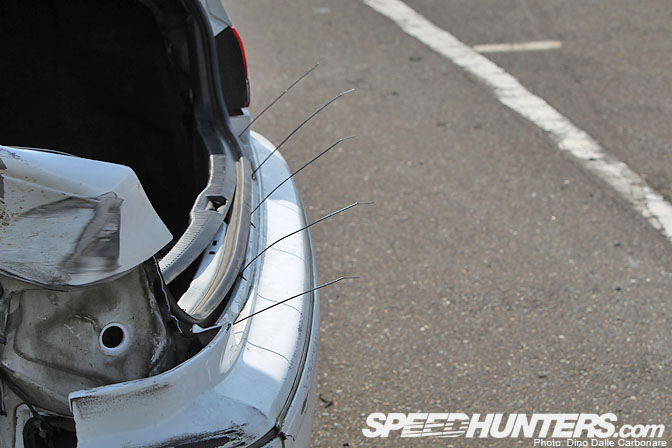 The damage to his JZX100 looked far worse than it actually was and as we all know there isn't anything that can't be fixed with a couple of zipties.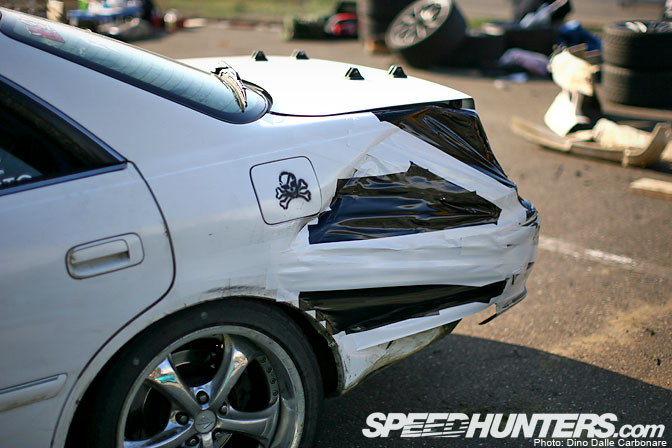 Oh, and a bit of electrical tape. There you go, good as new and ready for the drive back home!
Don't miss the final part and find out who won this first Drift Muscle round!
The Drift Muscle coverage on Speedhunters
-Dino Dalle Carbonare