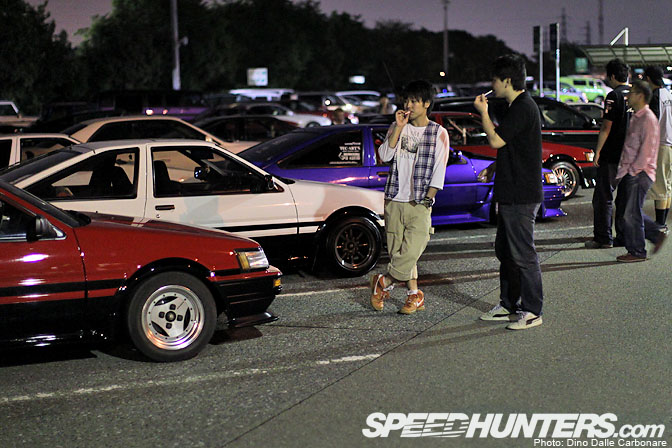 I think this image pretty much sums up the atmosphere this past weekend's AE86 gathering in Tsuzuki PA had. It's a quieter and calmer alternative to Daikoku PA, which on a weekend night is nothing short of chaotic. In a good way of course! Still, when you want to meet with fellow enthusiasts for a chat and can do without loud music and the inevitable interruption by the wrist-happy bosozoku, this rest stop serves as the perfect venue.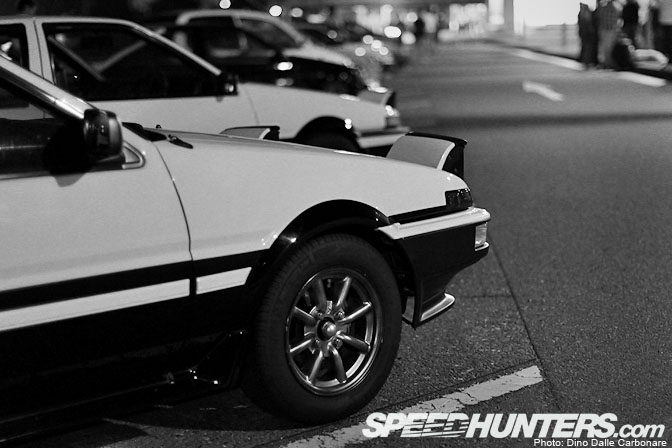 I've put together another selection of shots highlighting most of the cars that participated.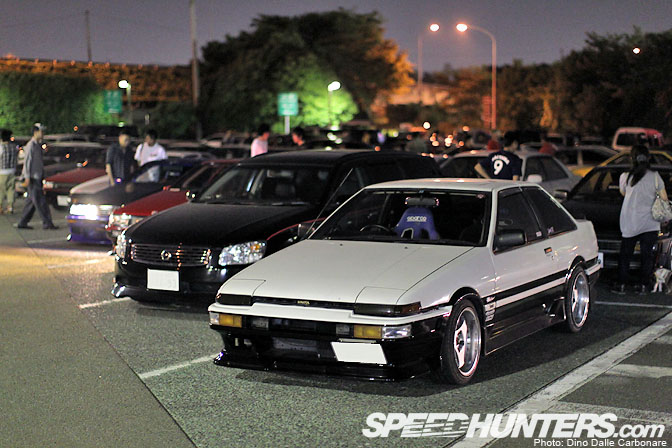 Here is another view of the area that by around 10:30 was mostly occupied by hachirokus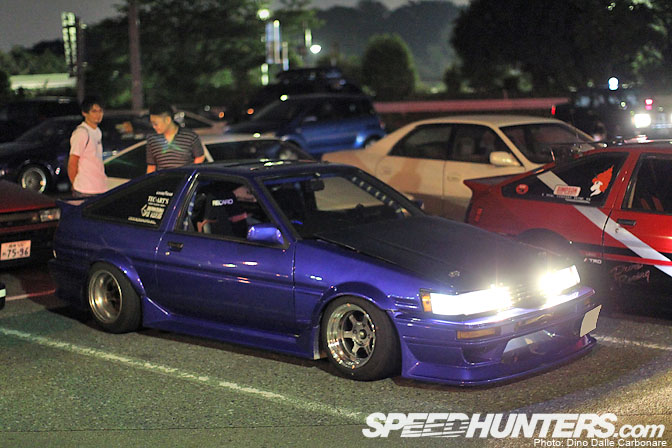 It is normal procedure to first let the car sit for a few minutes for a quick warm up, before heading out onto the highway.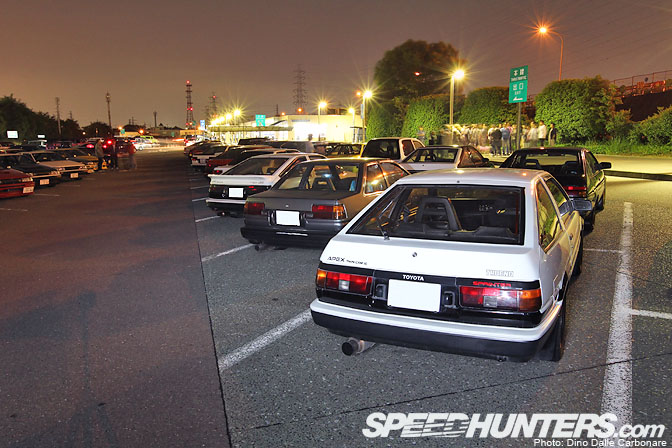 You can probably think of this meeting as a preview to the big 86 meeting on August 6th. We will no doubt be seeing a lot of these cars…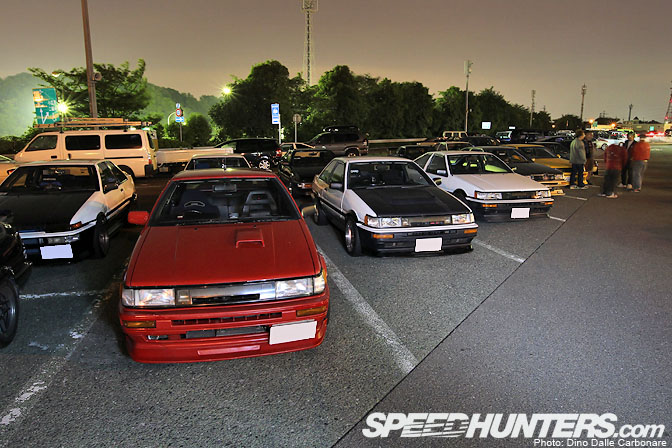 …plus many others that didn't make it to Tsuzuki.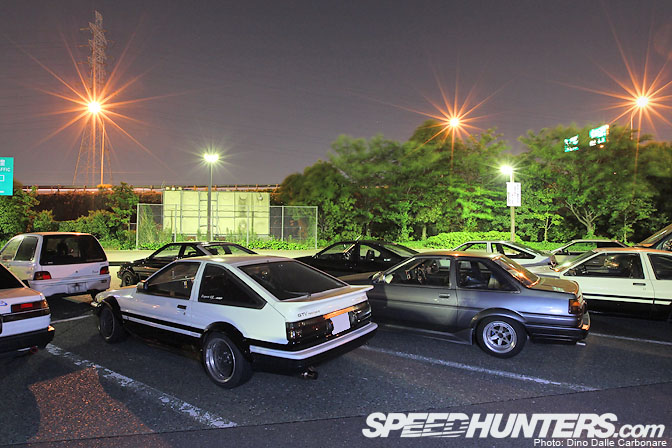 I have to admit that a panda Trueno hatch with overfenders like this car above is pretty much my idea of AE86 perfection. Obviously the 4AG up front would have to be up to standards too!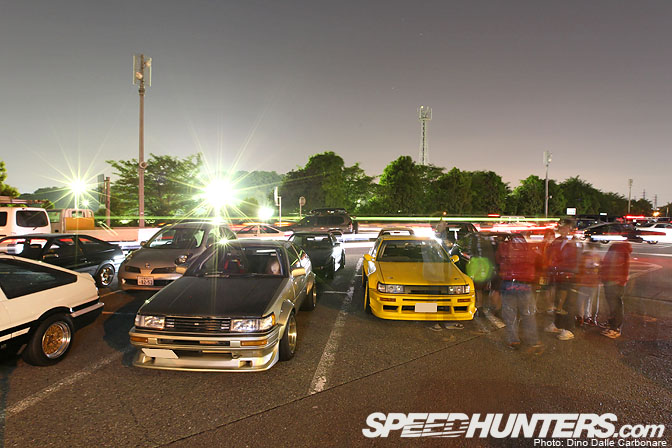 The gull-wing door couple, except the doors were closed for this shot!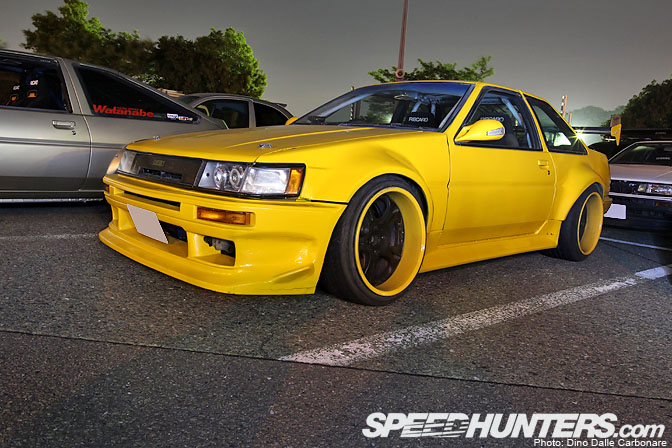 You may remember this particular car at the AE86 meet in Daikoku last year. Back then it used to be gold, but obviously the owner wanted to go for a fresher look. Color matched wheels might not be to everyone's taste but in person they really make it stand out.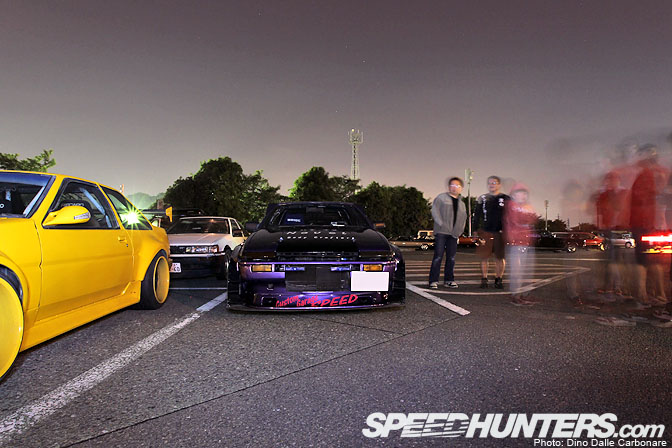 Probably the most famous car of the group, known as one of the fastest AE86 on the Shutoko/Wangan. Mean looking machine!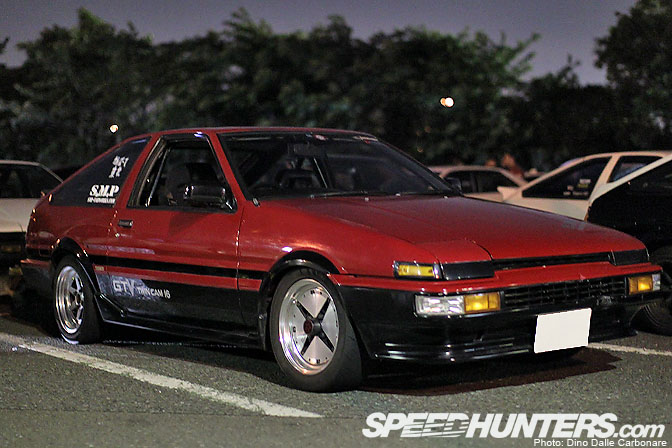 This Trueno GT-V belongs to Art from one of the American bases. After going all the way up to Tochigi-ken to pick up some parts for his car he dropped by Tsuzuki to see that was going on. Loving the oldschool wheel goodness!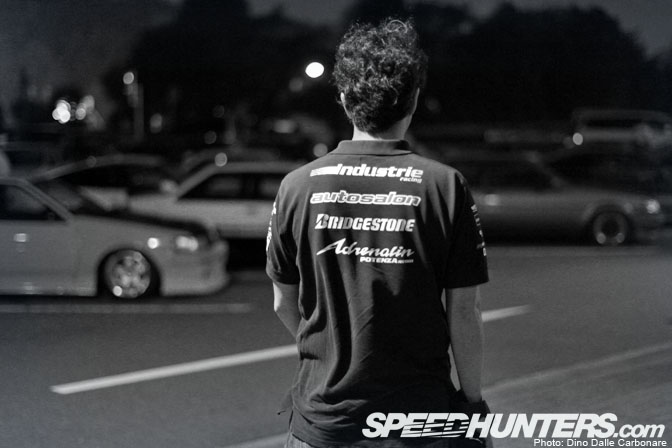 Spotted this curious individual. This is of course certified hachiroku otaku Allen Lorenzo from Tomei Powered who showed up to the meet without his beloved ride. His Levin is currently getting much needed heart surgery and will be back on the road soon, performing better than ever. In fact I think his car deserves a full feature!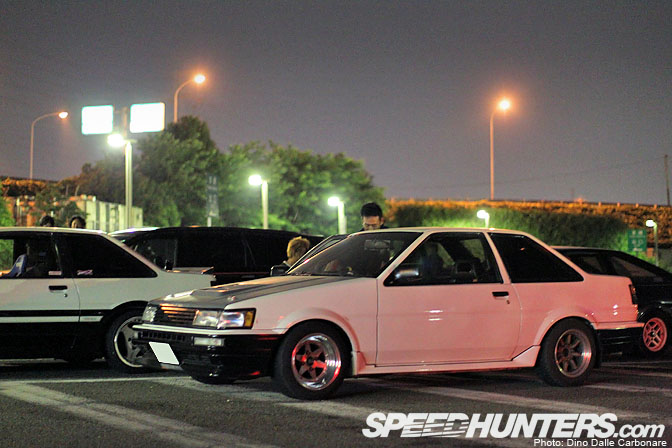 This is the last car that turned up before most people began to slowly leave and head either back home or out for a nice drive around the Tokyo highways.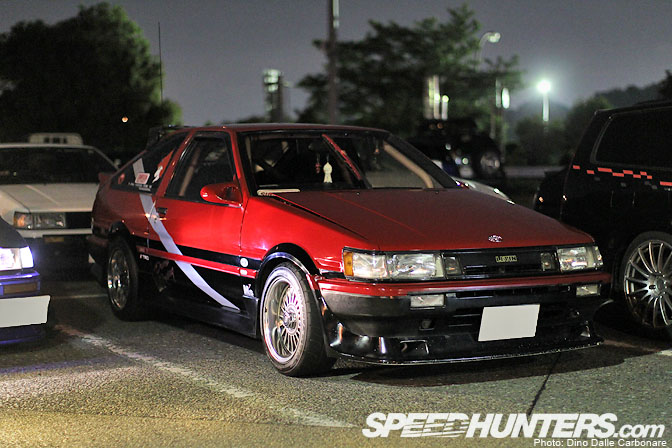 I think a few of you nailed it; the turbine wheels fitted to this car were indeed SSR Defi's, a very rare and unique set of rims!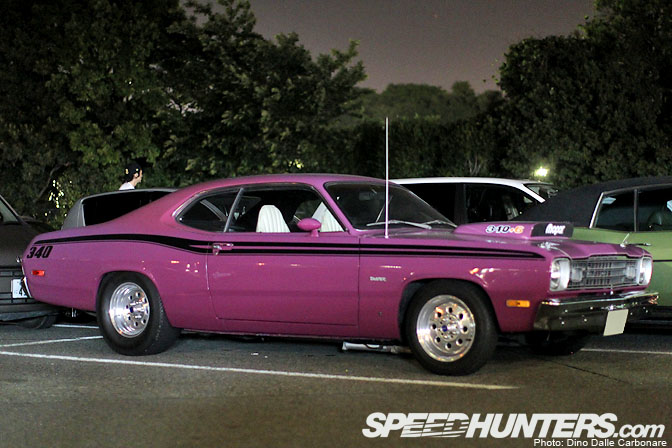 Hearing the V8 commotion that was going over on the other side of the PA I decided to check out some of the hotrods that had gathered.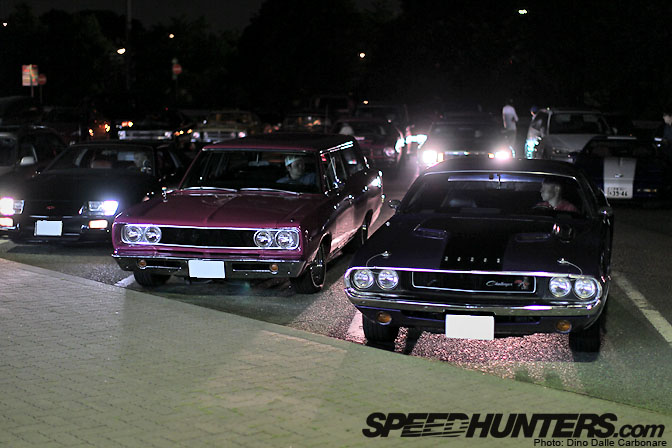 What a stark contrast to the little 86s we've seen until now!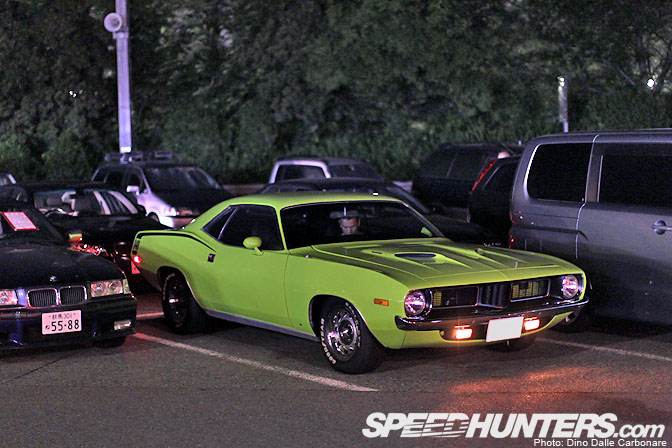 Spotless Barracuda…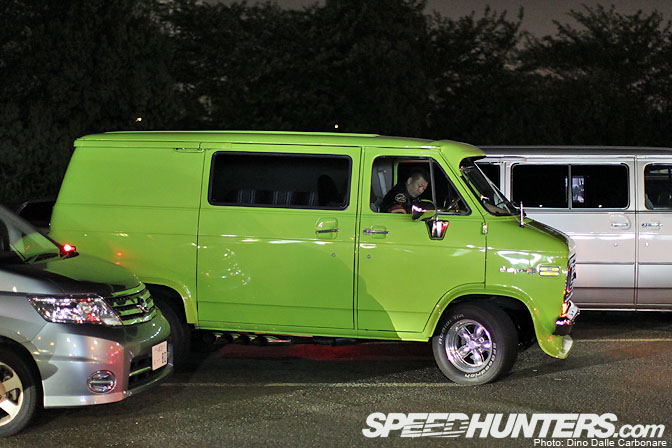 …and Chevy van in matching green!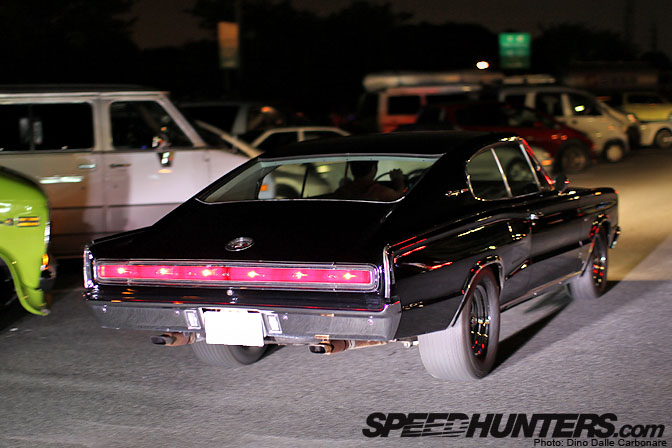 Before I had a chance to get other shots the group left in, probably off to another parking area!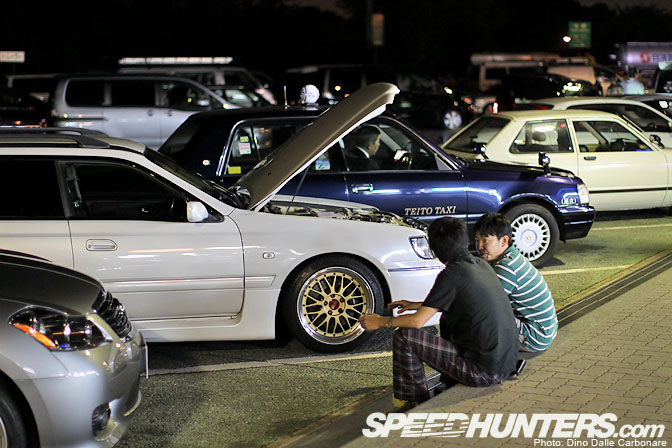 I came across this cool Stagea 260RS sitting with its hood open for a much needed cool down…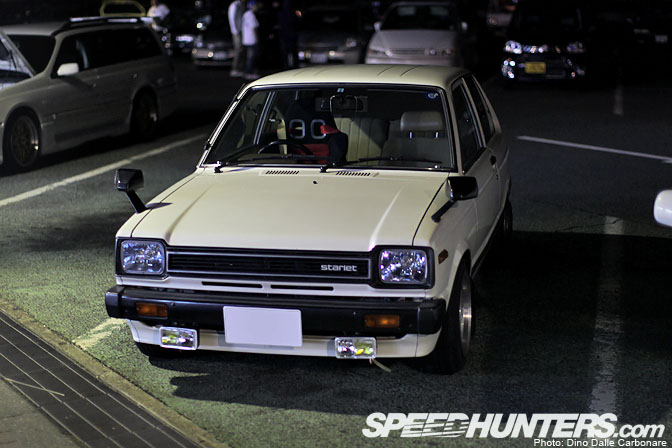 …and a few spots up from the big Nissan wagon this little lonely Starlet…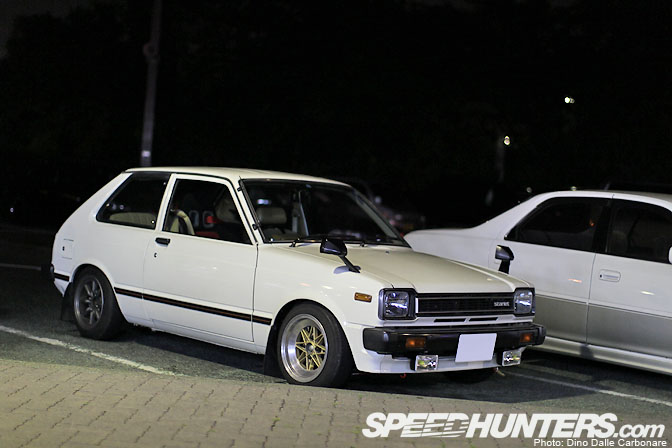 …looking particularly good on a set of mismatched vintage wheels, Watanabes at the back and Equips up front.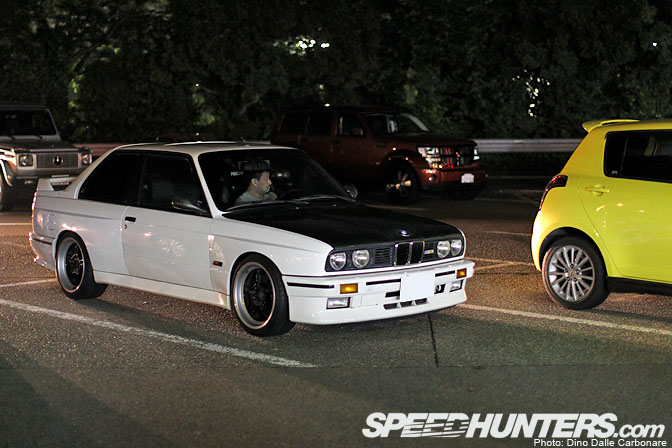 That's about it from Tsuzuki. I leave you with and image of this E30 M3 to highlight the obvious variety of cars that the Japanese enjoy and that can be often see on weekends at Parking Areas around the city. Japan is indeed a car crazy country!
-Dino Dalle Carbonare