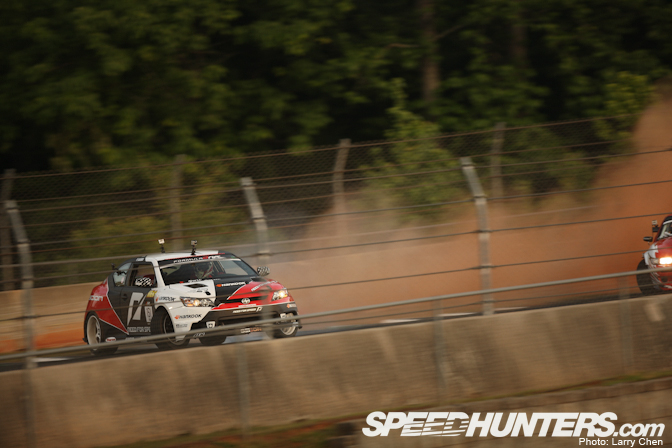 Hello fellow Speedhunters! Here's my blog from Formula Drift Round 2: Road Atlanta.
Formula Drift Round 1 in Long Beach left us with a list of things to work on. Most of the points were smaller suggestions for improvements to the car and its setup, which in other words meant the car was definitely dialed in very well for its first outing in Long Beach! The major thing for me was to get me more seat time in the car.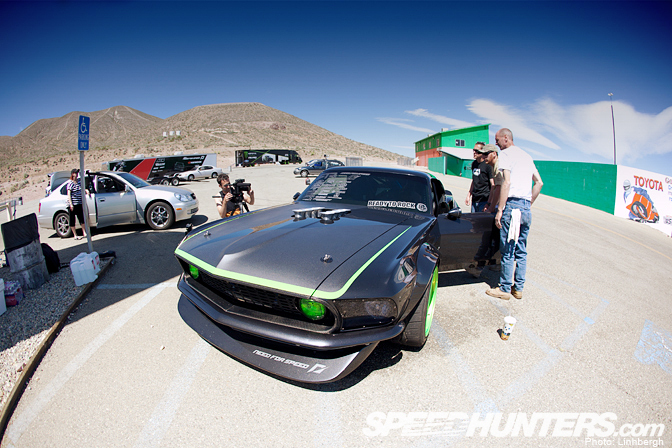 So as Vaughn Gittin Jr. was ripping up the Balcony course at Willow Springs International Raceway one sunny April afternoon, we were in the background playing with car setup and working on backwards initiations.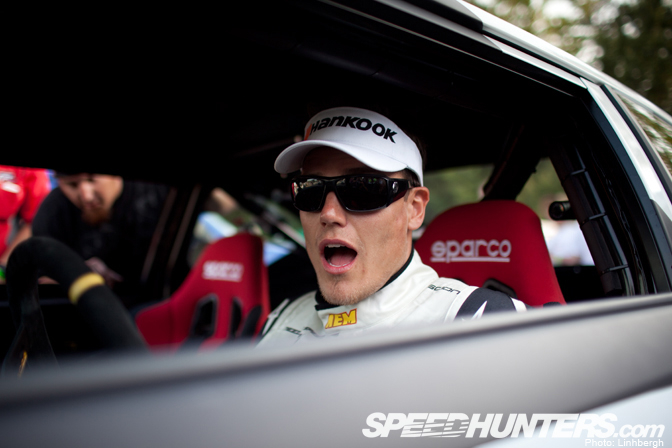 As Round 2 came around and we got situated at the incredibly nice Road Atlanta venue, I was extremely driven and couldn't wait to hit the track.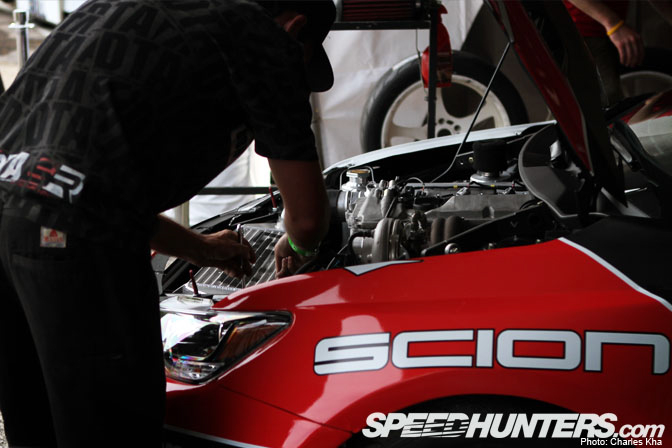 The team was equally as eager to get out there. Here's Shawn Hillier, who makes up the very tight knit core of Papadakis Racing together with Aldo Villagran and Stephan himself. Working with guys of their caliber gives me a lot of confidence and considering I still rank myself as a rookie in what I do, they are the absolute opposite. My team holds a ton of experience from top level drifting and I feel very grateful to be let in on their program.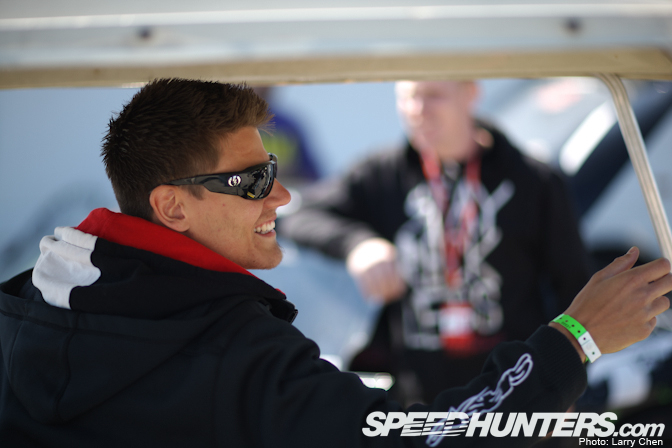 Our friend Kenneth Moen from Norway also came out to Road Atlanta to drive in FD. Steffen, my trusted spotter, and I went over to his pits to say hi.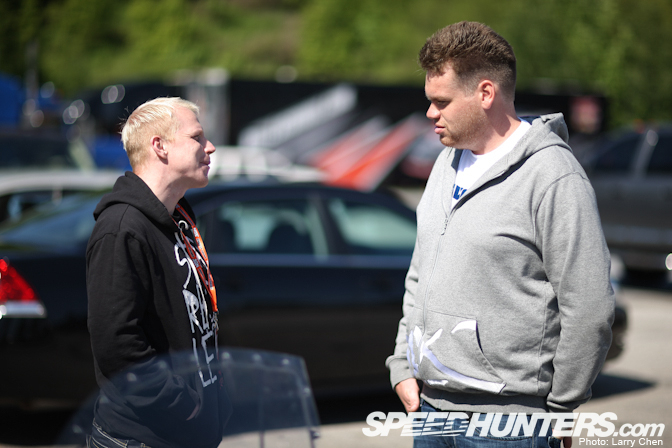 Kenny is one of the true originators of drifting in Norway and he's been in the game for nearly a decade. As I grew up and got to know the sport of drifting he has always been a big inspiration for me and I would even say he is part of the reason why I started drifting. Hence, it was very cool to see him around so far away on what's new grounds for both of us. He also has a strong connection to Stephan Papadakis as he purchased both Tanner's 350Z and Stephan's own S2000 drift car two years ago. This weekend, it was all coming full cricle as Tanner's dual championship winning vehicle was back at Road Atlanta.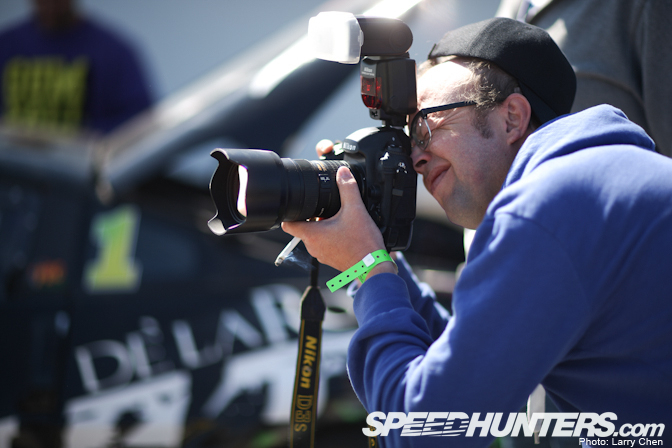 Now this is a character. Meet "Einstein", or Øistein, also from Norway. He is a video journalist from Norway's second largest news franchise Dagbladet and a talent powerhouse on his own. He has been following the team and what we do in SoCal, the Middle East and in Norway over the last couple of months. I think it's very cool to see that mainstream media from back home is starting to take notice of the drifting scene.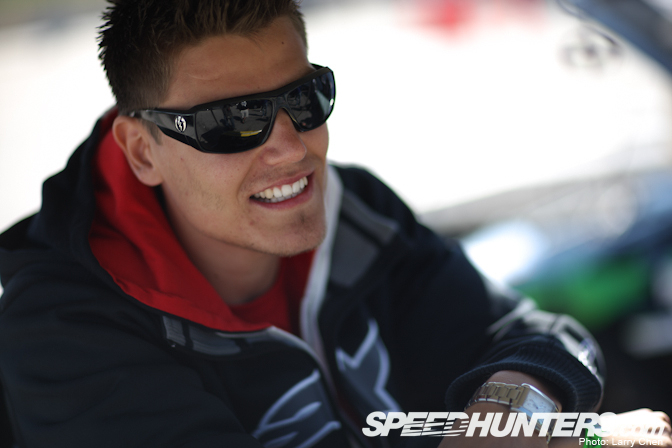 The result of his videography is Dagbladet's 15 episode long web show "Råneren fra Ski" (loosely translated to "the Drifter from Ski". Ski is my hometown in Norway, and yes, we usually get a fair three feet of snow over the winter). Feel free to watch the first half season of "Rånern fra Ski" here.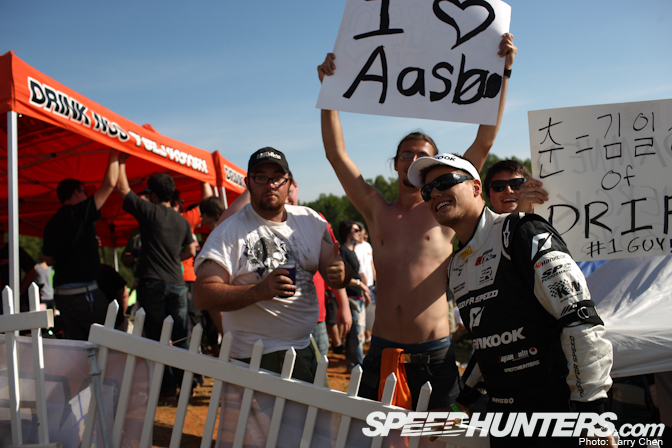 These crazy guys came down in the pits to meet me and they were some of the most enthusiastic people I have ever met. Many thanks for your support, guys – much appreciated! The custom letter, which is a mix of the letter b and the letter ø, was pretty creative!
The crowd in Atlanta is simply amazing and it was a blast watching the herds of people enjoying themselves and putting on a party from early in the morning. I had never seen real tailgating with my own eyes before and I can definitely check that off now! Road Atlanta was a first for me on a lot of levels.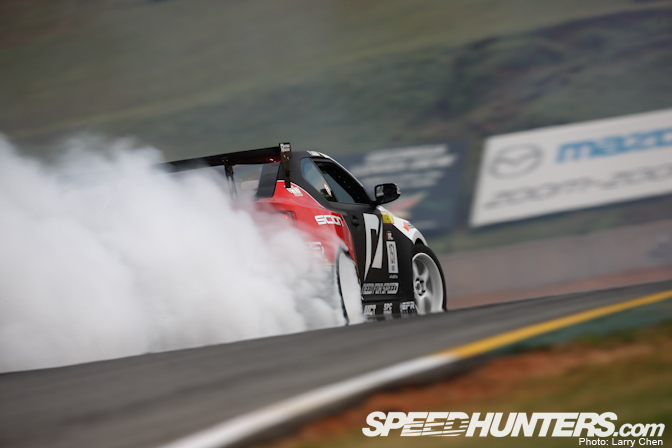 The track is fairly technical with a 95 mph entry leading to a left inner clip. Then, transition to the right for the second inner clip and approach the horseshoe.
The judges want you to stay on the outer line through the horseshoe, and preferably on the absolute edge of the track without dropping a tire in the red dirt. That said, the twin battles are all about letting go of the outer line in time and get a smooth, fast line past the third inner clip and back down the hill, before you transition through the last S and exit back up the hill.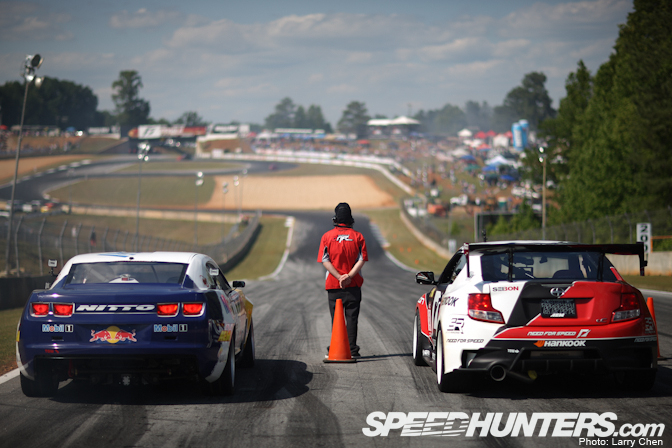 There are no concrete walls by the outer clipping zones at Road Atlanta. But do not for a second think it's a forgiving track…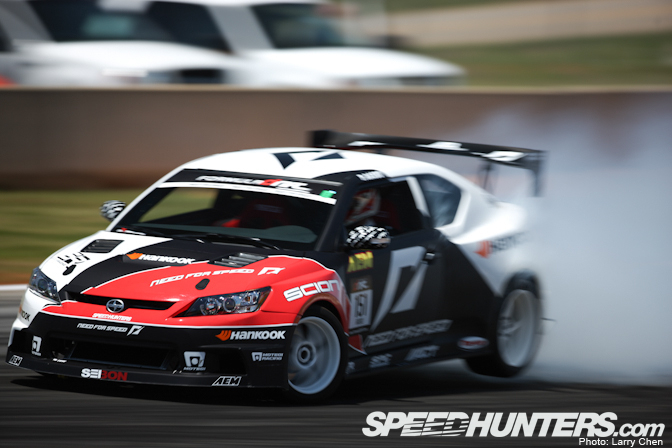 It does bite.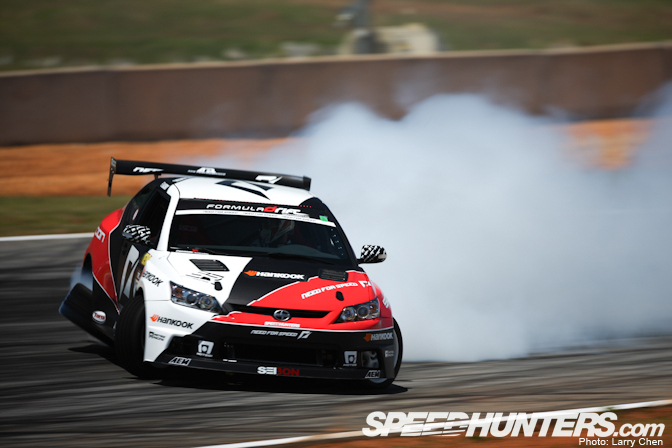 In Thursday's practice and during one of my absolute first runs at the track, the above incident happened. Coming back down the hill I got a little too far out on the rumble strips, and since at this point I was running the track in reverse, the rumble strips were extra hard on the suspension.
The rear upper control arm broke apart, and the hub immediately collapsed under the car due to the grip and load from the Hankooks. This in turn ripped apart the axle CV joint and pulled the stub axle out of the differential.
I am sorry, guys! This meant pit time.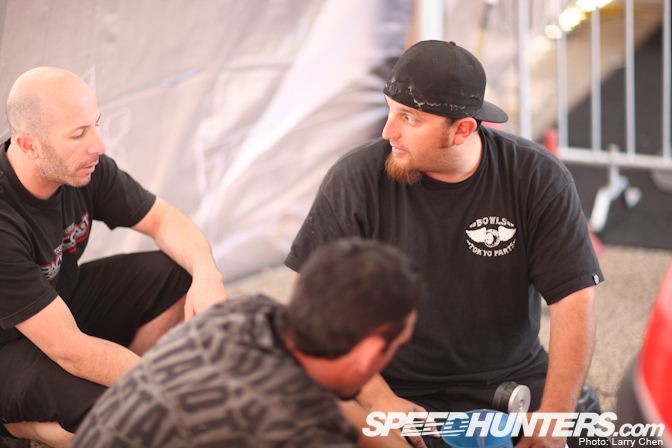 The rear upper control arm was a new design for this round, and this was a good review of it. The guys had a quick chat to decide on how to put the rear end back together. We went back to the previous design that we ran in Long Beach. The guys had a quick discussion to define tasks. Stephan got the spare parts in the trailer and Shawn and Aldo pulled the diff.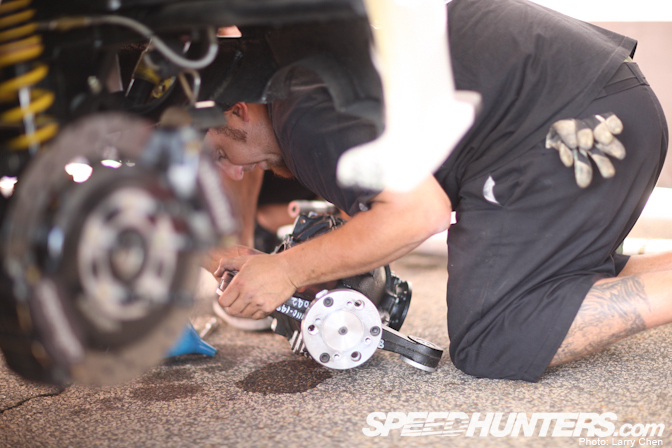 In addition to being a mechanic, Aldo is the teams dedicated duallie rig driver and a true hero at it. As he set out on the long drive from Southern California to Atlanta the Monday prior to the event, he had in excess of 2,200 miles of driving in front of him. It would be only him, the truck and the road for three long days, as he would be driving straight through the hurricane riddled stretch of the south.
We didn't hear from him until Wednesday night, when the rest of the crew, Einstein the video journalist and myself were all gathered at the Longhorn restaurant in Buford for the team's first get-together in Atlanta. Just when the waitress had taken the order for our drinks and waters, the door opened and we saw a shadow come into the room, lifting a hand to order too: 'Get me a Coors Light, please!"
Aldo had made it through to the other side, and his humor and smile was definitely intact! For me, this is the kind of stuff that good memories are made of. We were ready to take on the weekend.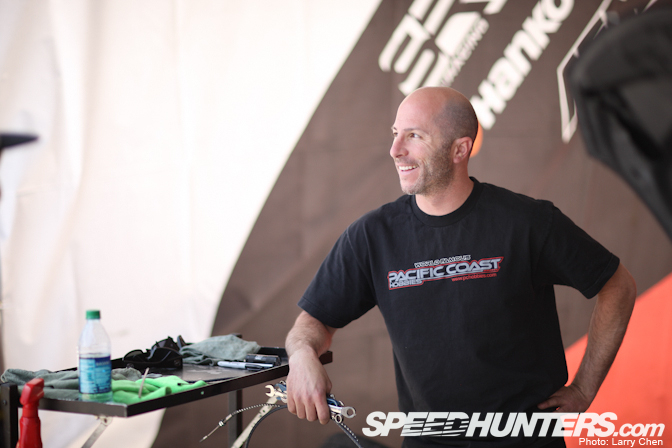 Back in the pits, the car was back together and we were ready to hit the track for the last practice session. Stephan was content as always, and I was very happy!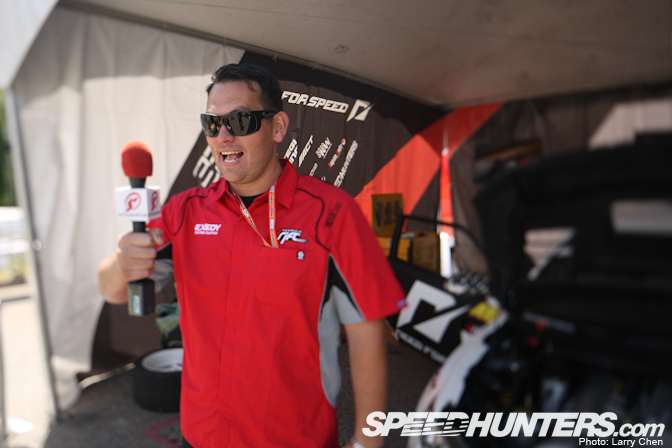 Right before I was ready to head out, the Don King of drifting came by for a quick chat for the Driftstream. J-rod is actually coming to Norway for the Gatebil event in July and I can't wait to see him there too! It's really cool to see the drifting world unite more and for us Nordic people it's an honor to see a personality like J-Rod on our home turf.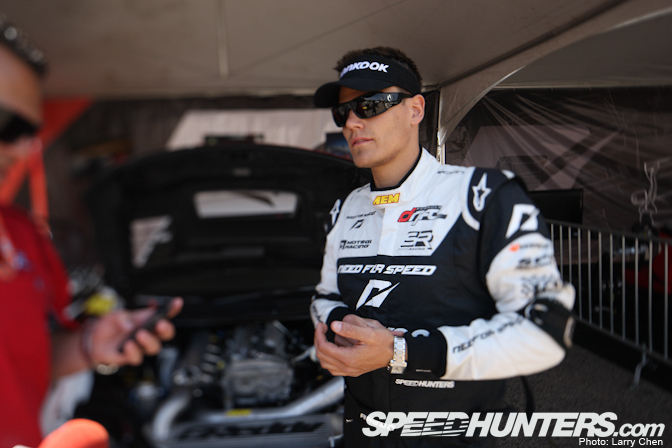 Sometimes I mistake him for being a machine. Or even an alien. Out of all the amazing personalities in FD I think J-Rod is one of the most incredibly skilled ones, with his ability to remember and speak about everything from people's full sponsor reels to the color of their socks.
I think the above picture gives away how he does it, though. He has it all stored on his phone!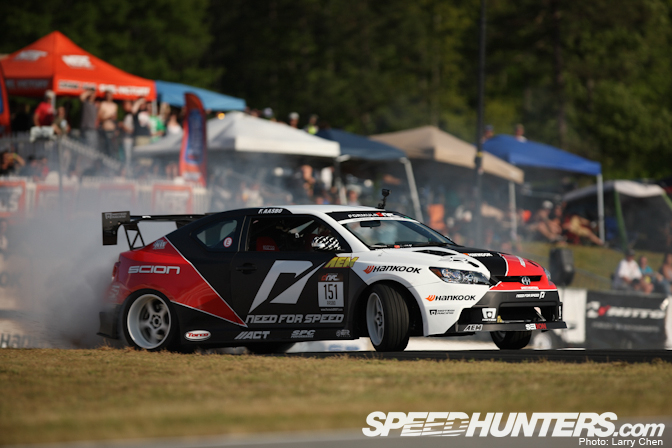 I hit the track again that afternoon. During that session and the next day's morning practice, I had a tough time getting the car to drive how I wanted it to. I managed to initiate backwards, as there is a big emphasis on just that at Road Atlanta. However, I couldn't get a snappy initiation and I'd dive into it more and more, nearly coming to a stop and then initiate again in the middle of the turn. Not pretty.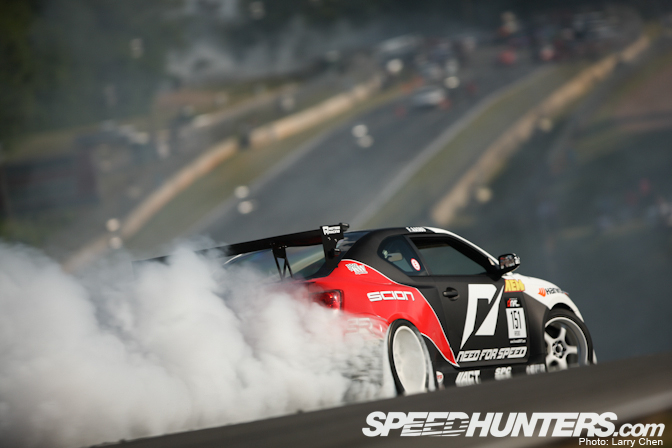 You can watch what I am talking about in this video of one of my early practice runs.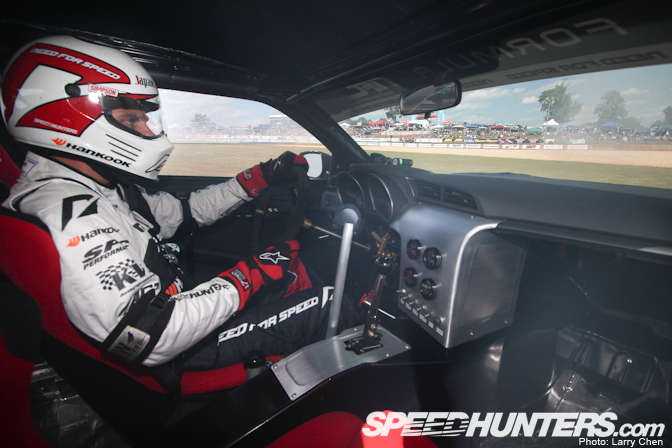 I worked really hard with my spotter Steffen to dial in my driving with the entry and the horseshoe as the main focus points. It's the tough times when things are not working out and you are hard pushed that really makes it for me.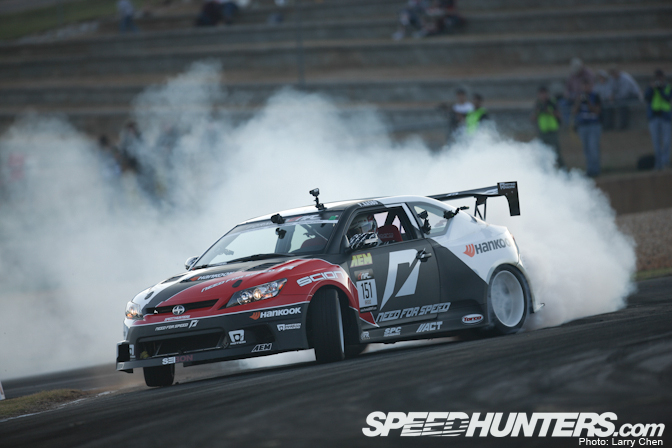 As my two qualification runs got closer by the minute, I really tried to reel it in and bring out all I had.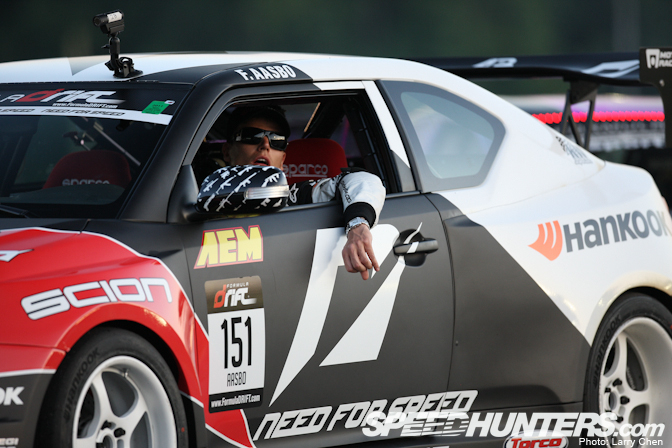 The top FD guys have been driving at this track for the five, six, seven years, and watching them drive is a big help in trying to learn the line and the approach they take.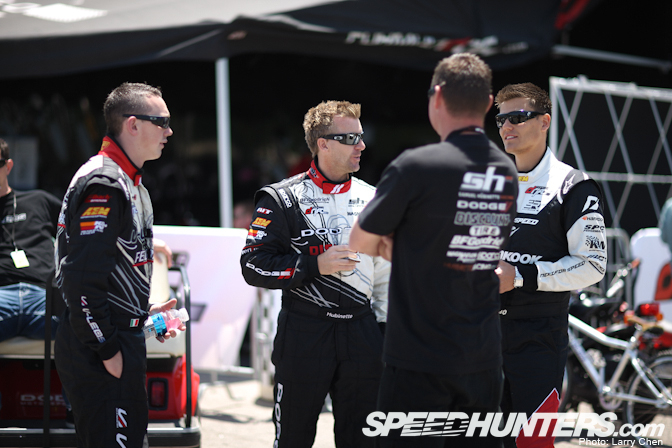 I even brought what I felt about my driving to Samuel, who was happy to discuss car setup and share his experiences. Much appreciated, and I hope I can help in return one day!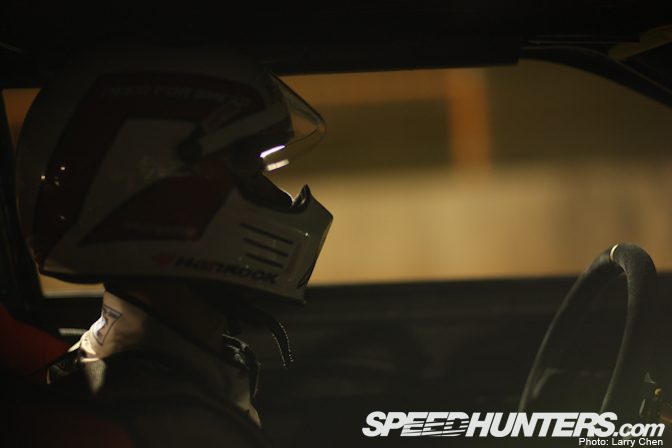 I had put down a couple of good practice runs by the time qualifying came around, and I was set on repeating them for my two qualifying runs. For the first run I had a clean entry and a good line, but I barely missed the second speed zone by 0.2 mph, losing five points right there.
For my second run I initiated harder, trying to up the scores but I wound up with a big correction/double entry in the first turn. I hit the second speed zone, but I barely upped my score from my first run…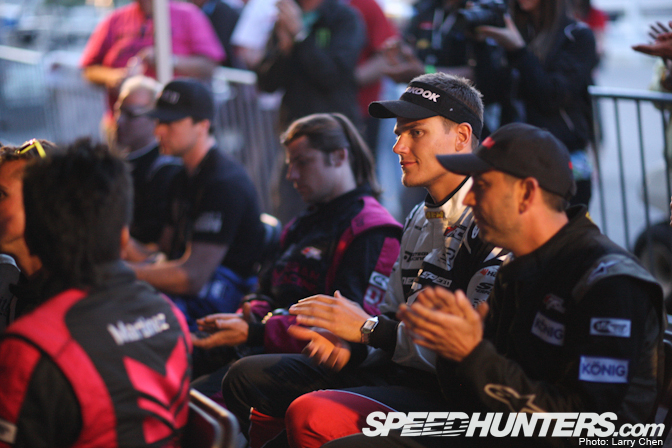 My best run was a 79.3, putting me in the number 13 qualification spot out of the 40+ drivers. I was very happy, as I had been struggling with finding the rhythm and get to grips with the track! I'd say we were in a good position as we would meet an equally matched tandem driver, although it would have been very cool to put on two really strong qualification runs.
Out of focus in the background is John "Vince Vega" Russakoff, who had a very strong fourth place finish in Atlanta. Congrats to the very colorful (no pun intended!) and good group of people that makes up Megan Racing!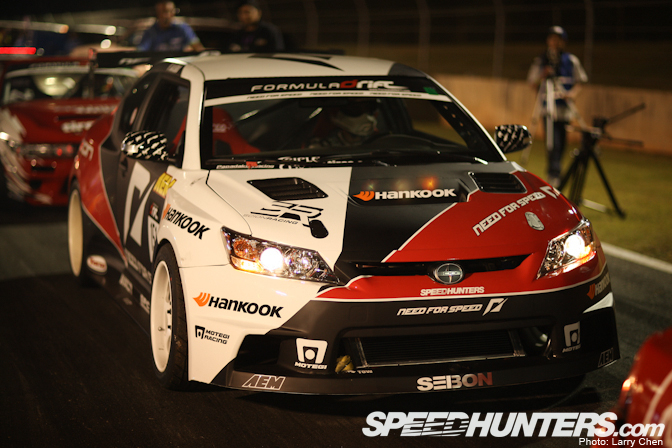 And with us being in the main show with the other 31 finalists, the real drifting began: the tandem battles.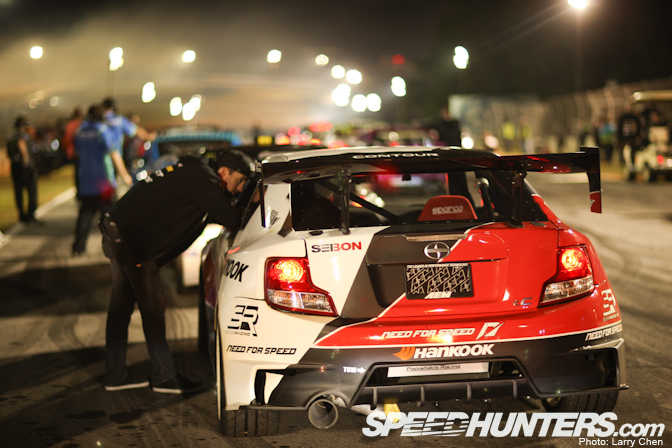 Friday night was a practice session for the teams and drivers to hone their tandem driving and car setup prior to Saturday's main show.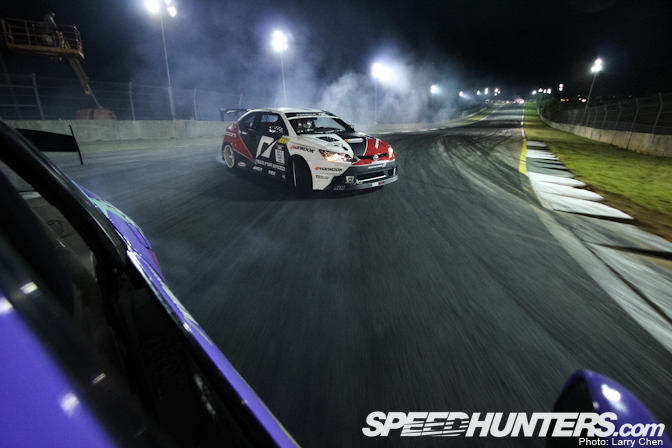 We did a couple of rear suspension changes to stabilize the car and my driving for the transitions, but still I couldn't get rid of the nasty corrections. Part of it was that the car was set up for a lot of understeer to help with return during a deep, backwards entry, but more importantly just because a lot of rear end grip is required to keep up with the competition. It felt like I couldn't feel the grip and direction of the front tires as much as I was used to, and it felt like the car wouldn't snap out in a big angle drift no matter how hard I threw it out.
You know how the solution is usually right in front of you, and you just can't see it? This time was no exception, as the Godfather Stephan Papadakis came up with the golden tip later that night. 'Guys', he said. 'Let's take the wing off! I think it's holding back the rear end'.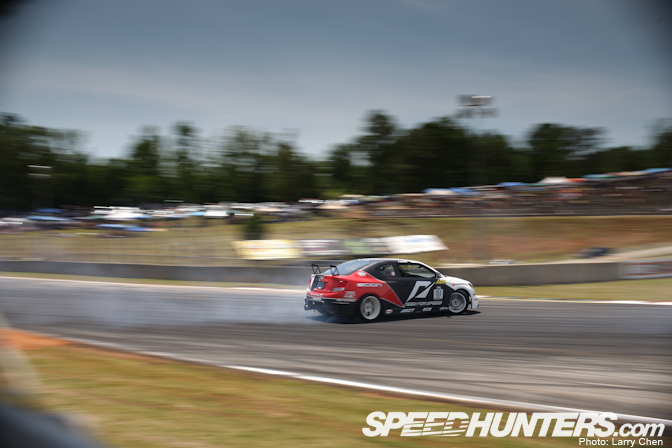 And so we did. The car was simply transformed and I could take the first corner the way that I wanted to! YEAH!!
I think it is a strong sign of a very good car and chassis when such a minor change makes such a huge difference.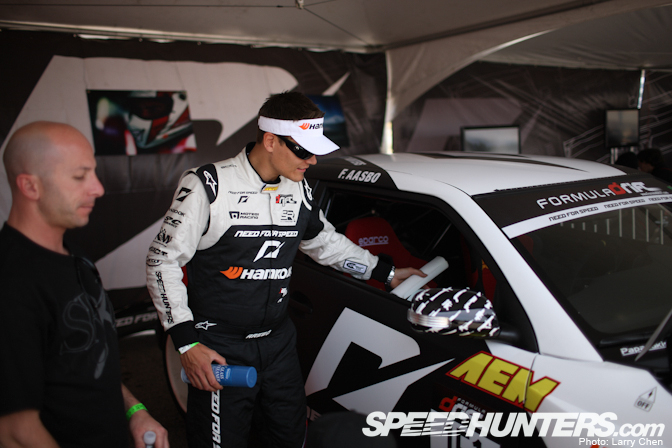 While wiping down the windscreen I visualized the course yet again and went over how I wanted to drive.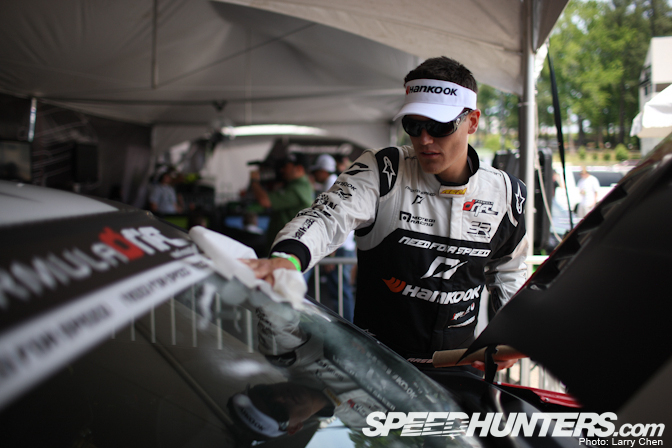 I was getting ready.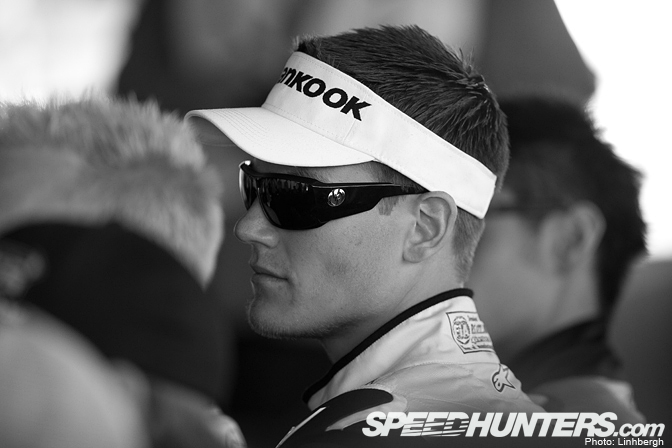 Ready to take on the competition and see what I was made of.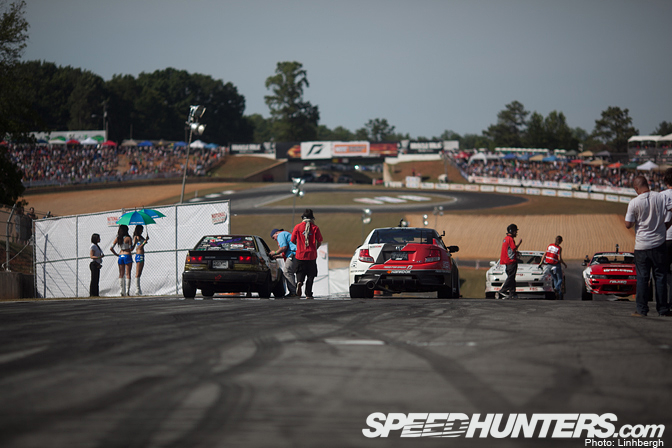 I would meet Pat Cyr in his Corolla AE86 in top 32. Pat and I had a chat down in the pits where he asked me to pace him at the start to make sure we would enter with close proximity. The judges ask us to communicate with the other drivers to make sure you are both at a similar pace, and I told Pat that I would definitely launch soft so we would enter close. He is a very nice guy and prior to heading up to the grid we hung out for a bit, chatting about how it is to be a privateer in FD and what it is like for me coming from somewhere else and compete in the US.
And then, off we went.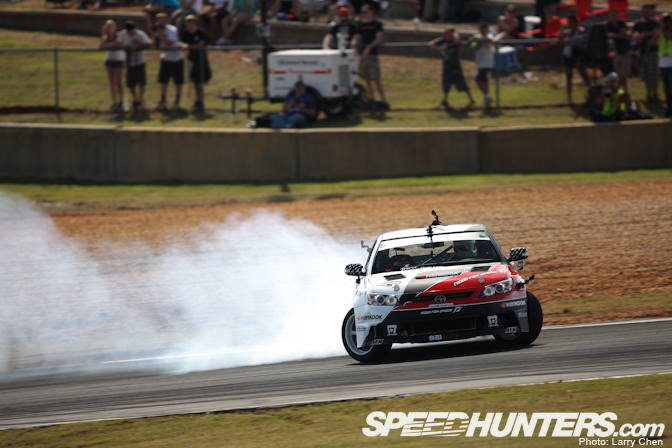 Unfortunately Pat half spun and came to a halt in turn 1 behind me. It was not how I wanted to earn an advantage, but my lead run was still pretty consistent and fast. As I came back Pat got ready to lead.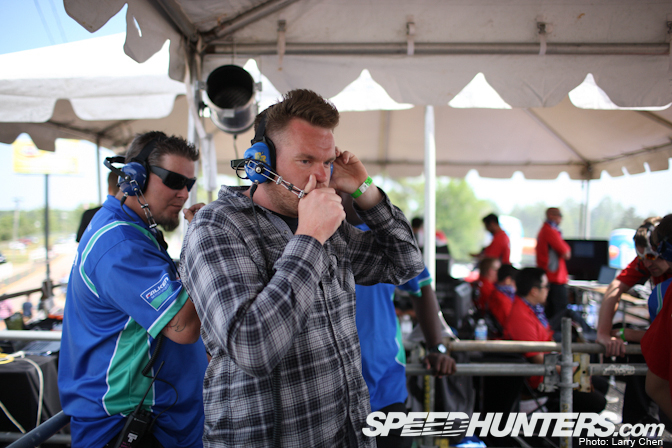 Steffen was on the radio giving me a short heads up on the judges' reaction and the view from the tower.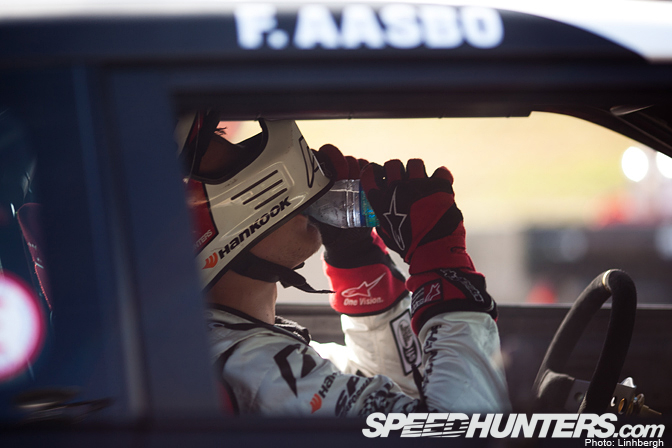 Mmm!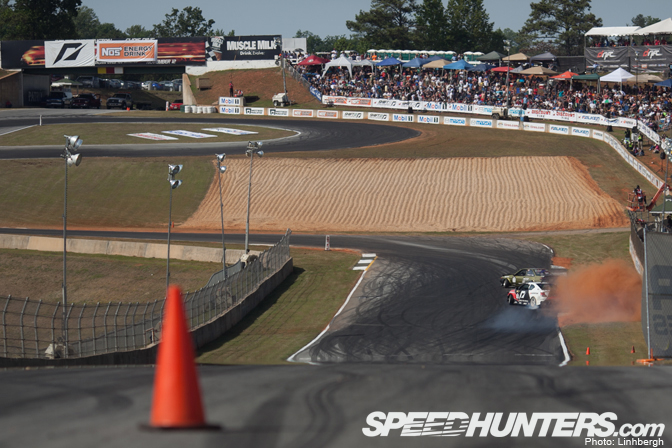 Although Pat's car might not be the fastest down the hill, it's very fast through the turns and hence is an unusual car to follow compared to the heavier, higher powered cars in FD.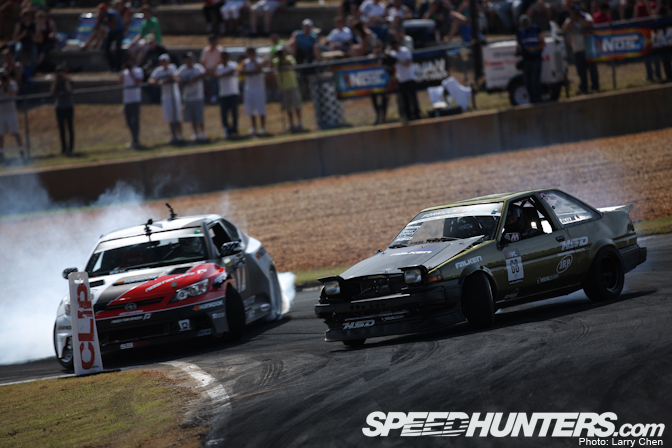 I sneaked in on him…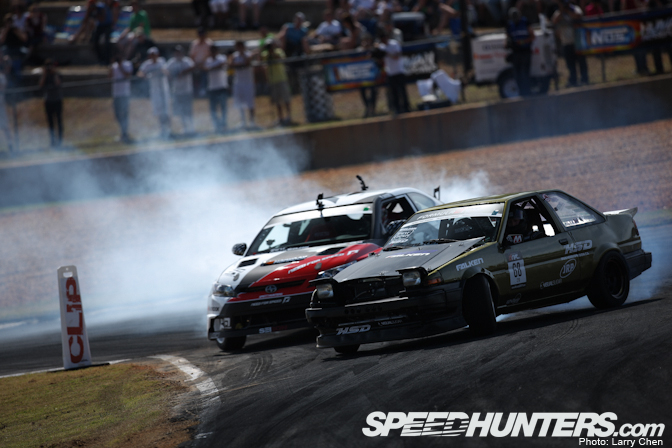 … and got close to the second inner clip.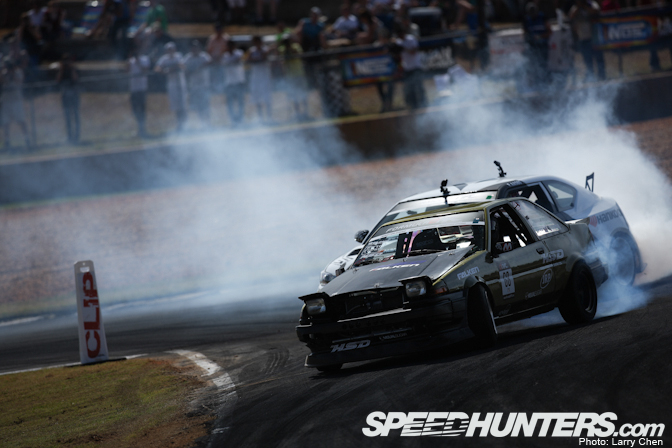 As he transitioned back to the horseshoe he dropped a tire in the dirt. I followed him out of the horseshoe, down the hill, through the S and back up the hill.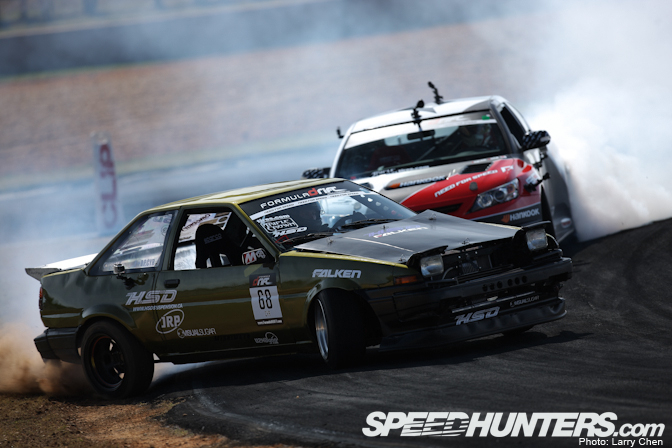 And we got the win!! We were through to the Top 16!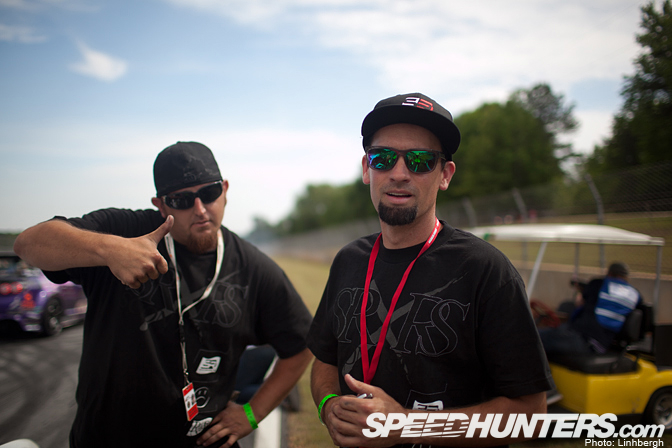 Even Aldo and Shawn approved!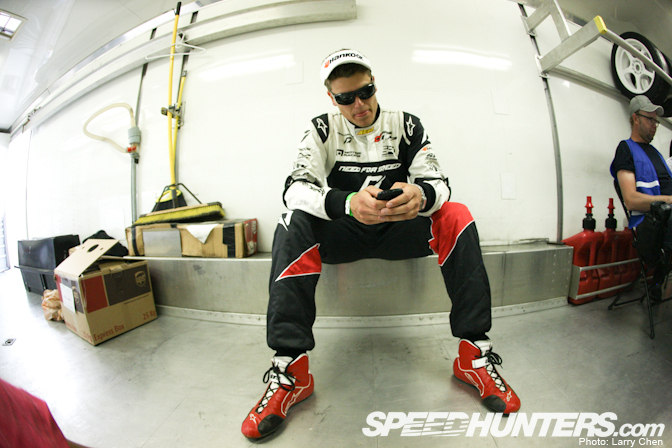 And then, in the half-time break, it was time to recoup. I get spoiled with a whole lot of fruit on race day that I don't even have to buy myself anymore! It's crazy how well I am taken care of and it kind of messes with me as I am used to running around getting food for the guys. Thanks NFS!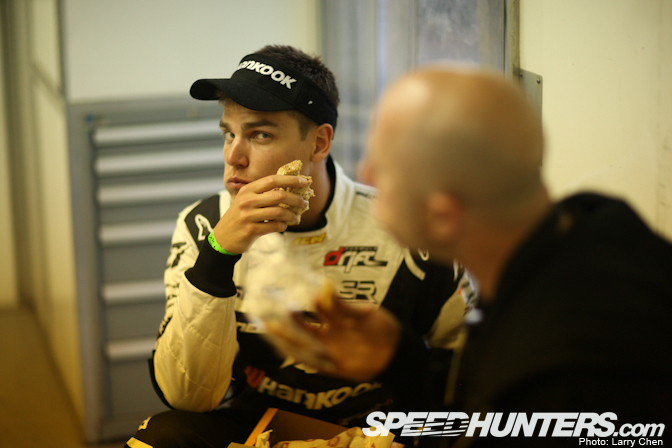 "Huh, me? I didn't grab your lunch! I promise!"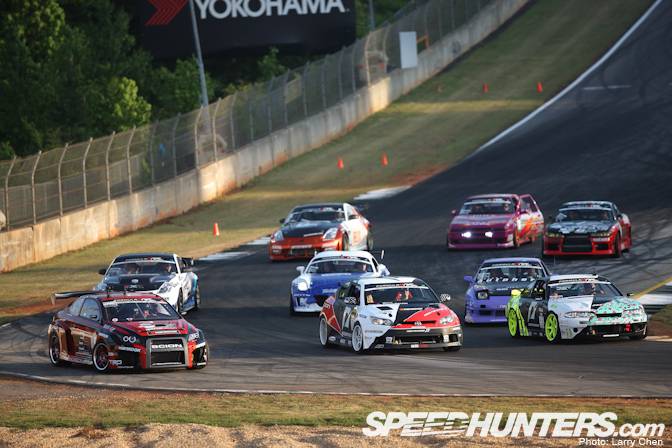 And then, it was time for the Top 16 opening ceremonies. I rolled out with Courtney from Team NFS. In this picture you can see the two Scion Racing tCs next to each other.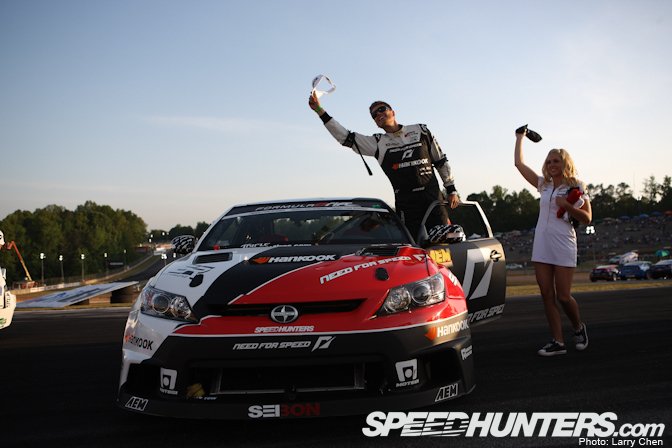 Top 16 is always a big milestone for me and on behalf of my entire team I have to say I was very grateful to be in the show! And I knew the driver I was set to meet in my Top 16 battles would really bring the heat…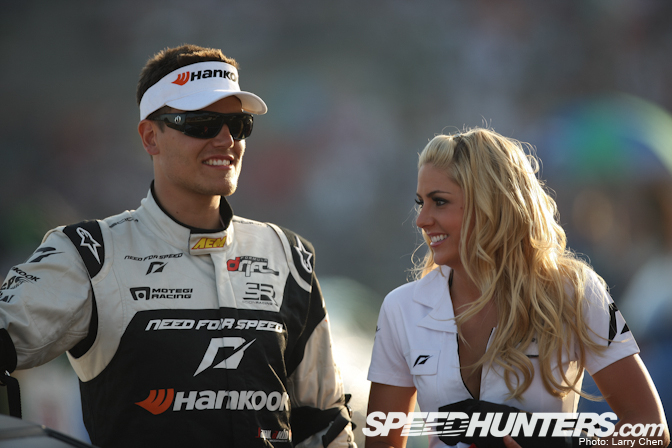 Courtney is one of the NFS girls, and along with Miki and Victoria she is on site for all of the fans, running the show at the Team Need for Speed Electro Lounge in the pits. There is always a lot of things going on at our pits, so feel free to come by, hang out and play games!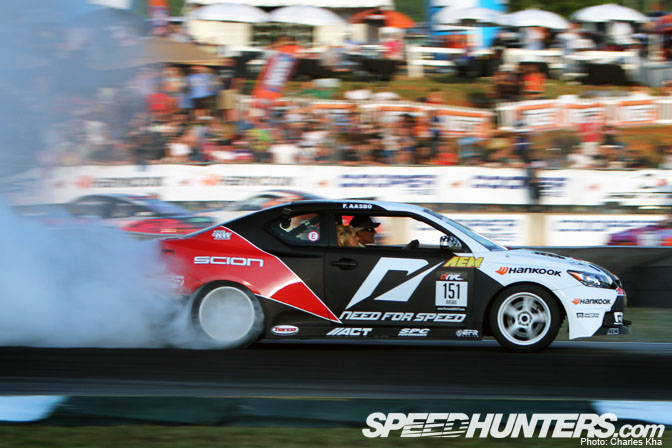 Here's a short video of our Top 16 donuts.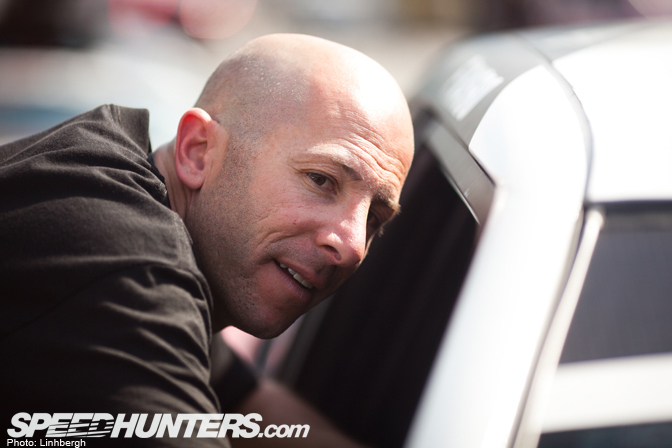 Back up at the grid, I had a short brief with Stephan in the window and Steffen at the spotter tower.
I was up against Dai Yoshihara – last year's winner at Road Atlanta.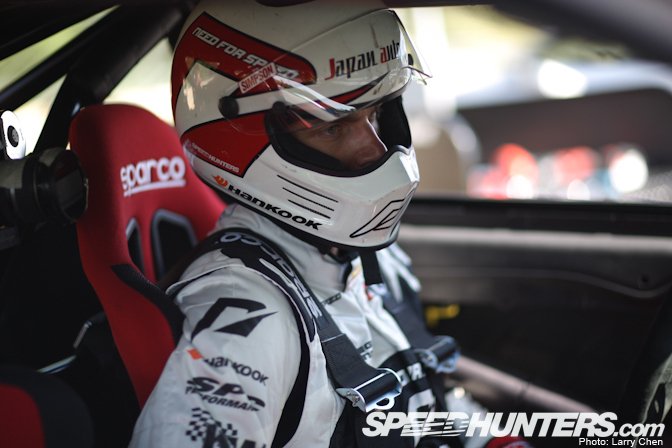 And this was where I was going to really, REALLY have to put it down.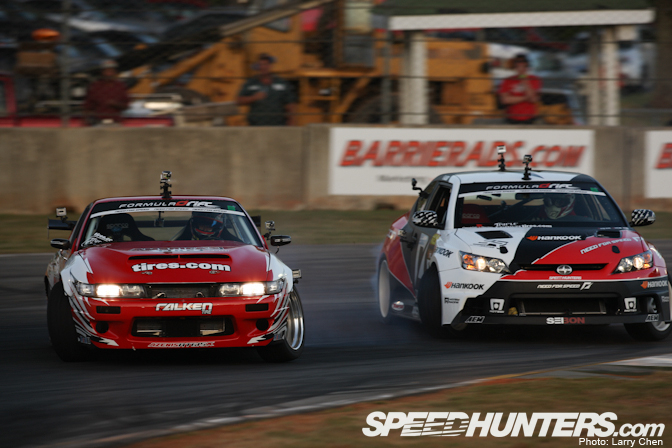 Dai is one of the most absolutely consistent, fastest drivers out there. He is an incredible guy and without doubt one of the biggest icons of Formula Drift.
I asked him for a pace as I knew he was super fast at the lights and we took off together. Blasting through the first turn I was on him!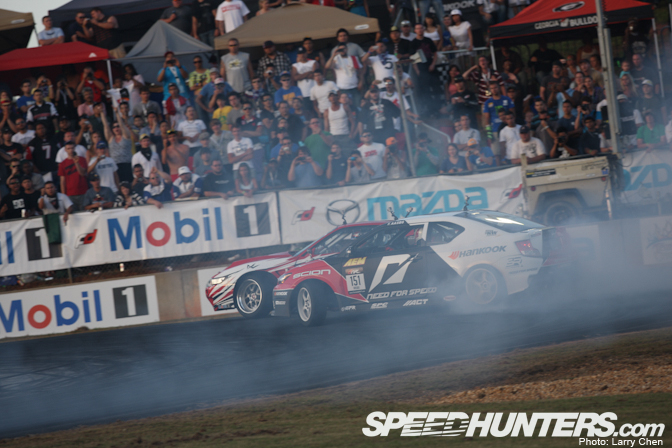 I kept it lit behind him, working to mirror his moves and outmatch his transitions and aggressiveness.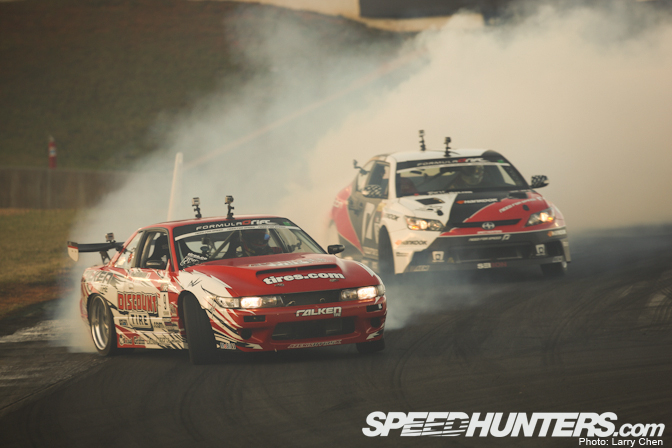 I lost him a tad coming out of the horseshoe, but still mirrored his lead run!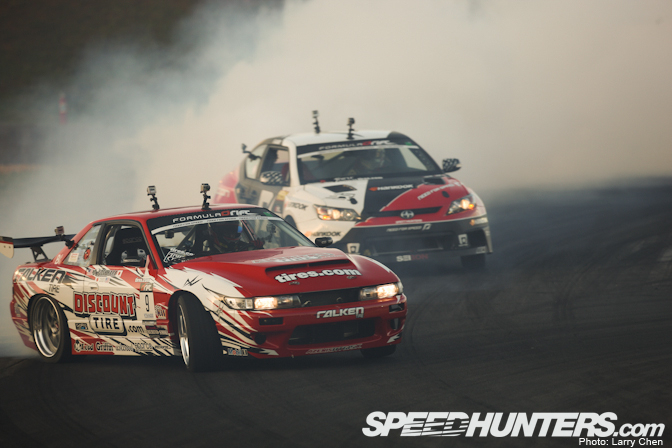 Coming back up to the start, and turning around for my lead run, Steffen told me the first run was probably a close tie. That meant that an even second run would result in a one more time.
However, a mix of all the noises, the limited radio time available and being focused on getting ready for my lead run led to me getting it kind of mixed up and being under the impression that I had to give it all I've got rather than do a safer lead run.
This is a definite note to self for the next time.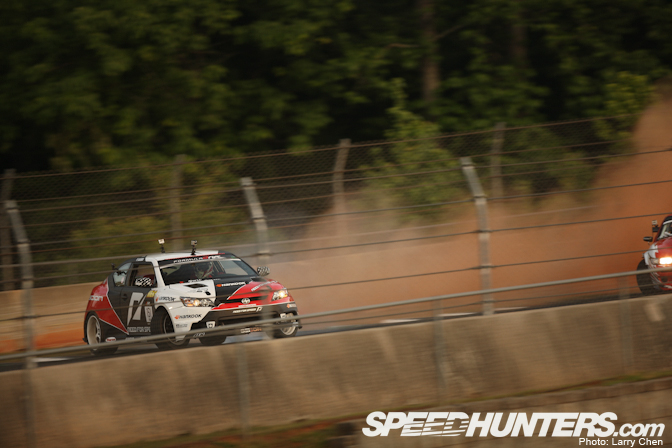 So I went out there, giving it all I had. With guns blazing! I threw it in backwards and put on – in all modesty – the best entry I had that weekend.
I got it back, but I was so set on shooting away that I overshot the second inner clip and dropped a tire in the dirt.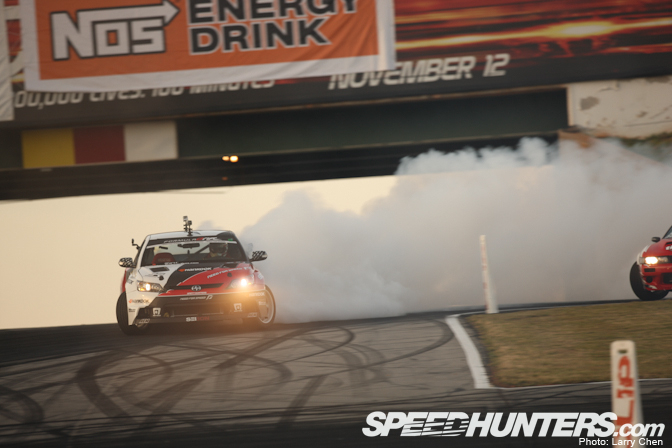 I reeled it back in, got an ok, but slightly shallow, line through the horseshoe and shot down the hill.
I pulled a gap on Dai down the hill, and to me, that is a huge testament to the car and the speed that the team has been able to dial into it. Dai definitely has one of the fastest and most grippy cars out there, and our car can definitely hang!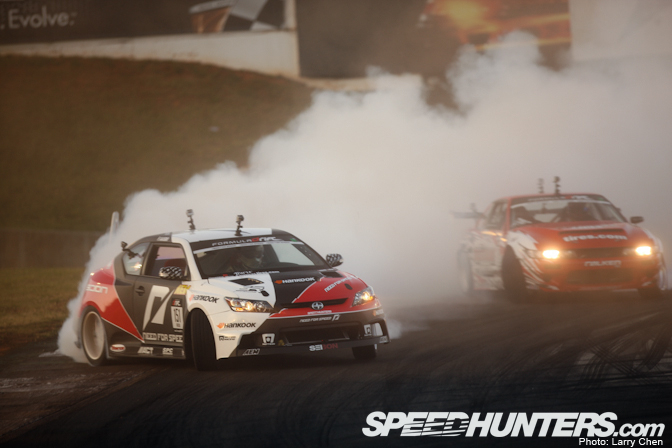 The judges gave Dai the win, and what gave it away was me not being on the proper line. Dai also had a slightly higher entry speed in his lead run. Dai, went on to win the event. Congrats yet again, buddy! Thanks for two very fun runs!
Feel free to check out the Driftstream video from my runs with Dai.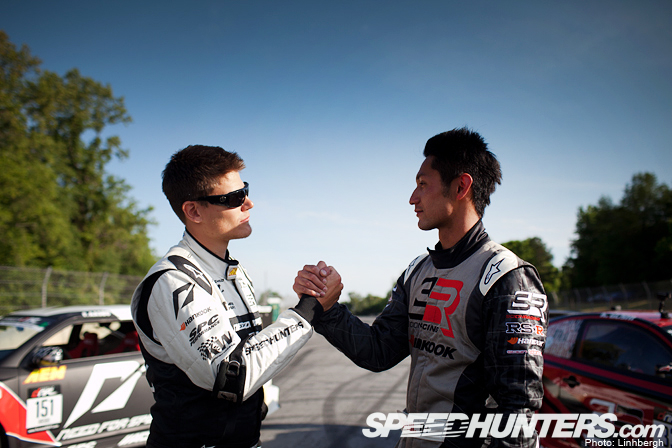 We placed 13th out of the 43 drivers, and bumped from 9th to 7th place in the championship standings. A good weekend with several lessons learnt and most importantly…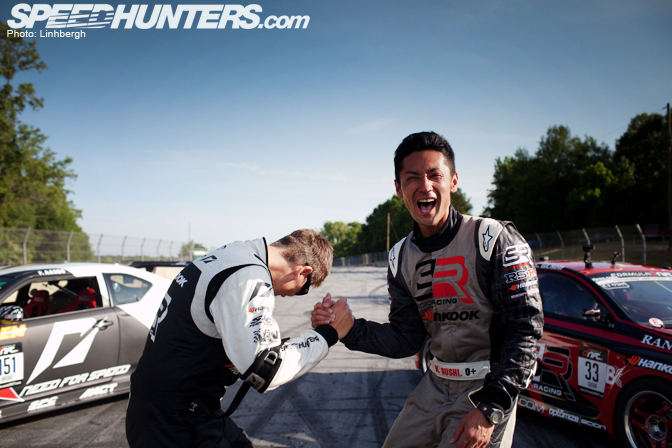 …We had a lot of fun!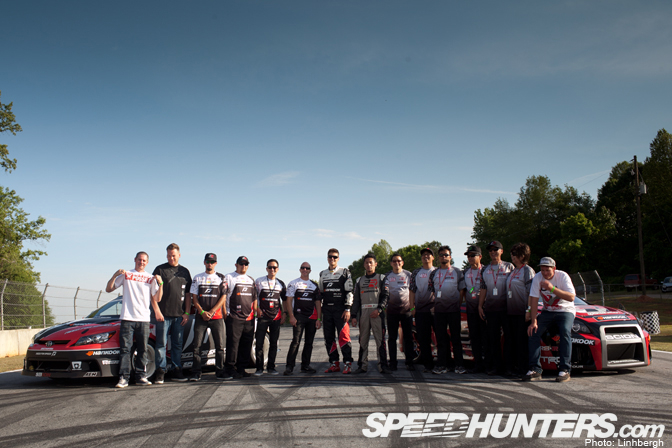 Just ask any of these guys!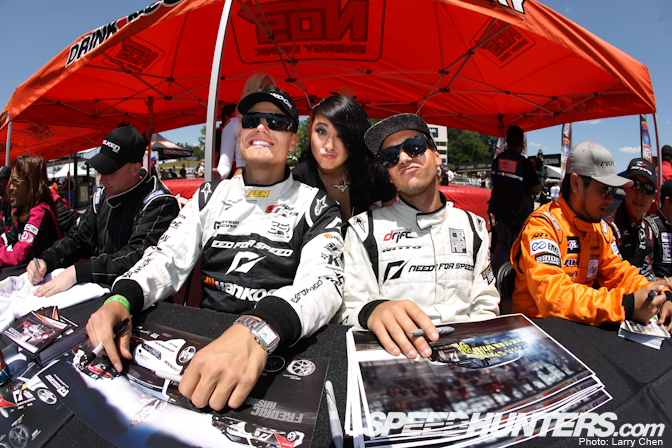 I have learnt so much over the last two months and I have been so driven to do as well as I can in competition. However, I have been a little too eager, taking myself out of competition by transitioning too hard or overshooting turns. I really want to put on a good show, give it my all and "hold stumt", but going all out on the snowboard kicker doesn't take you places if you land on your head every time.
I feel like I am in the middle of a forging process and thanks to my team, sponsors and friends I think I am making steps in the right direction in order to bring my driving to that next level. My focus points right now are to get better at letting go of that last turn, keeping my eyes up and focusing on what's coming up. Not getting that right was what had me go off course in my battles with Dai, and it goes to show that consistency is king in Formula DRIFT.
Next up is Round 3 at Palm Beach International Raceway, a track that the Formula Drift circus has never visited before… I know that anything can happen in drifting, but this time it's really true!
Thanks to the excellent Speedhunters crew for their amazing footage, and to all of you for taking the time to read this. Please feel free to let me know if there is anything in particular you would like to hear more about!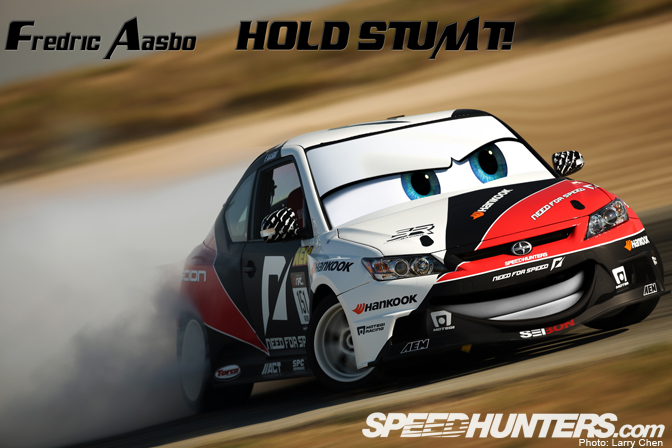 I will leave you to it with this amazing Larry Chen picture modified by Christer Stormark. I love it. Thanks for the inspiration guys!
Fredric