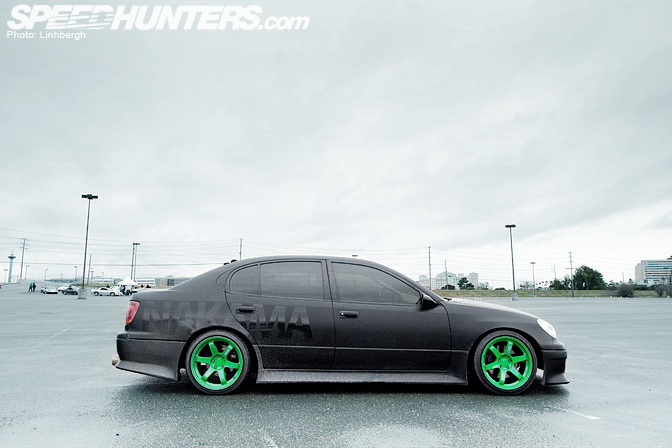 The way I see it, the drift scene is split up into two camps. One camp supports all things grassroots and only desires to keep it that way. The other is a progressive moment which tries to push the drift scene into the future from its humble beginnings. In other words, we're talking about the professional circuits. These two camps have battled their way across the battlefields of the internet for a few years now with each side barely budging.
By now we've become very familiar with both styles of drift cars. There's the ever popular slammed street-style drift cars and the full on race-chassis-that-slide which we're now seeing come into the professional field in full effect. Rarely do we ever see a car that combines the best of both worlds. That is until this car, the Nakama Lexus GS300. It's not a professional drift car, nor is it an ultra slammed street style drift car. It's a daily driver that is taken to local drift events to for some sideways action.
The VERTEX Lexus GS JZS160/1 kit is a striking upgrade from a the stock bodied GS and it's custom satin black paint, with gloss black accents, set it off completely.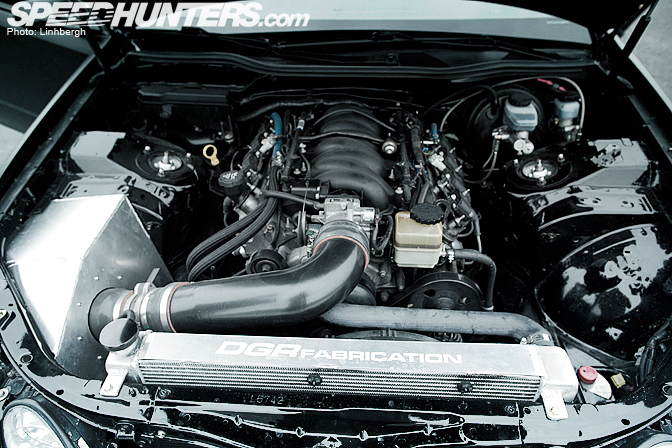 The GS300's engine choice is something that not make those that advocate the grassroots style of drift machines. The original inline six was ripped out for a 5.7L LS1 V8 which produces 320 whp and 340 lb-ft. With that sort of power, its no drift monster, but you don't need a million-billion horse powers to have fun. 
The LS swap was done with the help of DGR Fabrication's LS motor mount kit urethane isolators. DGR also supplied the intake system and the aluminum air box.  The headers were upgraded to Hooker Headers shorty headers which lead to a stainless exhaust from Borla.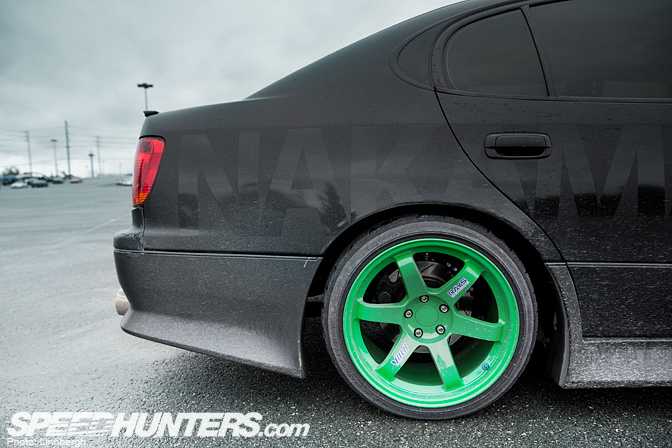 A lot of care went into the build of this GS. Each part was chosen because of the quality of product and also because of its performance potential, like the HKS Hipermax-D coil overs. And seeing how this car will be drifting, all the other important suspension components saw upgrades as well. The stock sway bars were upgraded to a set from TRD and the front upper and lower control arms were replaced for a set from Ikeya Formula. VERTEX/SUIVAX JZS160/1 steering knuckles were installed for that extra bit of angle.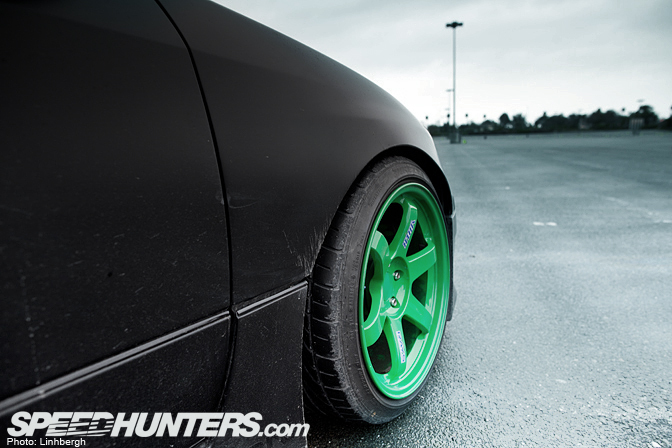 The car has an iconic set of Takata green Volk Racing TE37. The fronts are 19×9.5" +12 and rears are 19×10.5" +12. The tire of choice are Falken FK452 (235/35/19f and 265/30/19r).
GS300s are known as rather large and heavy cars, so with its added power, it also needed to stop. The stock front and rear calipers were upgraded to a set from a JZA80 Supra and the rotors were upgraded to slotted set from Brembo.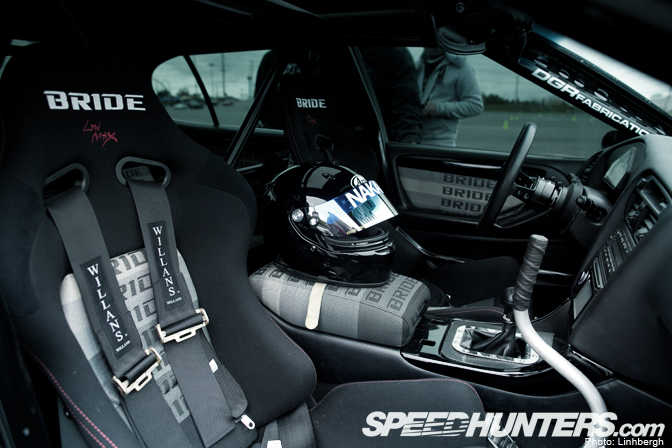 Seeing how this car is also a daily driver, what you won't see on the interior of the car is it completely stripped out. It retains a full interior though it has been been upgraded quite a bit starting with the DGR Fabrication custom rollcage, then to the BRIDE GIAS bucket seats with gradation upholstery, and the custom Wilwood hydraulic e-Brake setup.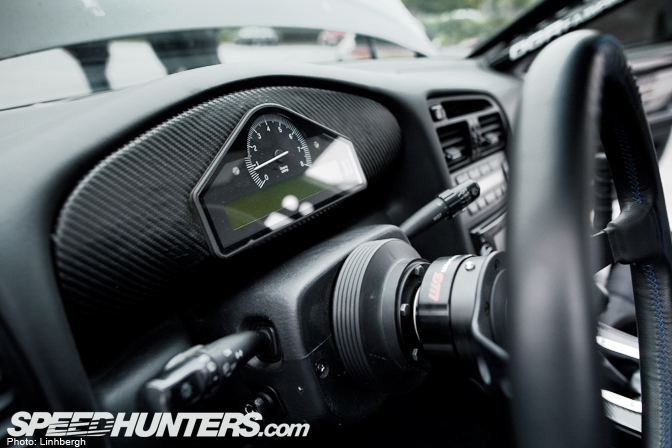 The stock dash board was ripped out and replaced with one from STACK with a custom carbon fiber enclosure. The steering wheel also saw replacement. What sits in place of the stock steering wheel is the 330mm VERTEX 10-star wheel.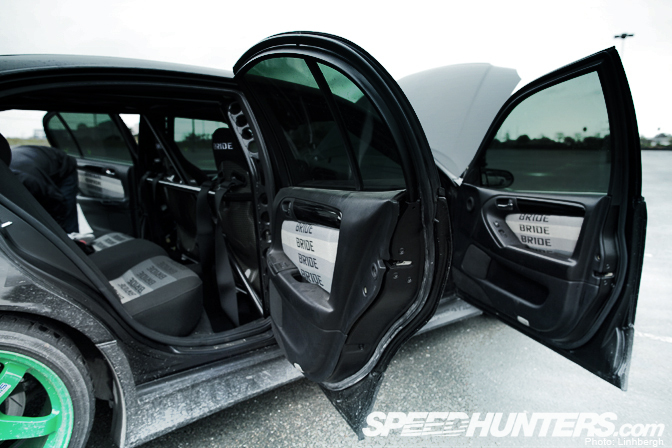 The BRIDE gradation treatment also spills out to the door panels and rear seats.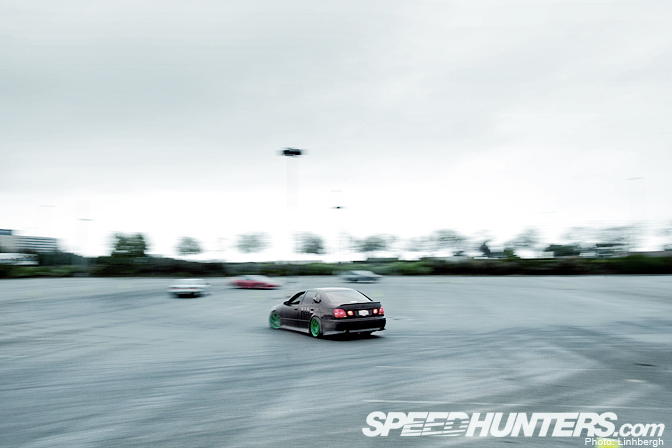 This GS300 is a car that probably won't completely please the grassroots or the professional drift scene (especially the grassroots side because of the LS V8 engine swap). The car's build is also not a cheap build, but it's refreshing to see a drift car built with this much care and attention to quality parts. That in itself deserves respect.
-Linhbergh
Complete Spec List:
'00 Lexus GS300
Engine:
- GM LS1 5.7-liter V-8('04 Pontiac GTO)
– HP/TQ: 320 whp/340 lb-ft  
Engine Modifications:
- DGR Fabrication LS Motor Mount Kit w/ urethane isolators, intake system, aluminum airbox
- Stainless exhaust system w/ Borla mufflers
- Hooker Headers Shorty headers
- Canton Accusump system
Drivetrain:
- T56 6-Speed manual transmission
- B&M short shifter
- Clutch Masters FX400 6-Puck clutch and aluminum flywheel
- DGR Fabrication 1-piece driveshaft and machined differential adapter
- KAAZ 2-way LSD
Suspension:
- HKS Hipermax-D coilovers
- Ikeya Formula front upper control arms, front lower control arms
- RCA pillow tension rods, rear member spacers, rear upper camber arms, traction rods, and toe rods
- VERTEX/SUIVAX JZS160/1 steering knuckles, TRD anti-sway bars (f/r)
Wheels, Tires & Brakes:
- Gloss Black Volk Racing TE37 19×9.5 +12mm (f) and 19×10.5 +12mm (r)
- Falken FK452 235/35-19 (f) and 265/30-19 (r)
- Toyota JZA80 Supra TT calipers (f/r)
- DGR Fabrication JZA80 Supra TT rear caliper brackets
- Endless CCA brake pads (f/r)
- Brembo slotted rotors, SS braided brake lines (f/r)
- Custom Wilwood Hydraulic E-Brake setup.
Exterior:
-VERTEX Lexus GS JZS160/1 bodykit and rear spoiler
-Veilside Gandor sideview mirrors, ABFlug front grille
-custom Satin Black paint w/ Gloss Black accents
-Black Zipties
Interior:
- DGR Fabrication custom rollcage
- STACK ST8130 dash display w/ custom carbon enclosure
- BRIDE GIAS seats, MO seat rails and gradation upholstery
- BRIDE gradation treated door panels and rear seats
- Willans harnesses
- VERTEX 10-Star 330mm steering wheel
- VERTEX Monochrome shift knob
- Works Bell Rapfix II QR hub and short hub adapter